It's been a few years since we've been to awesome Da Nang, Vietnam. And, as one of our favorite places in this country… we of course had to see what was different when it came to the bars in Danang.
Now, so you know, we do like the beachside of Da Nang more than on city side… which is the Hai Chau district . And, for us, there's a different atmosphere between the beach and city areas… which is crazy as they're only around 10-minutes drive from each other!
We believe that it must have something to do with relaxing environment… of being near the beach. Perhaps it's the cool sea breeze or the sound of the waves crashing in. Yet, whatever it is, you should definitely explore both sides of Danang.
There are several beaches in DaNang, yet our favorite area is My An. This is less touristy than My Khe, with many expats living here. And, it sure is a laidback place.
Now, last time we were in DaNang, there were more bars popping up. Then, on our last visit here, OMG… the change in this town was mammoth, from our eyes anyway.
And, when it comes to drinking, as many of you would know… that's a big part of our lives. So, we found out on our exploration, that some of the bars we had been to previously were gone… or were taken over by a new owner.
Even so, in this We Drink Eat Travel blog… we'll run through 7 bars in Danang on the My An beachside area. Why not check them out when you visit the awesome town of Da Nang. And, let us which was your favorite bar when you went there.
OK, so let's dive right in!
1. Caribou
You'd be crazy to go to DaNang and not visit the beach… as it has some of the most breathtaking views. And, when you're strolling along the beachfront… be sure to stop by one of the many places for alcoholic and non-alcoholic beverages.
Now, one of our favorite places for having a brew… along the waterfront in My An Beach is, Caribou. And, you'll be able to find it by looking for a bright, golden yellow cute drink truck.
There are many tables and chairs set up on the footpath nearby, or on the beach. So, you can have a choice of enjoying your drinks dangling your feed in the sand, and watching the waves.
Or, you could sit on the footpath next to the truck. So, when the sun is setting you can turn your chairs to face the sun, get some rays… and watch as people stroll along the paved foothpath.
Yet, there is something you should know. And, at the time of writing this… if you're wanting to try local Vietnamese beers, then this is not the place for you.
When we were there Caribou had 2 beers on offer… which was Tiger and Heineken. Yet, if you don't care what beer you're drinking then sit back and relax, and enjoy amazing views like this…
Now, being on the waterfront, you'd expect the drinks to be more expensive. Yet, considering that we weren't drinking local beers… we thought the prices were reasonable. So, for a small can of Tiger beer they were 29,000 VND… that's about USD $1.05 / 1.20 Euros / 1 GPB. Still, that's super cheap, right?
So, next on our list of Danang bars to check out is this one…
2. Corner Pub
Now, this pub was a newbie from our point of view, so we had to check it out. And, it's on the corner of Ngo Thi Si and An Thoung 6 Streets. So, it's a great location to watch the action.
See bicyclists, cars, motorcyclists, and pedestrians navigating around each other… let alone around the tourists, ha ha ha! It sure is a spectacle.
At one point we saw a family of 4 on a scooter heading to the beach. While in the opposite direction, a local Vietnamese guy had one pet dog perching on the front of his motorbike… and his second pet dog sitting on the back, enjoying the wind blowing through his ears!
Plus, as the sun went down… we saw more vendors making their way around town, selling snacks.
And, one of the vendors we had a soft spot for were the guys on a motorcycle… with a wood fire steamer on the back, selling buns. Gee, they sure had guts with a flame burning, and loud speaker blaring… as they rode their motorcycle, selling their big buns.
So, at the Corner Pub they have a variety of drinks to please your tastebuds. Yet, for us, as many of you know we love our beer.
Now, while you can get a small bottle of Huda beer at 25,000 VND… we went the upgrade to a big bottle of Huda beer at 450ml, for only 30,000 VND. And, the great thing is, most of the time the beers were cold. Plus, we could listen to some great tunes.
Next on our list of the bars in Danang to check out is…
3. Heaven Bar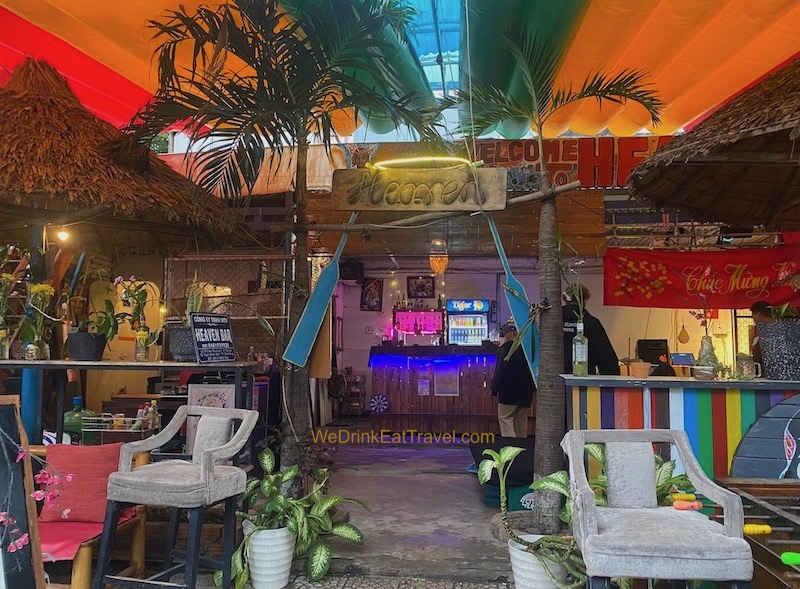 For us, Heaven Bar is a newcomer on the scene. It has a VERY laidback atmosphere. So, if you want to chill, this is a great place.
And, you can choose to sit under the thatched bamboo structure… or the bright and colorful awning. Or, there are also tables, chairs and couches out front… if you want to check out the action on the street!
Now, if you're after some live music… then you can find that here as well on certain nights.
Plus, if you're after food including items such as cheese platters… then they'll have that for you to devour while you're enjoying the atmosphere.
So, the beers are cheap, starting from 20,000 VND for a small bottle of local beer.
Now, as we continue with the We Drink Eat Travel blog about bars in Danang… we take a trip down memory lane too.
Taking a Trip Down Memory Lane and Experiencing the New Bars In Danang…
4. Scallywags
Back in the days… there was a really cool Danang bar by the name of, Simple Man 2. And, while it's big brother Simple Man, is still operating on the city side of Danang in Hai Chau… Simple Man 2 is no longer.
Instead, in the same location is a place by the name of, Scallywags. The building structure and set up is similar, but with different owners. And, the clientele who go there is different to Simple Man 2 as well. Yet, we still had to check it out.
And, the awesome thing is… our favorite spot in front of the bar, facing Ngo Thi Si Street was available. So, we could people watch… and witness some of the crazy traffic moves that were happening!
Plus, one of the great things was that when we went to check out this place… some of the "old" staff were still there. And, after years of not having been to Danang, they did remember us.
So, it was amazing chatting and talking about changes in Danang… and interesting to hear about what had been going in Danang, over the last few years.
Now, they did have happy hours on certain drinks and food, between 3pm and 6pm. And, at the time of writing… the drink happy hours did includx buy 2, get 1 free on certain drinks.
Plus, if you're wanting to have some fun, you can play pool… or you can watch live sports, if that takes your fancy.
You can find Scallywags on the corner of An Thuong 5 and Ngo Thi Si, in My An.
Next on our list of Danang bars you may like to check out is this one…
5. The Trip 66
Now, for those of you who went to Danang many years ago… you'd know about one of the best bars in Danang by the name of, Minsk. Unfortunately, this top bar was shut down a while ago. And, when reminiscing with many of the "old Danang" locals… it sure was a hit, an institution in fact, and sadly missed.
Yet, it did look like it was re-incarnated into a bar by the name of, The Trip. And, having been there a couple of years ago… it was interesting to discover if it was still there.
So, when we were in Danang, we went back to the same location… on the corner of Phan Tu and My Da Dong 10 Streets. And, we found that there was still a bar there. Yet this bar was by the name of, The Trip 66.
It still had the same structure… yet there were a few changes including no more sand underfoot. So, no more worries about getting sandy feet!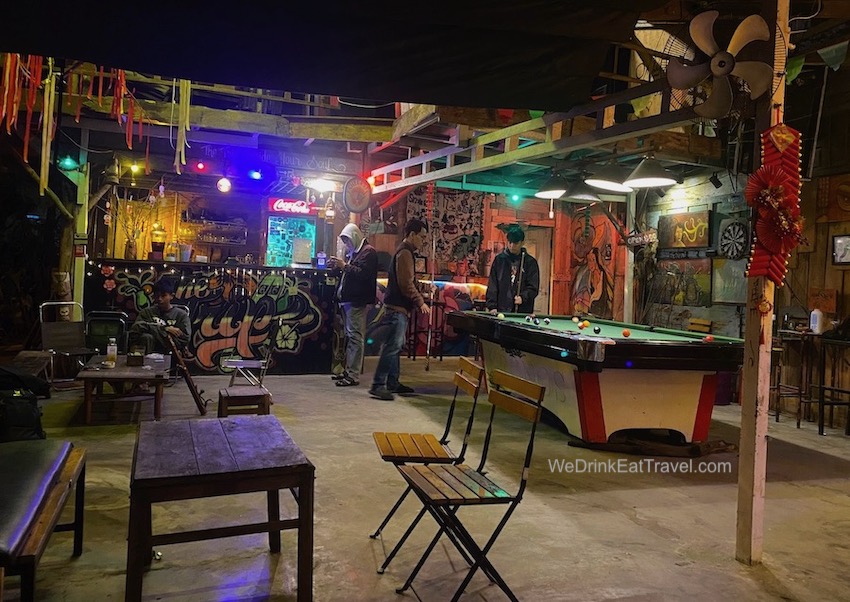 Now, local bottle of beers would start from 25,000 VND (about USD $0.90). And, at certain times they'd have happy hours… as well as live bands.
Plus, if you have a hankering for some fun and games or show off your skills… then there's a pool table too.
6. Vertigo
Vertigo has been in Danang for a while… well known for being the prime Sports Bar. And, in the old days when it was on An Thuong 1… we did go there for a change of scenery, or to watch some AFL.
We still remember being there in 2017… when Paul had the dream of witnessing Richmond win the AFL Grand Final! So, that sure was memorable, and a monumental day.
Yet, nowadays the location of Vertigo is amongst the main action on, Ngo Thi Si. And, in comparison to some of the other bars on the same street… it didn't seem that busy when we were out drinking.
And, we're not sure if that's because the drinks are more expensive… in comparison to many of the other bars in Danang. Yet, towards the end of our stay in DaNang, they did introduce something new.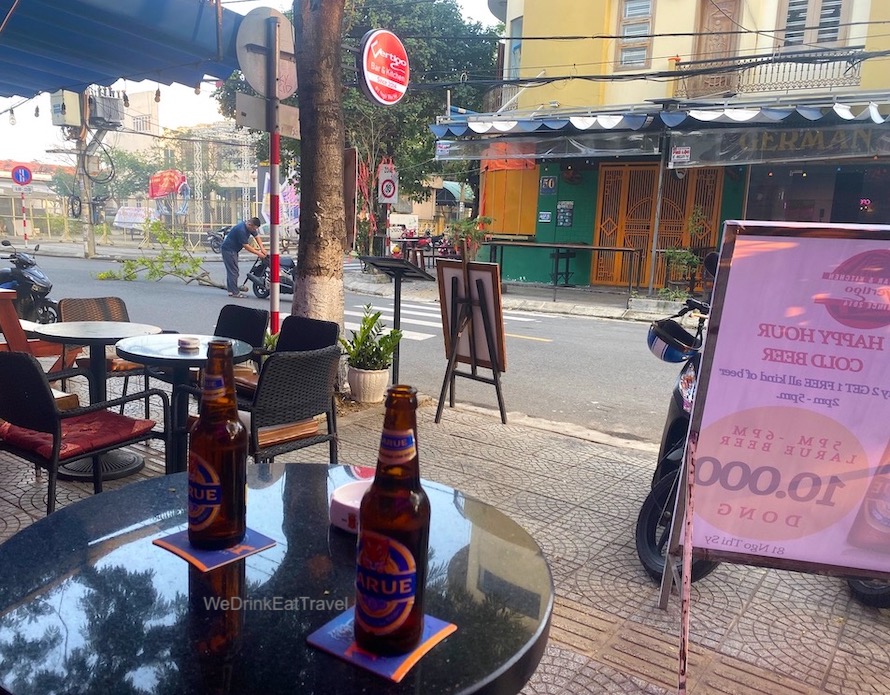 So, between 5pm and 6pm… the local Larue beer bottles were only 10,000 Vietnamese Dong each. Now, that's crazy cheap, and even less expensive than in the supermarkets!
Now, that sure would be a very jolly power hour! Even so, it still wouldn't bring in the crowds.
And, maybe that's because the strange this is… the sign promoting their happy wasn't noticeable. So, as you know things change. Thus, we hope this power hour of cheap beer will still be there when you visit. Or, they may even have different happy hours.
Now, from our perspective… we've saved the best until last for the top bars in Danang.
7. Heo's Pub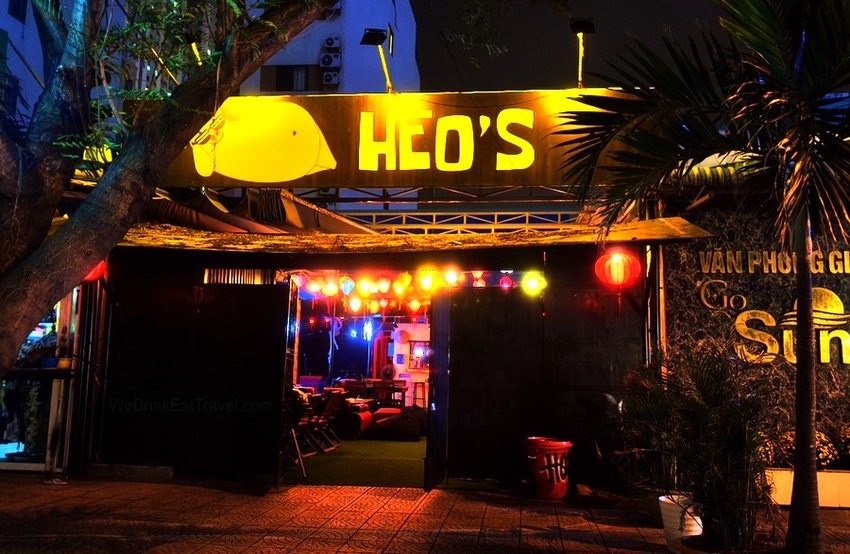 This pub has a real locals feel to it. And, for us being Aussies… when we were living back at home we'd always have a "local" place to eat and drink. Yet, as we constantly travel… it can be challenging finding that that local bar to hang out.
Even so, we found the outstanding Heo's Pub. And, the huge contributor to "making us feel like we were at home," was the Australian owner. Caleb is a super friendly guy, who goes out of his way to help people. He's a genuine, all-round top bloke! Plus, the staff are awesome and friendly too.
For those who know, the location of Heo's was where N Pub 2 used to be. And, for those "old Danang" folk… you'll know the awesome place where N Pub first started! These were the great ol' times!
Now, there is something you should now about Heo's… and it's that it doesn't open until around 6pm. Yet, it does kick on until the wee hours of the morning… if you're up for a jolly time out.
Plus, throughout the week there are live bands… and even open mic nights. So, if you have a desire to belt out some tunes and showcase your voice… then Heo's Pub is an excellent place to do that. Plus, there's other fun stuff like quiz nights.
And, at the time of writing this, there were no happy hours on drinks. Yet, with local beers starting from 25,000 VND per small bottle… that still is damn cheap. Plus, there's an awesome atmosphere with people from all walks of life.
Yet, if you're wanting to sit on your own and not mingle… you can chill out on the bean bags.
You can find Heo's Pub on 36 Phan Liem Street.
So, there you have 7 top bars in Danang, Vietnam to quench your thirst… when in the awesome My An beach area. And, you could even do a bar crawl going to each place if you were short on time.
Yet, the one great thing that we found after having not been in Danang for a few years… surprisingly the prices of drinks has not increased in price much. Well, at least in the My An area anyway.
And, while we have gone through 7 bars… there are plenty more you can check out. Plus, if you're looking for other awesome and memorable things to do in Danang… then check out the many activities on offer.
Enjoy your time in Da Nang. CHEERS! 
See Our YouTube Video Going From Danang To Hue…
You Might Be Interested In This Too…
Check Out 16 Things To Do In Tivat Montenegro
The Ultimate Guide To Vietnamese Coffee
8 Great Places To Eat In Melaka And Where To Drink
25 Interesting Things To Do In Malacca, Malaysia
Here Are 12 Interesting Things To Do In Putrajaya Malaysia
Review Of The Ibis Styles Kuala Lumpur Fraser Business Park
21 Interesting and Top Things To Do In Brno
Our Qantas Flight From Melbourne To Singapore Was Actually Astonishing
Is Dubrovnik Worth Visiting? Fascinating Facts You Need To Know
What You Need To Know About The Bangkok Canal Boat On Saen Saep
27 Of The Best Things To Do In Bucharest
10 Free Things To Do In Hue Vietnam