Paul and I have been to Vietnam many times now. Yet, there's so many places to see in Vietnam and we've only touched the surface!
So to see and experience some of the most incredible sights in Vietnam, you will have to pay. This is fair enough, and some of the proceeds go to maintaining the sites as well.
But if you're looking for things to do in Vietnam, without spending a dime… then this blog post is just right for you!
So let's get started…
1. See A World Heritage UNESCO Site
With over 1,000 UNESCO World Heritage Sites in the world… Vietnam has 8 of those.
And yes, you may have to pay to visit these sites in all their glory. Yet, if you want to do it for nothing… you can still view them and get memorable photos and experiences.
For example, you can still get amazing photos of the Imperial City in Hue…
This photo is of the Royal Palace. As you can see, it is majestic and an amazing sight even from the outside.
2. Have A Swim In The Beautiful Beaches
Vietnam has the best of many worlds so to speak… With amazing architecture, sights, natural landmarks, and beautiful beaches. Some beaches that come to mind are in Phu Quoc, Hoi An and Nha Trang…
So take advantage of the beautiful beaches and have dip in the water. While you're enjoying a paddle, enjoy the amazing scenery around you.
Oh, and make sure you watch out for jelly fish season!
3. Visit A Local Vietnamese Market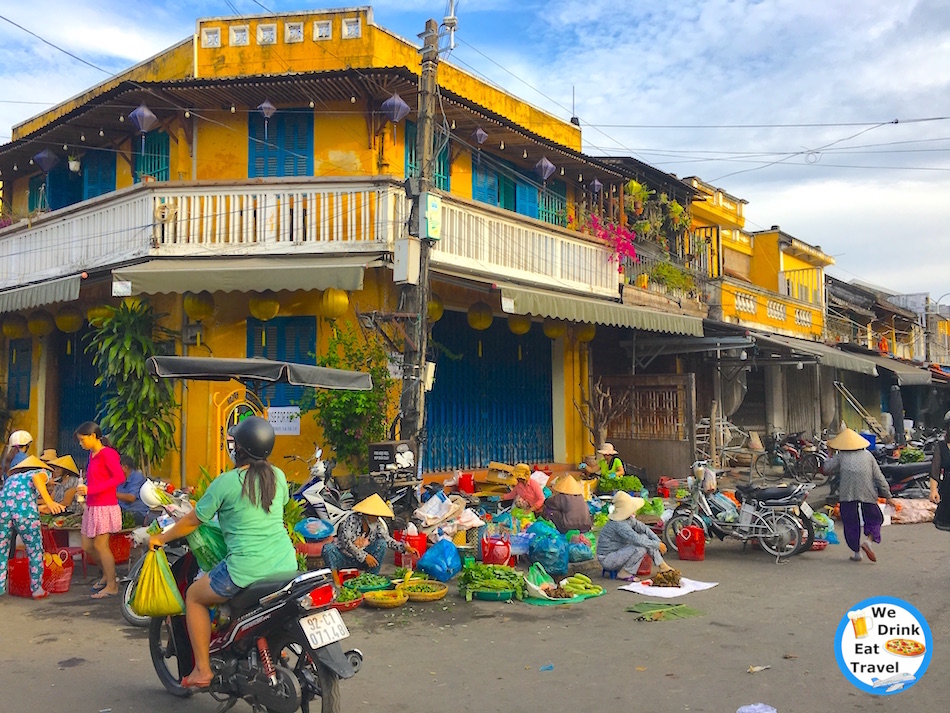 I don't know what it is, but I love visiting local markets wherever I travel. Paul doesn't really give two hoots, but for me it's fun. You never know what you're going to see.
You won't find many typical souvenirs at the real local Vietnamese markets, and that's exactly what I prefer!
And sometimes it's the shock value that will create ever-lasting travel memories.
You might see bugs for breakfast, fresh seafood, raw meat laying out in the heat on tables with flies all over it…
Then, you might see dresses being sold for 50,000 VND or men's shorts going for cheap at 10,000 VND (about USD $0.45)!
Yet, it's great to watch the hustle and bustle… usually very early in the morning as the locals go about their daily life.
4. Go On A Free Walking Tour
There are organizations that offer free walking tours in Vietnam, which will have a host or guide. Yet, we've put together our own walking tours in the past, based on what we want to see… and in the timeframe that we have allocated.
You will never be bored, as there are so many things to see in Vietnam. But the trouble is trying to fit everything in!
For example, when we stayed at the Mercure Hanoi La Gare, they gave us a map of what to do in Hanoi. So this was a great help.
Plus, we added in some of our own things to do in Hanoi, like visit the infamous train street…
5. Get Your Blood Pumping
If you get up early morning, you'll see many Vietnamese either go for a swim if they're near the beaches fully clothed… do tai chi, go for walks, or do workouts on the free gym equipment.
OK, so the equipment won't be like something in a Jets or Gold gym… Yet, it's enough for the Vietnamese to get the blood pumping for a good workout.
And having now been to Vietnam many times, seeing the older generations do a workout in the park or on the beach is normal to us now. The funny thing is, they are probably in their 90's, but they look like their in their 60's!
So if you want to do a light workout for free, get in amongst it with the locals.
OK, so we're halfway through the free things to do in Vietnam! Just five more to go…
6. Get In Touch With Your Spiritual Side And Visit A Temple
There are plenty of temples in Vietnam… and they vary in size as well as looks. To visit some temples you will need to pay. Yet, on a visit to Hanoi, we walked past this temple…
It was the Quan Su Pagoda. The bold gold color of the building stood out amongst the other buildings on either side of it. Plus, there were pretty red lanterns dotted all around the outside of it.
This is just one of many free temples you can visit in Vietnam.
7. Chill Out Amongst The Greenery In A Park
There are many parks in Vietnam where you can relax on a park bench, or lay out on the grass. Yet some of the parks may be close to main roads, so you won't get complete serenity. However, there are still many beautiful parks to visit.
For example, here's one in Hue called February 3 Park. Not only does it have this "I Love Hue" sign, it also has varying statues…
Sometimes relaxing under a tree is a great way to escape the heat of Vietnam in Summer… To have a snooze, or even to recollect on life.
Plus, this one in Hue has beautiful views of the Perfume River.
8. Witness The Crazy Traffic And Get Amongst It!
In Melbourne Australia, where Paul and I are from, the traffic can be busy. Yet, it has some sort of order to it to keep the traffic flowing as best as can be.
Yet when Paul went to Vietnam for the first time… he couldn't help but laugh at the chaos of the traffic in Ho Chi Minh City.
This is something to watch and take in. And you even see the old Vietnamese folk brave the crazy traffic to walk across the street.
So once you've done it a few times, you'll walk across the busy streets like a local!
Make sure you look both ways, even if the street is one way traffic… because it's almost like there's no road rules.
9. Learn Vietnamese With The Locals
Now, I love learning languages… And even though I may not be fluent in a lot of languages, just learning is fun. I even learnt Latin for 5 years! And have I used it? No!
Yet, the hardest I've come by to date is the Vietnamese language. And with 6 tones, and many words sounding similar, I just can't get it down pat.
When we stayed at a hotel in Hoi An, we were greeting some of the staff by their names. Yet, we found out later that we were calling the chef a bad smell.
We hope he didn't spit in our food… LOL.
I've tried hard to learn key phrases, and even simple things like peanuts when I go to the markets. So it used to make me frustrated, but now, it makes me laugh.
And part of the fun is learning how to say things from locals, then repeating it back.
And you know what makes it more difficult? After speaking to some locals, they said there were many different dialects… and even words in the North, South and Central Vietnam.
So good luck to you!
Discover New Places And Cultures HERE.
10. Visit One Of The Many Pretty Lakes
Apparently the biggest lake in Vietnam by area is Tri An Lake, at about 320km. This is in the Dong Nai province, about 115km North East of Ho Chi Minh City.
Yet, if you want to see beautiful lakes of a much smaller scale, you can check out Hoan Kiem Lake in Hanoi…
And maybe even Tay Ho (West Lake)…
Take a stroll around and enjoy the serenity. And the best part is the adventure, you never know what you might find while you explore!
There you have it… 10 FREE things you can do in Vietnam. Of course, there's plenty more. Yet, this will give you a good start for your travels in Vietnam.
So drink, eat, travel and ENJOY!
Like This? Share it and comment on it!
Note: All of our reviews and comments are our opinions and no-one else's. Even if we receive complimentary goods or services we share our opinions honestly.
You Might Be Interested In This Too..
Would You Be Game Enough To Try A Vietnamese Egg Coffee?
The Best Banh Mi In Hanoi Old Quarter
Check These Out For Some Real Food Adventures
Our Horrible Hanoi City Taxi Scam Experience
My Shocking Experience At A Vietnamese Market
Want Hotel Deals?
Find Your Perfect Vacation Accommodation
Looking For Cheap Flights?
Cheap Flights All Year Round With Skyscanner