Hoi An is a quaint, picturesque town in Central Vietnam. It's beauty and charm range from golden buildings that glisten in the sun, through to the rainbow of lanterns that glow in the dark… through to the coast boasting crystal clear blue waters and soft white sand.
For such a small town, you get the best of both worlds from the bustling waterfront of Hoi An River, to the laid back gorgeous beaches.
Hoi An Ancient Town is another of the UNESCO World Heritage Listed Sites in Vietnam.
Plus, this port town was a busy commercial hub historically, and today… is well known for its endless supply of tailors.
There are many things to do in Hoi An…
Things To Do In Hoi An & Vietnam Info
Hoi An Ancient Town
On the list of one many UNESCO World Heritage Listed Sites… the Hoi An Old Town is steeped in history and beauty.
During the Summer the heat is stifling. And you won't see many tourists at this time, which in some ways is a great thing.
Because when the sun starts to set, Hoi An gets extremely busy. So if you're wanting good photo shots without lots of people, plan around the peak times!
If you're an early riser, you can witness the hustle and bustle of the Hoi An Market. Vendors will have their spot on the streets to sell their range of produce.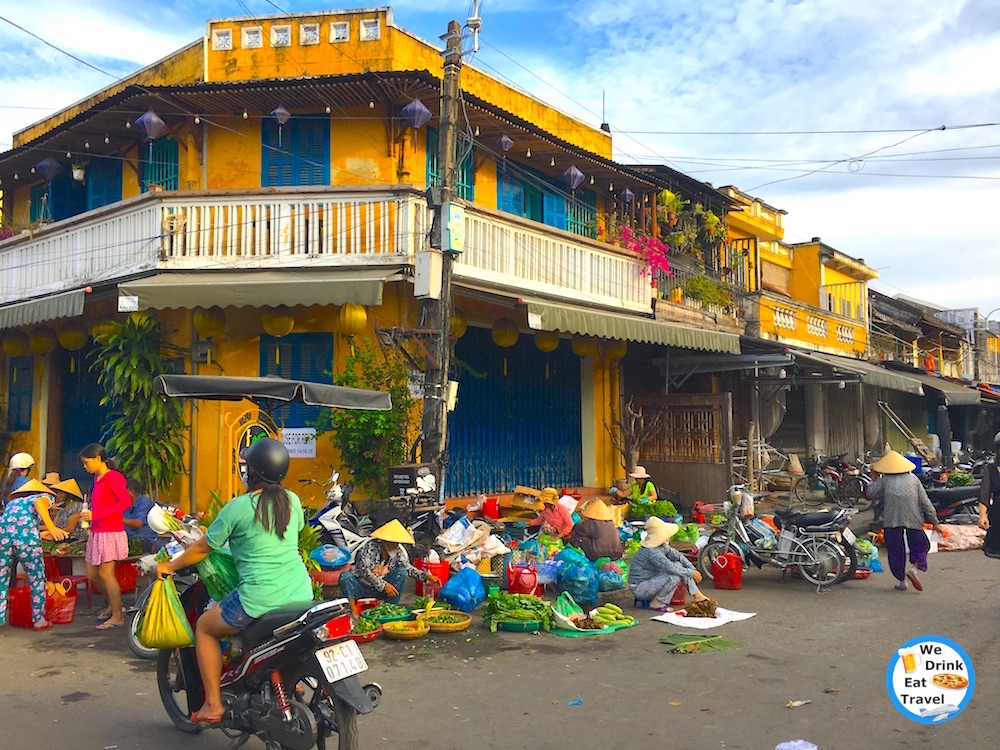 ---
Hoi An Beach
A spectacular beach with beautiful landscape views, and clear blue inviting waters. If you go to the An Bang Beach area, you'll be met with a range of bars, cafes and restaurants to chill out and enjoy the scenery.
---
Food And Drinks
Hoi An has had an abundance of tourism, and along with that have catered for many cuisines. From traditional Vietnamese through to Italian, burgers, and more… You will not be short of choices in Hoi An!
7 Restaurants You Should Try, Not In Hoi An Ancient Town
Minh Hien Vegetarian Restaurant
Exceptional food, cheap prices and great service. Minh Hien is definitely worth a visit! We went there many times and tried a range of dishes.
Pineapple Hoi An
With a range of food from savoury to sweets, Pineapple is known for having decent pizzas made fresh from the oven. So we decided to try it ourselves. Pizzas were fine, yet not the best we had. Check it out for yourself!
Greek Souvlaki
The name says it all! Greek Souvlaki is on 07 Thai Phien Street, away from the hustle and bustle of the Ancient Town.
The more popular option is Mix, which gets really busy. So in peak times finding a seat is impossible, unless you want to wait minimum 30 minutes.
Hoi An Burgers Plus
Located on 22 Phan Boi Chau Street, Hoi An Burgers Plus is outside of the main craziness of the Ancient Town. If you make your way here, you'll be rewarded with great service and equally delicious burgers!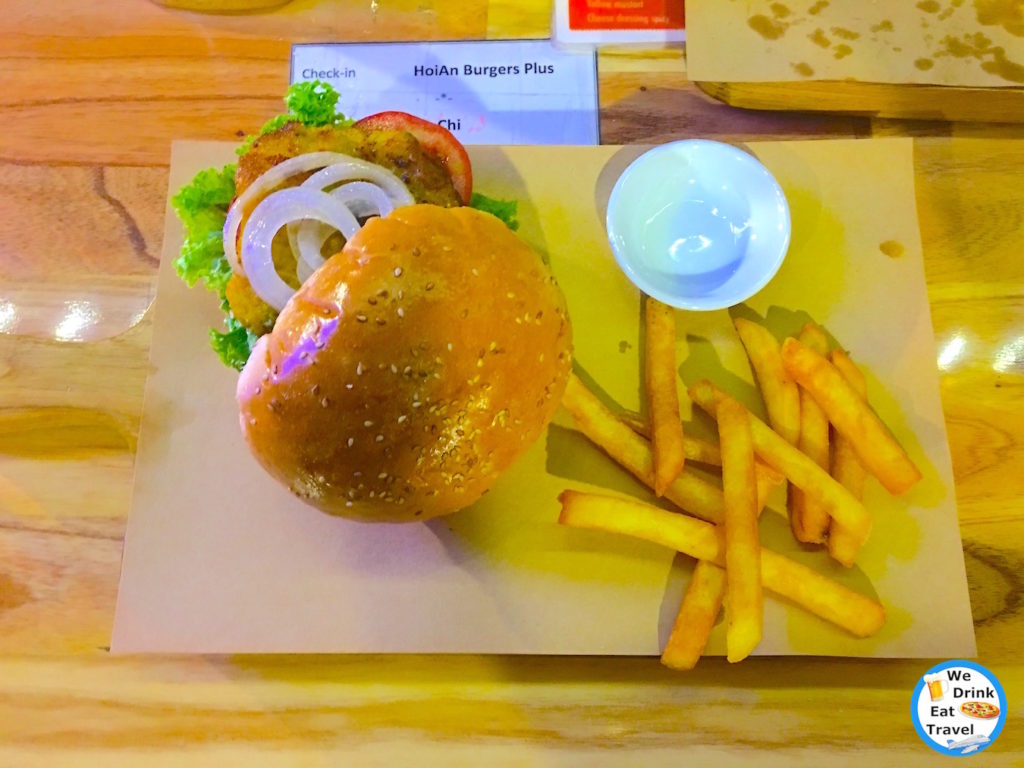 Banh Mi Phuong
This place was made famous by the late and great, Anthony Bourdain… Which is why there is continually a big line up of eager people, wanting to try these acclaimed banh mi for themselves…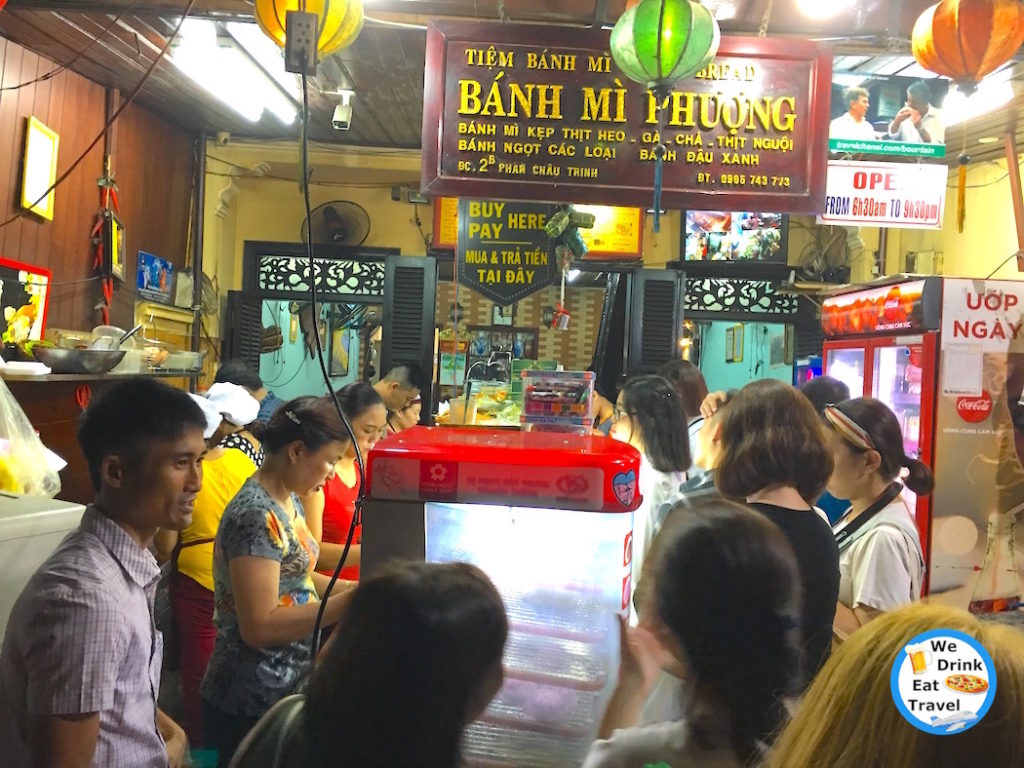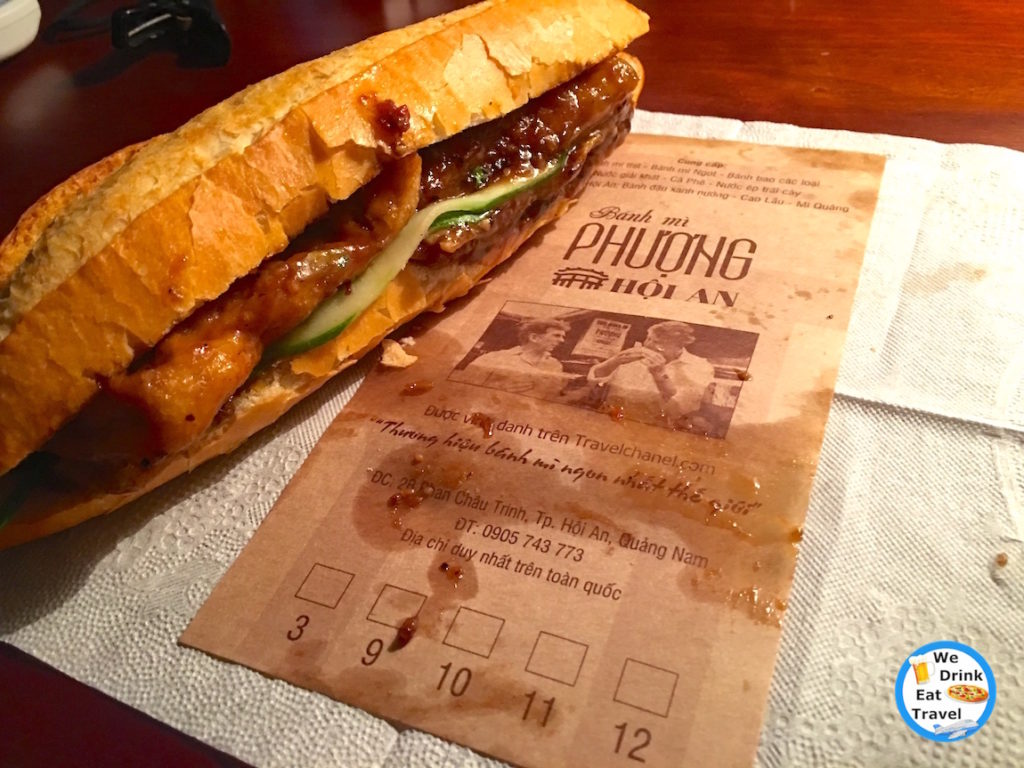 Was it the best banh mi we've ever had? No, but it's worth a try if you're willing to wait.
Dingo Deli
If you're after a decent deli or cheese platter, then Dingo Deli is a must try. The comfy restaurant is located on 277 Cua Dai Road. While prices maybe higher than some, the quality and value is worth it…
There are many bars in Hoi An where you can quench your thirst. In An Bang beach these include The DeckHouse, Soul Kitchen and La Plage.
In the Hoi An Ancient Town area… you can check out White Marble Bar, Hoi An Sports Bar, Dive Hoi An, Funky Monkey, and more.
Getting Around Hoi An
There are several options for getting around Hoi An. We stayed just outside the heart of the Hoi An Old Town for some peace and quiet. Yet, we were still walking distance to many of the attractions, bars, restaurants and amenities.
We did hire a motorbike for a day which was great to get around. It can cost anywhere from around 100,000 VND for a day (about USD $4.35), plus petrol.
Some accommodation in Hoi An offer free bicycles to use too, if you're up to that. And most people don't wear helmets.
Otherwise there's Grab Vietnam, taxis or even cyclos. Make sure you're aware of tourist scams, as we got involved in a Vietnam taxi scam in Hanoi.
These blog posts may be helpful…
Our Horrible Hanoi City Taxi Scam Experience
7 Tips For Handling A Vietnam Taxi Scam
10 Free Things To Do In Vietnam
5 Top Tips Before You Do A Vietnam Currency Exchange
My Shocking Experience At A Vietnamese Market
Need Accommodation?
Find Your Perfect Vacation Accommodation
Looking For Cheap Flights?
Looking For The Latest Flight Deals? Click HERE
Cheap Flights All Year Round With Skyscanner
For more things to do in Hoi An, contact us!