REVIEW
Accommodation: Mercure Hanoi La Gare Hotel Vietnam
Location: 94 Lý Thường Kiệt, Cửa Nam, Hoàn Kiếm, Hà Nội , Vietnam
Room Type
Booked Standard Room with 1 Queen Bed, Upgraded to Superior Room with 1 Queen Bed
Loyalty Program or Deals Used
Le Club Accor Hotels / Accor Plus
Research and Booking
We weren't going to do a great deal of research on where to stay in Hanoi. So I checked the Accor Hotels app to see what hotels we could choose from the Le Club Accor Hotels group.
As we were arriving in Hanoi from Danang late morning, we wanted to hopefully get an early check.
And thanks to our Platinum Status with Le Club Accor Hotels, this was one of the benefits… of course subject to availability.
We weren't looking for a hotel with an Executive Lounge or lots of amenities… as we weren't planning on staying in the room much.
In the end we chose the Hotel Mercure Hanoi La Gare in Hoan Kiem. I also had some points to redeem, so I used those as well.
So in the end, the room rate for 2 nights was just AUD $47.75 (about USD $33.35), which would normally be about AUD $176.45 (about USD $123.20).
Plus, by being a Platinum Le Club Accor Hotels member… this rate included complimentary buffet breakfast for us both. BONUS!
The Location
The Mercure Hanoi La Gare Hotel Vietnam, is in the Hoan Kiem district.
It is in a quiet area of Hanoi, yet only a couple of kilometers from the heart of the French Quarter… as well as just a few kilometers from the heart of the Hanoi Old Quarter.
So if you were feeling active in the hot weather like us, it's good to walk around and see some of the sights. And the good thing is, we could also get taxis or Grab cars. BUT BE WARY of taxi scams.
Read my post of our Hanoi city taxi scam experience HERE.
I'll go into more details about what's around the La Gare Hotel soon.
Check In
We took a private car transfer from Hanoi airport to this Mercure Hotel.
Find out more about our Hanoi airport transfer HERE.
The hotel is on a corner, and there's a small street that loops around the side to the main entrance.
Yet, our driver dropped us off at the side in front of the La Gare Hotel's Brasserie Le Pavillion entrance. We guessed that the driver wasn't sure where the main entrance was, and neither did we!
Yet, that didn't matter because soon after staff came out to help us with our luggage.
The first thing we noticed was that there was a doorman who would open and close the door constantly for guests. And the great thing about that, was it helped to keep the cool air inside the reception area.
When we arrived at reception, staff welcomed us and did the check in formalities. They were pleasant, helpful and efficient.
While we were checking in we were given a cool welcome drink. It was slightly sweet, yet refreshing.
We were also informed that we were upgraded from a standard room to a superior room. WOO HOO! Happy times!
And they also confirmed that as Platinum Le Club Accor Hotels members, we would get complimentary buffet breakfast in the absence of an Executive Lounge.
They also gave us a map with key sightseeing places listed on there, which ended up being helpful.
The Room
After the lifts had opened to our floor, the first thing that shocked us was that it was cool! OMG, even in some 5 star hotels we've been to the levels on each floor have been like a hot box.
So that's a BIG pat on the back for the Mercure Hanoi La Gare Hotel.
It showed a no smoking sign, yet on the second morning we could smell cigarette smoke on the floor. Yet, by the time we came back it was gone.
So after we opened the door to our Superior Hotel Room, this is what we saw…
For a queen size, the bed was actually quite roomy. And it was very comfy too.
There were also two types of pillows that molded to my head just nicely, to help me sleep well.
There was only one side table though, which was a little strange, considering there was room on the other side of the bed.
Opposite the bed was a desk,chair and lamp. There was also a flat screen TV with some decent channels, although we didn't watch it much.
Next to that was a table with shelves. On this included a mini bar with snacks to purchase, and a small fridge with drinks for purchase. Plus, there were 2 small bottles of complimentary water…
Plus, there was a kettle, complimentary tea, coffee, creamer and sugar…
There was a cupboard next to that. Inside it included a hairdryer, slippers, extra pillows, extra blankets, sewing kit, and a safe…
Unfortunately the air conditioner wasn't powerful. It was super quiet, yet it did take some time to cool the room down. Not sure if that was just our room, or the same in every hotel room.
A Gift
Not long after we got into our hotel room and had our luggage brought up, there was a knock on our door…
A staff member handed us a plate of complimentary fruits and a welcome card.
The Bathroom
The first thing we noticed about the bathroom was the entrance, and how we thought it was narrow.
So if you were a larger person, not sure how comfortable it would be to get in and out of the bathroom.
Yet for us, it was fine. Although the size of the bathroom was small and felt a bit pokey, yet it was functional.
There was a separate shower with rainhead shower, as well as a hand held device.
There was a good range of amenities like soap, shaving kit, comb, shower cap, body lotion, shower gel, shampoo, vanity kit, and more.
Dining At The Mercure Hanoi La Gare Hotel
Brasserie Le Pavillion
As part of our Accor Hotels Membership, we got a voucher for 2 free drinks. We could use it in the Brasserie Le Pavillion, which had a restaurant and a bar section.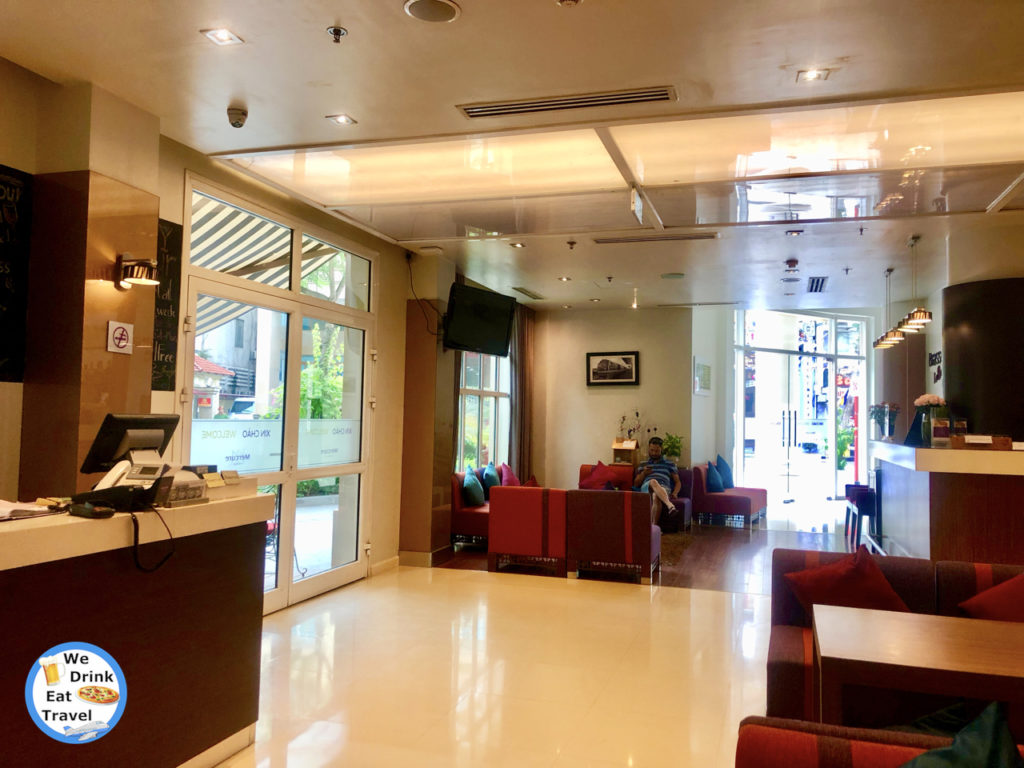 The great thing about the bar area was that it was nice and cool inside. Staff were also attentive enough to close the door if guests had left it open.
We chose to redeem our voucher for 2 Tuborg draft beers, which were ice cold.
Then one evening we had a drink in the bar, after finding out they closed at 11pm. So enough time for a night cap! Paul got a and I got the Tuborg draft beer again.
The total was 150,000 VND (about USD $6.45) for the 2 beers. Yet as we had the Accor Plus membership, we received 15% discount off the total bill. Even without the discount we thought it was cheap for a 4 star hotel.
Buffet Breakfast
We decided to fuel up at the Brasserie Le Pavillion for buffet breakfast, to give us an abundance of energy for our Hanoi walking tours.
It was air conditioned and pleasantly cool in the restaurant. On one side of the restaurant were a range of books that we could borrow…
We noticed though that it was a smaller buffet and the tables in the main restaurant area were set up communal style. Paul isn't a big fan of this unless we're in a group situation.
On the first day we had a table all to ourselves, yet on the second morning it was very busy.
The Breakfast Buffet Food And Drinks
After we sat down, a staff member asked if we would like tea or coffee. And I had to try the Vietnamese iced coffee with condensed milk (café sua da).
So what was my verdict? It was absolutely delicious!
As I mentioned earlier it seemed like a smaller buffet area. Yet, there was enough to get you full. Now, let's take a look at what was on offer when we were there…
There was a bread section with baguettes, sliced bread and condiments. And next to that was a section with cheese, cold meats, and fruits…
Then next to that was a section with salads, and ingredients to make your own salad. The green mango salad was absolutely delicious!
There was also a Vietnamese pho and egg station opposite all this area. Plus, there were juices, cereals and milk on another table.
And of course, there was the hot food section. There was actually a big variety of foods to cater to many dietary requirements.
To find out more about the breakfast buffet and see photos of what we ate… CLICK HERE.
Around The Mercure Hanoi La Gare Hotel
Within about 1km or so is the "Train Street."
It was such a cool place to be, but when we were there no trains were going to come through until about 1.5 hours. We did stop by for a beer though, and decided it would be a great experience to be here when a train rolled on through.
There are sights to see within minutes walk of the hotel including the Hoa Lo Prison and Quan Su Pagoda…
We ended up doing a lot of walking the first day including to the French Quarter… and our last stop was the Hanoi Old Quarter.
You can find out what we got up to in the Old Quarter HERE.
If you don't want to walk so much then there are cyclos, Grab, or taxis you can hail to get where you need.
And it's very cheap to get around. For example, to get from the La Gare Hotel to the center of the Hanoi Old Quarter is about 40,000 VND (about USD $1.75). Crazy prices!
So we did use Grab or taxis to get around sometimes. WARNING: Make sure you take care when hailing and using taxis in Hanoi. We got caught in a scam with a Vietnamese taxi driver.
Find out about our horrible experience with Hanoi taxi scam HERE.
We Drink Eat Travel Wifi / Internet Speed Test
With the wifi there was no username and password to enter. It connected straight away once you joined the network.
Another shock was how fast the internet was! Here's the speed we clocked up in our hotel room…
At 42.8 mbps for the download wifi speed, and 94.2 mbps for the upload speed that's great!
Would We Stay At The Mercure Hanoi La Gare Hotel Again?
Yes, but we'd probably get the biggest room possible as bathroom felt a bit pokey.
Inside our room it was quiet, and the bedding was excellent so we could get a good night's sleep.
The great thing was that throughout the hotel, even in the corridors it was nice and cool.
The service in ALL parts of the hotel was consistently excellent. It was even better than some of the 5 star hotels we'd been to. So thumbs up to the Mercure Hanoi La Gare!
You Might Be Interested In This Too..
Check Out These Bars In The Hanoi Old Quarter
Getting From Hanoi Airport To The City
The Best Banh Mi In Hanoi Old Quarter
Check These Out For Some Real Food Adventures
Our Horrible Hanoi City Taxi Scam Experience
Getting From Hue To Danang By Car
My Shocking Experience At A Vietnamese Market
Like This? Share it and comment on it!
Note: All of our reviews and comments are our opinions and no-one else's. Even if we receive complimentary goods or services we share our opinions honestly.