Located in Central Vietnam… Hue has survived repeated barrage during the Vietnam war. Yet, when you walk along the picturesque Perfume River… you'll witness the natural beauty with spectacular mountain views.
Plus, with The Complex of Hue Monuments, a UNESCO World Heritage Site… you'll be amazed at how these incredible sights have survived the times. Yet, sadly many other buildings were destroyed.
Then once you visit Hue City Center… you'll be amongst the friendly and helpful locals who help make your visit to Hue a memorable one.
There are plenty of things to do in Hue… and it should be on your list of places to go in Vietnam.
Lap An Lagoon
Lap An Lagoon is about 65 kilometers (~40 miles) from the Hue city center. As it's not obvious from the main road, you may miss out on seeing it. Yet, once you're there the views are spectacular…
---
Lang Co Beach
Around the corner from Lap An Lagoon is Lang Co Beach. Having been to several beaches in Vietnam… Lang Co Beach is much less touristy. Depending on what time you go, you could have the beach all to yourself!
There are some high end resorts here such Banyan Tree, through to budget accommodation. To find accommodation that suits your needs, CLICK HERE.
---
Imperial Tombs
There are several tombs in Hue that you can visit, many of which were built in the 1800's.
You will need to pay to enter and experience the tombs. The fees vary from about 40,000 VND (about USD $1.75) per person, upwards.
Each of the tombs has a unique history and architecture… so if you have a bit of time in Hue you can take your time to see each one.
Yet, if you have time constraints, the three most popular Hue tombs to visit are… Tu Duc, Khai Dinh and Minh Mang.
Tu Duc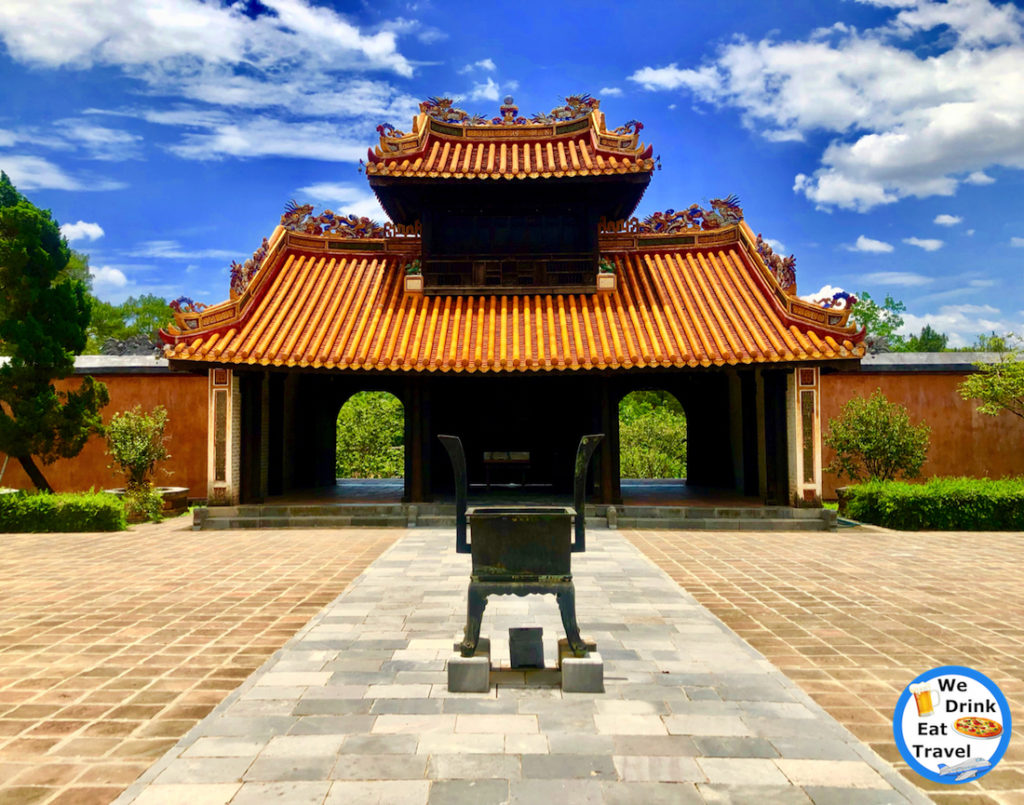 Khai Dinh
Minh Mang
---
Hue Pagodas
There are also several pagodas in Hue that you visit, and see the intricacy of the construction. Some of the pagodas were built as far back as the 1600's. And the pagodas you can see are Tu Hieu, Bao Quoc and Huyen Khong Son Thuong.
The photos below are of the oldest pagoda in Hue, called Thien Mu, which is free to visit.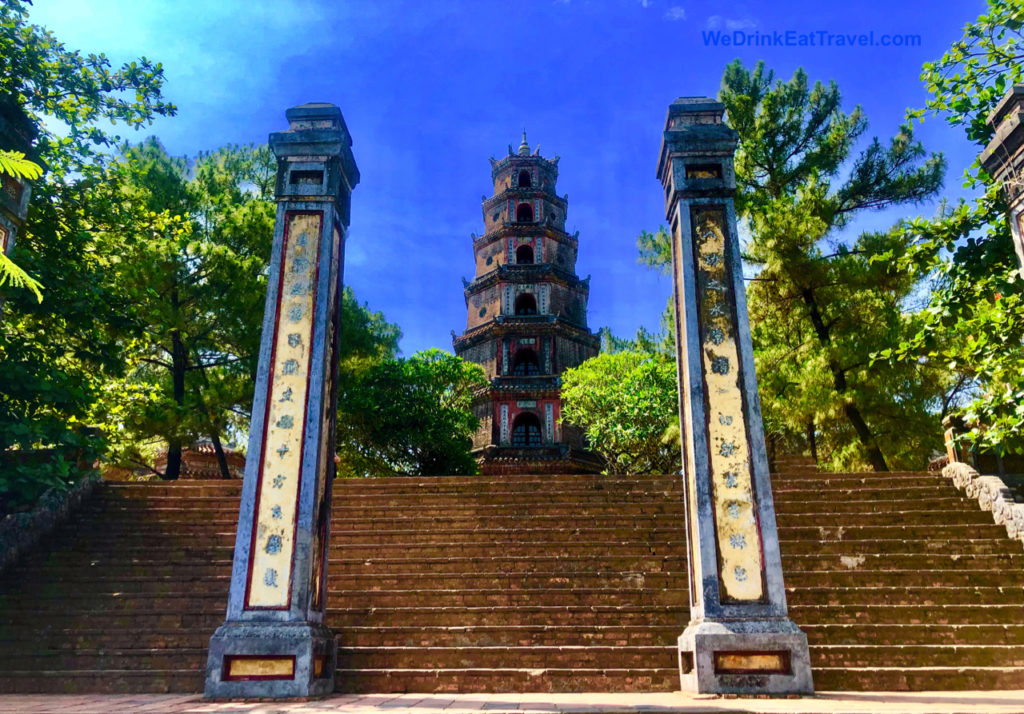 ---
Imperial City
If there is one thing you must put at the top of your list of things to do in Hue… it is to experience the Imperial City. Listed as a UNESCO World Heritage Site in 1993, when you go there you'll understand why.
We spent a few hours here! Yet, if you wanted to read about the history in detail… you could spend half a day in the Imperial City.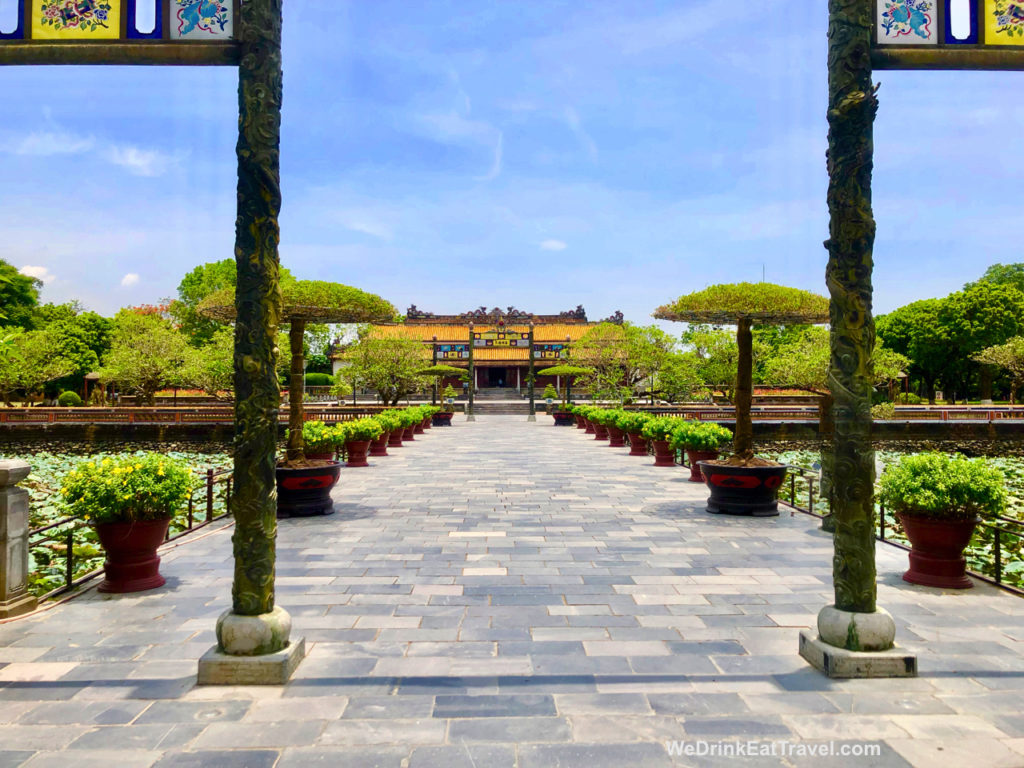 The cost to visit the Imperial City is 150,000 VND (about USD $6.50) per person. Yet, if you want to visit a few of the sites in Hue, check out our blog post of how to save some money HERE.
There's plenty more things to do in Hue, so have a look at some of our blog posts below. And if you need more help, hints or to plan your trip…
---
Other Things To Do In Hue, Vietnam Travel Tips & Info
5 Things To Do From Da Nang To Hue
Our Horrible Hanoi City Taxi Scam Experience
7 Tips For Handling A Vietnam Taxi Scam
10 Free Things To Do In Vietnam
My Shocking Experience At A Vietnamese Market
---
For the Foodies
Restaurant Reviews: Zucca Restaurant, Hue Vietnam
4 Banh Mi Vietnamese Sandwiches For About USD $1
Restaurant Reviews: Cozy Restaurant and Cafe, Hue, Vietnam
Check These Out For Some Real Food Adventures
Hue Nightlife: 8 Bars To Get Cheap Drinks In Hue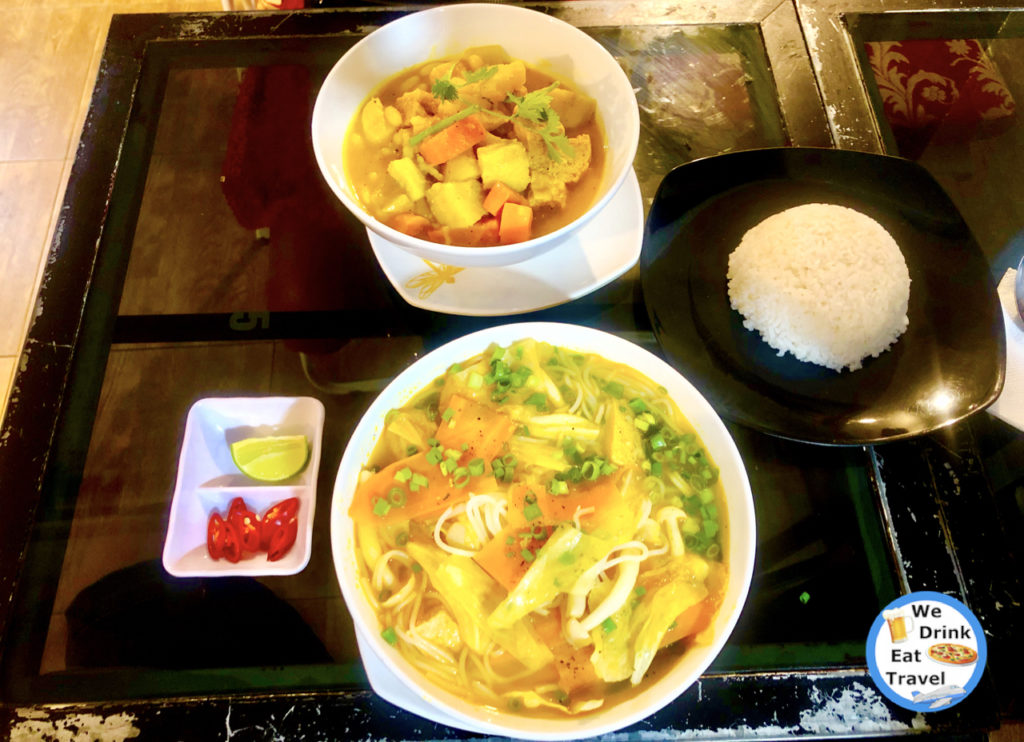 ---
Accommodation
Find Your Perfect Vacation Accommodation
Looking For Cheap Flights?
Cheap Flights All Year Round With Skyscanner