I was in Bangkok and needed an Asus MB16AC portable monitor, and some iPhone accessories. I did a bit of quick research on google about where I could find these items, and the following came up:
MBK center, Pantip Plaza, Central World, JIB Computer Group, and a range of online stores.
I wasn't interested in the online stores as I wanted to actually see the Asus monitor in person. I wanted to make sure it was the version I was looking for and that it was compatible for my computer.
MBK center, Pantip Plaza, Central World are all well known for general shopping, as well… as all things like phones, computers and electronics.
To cut a long story short I visited all these places for the things I needed… but it was disappointing. Even though these places listed the items I was looking for, I was consistently told "sorry, no have."
After days of shopping for electronics in Bangkok with no luck, I was getting desperate. So I ended up going to an IT store that came up in my original search… only to find out that they didn't have it either.
However, they were helpful as they asked if we had been to Fortune Town?
We'd never heard of it. So as we worked through the language barrier they told us the nearest MRT station. So we had the name of the mall and the closest MRT station, so we thanked them and we were off.
To get to Fortune Town by MRT, you need to take the Blue Line to stop at Phra Ram 9.
The Metropolitan Rapid Transit or MRT is a mass rapid transit system in Bangkok. I like it better than the BTS because the MRT is underground and has air con!
Vi and I were coming from Lumphini MRT, which cost us 26 baht (about USD $0.85) each. From Lumphini MRT it was 5 stops to Phra Ram 9 MRT Station.
When you're at Phra Ram 9 MRT stop, look for Exit 1…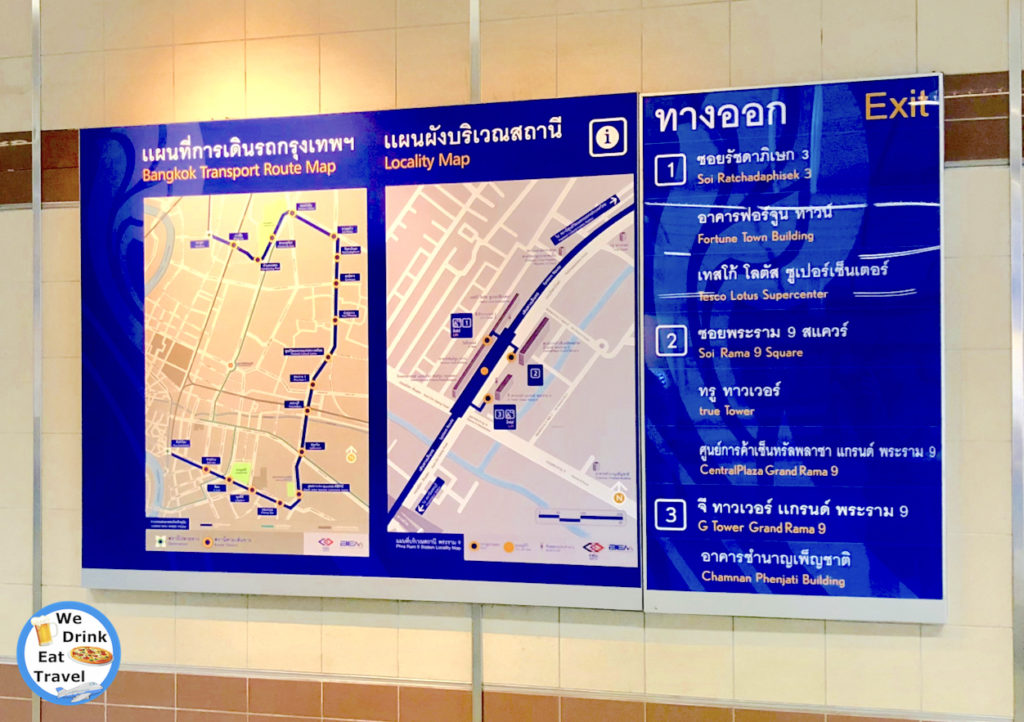 Vi wasn't thrilled about going. But Central World shopping center was next door so that was good enough for her.
Once you exit the MRT, Fortune Town IT Mall is right next door…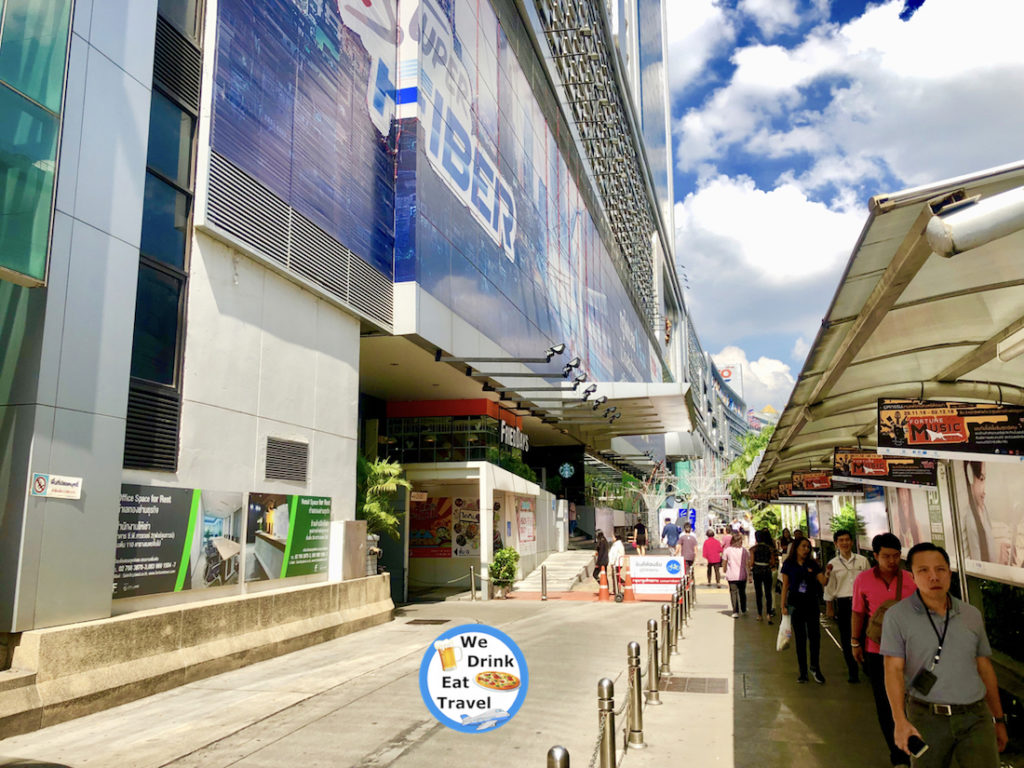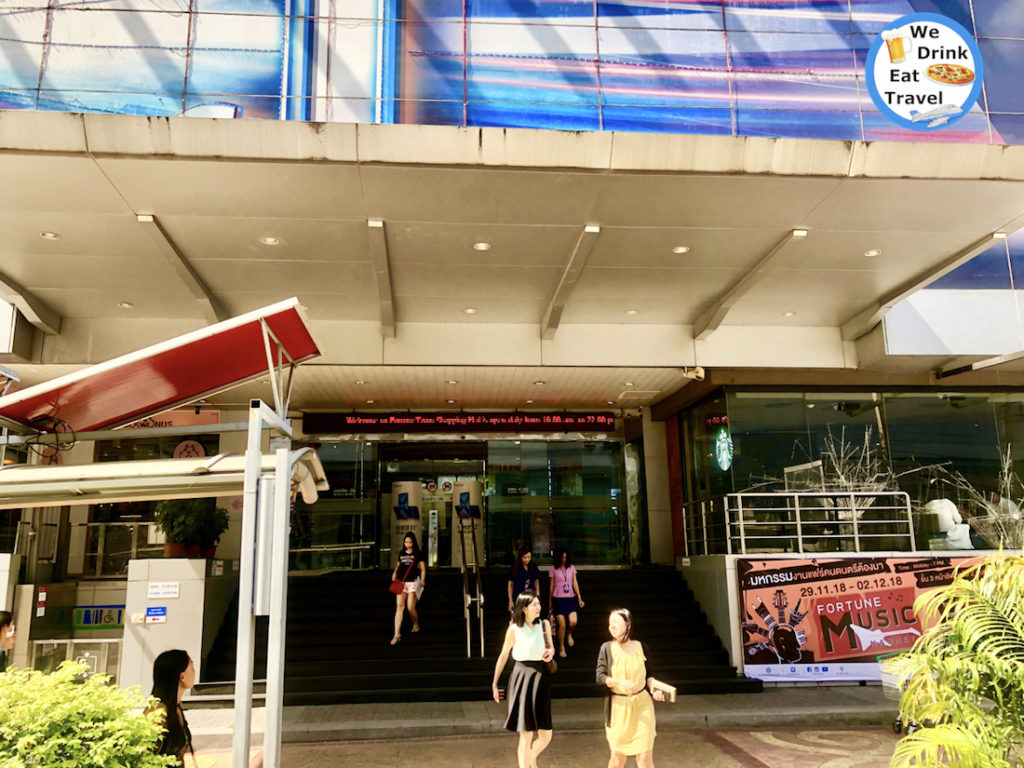 Fortune Town is a big Bangkok shopping centre with 5 floors of everything IT… as well as much more. I was rubbing my hands together and looking forward to it! It also has plenty of food places as well.
When you walk in, you'll be at Level 2. This level mainly has…
Cameras and accessories
Mobile and smart phone products
Miscellaneous IT products
Tesco Lotus
Here's some photos of what you can expect to see…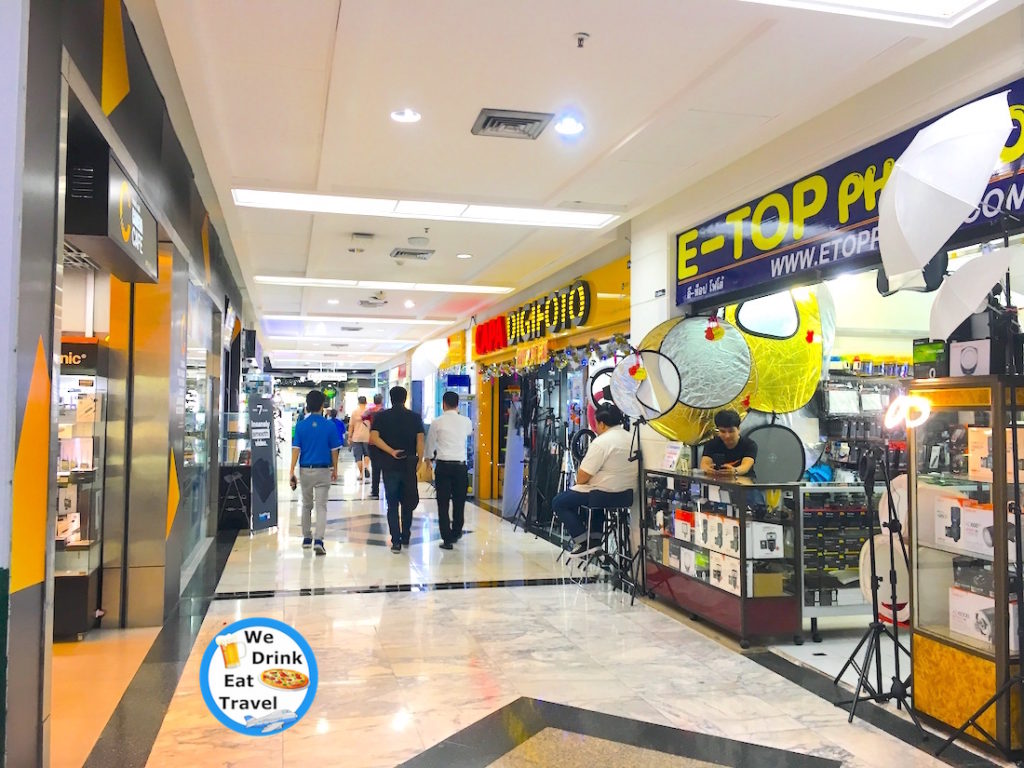 After looking through only the 10th camera store with more to go Vi was rolling her eyes. So she took most of the photos while I looked around.
The 3rd and 4th floors were dedicated to more IT, electronics and other goods…
3rd Floor
IT goods and accessories
AV and electricals
Miscellaneous products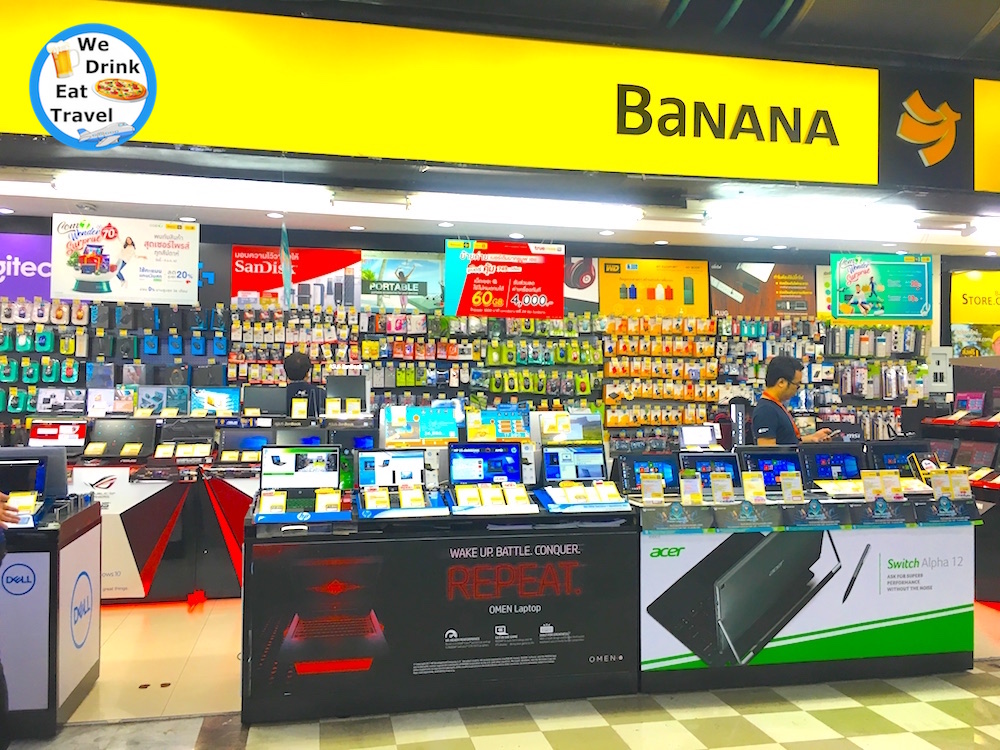 4th Floor
IT service center
More IT goods and accessories
Miscellaneous products
As I said before there are 5 floors in Fortune Town. There is the Ground and 1st Floors…
Ground Floor:
Health and beauty
Hobby and toys
Lots of food!
1st Floor
Jewelry and watches
Banks
Lots more food
Tesco Lotus
You'll also find "random" stores of luggage or music in the shopping mall too…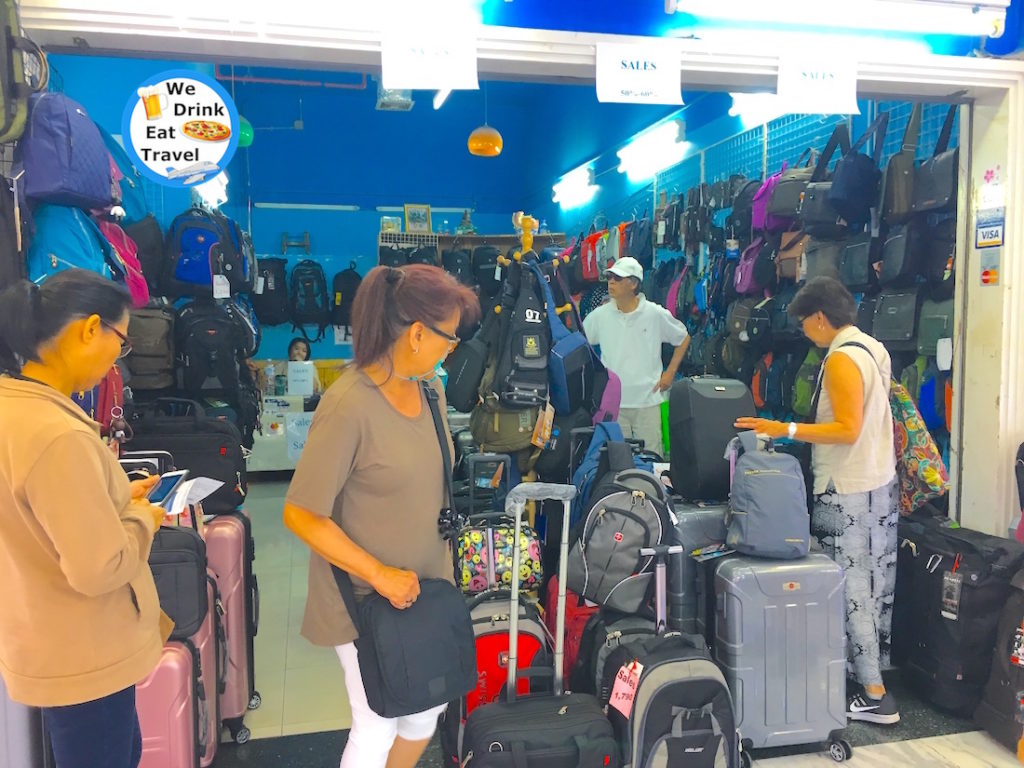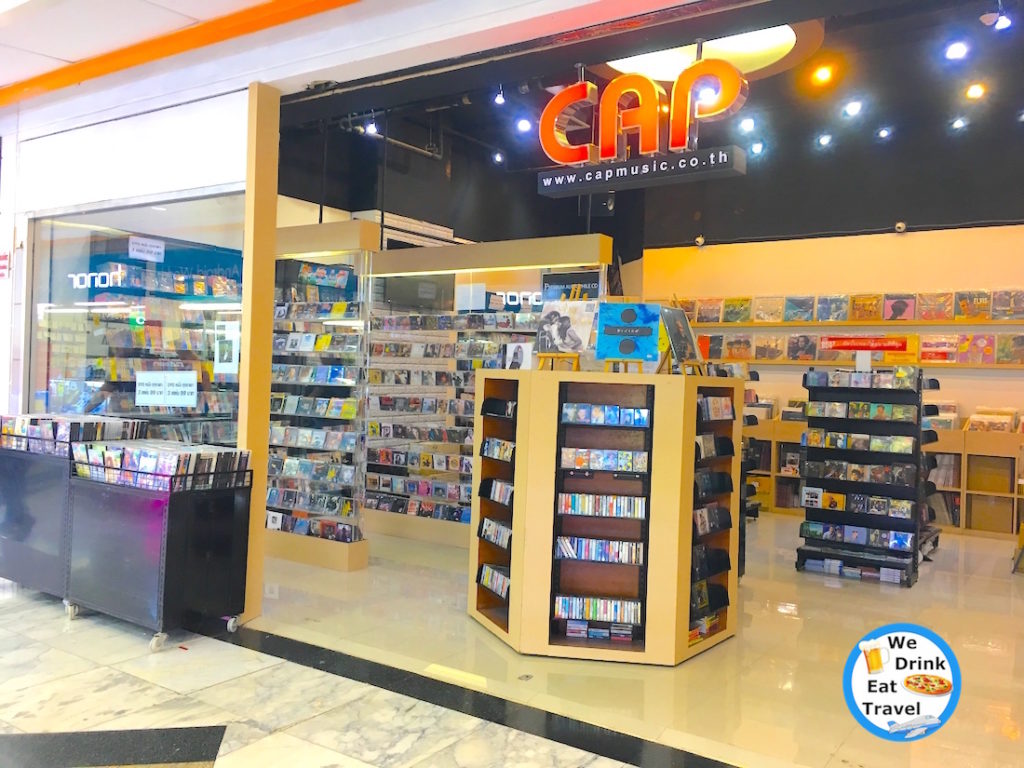 There's so much stuff at Fortune Town, it's great. You can negotiate on some things but it depends on what it is.
If you go to resellers for like the Apple store, the price you get quoted is pretty much what you have to pay. That's what I've found in other countries anyway so that was fair enough.
Some store owners won't budge with their prices. If they won't settle for a price you're happy with… move on to another place or accept it.
I did haggle on prices for most things. If I didn't get the discount I didn't really care. In the end you can get some good deals on cheap electronics here, as well as the brand names.
NOTE: Some stores may charge a fee of about 3% if you want to pay by credit card.
Check with the store to see if they offer VAT refunds for tourists. You have to spend on each transaction at least 2,000 baht (about USD $65) before you can get this benefit.
I'd check all the details about the VAT refund first to see if you can get it, and if it's worth it for you.
So did I find the things I was looking for?
Absolutely. To my surprise I was able to get everything I was looking for.
I also got a discount on almost everything I purchased. I also got the VAT refund for tourists on some of the items, which got me USD $90 back.
So now when I'm shopping in Bangkok for anything electronic and IT related… I go straight to Fortune Town. So far, I have not been disappointed.
TIP…
To make it easier on yourself to find things… take a photo of what you want, including the model number and show it to the staff in the store. Many of them don't speak a lot of English. But they can tell you straight away if they have it, or if they have something similar.
In the end we spent hours there!
For me, Fortune Town is one of THE best places to go for electronics in Bangkok!