Having been to the Pullman Danang Epice Saturday night buffet, Paul and I decided to go all out for a piggish weekend…
That meant on Sunday, we backed it up by going to the Pullman Hotel's, Azure Beach BBQ Buffet.
The Majestic Location
Once we went through the open air entrance of the Pullman Da Nang Hotel, there's a stylish bar after reception…
The building that's in the photo with the hanging lanterns was Epice. That was where we dragged our bloated bodies out on the Saturday night! You can check out our review of that dinner HERE.
As we walked past the bar in the lobby and between a jewelry shop, we walked down a little corridor and saw this view…
The lush green lawns were meticulously manicured… and the long stoned pathway would lead us to the pool and beachfront.
And as we were walking towards the entrance of the Azure restaurant next to the pool… a staff member saw up approaching.
We got there right on 5:30pm for when the buffet had opened.
Just so you know, it's on every Sunday from 5:30pm – 9:30pm.
Inside The Azure Beach Lounge…
Once we walked into Azure, directly in front we saw decorative walls, and a long table with bar stools…
Then as we turned left there were lots of other tables and chairs set up…
Inside it's not huge restaurant, compared to the Epice Restaurant. Yet, it had a casual, relaxing atmosphere… And it was like a breath of fresh air.
It also had a calming feeling because of the blue and turquoise colors of the furniture.
In the background we could hear upbeat tunes for a playful, beachy atmosphere.
We had a table for 2 reserved for us…
Then a staff member came to the table explaining the 2 buffet options…
The price per person is 880,000 VND (about USD $38). This is for an all you can eat buffet, including one drink.
Or the option Paul and I took was for 1,080,000 VND (about USD $46) per person… it was all you can eat buffet, including free flow wines, beer and soft drinks.
Guess what Paul and I chose. The gorge yourself package! 
There was free wifi at the restaurant too.
We ordered beers to start…
Then Paul took some photos while it was still quiet in the restaurant, with hardly anyone in sight. Now, how breathtaking is this view?
Such an incredible view at the front of the Azure Beach Lounge restaurant. The soft sand, calm blue water, with an amazing mountain backdrop made it picture perfect.
There were bean bags and beach loungers on the sand.
There was lots more seating outside too…
It really was a very relaxed atmosphere, especially for a Sunday night before the start of the working week for many locals. Yet, when on vacation, every day is Sunday! ;-)
The Food and Drinks…
We noticed that most of the food was outside…
There were sliced meats, dried fruit, nuts, cheeses, breads, butters and a toaster. The sign for the meats said "Cold Cut Station". Yet, after hours in the hot weather it was probably warm cuts!
Unfortunately when we first got some food like the cheeses, bugs flew off! So we piled a couple of plates full of cheese to take inside and rest on our table.
Look at this bread Paul cut… it had a massive hole in it!
Generally though, the bread still tasted fine, but wasn't so crisp on the outside. We guess it's been out in the elements of the hot weather!
Anyone For Warm White Wine?
After our beers we decided to have some white wine. My glass of white wine was barely cold! Disgusting.
So I complained to a staff member who quickly went to change it for a cold one.
When I turned around in my seat to look at the bar, this is what I saw…
The staff had pre-poured a bunch of white wines into glasses and left them sitting at the bar. This is probably to make their life easier.
Yet, in didn't take long before they got warm. Similar to Epice, it seems the staff don't understand that they need to serve white wines cold!
Come on Pullman, you're supposed to be a five star LUXURY hotel… So you should know better!
Eat with your eyes…
Outside near the windows there was a huge salad station where you could make your own. Otherwise a cook would make it according to your liking. It was colorful! As they say, you eat with your eyes…
There was also a pasta station with squid ink fettucine, spaghetti and different sauces. There was also a pho station next to it…
Under heat and lighting were roast ducks and roast potatoes!
And there was even a big pig on a spit…
Near the pig were some other foods that could be barbequed… like corn, sausages, seafood and skewers…
In a cart display were tacos…
Throughout the night, the service from the waiters and cooks was attentive. They were also helpful and attentive. So big thumbs of for the staff at Azure!
Sweet Sensations
So most of the food was outside except for desserts and fruit…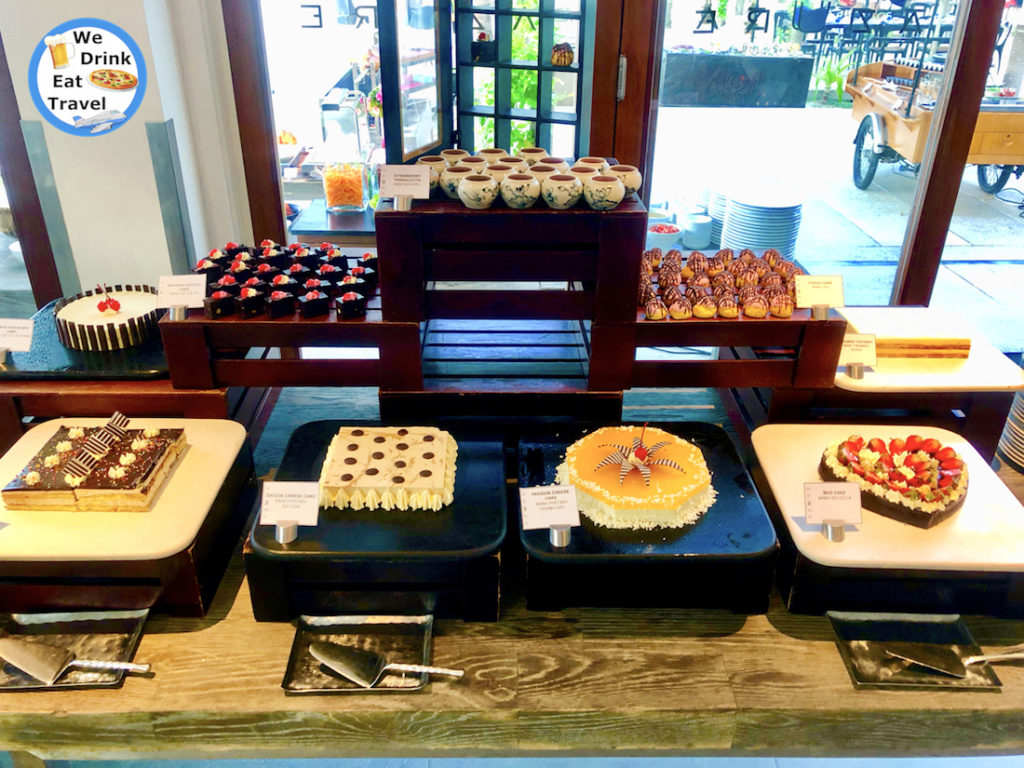 As you may know me by now, I had to tuck into some desserts… And how inviting did they look!
I tried a few desserts including a coconut tiramisu, which looked delicious. Yet when I tasted it… it reminded me of the smell of a manicure shop, which makes me feel ill. Gross!
So I got rid of the disgusting taste by having a strawberry ice cream, or two…
By this stage we had pigged out way too much! So it was time to leave, and as we did, here is a night photo of the Pullman DaNang Hotel…
And while we were waiting for our Grab car in the lobby area, we felt like what these people were doing!
Would We Come Back To The Azure Beach Lounge Sunday Night BBQ Buffet?
It's definitely much more quiet than other times we've been here at the Azure Pullman Hotel buffet on Sunday. I guess more competition means more places to try.
We did like the chilled atmosphere, yet we thought there wasn't a great deal of choice for the price we paid.
If we were desperate for a big Sunday night pig out… or we had a craving we would come back to the Azure Beach Lounge buffet. But, unfortunately it won't be a weekly occurrence.
All in all, it's worth giving it a try if you're around. Yet, we wouldn't make a special trip for it. Because for an extra 100,000 VND, we believe it's better value at the Restaurant Epice Saturday dinner buffet.
However, if the ambience matters to you then try both… as they are quite different.
If you do go, make sure you go hard or go home… LOL!
ENJOY!
Like This? Share it and comment on it!
Note: All of our reviews and comments are our opinions and no-one else's. Even if we receive complimentary goods or services we share our opinions honestly.