There's nothing more exciting then knowing that you'll be going on vacation soon. Whether that be for a few nights, a couple of weeks, or months. It's motivating when you know you have an upcoming trip… as it gives you something to look forward to. 
There are so many destinations… from vibrant capital cities like Paris, Sydney, Bangkok, and Prague. Or, you may want to head to Italy, to admire the stunning coastline? Or, on your list is a thrilling road trip on Route 66, in the USA.
You work hard to earn your money, so you deserve to enjoy it! And, for many of you, this means saving up a part of that income… as you're hankering to go on that next vacation.
Yet, while you get that boost of excitement and eagerness… there are a couple of key things that need to happen first. And, that's doing the research about where to go, how to get there… and so forth.
And, let's face it, when making your travel plans… you know that the biggest travel expenses will be flights and accommodation.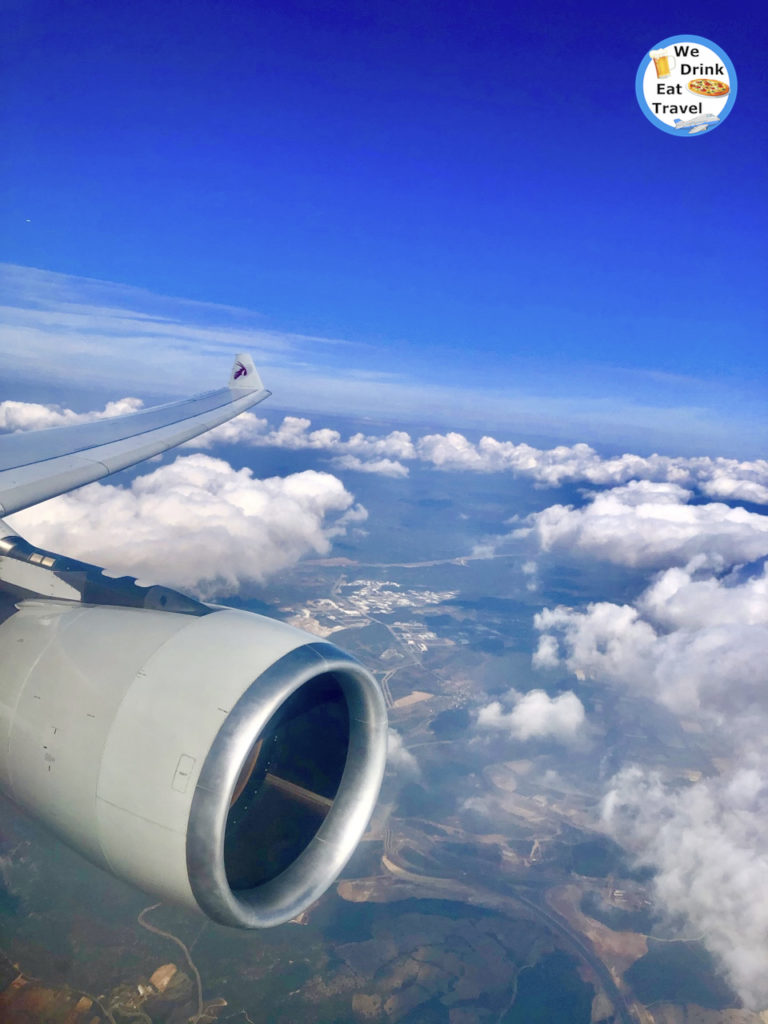 It was astounding to find out through Travel Perk… that there are over 148 million travel bookings made annually. Plus, of those travel bookings, 82% were done online via a website or mobile app… WITHOUT any other human interaction. No wonder there are so many travel booking websites around!
Now, while having choices can be great… when there are too many options it can make travel planning gruelling. Who should I book with and why? What offers or discounts can they offer me? What's their customer support like? Are they reputable? So many questions!
With thousands of websites out there, you'll be tearing your hair out where to look. Plus, if you're looking for travel deals… then that makes travel planning more of a hefty task.
Yet, you'll be glad to know that there is one unique, and leading travel site that stands out. So, if you're wondering what's the best website to book flights and hotels… then you MUST read on.
Let us start, by giving you 7 top reasons why this is an elite travel booking website, beginning with this…
1. Get Real Cashback On Your Flights
Now, to get to your holiday destination, many of you will have to fly. And these days, it seems like the price of flights have been increasing! Yet, what if you could get money back on your flights?
You have to book flights anyway, so imagine how great you'd feel… by getting cashback for traveling?
And yes, you did read that correctly…. you get cashback in real money, not in the form of vouchers, points, miles or credits.
So, you don't have to worry about cumbersome vouchers… or even flight credits. Those things usually have an expiry date anyway, which is frustrating!
Plus, you won't have the headache of working out if you have enough points or miles… to redeem for your next booking!
You simply get cashback… which you can use literally towards anything you want. So, if you need to pay an urgent bill… or even treat yourself to a spa treatment, or put towards your next trip, you can.
And, that's thanks to the unique travel booking website… WayAway.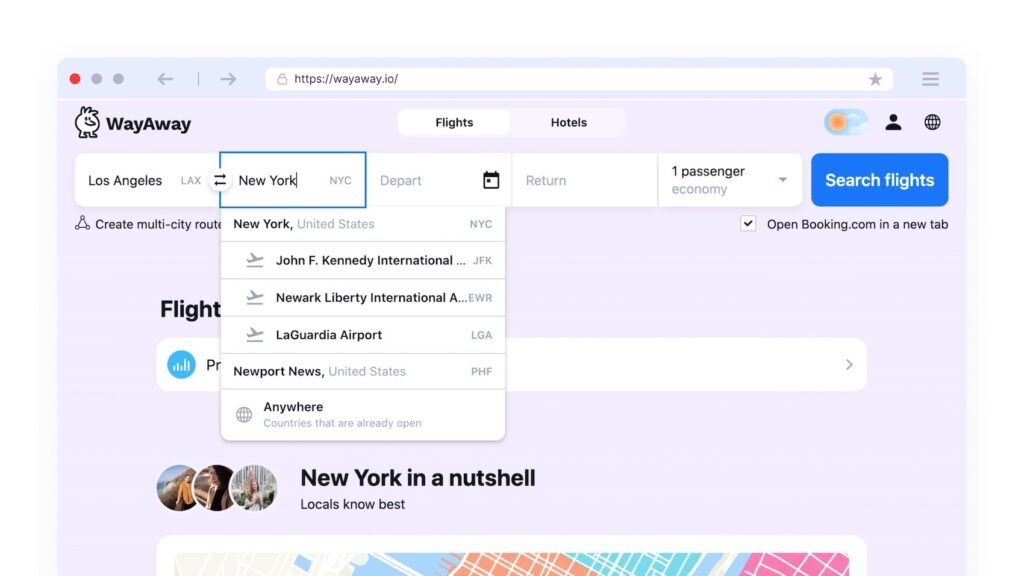 WayAway is an international-renowned travel company… that searches for the best rates on airline tickets for you. And, while you may be thinking, "So what, there's lots of them out there?"
What sets them apart from other companies is… their WayAway Plus Program. Here, is the best place to book flights as not only do you get great rates… you can get cashback too, in the form of REAL money.
And, who doesn't like getting some cash? Especially when you're not going out of your way to do anything extra.
BUT…
What if we told you, that you could get cashback on more than flights? Yes, YOU CAN! Keep reading to find out more…
2. Cashback on Other Travel Expenses Too
With WayAway Plus, you get access to earn cashback not only on flights. You can even get cashback on accommodation… as well as car rentals, shows, attractions, tours, and MORE!
And, we all know that travel expenses such as accommodation… can put a mammoth hole in the bank account.
Then, when you add up the other things you want to do on your trip… the amount you'll spend snowballs. It could cost you hundreds, if not thousands of dollars… and you haven't even gone on your trip yet!
So, that's one of the remarkable things about WayAway Plus… you can get REAL money back when you make your travel bookings. How awesome is that?
And remember, you get cashback. So, there are no points, no miles, and no vouchers to think about. There aren't even expiry dates on your cashback.
Now, with other cashback programs… you need to reach a minimum threshold BEFORE you can get access to that cash. That's another limitation you don't need, right?
Yet, with WayAway Plus, there is NO minimum threshold. You can save up your cashback… or you can choose to use it straight away once it hits your account.
3. Flexible and Simple Tools to Make Travel Bookings Easier
It can be confusing, stressful, and even time-wasting… when researching for flights or hotels at the best prices. And, it's even more challenging if you've never been to that destination before!
Yet, with WayAway Plus, there are some impressive travel tools that can make your life stress-free… as well as help you to save money.
Sometimes when you travel, you may not have specific dates to fly yet. So, you just want to find cheap flights, and plan travel dates around the best deals. Yet, there are many travel websites and even airline sites… that don't have this outstanding feature you're about to discover.
WayAway Plus, gives you access to their useful Price Chart feature. Plus, you can look at the price for each day, up to a 3-month period, simply by scrolling forwards or backwards…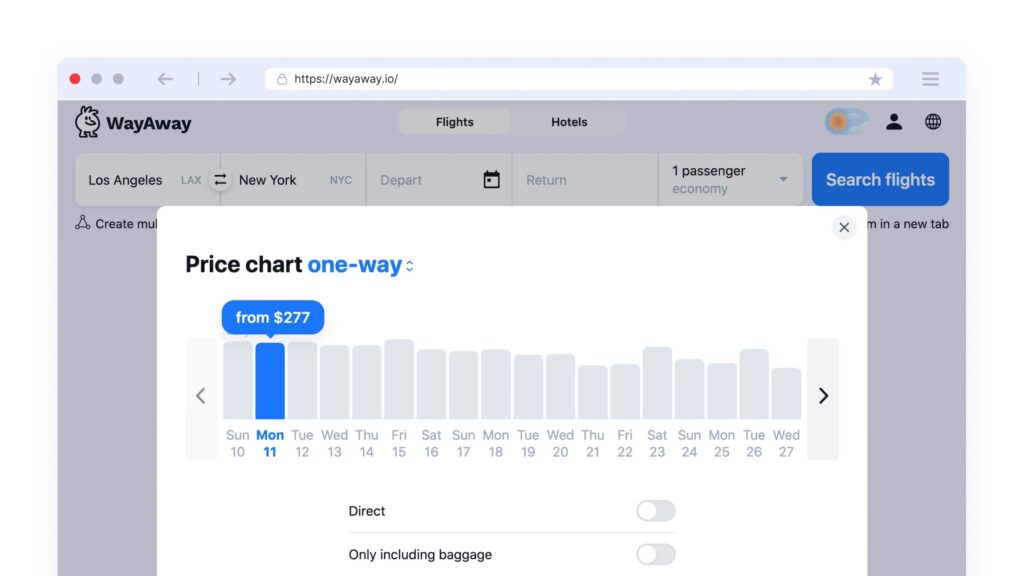 It's so effortless and convenient to use. Some of the price charts that we have used, are so dreadful and NOT customer-friendly.
Instead of you having to do the laborious research… WayAway searches and compares hundreds of sites to find the cheapest flights. It does the hard work for you! Why waste your precious time when you don't have to?
4. Get The Best Flight Deals While You're Sleeping
Don't you love it when you can find a great travel deal to help you save money? So, then you can spend it on other things you really want.
Well, another exceptional benefit when you join WayAway Plus… is that you can set price alerts.
For example, you may not be ready to book your flights yet. And, there's a convenient feature, where if the price changes or there are limited time offers… you'll receive a notification.
Imagine, while you're sleeping and dreaming about your next vacation… the next morning you could see a notification from WayAway. And, it could be that they're letting you know that the flights you were looking at… are even cheaper!
Thus, you could get better prices, saving a whopping amount of money with that clever feature… WITHOUT having to lift a finger to do any further research!
And remember, you get the bonus of the cashback when you book with WayAway Plus.
5. Round the Clock Customer Support from Real People
Sometimes when it comes to travel planning… it can get confusing, stressful or frantic. And, unlike many other companies, with the WayAway Plus Program… it provides travelers with support around the clock, from REAL people.
We find it frustrating when some of the airlines, or travel companies have those virtual consultants… like, "Ask Ava."
More often than not, they can't resolve the queries… as the answers they provide are too generic. Or, they don't even understand your question in the first place. Like, what does a query about business class lounge, have to do with excess baggage?
So, in the end, you're given an unsatisfactory response. And, most times they provide an answer nowhere near to what you're needing!
Oh, and how about those companies where the only way you can reach them is… by submitting a form? First of all, you don't know if they even receive your query. And then, you wait for who knows how long for a response… if you even get one.
Can you feel the frustration igniting while this is being written? Argh!
Often times, all you want is to speak to someone… so you can get an answer right there and then. Just about every traveler goes through the same emotional roller-coaster!
And, when it comes to travel plans and bookings… we're not just talking about $50. The amount you spend could be in the hundreds, if not thousands of dollars! So, you deserve to have premium customer service, right?
That's another key reason why WayAway Plus is the best website to book flights and hotels… or even other travel requirements.
Whether it's during the travel planning stages, or even after you've made your bookings. With WayAway Plus, you can get in touch with a REAL person… who can help with your travel enquiries, whenever you need it.
6. Helpful Community of Travelers and Locals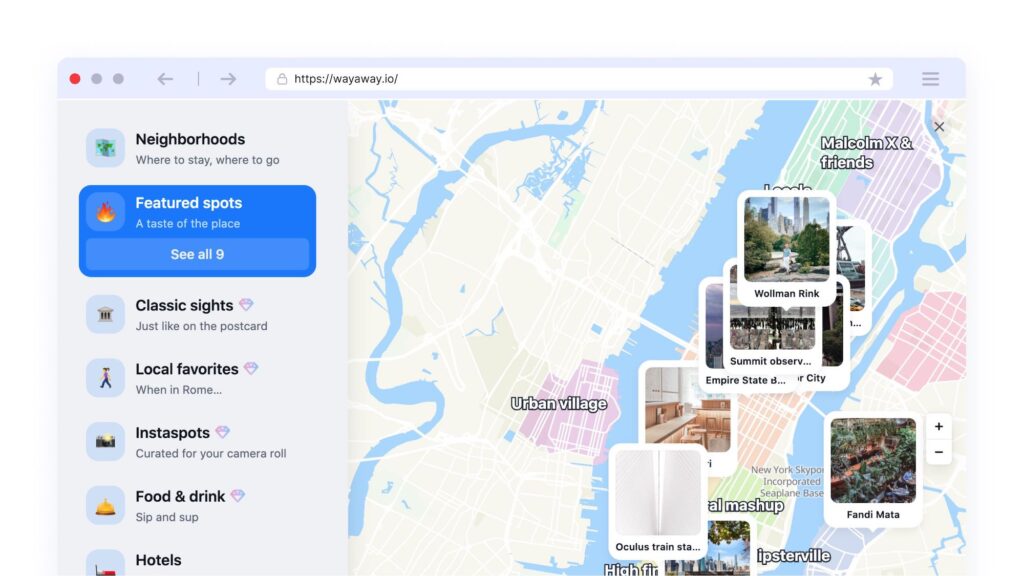 Sometimes when it comes to searching for things to do, especially in a new place… it can be difficult to work out what to do. So, with WayAway Plus, there's a community of travelers and locals who are there to help.
You'll get real-life experiences from travelers around the world… sharing what they did in the destinations you're considering.
Not only that… some will share their thoughts on the most fascinating Instagrammable places. Thus, there are so many awesome photo and video opportunities you can prepare for… BEFORE going on your trip.
Plus, you'll get insights and tips from locals, who reveal experiences, attractions or activities… that you may have never thought of, or even knew was existing!
And, oftentimes getting the local knowledge means you can experience something unique… that many other travelers may miss out on. Thus, this can help create some amazing memories for your upcoming vacation.
What's also really useful… is that many of these places and activities they suggest, have been put into a map. So, you can see where they are, to help with your travel planning.
7. Deals From Reputable and Recognized Companies
There are thousands of companies who offer many travel services. Let's face it though, more often than not, you want to deal with those that have a great reputation.
There's nothing worse than finding an amazing deal, booking it, and finding out it's sham. And then, you pour your time into tirelessly trying to get that money back. Yet, it's devastating if all your hard-earned money may be gone for good.
Yet, you can take comfort with WayAway, an internationally-renowned travel company… as they partner with other leading organizations. So, take a look at the below list, and the cashbacks they offer.
At the time of writing this… here's some of the offers that WayAway Plus members can take advantage of:
Booking.com: up to 10% on hotel bookings, and even up to 20% off on selected properties
KiwiTaxi.com: 10% on transfers
Flights: up to 5%
Tiqets.com: 7% on tickets to museums, shows and attractions around the world
Hostelworld: up to 6% on hostel bookings
Rentalcars.com: 5% on car rentals
Klook: up to 7% on tours, shows and attractions
Viator: 6% on tours, tickets and experiences
GetYourGuide: 8% on tours and excursions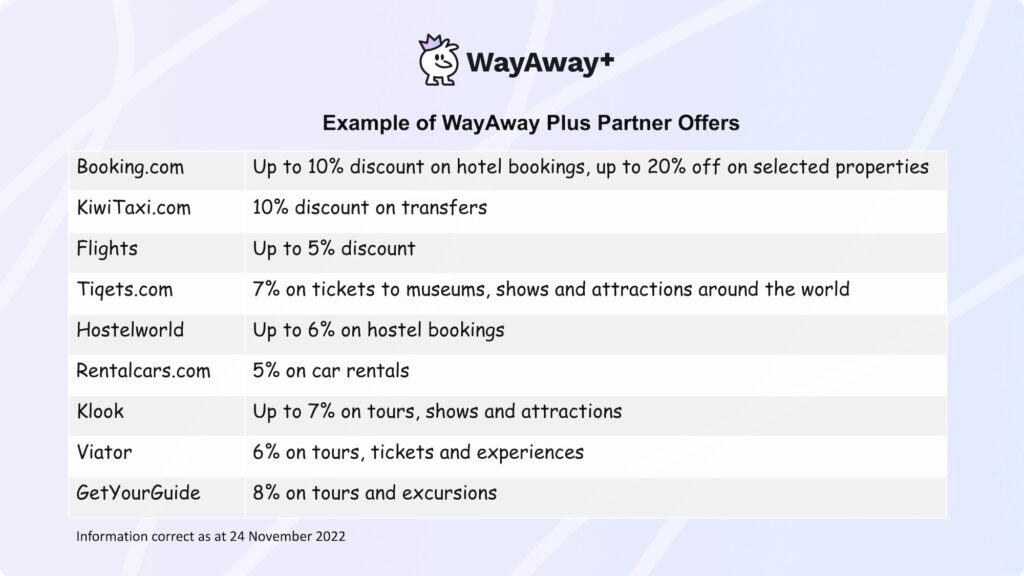 Now, that's a big list, and mammoth amount of cashback you could get from your vacation… simply by booking through WayAway Plus!
Plus, look out for special events such as Black Friday deals… as you could get up to 30% discount on accommodation through Booking.com, for example.
Here's An Example Of How Much Cashback You Could Get With WayAway Plus
Round trip flight from New York to Paris for two people ($245 x 2, $490) = ~$25 cashback
Round trip airport transfer for $180 = $18
Hotel accommodation for 7 nights at $2,327 = ~$232 cashback
Car rental for $1,000 = ~$50 cashback
Paris dinner cruise for 2 people for $225 = ~$18
This comes out to ~$343 total cashback for that one trip!
NOTE: Figures are approximate.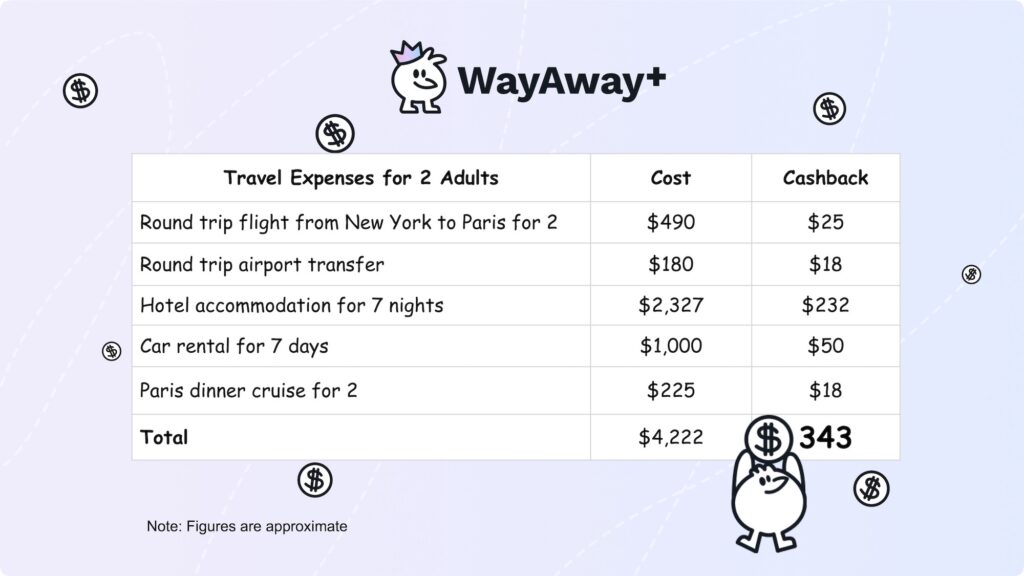 And, your cashback could be even more… depending on what other exciting things you decide to do on your vacation.
So, after those 7 key points and explanations… it's convincing to see that one of the best sites for flight and hotel deals is, with WayAway Plus.
As a traveler, saving money, time and getting great deals brings enjoyment. Plus, when you get invaluable insights on what to do in destinations… as well as have round the clock support from real people, it also helps to relieve stress in travel planning.
Yet, what's even more awesome and takes the cake, is getting cashback… simply by booking your travel needs and going on vacation! Remember, we're talking about real money here… no points, miles, credits, or vouchers to worry about.
So, why wait, join the WayAway Plus Program pronto… to begin racking up that cashback money, to use for whatever you want.

SPECIAL OFFER: Join WayAway Plus TODAY and Save 50%
Now that you've seen how amazing WayAway Plus is… the time to join is NOW. As you're our magnificent We Drink Eat Travel followers… you can save a gigantic 55% off the WayAway Plus Annual Plan.
Normally, the annual plan is USD $99.99. Yet, when you join WayAway Plus TODAY, you can enjoy all the awesome benefits it has to offer… for only USD $44.99.
But, you must buy it through our special offer on this page… otherwise you won't get the 55% discount!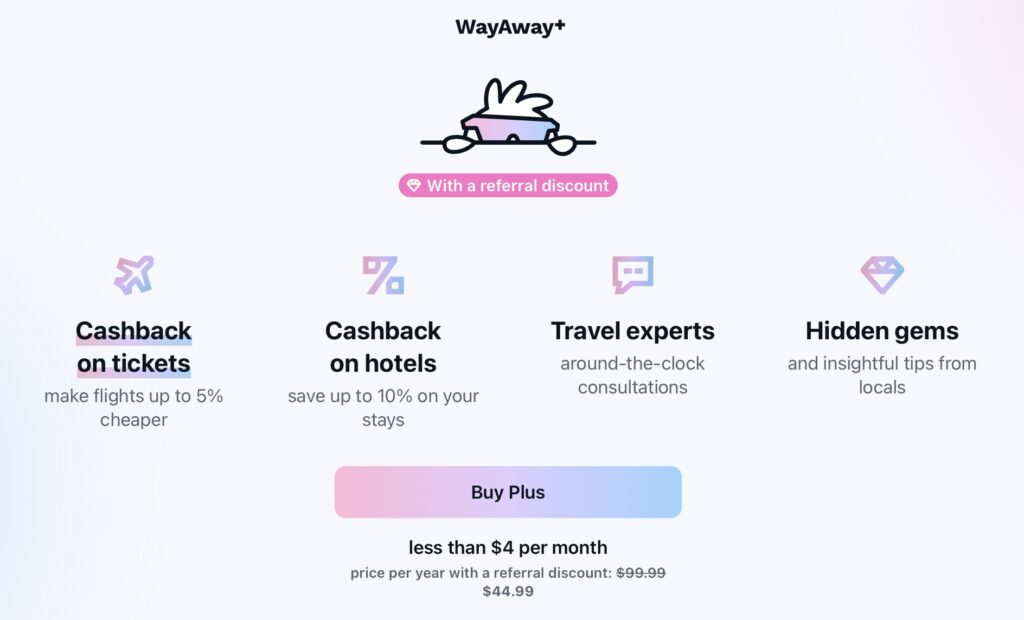 And, if you recall in our earlier example … you could cover the cost of your WayAway Plus membership in one trip… as well as get cashback on top of that. That's a magnificent deal!
When you think about it… at $44.99, that's less than $4 per month… which is about the cost of a cup of coffee. Or, less than a measly 13 cents per day!
And, think about all the substantial savings you could have, as well as earn cashback… simply booking your travel needs through WayAway Plus. Then, you can then spend it on other things you enjoy… like unique activities, gourmet meals, or even upgrade your hotel room or flight class. The options are endless!
It'd be terrible for you to miss out on this no brainer, tremendous offer.
So, take advantage of it now, and join the WayAway Plus Program. ENJOY!

7 Reasons Why WayAway Plus Is The Best Website To Book Flights And Hotels:
Get Real Cashback on Your Flights
Get Cashback on Other Travel Expenses Too
Flexible and Simple Tools to Make Travel Bookings Easier
Get The Best Flight Deals While You're Sleeping
Round the Clock Customer Support From Real People
Helpful Community of Travelers and Locals
Deals From Reputable and Recognized Companies
For more We Drink Eat Travel tips, experiences and more… head on over to our travel blog.