Paul and I had decided to go on a trip to Hue as we'd heard so many awesome things about it. The food, the culture, the architecture, UNESCO World Heritage Sites and more… these were all waiting for us in Hue!
So after doing a little bit of research, we decided to get to Danang to Hue by car. There are other options like going by train or bus, yet we had the flexibility to stop at places along the way.
You can find out more about our private car experience HERE.
And on our way to Hue we made a few stops, which we're glad we did because the photo opportunities were incredible!
So in this blog post, we'll run through 5 things to do starting from Da Nang to Hue.
Before we got to our first stop from Da Nang, here are some photos…
1. Hai Van Pass
Paul and I had talked many times about experiencing traveling on the Hai Van Pass. It felt surreal when we were actually on it. And the views were amazing. This 21km stretch of road is carved into the Truong Son mountain range.
With spectacular views of the lush green mountains on one side… the other side features the bright blue ocean waters of the South China Sea.
And when we got to the top of the Hai Van Pass, this is the breathtaking view that we saw…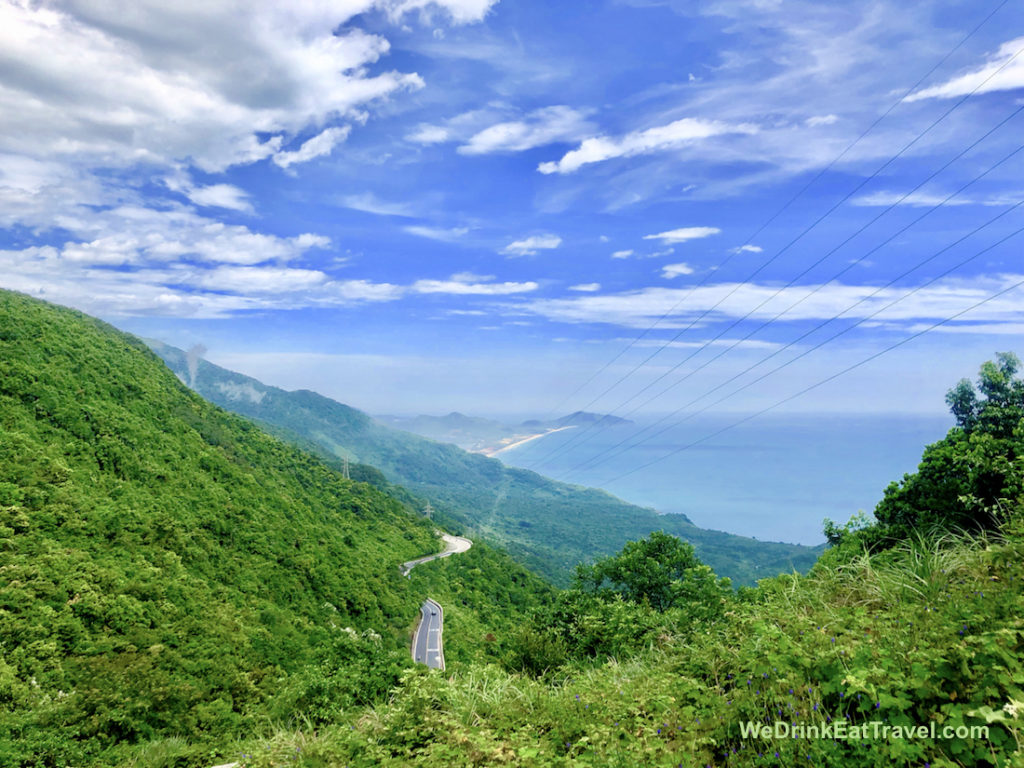 We also took this photo of the remaining ruins at the top of the Hai Van Pass…
2. Lap An Lagoon
After the Hai Van Pass, our next stop we decided to take a look at was Lap An Lagoon. We weren't sure what to expect, yet when we got there we were lucky to get some amazing photos…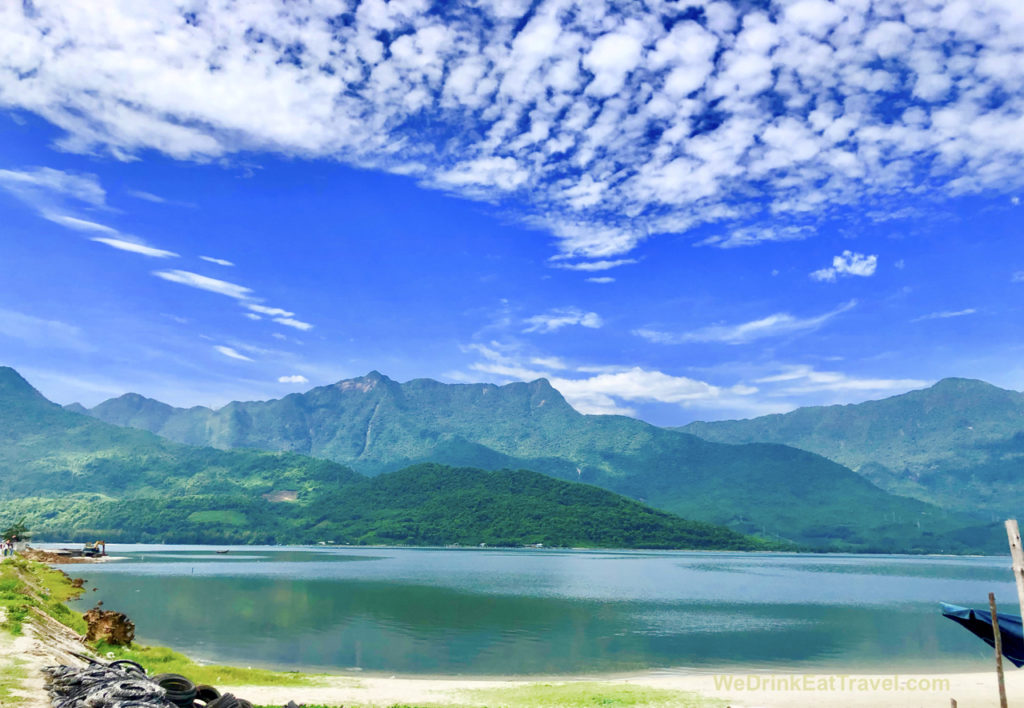 A word of warning, there are several Vietnamese people who will try to start a conversation with you… And then try to sell you something.
So if you don't want to be bothered, keep walking, take photos and they'll eventually leave you alone.
3. Lang Co Beach
Having been to several beaches in Vietnam, we were excited to see another one to compare. The scenery going to Lang Co Beach was nothing spectacular, yet when we got there here's what we saw…
If we wanted, we could've had the whole beach to ourselves because there was NO-ONE swimming or laying on the beach!
And because it looked so relaxing, we decided to have some beers at 9:37 in the morning! We thought why not, because we could.
And the beers were a cheap 20,000 VND each (about USD $0.90).
Also, so you know, we left Da Nang at 8am. So the time from Danang to Lang Co Beach including the above stops was about 1.5 hours.
So, from Lang Co Beach to Hue, it would take about 1 hour by private car, without stopping anywhere else along the way.
4. Khai Dinh Tomb
There are many tombs that you can visit in Hue, yet the one that I'll go through in this blog is Khai Dinh Tomb.
This tomb is not only impressive in regards to the architecture, but also the surrounding natural scenery is remarkable.
Khai Dinh was the 12th Emperor of the Nguyen Dynasty, with his tomb taking 11 years to complete.
5. Thien Mu Pagoda
Thien Mu Pagoda has 7 tiers and towers on the banks of the beautiful Perfume River and backdrop. So once you walk up the stairs and get to top, turn around and look at the wonderful scenery…
Now, I wasn't sure if I wanted to see this pagoda. Yet, Paul wanted to take a look and I'm glad we did. Inside Thien Mu Pagoda it is tranquil and pretty…
TIP:
If you're wanting to avoid heavy crowds when visiting the popular tourist attractions in Hue… we found that visiting between say 11:45am and 2pm were quieter.
And we suspect that's because a lot of the tour groups would be having their lunch then.
So if you're going from Da Nang to Hue by private transport or motorbike for example… you can make these stops or request them in your itinerary.
And with plenty more things to do and great surprises we stumbled across on our sightseeing… you might be interested in these things to do in Hue and more.
Check Out Our Youtube Video About Da Nang to Hue…
You Might Be Interested In This Too..
10 Free Things To Do In Vietnam
Find Your Perfect Vacation Accommodation
Restaurant Reviews: Zucca Restaurant, Hue Vietnam
Hue Nightlife: 8 Bars To Get Cheap Drinks In Hue
7 Tips For Handling A Vietnam Taxi Scam
Check These Out For Some Real Food Adventures
Our Horrible Hanoi City Taxi Scam Experience
Getting From Hue To Danang By Car