Paul and I were staying the Quang An ward of West Lake Hanoi. You may also see it as Tay Ho, which is the Vietnamese for West Lake.
While we were there, we wanted to check out what bars and pubs were around within walking distance.
So in this blog, we'll go through 7 Bars You Can Check Out In West Lake Hanoi.
1. The 100 Beer Garden
68/238 Âu Cơ Street
To get to the 100 Beer Garden we walked down Ngo 238 Au Co next to the Flower Market, to find our way there.
Yet to get there, it was almost like trying to find our way through a maze! Thankfully there were lots of signs like this pointing us in the right direction…
We eventually found it…
And as soon as I saw the signs I was a little hesitant as I saw Furbrew.
You can read my blog post about the Furbrew Bar HERE.
Yet, the beer garden looked really cool, so we went in anyway.
They had craft beers here from Furbrew, which I avoided like the plague. So we ended up getting a Hanoi beer, which was 30,000 VND (about USD $1.30) for a can. And, it was actually cold which was great.
They also served mainly Vietnamese food starting from 50,000 VND. It's a massive area and looked like a great place to get a big group of friends together.
Plus, there was a pool table and other games to challenge your mates!
2. Apini Bar
236/7 Âu Cơ Street
The next place was Apini.
This was a cool bar and we both liked it. There was lots of outdoor seating as well as indoors. Despite the doors being open, the air conditioning and fans kept the place cool.
There was funky music playing in the background. It's dark inside, yet they still had a foosball table set up as well as a small darts board.
Beers started from 25,000 VND. Paul and I got a Saigon Special each, which one is 25,000 VND.
The beers weren't in a fridge and were put in ice. Yet, surprisingly the beers were cold.
The environment around 100 Beer Garden and Apini felt like it was in a poorer area of West Lake… That was when we compared it to the Xuan Dieu area, where it was like chalk and cheese.
Around the Xuan Dieu area there were lots of apartments, stores selling lots of Western Goods, restaurants, cafes, wine shops, bars, gyms, and more.
Go see for yourself and you'll know what we mean!
3. The Moose & Roo
38 Xuân Diệu Street
Once we walked into the Moose & Roo, we immediately felt that it was more sophisticated and upmarket. There were several booths, as well as a big center table, and stools at the bar.
They did have air conditioning, which helped to keep the place cool.
Unfortunately the beers we had weren't ice cold. Beers started from 55,000 VND… Paul had a Tiger beer and I had a Saigon Special.
So after we downed our coolish beers we moved on!
4. The Local Sports Bar
83 Xuân Diệu Street
We heard about this bar, but the first time we tried to look for it we couldn't find it. Then, next time we found it thanks to this big sign…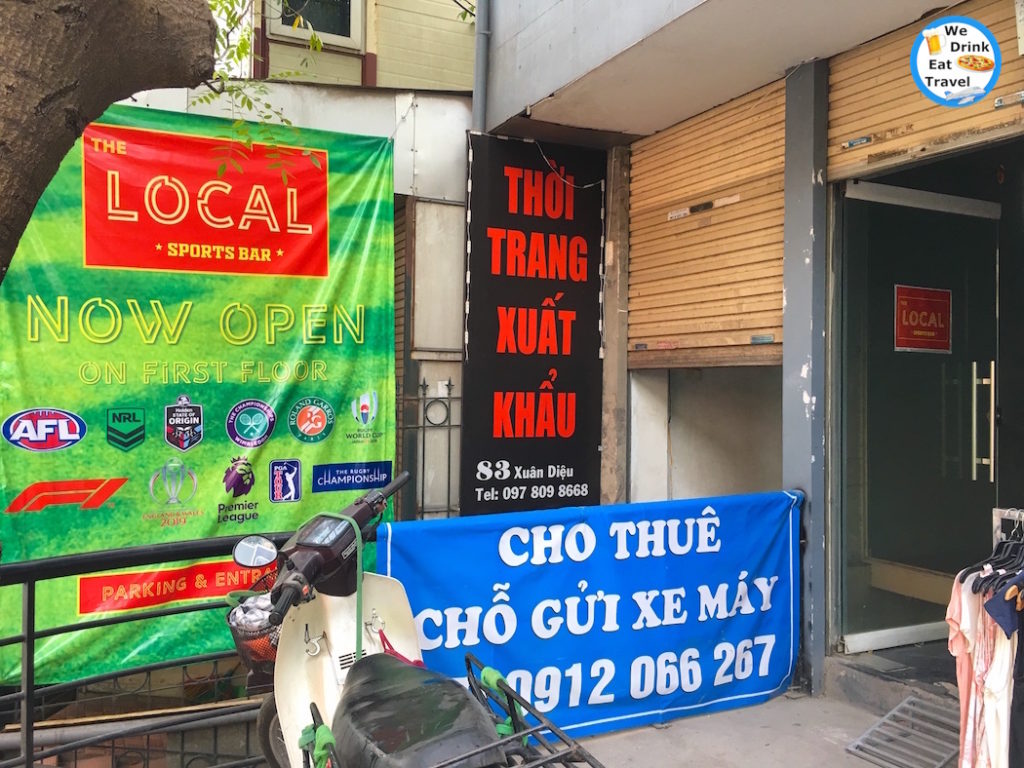 To get into the Local Sports Bar we had to walk up a flight of stairs…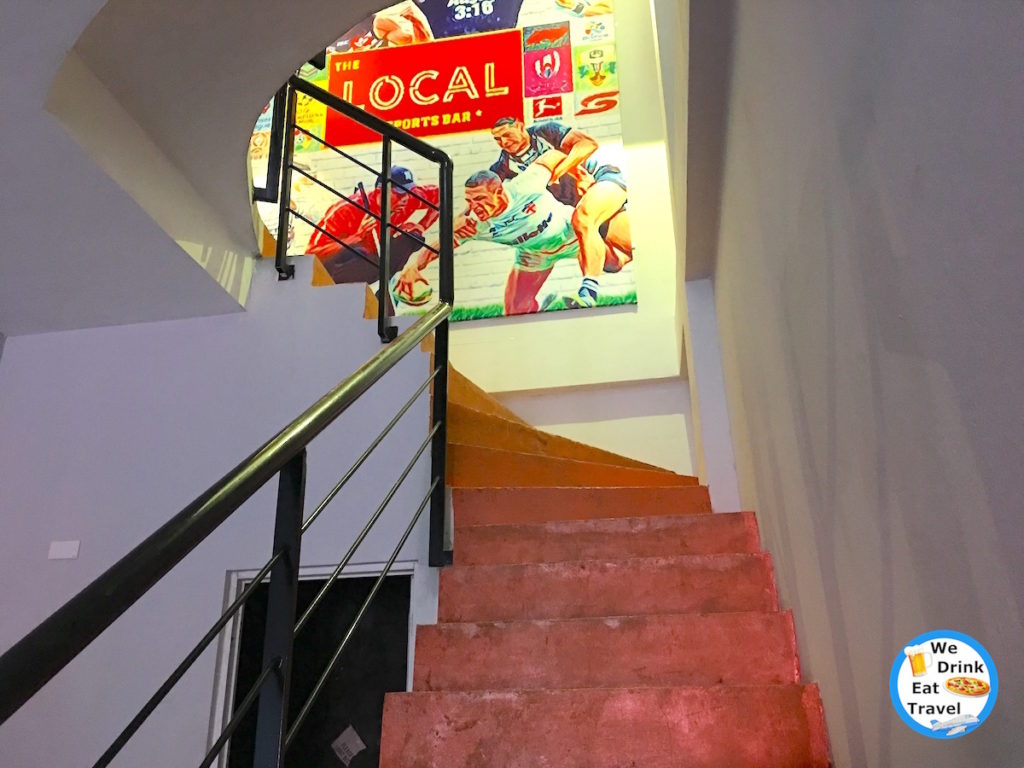 Once inside we could hear a myriad of fans blowing… and the sounds of commentators calling out shots for the football on the TV screens.
It's a fairly big place with outdoor seating too. We would've liked to sit out on the balcony… but because it was too hot we opted to stay indoors with the fans and the small air conditioning that we think was on.
Local beers started from 40,000 VND. More expensive than most other places of its kind… yet we believe it's because of the live sport that they broadcast.
It would definitely be a place we'd come back to if we wanted to see a live sports match, especially the AFL!
5. The Hideout
81 Xuân Diệu Street
Right next to The Local Sports Bar is the Hideout…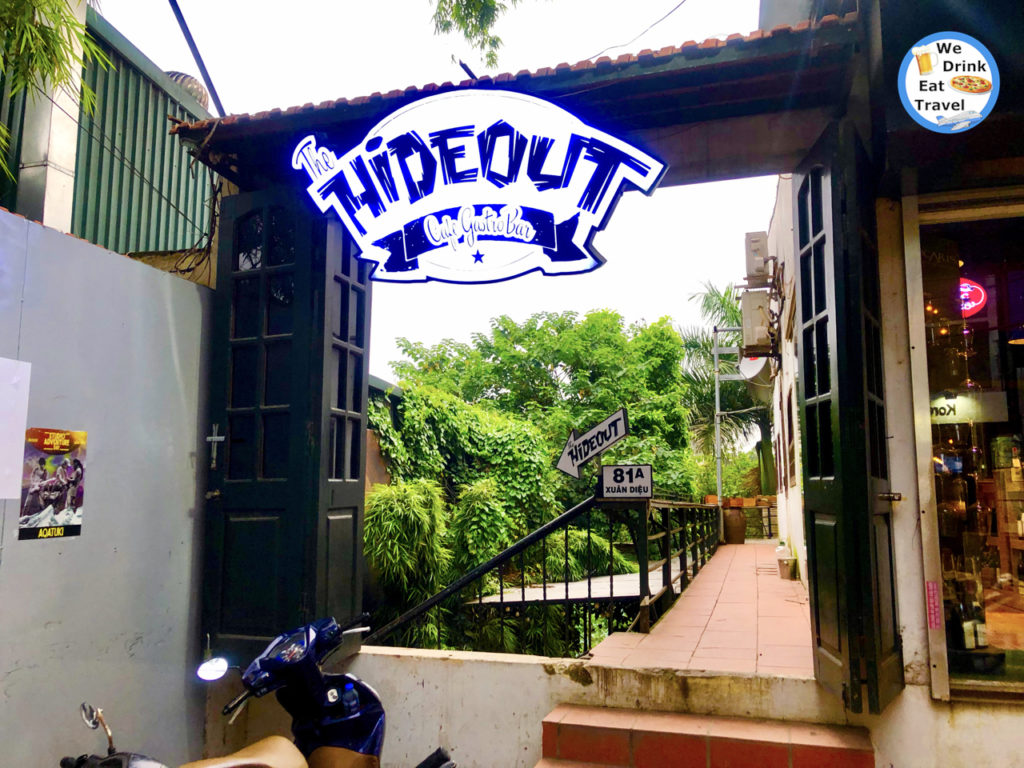 Careful walking down the stairs to the Hideout as they're quite small. Yet once we were down there we noticed it was a cool bar. It's basically all open air seating with seats at the bar or in the main area.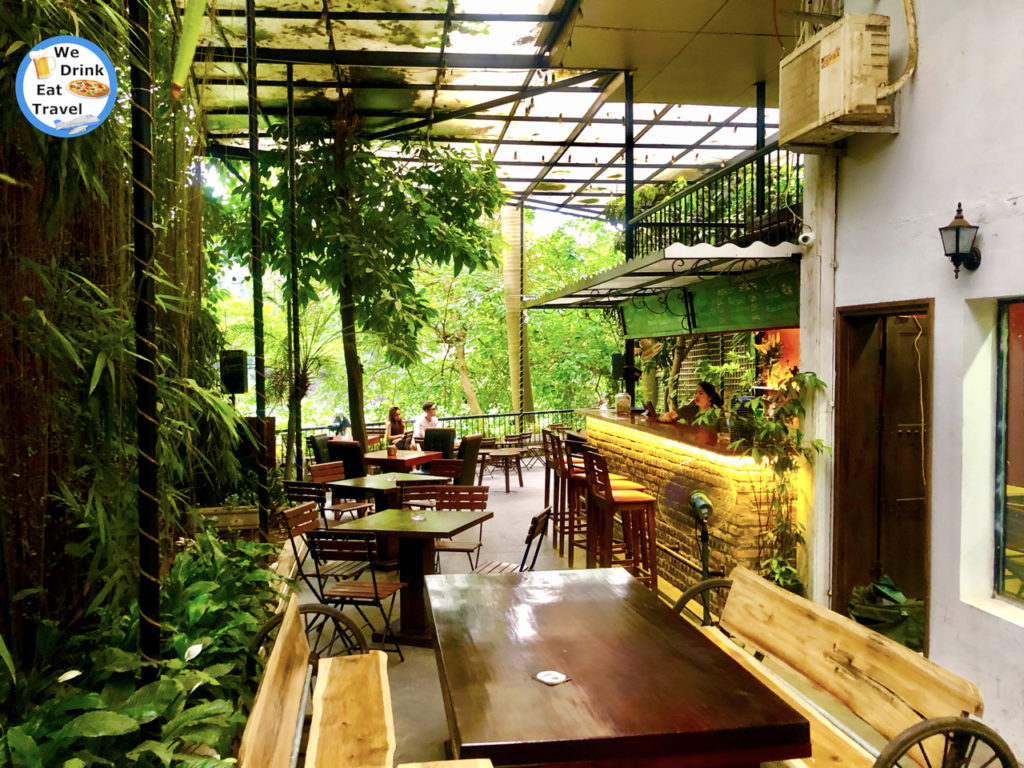 The service we've had is generally very good, especially from a young girl there who we forget her name. She always puts the fan on for us. Plus, the beers here are cold.
Beers start from 30,000 VND for a 450ml Hanoi beer, which is great value. There's also a wine shop next door, which I'm not sure is part of it as well.
6. The G Spot
24A Tô Ngọc Vân Street
When we stopped at this West Lake Hanoi bar, we were a little confused as the signage said G Spot as well as Marylbone. So, we weren't sure if it was the same place. Yet, we think that Marylbone is a separate place and you go downstairs for that bar.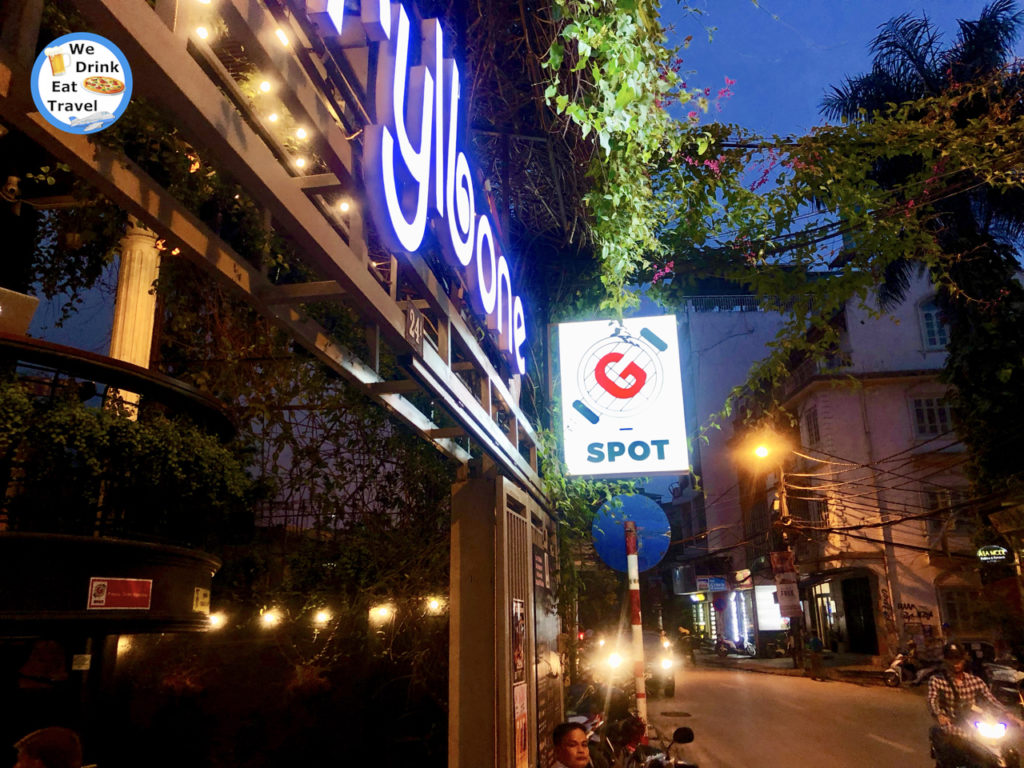 Even so, we decided to take the stairs up and see what we could find. Upstairs was a little kitchen, tables and chairs, and seats facing the road.
Here at the G Spot, they have happy hours from 5pm to 11pm! Plus, here they have craft beers. These were a lager, IPA and stout.
For a 300ml craft beer it was 30,000 VND, and a 500ml craft beer was only 40,000 VND. Plus, with happy hour it was buy 1 get 1 free. What's not to love here? Except, what would the beers be like?
We breathed a sigh of relief as the beers were cold, and they tasted great. We ended up getting the pale ale. And we decided to sit on the seats with the street view. Yet, it was kind of obstructed by the greenery…
All in all, it was pretty good as was the service.
7. The Kneipe
52 Tô Ngọc Vân Street
Once we walked in we noticed it was a little dark, and they had a big screen in one area of the bar. There was live sport playing when we were there.
They had 330ml beers such as Sapporo and Tuborg starting from 45,000 VND plus 10% VAT, and a service charge on top of that. What we didn't like was that on the menu they didn't state what the service charge was. To us, that just seemed dodgy.
So in the end, we had a 330ml Sapporo and 330ml Tuborg, which should have totaled 110,000 VND including tax. But in the end we were charged 130,000 VND. By our calculations, that means the service charge was a ridiculous 20%!
Yet, we couldn't even be bothered questioning it, so we vote with our feet and we won't be back there again.
So there you have it, a snapshot of the Hanoi nightlife outside the main city area. There are many other bars in the West Lake Hanoi area, as well as wine bars, and restaurants.
And, if you need some help on things to do in Hanoi, get the help from these experienced guides!
Like This? Share it and comment on it!
Note: All of our reviews and comments are our opinions and no-one else's. Even if we receive complimentary goods or services we share our opinions honestly.
You Might Be Interested In This Too..
Check Out These Bars In The Hanoi Old Quarter
Discover The Best Website To Book Flights And Hotels
10 Free Things To Do In Vietnam
Getting From Hanoi Airport To The City
27 Of The Best Things To Do In Bucharest
25 Of The Best Things To Do In Kotor Montenegro
30 Awesome Free Things To Do In Prague, Czech Republic
The Best Banh Mi In Hanoi Old Quarter