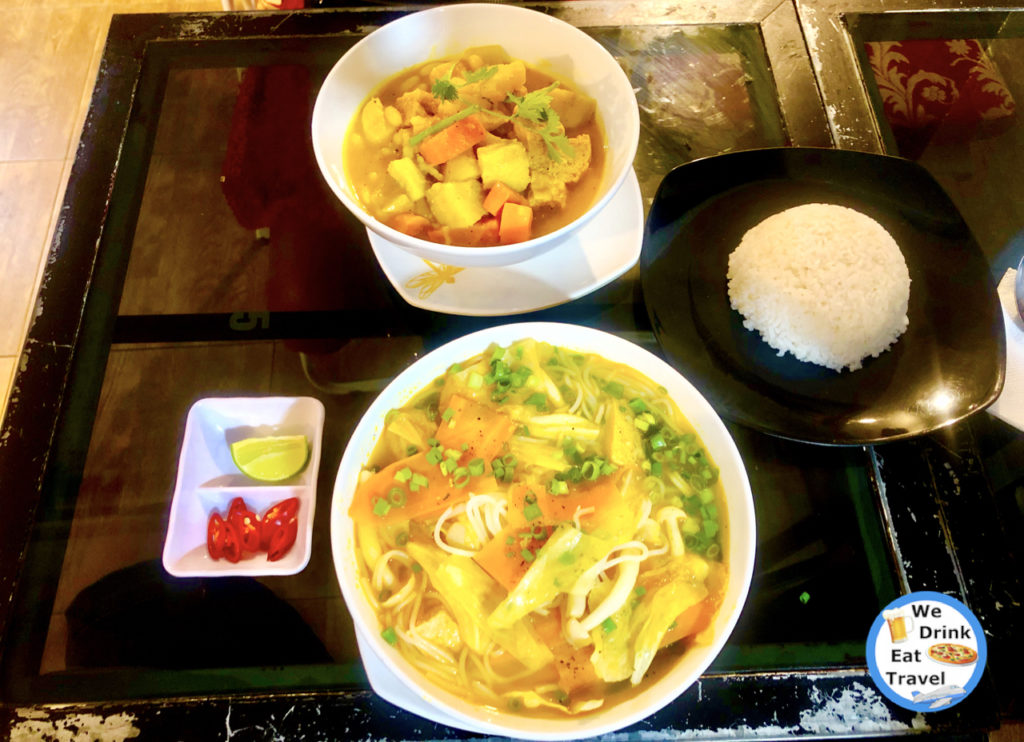 One of the most fulfilling things about traveling for us… is to try the different foods and drinks. And, having been to Vietnam many times now, we always manage to find something new.
Yet, when most people think of Vietnamese food, it contains a lot of meat or seafood. And, we'd have to say that 's what we've found too.
But, if you're vegetarian then there are plenty of options out there. In Vietnamese, the word for vegetarian is "chay." Yet, a local told us that we need to say it in a particular tone, otherwise it could mean burning!
Ahhh, the fun with languages and getting lost in translation…LOL!
So, in this blog post… we'll share some vegetarian Vietnamese foods that we've had on our travels.
Banh Mi (Vietnamese Sandwich)
We love having banh mi's, which is basically a baguette with filling. Yet, on our travels we have had some boring ones.
And, one of the best we've had was on one of our earlier trips to Ho Chi Minh City… in particular the Pham Ngu Lao area. Here it's known as the backpackers area, with Bui Vien Walking Street being "party town."
You can check out our video about it HERE.
So, when we were there a guy was making one with falafels in it, and chock full of salad. Sadly, we haven't been able to find him again on our other visits to Bui Vien. Thus, if you find him, get his details for us please!
So, the banh mi in the pic below is from V-Sandwich Eatery, in the Hanoi Old Quarter. And, this one is packed with sauteed mushrooms. To find out more, CLICK HERE.
Pho (Rice Noodle Soup)
Now, oftentimes when we're in Vietnam… we usually get pho at strictly vegan or vegetarian restaurants. And, that's because even though a place could do a vegetarian version without meat… the broth is usually a meat-based stock.
So, there have been other times where we've had plain water as the "stock." Then, the cook would add soy sauce and fresh herbs, for example. Thus, the fresh herbs like chillies, coriander and spring onions add huge bursts of flavor.
Rau Muong (Morning Glory)
So, back home in Australia where we are, we don't see a lot of morning glory… otherwise sometimes known as water spinach. So, when we were at a local place in Da Nang, 99% of their menu had meat in it!
And, while their English was limited… they managed to whip up a plate of stir fried morning glory. Plus, they put through lots of chunks of garlic through it and the seasoning with soy sauce. OMG, so simple, yet the garlic just made it pop!
And, the great thing was, as we kept going back… the quantity of food kept getting bigger. So, needless to say our bowel movements were regular – ha ha ha!
Mi Quang
So, this is another noodle dish, of which its origins are from the province of Quang Nam. And, in Vietnamese, the word "Mi" means "Noodles". So, while we were in Hoi An, there were HEAPS of vegetarian Vietnamese food options.
And, one of our favorite restaurants to go to was Minh Hien. The food was that good we would go there almost every day.
Plus, we'd even walk there in the middle of the day, during a HOT Hoi An Summer… and sweating like pigs when we got there from our accommodation.
Cha Gio (Vietnamese Spring Rolls)
Now, we've had lots of spring rolls based on the Chinese cuisine. Yet, the main difference with the Vietnamese springs rolls is that usually lettuce and herbs are served with them.
So, what you do is grab a lettuce leaf, put a spring roll on one end of the leaf. Then, place some herbs on top and wrap the ingredients in the lettuce leaf. And, there's usually a dipping sauce too if you need it.
Banh Tieu (Hollow Donuts)
So, when we were visiting the local market in Da Nang, there was a lady with a street cart…
And, here she was selling some Vietnamese street food called, Banh Tieu for a measly 5,000 VND per piece. So, this is like a hollow donut, which has been deep fried. Then, on the outside are sprinkling of sesame seeds.
So, being a deep fried food they were tasty. But, we did exert some self-control and didn't have too many of them though!
Sometimes, they can be sweet and have a filling of red bean paste, for example. And, these are also scrumptious.
Dau Hu Chien Sa Ot (Lemongrass Tofu With Chili)
Now, we've had a lot of different tofu dishes in our time. And, while tofu can be bland, a delicious combination we had was a lemongrass tofu. We adore the aromas that waft from the kitchen when cooking with lemongrass.
So, that combined with deep fried tofu is a match made in heaven. Plus, for an extra kick, chilies are a mighty fine addition to tantalize the tastebuds!
Yet, when all else fails and you can't choose which vegetarian Vietnamese foods to try… then seek out a buffet.
Looking for some real food adventures? CLICK HERE
All You Can Eat Buffet
So, a place that we highly recommend you try in Hanoi is called, Veggie Castle. This is a buffet, which serves a wide range of delicious dishes, with the menu changing daily.
So, they claim to serve vegan food only. Yet, best to check if you're unsure.
And, the price at the time of writing this blog is 80,000 VND (about USD $3.45). Plus, you can have tea in this price as well! Now, that is an awesome bargain. So, while it is cheap, it's filling and the food is delicious.
And, sometimes we'd over do it at lunch times when we went, which meant that we couldn't fit any dinner in!
So, there you have it… 7 vegetarian Vietnamese foods to try if you haven't already. And, there are plenty more different options you can seek on your food journeys.
Plus, one of the great things about Vietnam is that many of the local foods are cheap. So, you can eat like king and queens at a fraction of the cost. Thus, you can then try even more dishes!
That's all part of the fun when traveling.
So, what vegetarian Vietnamese foods would you recommend tourists try?
Like This? Share it and comment on it!
Note: All of our reviews and comments are our opinions and no-one else's. Even if we receive complimentary goods or services we share our opinions honestly.
You Might Be Interested In This Too..
Travel Destinations – Our Top 3 Capital Cities We Visited in 2019
5 Reasons To Go On Vacation And Travel More
3 Travel Mistakes People Make And Tips On How To Avoid Them
My Carry On Luggage Must Have Item
Need Accommodation?
Find Your Perfect Vacation Accommodation
Want Cheap Flight Deals?
Cheap Flights All Year Round With Skyscanner