REVIEW
Accommodation: Mercure Melbourne Albert Park Hotel
Location: Albert Park, Melbourne, Victoria, Australia
Room Type
Booked Superior Room, 1 King Bed Lakeview, and Standard Room 1 King Bed
Loyalty Program or Deals Used
Le Club Accor Hotels / Accor Plus
Research and Booking
Paul and I had planned to catch up with friends in the area of Albert Park in Melbourne.
We had booked a 1 night stay at the 5 star, Pullman Hotel Albert Park. You can read our review of this hotel HERE.
Yet, as you know plans can change! So we needed to book an extra 2 nights accommodation. We wanted to try somewhere different though.
Well, how's this for convenience…
Right next to the Pullman Hotel was the Mercure Hotel.
So it would be an easy change to pack up our luggage and take a short stroll next door!
I checked on the Accor Plus website to see what the rates were…
On the first night I had booked a Superior Room, 1 King Bed Lakeview. The cost for this was AUD $116.10 (about USD $83.30). Now here's a bonus…
As part of being a member of the Le Club Accor Hotels loyalty program, I'd earned lots of points. So I decided to redeem 2,000 Le Club Accor points…
This brought the price down to a ridiculous AUD $52.89 (about USD $37.95) per night. Nice, right?!
On the second night I'd booked a Standard Room 1 King Bed. The price for this room was AUD $107.10 (about USD $76.80).
Yet again, I used my Le Club Accor points for this. In the end the room rate ended up being AUD $43.89 (about USD $31.50).
So all up for 2 nights at the 4 star Mercure Melbourne Albert Park hotel… we paid just AUD $96.78 (about USD $69.45). BARGAIN!
The Location
This Mercure Hotel is in Albert Park, Melbourne, Victoria, Australia. It's about 5 km (~3 miles) from the Melbourne Central Business District (CBD).
Albert Park has lots to do, and a massive lake too. I'll go into that more later.
Also, you may have heard of Albert Park… as it hosts the Australian Formula 1 Grand Prix, normally held in March each year.
Only a few minutes walk away are the iconic Melbourne trams. Beware though… It's not within the Melbourne City Free Tram zone.
TIP: If you want to experience one of Melbourne's oldest trams, catch the City Circle Tram, on Route 35. It's also for free and is a maroon colored tram. It's a bit clunky compared to the newer trams, but it's an experience… It's an easy way to get to some of Melbourne's top attractions in the CBD.
Also, there are no trains within easy walking distance. It's easy to get a taxi though, and there's plenty of ride share companies like Uber, Taxify and Ola.
For us, we had driven. We parked our car in the allocated parking, attached to the hotel.
Check In
This would be the simplest check in ever! LOL! As we'd previously checked into the Pullman… we just went to the same reception area to check into the Mercure Hotel.
Remember how I booked a Standard Room for the second night? The staff told us that we would be in a Superior Room, 1 King Bed Lakeview for both nights. THANKS!
After checking in, we walked through a corridor that led us to the Mercure Hotel. It definitely had a different feel compared to the Pullman… Older, basic and uninspiring.
After taking the lifts up, we entered our room…
The Room
A big king size bed was awaiting us…
There was also side tables with drawers, a clock radio, small coffee table, and couch.
There was also a flat screen TV on top of cupboards with a mini fridge. Next to that was a long desk with chair.
Similar to the Pullman Hotel, there were blackout curtains. Yet check this out…
How crazy is that? Why would you have curtains that don't even run the length of the window? Is this really a 4 star hotel?
Again, like the Pullman the staff said that the air conditioning was an essential service… So it had to stay on ALL the time!
Maybe they couldn't afford to get proper curtains… because the hotel is wasting money on heating and cooling that runs 24 hours a day!
As we'd booked the hotel rooms last minute… we didn't get a welcome gift in our room as part of our elite status with Le Club AccorHotels. I thought that was fair enough.
However, they knew we were staying there for 2 nights. So I thought it would be easy to put something together for us, even if it came a day later. Better late than never, right?
Anyway, moving on to the bathroom…
The Bathroom
The bathroom was basic. It had a shower, toilet towels, and various amenities like soap, shampoo, shower cap and body lotion…
It was nothing flash. At least it was functional and clean.
All in all the room was very basic and would do for a couple nights stay.
Dining
This Mercure Hotel shares a restaurant with the Pullman Hotel. The restaurant is called Windows. During our stay here at the Mercure, we didn't dine at this restaurant.
I did write a review about the buffet breakfast in The Windows restaurant. You can check it our HERE.
Amenities
Again, this Mercure Hotel shares the amenities with it's sister hotel the Pullman. That was convenient!
There's a gym and pool between the two hotel complexes.
The pool is indoor…
We didn't use the pool. Yet, there's something not exciting for us about an indoor pool. Have you been to any awesome hotel indoor pools? If so, let us know!
The gym was actually quite good for a more serious workout.
Car Parking
As the Mercure Melbourne Albert Park Hotel is within the same "complex" as the Pullman… they shared the parking facility.
Before we arrived I enquired with the Hotel and there were a few options…
VALET PARKING
Valet parking is available at AUD $35.00 (about USD $25.00) per vehicle, per day, with unlimited entry and exit. This type of parking is valid for a 24 hour period. You can access this parking via the Queens Road entrance. You can also pre-book the valet car parking online.
SELF PARKING (SPECIAL PRICE FOR OVERNIGHT HOTEL GUESTS ONLY) Self-Parking is available at discounted price of AUD $20.00 (about USD $14.00) per vehicle for single entry and single exit only. This is valid for 24 hour period from the time you park your vehicle. This parking is accessible via the Lorne Street entrance.
CASUAL SELF PARKING
Casual Self-Parking is available at maximum day charge of AUD $32.00 (about USD $23.00) per vehicle for 4+ hours per day. You can only do a single entry and exit with this parking type. It's valid for a 24 hour period, and can be accessed via the Lorne Street entrance. For this parking type you can pre-book online.
In the end we chose the self-parking option as we knew we weren't going to be needing the car before we checked out.
Around The Hotel
As you saw from the photos, this Pullman Hotel is across the road from Albert Park…
Albert Park has a big lake, walking and cycling paths, picnic facilities, restaurants, cafes, golf course, ovals, sporting facilities, and of course… the Formula 1 Melbourne Grand Prix circuit.
Aside from Albert Park there are many restaurants, bars and cafes within walking distance…
If you're up for catching public transport, a taxi, or to head out for a drive…
Within several kilometres you'll reach plenty of shopping stores, fashion outlets, the beaches, art galleries, amazing architecture, other iconic tourist sites of Melbourne… and even more restaurants, cafes, pubs, bars!
You can easily head out to St Kilda and the iconic Luna Park…
While we were at the Mercure, we ate out a bit in St Kilda. There are plenty of options to choose from!
Paul isn't a massive sweet tooth, yet while we were on Acland Street we indulged. We bought this big, thick French vanilla slice…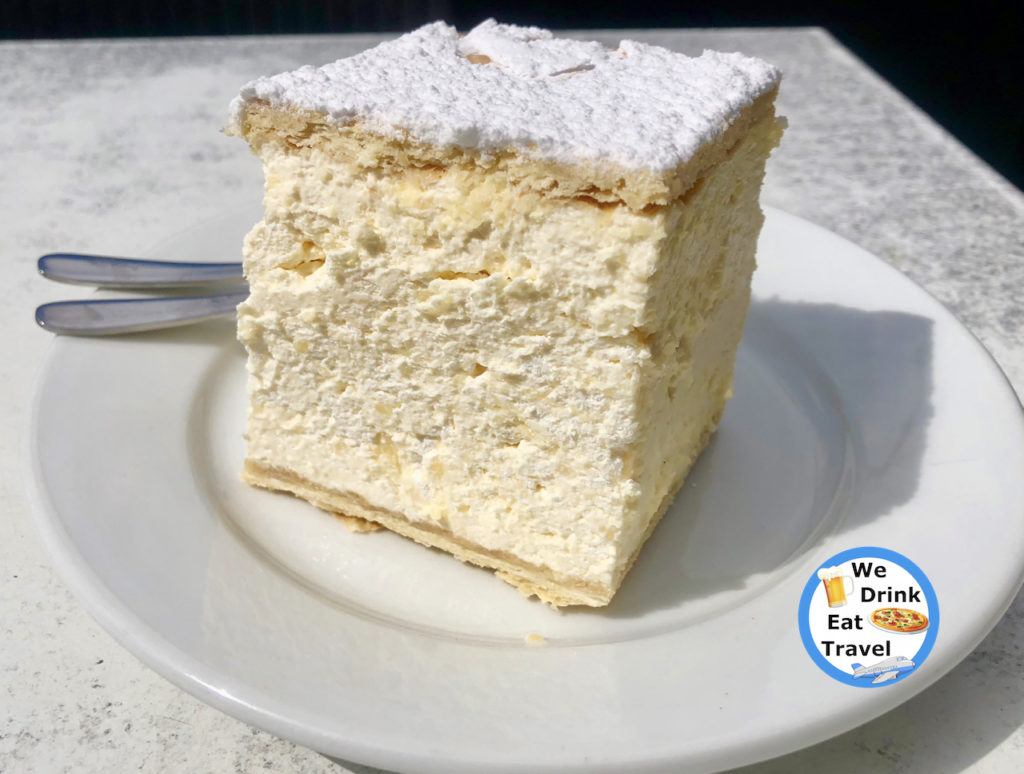 We Drink Eat Travel Wifi / Internet Speed Test
The wifi/internet speeds at the Mercure Albert Park hotel is not great.
The download speed we clocked up was 4.99 mbps. The upload speed was 5.11 mbps.
The Pros and Cons of the Mercure Melbourne Albert Park Hotel
Pros
Big working desk with chair
Very clean room although seems a bit old
Well equipped gym with good working air conditioner
Cons
You can't turn the air conditioner on or off!
The hotel felt outdated and basic for a 4 star hotel
The sheer curtains behind the blackout curtains didn't run the length of the window!
No acknowledgment of our elite status with Le Club Accor Hotels
Would we stay here again?
No, very highly unlikely.
It didn't seem to have the feel of a 4 star hotel that we've experienced elsewhere.
I had redeemed my Le Club Accor points to get cheaper rates. Yet, for the standard price we didn't think it was worth the price.
You may have had a different experience. If you did, we'd like to hear about it.
Like This? Share it and comment on it!
Note: All of our reviews are our opinions and no-one else's. Even if we receive complimentary goods or services we share our opinions honestly.