REVIEW
Accommodation: Saigon Odyssey Hotel
Location: 38 Bui Vien Street, Ho Chi Minh City, Vietnam
Room Type
Superior Room
Loyalty Program or Deals Used
Agoda
Research and Booking
Paul and I were looking for a couple nights stay in District 1, where we could get to restaurants within easy walking distance… as well as experience the Ho Chi Minh City nightlife near Bui Vien Walking Street.
Having looked at some Tripadvisor reviews, and other travel blogs… we narrowed it down to the Saigon Odyssey Hotel. We didn't need anything flash as we'd just need somewhere to sleep, so to speak.
---
TRAVEL TIP:
The Saigon Odyssey Hotel that we stayed at was on the main strip of Bui Vien Street. Yet, its sister hotel is about a 50 meter walk around the corner, off the main street… although its address is still Bui Vien.
So make sure you understand which of the 2 hotels you're booking!
---
It was difficult to find specific accommodation we were after… and we realized we were booking around a major holiday time.
So in the end we chose a superior room, which included free wifi and breakfast. And for 4 nights this cost us AUD $98.31 (about USD $70).
The Location
We were keen to check out the Ho Chi Minh City nightlife around Pham Ngu Lao area… which is known as being the "backpackers" area.
There are lots of bars, restaurants, parks and shops within easy walking distance in Pham Ngu Lao.
And we could also walk to the riverfront within several minutes. Yet, where it all happens is at the Bui Vien Walking Street.
Check In
When the taxi driver was dropping us off, we discovered that the Saigon Odyssey Hotel is right in the heart of Bui Vien Street. And arriving at night time, we were noticing how busy it was on Bui Vien.
We weren't sure if we were at the right place though, as it looked like the shop front for a tourist information center.
Yet, when we walked in I mentioned our hotel booking details. It took her a few moments to confirm the booking, and during that time she was having a chat with us.
She was polite and spoke English well.
Then, after we checked in, a male staff member helped with our luggage. He was going to take our luggage separately, and we mentioned that we could manage it.
Yet, after a few conversations we soon found out they were insistent he helped us with our luggage.
The Room
We discovered that our hotel room was on the top floor. Yet, to get to the top floor we had to take the slowest elevator on earth to the top floor. Then, we had to walk up a couple flight of stairs to get to our room.
Plus, the elevator was so tiny it couldn't fit the both of us, and our 2 big suitcases!
So once we opened the door, we noticed how small the room was. There was a double bed with pillows…
And opposite that was a chair, small coffee table, a desk with mirror, stool, small TV, fridge and cupboard…
There was also a kettle with complimentary tea and coffee, and 2 free bottles of water.
There was also a tiny window behind a curtain, which let a bit of natural light in.
Then after we got ourselves sorted, we soon realized how LOUD it was from the music on Bui Vien Street!
We both looked at each and knew that we'd have to drink a decent amount of alcohol to help knock us out, as it was very noisy.
The Bathroom
Considering the main room was on the small side, the bathroom was surprisingly big in comparison.
There was a shower curtain to separate the shower from the toilet. Yet the water still managed to get all over the floor.
It wasn't the cleanest bathroom we'd seen, and the bathmat was supposed to be white… but it looked like a grey color!
The lighting wasn't the best in the bathroom and was quite dark. Yet, on a positive note… there were some toiletries like toothbrush, toothpaste and soap.
Breakfast At Saigon Odyssey Hotel
Breakfast was included in our room rate. So when we woke up and went down to reception, we asked where the breakfast was being served.
She gave us a couple of breakfast vouchers and then walked us out of the hotel. We found out that we would have breakfast at their sister hotel around the corner.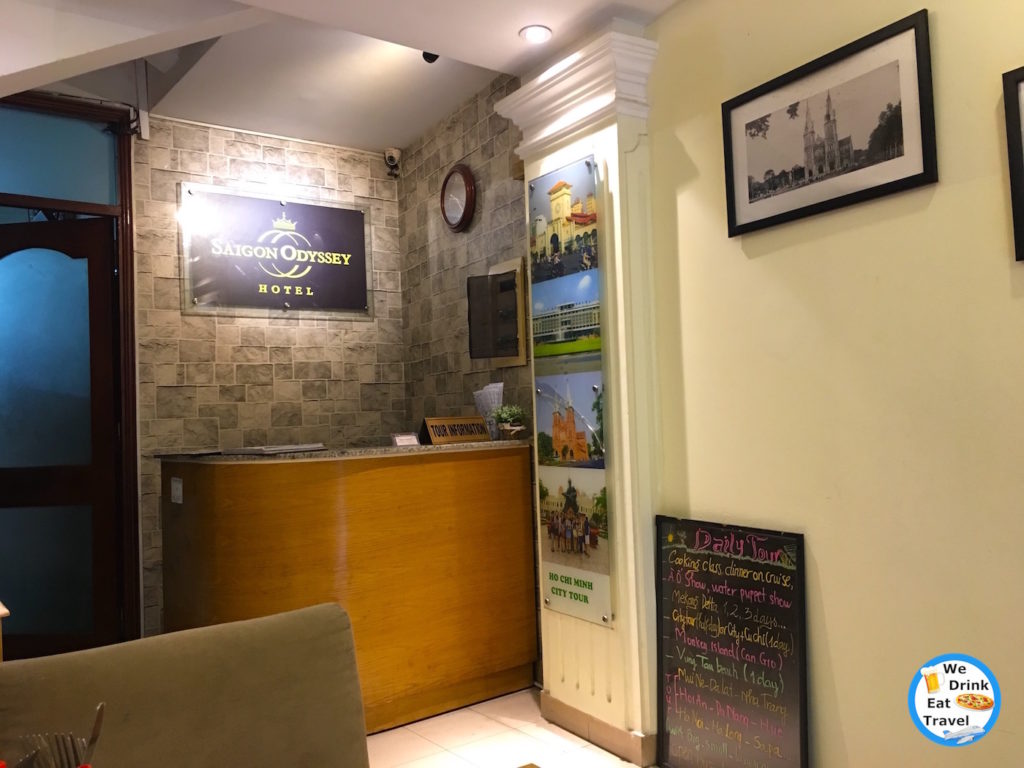 It was a tiny area with seating for about 8 people. It was a simple breakfast, yet enough to get our energy up for sightseeing. We got a couple of bananas, a choice of coffee or tea, and a few breakfast options.
We chose an omelette with bread, and I got a Vietnamese iced coffee…
OK, it was far from the best breakfasts we'd had, yet like I said it did the job. Thankfully we didn't have high expectations.
Our Biggest Surprise At Saigon Odyssey Hotel
After we'd seen what the hotel and room was like, we couldn't believe what we saw when we did a wifi speed test…
OMG, the download speed was 34.4 mbps and the upload was 22.0 mbps! That was much faster than most 5 star hotels we've stayed in.
So that's a big thumbs up.
As I mentioned earlier, we hadn't planned on staying in the hotel room much. And it was for somewhere to sleep. Yet, if it wasn't for our earplugs and our alcoholic drinks to knock us out, we wouldn't have been able to sleep either!
And look, for about $25 a night including basic breakfast, there was nothing really to complain about. The staff were polite and helpful… and although the hotel was on the main crazy street of Bui Vien, it felt relatively safe.
Plus, there was the tourist office in the reception area… so that's convenient if you couldn't be bothered walking around looking for somewhere. Yet, we're not sure what the prices are like, as we didn't book any tours.
So in the end, this would be our first and last time staying at the Saigon Odyssey Hotel.
If this sounds all OK for you, then go ahead giving it try for yourself… and let us know what you thought!
Like This? Share it and comment on it!
Note: All of our reviews and comments are our opinions and no-one else's. Even if we receive complimentary goods or services we share our opinions honestly.
You Might Be Interested In This Too..
10 Free Things To Do In Vietnam
Things To Do In Ho Chi Minh City
Our Horrible Hanoi City Taxi Scam Experience
7 Tips For Handling A Vietnam Taxi Scam
My Shocking Experience At A Vietnamese Market

Want Hotel Deals?
Find Your Perfect Vacation Accommodation
Looking For Flights?
Cheap Flights All Year Round With Skyscanner