When Paul and I went to Hue, it was almost a last minute decision. Therefore, we didn't have much time to research the Hue nightlife.
After having a quick search on Google though, we didn't have high expectations. Yet, to our surprise, Hue has more places to drink than we thought…
After big days out touring the incredible sights of Hue in the heat and humidity… there was nothing we were wanting more than having nice cold beers. Of course, a shower was immediately before that!
We'd been paying up to about 60,000 Vietnamese Dong (about USD $2.60) sometimes for beer in Ho Chi Minh City. This is still extremely cheap for us, yet more expensive for Vietnam. Big city, big prices, which is fair enough.
Hue is much smaller in population than Saigon. Yet, as it has a UNESCO World Heritage Site in the Complex Of Hue Monuments… we thought this would bump up prices of food and drinks.
Yet, in this blog post we'll go through 8 Hue bars where we got cheap beer. We were so surprised it almost knocked our socks off! Whether or not it was cheerful too, you'll have to keep reading…
Let's Begin The Hue Bar Crawl…
#1
High Times Pub
Address: 4 Kiet 64 Nguyễn Công Trứ
We actually tried to find another bar before this one without success! So we moved on to the next one, which was High Times Pub.
Be aware that it's down an alley and there's no sign for it on the major street. We kept looking down alleyways and we saw a bright red and white sign like this…
Then as we wandered down the alley, here's what we saw…
We were the only ones there at around 5:30pm. As we went to the counter to check out the drinks menu, one of the staff gave us insight into other things we could get here. Hmmmmm!
We ended up getting a couple of Huda beers each. Now, having had Hudas before we realized that this was a bigger size than the 330ml we were used to! Hey, that suited us fine.
Inside the atmosphere was cool, funky and laid back.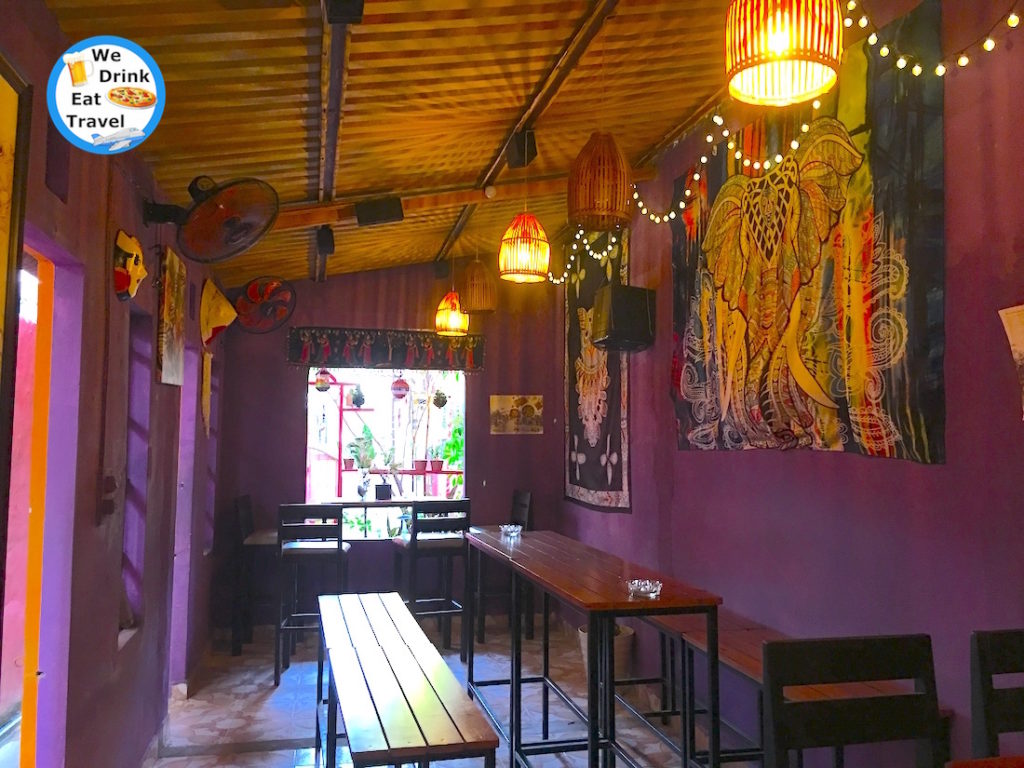 We sat at the front, and this was our view…
Unfortunately as it was down a quiet alley, we couldn't do much people watching. The beers were just cool, but nice ice cold.
However, it was surprising that the 450ml Huda beers only cost 20,000 VND (about USD $0.90). That's dirt cheap!
With the first bar done, it was time to set off for the next Hue bar…
#2
75 Dope Café and Bar (Also known as 054 Café)
Address: 35 Nguyễn Công Trứ
After High Times Pub, Paul and I were looking out for a sign for 054 Café. It felt like we were walking for miles, yet we still couldn't find the damn place!
As our thirst levels increased, we decided to give up looking for it, and found this place…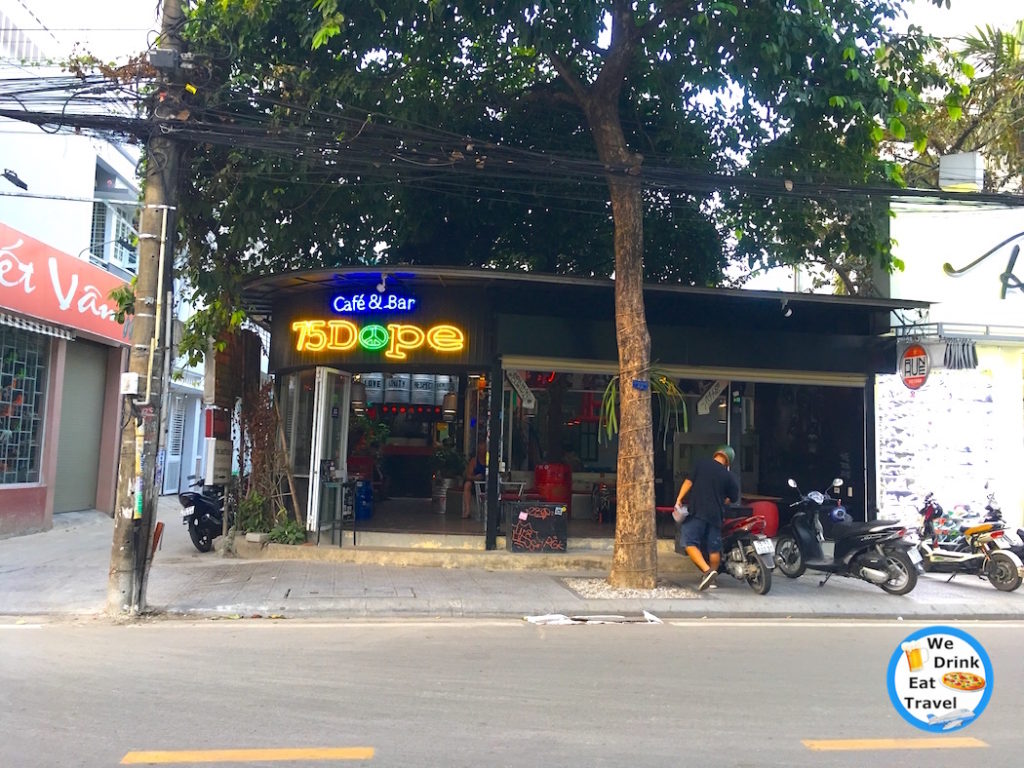 It looked pretty cool once we went in so we decided to have a brew.
When we checked out the drinks menu, it said that the beers were ice cold. After ordering 2 Huda beers, they were reasonably cold but not ice cold as they claimed. Bummer.
Inside there was lots of seating and even a pool table.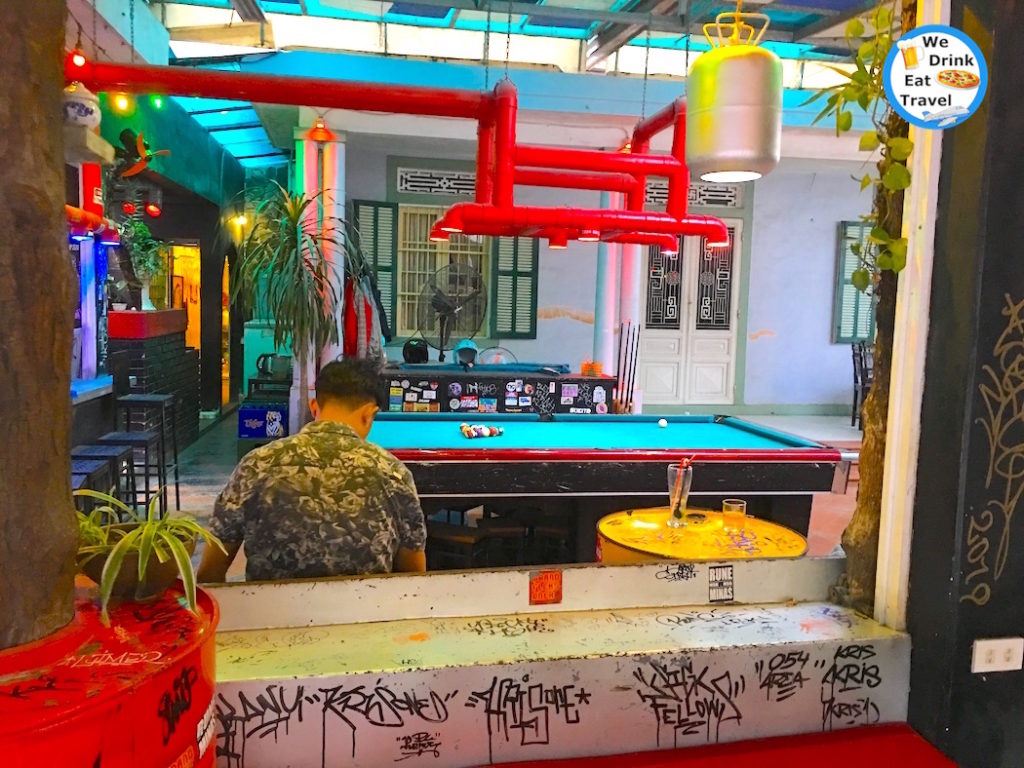 It was quiet, with only 1 other person there. There was also a dog there who was chilling with us. We believe his owner worked at the bar.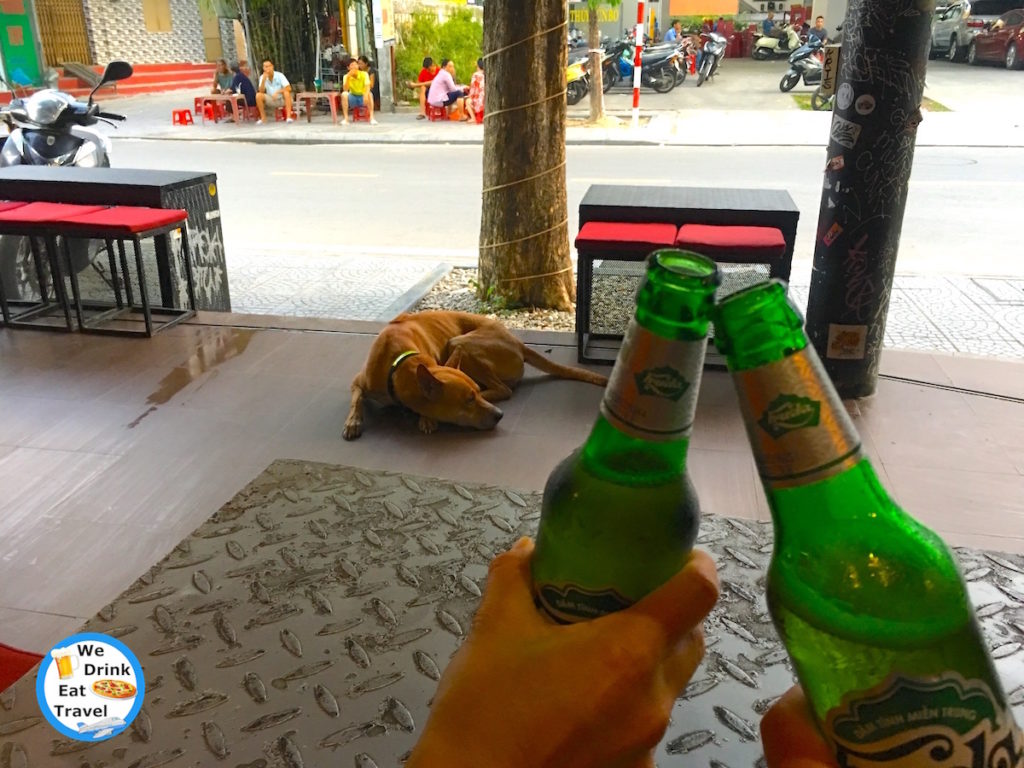 The Huda beers we had were the 330ml sizes, and they were 15,000 Vietnamese Dong each (about USD $0.65). Cheap beer again!
It then dawned on us… as we remembered that Huda was Hue's local beer. That's most likely why the beers were so cheap.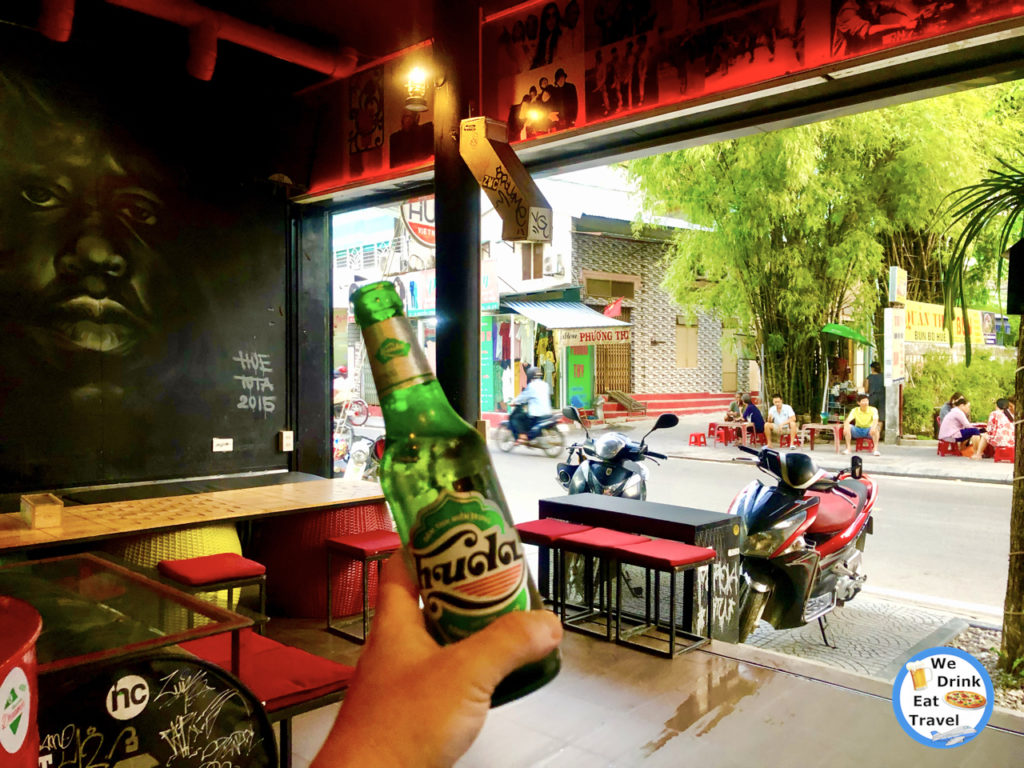 Although the beers were cool, they weren't ice cold. So off we went to the next bar!
#3
Taboo
Address: 16 Đường Võ Thị Sáu
Just before we got to this next bar, we noticed this sign at the start of the street…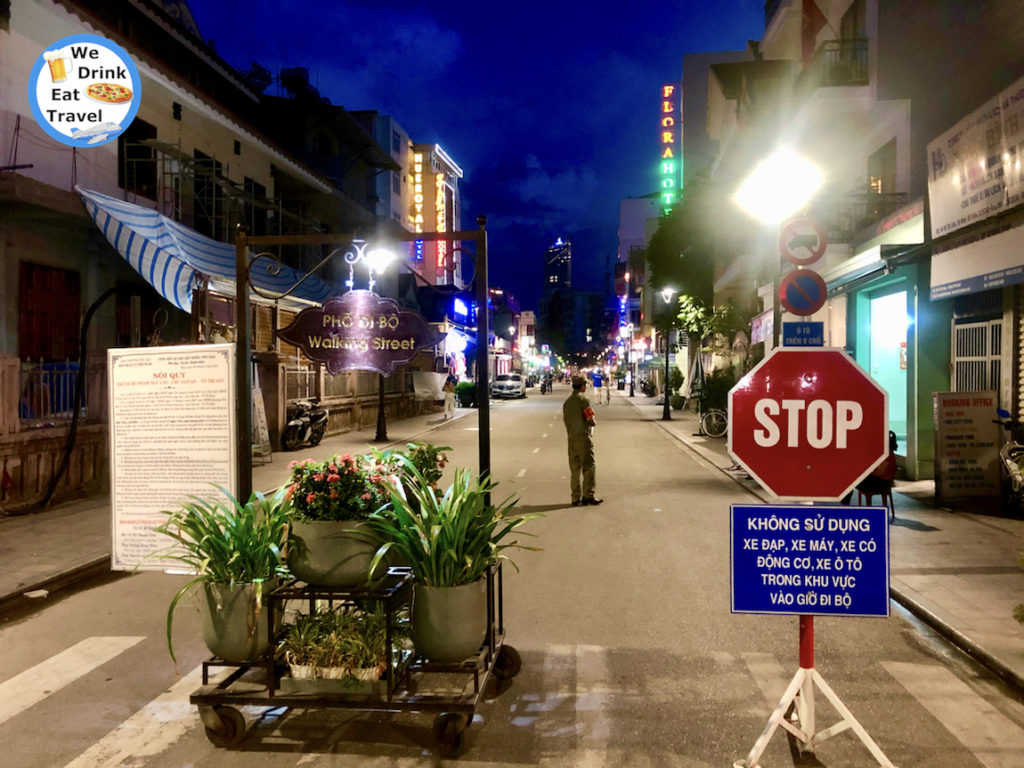 This street was apparently a walking street. Now, if you read our blog about Bui Vien Walking Street in Ho Chi Minh City… we were a bit dubious about whether or not it was a walking street!
Yet, we kept on going, looking out for crazy motorcyclists just in case.
We stopped and saw this place called Taboo…
When we arrived there was only 1 person there. We were beginning to wonder if we missed reading a memo or something!
The bonus is, we could sit anywhere we wanted… And as we like people watching, we decided to try Taboo and take a seat at the front.
The menu listed 2 different types of Hudas but the same price. One of them was called Huda bottle… and the other one was called Big Huda.
The difference was 330ml versus the 450ml. They were both in bottles though!
Both were priced at 19,000 VND each. The best part was, the beers were cold!
As the night went on, we liked the bar even more. Was it the beers taking over us? No! We were loving the music of 70's, 80's and 90's.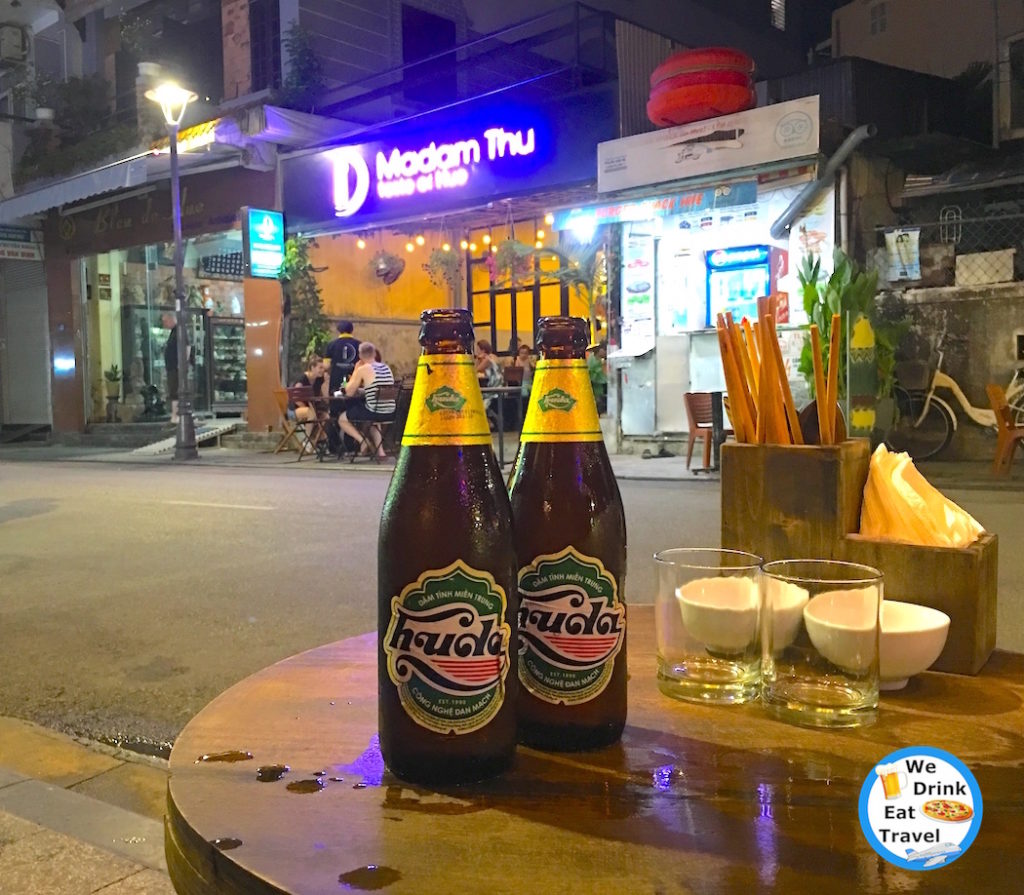 There was a mix of tourists and locals, with more of a younger local crowd. The vibe was upbeat, yet the atmosphere was relaxing. It was a place to have many beers, which is what we did…
We had the intention of going on a bar crawl, but because we enjoyed the music so much we stayed. So the next bars we'll go through are from touring Hue nightlife on day 2 of our visit…
#4
Bi Beer
Address: 48 Chu Văn An
They must start drinking late in Hue… As we got to Bi Beer bar around 5:30pm there was only 1 person there.
Paul and I were looking forward to starting off our last night in Hue with really cold beers. So, when we ordered our beers we asked for very very cold! They nodded their head in agreement.
The first beers were refreshingly cold, and they were just what we needed. Especially after spending hours touring the incredible Imperial City in sweltering heat. It was a great start to rest our weary bodies!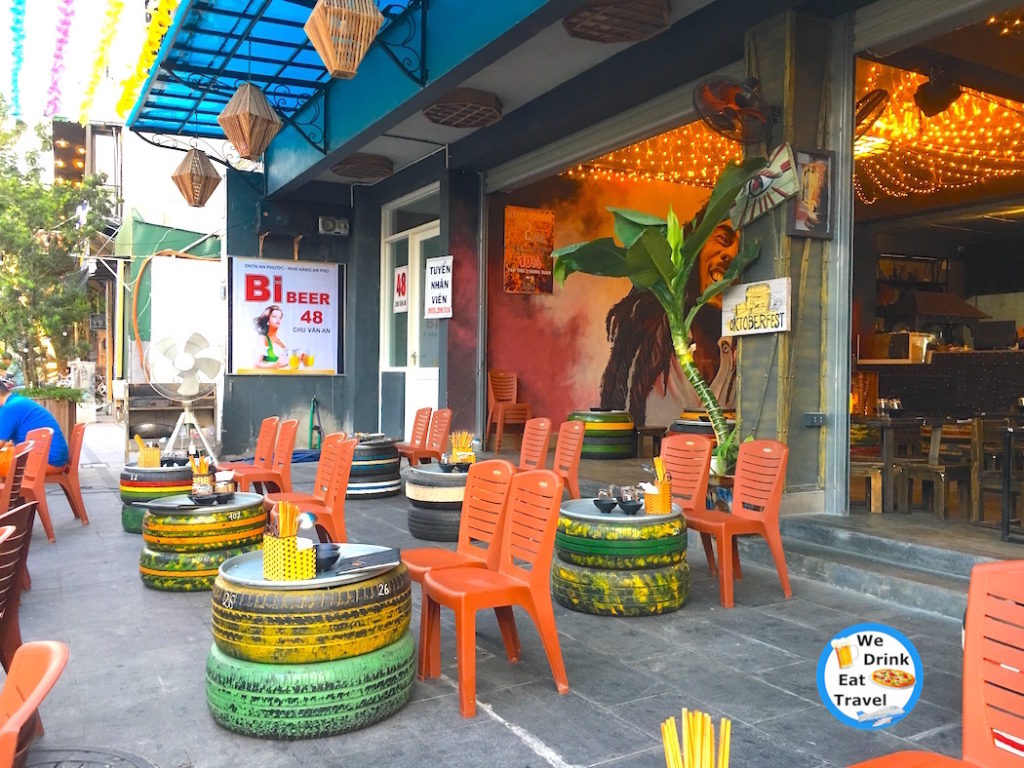 Paul was drinking the beer like water, because not long after he ordered another beer!
The beers we had were Huda. They were a ridiculously cheap 12,000 VND for a small huda, and 13,000 Vietnamese Dong for a big one. No wonder we haven't seen happy hours in the bars… It's happy all the time!
The staff put Paul's beer on the table, then as Paul picked up the bottle he didn't put it anywhere near his mouth…
He looked at me horrified, and said that the bottle was warm!
The staff then suggested they could get Paul a glass with ice to pour his beer into. With the look on Paul's face I knew we were off. So I skulled my beer for Hue bar number 5…
#5
One For The Road
Address: 44 Chu Văn An
We were only at the start of our Hue bar crawl, when we saw One For The Road. The manager saw us at the front, and welcomed us to have a seat at the front. So why not?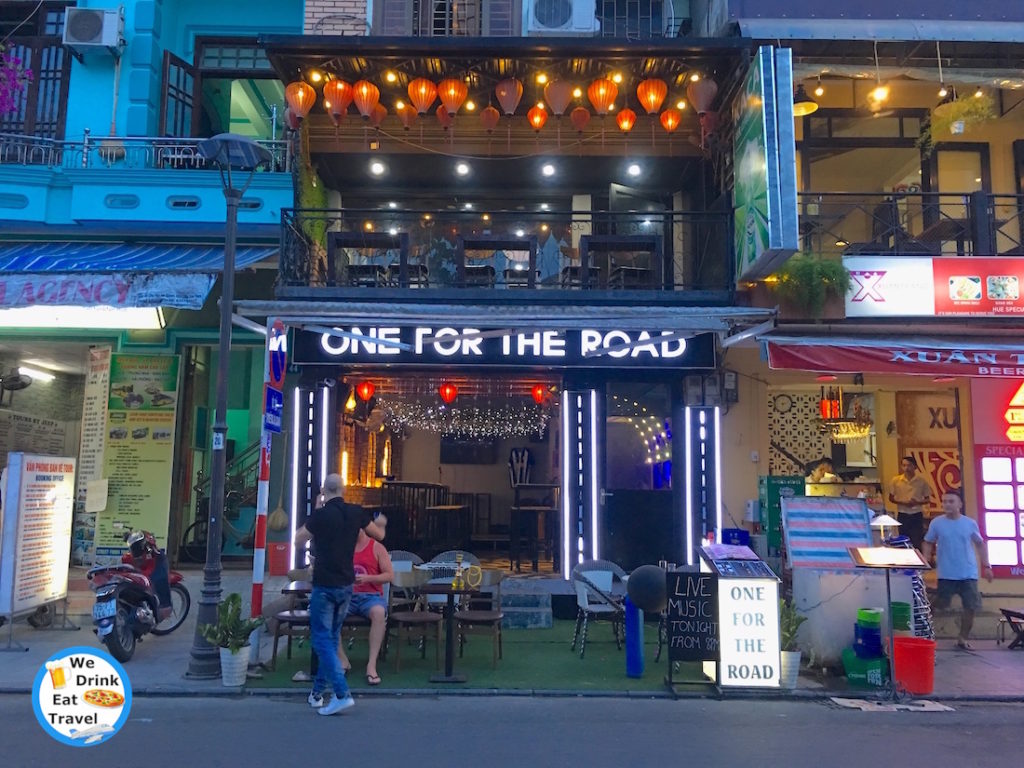 The small Huda beers were 20,000 Vietnamese Dong each. They also had shishas on offer if that's your thing.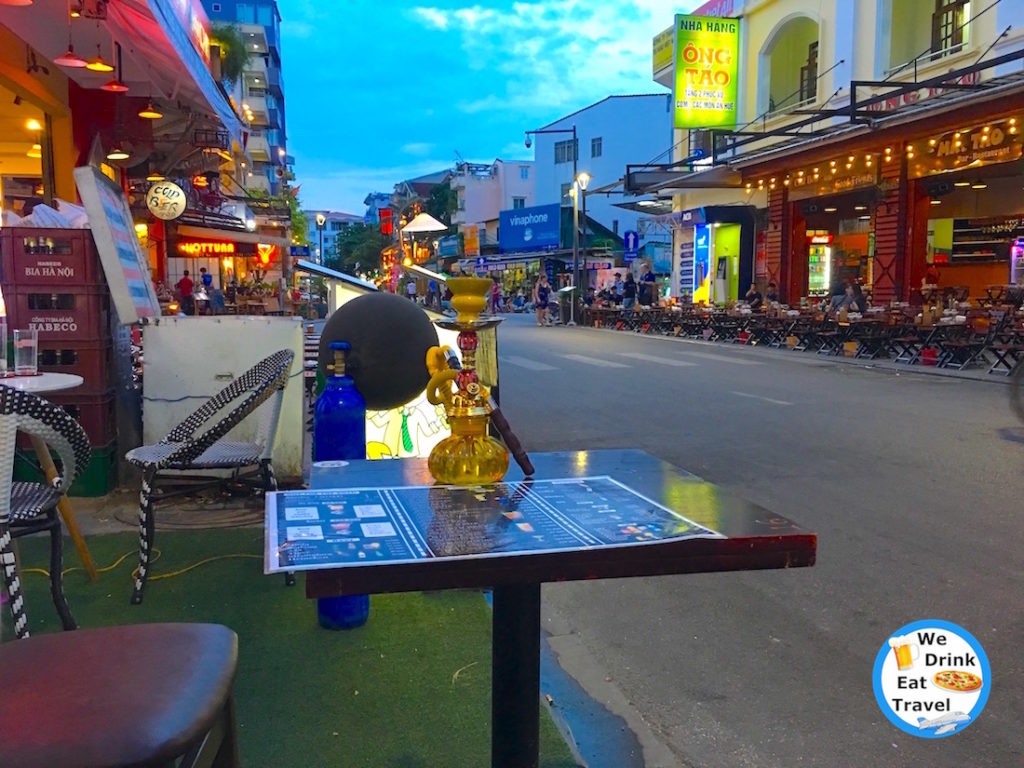 The manager mentioned that there would be live music at 8pm. Now, it was still early for us so it looked like we wouldn't be round to hear the live performances.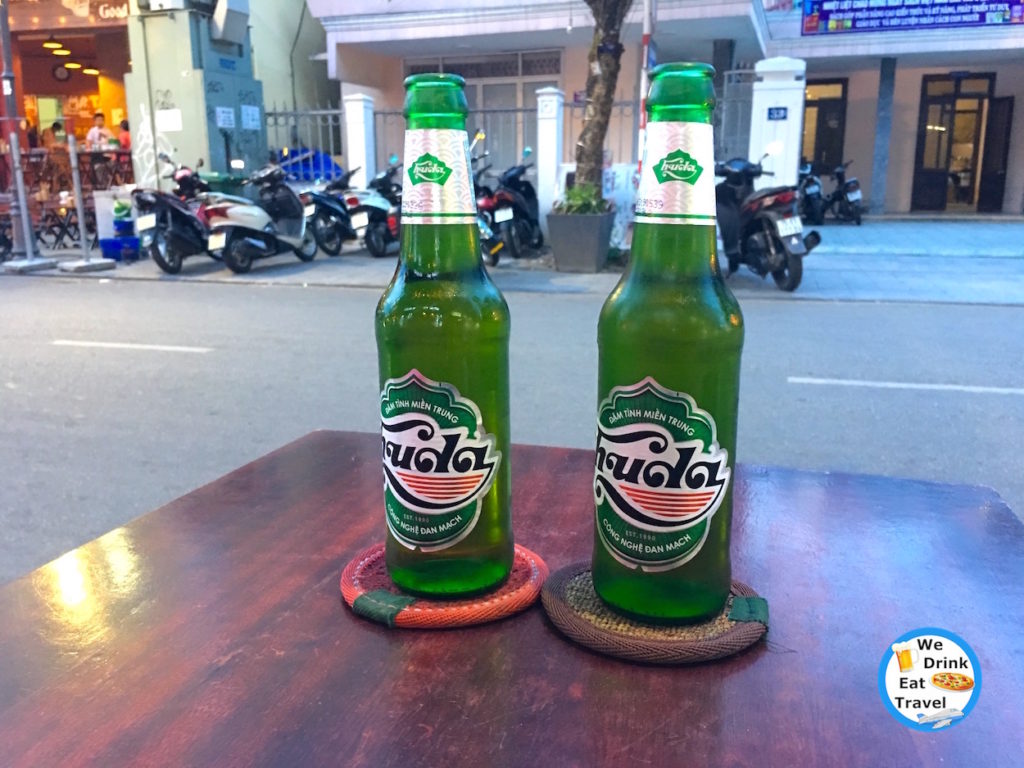 To us, it seemed to lack atmosphere and the beers again weren't that cold. Unfortunately this was seeming to be a common thing in Hue. So with that, we left for the next place.
As we walked to find the next bar, we noticed that the Hue nightlife was becoming a bit more vibrant. The streets were starting to fill up and their was a buzz in the air…
We saw the big neon lights of 912 and the fans, so we decided to head on over…
#6
912 Factory Bar
Address: 38 Chu Văn An
No-one was sitting at the front so we had free reign to choose our seats, which was great.
Depending on how Paul's butt would fare, we may not stay here long. Yet, if the beers are cold it might be a long night here. LOL!
A small Huda was 12,000 Vietnamese Dong, and a big beer was 13,000. Can't complain about the prices!
Yet, what we could complain about was that they didn't turn the fans on. Absolutely crazy!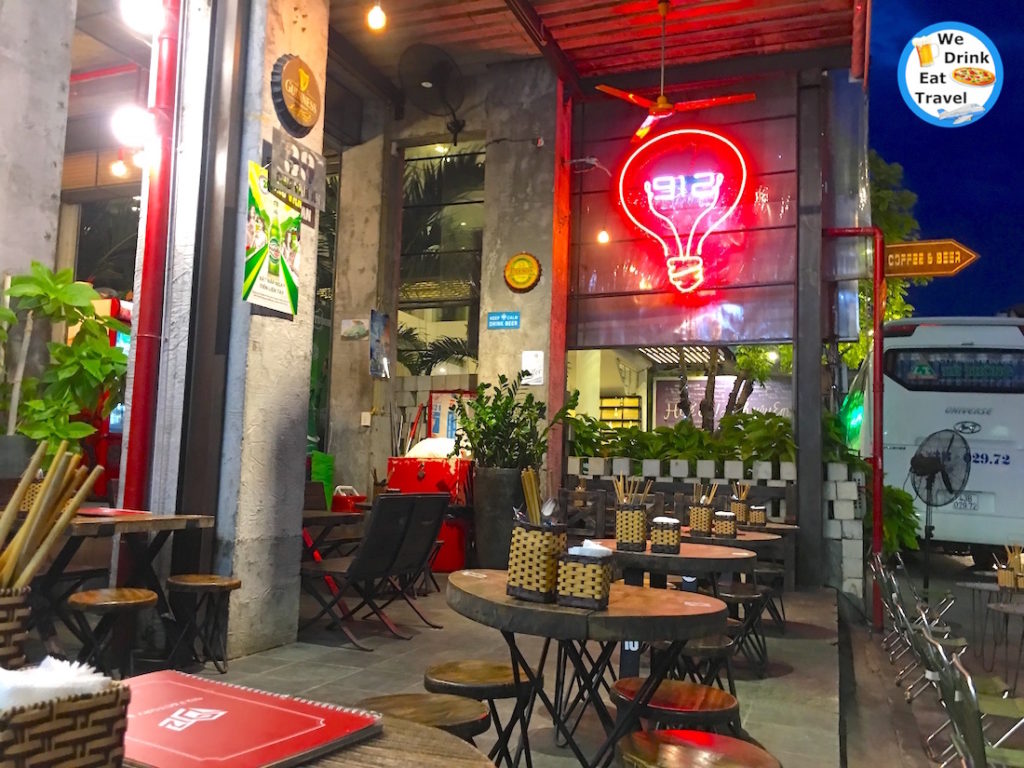 As the beers were relatively cold, I had to use the bottle to try cool me down as well as the beer. I think the gents across the road were having a jolly good time amused by our overheating and antics.
Yet, they were enjoying their smokes and warm beer!
With us starting to sweat like pigs, we decided to pull the pin on 912 Factory Bar, and head off to another bar.
Now, the next bar had quite a few people inside yet not many at the front. So, we decided to give it a crack…
#7
Xin Chao Bar
Address: 14 Chu Văn An
As soon as we walked towards Xin Chao bar, 2 staff members came to attend to us!
We sat at the front next to a monster sized fan… And as we were sitting down one of the staff members turned the fan on, pointing it right at us. Woo hoo!
Xin Chao was another Hue bar where they claimed the beers were cold. So after our beers came out we looked at each other with uncertainty.
Yet, blow me down like a feather, OMG the beers were COLD! It's like we struck gold at this bar for coolness all round. What a relief. Needless to say, we ended up staying here for a few brews.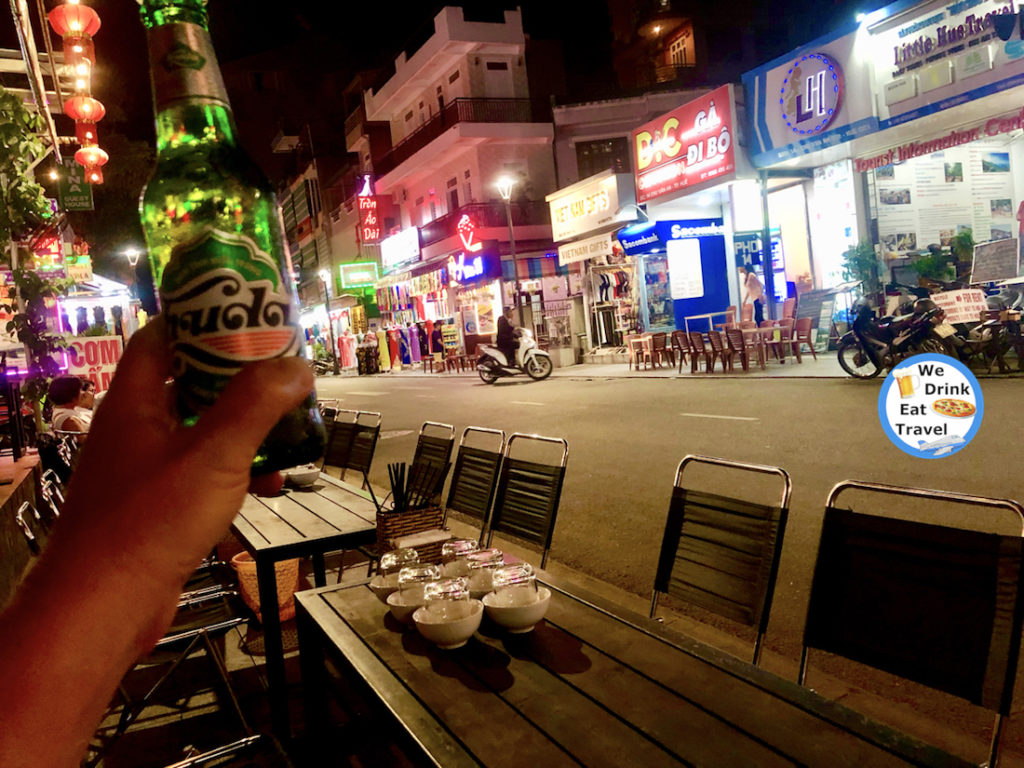 We got such cheap beers at Xin Chao… The large Huda beers were only 11,000 Vietnamese Dong, and the small Huda beers just 12,000 VND.
As the night went on, this bar got more busy, filling up with lots of locals. They would get buckets of beers to put next to their table, and lots of different small meals to share.
After a successful find in Xin Chao, it was time to hop to the next bar…
#8
DMZ Bar
Address: 60 Lê Lợi
We could either go left or take a right onto a main road called, Le Loi. In the end we picked left and soon after found a bar called, DMZ.
As soon as we walked in we immediately noticed how dark inside it was…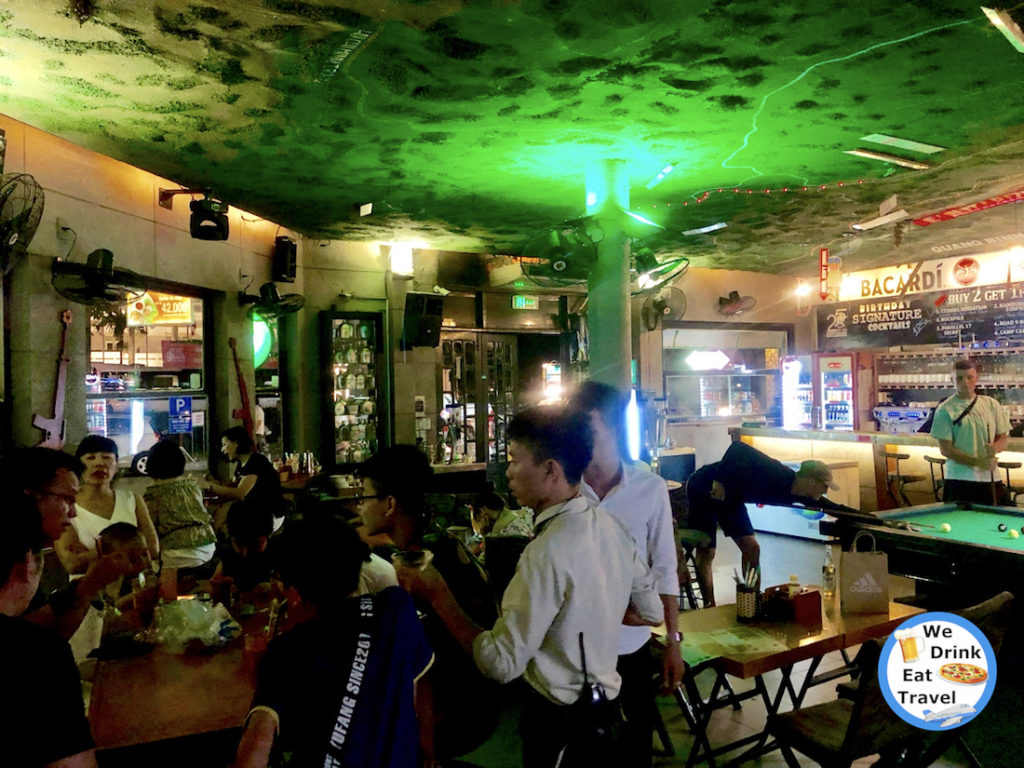 Yet, more importantly, we noticed they had cool air conditioning on and lots of fans on rotating. Thumbs up already for DMZ bar!
After swerving past people playing billiards at the pool table… we sat down at a table right under the air conditioner and a fan. You must think we're obsessed with fans and air con!
Yet, if you've experienced the Hue summer then you'll appreciate what we're talking about.
Paul ordered a small Huda for 25,000 VND, and I got a Larue for the same price. The beers were cold, but we wouldn't say ice cold. The saving grace was how comfortable it was to drink the beers.
As we were checking out this Hue bar, we noticed that on the ceiling was a painted model of the DMZ (demilitarized zone)…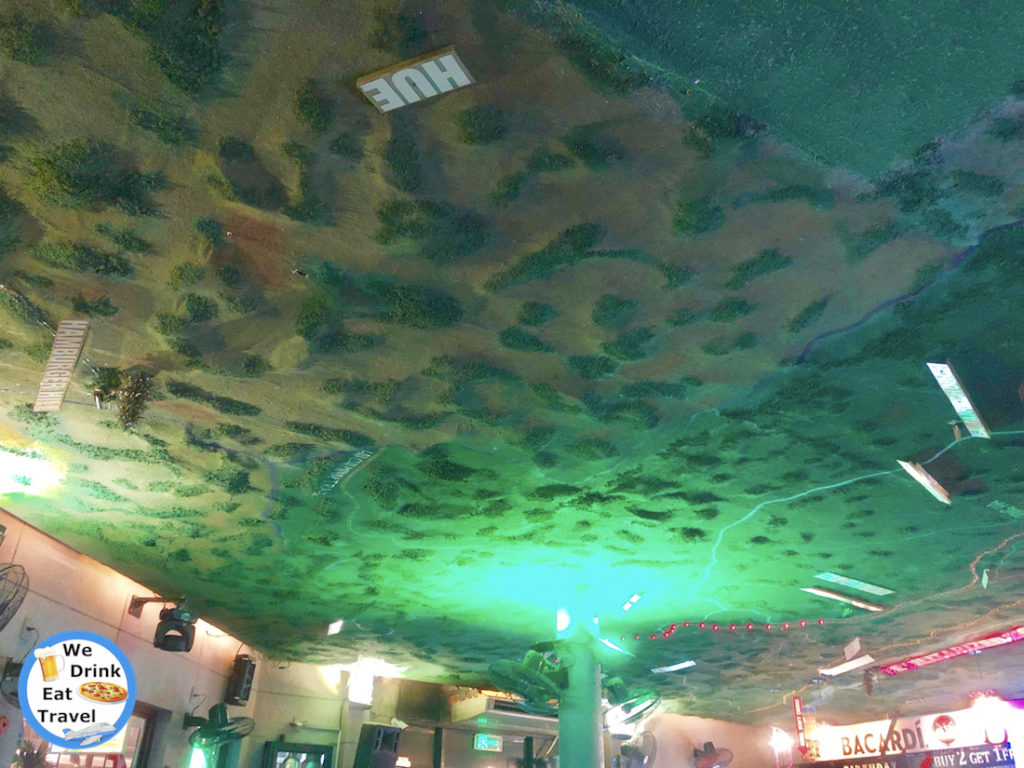 We noticed on the menu they had free wifi. Out of interest, we decided to check out the wifi speed at DMZ bar. Wowee… it was off the clock for Vietnam and Asia in general!
Check out these internet speeds…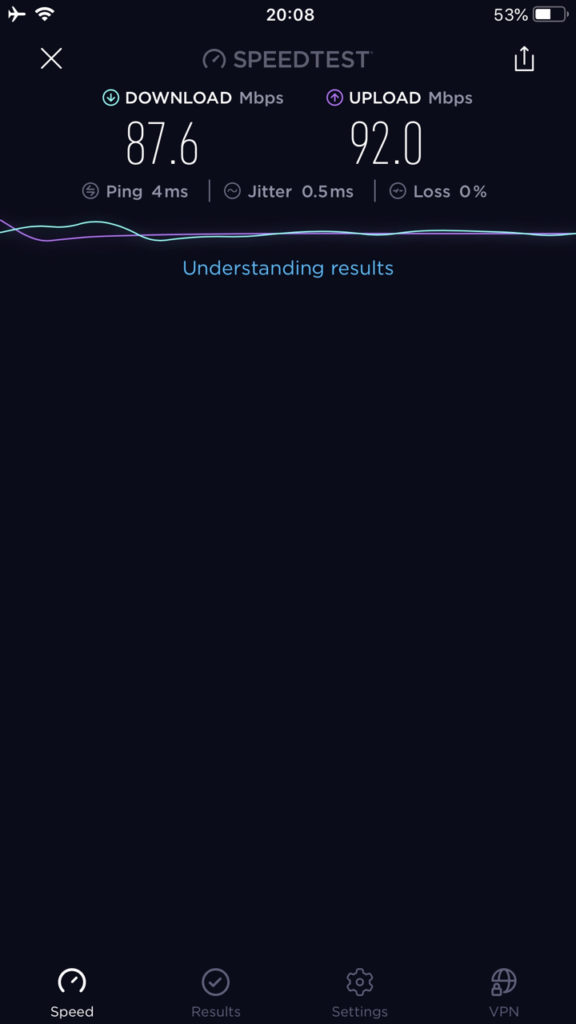 A whopping 87.6 mbps for the download speed, and for upload the wifi speed was 92 mbps!
Not long after we arrived, the rain was starting to pelt down… And as time went on the rain got heavier. So with that we drank more beer, and made DMZ bar our last stop on our bar crawl.
Our Hue Bar Crawl Comes To An End
All in all it was great to experience the Hue nightlife, by checking out the local bars… And in doing so, we came across some great and not so great finds.
What we liked about Hue was that there are plenty of places we could drink beer, without having to walk for miles.
The cheapest beer we got was at Xin Chao for 11,000 VND per bottle. And the most expensive at a measly 25,000 Vietnamese Dong was at DMZ bar.
Our biggest gripe is that in many places they don't seem to understand what REALLY cold beer is. Plus, for whatever reason some places seem reluctant to turn fans on. We suspect it's to save on electricity bills.
Here's list of the bars we went to and we plot them on a map too.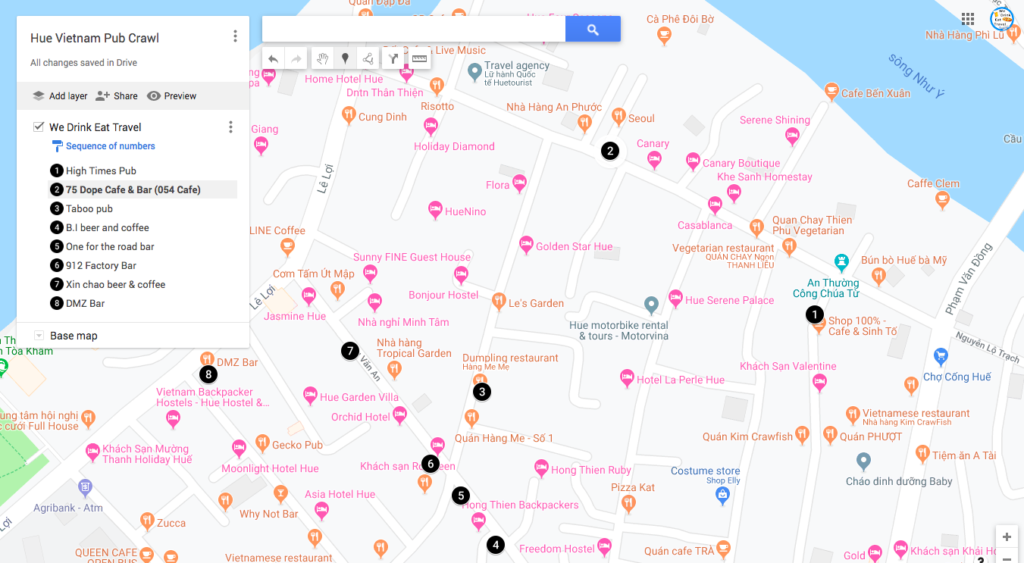 Be aware that sometimes places change their names, move location or shut down. So, we hope that on your Hue bar crawl, those bars will still be there for you to try.
If not, exploring is all part of the fun and experience!
Have you been to Hue and checked out some of the bars? If you have, let us know where you went and what you thought in the comments.
Save yourself some heartache… Check out our post on 5 Top Tips Before You Do A Money Exchange In Vietnam