Paul and I were staying at the Novotel Melbourne St Kilda hotel for a few nights…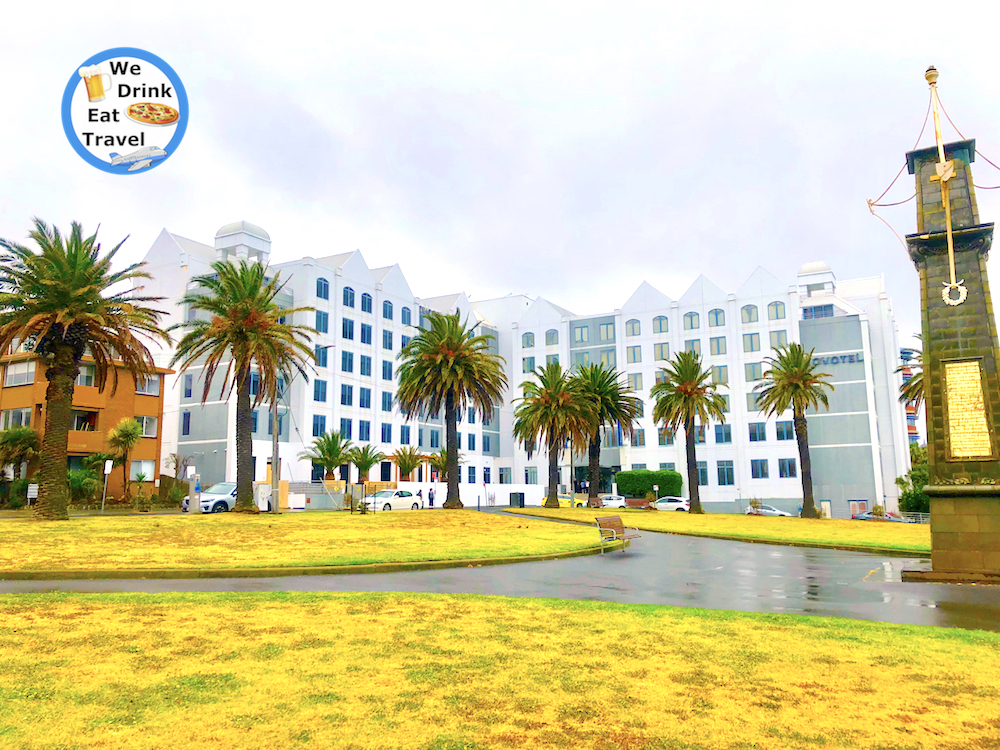 St Kilda has plenty of eateries, bars, pubs and clubs within walking distance of each other.
We were feeling peckish at one stage. We weren't sure what to eat, so we decided to wander to Acland Street to see what we could find.
From the Novotel Hotel, it took us about five minutes or so to walk to Acland Street.
On the corner of Acland Street and Shakespeare Grove, we saw a place called Sister of Soul. On the outside of the building painted in big letters was… Vegetarian Café.
Yes, Sister Of Soul is a vegetarian and vegan restaurant. They even claim that all the beers and ciders they serve are vegan friendly. They also serve breakfast right through to dinner.
As we checked out the menu, our mouths were watering… and with that the decision was made!
There were already quite a few people inside. We easily got a seat though.
The options included starters, salads, mains and desserts. With so many choices, it was hard to decide what to have!
We were just wanting a main meal each.
In the end, Paul chose the Big Burrito. This is how it was described on the Sister Of Soul menu…
Spicy Mexican black beans, sweet potato, avocado, cheddar cheese, brown rice, finely cut fresh vegetables, jalapeño and homemade tomato and corn salsa – Served with a side salad.
Minutes later I finally made my choice of a burger. It was a spin off of the Jack Black Burger. On the Sister Of Soul menu here's the description…
Slow cooked jackfruit, house made bbq sauce, asian slaw and pickled gerkins,on a vegan charcoal bun and served with sweet potato fries.
While we waited for our meals to arrive, we ordered a couple of beers.
We chose the Stone and Wood Pacific Ale….
A 330ml bottle costs AUD $9.50 (about USD $6.85). We'd had this beer before and it's pretty good. It's an easy drinking lighter style refreshing beer, with fruity undertones.
As we waited for our food, the staff were brining out other people's meals. OMG… They looked so tasty! I was eating with my eyes – LOL! Now I was starting to get really hungry.
Then not longer after it was our turn…
Here was Paul's burrito…
And this was my burger…
The Big Burrito was AUD $18.50 (about USD $13.50)… and the Burger was AUD $19.50 (about USD $14)
All up the 2 main meals and 2 beers cost us AUD $57(about USD $40.10).
Would we come back again? Hell yeah! The next time we did we came with friends, and this is what they ordered…
Looks yum, right?
The food we had tasted so delicious. It was fresh, fragrant and filling… without making you feel big and bloated though.
We give the Sister Of Soul restaurant a big thumbs up. So is this the best vegetarian / vegan restaurant in Acland Street, St Kilda? Let us know what you think in the comments.
We highly recommend you give Sister Of Soul a go!
Like This? Share it and comment on it!
Note: All of our reviews and comments are our opinions and no-one else's. Even if we receive complimentary goods or services we share our opinions honestly.