"I scream, you scream, we all scream for ice-cream!" Well, that may be true for many but not for Paul…
Paul isn't a big sweet tooth and it's rare that he'll indulge. On the other hand, I love my sweet treats… Thankfully I generally have the willpower to hold back… Yet not this time…
And what's most surprising… I was able to twist Paul's arm to come along with me, to what could be the best chocolate and ice cream store in the Yarra Valley wineries region…
We were staying in a relaxing 1 bedroom apartment in Yarra Glen, called Yarra Glen Apartments.
You can learn more about the Yarra Glen Apartments in my blog post HERE.
---
Get your dream home away from home on Flipkey…
---
Our main aim was to chill out. We literally did that at the popular Yarra Valley Chocolaterie and Ice Creamery.
The Location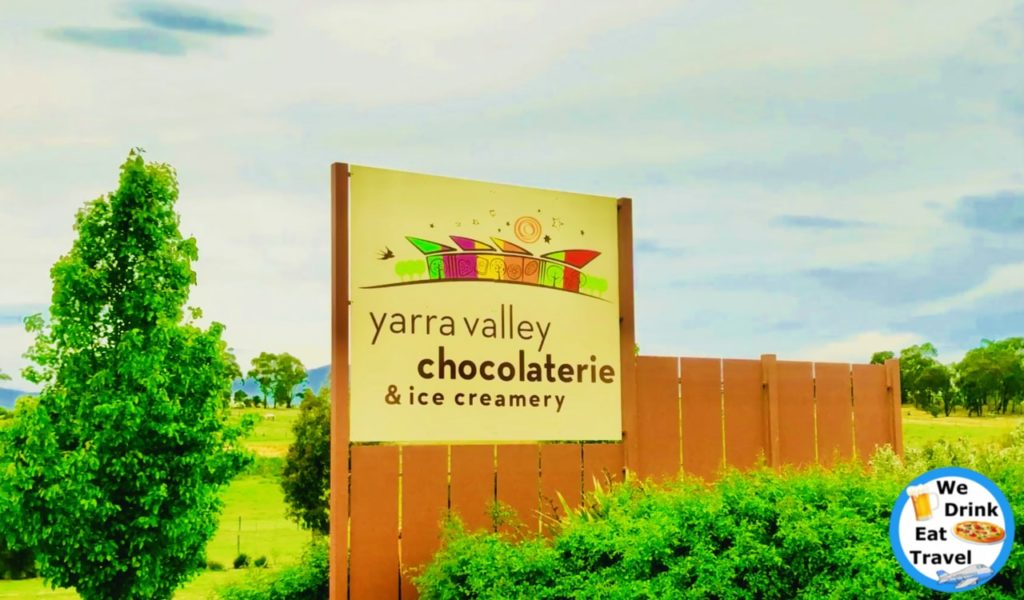 You'll find the Yarra Valley Chocolaterie & Ice Creamery at:
35 Old Healesville Road, in Yarra Glen Victoria, in Australia.
It's a massive building with acres of land. You can't miss it. There are road signs clearly stating the directions to it.
Otherwise, follow the aromas from the chocolate factory… pumping out thousands of delectable delights for you to try.
It was only a few minutes drive from our accommodation. Yet, a hot day in Melbourne forced us to hike up the air conditioning in our car. And with that, we headed off to the Yarra Valley Chocolaterie and Ice Creamery.
We found the Old Healesville Road… and after slowing down to a crawl over a few speed bumps we were almost in chocolate heaven…
Now take a sneak peek in our video below…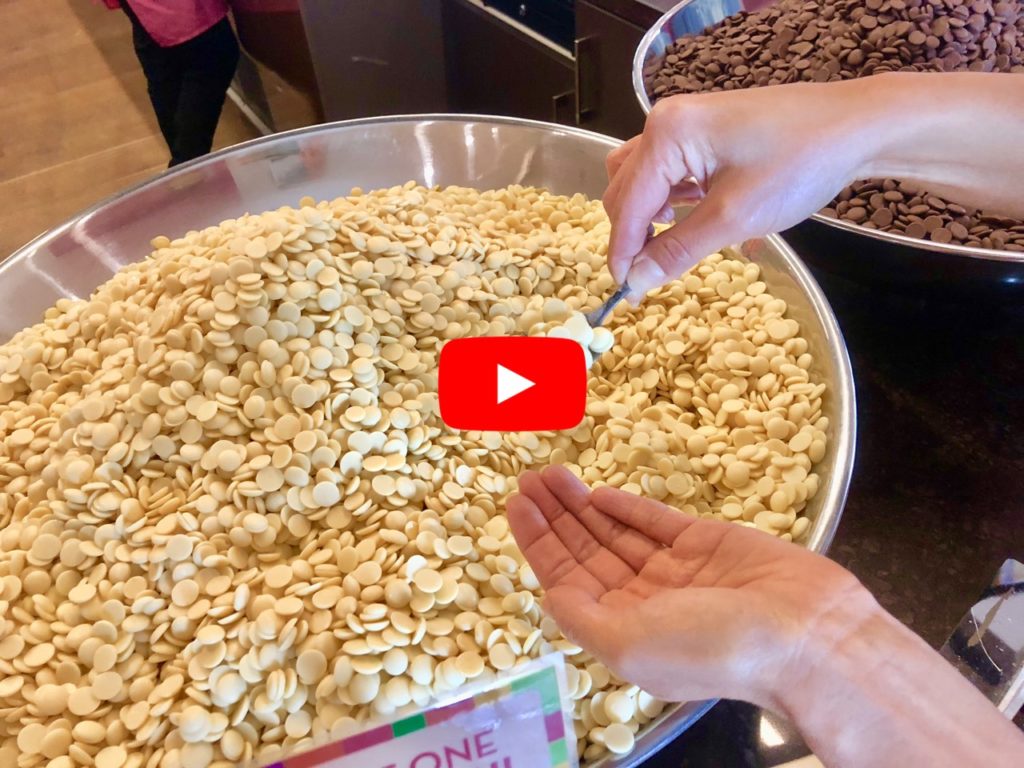 To Watch The Video Click Here!
Mmmmmm, did that make your mouth water?
As a chocolate lover, the best greeting you could get entering the Yarra Valley Chocolaterie and Ice Creamery is with the 3 massive silver containers…
The first container with white chocolate buds, the second container with milk buds, and the last with dark chocolate buds. Yum!
Yet, how is it possible to just stick to one small spoonful per person of each?! Are they kidding? Ha ha ha!
As your eyes wander around the huge Chocolaterie and Ice Creamery… there are hundreds of chocolates in all shapes, sizes and flavor combinations.
And you can even watch the staff in action making these delectable delights.
As you head past the individual chocolate showcase, heaven awaits…
The Ice Creamery!
The ice cream flavors included vanilla, cookies and cream, pink bubblegum, melting moment milk choc, nutella fudge swirl and MORE!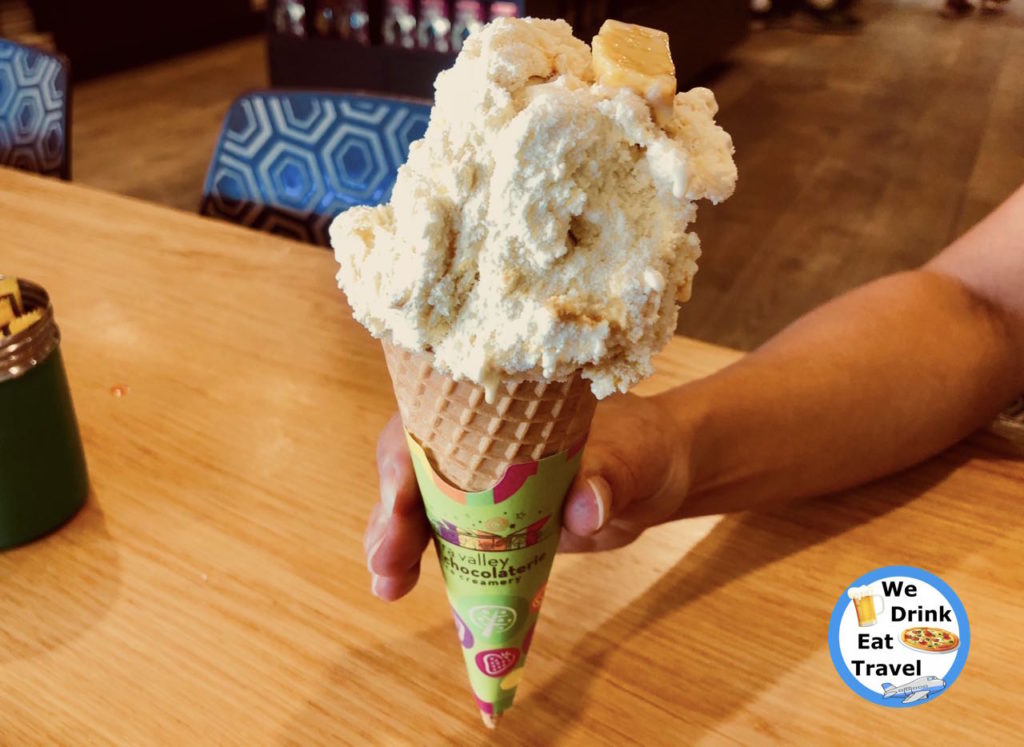 With so many scrumptious flavors to choose from I couldn't decide what to have! I waved people to go in front of me as I was taking painstakingly long.
I finally narrowed it down to Salted Caramel and Honeycomb. I told the staff it was tearing me apart trying to choose between the two flavors. So they asked if I wanted to try them both first – HELL YEAH!
For me, the Salted Caramel Ice Cream was the winner. As soon as Paul saw the flavors he had no hesitation – mint chocolate chip.
Oh yum, it was sooooooooo delicious.
A cup of ice cream costs AUD $4.80 each (~USD $3.50). I think it's a pretty generous ice scream scoop. And if you decide to go for seconds like a Little Miss Piggy…
I opted this time to have my second choice of Honeycomb ice cream in a waffle cone. This was exactly the same price as the ice cream cup option.
Honeycomb ice cream in a waffle cone
We were now in a sugar rush… And on our way out, we had to stop past for another cheeky scoop of the chocolate buds.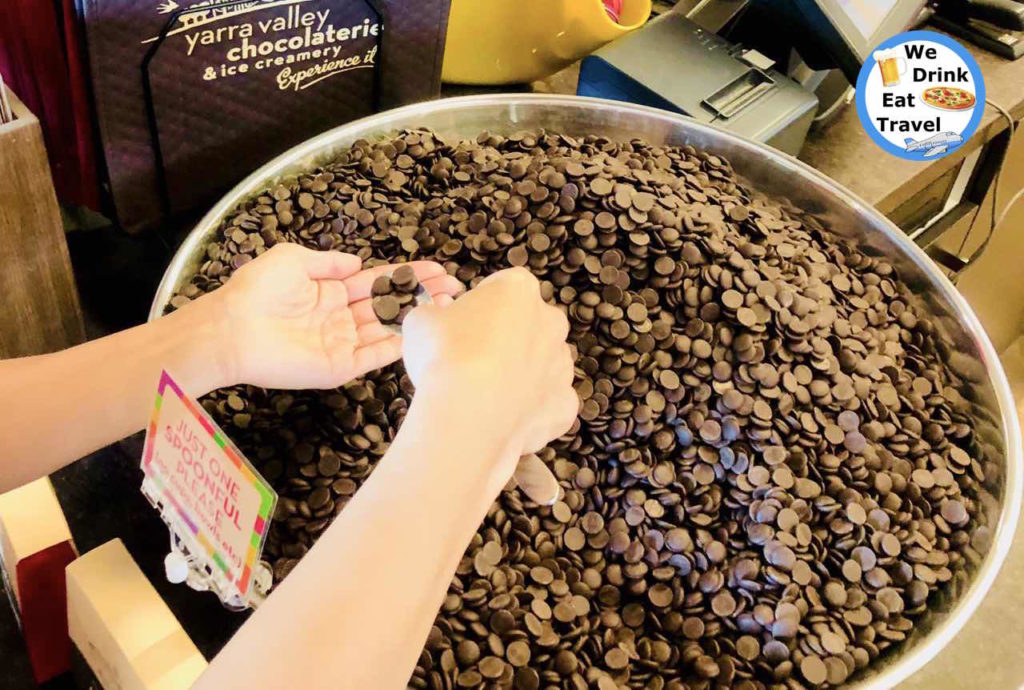 NOTE: The label on the chocolate buds bowl says…
"JUST ONE SPOONFUL PLEASE (no cups, bowls, etc)"
Now, look at the size of the spoons? Tiny! So our bad, we had a couple more scoops than we were allowed!
TIPS, HINTS and THINGS TO NOTE
The Yarra Valley Chocolaterie & Ice Creamery is open every day from 9am until 5pm except Christmas day.
Some people wouldn't eat chocolate so early in the morning. I would – there aren't any rules. It's like Paul saying there's always someone drinking beer… somewhere in the world!
In all seriousness, there's actually a café on site. So if you want coffee, savory items or other sweet treats like big chocolate brownies… then you can indulge your taste buds on the various offerings.
There's loads of chocolate you can buy in the shop. The chocolate you saw in the video was only a smidgen of what you can buy in the shop.
It's quite cool inside to stop the chocolate from melting. So if you tend to feel the cold, bring something in case you need to wrap yourself up.
There are many tables and chairs inside the chocolaterie. If you prefer to enjoy your chocolate and ice cream with an amazing view of the gorgeous Yarra Valley scenery… there's seating outside too.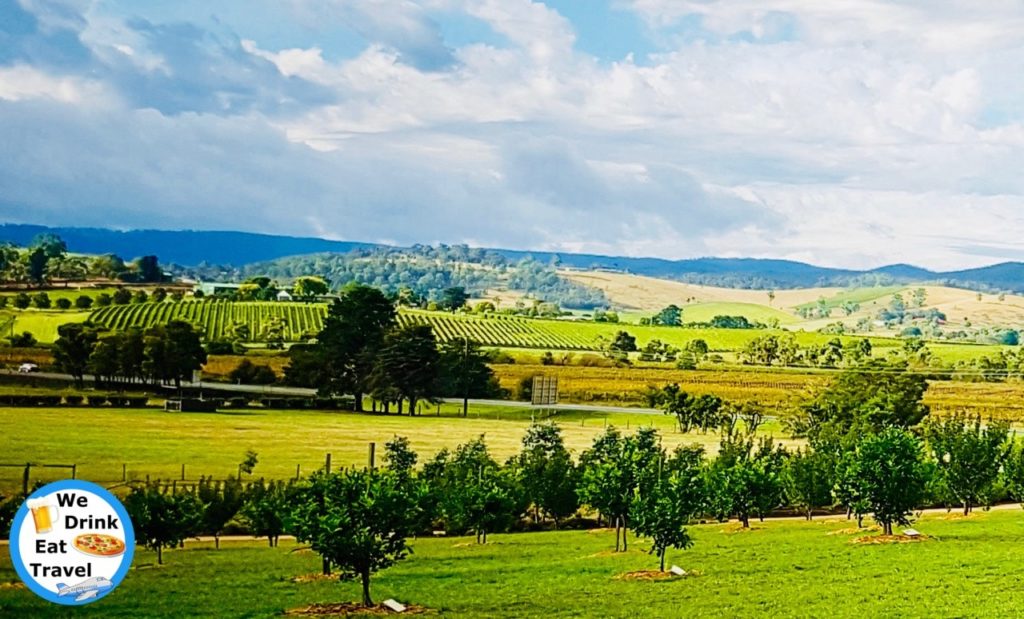 Although there's plenty of lush green grass fit for a picnic… Unfortunately that's a no-no. So save the picnic rugs for at the park or at one of the many Yarra Valley wineries.
And finally…
The Yarra Valley Chocolaterie & Ice Creamery slogan is, "Experience It"… And that's exactly what we think you should do!
Like This? Share it and comment on it!
Like This? Share it or comment on it!
Note: All of our reviews and comments are our opinions and no-one else's. Even if we receive complimentary goods or services we share our opinions honestly.