REVIEW
Accommodation: Yarra Glen Apartments
Location: Yarra Glen, Victoria, Australia
Room Type
1 bedroom apartment
Loyalty Program or Deals Used
Shopback – shopback.com.au; Groupon – groupon.com.au
Paul and I had a hectic schedule after touching down in Melbourne… So we were desperate for some time out!
We were thinking of a quiet, comfortable place, outside the bustling Melbourne CBD…
On our must have list for the accommodation was:
* Essential amenities close by
* Casual restaurants and bars we could try within walking distance of our accommodation.
* We wanted it to be secluded enough so you could hear a pin drop at bed-time!
In the end, we chose the Yarra Glen Apartments.
Research and Booking
My normal "go to" for finding accommodation is Le Club Accor Hotels and Accor Plus… The main reason is we have Platinum status. If it suits our plans and we can take advantage of the benefits then why not!
Yet, on this occasion they didn't have anything that floated our boat… So I looked at Groupon for some inspiration…
There are many deals sites around and Groupon is one of them. Groupon is in about a dozen locations around the world. You could save money on goods and services like restaurants, health, beauty, travel, and more.
In the end I found the Yarra Glen Apartments… From the description it seemed that this self catering accommodation would be perfect for our needs. And having looked at their various options, we chose to stay for 5 nights. Now, here's the BONUS…
The discount rate was AUD $528 (about USD $385)… So we saved 57% off the normal value! But it gets better…
That day Groupon had a special offer with an extra 10% off on their website… More savings! And the cherry on top of the cake was this…
I used one of the cashback sites called Shopback (shopback.com.au)… And on this occasion they were offering 20% off the total price.
So, in the end I saved us a WHOPPING AUD $849.86 (about USD $610) , which is an enormous 69% discount! That's a lot of money for beer, wine, cheese, and chocolate in Yarra Valley region!
You may think I'm a freak with these loyalty programs and looking for an awesome daily deal…
Yet, they are my quick tips for those of you on a budget… or who like to rack up points and benefits through loyalty programs, or similar.
If you don't care about loyalty programs and points, have a look at Flipkey. Flipkey is great if you want accommodation that is homely… from cute cottages through to deluxe apartments, you can find vacation rentals here.
Now, onto Yarra Glen…
The Location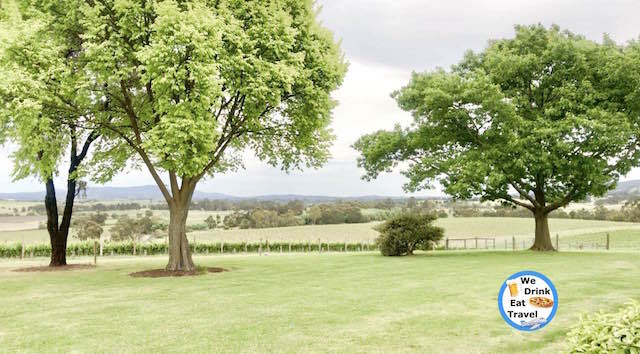 Yarra Glen is a quaint country town in Victoria, Australia.
It's about 40km north-east of the Melbourne CBD (Central Business District)… And sits amongst the rolling hills of the Yarra Valley, famous for its wineries.
If you're taking a car, it takes about 1.5 hours to get to the Yarra Glen Apartments from the Melbourne CBD area. Sometimes it's a bit hit and miss with traffic!
Other options are to buy a ticket for Yarra Valley Wine Tours or similar. Or you could hire a driver to chauffeur you around in style.
Yarra Glen Apartments is only a 10 minute drive from the Yarra Valley wineries.
Yet, I wouldn't suggest walking, as the Yarra Valley attractions are too far apart.
The Apartment – Ground Floor
Check in time was at 2pm. It was a self-check in service. The owner texted me a few days before checking in… I got the apartment number, security code, and instructions on how to enter the property.
I had taken a photo of the location of the Yarra Glen Apartments using Google Maps directions. With Paul driving and me navigating, that usually isn't a good combination, as I'm not the best navigator!
As we drove down the Melba Highway… I saw the United Petrol station on the right… Then we passed the Yarra Valley Grand Hotel on the left… Then I was looking for Hargreaves Hill Brewery. Our apartment was on Herbert Street after the brewery.
Yet, as we kept driving I couldn't see it. Oh dear! We'd gone too far.
Thankfully it didn't take us long to find it…
We looked for Apartment 1, which was the first apartment behind Hargreaves Hill Brewery. Woo hoo – a brewery near me! What a location. We could stumble home after a few brews or more. Ha ha ha!
We parked our car in one of the two car parking spots out the front of the apartment.
The tanned color brick apartment was 2 storeys with a long balcony.
A brightly painted red door had a digital keypad as self-entry into the apartment. I followed the instructions the owner had texted me… And then, voila! The keypad sung out a little musical tune as the door unlocked. Once we step foot inside the apartment this is what we saw…
Beige colored soft leather couches adorned with plush red cushions.
The big flat screen TV stocked with DVDs, games and magazines.
As soon as you walk in there's a real homey feel to it. There were small touches like paintings, cushions, and vases.
---
There was a note to welcome us… accompanied by a bottle of wine.
---
A bright red sofa bed with more cushions was beneath the air conditioning unit, along with a 5th chair.
---
There were 4 velvety chairs placed against a table, which was attached to the kitchen bench. I found this set up a little weird. It would've been slightly cramped if four people sat there, but it was fine for us!
---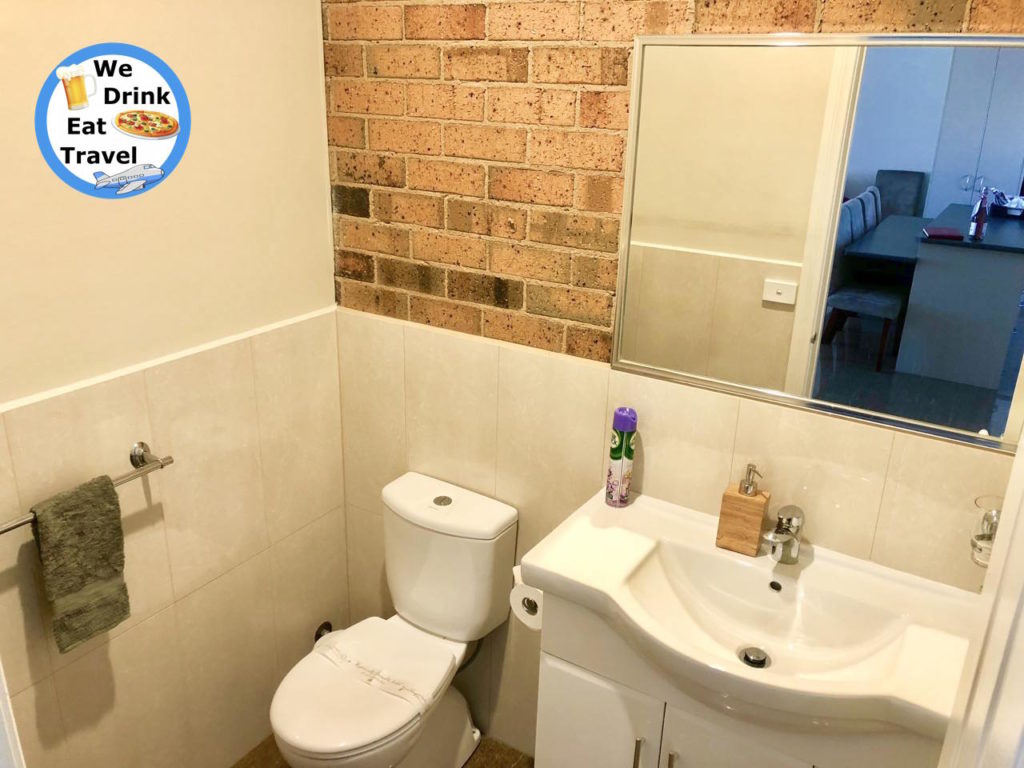 The powder room on the ground floor with hand soap, air freshener, extra toilet paper, and tissues in the drawers.
---
A handy washing machine and dryer. Beneath the sink was even washing powder we could use.
---
An Expressi coffee machine, complete with a variety of coffee pods and chai latte pods.
---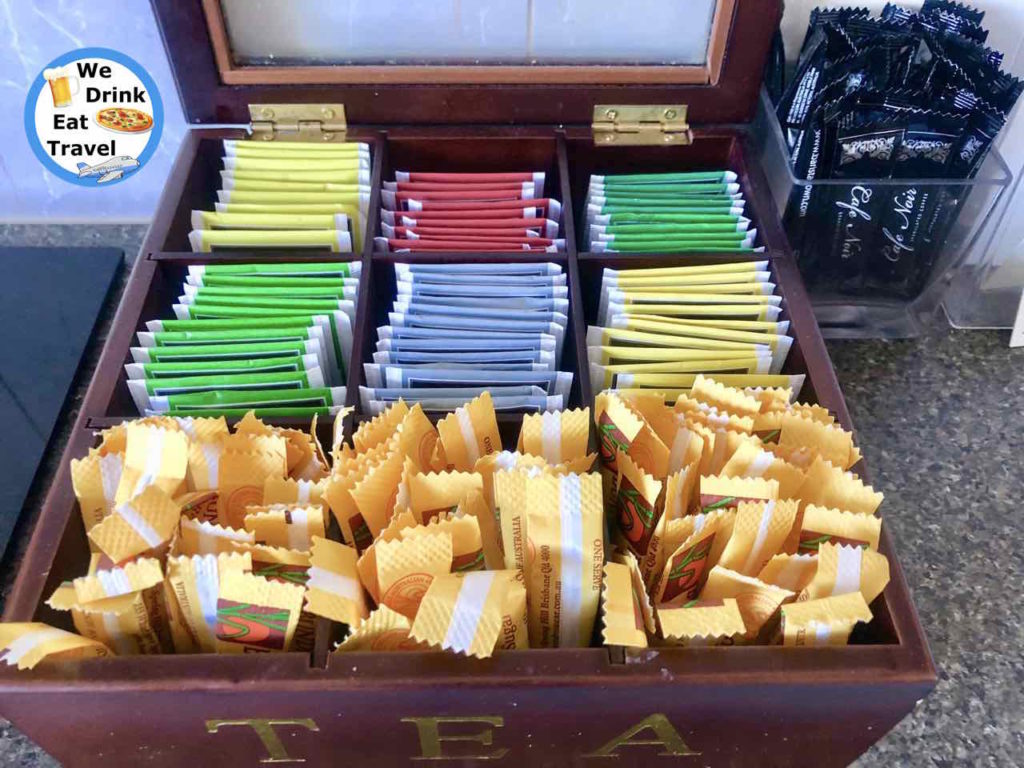 A wooden tea chest with 6 varieties of teas, and little sachets of Australian Bundaberg raw sugar. Beside the tea chest were Café Noir instant coffee packets.
When I opened the fridge there was a large bowl full of individual butter portions, a 2 liter container of full cream milk, and container of orange juice.
And in the freezer were two slices of bread packaged into a zip lock bag. There were many of these in different combinations of white, multigrain and wholemeal bread. These bread slices were waiting to be eaten and toasted, with slabs of butter!
And when we opened the pantry we were surprised…
---
More goodies! A wooden basket featured more breakfast items including cereals, muesli and 4 different varieties of jams…
We certainly weren't expecting the amount of food we were supplied with. So that's a huge positive in our books!
---
The Apartment – First Floor
To get to the first floor was a soft carpeted winding staircase…
---
That led us up to a big bathroom with second toilet, deep bathtub and separate shower. There were plenty of towels too! Remember that bottle of sparkling rose wine? I popped the cork on that, and had a tipple while relaxing in a warm bath – ahhhh, luxurious!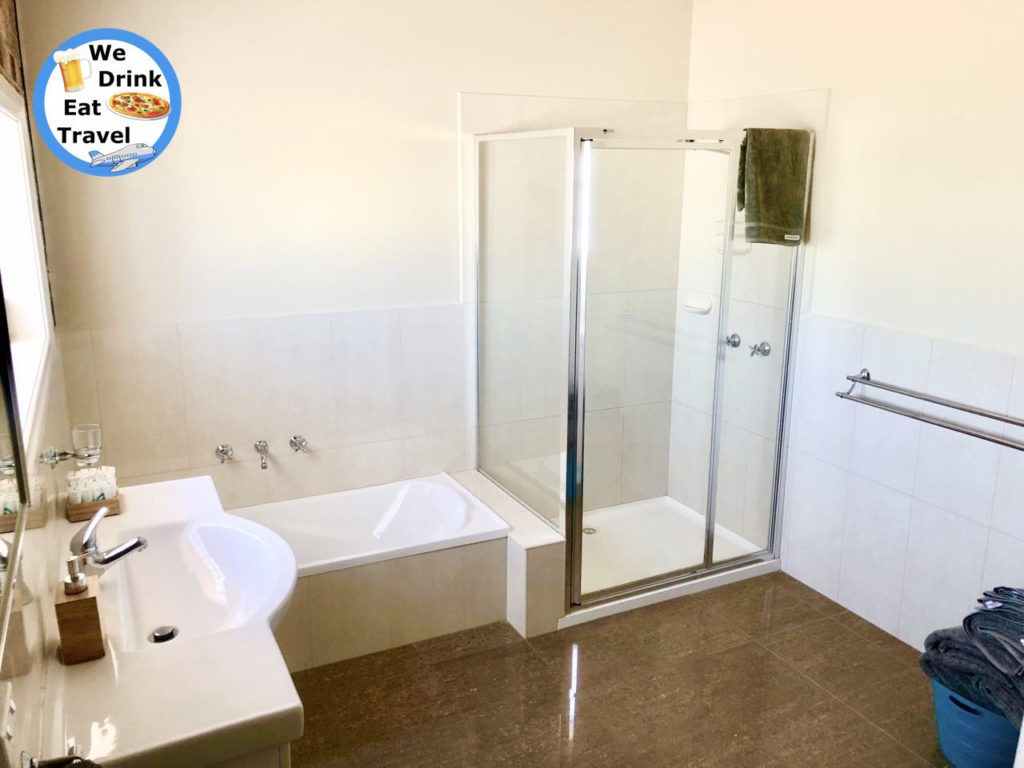 ---
Next to the bathroom was the main bedroom with almost floor to ceiling windows, and blinds to block out the morning sun for a peaceful sleep in.
Similar to the ground floor, there was an air conditioner and heater unit on this floor too. It was positioned just outside the bedroom and bathroom.
Paul and I suspect that this is actually a 2 bedroom apartment. However, the second bedroom has been locked up with a sign on a couple of the doors saying STAFF ONLY.
The bed was comfortable, and huge. It could probably fit 6 of me in there!
---
Check out the closet space! Heaps of room to store belongings. Paul finally got a decent portion of cupboard space!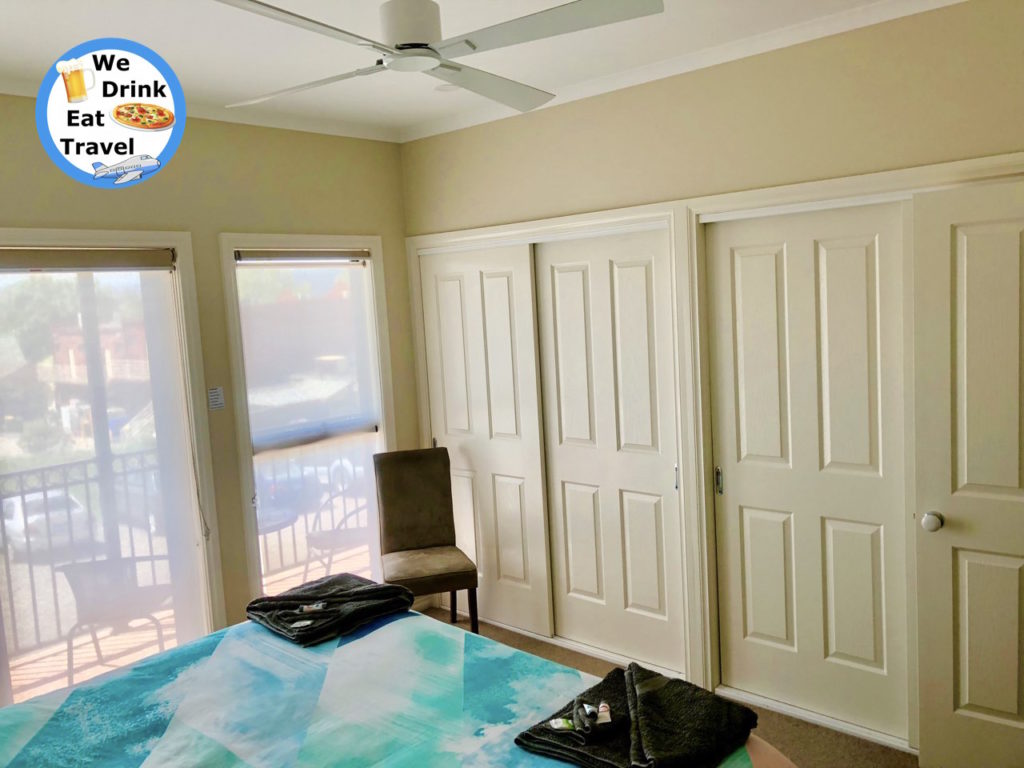 ---
Here's the balcony attached to the bedroom, with 2 sets of table and chairs.
It was lovely to get the beautiful sunshine in the morning and afternoon. However, the view wasn't as picturesque as I was hoping it would be. Perhaps I had too high expectations. What do you think of the view?
The balcony faces the rear of shops and car parks. So it's not a spectacular view of the wineries and country side. Nevertheless I was grateful for having a balcony to enjoy the sunshine.
Dining
We stayed for 5 nights starting on a Sunday and checking out on a Friday. It was interesting to note that several of the eateries were closed from Monday to Wednesday, although their signs said differently.
As we had a good range of kitchen implements, we decided to make use of the cooking facilities, and cookware sets. Plus, with the local IGA supermarket only a few minutes walk away, it was very handy.
---
If you stay here I recommend going to Hargreaves Hill Brewery to try a few local beers.
You can get a tasting paddle if you're not sure what you want. We couldn't decide out of 2 beers we wanted so they offered us a taste of each to help us decide!
These 2 beers were a pale ale and summer ale style. Very tasty and refreshing on a hot day!
Here's the local fish and chip restaurant we were hankering for. The portion sizes were very generous compared to other places we'd been to.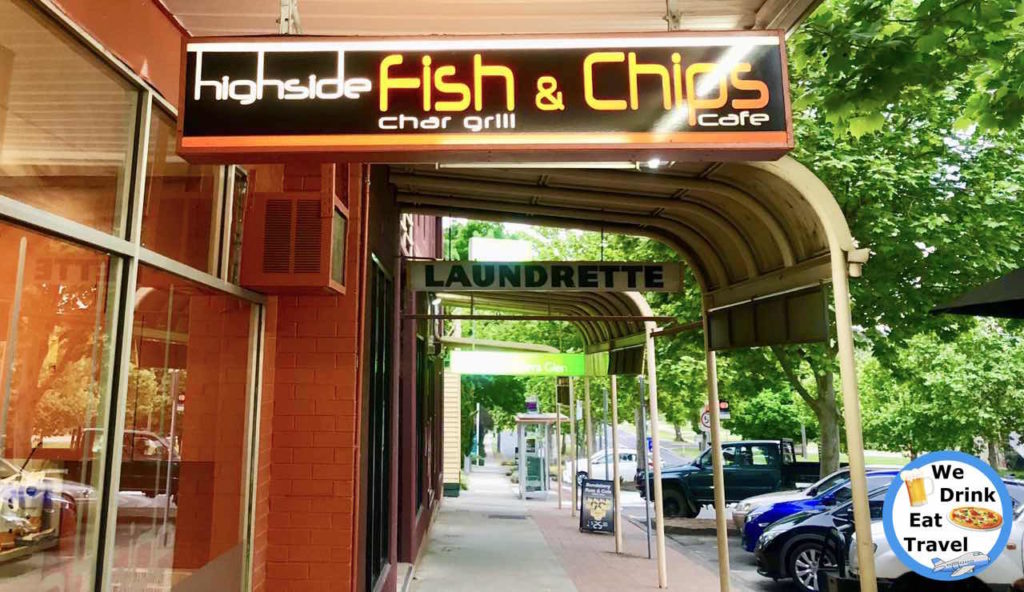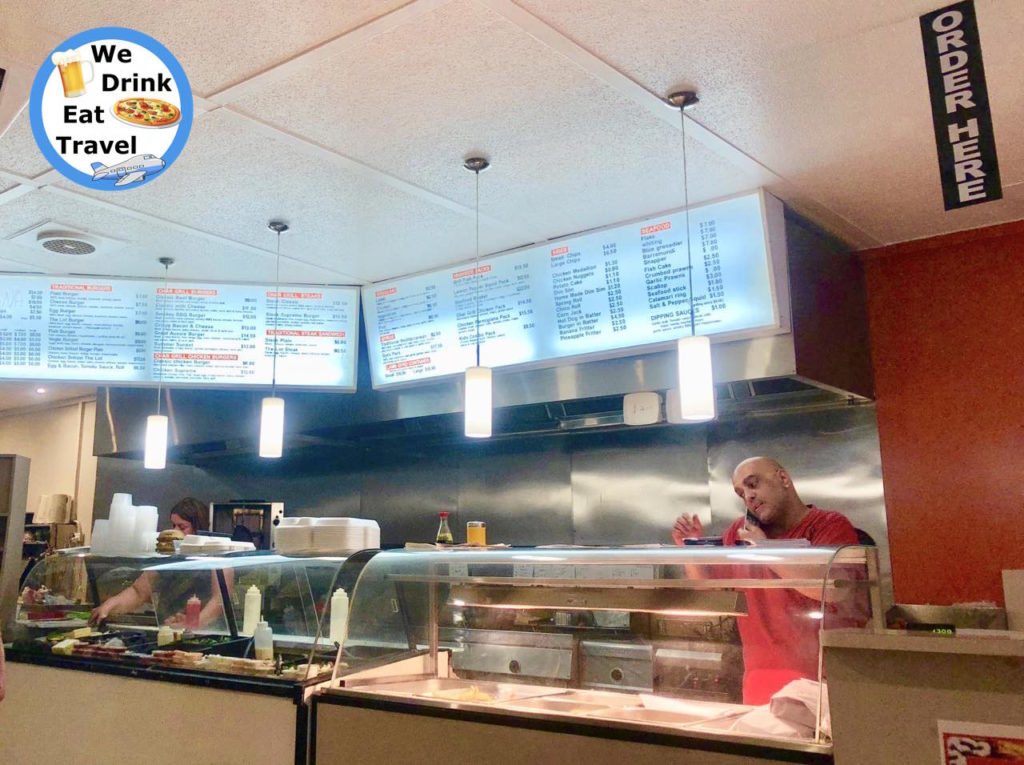 ---
There's also a bakery, several cafes, the Yarra Valley Grand Hotel for pub grub, wine bar, Indian Pizza (say what?!), and Chinese.
Around The Apartment
A five minute stroll from the apartment to the left of the main road (Melba Highway)… will take you to a lush, well manicured park with plenty of seats, barbeque area, and children's play area.
Across the road is a pleasant lake. Next to this is a small shopping center with several different shops including the IGA supermarket and two bakeries.
We were surprised that there was a big gym nearby.
As you take your relaxing wander up and down the main area, you'll discover antique shops, independent boutiques, a petrol station and bottle shop too.
However, if you go about 5 minutes drive out you'll reach the popular attractions including the iconic Yarra Valley Dairy, and the Yarra Valley Chocolaterie and Ice Creamery.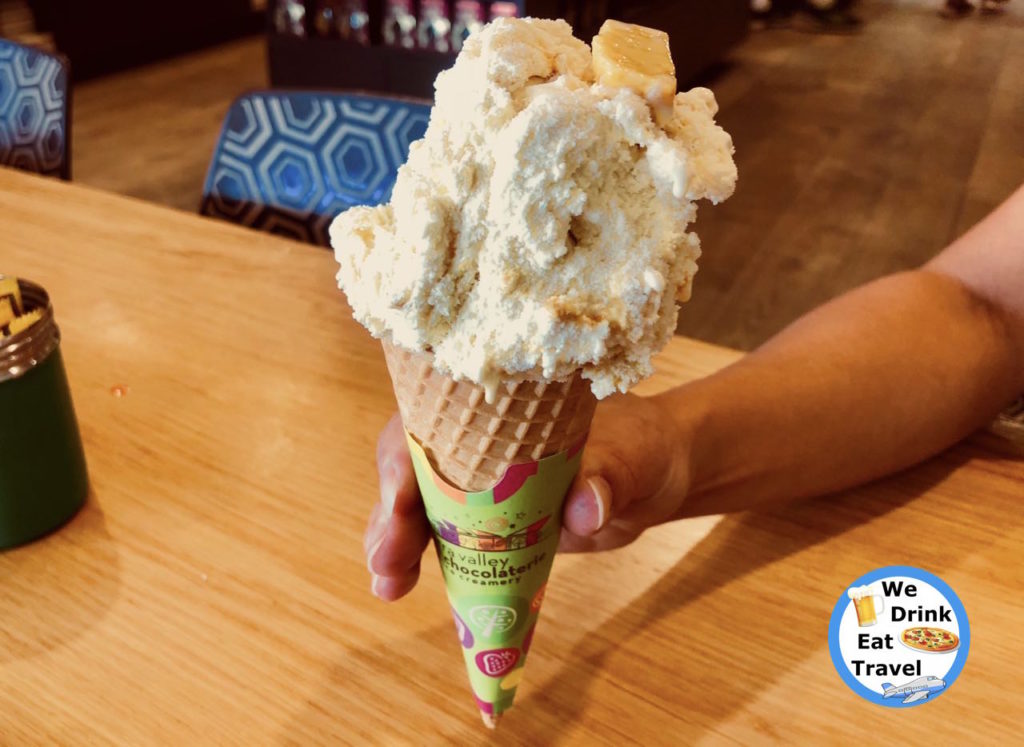 You can learn more about the Yarra Valley Chocolaterie and Ice Creamery in my blog post HERE.
And of course, if you're coming all the way out here, you'd be crazy to not experience the amazing winery cellar doors.
Enjoy wine tastings, meet the wine makers, chill out with a wine or two, and a cheese platter. If you can, take your time and have a leisurely lunch in one of the many winery restaurants. You'll want to soak up the views that span for miles across the Yarra Valley region.
If you're not a fan of wine, there are also some craft beer breweries.
Word of warning – make sure you check out the opening times of the wineries and breweries as they don't open every day, let alone all year round.
---
Tip:
If you don't have time to go out cellar door or brewery hopping, you can visit the iconic Yarra Valley Grand Hotel, which was built in 1888. This is your one-stop shop for locally produced wines, beers and ciders. It has specials on different days and sometimes has live music too.
---
And if you're lucky enough to be in the Yarra Valley region at the right time, there's a regional farmer's market featuring amazing local produce.
If you have children, or just want to see Australian wildlife up close in native bushland surroundings… consider a trip to Healesville Sanctuary. It's about a 20 minute drive from the Yarra Glen Apartments.
Get close to the cute native wildlife like wombats, koalas and kangaroos… and the not so cute (to me anyway) reptiles and frogs…
If dizzying heights don't scare you, then you might like to try a breathtaking Yarra Valley hot air balloon ride.
And if after all that you need to wind down, head out to one of the luxurious day spas and enjoy a well deserved pampering.
We Drink Eat Travel Wifi / Internet Speed Test
6.87 Mbps Download and 0.77 Mbps Upload
The Pros and Cons of Yarra Glen Apartments
Pros
Big for a 1 bedroom apartment (yet we suspect it's a 2 bedroom apartment)
Well equipped with lots of supplies
Plenty of towels and amenities
Very clean apartment and well stocked
Overall service at the places we went to was "country" friendly, slower paced, and relaxed.
Cons
View from the balcony – maybe I was expecting too much?
Very, very slow internet speed
Opening times for local eateries may be limited
Not sure what was at the end of the street… but the serenity was sometimes interrupted by heavy hauling noisy trucks and garbage trucks
Would we stay here again?
Yes.
It was hard to find many negatives for the Yarra Glen Apartments. Overall we enjoyed our stay and were very impressed with how well equipped it was and the ample amenities.
However, if you want good, fast internet this is not the place for you.
Because of our crazy busy schedule we welcomed the relaxed atmosphere… And the chance to relax over a few beers, wines and enjoy our own cooking.
Note that while the room was booked on a discounted rate, I still believe it's good value paying full price due to the abundance of amenities and supplies you get.
So, Paul and I whole-heartedly agree that – yes, we would stay here again.
Like This? Share it and comment on it!
Note: All of our reviews are our opinions and no-one else's. Even if we receive complimentary goods or services we share our opinions honestly.