Traveling is one of the most fulfilling things that someone can do in their lifetime. And, depending on each person's lifestyle… sometimes going on vacation for singles, couples or families may be an annual event.
Or, there are others who travel frequently for pleasure or leisure. Yet, if you have a dream destination in mind for your vacation, you'll want to make the most of it.
And, usually the most expensive costs of traveling are airfares and accommodation. Now, there are many sites that offer travel deals and transport discounts worldwide.
Plus, to discover a little-known way on how to get FREE accommodation… CLICK HERE.
So, if you're on a stricter travel budget… and looking for ways on how to travel cheap in Malta, then read on.
As, you could experience more of things you want on your travels, and RELAX… rather than having to watch every note or coin that you spend!
Compared to many destinations, traveling through Malta can be expensive. Plus, nowadays things are getting more expensive.
So, while we were traveling through one of our dream destinations, Malta… we found some great ways to save some money. And, that's why in this blog post… I'm going to share with you 5 ways on how to save money in Malta.
So, let's dive into the first money saving tip…
1. Look Out For Open Days
When in Malta, you'll discover that there are so many places to visit and things to do. Yet, what are these Open Days I'm referring to, you ask?
So, with many of the sites that you'll most likely want to visit… you'll have to pay an admission fee. And, many of these tourist attractions are managed through Heritage Malta.
So, Heritage Malta is the country's agency for museums, conservation practice and cultural heritage. Thus, they have a vested interest… aiming to ensure that visitors get the best experience at Malta's various sites and museums.
Now, the Open Days allow visitors to enter the sites for free. And, there are some Open Days, which seem to happen around the same time annually. So, these include Malta's Independence Day on 21 September… and Victory Day on 8 September.
TIP:
By the way, going to Malta in September is a great time to go. And, that's because the weather isn't stifling hot, and the throngs of visitors are declining. So, making touring the islands more comfortable.
So, a good way to see what Open Days have been on in the past… is to check out the Heritage Malta Facebook page HERE.
Of course, the timings may vary so use the dates as a guide only.
So, by taking advantage of the Open Days, this could save you hundreds of Euros.
And, if the timings don't work within you travel schedule… you could opt to get the Heritage Malta Multisite Pass. This allows you to see over 25 sites, starting from 25 Euros for a child's pass.
To find out more about the Heritage Malta Multisite pass, CLICK HERE.
2. Check Out Deals On Local Websites
So, you may have heard of daily deals sites like Groupon, OurDeal and LivingSocial. And, these sites have offers to help you save money… from categories including travel, beauty, attractions, and shopping.
Yet, there was a site that I found called, DealToday.
And, on this site are hundreds of deals for things to do in Malta, Gozo and Comino.
44% savings at The Malta Experience!
So, one example is The Malta Experience, where normally it'd be 16 Euros per adult. Yet, after taking advantage of the 44% discount on DealToday… it was only 9 Euros per adult.
So, this may be a great site for you to check out for savings. Plus, it may also help to give you ideas on things to do.
3. Happy Hours On Food And Drinks
Everyone loves happy hours whether it's for food or for drinks or both! And, in Malta we found that there were several places, which had happy hours or drink specials.
And, several of them we found were in Strait Street.
Now, this is a quaint street to enjoy some beverages. In fact, we did a bar crawl down here. And, happy hours would vary depending on the venue… including 2 for 1 cocktails, discounts on pints of beer, and more.
Plus, another example is coffee and cake for 3.95 Euros, at The Compass Lounge in Sliema. And, the great thing about this venue is it's by the waterfront and there are great views.
So, while you're touring around Malta, keep an eye out for signs outside the venue.
Now, technically this isn't really a happy hour special, but this food gave us happy times… the delicious traditional Maltese pastizzi!
And, depending on where we were… we would only pay anywhere between 40-50 Euro cents for a pastizzi. Plus, they are filling. So, you would only need a few and hey presto, for about 1.20 Euros that's breakfast done!
So, we did have heaps of pastizzis on our travels through Malta! In fact, we were on a search to find the best pastizzi in Malta. You can find out more about our journey in our first blog post HERE.
Yet, if you want a more economical way, then every other day… head on over to one of the supermarkets in Malta for some supplies.
And, what we found was that even a decent bottle of wine in a supermarket… could cost as little as 4 Euros. So, that's less than 1 glass of wine at a bar or restaurant!
Grab a delicious loaf of homemade bread, the local Ġbejna cheese, and ruby red tomatoes. Then, pack a picnic and enjoy some incredible views by the beach.
The cost of food and drinks add up, and can get very expensive. So, to save money in Malta, consider making your own meals… if you can't make the most of happy hours And, by doing this you could save hundreds of Euros if not more!
So, moving on to number 4, on how to travel cheap in Malta…
4. Go on a Free Walking Tour
When Paul and I were in Malta and Gozo, we were fortunate enough that we spent almost 3 months there. That's the benefit of being slow travelers! Plus, we knew people there in some places… who would help us with sightseeing and things to do in Malta and Gozo.
So, not only was that great to get local insight, it took some pressure off us… from having to work out what to do in Malta and where to go.
Yet, when you don't have access to that sort of help, nowadays you can get access travel guides that are FREE. And, often times this comes as part of a free walking tour.
Now, yes, the tours are free. Yet, if you find that your guide is exceptional and you've had an awesome time… then a tip would be much appreciated.
To discover free tours or cheap activities in Malta, CLICK HERE.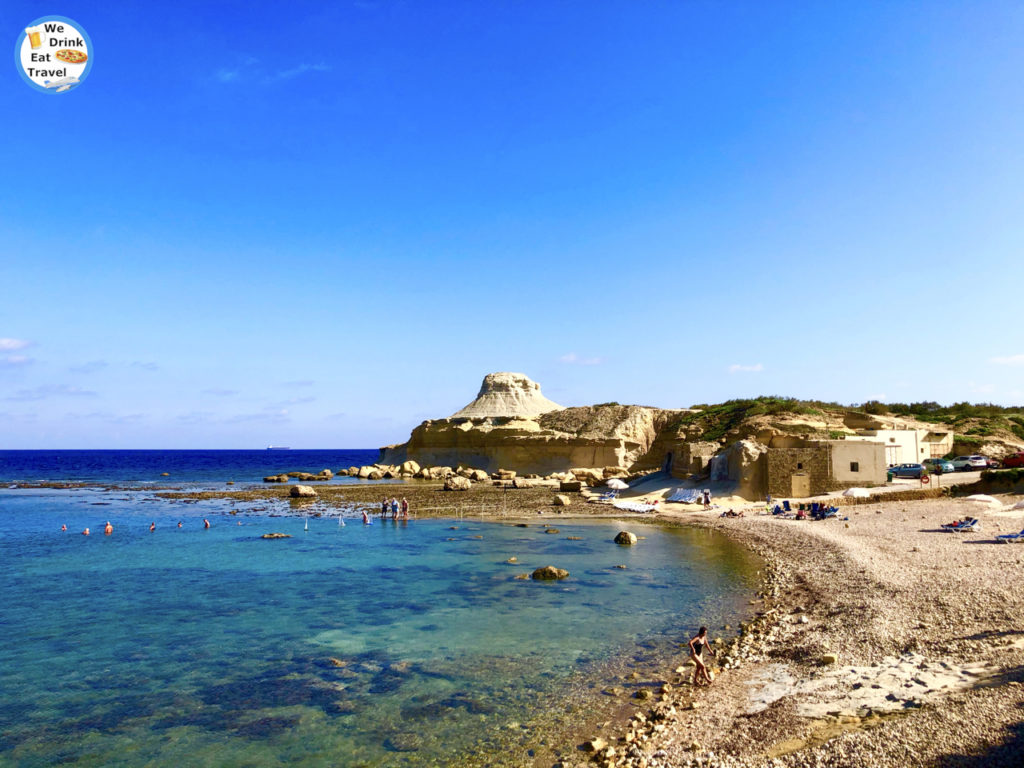 5. Consider Your Transport Options
So, while we were in Malta, we did hear of several accidents on the roads. And, that's partly because tourists aren't familiar with driving on the roads.
Also, if you've had the experience of being in a taxi, they can drive like maniacs!
And, that also isn't restricted to just taxi drivers either.
We experienced several instances where we heard a car come screaming round the corner… and the tyres were screeching! We were wondering if they were going to skid and hit the pedestrians!
So, you need to be careful as a driver and pedestrian.
Now, a cheaper and somewhat safer option is to take the public buses.
And, depending on how long you'll be traveling in Malta… there are various options to save on bus tickets too.
One option we did was get the 12 trip Tallinja card, at 15 Euros for 10 trips.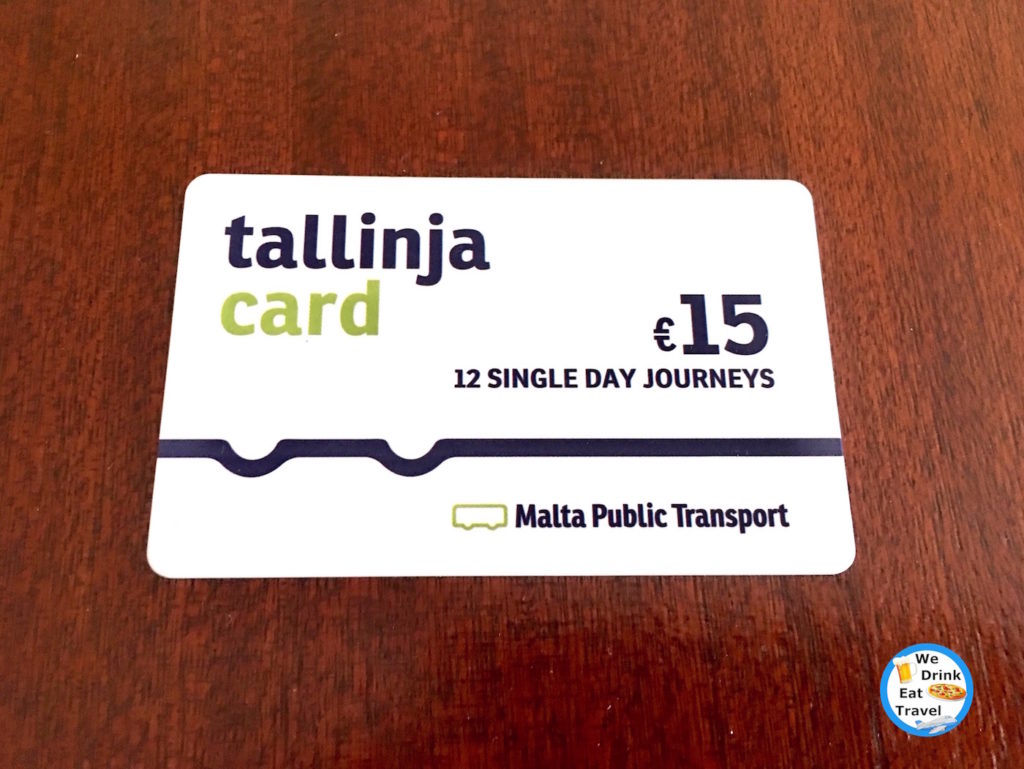 Now, it was a little confusing as it's called a "Single Day Journey"… yet each trip would last for 2 hours and not a whole day.
So, even if we changed buses and routes during this 2 hour period… we would only be charged once.
TIP:
You don't need to get one card per person if you don't want to. So, towards the end of our trip in Malta, we used one card between the 2 of us. All we did was tap the card on the bus twice.
Plus, there are many other options including unlimited travel.
So, to find out more about the other options… check them out at the Malta Public Transport website.
So, these were 5 ways on how to save money in Malta. Yet, when you're in Malta, make sure you do indulge on some things while you're there. Because, you never know when or if you'll be back again.
Yet, if you put some of these travel saving tips into action… you could save hundreds if not thousands of dollars!
So, make the most of your trip to Malta and enjoy! Do you have any money saving tips you can share? Let us know.
Like This? Share it and comment on it!
Note: All of our reviews and comments are our opinions and no-one else's. Even if we receive complimentary goods or services we share our opinions honestly.
You Might Be Interested In This Too..
Attractions
Touring The Charming Back Streets Of Victoria, Gozo
15 Top Things To Do In Gozo Malta
10 Places To Visit In Gozo For Breathtaking Views
The Best Megalithic Temples Of Malta And Gozo
A Self-guided Walking Tour Of What To Do In Floriana Malta
Top 10 Things To Do In Valletta Malta
Food and Drink
Malta Food – The Grand Finale Of The Best Pastizzi In Malta
A Sneak Peek At 10 Bars We Went To On Our Valletta Pub Crawl
Malta Food – Part 3 In Search Of The Best Pastizzi In Malta
Part 2 – Malta Food – In Search Of The Best Pastizzi In Malta
Malta Food – In Search Of The Best Pastizzi In Malta
Transport and Other Stuff
How To Use The Gozo Ferry And Transport Options Within Gozo
Air Malta Business Class Review
5 Top Tips For Using The Malta Buses
Getting A Taxi From Our Sliema Hotel To Malta Airport
If You Need A Money Changer In Malta Read This First
5 Things You Need To Know When You Visit Malta
Need Accommodation?
Airbnb Apartments Review – Marsalforn Bay Gozo
Airbnb Gozo Apartments Review – Cliffview Xlendi Apartment
Valletta Hotels Review – Vallettastay Casa Zoe
Hotels Review – Sliema Marina Hotel Malta
Hotels Review: Hotel 1926 Sliema Malta
Find Your Perfect Vacation Accommodation
Want Cheap Flight Deals?