Paul had been to Malta before, but it was my first time. And on the lead up to our trip, he was constantly raving on about the delicious Maltest pastizzis.
I'd had pastizzis before… Yet, being from Australia, the nearest to the Maltese pastizzi are the frozen kind I can get at supermarkets. And this would probably be an insult to the pastizzi!
So when we arrived in Malta, one of the first few things we had to do was try the fresh pastizzis. I'd had visions of devouring lots of Maltese pastizzis, and now it was becoming a reality.
Of course, we needed money to buy them… and we had an interesting experience with the changing money. You can read about it HERE.
And just so you know, the prices of the pastizzis we tried, were based on buying pea and ricotta ones. Usually for other varieties they can cost a little more.
Our First Pastizzi On Arrival In Malta
Paul and I were staying in Sliema Malta, at Hotel 1926. And if you're thinking of staying here, check out our REVIEW HERE.
So after we'd checked in… we decided to go for a stroll to start our search for the best pastizzi in Malta. And it didn't take us long, because within a couple of minutes we found this place…
San Carlo Food And Drinks
Address: Near the Corner of Tower Road and Triq Tigne, Sliema
Price: 0.50 Euro each
At San Carlo they had a variety of pastizzi including tuna! Plus, they had a variety of other hot food, drinks, sweets and more.
Yet, we wanted to have the traditional Maltese pastizzis, which included ricotta and pea. So Paul tried a ricotta pastizzi and I had a pea one. They didn't look like what we had enivsaged, and was almost a let down…
Yet, for first up pastizzis they tasted fine, but the pastry wasn't as flaky as we would've liked.
Margaux Restaurant at Hotel 1926
6 Thornton, Sliema, Malta
When we were in Sliema, we were staying at Hotel 1926, where we paid extra to indulge in their breakfast buffet. And included in their breakfast were ricotta pastizzis…
And after going up for another round of pastizzi, we noticed that they had pea pastizzis. Yet, in comparison to the ricotta, they were below average.
The size of the pastizzis at Hotel 1926 breakfast, compared to the other Maltese pastizzis were the smallest. Yet, they were still tasty.
Champ Pastizzeria
Address: Tower Road, Sliema
Price: 0.40 Euro each
As we were wandering around Sliema, we were heading towards the waterfront from our hotel.
And as we passed several clothing stores and cafes, we saw Champ…
These pastizzis looked very inviting and we had to stop to try them! The pastry was flaky and the flavor was yummy. So far the best pastizzis.
Sphinx Pastizzeria
Address: 17, 14 Ix – Xatt Ta' Qui – Si – Sana, Sliema
Price: 0.40 Euro each
As we were walking along the promenade in Sliema… enjoying the sunshine and magnificent views, in bright pink lettering we saw Sphinx Pastizzeria…
Not only did their pastizzis look melt in your mouth delicious, so did the other foods that they had! We needed to find our 3rd stomach… LOL!
We thought that they only had the ricotta pastizzi, yet tucked in the corner next to them was the pea one.
After taking a huge mouthful of the pea pastizzi, the flavor was delicious. And it tasted like it had the mildest curry flavour through it, which made it even better.
They both had crispy, flaky, buttery pastry… yet, my favourite of the two flavours was pea.
Bye bye Champ Pastizzeria in Sliema, as Sphinx Pastizzeria in Sliema has toppled you off the No. 1 position!
Jeff's Pastizzeria
Address: Triq l-Inkurunazzjoni, Cospicua
Price: 0.40 Euro each
While we were having a look around the 3 Cities… we needed to re-fuel so we could keep our energy up for more exploring. After having drinks in Senglea, we decided to head towards Cospicua.
And then it was like our pastizzi radars were on high alert, because we stumbled across Jeff's Pastizzeria…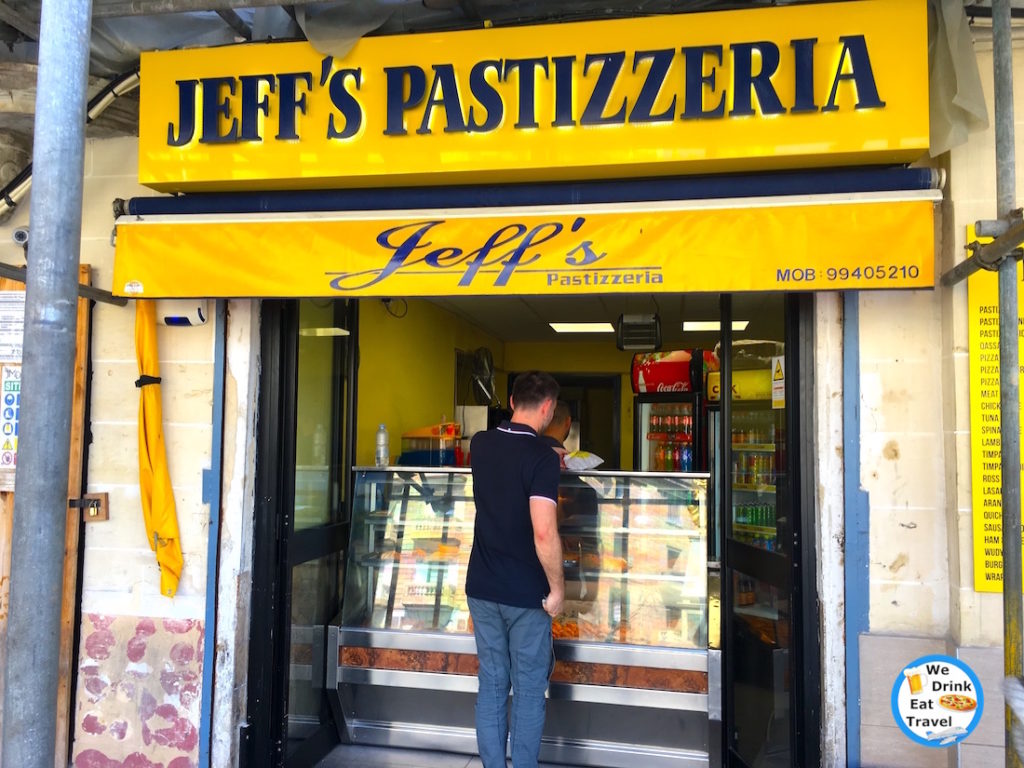 These Maltese pastizzis looked like they were just fresh out of the oven.
They seemed slightly bigger in size compared to the others we'd tried… and they were delicious too. Yet, so far Sphinx in Sliema is the winner so far.
Crystal Palace
Address: 84 Triq San Pawl, Ir-Rabat
Price: From 0.40 Euro each
So we found out that many people claim that the ultimate pastizzi in Malta are from Crystal Palace in Rabat…
So, after sightseeing in Mdina, which we highly recommend, it would be wrong of us to not try the pastizzis.
What we loved about the pastizzis here, was that we got them literally fresh from the oven. So they were temperature HOT!
So out of all the pastizzis we'd tried so far, these were the biggest in size. The pastry was so flaky and buttery.
I made such a mess and my face was covered in flaky pastry!
The ricotta pastizzi was light and almost fluffy, and the pea pastizzi was mouth-wateringly delicisous. For me, the pea pastizzi just nudged it over the ricotta in flavor.
Yet, agree with others in that Crystal Palace may just have the best pastizzi in Malta. But extremely close runner-up was Sphinx in Sliema.
However, the search for the ultimate pastizzi in Malta continues!
Maxim's Pastizzeria
Address: Fortress St, Mosta, Malta
Price: 0.40 Euro each
As we were taking a stroll down the eerily quiet Constitution Street in Mosta… my eyes looked up at the right time to see on the corner, in bright red and white, Maxim's Pastizzeria…
We were surprised it was open, because it looked like everything else around it was shut. If we recall, we were there on a weekend.
So make sure you check out our blog about Things You Need To Know About Malta HERE…
So while we had the opportunity, we got some pastizzis! While the pastry was generally flaky and rich, the bottom seemed quite hard. And dare I say if they were cooked moments longer they would've been burnt!
They were still tasty and filling, yet not the most outstanding we've had.
The Best Pastizzi In Malta So Far…
So after 7 pastizzerias down and more to go, here are the rankings…
Crystal Palace Pastizzeria in Rabat
Sphinx Pastizzeria in Sliema
Jeff's Pastizzeria in Cospicua
It's only just begun, with plenty more pastizzis to try while exploring Malta.
TO BE CONTINUED!
You Might Be Interested In This Too..
How To Use The Gozo Ferry And Transport Options Within Gozo
A Sneak Peek At 10 Bars We Went To On Our Valletta Pub Crawl
A Self-guided Walking Tour Of What To Do In Floriana Malta
Top 10 Things To Do In Valletta Malta
5 Top Tips For Using The Malta Buses
If You Need A Money Changer In Malta Read This First
5 Things You Need To Know When You Visit Malta
Getting A Taxi From Our Sliema Hotel To Malta Airport
3 Travel Mistakes People Make And Tips On How To Avoid Them
My Carry On Luggage Must Have Item
3 Reasons Why Travel Is Important
Need Accommodation?
Valletta Hotels Review – Vallettastay Casa Zoe
Hotels Review – Sliema Marina Hotel Malta
Hotels Review: Hotel 1926 Sliema Malta
Want Cheap Flight and Accommodation Deals?