Paul and I had 2 days in Hue, the former Vietnamese imperial capital, to see the key sights on our list. Yet, we didn't do a lot of research beforehand because we decided to go almost last minute.
And while we did have to pay to see some of the amazing sights… there are many things that we did in Hue city that cost us nothing.
So in this blog post I'll go through 10 free things to do in Hue.
So let's get right into it!
1. Take In The Scenery At February 3 Park
This is a pretty park with lush green grass, lots of trees for shade and even a variety of sculptures…
Plus, it's nice to relax at this park… then take some relief from the Summer heat and strong sun that will burn your skin if you're not careful!
So you can find February 3 Park on the corner of Le Loi Street and the Truong Tien Bridge. And that's a perfect segway into the next free thing to do in Hue.
2. Go Across The Truong Tien Bridge
The Truong Tien Bridge is an iconic symbol in Hue, and was built in the 19th Century. Yet, this bridge has undergone many repairs after being damaged several times from natural disaster through to war.
This bridge connects Hue city across the Perfume River to the side of the Imperial City. So we walked across the Truong Tien Bridge, then stopped to soak up the atmosphere and see the beauty around us.
So that now leads onto the 3rd free thing to do in Hue.
3. Witness The Beauty Of The Perfume River
The Perfume River is huge… and when we went sightseeing we were lucky enough to have sunny days with bright blue skies.
Then with the mountains in the background, and colorful trees… we were able to get some magnificent photos of this River.
And if it takes your fancy… you can take a relaxing boat trip down the Perfume River, or even cycle along it.
4. See The Locals In Action At Dong Ba Market
If you haven't visited a Vietnamese market yet, the Dong Ba Market in Hue is a good start.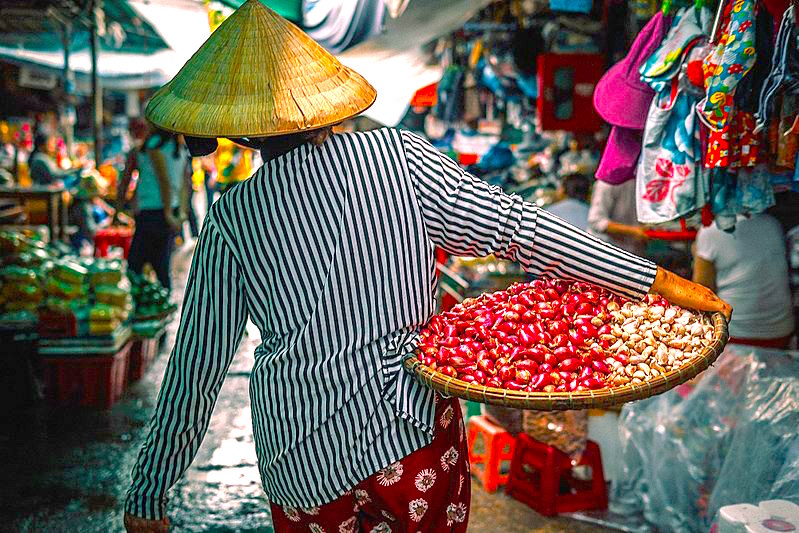 It's not as touristy as other markets, and you'll get to see the Vietnamese going about their daily life.
Plus, this is like a one-stop shop with almost everything… from clothes, household products, personal care goods, fresh food, packaged food, and more.
5. Tick A UNESCO World Heritage Site Off Your List
Vietnam has several UNESCO World Heritage Sites, and one of them is the Complex Of Hue Monuments… which includes the Imperial City.
Now, if you want to take a more in-depth look, you will need to pay an entrance fee. There is plenty to see and we spent hours in there! Yet, you can still see key parts of the Imperial City without having to pay anything.
For example, you can see one of the Imperial City Gates, like this one…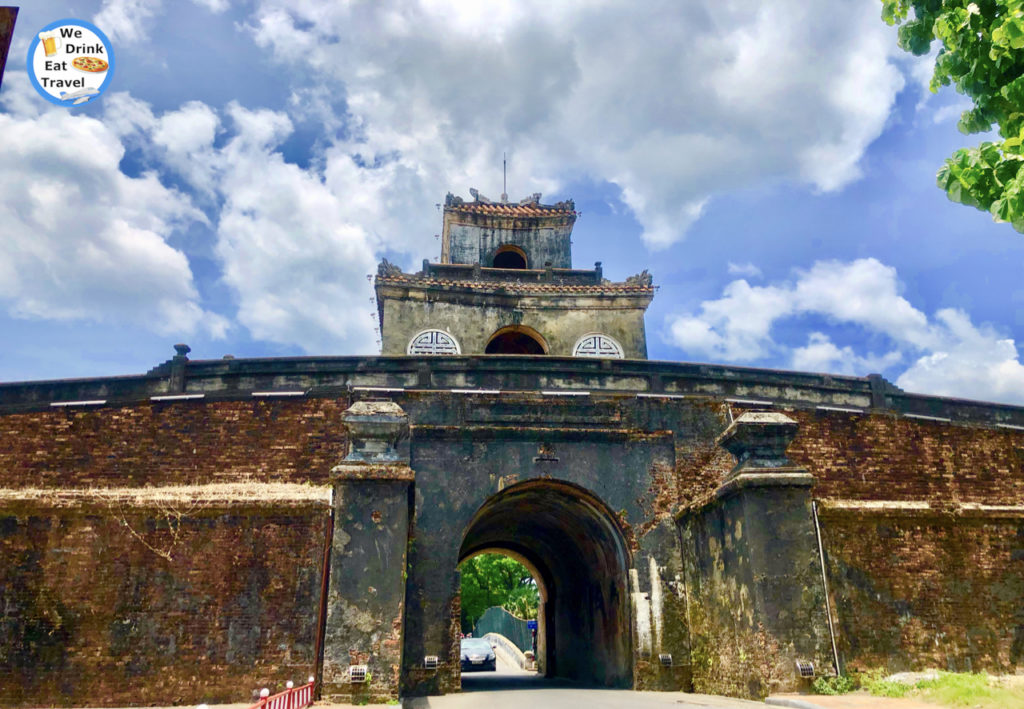 Plus, you can view the massive Flag Tower…
And you can see the amazing architecture of the Royal Palace from the outside…
And about 4.5km from the Imperial City, is the Thien Mu Pagoda, which is 6th on the list.
6. Wander Around The Thien Mu Pagoda
There are many stairs leading up to the Thien Mu Pagoda, and from the front it looks majestic.
Yet, once you get to the top there are beautiful views of the Perfume River and landscape…
This is the oldest pagoda in Hue, originally built in 1601. This 21 meter high pagoda has 7 stories, which is said to have a statue of Buddha in each.
And once you walk through the surroundings you'll notice how pretty it is inside.
7. Stop Off At Đường Đi Bộ Walking Street
When we were walking nearby the Perfume River promenade, we stumbled upon the Đường Đi Bộ Walking Street…
It was eerily quiet here during the day, with no-one else in sight. Yet, as we walked further in we noticed that there were art museums and even cafes… So, if this is your thing it may be worth stopping to take a look.
We also noticed lots of mangoes on the ground and around! And we thought that they may have fallen off someone's motorbike on their travels. Yet, we heard a couple of thuds and looked above to see that there was a mango tree!
And as we walked closer to the water's edge we could see the Flag Pole of the Imperial City.
8. Take A Close Look At Some War Relics
Next to the Imperial City is the Hue Military Museum. When we were at the front entrance… there was a Vietnamese gentleman who told us it was not open, as everyone was at lunch. And the cost to go into the actual museum would be 30,000 VND.
Having been to the Ho Chi Minh City War Remnants Museum, we were fine to not go in.
We could still walk around the grounds… and look at some of the old helicopters, tanks and planes that were used in the war.
9. Stroll Around The Gardens Of The Hue Royal Antiquities Musuem
Behind the Hue Military Museum is the Hue Royal Antiquities Museum showcasing a variety of fine arts, porcelain and more.
To go into this Museum to see the fine arts and antiques… be prepared to take your shoes off or wear coverings for your feet!
The main display area is in the Long An Palace…
And, if you have a look around the surrounding gardens there are other things to see like this bell…
And amongst the manicured lawns and trees, are a variety of statues…
10. See The French Style Architecture Buildings In Hue While You Can
In Vietnam you'll witness many French influenced buildings, and Hue certainly has those too. Yet, it's said that of the 240 French Colonial Style buildings that were in Hue city… many have been knocked down due to age or modernization.
So while you're in Hue, take a look at some of the remaining buildings. These include Hue Station, Diem Phung Thi Art Museum, and Quoc Hoc Hue High School…
Plus, the Hue Culture Museum which is pictured below…
So this was a taste of 10 free things to do in Hue. It really is worth a trip to Hue, especially if you're coming from Da Nang too.
You Might Be Interested In This Too..
10 Free Things To Do In Vietnam
Find Your Perfect Vacation Accommodation
Restaurant Reviews: Zucca Restaurant, Hue Vietnam
Hue Nightlife: 8 Bars To Get Cheap Drinks In Hue
7 Tips For Handling A Vietnam Taxi Scam
Check These Out For Some Real Food Adventures
Our Horrible Hanoi City Taxi Scam Experience