Bangkok is a big city with lots of traffic, congestion and high-rise buildings. Sometimes getting a break from the hustle and bustle is needed!
So if you want to escape the hectic atmosphere, head on over to a Bangkok park around the city. There are plenty to choose from. So in this blog post, I'll share 3 different parks where you can chill out or even get a workout!
The first park I'll run through is Suan Phlu Park. The reason I started with this one is that it's the smallest of the parks that I'll go through in this blog. Then once you go to each park, you'll appreciate how big some of the parks are in Bangkok!
Suan Phlu Park is in the Sathorn area, opposite the Department of Aviation…
While it's a smaller park, the gardens are well maintained and it doesn't get that busy.
And if you want to do a light workout apart from walking, there are some machines to do that.
Unfortunately a few of the machines didn't work well and were squeaky. Talk about bringing attention onto myself! Paul didn't use them as he'd probably break them with his muscle and weight… Ha ha ha!
We've done quite a few laps around this small yet pretty park.
Here's a big mural we saw when we walking around the park. There's also another one similar next to the toilets.
If you want to know more about the Suan Phlu area check out my blog post HERE.
Not too far from Suan Phlu, is another of the best parks in Bangkok you should visit…
Lumpini Park
If you look at Google maps you can see the size difference between the two parks… massive difference!
To find it, look for a big area surrounded by purple walls. Here's one of the entrances…
Once you step inside Lumphini Park you can immediately see that this park is LARGE with a capital "L"!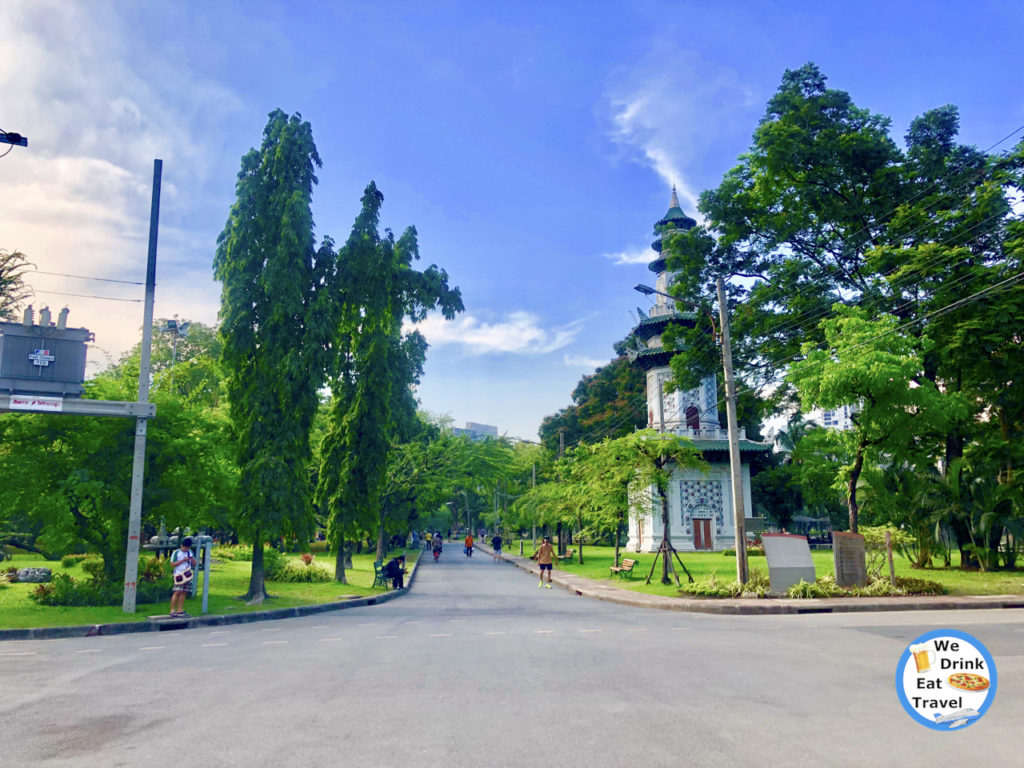 This park is very busy in the early mornings and evenings… with many people jogging and walking around. The picture below and above were taken in the afternoon, so it was quiet.
Tai chi is popular here too!
During certain times you can skateboard and ride a bicycle here. However, we only saw a few cyclists. If you're staying at the SO Sofitel Hotel Bangkok, they provide bicycles for free for Club Signature guests.
You can read my blog post about SO Sofitel Bangkok HERE.
There are playgrounds for the kids…
There's even canoes and duck pedal boats for hire!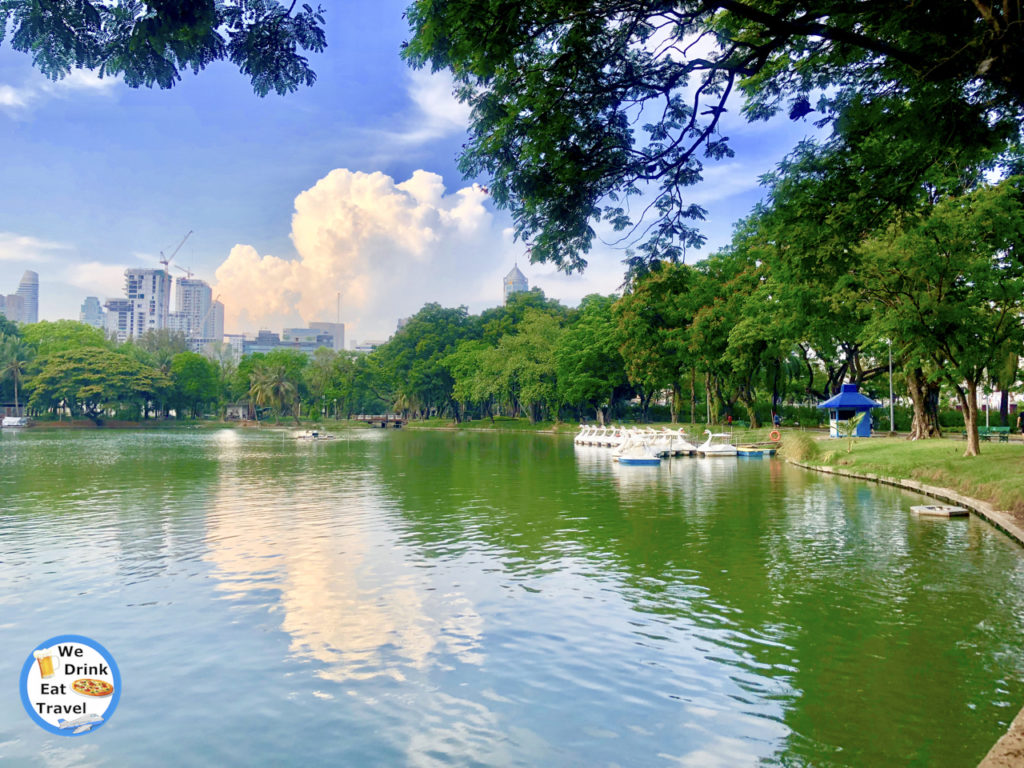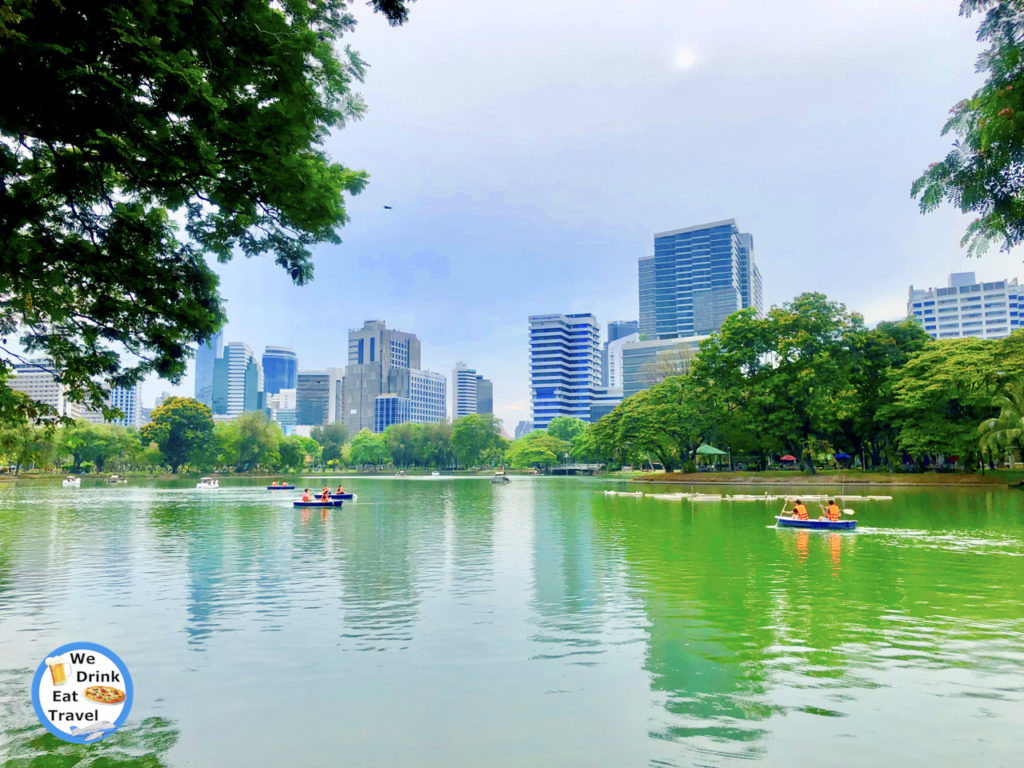 The lake is absolutely massive!
You can even buy fish food to feed the fish for about 20 baht (about USD $0.65).
What was surprising to us was this…
There's lots of gym equipment, even for the hardcore!
We were here for about an hour. We didn't make it to every part of the park though. We did stop frequently to take photos, yet it just demonstrates how big the park is.
So if you're in the area make sure you check it out. In fact, while we were staying at the SO Sofitel Hotel we had an awesome bird's eye view from our room!
Now to the third park in this blog post…
Benjasiri Park
Benjasiri park is in the Sukhumvit area, near Phrom Phong BTS. I found this park when I took a wander from our accommodation Bangkok Hotel Lotus Sukhumvit. You can read my review of this hotel HERE.
Pics
Sukhumvit is in the heart of Bangkok city where the traffic can get super crazy. So Benjasiri Park is a welcome oasis amongst the hustle and bustle of daily life here.
Outside the park on the Sukhumvit entrance you'll see this…
Once inside the gates, take your choice on which direction to head around the park. I took the right side first.
Similar to the other parks in Bangkok I've seen, there's a dedicated kids playground area with lots of equipment.
There's plenty of seating in this park. In the middle is a small lake. Unlike Lumpini Park, no-one was pedaling duck boats on the lake!
As you keep walking around the park… dotted around is a variety of outdoor "gym" equipment.
As you keep going further there's a basketball court and even a skateboarding area!
When I went there were lots of people laying on the green grass… or reading books, sleeping, and simply relaxing.
There are many big trees with hanging branches and foliage… provided the much needed shade from the blistering hot sunshine to sit or lay under.
Out of the 3 parks in this post, Benjasiri Park is the medium sized one.
They are all lovely in their own right. Now you know a few of the best parks in Bangkok to escape this big city when you need to.