Find out about our experiences first…
Paul and I were staying for a night of luxury at the 5 star hotel in Bangkok, SO Sofitel.
As I had the elite Le Club Accor Hotels Platinum Status… we got complimentary lounge access to their Club Signature. This meant we would get free breakfast, afternoon tea, evening canapés and alcoholic drinks, and more!
Normally, the price of a Club Floor Room with lounge access would cost about 9,300 baht (about USD $290).
Yet, for us, our ENTIRE stay at the SO Sofitel for the 1 night was for free! That's thanks to the Accor Plus Stay Plus Benefit.
So let's dive into our experiences at the SO Sofitel Bangkok Hotel Club Signature.
Check In At The Club Signature Lounge
The Club Signature Lounge is on the 25th floor of the SO Sofitel Hotel. You can read more about the hotel in my review HERE.
Once inside the hotel on the ground level… to get to the Club Lounge a staff member escorted us to another lift to take us to level 9. Then once we got off this floor we took another lift. This would give us access to the rooms, Club Signature, and other amenities of the hotel.
When we arrived on level 25, there was a small reception area outside the Lounge.
The staff gave us a warm greeting, then they took us through the glass doors into the Lounge Club for check in.
It was towards the end of breakfast in the Club Lounge, yet they motioned for us to get some food if we wanted. That was very nice of them!
The staff member seated us and told us to wait for someone else who would check us in.
While we waited, they brought out a welcome drink. I think she said it had lemongrass, butterfly pea and a little bit of lime juice. It was quite sweet and I could taste the hint of lemongrass.
It was pleasantly cool in the lounge and quiet. As I looked around I noticed there was a variety of magazines and books.
As we sat down we noticed there was a seating area outside, overlooking the Bangkok skyline…
A few minutes later… a different staff member welcomed us and ran through the Club Signature details with us. An A4 sized piece of paper outlined the benefits of the Lounge…
From the time we arrived at the Sofitel Hotel until the check in, we got served by 4 staff members. It seemed excessive, yet if that what it takes for priority service then so be it!
That same staff member guided us to our room which was on Level 17, for the Wood Element design. It was a lovely room and you can read more about it HERE.
At 1:30pm afternoon tea was starting. Feeling peckish, we headed on up to Club Signature.
Club Signature Afternoon tea
When we arrived there was only a couple of other people. It was peaceful. We had a big choice of where to sit!
After getting a drinks menu from a staff member, there were a range of complimentary teas, coffees, soft drinks and more to choose from. You could also buy alcohol if you wanted.
In the end, Paul had a soda water and I tried a Thai ginger tea. It was a great choice as it was aromatic, light and delicious. It was a big pot of tea!
Now the exciting part of checking out the food offerings…
There were mini salmon bagels, finger sandwiches filled with mozzarella and tomato, ham and cheese finger sandwiches, and grilled vegetable tortillas…
The sandwiches and tortillas were absolutely delicious. The fresh basil helped to lift the flavour too.
There were also foccacia, a variety of bread rolls, bread sticks and cheese topped triangle crisps. Plus, there were pretzels. We're suckers for a good pretzel. The pretzels here were fine, although for us… they could've had more salt.
There was even a waffle maker, with pre-made waffle mixture and matching condiments!
As I made my way past the corner, on one side of the table there were fruit skewers and berry yoghurts…
There were scones with blueberry jam and clotted cream… OMG, these were just melt in your mouth delicious. I had to have more than one!
Next to the scones were more jams, chocolate brownie, muffins and danishes…
Next to these sweet treats was a hot savory dish of mini chicken filo pies…
Then on the other side of the table were a range of juices…
Along side that were a range of lollies and cookies, including macarons…
Beside those were the prettiest mini cakes, tarts and a mouth-watering section of chocolates… OK, everyone hands off! The chocolates are all mine. LOL! :)
Next to MY chocolates were some nuts and dried fruit…
Did we make a pig of ourselves? Well, we gave it a good nudge but didn't want to go overboard. We wanted to save room for the evening cocktails and canapes session.
So after having some plates of savoury food, I couldn't stop at just eating a few chocolates. They were some of the best chocolates I've had in a while!
OMG, the food was so flavorful! After every mouthful I was groaning with delight.
I ate so much chocolate it wasn't funny! I think the last time I had so much chocolate and sweets was at the Yarra Valley Chocolaterie and Ice Creamery. You can read my blog post about it HERE.
Yet, one annoying moment put a downer on our luxurious afternoon tea…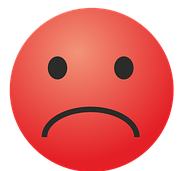 A father and son of about 4 years old came into the Club Signature. Once they sat down on a table beside us, the father put a device on with a kids show. The sounds coming from the device were LOUD. That ruined the ambience we were enjoying in the Lounge.
It shocked us! We thought this was very rude and inconsiderate of others around. We shouldn't have to say anything to the father! None of the staff mentioned anything to the father either.
Yet, there was another family with a child of similar age, if not slightly younger. Although this little one was watching something on an iPhone, the parents had the sound down.
We decided to cut our stay at the Club Lounge short, to go back to the serenity of our room… But only after I had a last batch of delectable chocolates!
Evening Canapes and Cocktail In The Club Signature Lounge
The time for the evening cocktails and canapés was from 4pm – 6pm. That is the earliest we've experienced for Executive Lounges… Especially when you consider that afternoon tea finished at 3:30pm.
Furthermore, 4pm is still considered the afternoon and not evening, right?
Anyway, we got to the Club Signature just after 4pm. Again, there were only a few people in the lounge when we arrived.
So we had a good choice of seats. We chose next to the window again but with a different view.
We were given a drinks menu to peruse. There were many choices… from cocktails, beers, hard liquor, soft drinks and wines available in the Lounge.
Paul started off with a couple of Heineken beers. My beverage of choice was the sparkling wine.
It was relaxing and comfy in the Club lounge… Before too long it was time for another round!
After having a few drinks, my belly was starting to grumble! So I decided to check out the food offerings to line my stomach. At the end was a range of cheeses, crackers, bread sticks, bread rolls, and the waffle machine again…
On one side of the table was pickled vegetables, raw vegetables, cold meats, olives, artichokes, tomato salsa, sushi rolls, and variety of dips…
Alcohol and soft drinks were on ice for you to choose and get, or the staff could help.
On the other side were gourmet sausages…
Thai lamb balls and Thai beef skewers…
Beside those were a range a mini cakes, tarts, dried fruit and nuts…
To top it all off, there was a popcorn machine!
To our disappointment, we couldn't eat any of the canapés because of our dietary requirements.
Our limited choices were down to cheeses, crackers, bread rolls, nuts, veggies, dips and sweets. These were all fine, yet a real let down considering the awesome afternoon tea we had.
This was a big negative for us… especially since the hotel wanted to know of any requirements before checking in. Plus, when checking in they re-confirmed our dietary requirements.
At the 4 star Accor Hotel Mercure Makkasan, even they had catered to our dietary requirements. They went above and beyond.
They even wanted us to check the food at the lounge when we arrived in the evening. They even made us special sandwiches, and offered to make us other foods if we wanted. They were diligent and attentive.
You can see our review at the Mercure Makkasan Bangkok Hotel HERE.
Unfortunately the attentiveness was lacking at SO Sofitel. This surprised us, especially as it's a 5 star hotel. No-one approached us to check… And it shouldn't be up to us to notify staff AGAIN for the third time.
So, we can't really comment on the quality and taste of the canapés in the afternoon / evening session!
Paul had changed his drink of choice from beer to white wine… He was very pleased with the white wine as it wasn't sweet.
Even though the Club Signature had a dress code of smart casual, this wasn't adhered to. Surprisingly guys came in wearing singlets and thongs (flip flops)! Yet, none of the staff approached them to change their outfits.
Yet, at places like the Intercontinental in Nha Trang they enforced the rules. We thought was good to keep up the superior standards.
As we were enjoying the ambience, who should walk in… the father and son who we saw at the afternoon tea! It started off fine, but after I came back from the restrooms I was shocked…
I couldn't see Paul. As I was closely approaching our table, next to my seat I saw the little boy face planting the window! He then climbed all over my seat.
Then I heard Paul's voice…
He had gone over to the father and complained about his raucous kid. Then as Paul was walking back, the father followed and grabbed his child, scolding him!
After that incident, a staff member came to apologize. We're not sure if they had words with the father. Argh! Ambience ruined again.
Here's another small but significant thing you should know…
Paul used the toilet facilities in the lounge club. He warned me that it was difficult to lock the toilet door.
When I needed to go to the toilet, I said I would use the other one opposite. Yet, as I went to open the door it was for their meeting room!
So, I thought there were 2 toiles in the lounge yet I was mistaken. I had to use the other toilet and Paul was dead right… it was challenging to lock the door. I think I spent more time in the bathroom trying to lock the door than doing my business!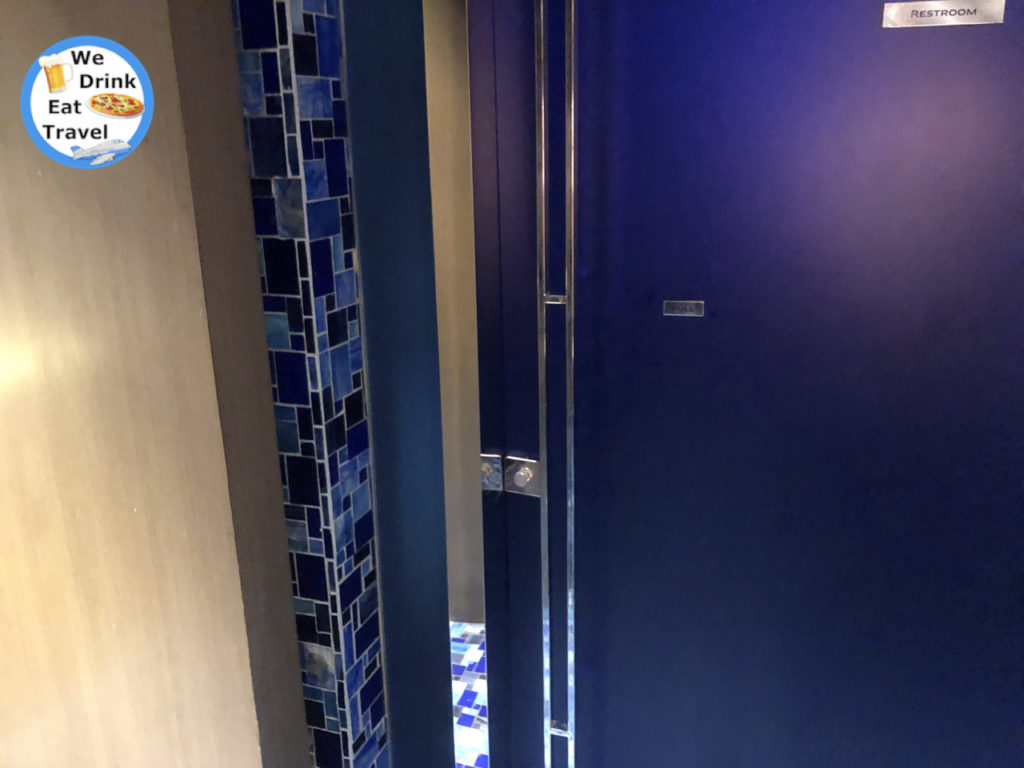 Paul even took a photo of the line of people waiting at the toilet… LOL!
Before too long, 6:00pm was approaching and it was almost time to end the evening Club Signature session. Funnily, at other hotels, the evening session would have only recently started!
Anyway, we decided to have last drinks and nibble on some cheese, olives and dips…
Breakfast at the Club Signature Lounge
As part of the Club Signature benefits, we could have breakfast in the Club Lounge or in Red Oven. Red Oven is one of the restaurants in the SO Sofitel Hotel. We chose to have a BIG buffet breakfast in Red Oven. You can find out more about it HERE.
Therefore, we can't comment on the breakfast in Club Signature!
Our Final Thoughts…
Overall, the Club Signature Lounge is quite good. The afternoon tea is exceptional. I wish I could've taken a truck load of the chocolates too!
Yet, it didn't feel as high class as other Executive Lounges we've been to, especially in the evening session. In fact, I'd say it's afternoon cocktails and canapés here at SO Sofitel Bangkok.
Also, the dress codes aren't enforced… It's not hard to put on something other than your gym gear and flip flops… Plus, rowdy children can roam freely, make noise and disrupt the ambience of the Lounge.
The staff should be able to exert more authority, in a polite manner of course.
We would come back again, yet a few small changes would make the total experience exceptional.
Have you been here before? If you have, share your experiences with us as we'd love to know!
Finally, if you want to know what happened the next afternoon, check out what we did in our blog post HERE.
Like This? Share it and comment on it!
Note: All of our reviews and comments are our opinions and no-one else's. Even if we receive complimentary goods or services we share our opinions honestly.