Paul and I have been traveling the world since 2014 and living our dreams. And, we've been to many amazing destinations while following the sun.
Yet, due to the Covid pandemic, in late September 2020, we had to leave sunny Thailand… "the land of smiles."
So, as we looked for places to travel with as little restrictions as possible… we faced limited choices. Many countries weren't open to tourists.
So, what do we do when choices are limited?
We just went with the flow, and made the best of what we had. We were grateful that we could even keep traveling!
After some research, we found that Europe had a few options we could consider… even though we'd miss the Summer weather. And, in the end we discovered that Bulgaria had one of the least Covid restrictions.
Honestly, Bulgaria was never high on our list of European countries to visit. Yet, to our surprise, Bulgaria was NOT what we expected. In fact, we ended up loving it.
And, after we spent some time in the capital Sofia…we decided to head to the ski resort town of Bansko, in Autumn. We had no expectations. Yet, this little gem of a place stole our hearts.
And, that's why in this blog, we'll share 7 reasons why you should visit Bansko Bulgaria… especially outside of the ski season.
Where is Bansko?
Bansko is a picturesque small town in Bulgaria, with a population of about 9,000 people. It's located in the south-western corner of Bulgaria, and about 160km from the capital of Sofia.
To get to Bansko from Sofia, we hired a private car and driver. The company we used was Taxi Transfer. And, that trip from Sofia to Bansko was 115 Lev (~USD $68 / 59 Euros).
We highly recommend them. In fact, we used their services multiple times. And, along the journey they shared a lot of information and history about Bulgaria… which was very interesting.
Bansko is known for being a fun, beautiful and affordable European ski resort… rising 900 metres above sea level. Yet, we discovered Bansko in Autumn. And, after staying there for 6 weeks… we loved it.
So, let's get into why we love it, and things to do in Bansko.
1. Discover the Charm of Bansko
On our drive from Sofia to Bansko in early October, we witnessed some beautiful scenery. Then, as we reached Bansko town and our accommodation… we saw some even more stunning views.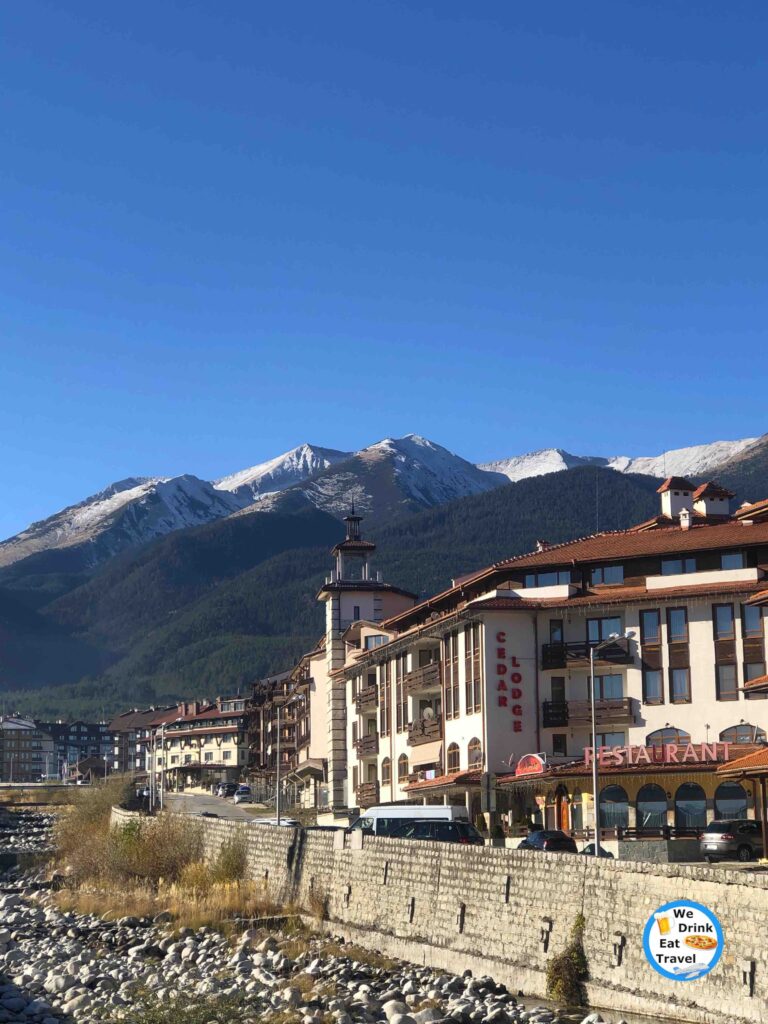 So, after reaching our Bansko accommodation, we did some quick unpacking… as we wanted to explore Bansko while it was still daylight.
Our accommodation was near the Gondola. And from there, we made our way towards the Bansko Old Town… which is in the opposite direction.
There were many streets to get us to the Old Town, yet we wandered down Gotse Delchev Street. And, as soon as we started walking down this street… it amazed us at how beautiful and charming Bansko is.
The street popped with color… thanks to the bright flowers and plants that adorned the houses. And, there were groups of old ladies and men, who sat on the seats on the street… drinking tea and coffee, or soaking up the sunshine. Plus, we saw some enjoying rakia, but at breakfast time too!
So, we did discover some surprising traditions… as well as mouth-watering dishes, made from recipes created by the Bulgarian grandmas. This is becoming rare, so we recommend you learn about it through this tour.
A Tradtional Bulgarian "Washing Machine"
We also saw a wooden structure called, valevitsa…
The locals used them as a traditional, natural washing machine. The water for washing flows from the mountains. And then, the strength of the water current spins the items as dirt is removed… and the water flows out of the wooden structure.
Now, we never saw anyone using it as a "washing machine." So, our guess is that the one we saw was just there for show!
Also, when we turned around to look behind us, the views we saw of the mountains were breathtaking.
Once we got to the heart of Bansko Old Town, we saw the main square area. It was surrounded by historical sites, restaurants, and cafes.
And, as we wandered around the Old Town area… the many cobblestone streets, helped to give this town it's quaintness.
And, in the Bansko Old Town area, is a popular Sunday activity…
2. Get Some Amazing Goods at the Bustling Sunday Market
One of the top things to do in Bansko, is to visit the Sunday Market. This small, yet thriving market has some of the best produce we've had in our LIFETIME. Yep, you read that correctly.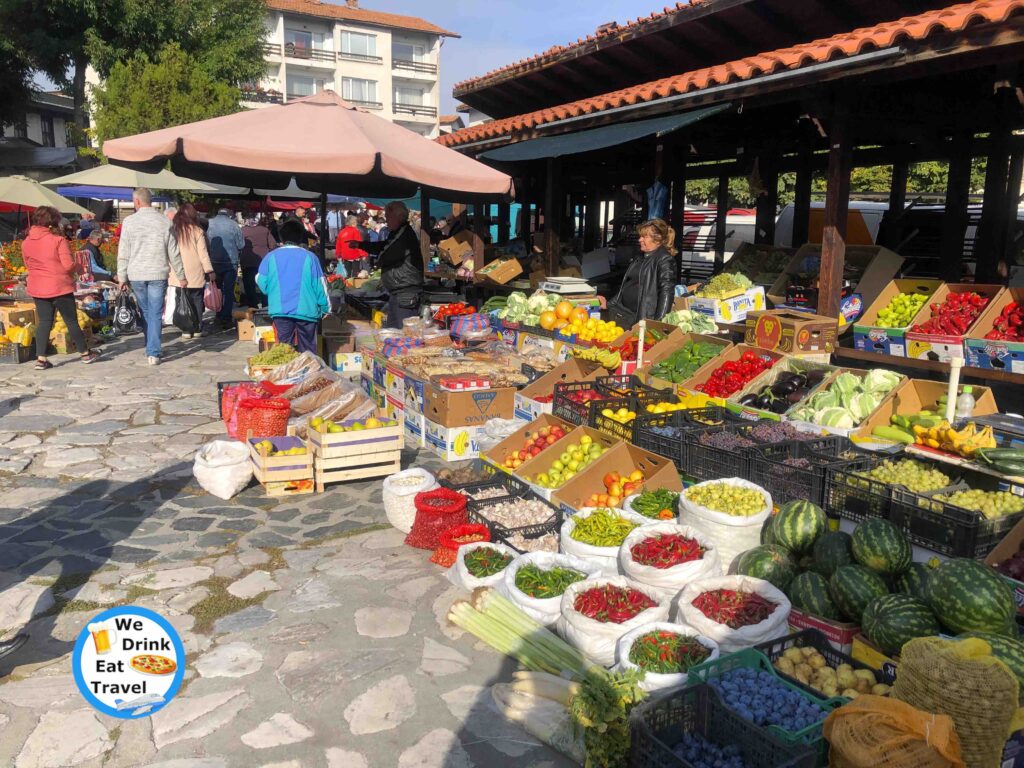 We don't know what it is, but the flavors from the fresh fruit and veggies are so intense. Maybe it's the soil or the fresh mountain water that make the produce so tasty.
In addition to the abundance of fresh fruit and veggies… we saw home baked goodies, honey, nuts, clothes, flowers, local crafts, trinkets, and more. You'll also see the stall owners proudly displaying bottles of their homemade red, rose and white wines. More on that later!
As we continued to wander through the Bansko Sunday Market, we saw a long line of people… and smoke!
So, we followed our noses as we smelt the waft of meat being barbequed. Sure enough, these people patiently waited for a traditional Bulgarian food called, kebapche… A dish with minced meat and spices, made into a cylindrical type shape.
We couldn't believe how cheap the prices of produce and goods are at the Sunday Market!
We could get kilo bags of fresh peppers, eggplants, potatoes, apples, and more… for about 1 Lev each. That's like USD $0.60 or around 50 Euro cents! Plus, they were excellent quality.
Check Out One of Our Shops at The Bansko Sunday Market…
Now, we thought we should warn you… Many of the locals at the Sunday Market don't speak much English. So, if you're wanting to have a full-blown conversation with them, you'll need a translator!
If you need groceries outside of the Bankso Sunday Market, don't worry… There are several grocery stores and mini marts where you can get your supplies. Plus, the BG Market in town will even deliver your groceries if needed.
And, if you're wanting something bigger… in the nearby town of Razlog about 6km away, is a Lidl.
Yet, when we don't cook, one of our top priorities is trying the local cuisine and beverages!
In Bansko there are plenty of eateries and bars, to keep your tastebuds and bellies satisfied…
3. Try Amazing Bulgarian Food and Drinks in Bansko
As big foodies, coming to Bulgaria opened up a whole new taste sensation for us. From fresh flavorful salads, to a huge variety of yummy cheeses, through to wickedly delicious breakfasts pastries!
All around Bansko you'll see traditional taverns called a Mehana.
We loved the old, rustic, charming buildings full of character. And, to our surprise, there were lots of them for such a small town. We figure the "Banskonians" know how to have a good time!
2 of Our Favorite Places in Bansko…
Now, one of our favorite restaurants in Bansko is the Log House.
Now, this shouldn't be confused with the Log Cabin, which also is a beautiful place. The Log House is located on Nayden Gerov Street.
So, here are some photos of what we indulged in at The Log House…
We LOVE cheese, so it was heaven having Bulgarian food! The menu is huge, with lots of variety and options for vegetarians too.
And, guess how much all this cost, including the 1 litre of wine and 2 beers?
It was ONLY around 45 Lev (USD $27 / 23 Euros). Ridiculously cheap, right? Note, as we were in the low season the total bill, including our alcohol was on special with a 20% discount.
The Log House was our night time restaurant of choice.
Yet, during the day time for some snacks and beers… we love Peshterite.
While, you can drive there, we chose to walk up the mountain to get there. It took us about 45 minutes on the way up. And, our reward was ice cold beers in the sunshine, with beautiful scenery.
The local Pirinsko beers we had were 500ml. And, they were only 2 Lev each (about USD $1.20 / 1 Euro).
While the Pirinsko beers were great, Bansko opened up a whole new world of wines for us…
Try the Local Homemade Wine
Remember how we mentioned the Sunday Market and the local homemade wines? One of the top things to do in Bansko, is try some of the local homemade wines. We discovered that one of the popular grape varieties in Bansko is Mavrud.
And, as we were wondering if we should get a bottle, one of the stall owners offered us a taste. And boy… was it robust, rich and flavorsome! Needless to say, we got a bottle or 2. Buying wine at the Sunday market was a regular purchase for us. LOL!
Take note… the stall owners are very proud of their homemade wine. So, if you don't like it, don't offend them by turning up your nose in disgust!
Also, as the weeks went by, and we were coming into November… the stall owners gradually ran out of their stock of Mavrud wine.
Thankfully they had other wine grape varieties we could choose from… although in our opinion not as tasty as Mavrud. So, stock up just in case if you don't want to miss out!
And, how much did we pay for a 2 litre bottle of homemade, delicious wine? A ridiculously cheap 8 Lev (about USD $4.80 / 4.10 Euros). Now, that's damn crazy!
Traditional Bulgarian Breakfast
One of the Bulgarian foods we absolutely love is banitsa. And, this is usually eaten for breakfast with a yogurt drink called, Ayran… or a wheaty type drink called, Boza.
And, in Bansko, we paid around 1.10 Lev (~ USD 65 cents / 55 Euro cents) each for a big banitsa like this…
We lost count of how many banitsas we had, but they sure are rich with flavor. The buttery, flaky pastry filled with clumps of salty cheese. Soooooo delicious! Needless to say, we were gaining a few pounds.
Yet, one of the great things about Bansko, especially outside of ski season is… there are activities that could help us lose the banitsa belly! LOL!
4. Bansko Activities
Whilst Bansko is commonly known as a place to go for a beautiful and affordable European ski resort… this charming town has lots to offer outside of the ski season!
And, if you're up for some action, one of the things to do in Bansko is hiring a 4-wheeler buggy. It's a great way to check out the amazing scenery in, and amongst the mountains. As well as waving "hellos" to the locals in the tiny villages.
We often hiked up the mountains and walked along different trails.
Although we're slow travelers, we understand that some of you have limited time. So, to make the most of your time in Bansko, and experience the natural beauty this gorgeous town has to offer… take a tour from someone with inside knowledge and experience.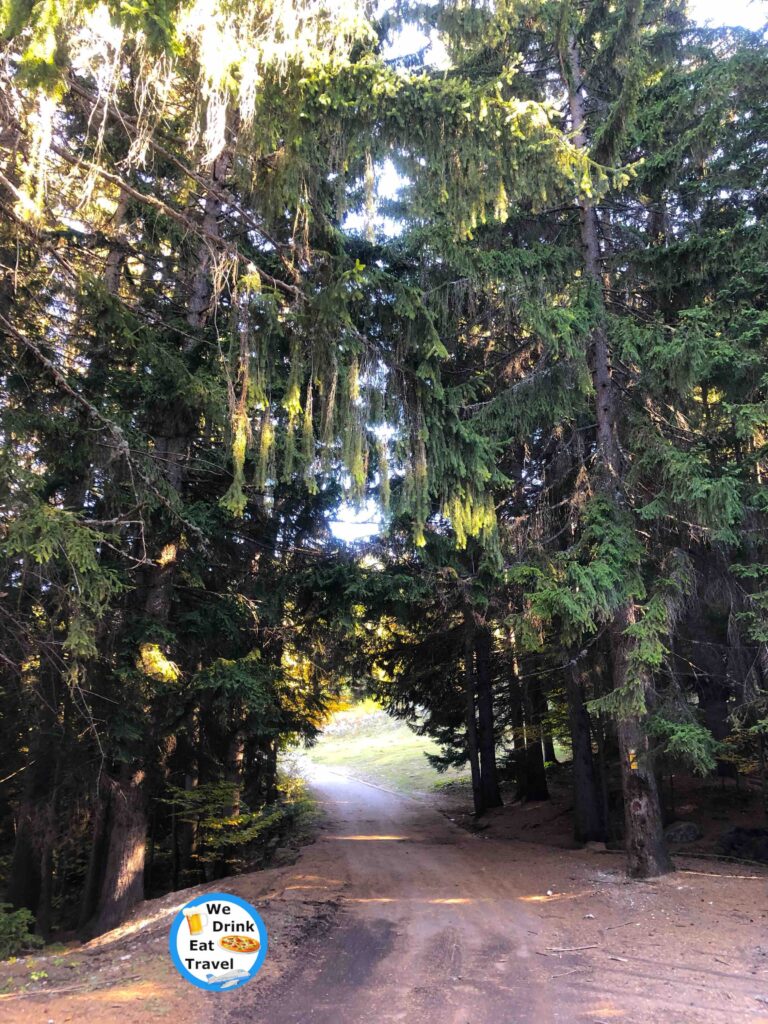 It was beautiful to be amongst nature and enjoy the fresh air. So, being in Bansko Bulgaria in Autumn does have its benefits.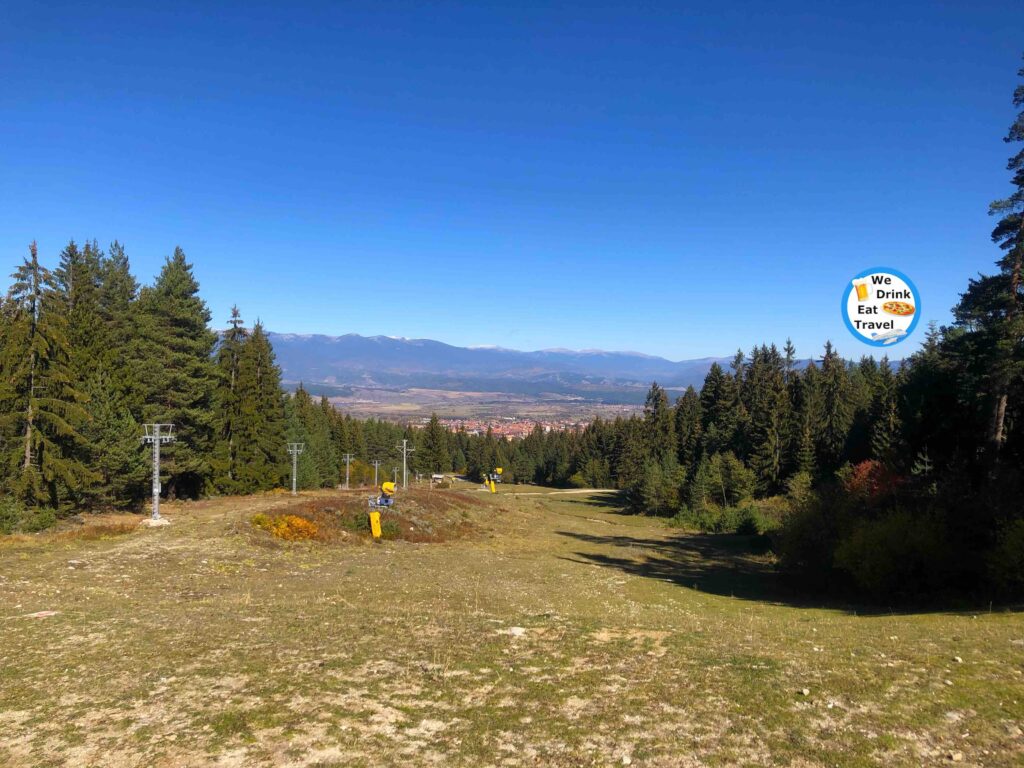 Plus, there's mountain biking, horse riding, yoga and more! And, if you prefer a little luxury and relaxation… then consider a spa treatment and enjoy the moment of bliss.
So, to find out more about the activities and adventures you can experience in Bansko… make sure you check these out!
Now, while all this sounds great… we believe that sometimes the simplest things in life are often the best.
And, as we were in such a peaceful and beautiful part of Bulgaria… we had to take in the natural beauty of Bansko. So, simply packing a picnic lunch and finding a secluded spot to enjoy it is a must!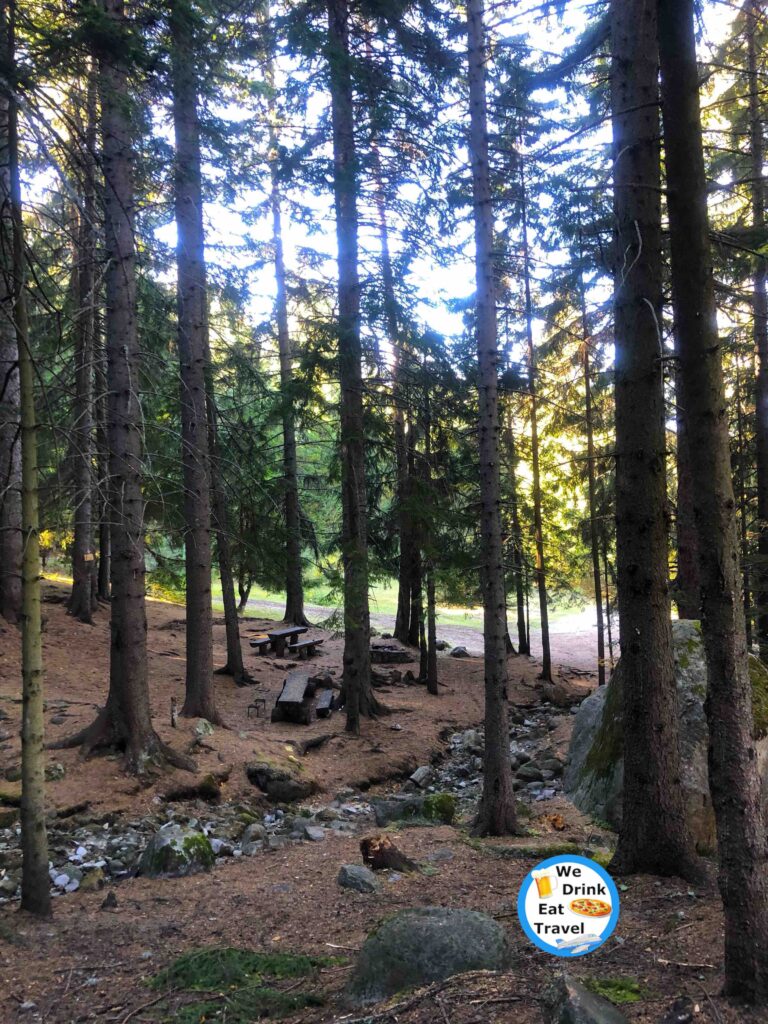 5. Check Out Some Historical Sites
Other things to do in Bansko is to explore some of the historical places of interest. And, some of these include…
Neofit Rilski Museum
Nearby the Holy Trinity Church is the Neofit Rilski house-museum… which showcases a traditional house of Bansko from the 18th century, including a beautiful garden.
As the name suggests, the museum is based on Neofit Rilski… who was the first to develop the Bulgarian grammar. So, with this marvel, the museum not only showcases his home… but also parts of his textbooks and writings.
The Holy Trinity Church
When you wander down one of the main streets in Bansko, Pirin Street… you can't miss the Holy Trinity Church and its bell tower. This church is one of the biggest in Bulgaria, and dates back to the 1800's.
Holy Trinity is an Orthodox Church, which was constructed during the Ottoman rule. And, while it stands out in the Bansko Old Town, there is something unique about it.
When you go to the main entrance… look for a couple of symbols above the door. And, what you'll see is a Turkish crescent and a Christian cross together. This is supposed to symbolize the tolerance of the two religions.
The Old Cinema
Who would've thought that a Tourist Information Center would be housed in the The Old Cinema? Yep, it is in Bansko!
The building was constructed in the 1920's… and has hosted films, theatres, orchestras, other events and meetings. While we were at the tourist office, we asked to have a look.
And, while it doesn't look as grand as other old cinemas we've been to… we appreciated the opportunity to have been in an important place of history in Bansko.
Of course, when it comes to seeing sites, please be aware that there may be entrance fees. Also, make sure you check the opening and closing times, as they can change too!
6. Tick Another UNESCO Heritage Listed Site Off Your List
Just a stone's throw away from Bansko town is the UNESCO listed, Pirin National Park. This park marked its claim to fame as a UNESCO World Heritage Listed Site in 1983.
Pirin National Park is spread over about 27,000 hectares. The area offers amazing limestone mountain landscapes, waterfalls, caves, glacial lakes and forests. The highest point is at Vihren Peak, which stands at 2,914 metres.
There are hundreds of unique plants and animals, that all cohabitate in this beautiful park. Plus, you can find Bulgaria's oldest tree, the Baykusheva Fir, nearby Vihren Hut. This tree is more than 1,300 years old!
There are lots of things to do in Bansko. Yet, if you want to share the experiences with other like-minded people, join one of the many Bansko groups…
7. Join a Thriving Bansko Community Group
If you're intending on staying in Bansko for a longer period of time… you might like to join one of the thriving communities.
We were surprised that for such a small town, there are several Bansko Coworking Groups. They provide many facilities, spaces to work, and hold many events for the "digital" / freelancing community.
There's also a big community for expats, foreigners and anyone who wants to connect in Bansko. And, the main one we discovered was a Facebook Group called, The Bansko Notice Board.
So, if you want to meet new people and enjoy Bansko with the company of others… then you can find that here!
They were 7 reasons to visit the gorgeous town of Bansko Bulgaria. Yet, here's a BONUS reason as to why you should visit Bankso, especially outside of the ski season…
8. Cheaper Accommodation and Special Deals
And, during Autumn we discovered that the Bansko accommodation was ridiculously cheap.
Through Airbnb, we found a huge 1-bedroom apartment, with balcony. And, it ended up being a ridiculously cheap USD $13.90 per night (~12 Euros per night), including all utilities and fees.
TIP: There's also a site called Bansko Nomad Apartments, which is connected with the Coworking Bansko Group. Here, you can find monthly rentals for as little as 200 Euros (~USD $230), INCLUDING utilities. We never used it, but it may suit your needs.
Plus, as it was low season in Bansko… several bars, cafes and restaurants had special deals and discounts.
Yet, when it comes to around late November / December, the prices will go up for high season. So, for those who want to experience Bansko and all its beauty outside of ski season… there are many great reasons to do so.
Bansko Bulgaria, A Charming Town We Absolutely Love
Autumn in Bansko is beautiful. And when we were there, most of the time during the day the sun glistened in the bright blue sky.
We could do sightseeing and go for walks, without dripping in sweat from a blistering Summer heat. And, after walking around for hours… we could still sit outside in the sunshine, enjoying ice cold beers.
Of course, as it got closer to Winter the weather started getting cooler, especially at night. Yet, for most of our stay we had pleasant weather with hardly any rain!
Bansko is truly a gem that we may not have discovered, if it hadn't been for the pandemic. So, we were fortunate enough to have been able to travel here… and to have so many wonderful experiences.
Have you been to Bansko? If yes, what were your experiences? And, if you haven't been, why would you go?
Like This? Share it and comment on it!
Note: All of our reviews and comments are our opinions and no-one else's. Even if we receive complimentary goods or services we share our opinions honestly.