One of my all-time favorite foods is PIZZA! Whether it's deep pan, thin style, minimal toppings, loaded with different ingredients, or with a filled crust… I'll try them all.
So, when Paul and I were in Bangkok Thailand… I saw an advertisement for Soho Pizza Bangkok.
And, they say that they have brought authentic… grab and go New York pizza to Bangkok. Plus, the head pizza maker is Italian-American pizza specialist, Anthony Falco… who had been working at the iconic pizza place, Roberta's Pizza in New York.
So, now he's brought his pizza making skills all the way to Bangkok for others to try.
Yet, when I saw the ad for Soho, the professional photos made the pizzas look super tasty…. as you'd expect!
So, I did a Google search to check out what people were saying about the Soho pizzas… and I was keen to check out their photos too.
Then, while the food reviews of Soho weren't perfect… the majority were positive. Thus, it was pizza night!
So, in this blog post I'll be reviewing the pizzas we had at Soho Pizza Bangkok. And, so you know, we got the pizzas via delivery rather than eating at their outlet.
Yet, if you prefer to go into the restaurant to try their pizzas, they do have a few outlets. Yet, their original one is at 26/3 Soi Sukhumvit 11, Sukhumvit Rd, Khlong Toei Nuea, Watthana, Bangkok. 
Now, let's kick off this pizza in Bangkok food review…
Ordering Pizza From Soho Online
So, when I was going to put the order in for Soho pizzas, I saw they were on the Grab App. And, as I knew I could get rewards points for ordering via the app… then this was my choice for ordering online.
Now, if you want to find out more about the Grab App and ordering food online… CLICK HERE.
So, as I was scrolling through the options… I saw that they had a promotion for buy 1 get 1 free on their 12 inch, New York style pizzas. And, the price for this was 499 baht (about USD $15.60). Plus, I had a promotion code for 40 baht discount – BONUS!
So then, it was just a matter of what pizzas to choose.
And, there were several pizza options including… Potato & Pancetta, Pepperoni, Shrimp Scampi and more.
Yet, as we were hunting out vegetarian options… we saw that they had a selection to choose from, which was great. Plus, they had some interesting ones like Green Machine, which had… home-made pesto cream, provolone, kale and morning glory!
Yet, in the end we chose the 12 inch Cheese Pizza… which had provolone, mozzarella, parmigiano and oregano.
And, the other 12 inch pizza we got was Roasted Mushroom. Now, we were a little hesitant about getting this at first. So, that's because on top of the roasted mushrooms, mozzarella and garlic cream… there was lemon zest!
Hmmmm, yet as many of the food reviews were positive… we made the decision to try the creation by the Soho Pizza experts.
So, with the pizza delivery order via the Grab App, there was an additional 12 baht delivery fee. Yet in the end, the cost of the two 12 inch pizzas, less the promotion code was 471 baht (about USD $15). Very cheap!
Soho Pizza Bangkok, Authentic New York Style Pizzas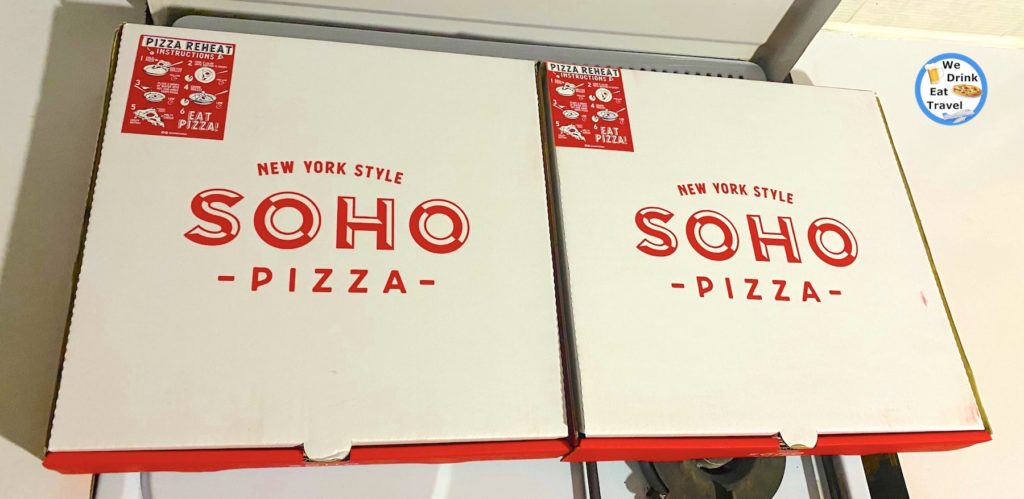 Now, having been to New York and trying MANY of their pizzas, we knew what to expect. And, we'd often have the traditional pizza by the slice, yet we did get pizzas by the whole pie.
Yet, having had many pizzas in Bangkok too, it's been hit and miss. Even so, we were expecting the pizzas to have a thin crust, which we could fold… New York style of course!
But, as we were having delivery… we didn't expect the pizza base to be as crispy as if we had it fresh in the restaurant.
So, when our pizzas from Soho came to our door… I could immediately smell the amazing aromas coming from the pizza boxes.
And now, it was time for the first impressions by opening up the first pizza box…
OMG, it was a little disappointing as the pizza didn't look that appetizing. So, this pizza may have had a rough and tumble ride on the Grab driver's motorbike on the way to our place!
Yet, when I had a look at the second pizza… it did look delicious.
And, in true Thailand style, there were seasoning packets of oregano and chilli! Not that we put them on our pizzas.
So now, it was time to give the New York pizza in Bangkok a taste test…
The Soho Pizza Bangkok Taste Test
I took a slice from each of the pizza pies, and as I held one of them up here's what it looked like…
And yes, I could fold it up like traditional New York style pizzas.
So, the first one I had was the Cheese Pizza. And, while the flavors were fine, what blew me away was the pizza base and crust. Wowee… it was so delicious!
Then, it was time to check out the Roasted Mushroom Pizza. And, remember how I was saying earlier we weren't sure about the lemon zest? Well, I have to say that the ingredients on this pizza did work well together.
We were in absolute heaven having the mushroom pizza, and the lemon zest was subtle. So, a HUGE thumbs up to Soho Pizza.
Thus, while we had hesitations about ordering pizza from Soho… we would definitely have their pizzas again. And, as they have other vegetarian options… we'd consider tasting some of the other flavor combinations.
They have other sizes such as 15 inch and 18 inch pizza pies. So, we'll have to indulge and get their 18 inch ones one day. Plus, we'll have to go to their store to have it fresh.
OMG, writing this food review blog post is making my mouth water!
So, if you want a delicious New York style pizza in Bangkok to take you to flavortown… make sure you try them at Soho.
Where do you think is the best place in Bangkok for New York style pizzas?
You Might Be Interested In This Too…
Check Out Our Thailand Photos And Information
How To Get FREE Accommodation While Travelling
Transport
Bangkok Public Transport: All Aboard For The Khlong Boat On Saen Saep Canal
Bangkok Public Transport: How To Use MRT Bangkok
Getting A Grab From Suvarnabhumi Airport Bangkok With Pro Tips
Bangkok Public Transport: How To Use BTS Bangkok
Bangkok Public Transport: How To Use MRT Bangkok
Foodies
Is This The Best Pizza In Bangkok For Home Delivery?
How To Use The Grab App For Ordering Food With Helpful Tips
Thailand Food – Being Vegetarian In Thailand
The Best Chocolate Eclairs In Bangkok, Thailand
5 Things You Should Know About The Scarlett Wine Bar & Restaurant Bangkok, Thailand…
Is This The Worst 5 Star Hotel Breakfast Buffet in Bangkok?
Things To Do
Night Market Bangkok: All Aboard For The Ratchada Rot Fai Train Night Market
Shop Until You Drop In Ratchada, Near Thailand Cultural Center MRT
Things To Do In Bangkok – Visit The Camp Flea Market With Surprising Relics!
7 Free Things To Do In Bangkok
Things To Do In Bangkok Thailand, The Biggest Waterfront Night Market
3 Parks To Visit In Bangkok Thailand
We Didn't Know There Was A Walmart In Bangkok!
How To Go To Platinum Fashion Mall Bangkok By BTS
One Of The Best Places To Visit In Bangkok For Your IT Needs & More…
Shop Until You Drop In Bangkok… With Over 2,000 Stores Under The One Roof
How To Get To Chatuchak Weekend Market In Bangkok
Travel Tips & Other Stuff
VAT Refund Bangkok: How To Get Money Back On Your Shopping At Suvarnabhumi Airport
Bangkok Suvarnabhumi Airport – Miracle Business Class Lounge Review
Thai Airways Review: From Melbourne Australia To Bangkok
My Carry On Luggage Must Have Item
3 Reasons Why Travel Is Important
Need Accommodation?
Bangkok Hotels Review – Asoke Residence Sukhumvit by UHG
Bangkok Hotel Review: Prom Ratchada Residence And Spa
Hotels Review – Pullman Bangkok Hotel G
Accomodation Review – Ibis Bangkok Sukhumvit 4 Hotel
Accomodation Review – Ibis Bangkok Sathorn Hotel