Having explored beautiful Bulgaria for almost 3 months… sadly, it was time for us to leave. We had a ball in Bulgaria, and it's definitely a place we'd visit again.
So, when we were deciding on where our next destination would be… we weren't sure! Yet, as we were currently in the Balkans, why not continue our adventures in this region? So, that's what we did!
Again, we had the same challenge in front of us… finding countries which had the least restrictions during the pandemic.
Yet, we did discover that at the time of our travels… North Macedonia had one of the least restrictions. And, as we hadn't been there before, it'd be exciting to experience a new place!
So, as we're Slow Travelers, we booked ourselves for a trip to Skopje… the capital of Macedonia for about 3 months.
Now, to get from Sandanski Bulgaria to Skopje, we booked a private car transfer. So, the approximate distance from these 2 places is 220km. And, the total cost for this private transport was 110 Euros (about USD $130).
So, once we got to Skopje… we didn't have to rush to experience what this capital city has to offer. That's one of the benefits of being Slow Travelers… we can take our time to explore a new place.
So, in this travel blog… we'll share with you 10 different things to in Skopje, Macedonia. Now, let's get started!
Check Out the Mind-Boggling Number of Statues in Skopje!
One of the crazy things we first noticed about Skopje, was the huge number of statues! It felt like on every corner, a statue appeared in front of us. No, we weren't in dreamland, you have to come to Skopje to see for yourself!
We lost count in the end after about 60. Now, if you've had the patience to count how many statues you found in Skopje… let us know!
It's said that a project called, "Skopje 2014," was established… after an earthquake devastated about 80% of the city in 1963. Just imagining that is horrific.
So, to help re-build the city and restore confidence, the government's vision was to (re-) construct buildings… and create lots of statues and monuments.
Yet, this project did face some controversy… as funding for "Skopje 2014" was estimated at 80 to 500 million Euros! This is a mind-boggling amount!
Is it statue overkill in Skopje?
Well, with a population of about 600,000 people… and supposedly around 100 statues, perhaps it is. And, when speaking with some of the locals, a raise of the eyebrows says it all.
Immerse Yourself in the Labyrinth of the Skopje Old Bazaar
In the main area of Skopje, around Macedonia Square… there are many architectural delights and of course, statues that line the streets.
Yet, after crossing the bridge to get to the Skopje Old Bazzar… it's such a different feeling and atmosphere.
The Skopje Old Bazaar is said to date back to the 12th century… making it one of the oldest, as well as one of the largest marketplaces in the Balkan region.
As we wandered down cute cobble stoned streets reflecting the Ottoman style… we smelt the waft of strong Turkish coffee from tiny coffee shops.
We never knew what we would see next… because in some ways it felt like a labyrinth in the Skopje Old Bazaar! From colorful umbrella adorned streets, to alleyways and arches…
And even, kitty cats waiting for handouts for their next meal…
We also saw many small shops selling crafts, jewelry, bags and more… through to restaurants, tea houses, and delicious Turkish sweets.
And, at the further end of the Old Bazaar is the Bit Pazar… which is Skopje's largest outdoor market offering a variety of fresh fruit and veggies.
Plus, there homemade preserves, a huge range of cheeses… through to souvenirs, household goods, and cheap clothing.
It really did feel like we were in a part of Turkey. Actually, a couple of our favorite foodie places was in the Skopje Old Bazaar area. Check out our other blog post for more information!
Yet, one of the things to do in Skopje for incredible views of the city is this…
Witness Amazing Views from Kale Fortress
One of the best places to visit in Skopje for amazing views, is from the Kale Fortress.
So, as far as we know there's only one entrance point. And, to get there we walked along Samoilova Street… which is next to the Skopje Old Bazaar area.
Kale Fortress is a magnificent structure… and is the remains of a 6th-century stone fortress, sitting high on the hill.
And, once we got to the top, we scaled the boundary walls… to see picturesque, panoramic views of Skopje, the Vardar River and beyond…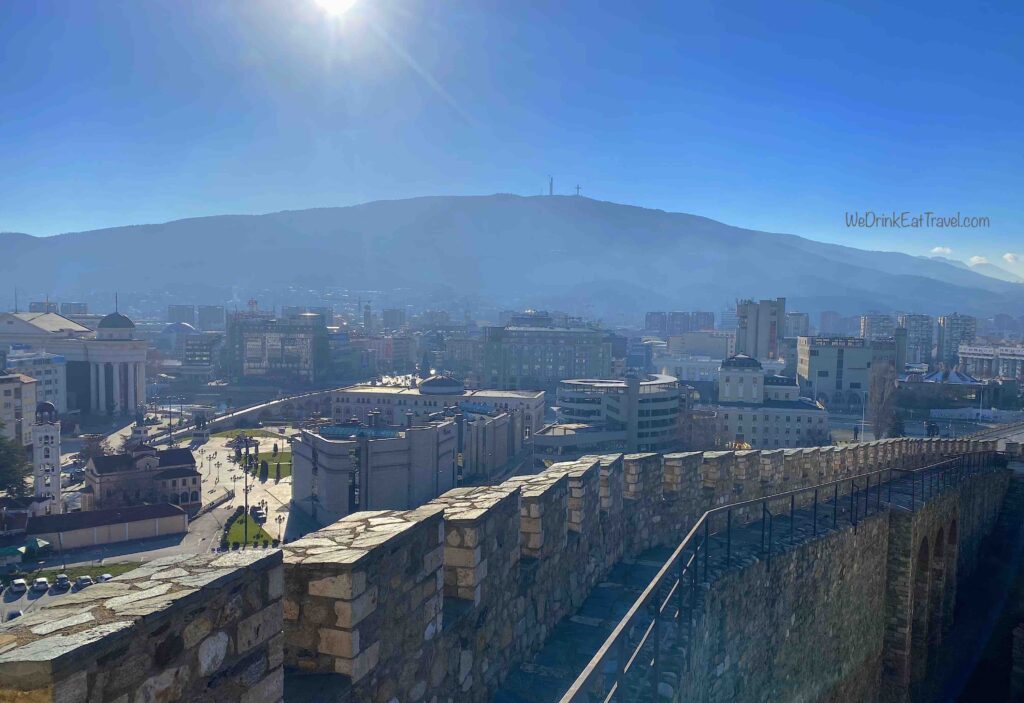 Unlike many other historic fortifications such as this one… there was no entrance fee when we went.
We absolutely love to hike to places like Kale Fortress… because we having nothing like this back in Australia!
And, we imagine how they could construct massive fortifications like these? Especially as they wouldn't have the machinery like we do nowadays. A pretty impressive accomplishment in our books!
So, definitely check out Kale Fortress and enjoy the amazing views.
Watch the World Go by in Macedonia Square
Sometimes we had to give our feet a rest from lots of walking… or to get out of our accommodation to soak up some rays. And, one of our favorite places to do that was in Macedonia Square.
So, our place of choice to enjoy some brews, and to people watch was at Kolektiv… right in the heart of Macedonia Square.
It was great to get the "front row" seats outside. So, we could see and hear the street performers… tourists taking selfies in front of Alexander the Great Statue… and watch street vendors trying to sell items from packets of tissues, to belts, to perfume.
Sometimes we'd sit there for hours from day until sunset. And then, when the night hits.. the obvious thing is to drink more, eat, or party on.
Yet, if you want to experience some "magic" in Skopje, we definitely recomment this…
Discover Skopje's Beauty at Night
Like many travelers… during the day time is when much of the sightseeing and happy snaps are taken.
Yet, we do recommend that one of the things to do in Skopje, is check it out at night.
Because, when we were wandering around Skopje at night time… we discovered how beautiful it was. Very unexpected!
Plus, when we got to Skopje is was in late December, for the Winter. And, if you know us by now, you'd know we love following the sun. Yet, with the pandemic we couldn't. However, it became a blessing in disguise…
When it's freezing cold, usually people want to stay indoors in the toasty warmth… but not us this time! And, here's why… we got to experience something magical and rare for us.
Coming from Australia, we rarely get snow. OK, there are some places in Australia where it snows so we can ski, have snow fights or make snowmen. Yet, Australia has nothing like the incredible snow falls of Europe!
So, when we were in Skopje, a decent amount of snow (for us) layered the city.
And, whilst it was late at night, we didn't care. We threw on our Winter gear and enjoyed the freezing cold weather to experience the snow in Europe. Now, check out how beautiful Skopje was in Winter when we went…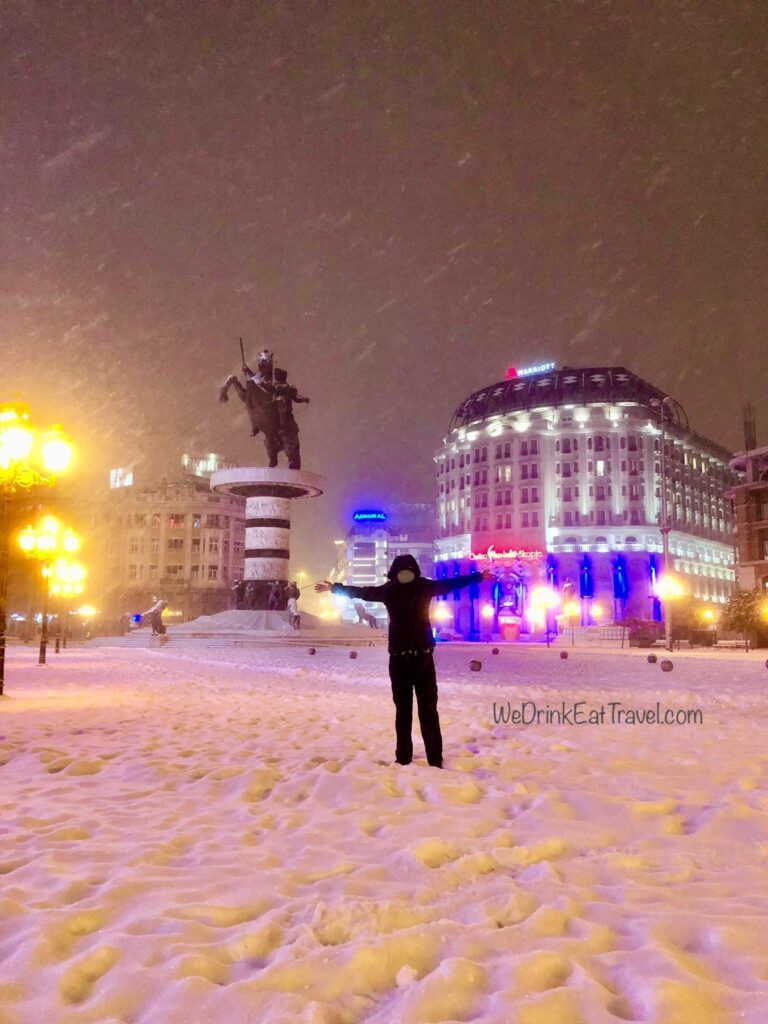 Zig Zag Across the Vardar River via Historical Bridges
The next on our list of things to do in Skopje is… to walk across the bridges over the Vardar River. And, the top 3 we'll highlight starts with…
A. The Stone Bridge
Not only are there lots of statues in Skopje… there are several bridges across the Vardar River too. So, over time we checked them all out!
Of course, the most important is the Stone Bridge, which is a key part of the coat of arms of Skopje.
And, if you're wondering what the exciting reason is for calling it the "Stone" bridge… Well, sorry to say, there's nothing fancy about it! It's simply because the bridge was built using stone blocks. Nevertheless, it's still a crucial part of everyday life.
Then, walking in a South-Easterly direction from the Stone Bridge is…
B. The Eye Bridge
From a visual perspective, I believe this is the most picturesque with great photo opportunities.
On the Skopje Old Bazaar side of this bridge, stands the impressive Archaeological Museum. Yet, adding to the beauty of this bridge are the MANY statues, and lanters that line it.
And, when walking across the bridge there's a glass section in the middle… which resembles an eye…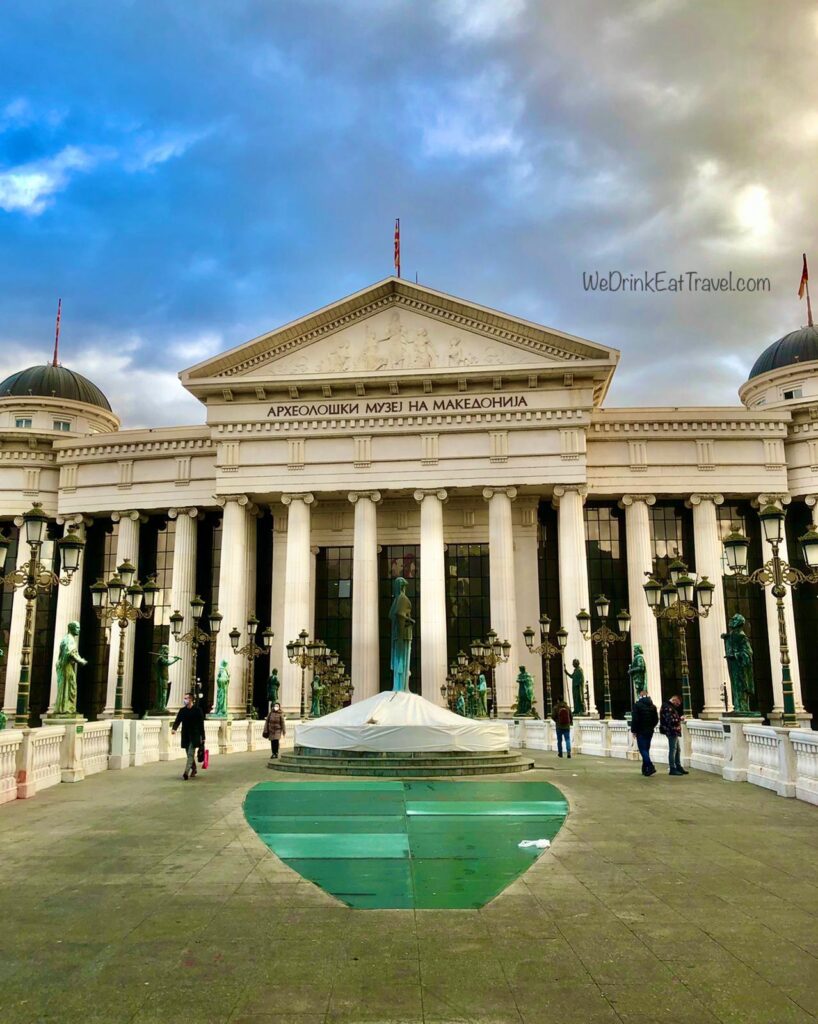 Now, if you think that can't be topped, check out this next bridge in Skopje…
C. The Bridge of Art
So, why is it called the Bridge of Art, you ask?
This particular bridge features many notable Macedonian artists and musicians, in the form of statues… of course! And, the building at the end of this bridge is the Primary Public Prosecutor's Office.
So, make sure one of the things to do in Skopje on your list is to go bridge hopping!
Take a Stroll Along Macedonia's Largest River
When in Skopje, unless you're staying in your accommodation all the time… you can't miss the Vardar River, which separates the old and new areas of Skopje.
The Vardar River is the largest in North Macedonia… being 388km long and its river basin covering about 25,000 km².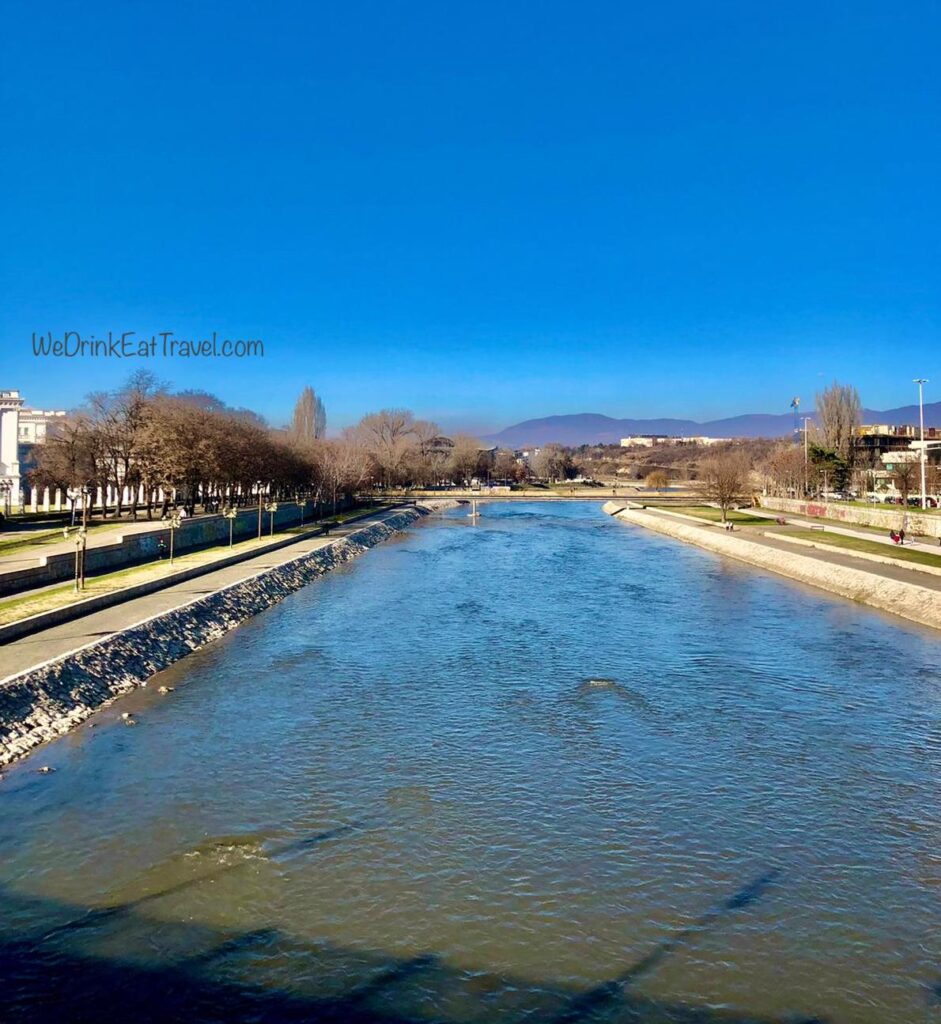 And, in the mornings as we walk across the Stone Bridge to get our breakfast… in the Vardar River we would always see fisherman, trying to get their catch of the day.
Being Slow Travelers, we had plenty of time to walk along different parts of the Vardar River… from East to West, along the Old Town side and modern side of Skopje.
The great thing is, the footpath is wide. So, lots of room for walkers, runners and cyclists to enjoy the fresh air along Vardar River.
Visit the Skopje Mother Teresa Memorial
One of the most important and historical places to visit in Skopje… is the Mother Teresa Memorial. Mother Teresa is the only Nobel Peace Prize winner from Macedonia.
And, as an infamous humanitarian, the Memorial House was established in May of 2008.
So, whilst it may seem appropriate to build the Skopje Mother Teresa Memorial in the city centre… there's a reason for its exact location.
And, as we discovered… this site is where the "Sacred Heart of Jesus" old Catholic Church stood. And, where Mother Teresa was baptized one day after being born.
At the Skopje Mother Teresa Memorial, her humanitarian work continues through others.
When we were in Skopje, every weekend, the Red Cross truck was there… providing food packages for the needy.
Unfortunately at the time, we couldn't see inside the Mother Teresa Memorial. Yet, when we did visit the memorial… that didn't stop me feeling goosebumps up and down my spine!
Experience the Bohemian Vibe in Debar Maalo
So, while Skopje has it's modernistic and old town areas… it also has an area they call the "Bohemian Quarter."
About a 10 minute walk from the centre of Skopje is Debar Maalo. And, if you want to experience a different vibrant and bustling area… then this should be on your list of things to do in Skopje.
Plus, if you love the laid-back café and bar culture… then you definitely must visit Debar Maalo.
The first time we went to Debar Maalo, we decided to check it out on a Friday evening. And boy, once we got to the heart of the area… it sure was rocking!
Lots of happy people, laughing loudly, and the sound of clinking glasses… filled the lively streets of Debar Maalo.
Restaurants and bars, one after the other… were already full of people enjoying the start of the weekend.
What we didn't like about Debar Maalo… is that there are so many places to choose from! LOL! Yet, we found one of the best restaurants in Skopje here in Debar Maalo… Gostilnica Cardak.
So, this is definitely one of the top places to visit in Skopje… for delicious, traditional Macedonian cuisine in vibrant Debar Maalo.
Speaking of food, there's one thing you MUST have when in Skopje…
Wrap Your Mouth Around One of the Best Food In Skopje…
There's no doubt that we tried some delicious food in Skopje. Plus, being Slow Travelers we had plenty of time to try new places… as well as re-visit our favorites!
And, that's one great reason why we love being Slow Travelers… because when the locals start seeing us often, it feels like we get the local treatment.
Even when there were times of language barriers… we could always communicate with the owners how delicious their food was. And, this was always welcomed, with smiles all round.
So, what we love about Skopje, and the Balkan countries in general… is that they have the tastiest, greasiest, most scrumptious food item.
And, what I'm talking about is the mouth-watering, delicious burek. Layers of flaky, buttery, crispy pastry, encasing a warm filling.
Now, whether you're a meat eater or vegetarian, they've got you covered. The main fillings include meat, or cheese, spinach, or potato.
The burek is normally devoured at breakfast time, even through to the afternoon. So, the great things is… the burek doubles up as an awesome hangover cure! Ha ha ha!
Thinking of a flavorsome burek now makes my mouth water! They are filling and fattening, yet fantastic!
So, this is our recommendation of 10 different things to do in Skopje. Yet of course, there's plenty more to do! And, as Slow Travelers we suggest you spend more than a day or 2 in Skopje.
So, then you can take your time to try the delicious foods at your leisure…
Enjoy some relaxing drinks while soaking up the atmosphere from different perspectives… Shop until you drop…
Or, admire the many architectural and historical elements Skopje has to offer, even all the statues :)
Like This? Share it and comment on it!
Note: All of our reviews and comments are our opinions and no-one else's. Even if we receive complimentary goods or services we share our opinions honestly.