REVIEW
Accommodation: Pullman Albert Park Hotel
Location: Albert Park, Melbourne, Victoria, Australia
Room Type
Booked Superior King Lakeview Room
Loyalty Program or Deals Used
Le Club Accor Hotels / Accor Plus
Research and Booking
Paul and I were looking for a short stay around the Albert Park area of Melbourne, Australia.
We were going to catch up with friends who lived near there… so staying somewhere around Albert Park would be convenient.
Plus, I wanted to clock up more nights with Le Club Accor to reach Platinum status… The perks of this elite status is pretty good. And who doesn't like to be a VIP?!
So I checked the Le Club Accor Hotels App to see what I could find in the area.
To my delight there were a few bargains at the time!
I found a beauty for the Pullman Albert Park Hotel. The rate was only AUD $109 (about USD $77.40) for a 5 star hotel! This was for their Superior King Lakeview Room – room only.
Normally I'd do a bit more research… like check out the reviews and photos on TripAdvisor… or see reviews on the hotel's website before booking accommodation anywhere.
Yet, this was a bit of a last minute hotel booking. So I hoped that being a 5 star hotel it would be pretty nice…
Read on to find out if Paul and I were happy!
The Location
This Pullman Hotel is in Albert Park, Melbourne, Victoria, Australia. It's about 5 km (~3 miles) from the Melbourne Central Business District (CBD).
You may have heard of Albert Park, as it hosts the Australian Formula 1 Grand Prix, normally held in March each year.
Only a few minutes walk away are the iconic Melbourne trams. Beware though… It's not within the Melbourne City Free Tram zone.
---
TIP: If you want to experience one of Melbourne's oldest trams, catch the City Circle Tram, on Route 35. It's also for free and is a maroon colored tram. It's a bit clunky compared to the newer trams, but it's an experience… It's an easy way to get to some of Melbourne's top attractions in the CBD.
---
Also, there are no trains within easy walking distance. It's easy to get a taxi though, and there's plenty of ride share companies like Uber, Taxify and Ola.
Yet, on this occasion we had a car, so getting to Albert Park was a breeze. But, parking our car and getting to reception to check in was another story…
Check In
As we had a car we wanted to park close by. Parking is expensive for Melbourne standards! For example, to park your car overnight it could cost about AUD $40 or $50 (about USD $28 – 36).
So remember to check with the hotel first to see if they offer better rates for guests.
I'll go into more detail about the car parking rates and details in the amenities section.
Now, there are 2 entrances for the Pullman Albert Park Hotel. The main entrance is on 65 Queens Road, leading you right to reception…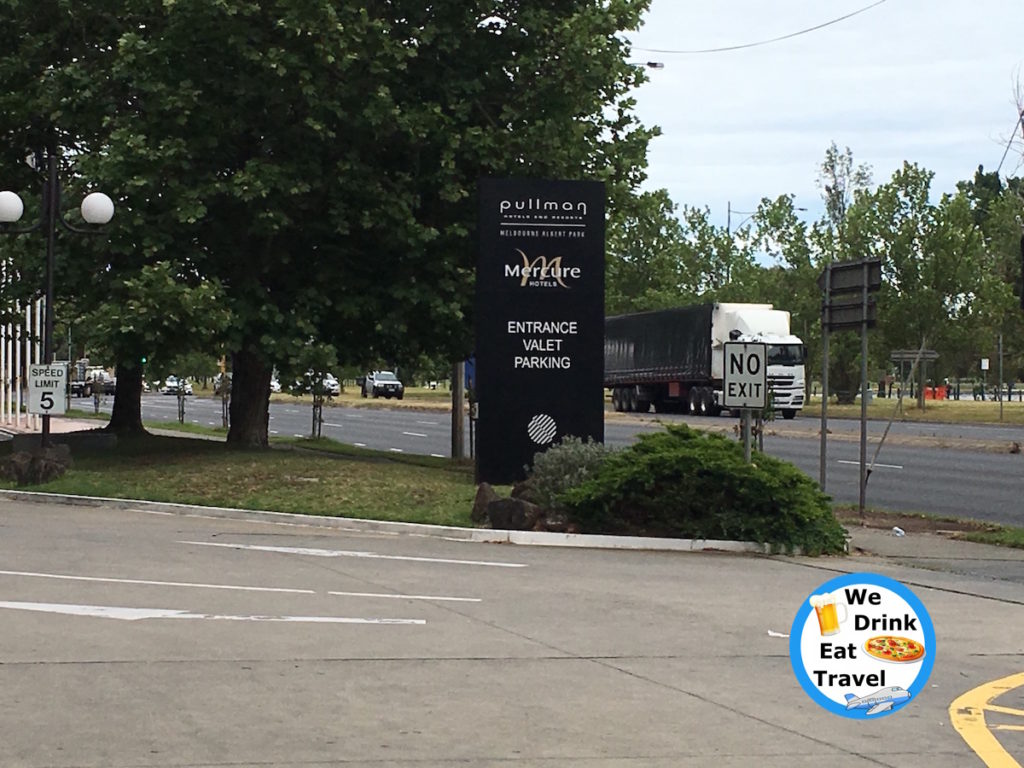 We took the entrance on Lorne Street so we could park our car.
I made an assumption there would be like a mini-reception area, and that someone would be there to help.
Yet, when we arrived, there was no-one there to explain the process for car parking. I didn't think it was well sign-posted on what to do.
So as Paul waited in the driveway, I ran to find someone to help with parking.
Again, I don't believe the signage is very hotel guest friendly. Confused as someone would be in a maze, I ended up walking in a few different directions to find reception.
I saw a few people walking out from a particular area so I wandered that way.
I had to walk for what felt like 5 minutes… past a deathly quiet unused area, past a restaurant, past a café, and then hey presto… There was the reception on my right!
For a 5 star hotel it wasn't as glamorous as I was expecting… Maybe that's because it shares the reception with the Mercure Albert Park Hotel? You may have seen this in the pic earlier… Or maybe because it's an older hotel?
Check in was friendly and efficient though, so no complaints there!
After finally parking our car, we headed on up to our room…
The Room
Once we opened the door, the first thing that we noticed was the amazing view…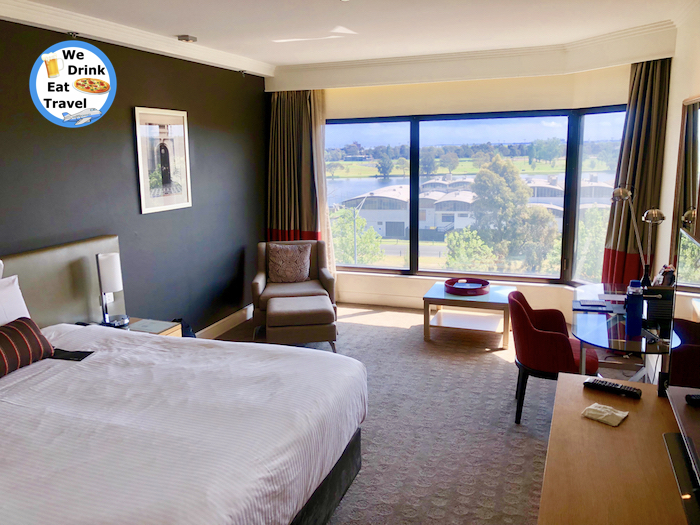 Our room faced Albert Park Lake… And although it was facing the Queens Road side, it was actually quite quiet.
The room was spacious too with a BIG king bed, a couch with ottoman, bed side tables, small coffee table…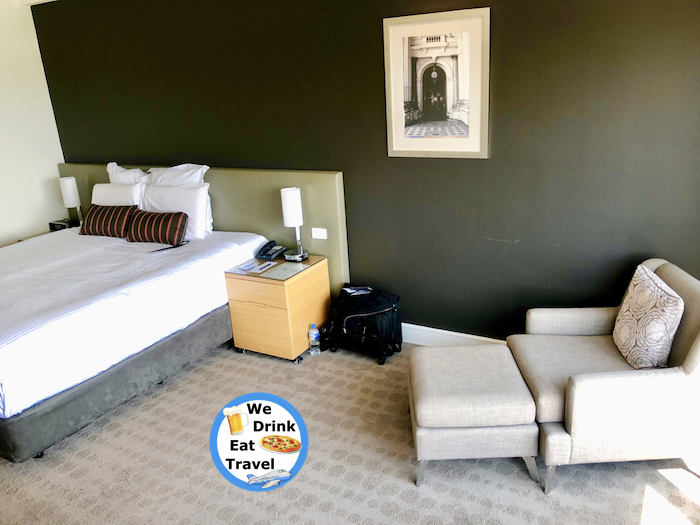 There's also a big desk with chair and flat screen TV, Nespresso Coffee Machine…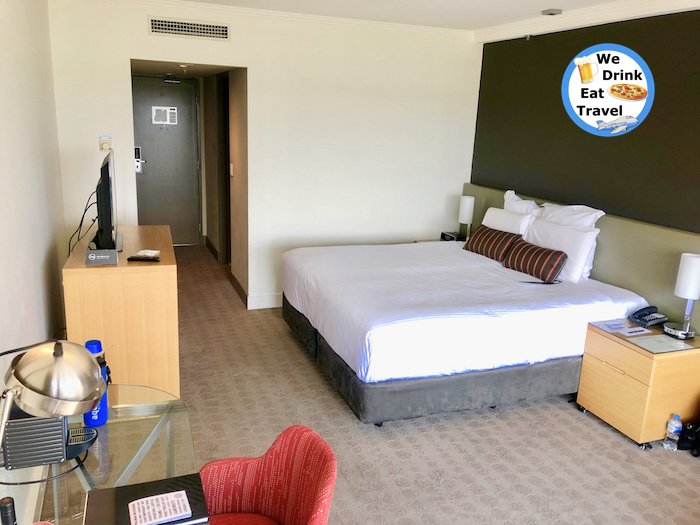 But hey… How awesome is this view?!
What we also liked were the thick blackout curtains. I don't think we'd need our eye masks here! So that was a plus to help towards a good night's sleep.
There was one very odd thing about the room though…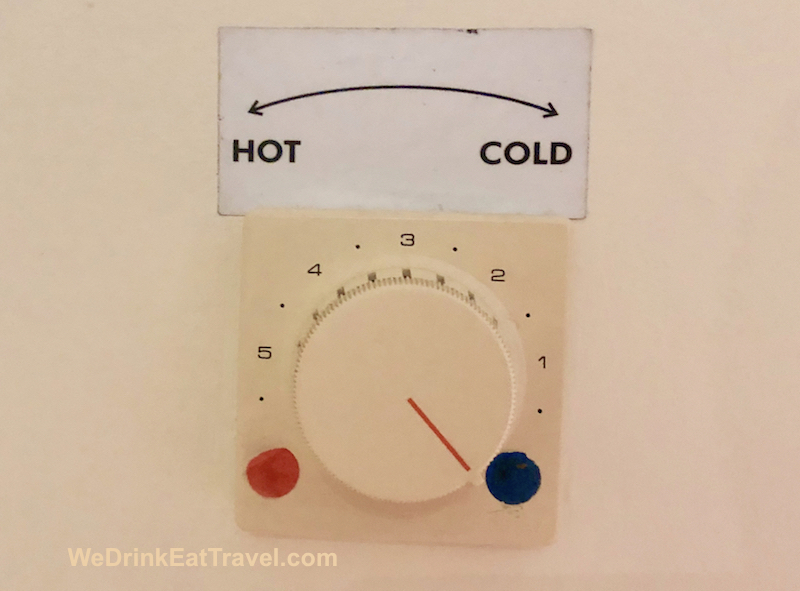 "What the heck Vi?" you're thinking… Who cares about this photo? But wait…  These controls were for the air conditioning in the room.
Paul and I were searching in every nook and cranny for the on and off switch to the air conditioner. You wouldn't think it would be that hard, right?
We felt like fools for not being able to find it. Unfortunately I drew the short straw… So I had to sheepishly call reception, asking them how to turn the air conditioning off…
To my shock, they told me that the air conditioning was an essential service… So it had to stay on ALL the time! All we could do was move it from hot to cold and in between!
Is that the craziest thing you've ever heard? We found that very strange.
We tried to think of other hotels we've been to that did this… Nothing came to mind. If it was an essential service, why weren't other hotels doing the same thing?
Sometimes we don't like having the air conditioner or even heating on all the time… as it can make us look like dried prunes!
Hmmm… Is that why the luxurious facilities are lacking… because the hotel is wasting money on heating and cooling that runs 24 hours a day!
Anyway, on a positive note…
As part of our Gold Status with Le Club AccorHotels, here's a lovely free gift they gave us…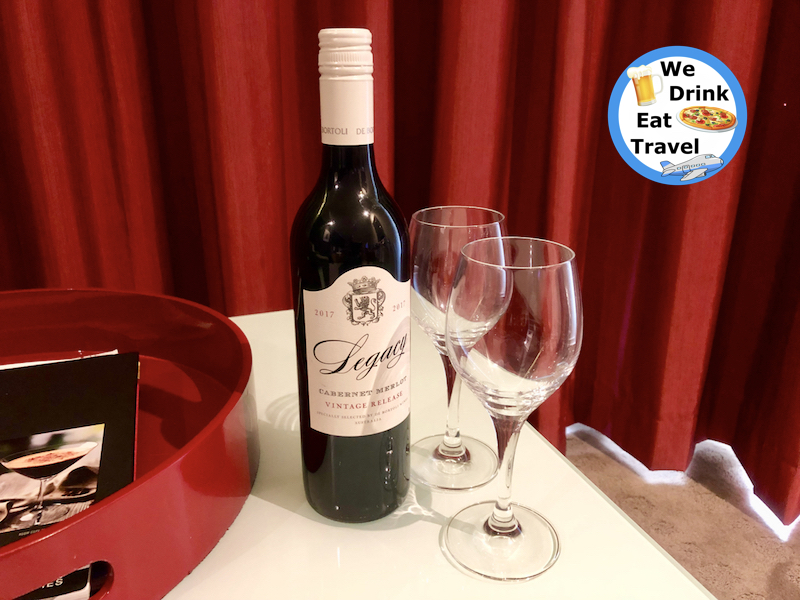 The Bathroom
The bathroom was OK. Again, I was expecting a bit more of a luxurious feel from the Pullman, being a 5 star hotel…
I guess it was functional and it had a bath!
---
Dining
As part of our Accor Hotels Membership, I received a voucher for 2 free drinks. We used it in The Atrium Bar and Lounge for a couple of glasses of red wine…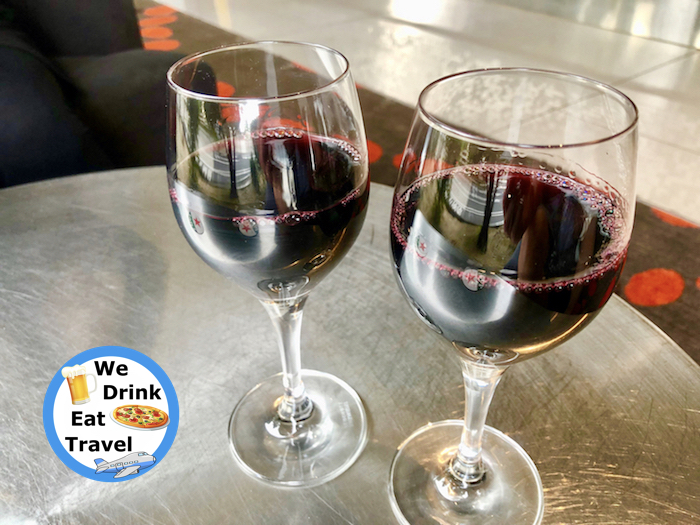 It was quite a chilled bar area and the couches were comfy.
In this Pullman Hotel they have a café called Espresso Bar. It was closed when we were at the hotel in the late afternoon. Yet, the next morning as we were going to breakfast it was bustling.
The smell of fresh coffee beans smelt delicious, with a capital D!
Now, speaking of breakfast…
I had renewed my Accor Plus membership… And as part of that I received a free breakfast certificate that I could use along with a guest. The certificate was good to use at participating Le Club Accor Hotels around the world.
The next morning we had buffet breakfast at The Windows restaurant… and redeemed the breakfast certificate. This again we found out, is shared with the Mercure Hotel next door.
When we arrived it was very busy, and had to wait for someone to seat us. Not a really long wait, although you could tell the staff were run off their feet.
We sat near the window of Windows Restaurant (ha ha)! And this was our view…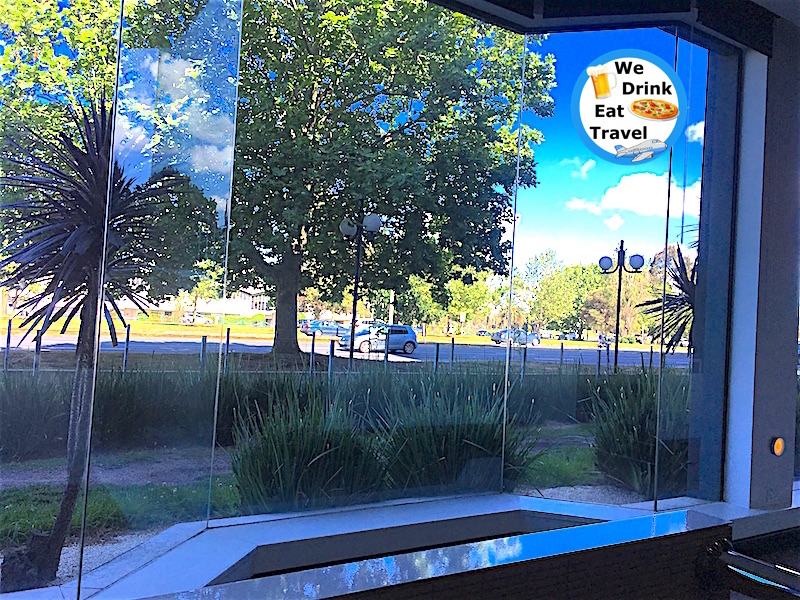 There were even crumpets and English muffins, which we haven't seen often. I'm a sucker for a crumpet with butter and honey! It's a treat for me so of course, I had to indulge.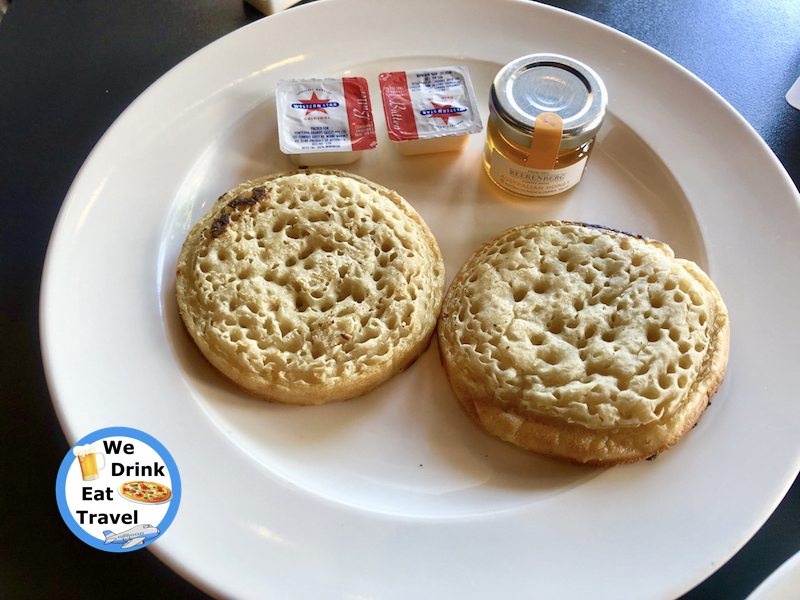 Paul loves the English muffins with butter and lashings of vegemite. He also indulged and a muffin or two or three! He he he.
Now, see this omelette?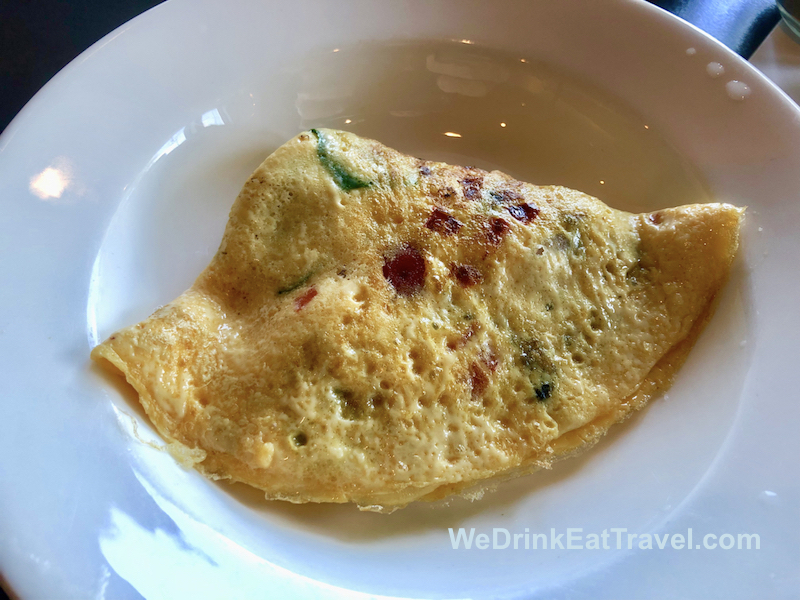 This omelette is very precious. Let me quickly tell you the story…
Paul went to the omelette bar to order a vegetarian omelette. The chef mentioned that he would have it taken to the table when it was ready as he was busy.
So, after having waited… and waited… and waited… Still no omelette. We thought he'd forgotten so Paul went up to the omelette bar…  
The chef was talking with a staff member at the time, but Paul asked the chef if his omelette was ready.
He said, "Yeah, it's right here." What happened to brining it to the table?
Paul was salivating as it looked delicious. Then as he slid his knife down the middle, piping hot steam blew out… And as he cut some more into the omelette to get his first piece, he brought it to his mouth… And then he saw pink bits!!!!
There was meat in it! After such a long wait Paul's veggie omelette was not to be.
He put it aside and when a staff member came to clear plates from our table, we motioned for her to take the omelette away. She asked if everything was OK. Of course we told her about the little saga. She apologized profusely.
She actually mentioned this to the chef who denied it, and said it was a mistake.
To cut a long story short, it took 2 more attempts before Paul got his vegetarian omelette! OMG!
Twice the staff apologized so bonus points to them for that. After that incident it felt like they were even more attentive with their service to us… especially after they saw me taking photos of the buffet breakfast area!
OK, that aside… Here's a couple of plates of other things we ate…
And we also ate quite a bit of food from these sections…
Pastry and danishes were OK but not outsanding…
---
There were prunes and nuts… along with cereals. The cereals we didn't eat but there were a variety to choose from.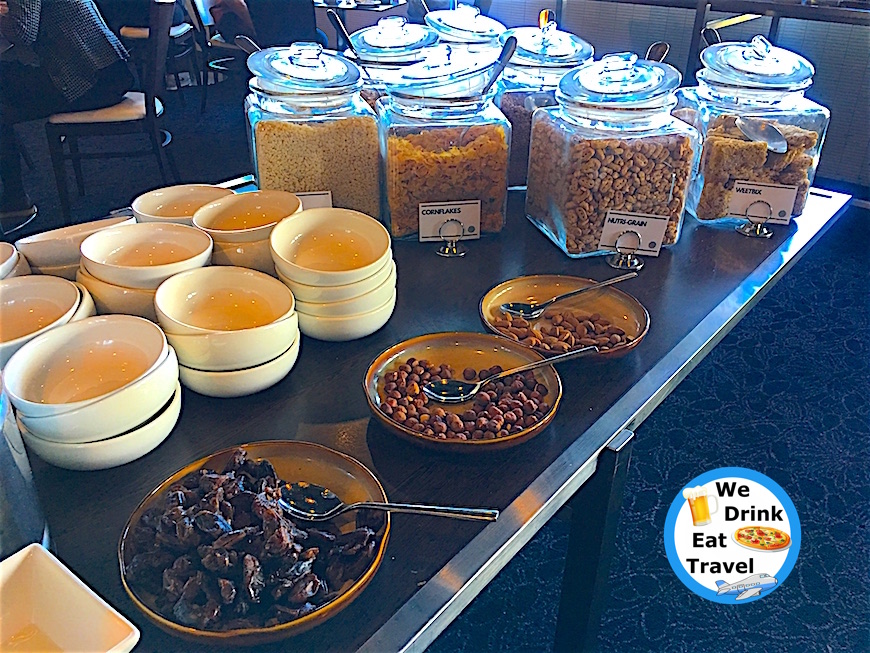 ---
The bread station with spreads…
---
Fresh fruits as well as yoghurt…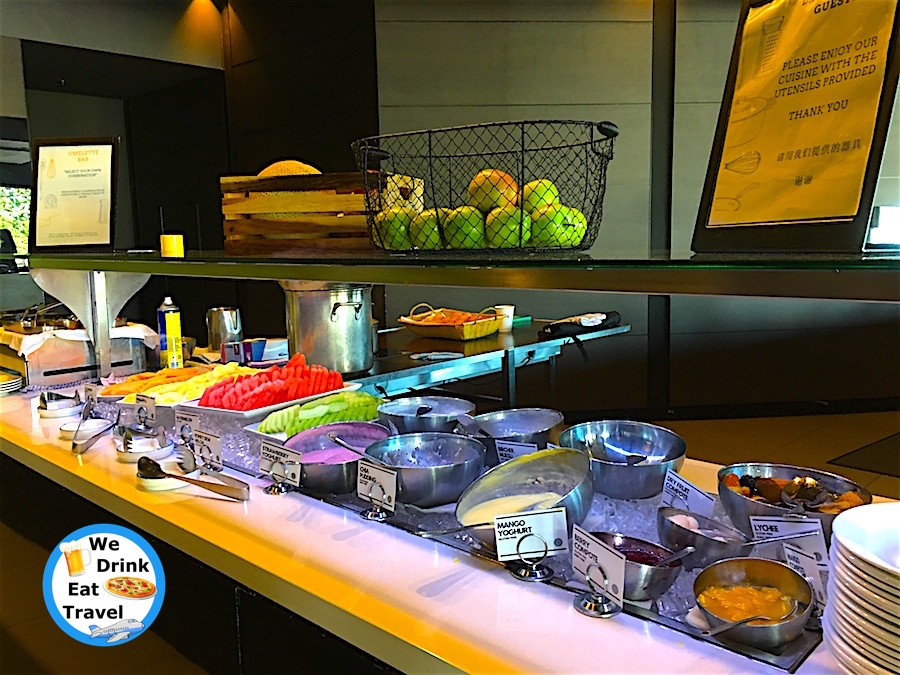 ---
Various rice dishes…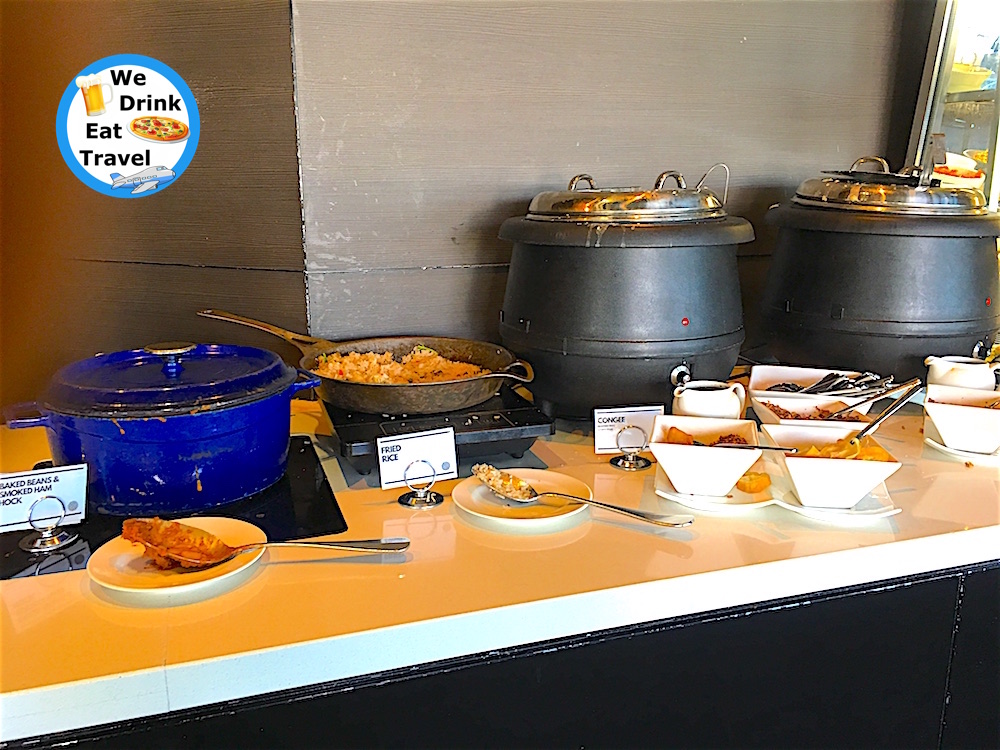 ---
Cheeses, salad items, grilled vegetables, cold meats, dips and crackers…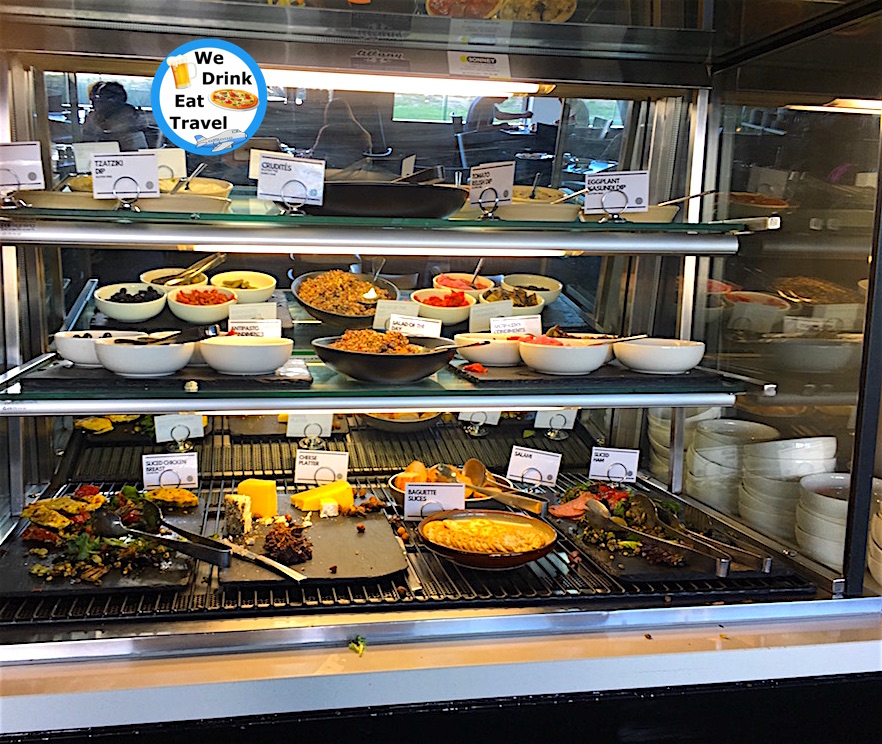 ---
A range of juices and smoothies…
As well as a range of coffees, teas and milks…
---
---
Surprisingly there was even a gluten free section…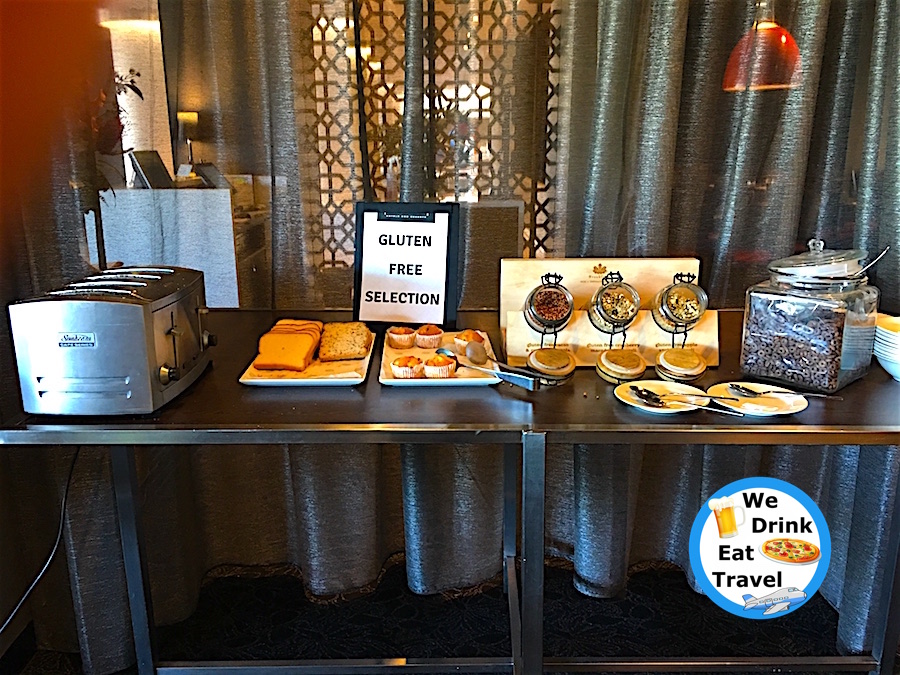 Amenities
The Pullman Albert Park Hotel houses a gym and pool.
The pool is indoor…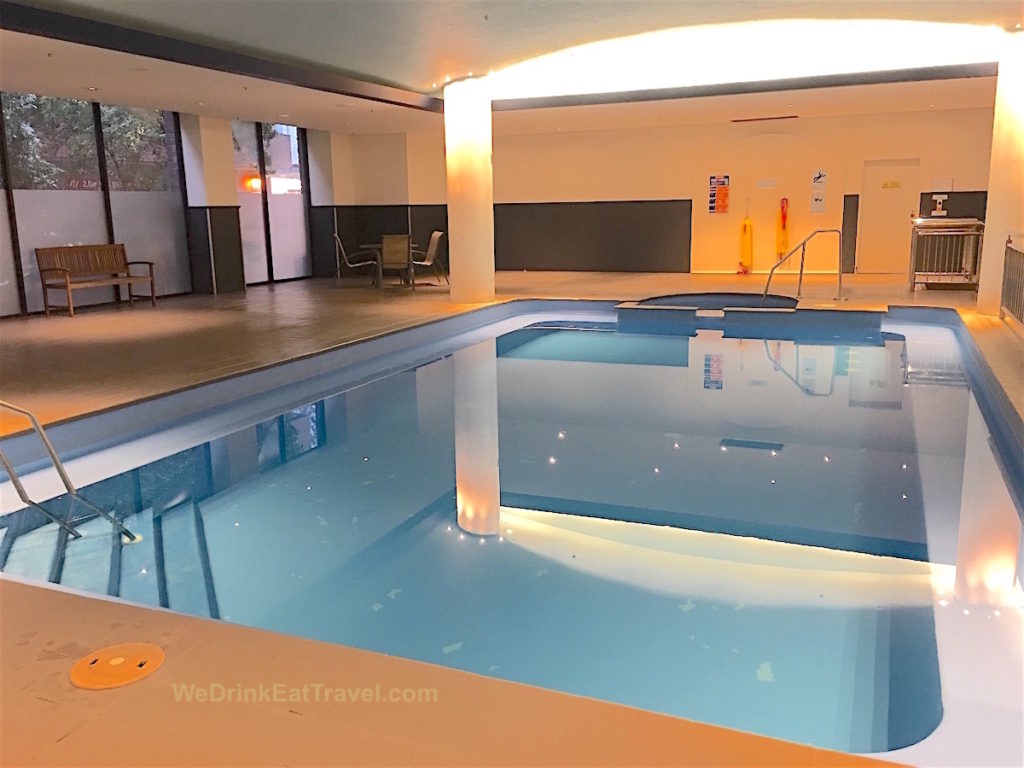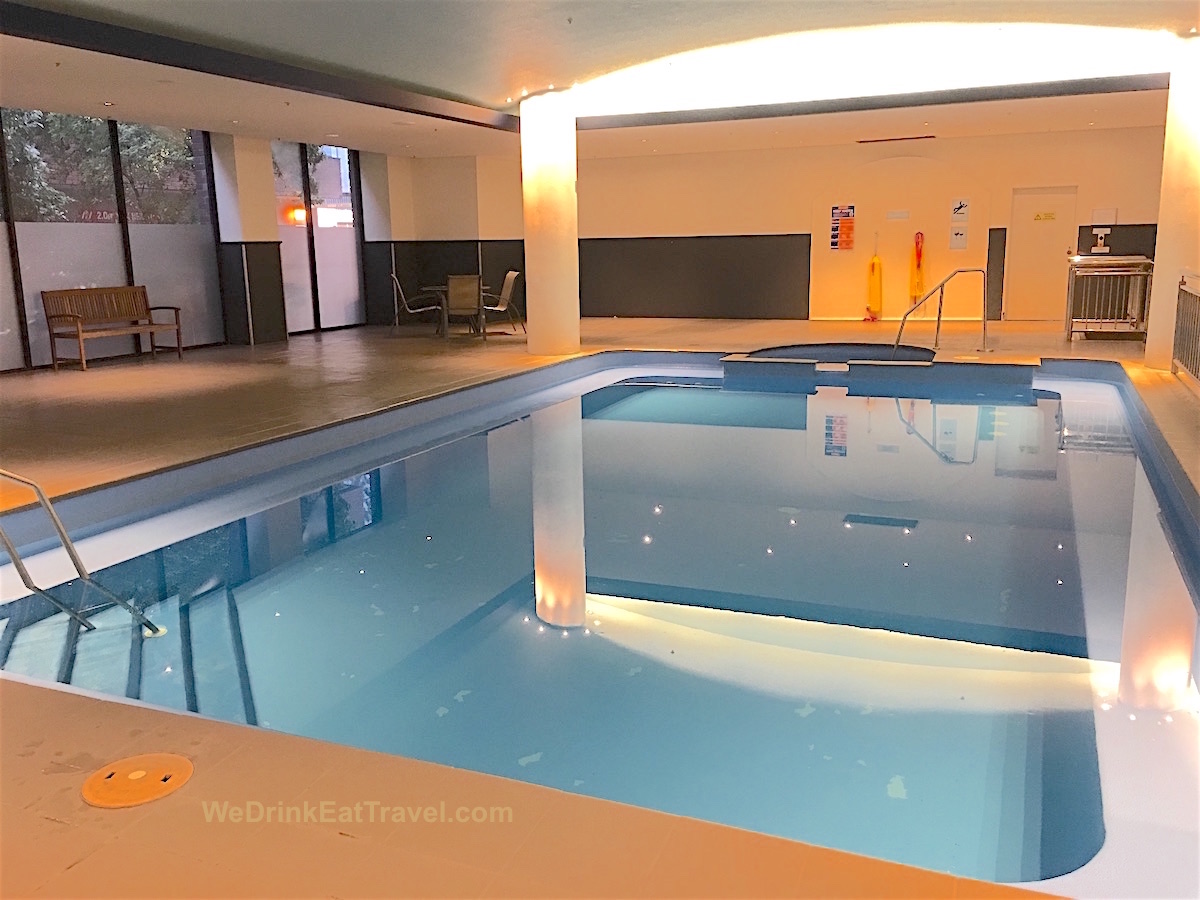 There was an older gentleman doing something with the water in the pool… So after I took the photo, I headed on over to the gym to do a workout, which is next to the pool…
I found the gym to be well equipped for a good workout. There's also a water station and big bowl of fresh apples.
Back to the pool man…
He came into the gym and walked on over to me…
He said to me that if I wanted to use the pool it was good now. He had finished his testing of the water quality. Totally unexpected, but thanks Mr Pool Man!
Now, the hotel has an Executive Lounge, but we didn't get to use it. So if anyone else has please share your thoughts and experiences with us!
Car Parking
As the Mercure Melbourne Albert Park Hotel is within the same "complex" as the Pullman… they share some facilities including the car parking.
Before we arrived I enquired with the Hotel and there were a few options…
VALET PARKING
Valet parking is available at AUD $35.00 (about USD $25.00) per vehicle, per day, with unlimited entry and exit. This type of parking is valid for a 24 hour period. You can access this parking via the Queens Road entrance. You can also pre-book the valet car parking online.
SELF PARKING (SPECIAL PRICE FOR OVERNIGHT HOTEL GUESTS ONLY)
Self-Parking is available at discounted price of AUD $20.00 (about USD $14.00) per vehicle for single entry and single exit only. This is valid for 24 hour period from the time you park your vehicle. This parking is accessible via the Lorne Street entrance.
CASUAL SELF PARKING
Casual Self-Parking is available at maximum day charge of AUD $32.00 (about USD $23.00) per vehicle for 4+ hours per day. You can only do a single entry and exit with this parking type. It's valid for a 24 hour period, and can be accessed via the Lorne Street entrance. For this parking type you can pre-book online.
They advised that parking can be organized on arrival at the hotel. Hmm… I wonder what the options would be if it was during say, the F1 Grand Prix?
In the end we chose the self-parking option as we knew we weren't going to be needing the car before we checked out.
Around The Hotel
As you saw from the photos, this Pullman Hotel is across the road from Albert Park…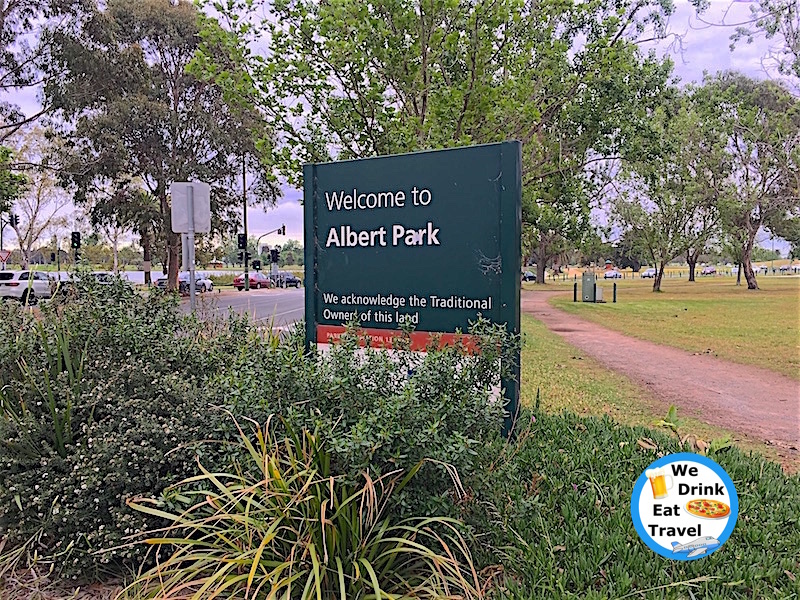 Albert Park has a big lake, walking and cycling paths, picnic facilities, restaurants, cafes, golf course, ovals, sporting facilities, and of course… the Formula 1 Melbourne Grand Prix circuit.
Why not check it out while you're at the Pullman as it's so close!
Aside from Albert Park there are many restaurants, bars and cafes within walking distance…
In fact, remember that bottle of red wine I showed you? We indulged in that bottle of wine along with these pizzas from Rosco's @ Chevron…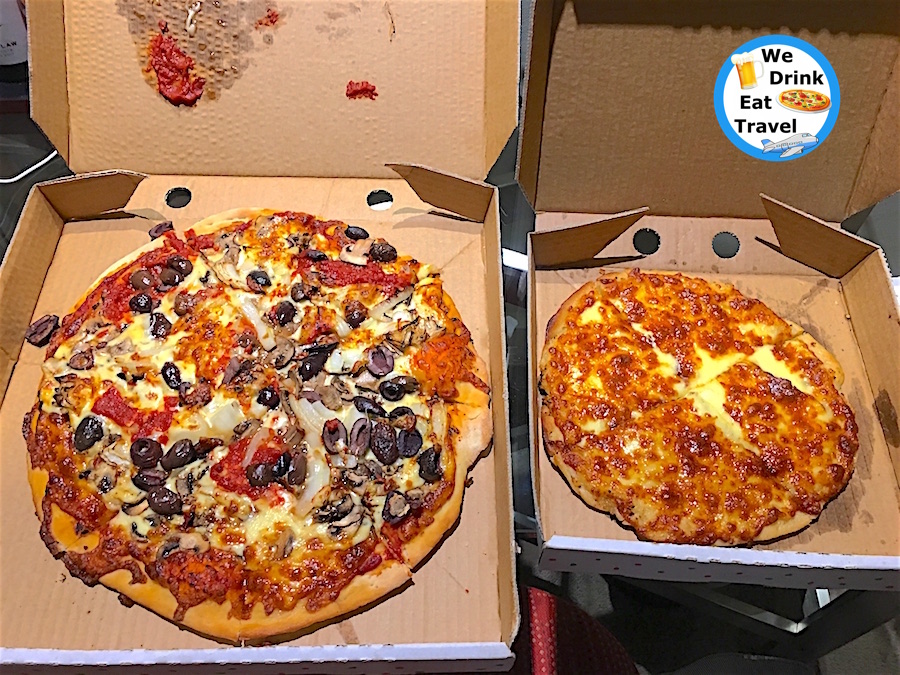 Even though this restaurant is about 600 meters from the Pullman Hotel… we ordered delivery through Uber Eats. Yes, OK, laziness kicked in!
If you're up for catching public transport, a taxi, or to head out for a drive…
Within several kilometres you'll reach plenty of shopping stores, fashion outlets, the beaches, art galleries, amazing architecture, other iconic tourist sites of Melbourne… and even more restaurants, cafes, pubs, bars!
And if it all gets too confusing… book a few tours or mingle with the locals. The Melbournians are a great bunch of people :)
We Drink Eat Travel Wifi / Internet Speed Test
Unfortunately this is one of the rare moments where we forgot to take a photo of the wifi/internet speeds – sorry our bad, digital nomads! Unfortunately the speed for us was very slow. So luckily we weren't doing any work!
The Pros and Cons of the Pullman Hotel Albert Park
Pros
Big, spacious room with a comfy king bed and pillows
Quiet room considering ours faced a major street
Excellent black out curtains
Great gym… with good working air conditioner, fresh fruit and water
Cons
You can't turn the air conditioner on or off!
The hotel overall seemed to lack the feeling and luxury of a 5 star hotel
Bathroom seemed a bit outdated
Internet/wifi speed was slow
Would we stay here again?
Yes, but it would depend on the price. We paid AUD $109 (about USD $77.40) for the Superior King Lakeview Room. For that price, yes we would stay again.
For me though, this Pullman Hotel didn't seem to have the feel of a 5 star that I've experienced elsewhere. So I wouldn't pay top dollar that's for sure.
Maybe if we tried the Executive Lounge next time it might make the experience better?
All in all though, it was fine for our 1 night stay.
Like This? Share it and comment on it!
Note: All of our reviews are our opinions and no-one else's. Even if we receive complimentary goods or services we share our opinions honestly.