If you've ever been to Thailand, you know that you can get great food for cheap!
Paul and I were staying in an apartment in Nana Bangkok, on Sukhumvit Soi 4. Rather than cooking, we felt like having a buffet breakfast one morning.
There were plenty of options for breakfast restaurants nearby.
What helped us to make the decision was that I had an Accor Plus card. By joining this loyalty program, you get access to many benefits…
One of the awesome benefits we've used many times is this… If 2 people dine together at a participating Accor Plus Hotel restaurant… you get a whopping discount of 50% off!
There were a few Le Club AccorHotels there were within walking distance to our apartment.
Having experienced the Ibis Hotel Sukhumvit 4, we weren't keen to go back again! Plus, we heard that they changed the breakfast and not for the better…
See our blog post, and hotel review about the Ibis Bangkok Sukhumvit 4 Hotel HERE.
In the end we decided on their sister hotel… IBIS STYLES Bangkok Sukhumvit 4.
Now, before we actually decided to go here, I tried to do a bit of research about the buffet breakfast on TripAdvisor.
As I was reading the reviews, I discovered that there were lots of different opinions…
And what I found was that people were confusing the Ibis and Ibis Styles Hotels on Sukhumvit 4! So the reviews were all mixed up!
The simple difference is this… Ibis Hotels brand is red colored, and Ibis Styles Hotels brand is green colored…
OK, with that technicality cleared up, we wandered on over to the Ibis Styles Hotel…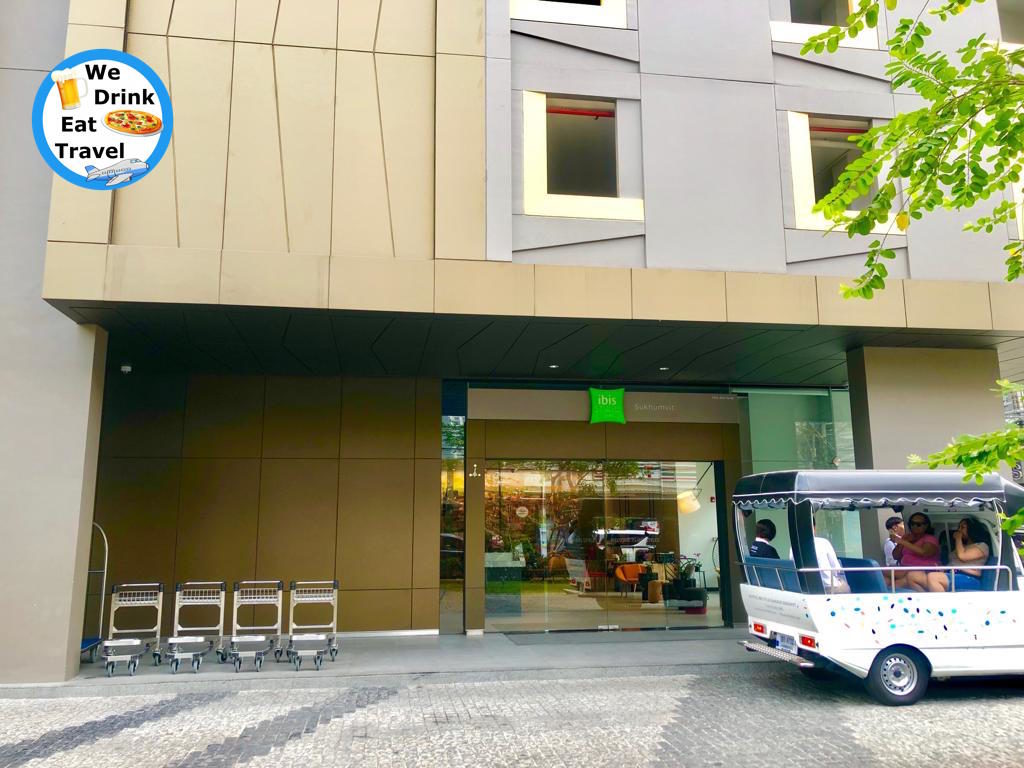 Their restaurant called, "STREATS" is on level 6.
The staff greeted us warmly at the front desk of the restaurant.
The all you can eat breakfast was a measly 176.55 baht per person (that's about USD $5.60, AUD $7.90)! How cheap is that?
With such a low cost breakfast though, was it going to cheap and cheerful… or cheap and nasty?

After handing them my Accor Plus membership card to get 2 for 1 buffet breakfast… we were taken to a table.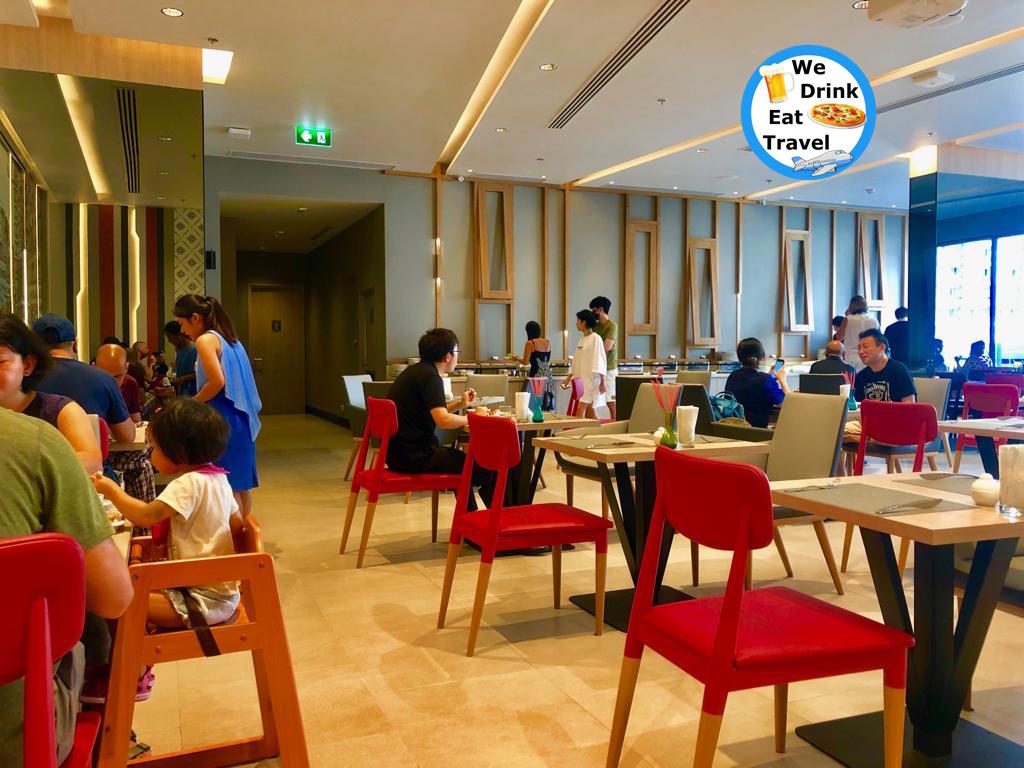 I immediately noticed that the atmosphere is definitely nicer here, than compared to the Ibis down the road.

Paul went to get us a couple of coffees from the coffee station to give us a kick start to the morning!
After he came back to our table… he said that it was hotter near the window side compared to where we sat. We sat in the back corner of the restaurant, furthest away from the buffet.
So if views of buildings, the sky and trees matter to you, and you don't mind being warm then sit near the window. Otherwise better to sit towards the opposite side of the restaurant to stay cooler!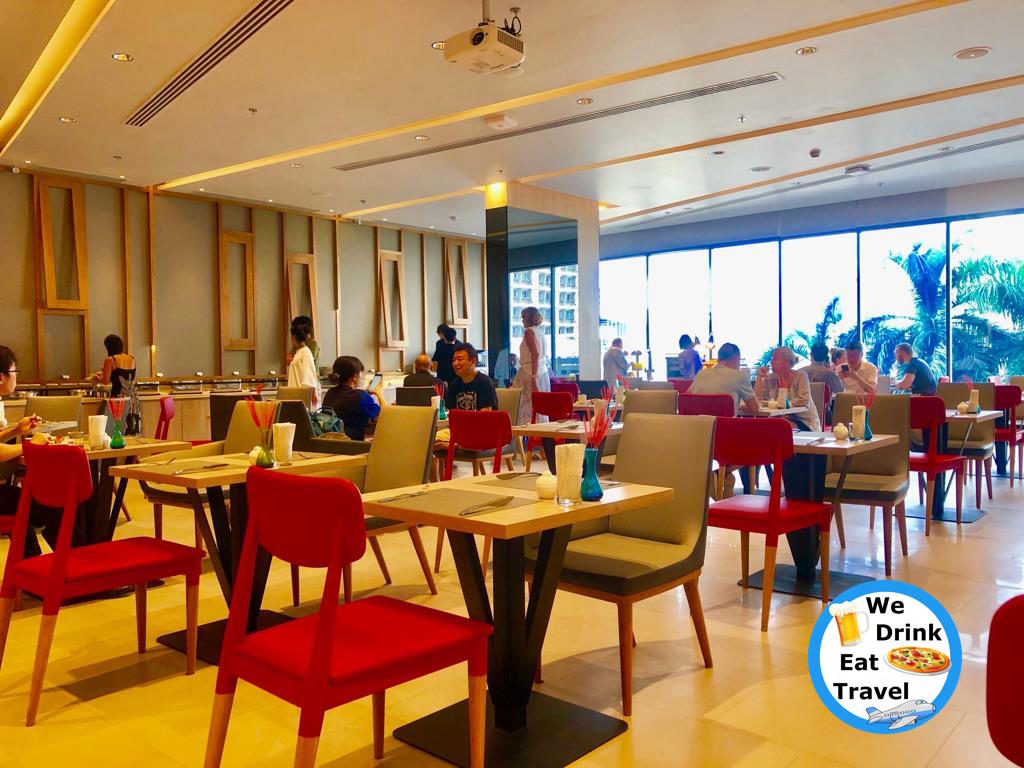 As I was standing at the hot food section, peering at what was on offer…one of the staff asked if they could make us something.
Having looked at all the options I nodded my head and said yes. This is because I noticed there was no vegetarian food… except for scrambled eggs and wedges.
I mentioned to her that we were vegetarian, so she suggested a couple of options… noodles with vegetables and rice with vegetables. Sounded fine so off she trotted to let the chefs cook us up a storm.
Having started off with some fruit…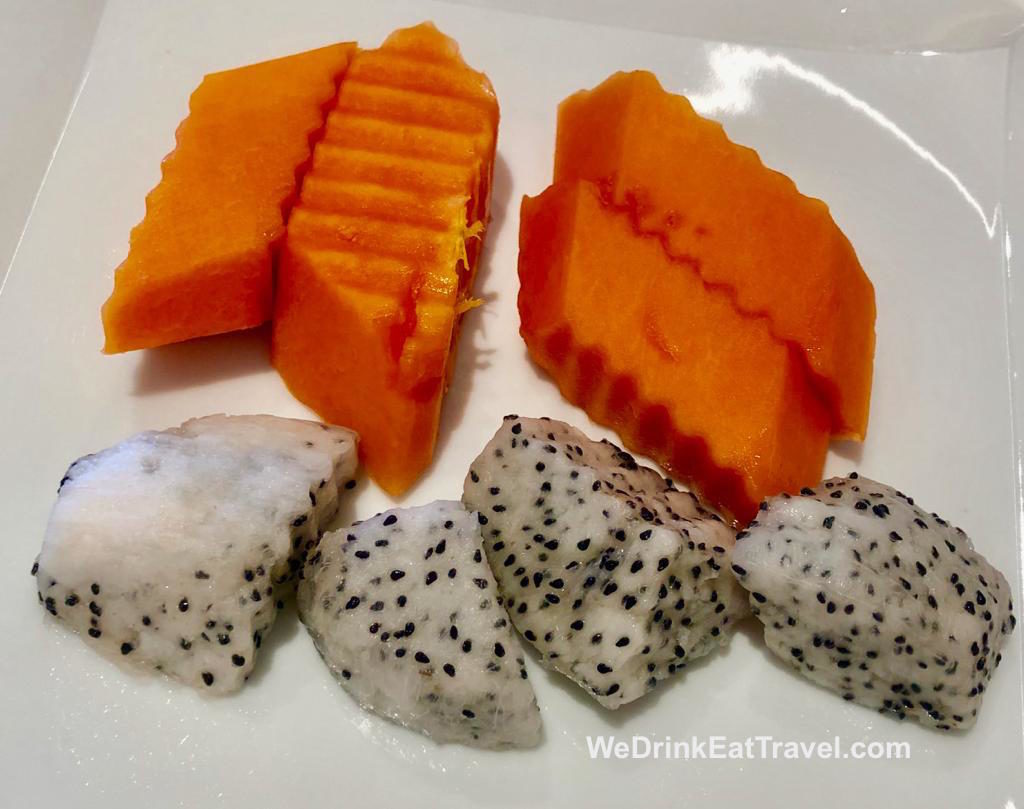 They unexpectedly brought out some omelettes too. Even though they were plain omelettes they were tasty.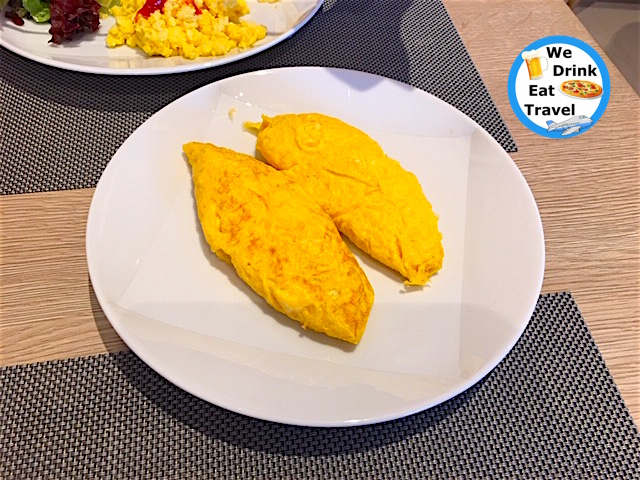 After about 15 minutes into our breakfast, one of the staff came over with a pen and paper…
She asked if I could fill in a feedback form. I thought this was strange. I hadn't even had an opportunity to try all the foods, let alone experience the ambience and service.

So why bother giving a feedback form? A little strange and quite annoying.
When I mentioned to her that I would fill it in later, she walked off… But then she came back a minute later with ANOTHER feedback form for Paul to complete! Was this a joke?
Now, we were both annoyed at this stage, and another staff member came over…
We told her that we didn't want to fill in the forms yet as we were still eating. So she quickly snatched the forms from our table and put them aside.
So back to the food…
We thought it was quite a small buffet offering, but for several dollars I guess you can't really complain. Just be wary that if you're a vegetarian don't expect much at all. Yet, thumbs up for them making food to order for us.
There is a bread and pastry station with condiments…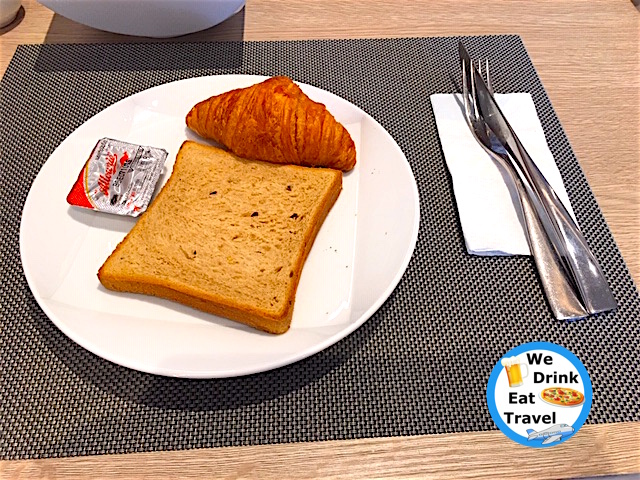 There are cereals, milk, tea, coffee, juices, cold meats and fruit.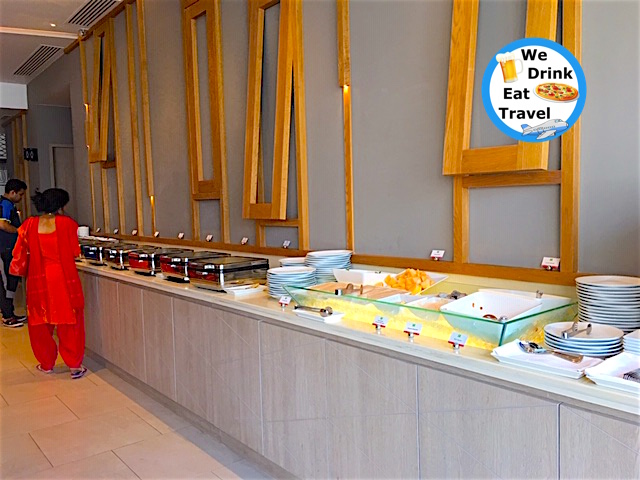 Hot foods included two types of sausages, potato wedges, scrambled eggs, a noodle dish, a rice dish, and soups with condiments.
If you wanted a salad your choice was lettuce leaves! That's right… No tomatoes, cucumbers, carrots or anything like that.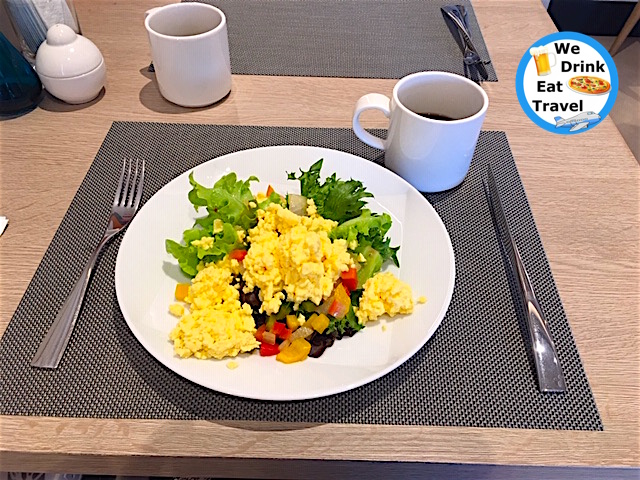 Here's something we found surprising though…

They have free wifi even for non-guests which is great… and to my shock it's super fast!
The download speed was a mega 84 mbps, and the upload a whopping 113 mbps.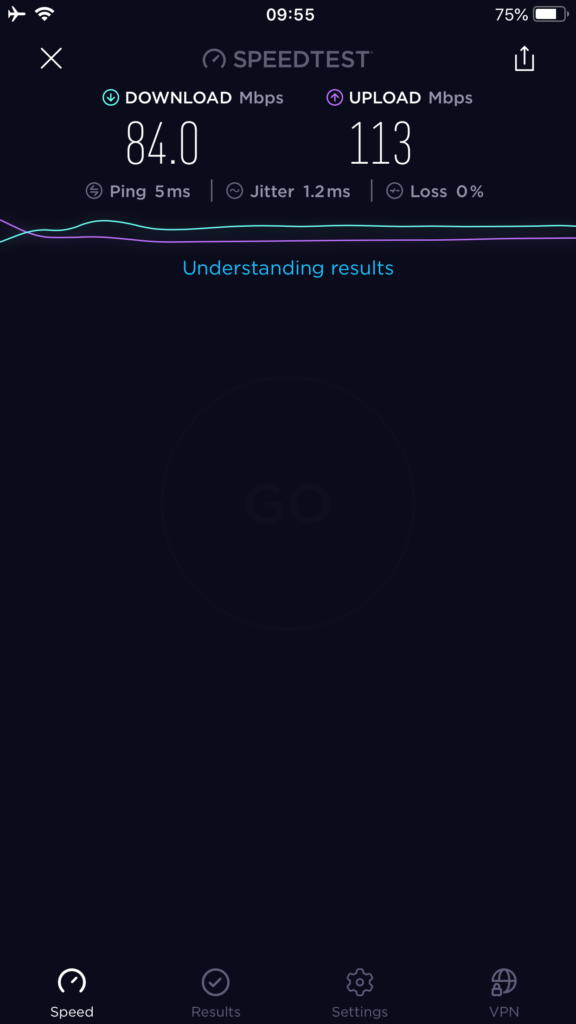 It really amazes us how in hotels, usually the lobby and restaurant areas have fast, yet they can't provide fast internet in the rooms! And what surprises us even more is that many 5 star hotels provide crap internet. Ah well.
So, the million dollar question is…
Would we come back? Hmmmm… after a little discussion Paul and I agreed that we probably would as it was so cheap for the both of us at 176.55 baht. However, we would try other places first.
The service was attentive and they were also very accommodating in making us special meals. So thanks for that!
Oh, and in the end we didn't fill in the feedback forms!
Like This? Share it and comment on it!
Note: All of our reviews and comments are our opinions and no-one else's. Even if we receive complimentary goods or services we share our opinions honestly.