REVIEW
Accommodation: SO Sofitel Bangkok Hotel
Location: 2 North Sathorn Road, Bangkok, Thailand
Room Type
Booked SO Cozy Room, Upgraded To SO Comfy Room
Loyalty Program or Deals Used
Accor Plus Stay Plus Benefit
Research and Booking
Paul and I travel often throughout Asia. So after learning about the Accor Plus loyalty program, I thought that the benefits would be great for us.
I'll aim to do a separate blog post about the Accor Plus program.
One of the great benefits you get by joining the Accor Plus program is Stay Plus. Stay Plus allows you to enjoy 1 complimentary night in the base room at selected Accor Plus hotels.
We were looking to use the Stay Plus in one of the Le Club Accor Bangkok hotels.
After looking at the options, I narrowed it down to SO Sofitel, a 5 star hotel in Bangkok.
The base room at this hotel is SO Cozy. Normally it would cost about
4,900 baht (about USD $155). Yet, by using the Stay Plus benefit it was free.
You can pay more to upgrade to a better room. Yet, as I had Platinum Status I would get a complimentary upgrade if available. So I took the chance that we would get an upgrade.
Also, we would get complimentary lounge access to their Club Signature. This meant we would get free breakfast, afternoon tea, evening canapés and alcoholic drinks, and more!
Normally, the price of a Club Floor Room with lounge access would cost about 9,300 baht (about USD $290).
The Location
The SO Sofitel is a Bangkok city hotel, in the main business district of Sathorn.
While Sathorn doesn't have many of your traditional tourist attractions, it does have this one street that you should check out if you have the time… You can read about it my blog post HERE.
It's also next to the big and beautiful Lumpini Park.
Within minutes walk away, you can conveniently access the MRT Lumpini. Then from here, you take the underground train to go to different parts of Bangkok and beyond.
Check In
When we arrived by car it was busy at the entrance. We started to get our luggage out of the car when someone came towards us and said that he would help with our luggage.
We weren't sure who he was but assumed he was staff. The uniforms they were wearing were different to what we'd seen in Thailand hotels. I believe they were designed by Christian Lacroix.
We were then taken into the hotel lobby. First impression was that the check in area was small and dark. The staff were polite and friendly though.
A couple of minutes later the staff member told us that she would take us up to level 25 to check in at the Club Lounge. Nice!
So to get to the Club Lounge we took a lift to level 9. Then once we got off this floor we took another lift…
We received a warm greeting and taken into the Lounge Club for check in.
It was towards the end of breakfast in the Club Lounge, yet they motioned for us to get some food if we wanted. That was very nice of them!
As we were waiting a staff member brought out a welcome drink… I think she said it had lemongrass, butterfly pea and a little bit of lime juice. It was quite sweet and I could taste the hint of lemongrass.
A few minutes later a different staff member greeted us and ran through the details with us. There were several pieces of paper in the welcome pack. This included personalized welcome notes from the General Manager and guest teams.
You have to leave a deposit of 3,000 baht (about USD $95). You could either pay by cash or credit card. If by credit card it would take about 2 weeks to be returned to you. So we opted to pay by cash. Then upon check out it would be given back to you.
He mentioned that as a Platinum member we got a free room upgrade! Woo hoo!
It was an upgrade to the SO Comfy Room. For the room only, this would normally cost about 5,650 baht (about USD $180).
Other benefits we received was 2 welcome drink vouchers that we could use on Level 29 or Level 9.
We also got complimentary in room mini bar and internet access.
Before arrival we had requested a Wood Element Room if it was available. I'll go into the different rooms soon.
All in all a spotless, friendly and efficient check in. Great start to our stay!
The Room
A staff member guided us to our room and gave us a tour, explaining everything.
Once we exited the lifts, there was a wood structure of a female, representing one of the Wood Element floors…
Once the staff member opened the door, this is the first thing we saw… Lots of wood! It was also ice cold inside, which was great for us.
The first door on the right led to the bathroom, which I'll go into later.
On the left opposite there are two sliding doors. When opened, here's what's inside… A big safe, and beneath that are other items… including laundry orders, sewing kit and shoe polishing cloth.
Next to that was a closet which had an umbrella, iron, ironing board, robe and torch…
Beneath the ironing board were these slippers…
Next to this closet area was another closet with scales and clothes hangers…
As we continued on, around the corner was this…
The king bed looked very inviting! There were 4 pillows on the bed that were so soft and fluffy. Yet, if wanted different pillows we could choose from their pillow menu…
Next to the bed was a long red padded couch with multiple cushions and a small wooden table.
Opposite the couch is a wooden desk and chair…
On the desk was this…
We weren't sure what it was then when we opened it, here's what's inside…
Next to the desk was a flat screen TV, more wood areas to place any small things on…
There was also an ice bucket, complimentary tea and illy coffee machine…
Underneath this was the mini bar, which for us as Le Club Accor Hotels Platinum members was complimentary. No alcoholic drinks though!
Now check out the amazing view of Lumpini Park we had from our room!
Similar to the Mercure Bangkok Makkasan hotel, the blackout curtains were behind the sheer curtains. Strange! Yet, the great thing here at SO Sofitel… you could open and close the blackout curtains with controls on the bedside table.
With the sheer curtains you had to open and close them by hand.
All in all we liked the décor in the SO Comfy Wood Element. The other 3 room themes are Water, Earth and Metal.
We thought that each floor would have a mixture of the elements. Yet, we assumed incorrectly…
Floors 14 to 16 is the Metal Element themed rooms
Floors 17 to 20 is the Wood Element themed rooms
Floors 21 to 24 is the Earth Element themed rooms
Floors 26 to 28 is the Water Element themed rooms
Room Tip:
We were on the 17th floor. It was surprising at night when we were going to sleep, we could hear the traffic. So get some earplugs, or you can request them at the hotel for free.
The Bathroom
The first thing I noticed with the SO Sofitel bathroom was the deep soaking bathtub…
This bathtub was so great to relax in. I spent way too long in there as my fingertips were starting to turn wrinkly like dried prunes!
There was even a control to have the sound streaming from the TV into the bathroom if you wanted. Be warned, the sound does get LOUD!
The bathroom window shade was wood and you could have it open or closed…
It's not the easiest to open and close, as you have to use a little bit of muscle to open and shut it! At least we had that option.
Now let's take a look at the bathroom amenities… Next to the bath was conditioner, shower gel and shampoo…
Next to that was a deep basin, mirrors, towels, hair dryer…
The basin had a small soap, hand wash and body lotion…
We noticed a dark brown leather case near the basin area too. The top layer printed in pink said, "HERS At SO." The bottom layer printed in blue said, "HIS At SO." Inside were a range of amenities…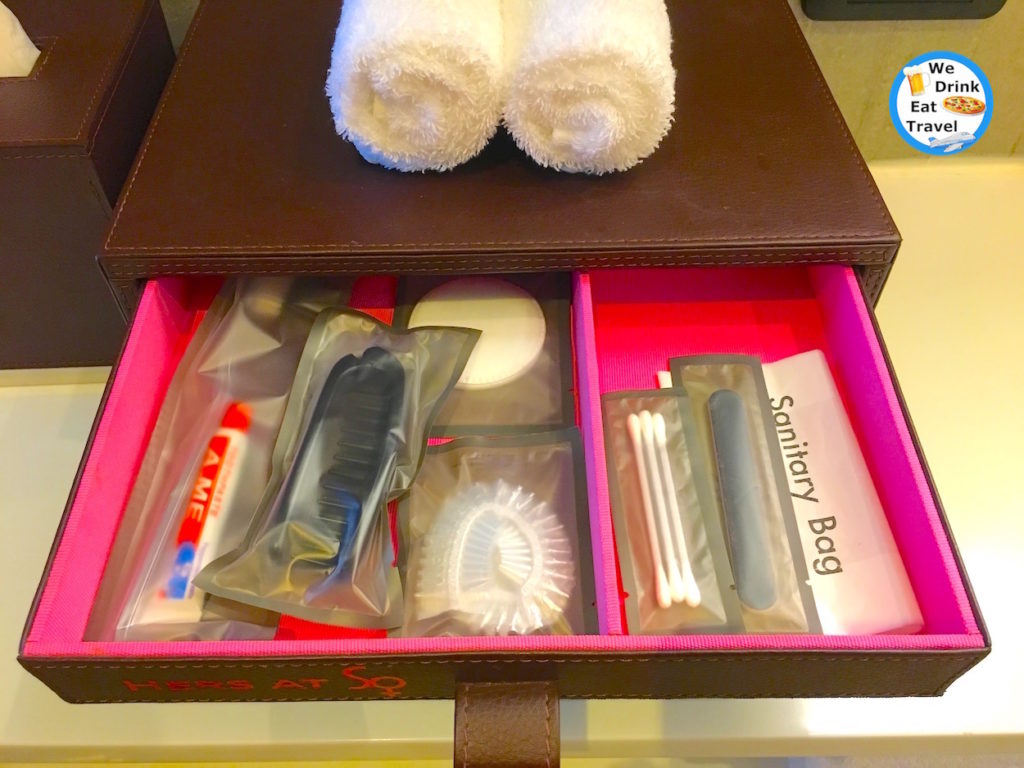 Opposite the basin were more towels on a towel rack and another robe…
Then one door led to the shower cubicle which was nice and roomy… It had a rain shower head and separate arm. It looked very sleek.
The other door led to the toilet cubicle…
It felt like a luxurious bathroom and I really liked the amenities. Yet, the doors for the shower and toilet could only open outwards.
It was slightly annoying when you put the bathmat down. Because when you opened one of the doors the mat would crumple and be pushed…
All in all, the SO Comfy wood element room was lovely. We were grateful for the upgrade too! Yet, I wish I'd known about the element themes being on dedicated floors, as I prefer to be on a higher level.
Club Signature Lounge
We were looking forward to experiencing the Lounge Club as it looked quite sleek and sophisticated upon check in.
We received an A4 piece of paper outlining all the benefits of the Club Signature Lounge…
Our experiences at this lounge were varied. We thought it needed it's own blog post so make sure you check it out HERE!
Dining at SO Sofitel
If you're feeling lazy, there are several options for eating and drinking within the hotel.
The Water Club
If you're going to skulk around the hotel's pool for a while, you can order food and drinks here. This pool bar is on the 10th floor and has funky menus printed out on cushions!
You can get a range of snacks, main meals, alcoholic and non-alcoholic beverages.
Apparently there's a pool party on the last Saturday of every month. So if that takes your fancy make sure you enquire.
We didn't stay long around the pool area, as I'll explain later… So we didn't try anything here.
HI-SO Rooftop Bar
As part of our Accor Hotels Membership, we got a voucher for 2 free drinks.
We chose to use it in the HI-SO Bar on the 29th Floor. We weren't sure what to expect as we didn't know anything about it. Yet, once we arrived on level 29, we were warmly greeted by a staff member.
She took us outside and gave us a drinks menu for Accor members.
Paul ordered a white wine an I chose a Prosecco, to continue on the bubbles theme from the Club Signature Lounge.
We didn't stay long. Yet, I'm sure it would've got even busier. There was a constant stream of people coming in and out of this hip Bangkok Rooftop Bar.
To find out more about the HI-SO Rooftop Bar and to see an awesome photo Paul took of the Bangkok skyline… check it out HERE.
Park Society
Next to HI-SO Bar is Park Society. This is one of Bangkok's luxurious rooftop restaurants, which offers a degustation style tasting menu. You can also select a wine package to match your meals.
We didn't try this, yet having a quick peek inside, it looked very sophisticated!
So if you're after a classy, modern fine dining rooftop experience you might like to try Park Society.
Red Oven
Red Oven offers an a la carte menu and buffet options.
As part of our Le Club AccorHotels Platinum status we had the option of breakfast at the Club Lounge or at Red Oven. We opted to pig out for a big buffet breakfast!
You can see my blog post of buffet breakfast at Red Oven HERE.
Chocolab
OMG, I didn't even know about this until we were leaving. I could kick myself.
As the name suggests, this place is all things chocolate! A whole café dedicated to delicious, sweet, good quality chocolate. Now that's my kind of café. Sure, there's other items you can get like paninis… as well as non-chocolate sweets and drinks.
Plus, there are chocolate making classes to get that inner chocolate Masterchef out of you!
Apparently there are decadent chocolates from Bonnat… the world's oldest chocolatier in France.
OK, I'm salivating as I'm writing this. So moving on…
Mixo
Here at Mixo Bar on the 9th floor of the hotel… while you won't get rooftop views, they claim you'll get amazing panoramic views of Lumphini Park.
This place offers high tea, special event themes like cheese nights, as well as DJs pumping out tunes to get you in the mood.
As the name Mixo suggests… there's an in-house mixologist to create cocktails to tantalise your tastebuds.
SO Sofitel Bangkok Hotel Amenities
On level 10 of this Sofitel Hotel there's a range of amenities…
Pool
NOTE: These photos were taken early morning, and NOT during the time we actually went there…
We went to check out the pool around 12:30pm. The first thing we noticed was how busy it was! Then as we looked around we were shocked at how cramped the area was.
At this time there were only a few lounge chairs that were in the sun, and they were all taken. We found the last 2 available chairs which were unfortunately in the shade.
There were many lounge chairs but they were so close together. You couldn't have a private conversation unless you wanted to whisper in each other's ears!
Again, similar to many lounge chairs in Bangkok hotels we've been at, they didn't lie flat.
We didn't spend long at the pool as we couldn't find any lounges in the sun. We couldn't work on our tans, so we had a dip in the pool then left.
Although the pool was busy, there were people trying to swim laps! You'd think they'd use their brains and save the laps for another time when it's quieter.
Next to the pool was the fitness center.
SO Fit Fitness Center
When I first walked into the fitness center, it was much smaller than what I expected. There was a lot of gym equipment and machines. And I thought that was it.
Yet, as I walked to the end of the room there were other sections!
Here was an aerobics room with lots of equipment…
The fitness center is open 24 hours for guests. It was well equipped for a good workout. I believe there are different training and fitness programs that you can take part in too.
Apparently there are relaxation beds, a solarium and beauty salon which I didn't see.
Around The SO Sofitel Bangkok Hotel
The first obvious thing to do is check out the Lumpini Park. It's Bangkok's biggest park. The staff member told us it's 2.9km to cycle around the park. As part of the Club Signature benefits there was complimentary use of bicycles between 10am and 3pm.
If you wanted to take Lumpini MRT, in one stop you could get to Si Lom MRT. Here, there is Silom Shopping Complex and lots of restaurants and bars. At night time is when the bars get busy… and you can also take a wander down to Patpong Night Market.
Otherwise, you can take the MRT to many other places like Fortune Town, Central World Shopping, Chatuchak Weekend Market, Rod Fai Train Night Market, Sukhumvit, and heaps more!
At certain MRT stops you can also change to the BTS. These skytrains can conveniently take you to other areas, for many things to do in Bangkok.
About 1km away is Suan Phlu Road. If you have the time I recommend you have a look. You can read more about it in my blog post HERE.
We Drink Eat Travel Wifi / Internet Speed Test
For us, the wifi speed was slow, but not as slow as other hotels we've been to. Before we even logged in to the complimentary wifi, our expectations of the internet speed were set…
With the wifi you need to enter a username or password to use it.
The test from our room clocked up 9.83 mbps on the download, and 16.4 mbps on the upload.
The Pros and Cons of SO Sofitel Bangkok
Pros
Great air conditioning throughout the hotel
The quality and taste of food and drinks at the Club Signature Lounge was exceptional
The room size and amenities were excellent
The buffet breakfast at Red Oven was brilliant with lots of choices
The service was generally very good
It felt luxurious like a 5 star hotel should
Cons
The cramped pool area with very limited areas to lay in the sun
Lounge chairs at the pool don't lie flat
Traffic noise could be heard even from the 17th floor
Slow internet speed for us
There was not much food we could eat at the Lounge Club in the evening, despite the staff checking our dietary requirements at check in
Would we stay here again?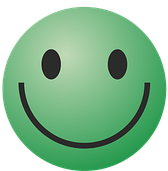 Yes.
I'd like to experience the other element rooms, especially on higher floors. Paul isn't fussed about trying the other elements. He said it would probably be very similar, just with different colors!
It would be interesting to see if the traffic noise would be reduced as well on higher floors.
The dining options we tried were of high quality. There are the matching prices to go with it as well, as you'd expect it to.
The Club Signature Lounge is quite good. Yet, it didn't feel as high class as others we've been to when, especially in the evening session. That's partly because dress codes are not enforced… and children can roam freely, make noise and disrupt the ambience of the Lounge.
Having experienced the Lounge Club… next time we would probably stay in a room without lounge access.
As mentioned earlier, there's several dining options to try within the hotel. Yet, given complimentary access for having Le Club Accor Hotels membership status of Platinum certainly was very welcome!
We only had 1 night at SO Sofitel Bankgok. We recommend you spend more nights here if you can, as there's quite a bit to explore within the hotel itself.
SO spoil yourself. Take the opportunity to lap up the luxury at this Bangkok accommodation, relax and ENJOY!
Like This? Share it and comment on it!
Note: All of our reviews and comments are our opinions and no-one else's. Even if we receive complimentary goods or services we share our opinions honestly.