Paul and I were staying in the Sathorn area for a couple of weeks, near Suan Phlu Road.
If you're here in Bangkok for a short stay, this area may not be on your short list… as it doesn't have the major tourist attractions.
Yet, we had the opportunity to discover this area… And to our surprise, Suan Phlu has a gem of a store that we've been to several times…
We had a craving for some cheeses. Supermarkets like Tops and Villa Market have a range of cheeses that would make any cheese lover happy…
Yet, one day down Suan Plu Road, we found this place called El Mercado…
For a shop that sells higher end cheeses, cold meats, grocery produce, deli items, pastries, dried fruit, chocolate, and more… The prices are surprisingly good.
They also sell El Mercado brand olive oils. It's interesting how you can refill the bottles once you've finished.
If you're wanting a bargain… after 5:00 pm items including pastries and sandwiches are 50% discount. The only disappointment is they may not have what you want!
So here are some cheeses we bought…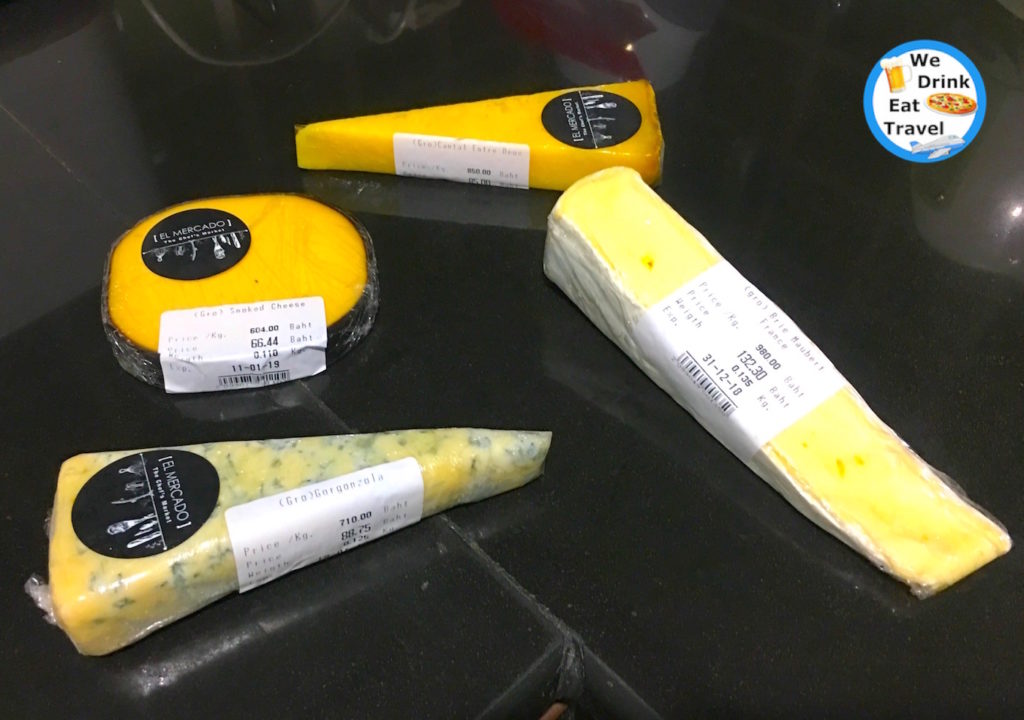 They also sell a range of alcoholic products… including wines, local beers, and international beers.
As I mentioned before, they sell pastries and sweet treats. Check these out!
OMG… If only you could taste it right now. These chocolate eclairs were so delicious. Actually calling them delicious is such an understatement!
In fact, although Paul isn't a big sweet tooth, he doesn't mind an éclair… yet many that he's tried are not up to scratch. So this is probably the first time in 20 years he's had a chocolate éclair.
When Paul tried this, he was in heaven. He couldn't believe how good it was.
Usually the chocolate eclairs we've eaten had a white cream filling. Yet, these had a chocolate filling. Double choc goodness!
The chocolate cream filling is decadent… and the dark chocolate icing is sooooooo melt in your mouth tasty! We savored every mouthful.
So needless to say… If you're near Suan Phlu Road in Sathorn, you must explore what El Mercado has to offer. It's open daily from 8:00 am to 10:00 pm. We're sure you'll be salivating at the items they have on offer!
ENJOY!
Like This? Share it and comment on it!
Note: All of our reviews and comments are our opinions and no-one else's. Even if we receive complimentary goods or services we share our opinions honestly.