REVIEW
Accommodation: Bangkok Hotel Lotus Sukhumvit
Location: Sukhumvit, Soi 33 in Bangkok, Thailand
Room Type
Booked 1 Queen Bed Superior, Upgraded to Deluxe King Room
Loyalty Program or Deals Used
Le Club Accor Hotels / Accor Plus
Research and Booking
Max and I were looking for a hotel of around 4 stars for a weekend. Our must haves was a big pool and gym in the Sukhumvit area of Bangkok.
To help bump up our loyalty nights to retain Platinum Status, this time I consulted the Accor Plus website. In particular, I checked out what offers they had in their "Red Hot Rooms."
The Red Hot Rooms are special monthly offers at participating Accor Hotels in the Asia Pacific region. The offers are usually heavily discounted rates compared to the normal rack rate.

So, having checked out the Accor Plus website, I found a great bargain that ticked all our boxes!
We found the Bangkok Hotel Lotus Sukhumvit. While this hotel is not included in the Le Club Accor Hotels normal brands, it is managed by Accor.
So we could still earn points and redeem loyalty points at this hotel. Plus, the nights would count towards our status with Le Club Accor. Awesome!
The offer for 2 nights was a great deal at just 2824.80 baht (about USD $90)! This didn't include breakfast, but as Platinum members we were entitled to free breakfast.
The Location
The Bangkok Hotel Lotus Sukhumvit is in Sukhumvit Soi 33. This street has a higher concentration of Japanese restaurants, and karaoke bars.
It also has many hostess bars and "special" massage parlours. During the day you wouldn't really notice, yet when the sun goes down it's a different story!
If you don't go down the street past the Hotel… you wouldn't know about the somewhat "seedy" nature this street is known for. It's nowhere near like Sukhumvit Soi 4 or Soi Cowboy.
The main thing is it's relatively safe… and there's lots of things nearby which I'll go into later.
Check In
As we got dropped off by our Grab Car, two gentlemen from the hotel quickly helped to get our luggage.
They greeted us warmly and motioned for us to check in.
As we approached the door, a staff member opened the door for us, and then…
Once you come in from the Bangkok heat, the first thing you notice is how cool it is. Big thumbs up for that! Especially considering we've been to 5 star hotels and the air conditioner is lacking in the lobby.
Hello… first impressions count, right?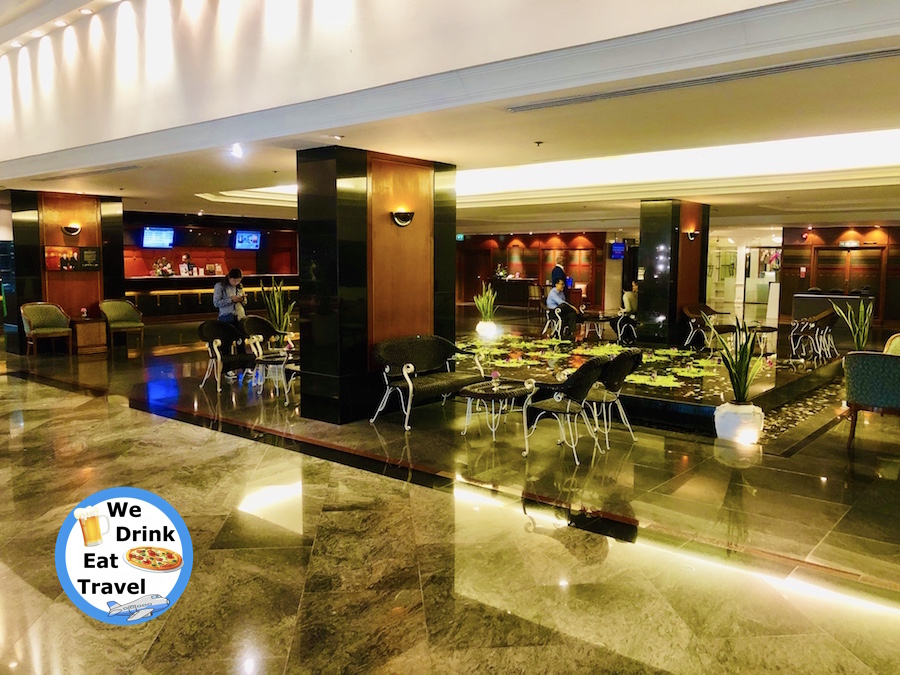 Upon arrival the staff were smiling and welcomed us.
As we checked in we got a welcome drink. Not quite sure what it was but it was very sweet and cold. Great start so far!
Then the staff asked for a security deposit, which is generally refunded at check out.
It's a 2,000 baht deposit. You can pay for it in cash or on credit card. Be aware that if you put it on your credit card you need to allow time for the charge to drop off your card… it's not immediate!
They also make you sign a piece of paper to acknowledge that you've paid your deposit. You need to give this back to them at check out to get your deposit back.
The staff told us that we had booked a queen room… yet we got upgraded to a deluxe king bed room. Nice!
Overall, it was an efficient and pleasant check in.
The Room
We were personally taken up to our room… with an explanation of the breakfast, hotel facilities, amenities, and the freebies given to us.
A few days before we arrived at the hotel, we sent an email to the hotel. We requested a quiet, non-smoking room away from the lifts. All of our requests, even an early check in was met. We were even given a late check out until 5pm.
The early check in and late check out are part of the perks of being a Platinum member with Le Club Accor Hotels.
That's partly why we like booking with Accor hotels as these particular benefits come in handy.
The hotel is older style yet this is what we first saw when we opened the door…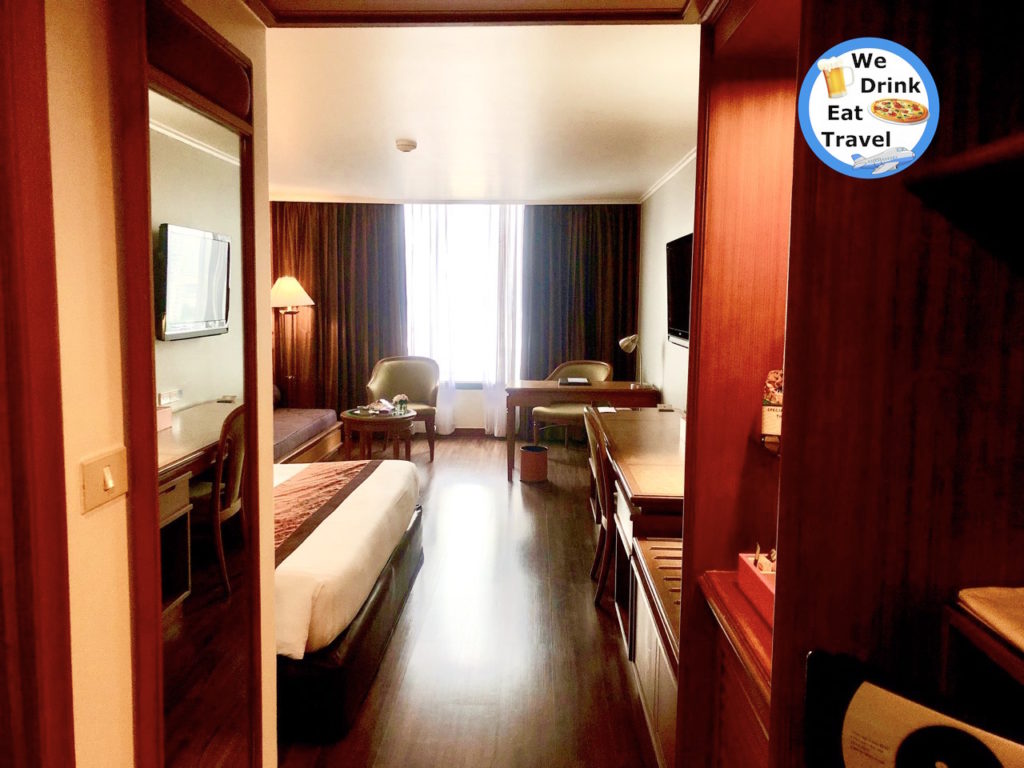 We liked the dark hard wood floors… And the room was bigger than what we expected!
There's a desk with drawers and a chair… a small coffee table with another chair, a second desk area with drawers and another chair, scales to weigh yourself, a long couch, several lamps, lights and many electrical sockets…
There's also a big flat screen TV. There were about 40 channels, yet we didn't find the channels to be appealing. If we did watch TV, which wasn't often, then we'd stick to about 2 channels… The Discovery Channel and a movie channel.
Big comfy king size bed which we got upgraded from a queen bed room. There's side tables, lots of drawers and cupboard space, big safe, robes, slippers, luggage area, and full length mirror.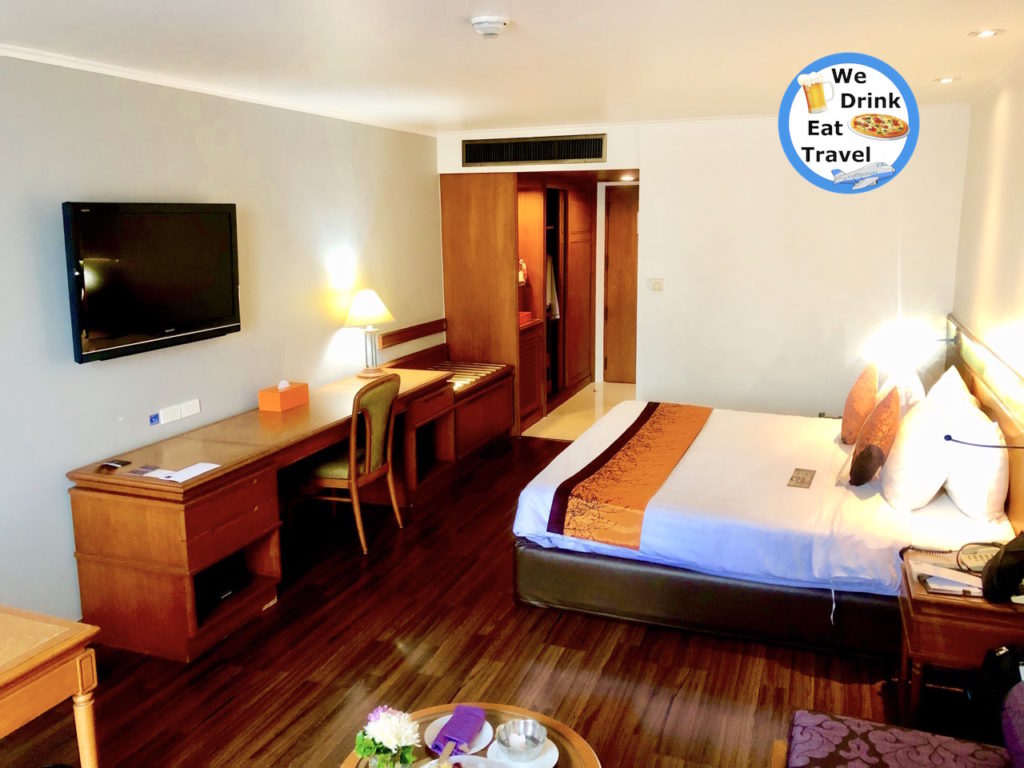 There's also a small fridge and a well stocked mini bar area. On arrival we were given 3 bottles of complimentary water. Two bottles were replenished every day.
Next to the bed is a central control unit too. This handy device is to control the lights, air conditioning, and more… from the comfort of your own bed!
There's a wifi box in each room, yet you can only connect up to 3 devices at a time. That to me was a little annoying and inconvenient, but we got round it.
There are four pillows on the bed. Yet, if those pillows don't do it for you, there's a pillow menu…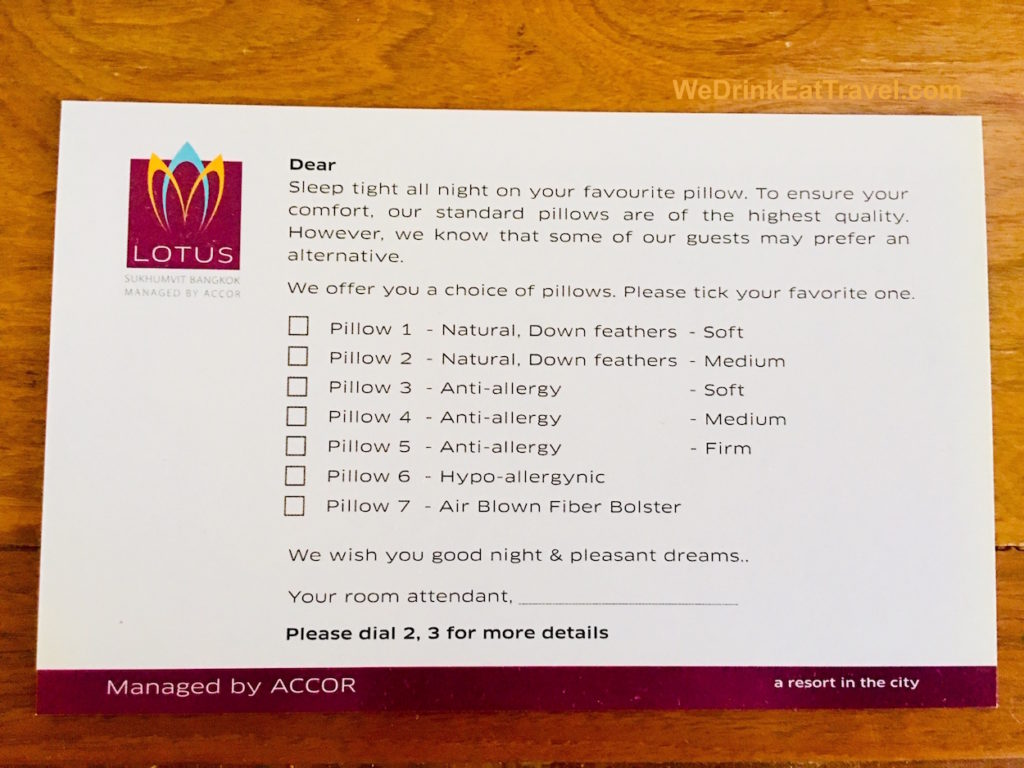 Plus, for a better night's sleep there are blackout curtains. These definitely helped towards a good sleep too!
As part of our Le Club Accor Hotels elite status we got this welcome gift of fruit and cookies…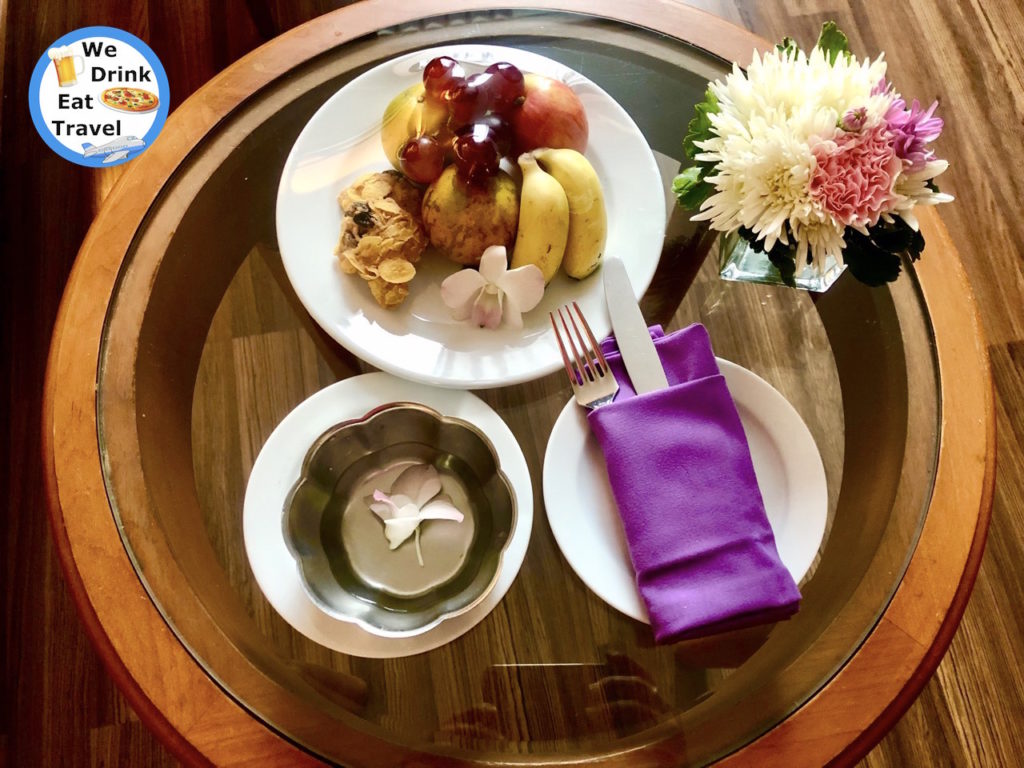 The Bathroom
The bathroom size is OK… not huge yet not claustrophobic! There's a shower over bath, with a non-slip mat. A couple of times I knocked my leg against the soap holder!
You also get face towels, hand towels and bath towels too.
There's amenities including soap, shower cap, shampoo, conditioner, shower gel, body lotion, toothbrush, toothpaste, comb, shaving kit, and sewing kit…
The toilet is the modern Japanese style with different controls and functions…
Dining
As we are Le Club Accor Hotels Platinum members, we were offered a glass of beer or soft drink each.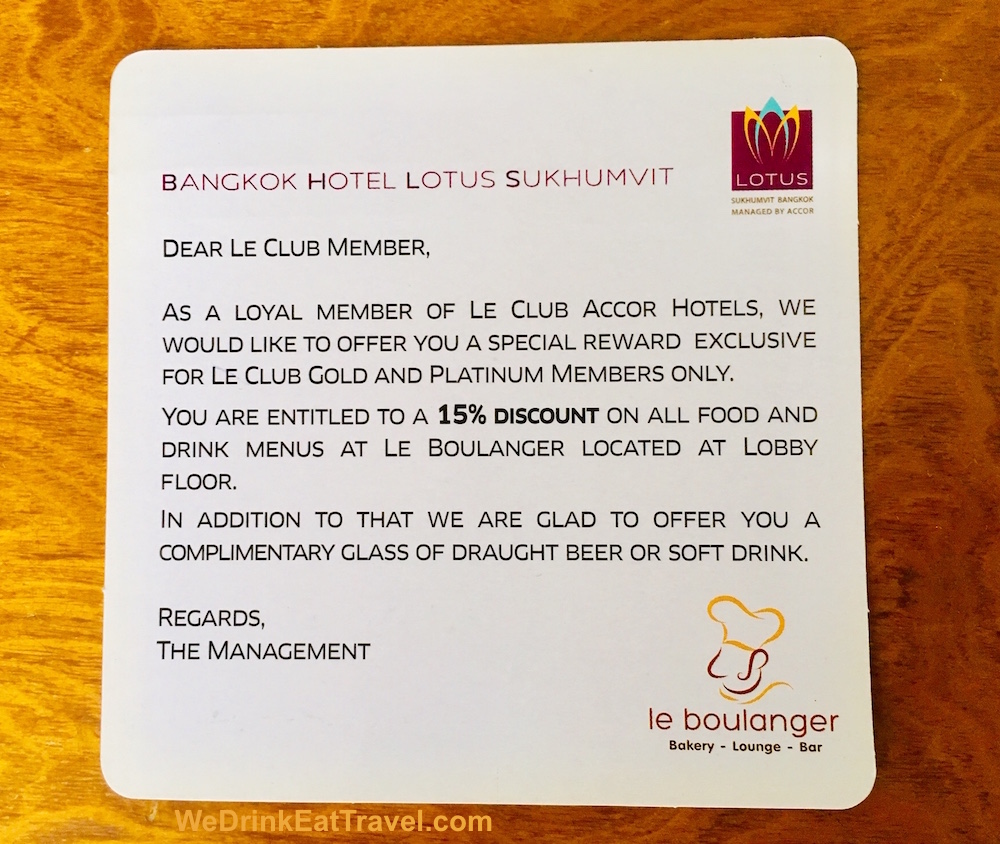 We got our free drinks and complimentary nuts at Le Boulanger. The draft beers were ice cold and the glasses had been chilled. You can see some ice on the beer glasses!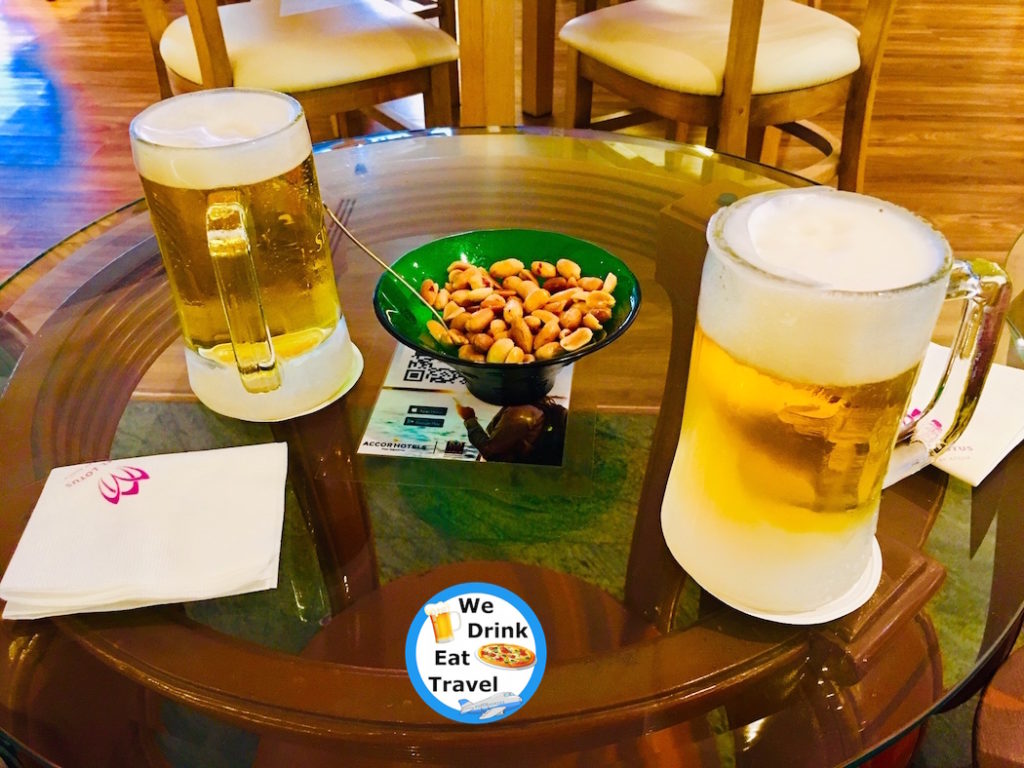 Buffet Breakfast
Buffet breakfast is served at Coco's Café on the ninth floor, from 5:30am to 10:30am.
There's a reasonably good variety of food, yet sometimes the quality of was not great…
Some of the vegetables on this plate were over cooked! Generally though it's quite good.
Unfortunately the baked beans on both mornings we ate here were cold. On the first morning the hash browns were pretty much cold… Not very appetising! Yet on the second morning they were warm. Needs consistency!
The Japanese corner was quite good though…
That wasabi had a real kick to it. I only had a tiny amount… Yet my face was glowing like the color of a ripe tomato! My mouth and nose were burning and ready to explode.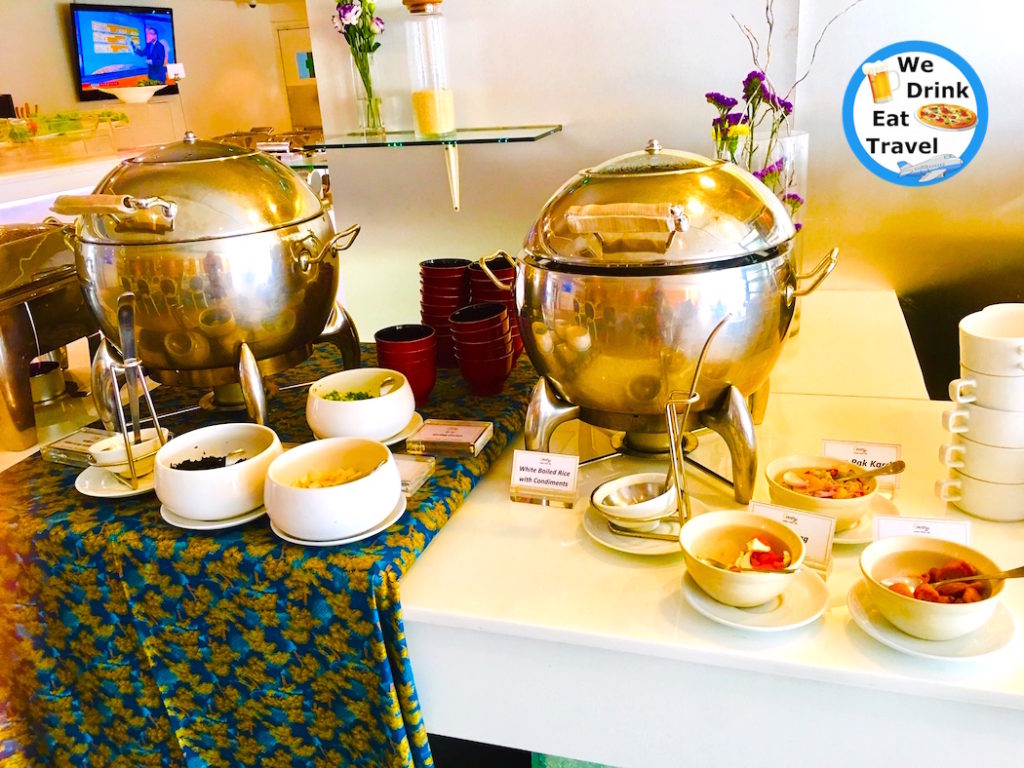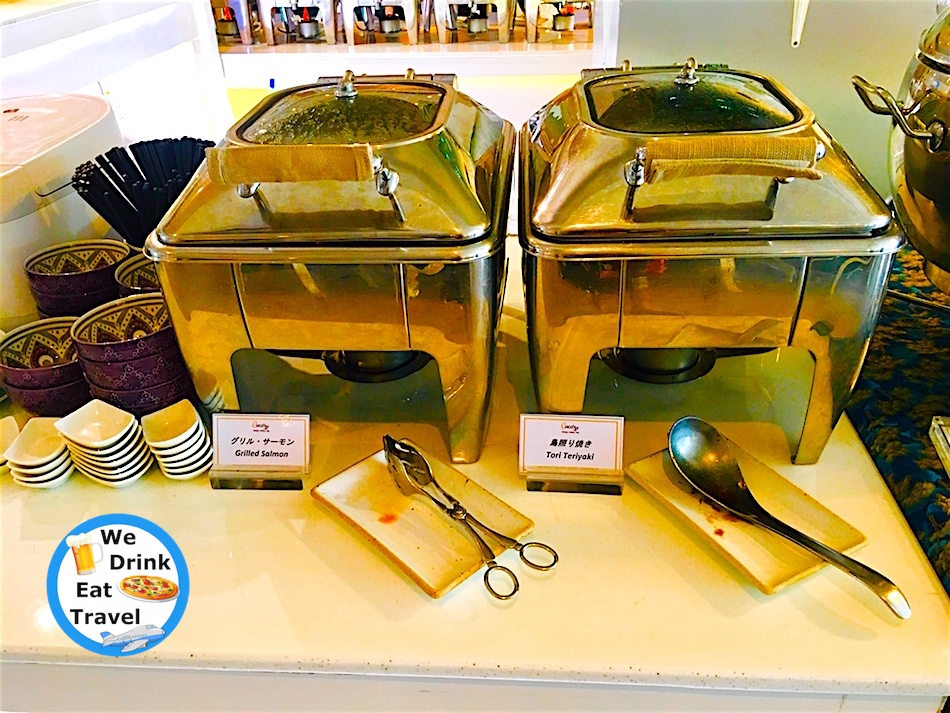 ---
There are yogurts, fruits, juices, fruit infused water, teas, coffee… Unfortunately the coffee wasn't to our liking. We thought it was awful, and tasted like it was burnt. Blah!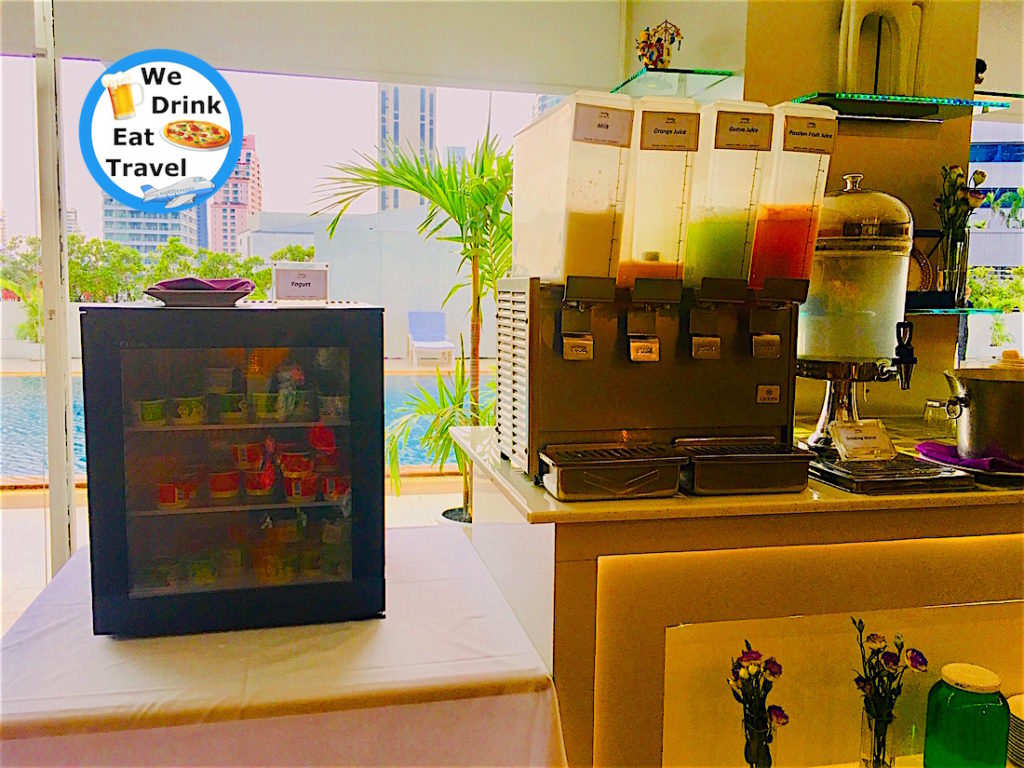 There's cereals and milk…
Hot foods included baked beans, hash browns, grilled tomatoes, bacon, sausages, waffles with maple syrup and honey…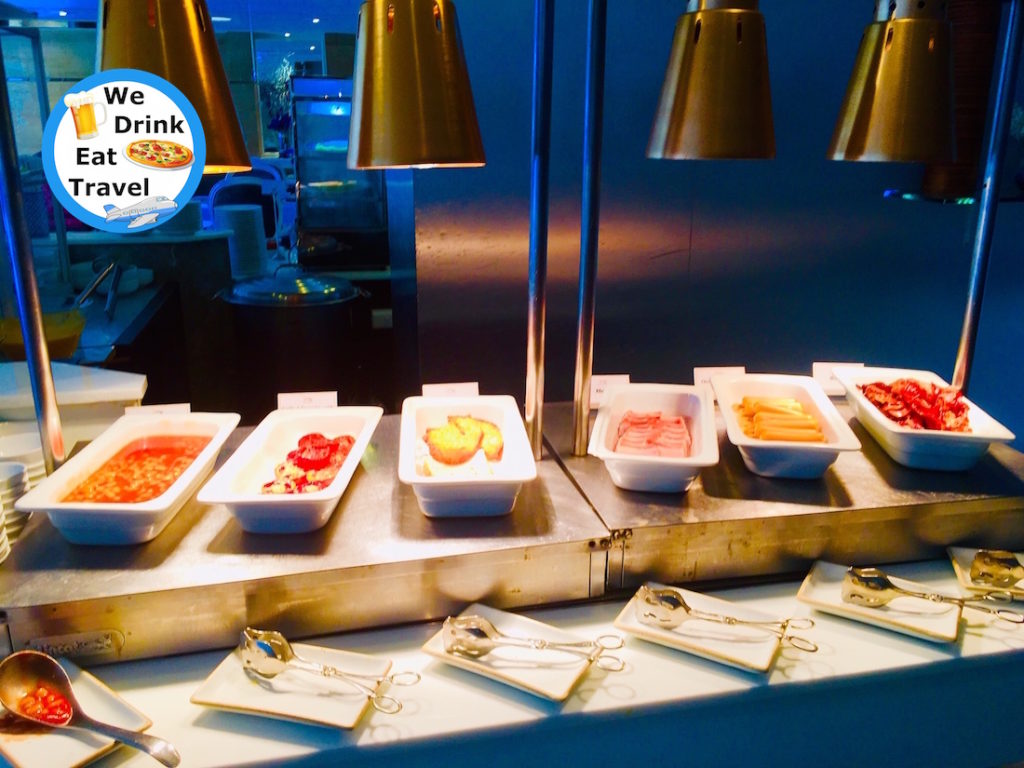 There's also noodles, stir fry mixed vegetables, another stir fry dish with meat, fried rice, steamed rice, rice porridge and dim sum.
There's a noodle station as well as an egg station. Be aware that all eggs are made to order… There's no pre-cooked scrambled eggs or fried eggs, for example.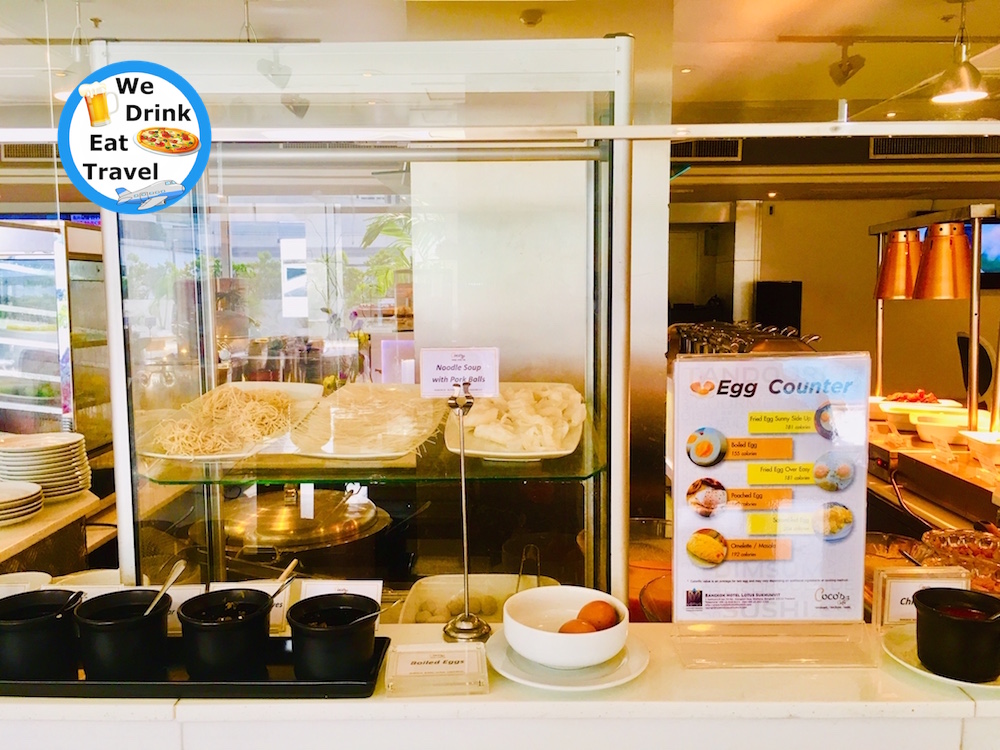 The bakery section includes a range of danishes, baguettes, rye loaves, donuts, sliced breads, bread pudding, cakes, and spreads…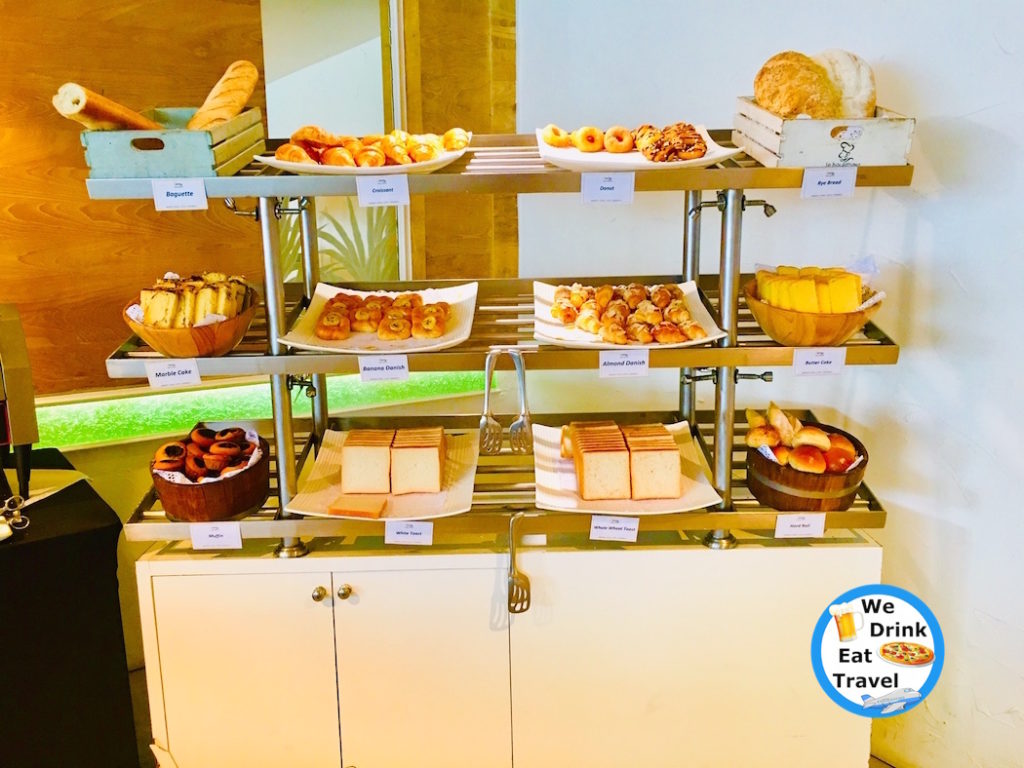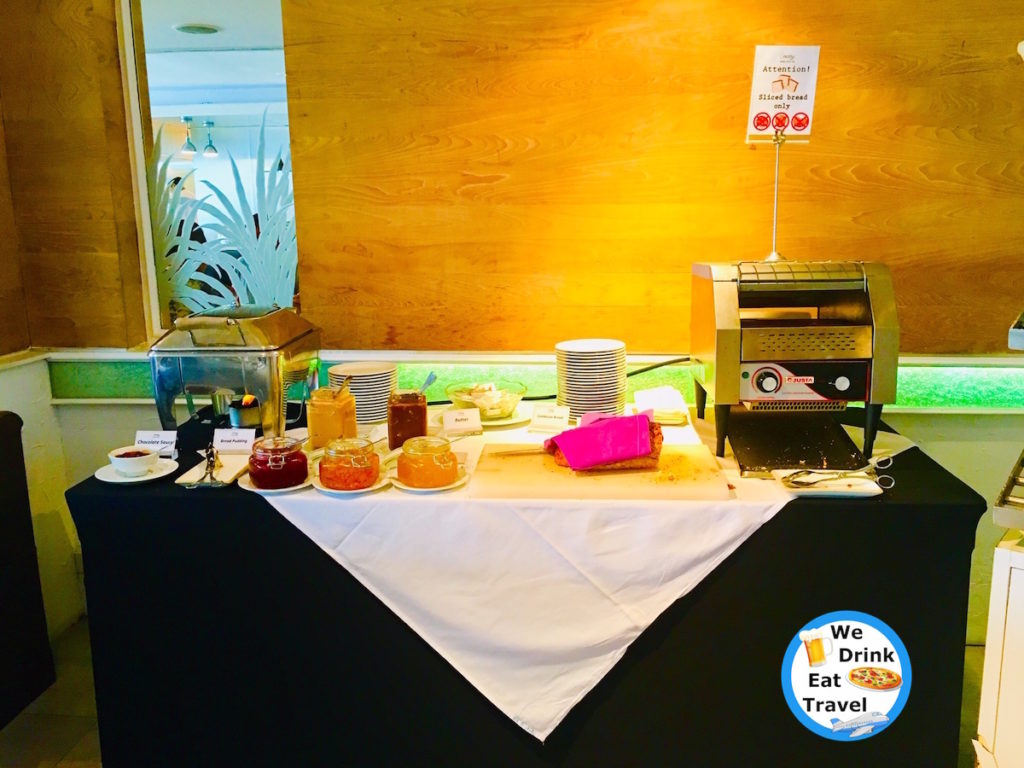 There's also a salad bar with cheese platter…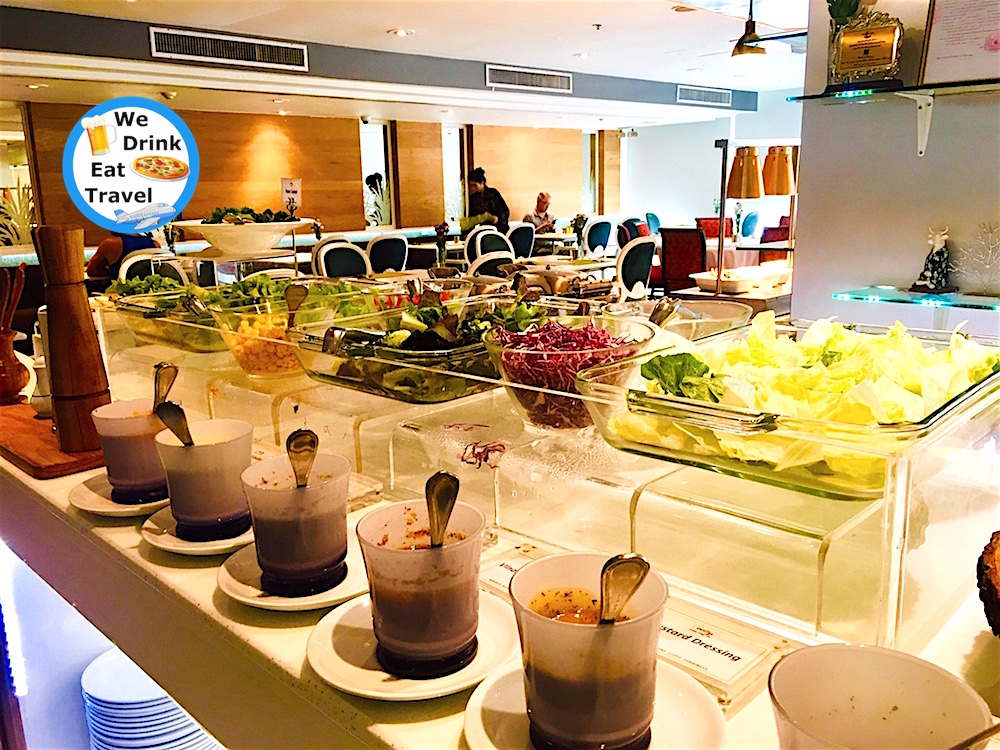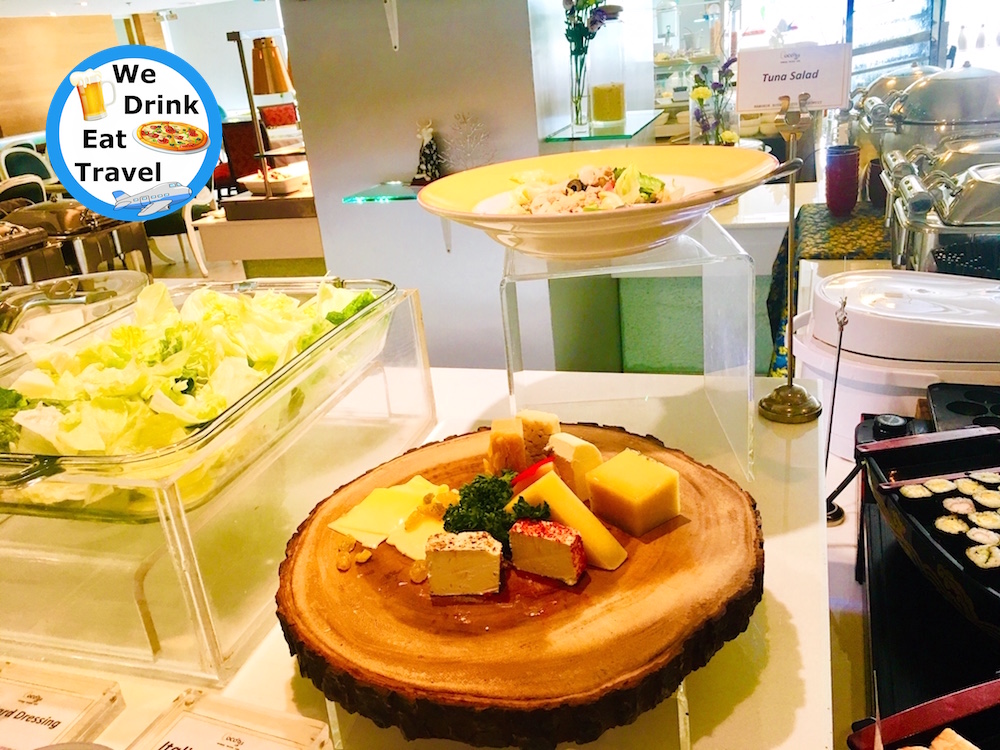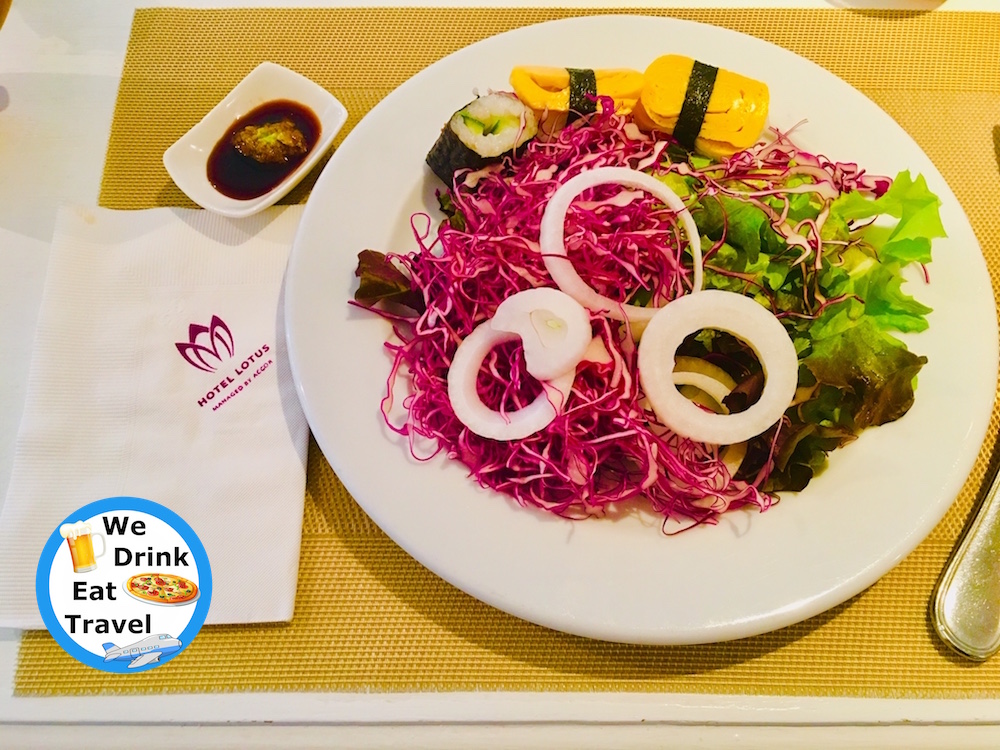 Amenities at the Bangkok Hotel Lotus Sukhumvit
Bangkok Lotus Hotel Sukhumvit has a pool on the ninth floor. The pool is big with a depth up to 2 meters at the deepest end. There are about 9 lounge chairs, which are comfy. There are no umbrellas though, if that matters to you.
We've never had issues getting a lounge chair. For you sunlovers, the pool area gets sun most of the day. In the later afternoon it is in the shade.
You can access the Fitness Center via the ninth floor. You need to walk up some steps to the gym…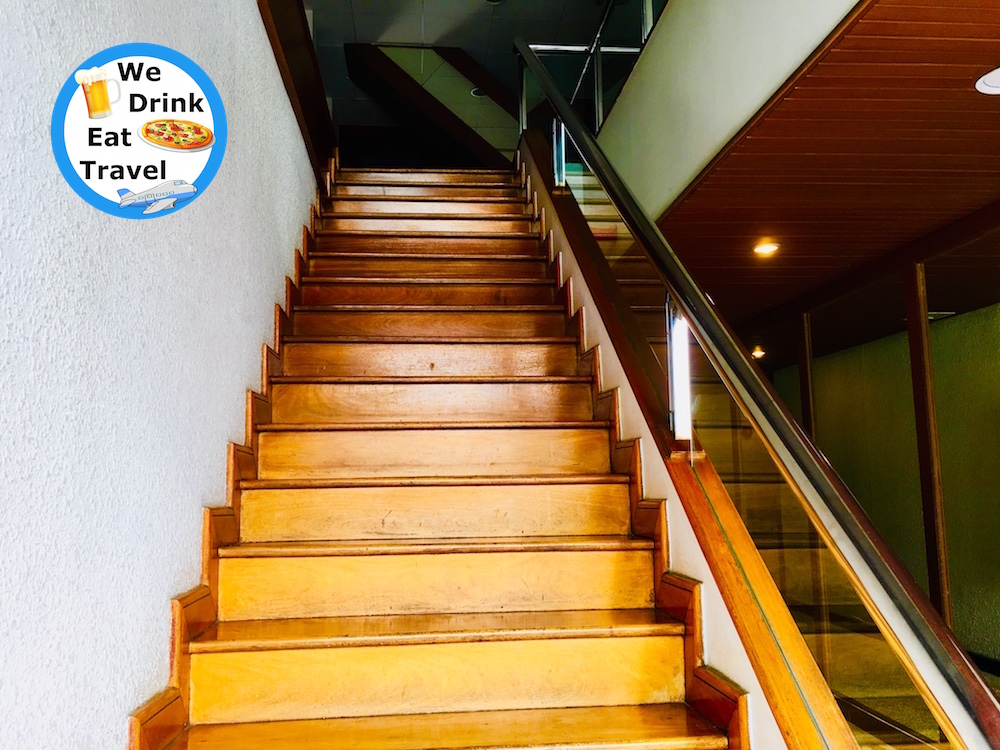 It is air conditioned, but as there's no door to the gym it's not the coolest inside…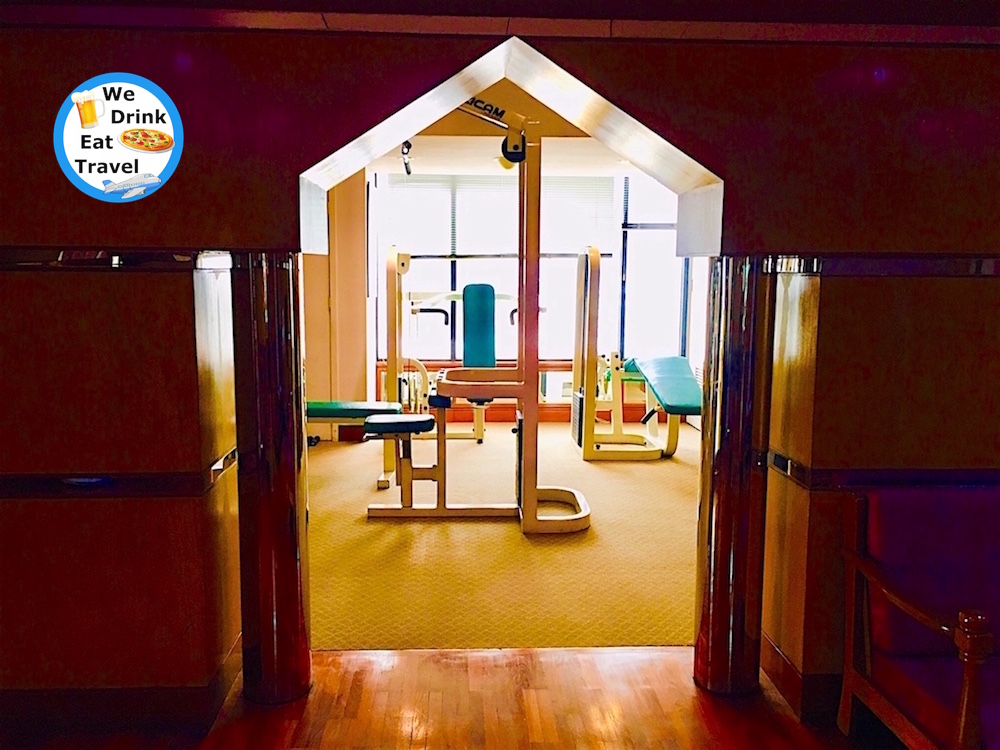 Whilst it is a smaller gym, surprisingly there's quite a bit of equipment. You can do a good workout here.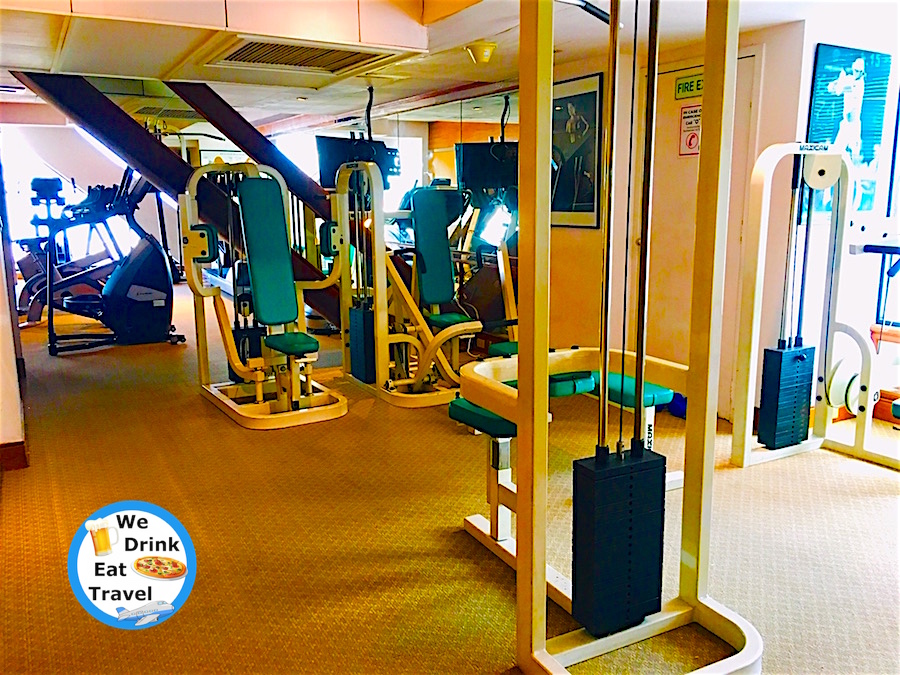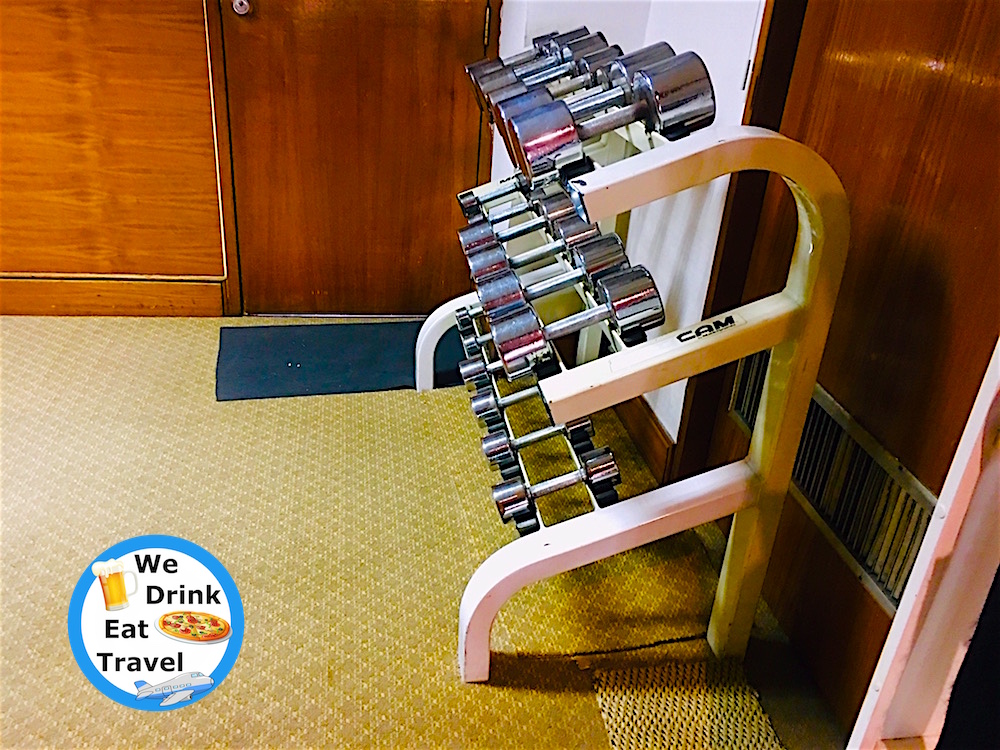 ---
Next to the Fitness Center is the beauty salon…
This is the seating area between the fitness center and beauty salon…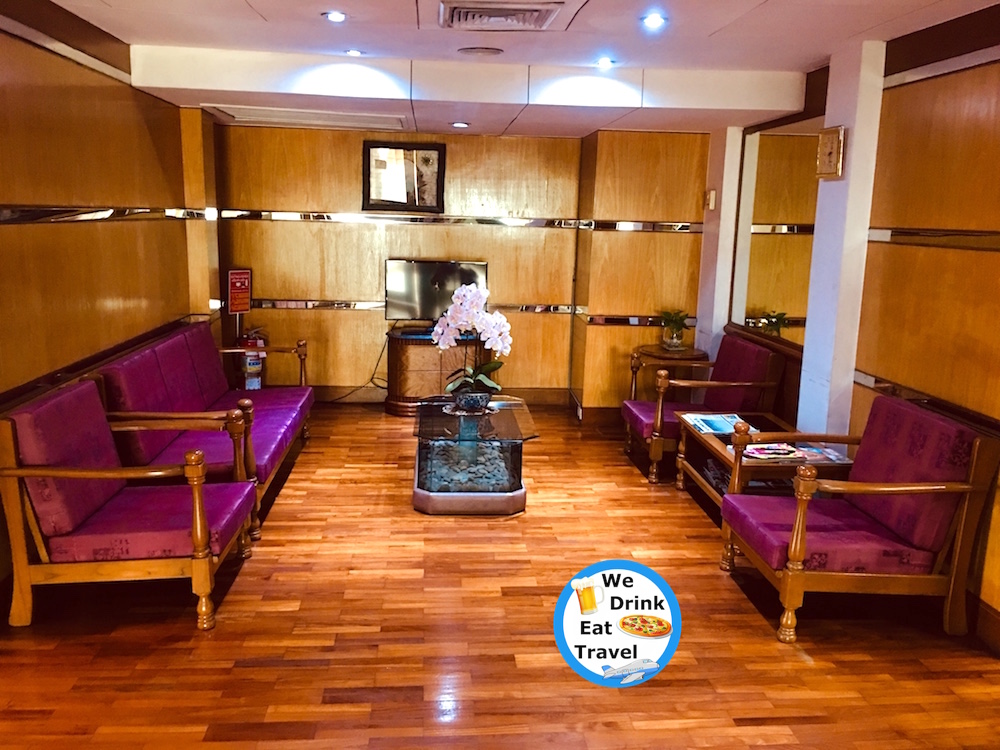 ---
You can indulge in massage services too, also on the ninth floor…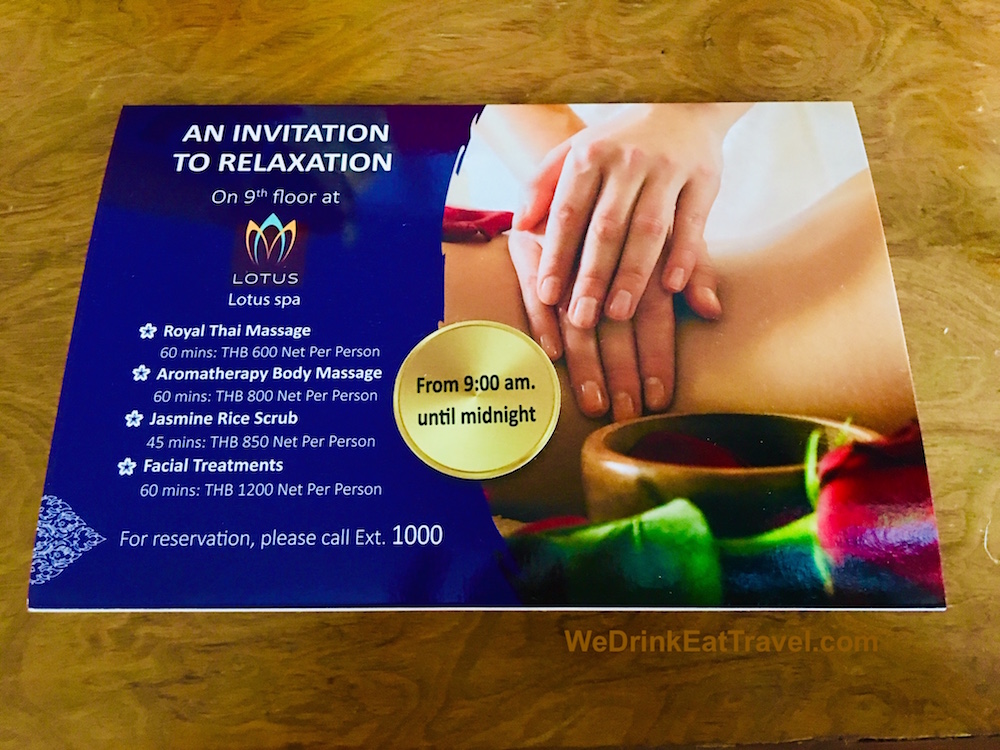 And if you're too lazy to leave your room, you can get a massage in your room…
Room service is also offered, as well as a tour desk.
Here's more information about the amenities at the hotel…
Around The Hotel
Just a couple minutes walk away is Benjasiri Park…
If you want a supermarket, head on over to the Villa Market on Sukhumvit Road. It's only a couple minutes walk from the Hotel.
In addition to the normal supermarket items… there's a huge range of cheeses, wines, other alcohol, breads, and many other Western and imported goods.
There's a great massage place we found called Phunnee…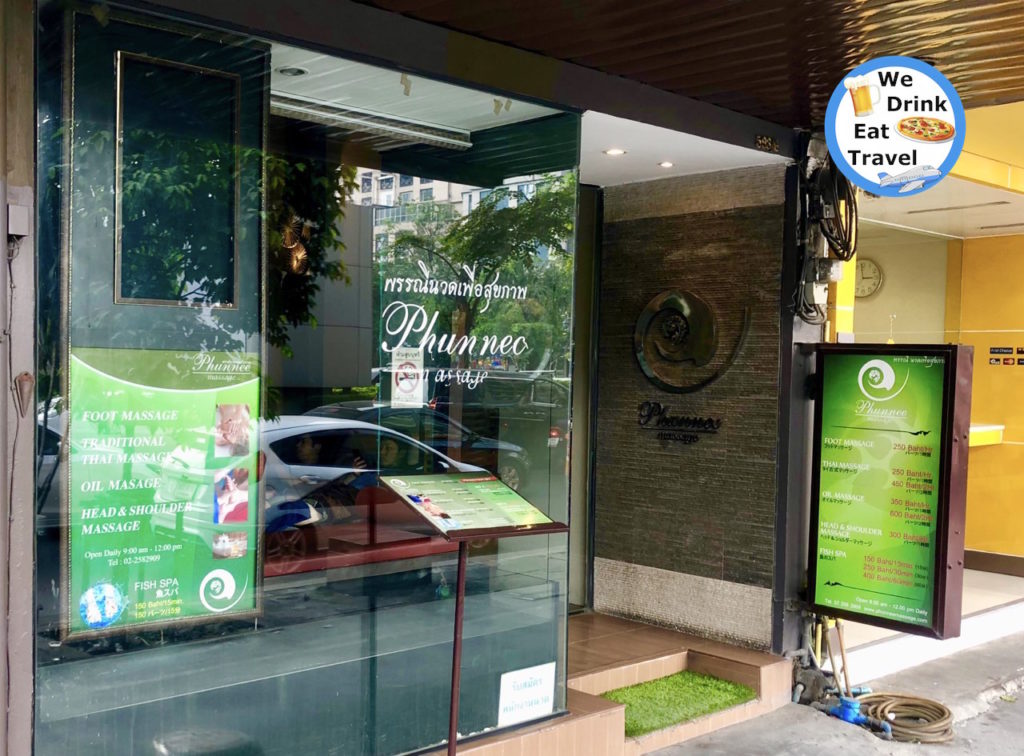 This is very close to the Villa Market. Once you walk in, the "matriarch" waves you over to the back of the massage parlour… Here, she points to a list where you choose which service(s) you want.
For a 2 hour oil massage it costs 600 baht (about USD $19). After having many massages in Thailand… we were thankful that we finally found a good place! It was one of the best massages we've had… and we've been back many times.
There are lots of bars, restaurants, Thai street food stalls (mainly on the weekend), 7-Elevens, Family Marts and more… all within an easy walking distance.
For bars, there's a few down Sukhumvit Soi 33/1. Or you can head in the opposite direction and go down the Sukhumvit Soi 22. There are more bars here, where most are more Thai style…
Or if you're really lazy, next door to the Hotel is a bar called Check Inn 99. This bar has different events including ladies nights, Jazz jam sessions, live music, and more. It also serves food as well as your usual drinks…
The closest BTS is Phrom Phong. You can walk to here in a couple of minutes.
Near this BTS is lots of high end stores at The EmQuartier and The Emporium.
If you want to go for a longer walk of about 1km… you can get to another shopping mecca called Terminal 21. Or, you can catch the train at BTS Phrom Phong and go one stop to Asok BTS.
We Drink Eat Travel Wifi / Internet Speed Test
This hotel has pretty good wifi speeds… Wifi speed in our room was 32.3 Mbps Download and 23.7 Mbps Upload. That's quite good for digital nomads and business people.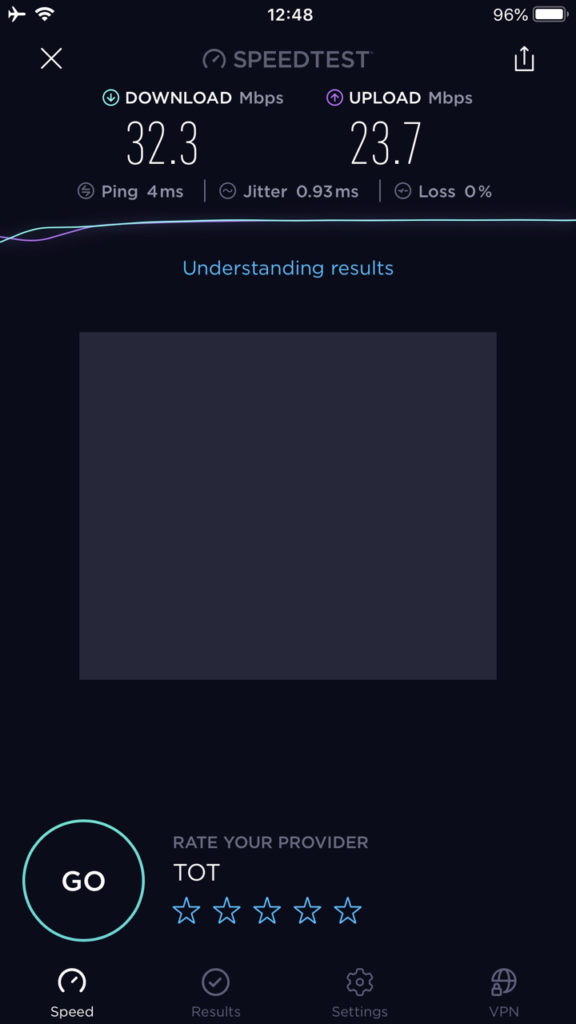 The Pros and Cons of Bangkok Hotel Lotus Sukhumvit
Pros
The room we had which after an upgrade was the Deluxe King Room, which was huge.
The amenities are very good and well stocked.
Big pool with comfy lounge chairs and big towels.
For an older gym it was surprisingly fairly well equipped and good for a decent workout.
The service was better than some of the 5 star hotels we've been to.
The air conditioning works well and is cold in the room.
Cons
You can only have 3 devices connected to the internet at a time
If you sit near the window of the restaurant it can get very hot and uncomfortable.
The quality of some of the food at breakfast was hit and miss.
Would we stay here again?
Yes, but only for a short stay… Or if we weren't going to use our devices much. That's mainly because you can only have 3 devices connected to the internet at the one time. Hey, if they changed this we'd be here more often!
Yet, the location in comparison is in a nicer area of Bangkok… if you avoid going down the seedier area of Soi 33! There's also lots of convenient and good amenities nearby.
We've now stayed here a few times… Each time we've found it to be relatively quiet, which we prefer.
Just be wary that there's a massive empty block next door. We suspect they'll be building soon. So you may want to check this before you book!
Like This? Share it and comment on it!
Note: All of our reviews are our opinions and no-one else's. Even if we receive complimentary goods or services we share our opinions honestly.