When you're in Bangkok, one thing that most people do is SHOP! With thousands of choices on offer… this blog post is dedicated to this shopping center…
MBK Center is a mega shopping mall with 8 floors, and over 2,000 shops. There's also a department store in this Center called Tokyu, which is a Japanese brand.
To get to MBK by BTS, the closest stop is National Stadium. This stop is on the Silom line, dark green (W1).
For this trip, I caught the BTS from Sala Daeng in Silom. The cost from here to get to National Stadium BTS was 26 baht (about USD $0.83). It's only 3 BTS stops from Sala Daeng.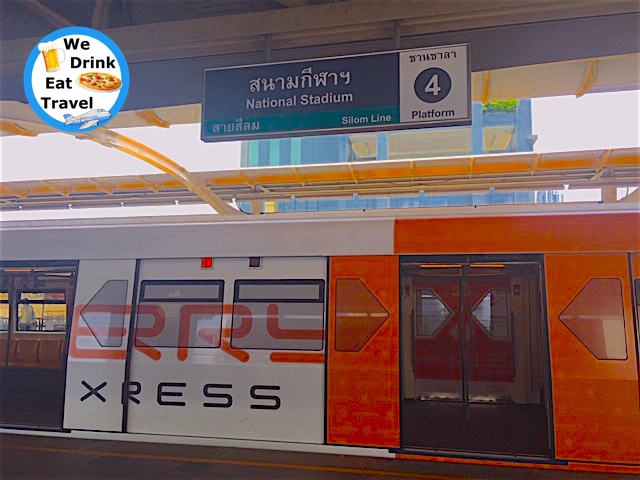 When you get off the train, you'll see National Stadium…
Then, head on down from the platform and look for the signs to take you to exit 4…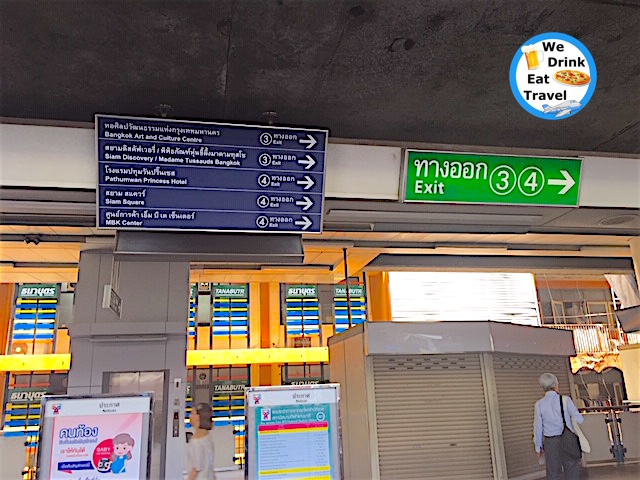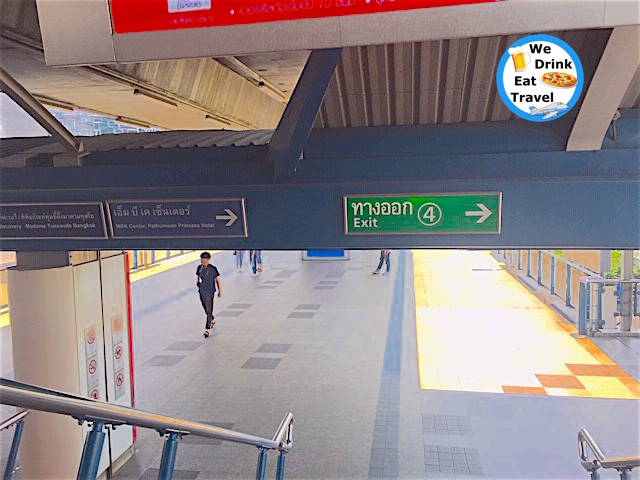 From here, it's like a stone's throw away to get to MBK…
If you're on the light green Sukhumvit BTS Line, you could get off at Siam BTS. I haven't done this. Yet, according to Google Maps it's about 550 meters or so to walk to MBK Center.
When I got to MBK, security said I couldn't take photos inside the shopping center. BUMMER!
Anyway, once you reach the entrance, you enter on the second floor. Here, you'll get relief from the hot Bangkok heat as you're greeted with good air conditioning!
On level 2 there are a variety of stores here from mens, womens and kids clothing, souvenirs, accessories, restaurants, food stalls, pharmacies, gadgets, optical stores, and much more.
Level 3 is like level 2, yet towards the back end of this level is like a market style set up.
There are many "sois" full of clothes. It's easy to get a bit lost in some of the sections… that's why they have rows labeled with Soi 1, Soi 2, Soi 3, and so on.
If you buy in bulk for certain clothes or items you can get a bigger discount. Haggle if you like and see what bargains you can get!
The fourth floor is mainly electronics, phone and computer goods, and gadgets. It also has Money Park with many banks, and a small Family Mart.
Fifth floor has The Fifth Food Avenue an international food hall. As well as camera goods, more electronic gadgets, book store, Daiso, and furniture stores.
Sixth floor has more shops and little stalls, which have more touristy stuff. There's Food Island and Craft Village.
Seventh floor is the Entertainment Zone. It has a cinema, games, Strike Bowling, and more food.
You definitely won't go hungry in this shopping center!
Ground floor has a TOPS supermarket, shops and stalls for clothing, accessories, toys and more.
There's massage and spa parlours, and beauty centers dotted around the shopping complex too.
After walking around and scanning the floors to help write this blog post for you, I found a Directory Booklet! Ha ha.
Here are some of the pages from the booklet…
Unfortunately in most places you can't try the clothes on, even on top of your clothes.
What really annoys me though is how some of the shop assistants follow you around, every step of the way.
If you stand there looking at clothes they'll stand right next to you or right behind you. For me, that's very annoying!
So a few times I did laps in the store, circling around and around and around! Ha ha! Just a bit of fun :)
After a few hours of wandering around looking…
Success for me as I bought two dresses!
Total cost was 600 baht (about USD $19). I didn't bother negotiating as I thought it was a good price anyway.
I've found the quality of clothes in Thailand is very good. Some of my clothes have lasted for several years.
I didn't manage to get to the Tokyu Department Store on this trip. It's a higher end department store as you'd expect for Japan! But having walked past they did have some pretty good bargains.

After you're done at the MBK center and you don't have piles of shopping bags weighing you down… you can head on over to Siam for even more shopping!
Like This? Share it and comment on it!
Note: All of our reviews and comments are our opinions and no-one else's. Even if we receive complimentary goods or services we share our opinions honestly.