REVIEW
Accommodation: Ibis Bangkok Sathorn Hotel
Location: Sathorn in Bangkok, Thailand
Room Type
Booked Standard 1 Double Bed
Loyalty Program or Deals Used
Le Club Accor Hotels / Accor Plus
Research and Booking
I was looking for a Le Club AccorHotels accommodation in Bangkok, for a longer stay of about a week.
In researching, I went to the Accor Hotels website, narrowing it down to Bangkok Hotels only. I then had a budget in mind, which helped me to shortlist a few hotels.
A couple of the hotels I found that were quite far from the "center" of Bangkok.
We wanted to be able to get to lively spots like Sukhumvit or Silom with ease… and without having it take a long time.
We also didn't want to be in the thick of the "action" where we wouldn't be able to get any decent sleep! Make sure you check out my TIP later about room choice.
I then narrowed it down to the Ibis Bangkok Sathorn.
I did further research by checking on TripAdvisor. The reviews varied, yet overall relatively positive.
It ended up being about 1,100 baht per night (about USD $35), including buffet breakfast. Pretty good deal, right?
NOTE: Since our first stay in Ibis Sathorn,there have been a few changes… I'll go into those further into the review.
The Location
The address of the Ibis Bangkok Sathorn Hotel says Soi Ngam Duphli. Yet, on every occasion we've been there, we got dropped off at the Soi Si Bamphen entrance.
I suspect this is because if you're coming by car, van or bus… it's easier for the vehicles to get in and out without blocking other traffic. There's also parking via this entrance.
The other entrance is probably better if you're arriving by foot or motorcycle.
Not a big deal, but thought I'd clarify for you.
Sathorn is a major commercial hub in Bangkok with plenty of condos! While it does have areas of bars, nightclubs and restaurants… this Ibis Hotel is in a quieter area of Sathorn.
So if you're looking for a party atmosphere then this area of Bangkok is not for you. It's more subdued yet still has a few bars and eateries within walking distance. More on that soon.
Check In
Sometimes we've had help from staff with bringing our luggage into reception, other times not. Generally we're not fussed by this service…
Yet, if you prefer this service, don't expect it… and if you happen to have someone help with your luggage – BONUS!
Once at the reception desk check in is pretty efficient. Unless there's a few people or groups checking in at the same time… generally check in finishes within a few minutes.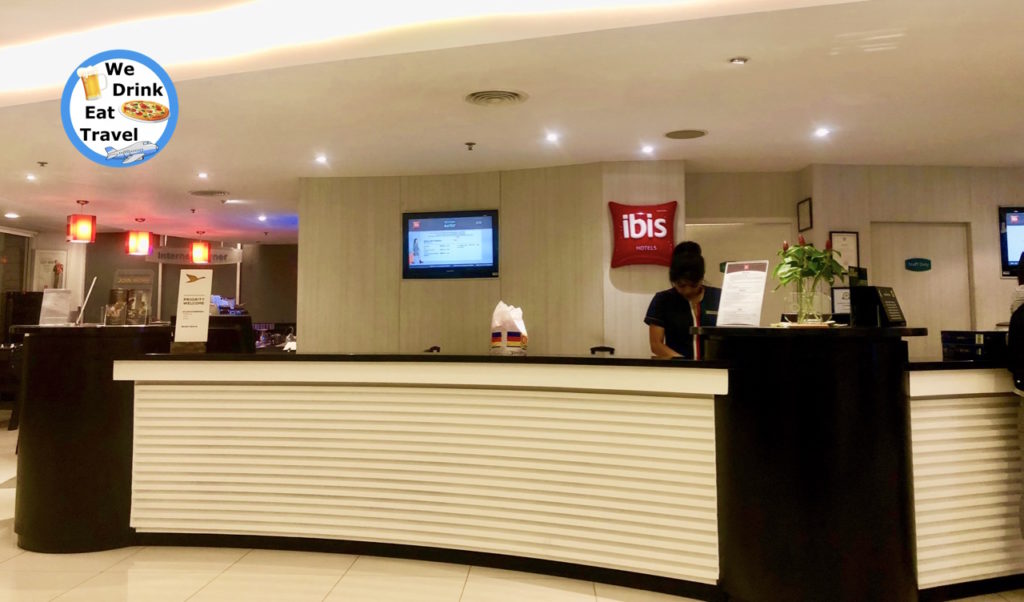 If you have elite status with Le Club AccorHotels… you may not get verbal acknowledgement and thanking you for your loyalty. I haven't received this often.
With the Ibis and Ibis Styles Hotels we've had varying experiences with the staff on this. If we're not recognized for our elite status we shrug it off… Again, if they acknowledge the status then BONUS.
Yet, if it's a 4 star or 5 star hotel I expect it!

The good thing is, you still get some perks as I'll show you later.
After we got our welcome kit and key cards, we headed on up to our room…
The Room
As soon as walked in we noticed it was typical of other Ibis Hotels we've stayed in…
A small yet functional room with desk chair, safe, long table, couch area, safe, clothes hangers, tea and coffee amenities with kettle, 2 side tables with lights, and mini fridge…
Inside the fridge were 2 complimentary bottles of water…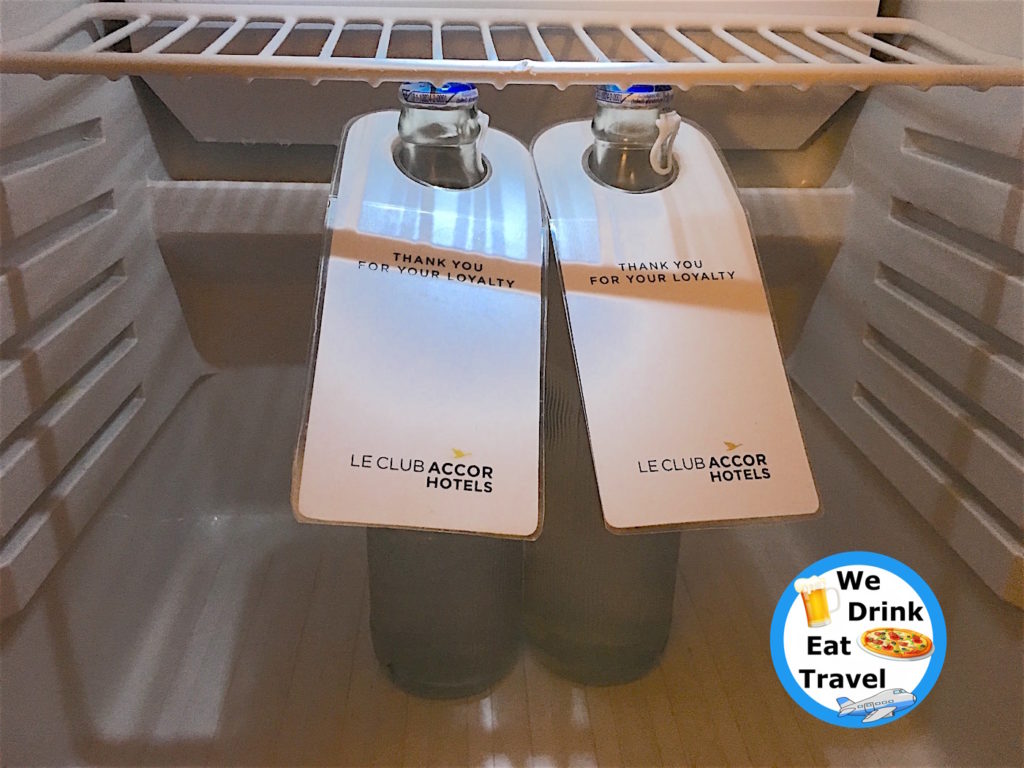 If you get your room serviced daily, for us the bottles of water are replaced daily. I think this is for everyone else too, not because we're with the Le Club AccorHotels elite.
We also received these free goodies as a welcome gift…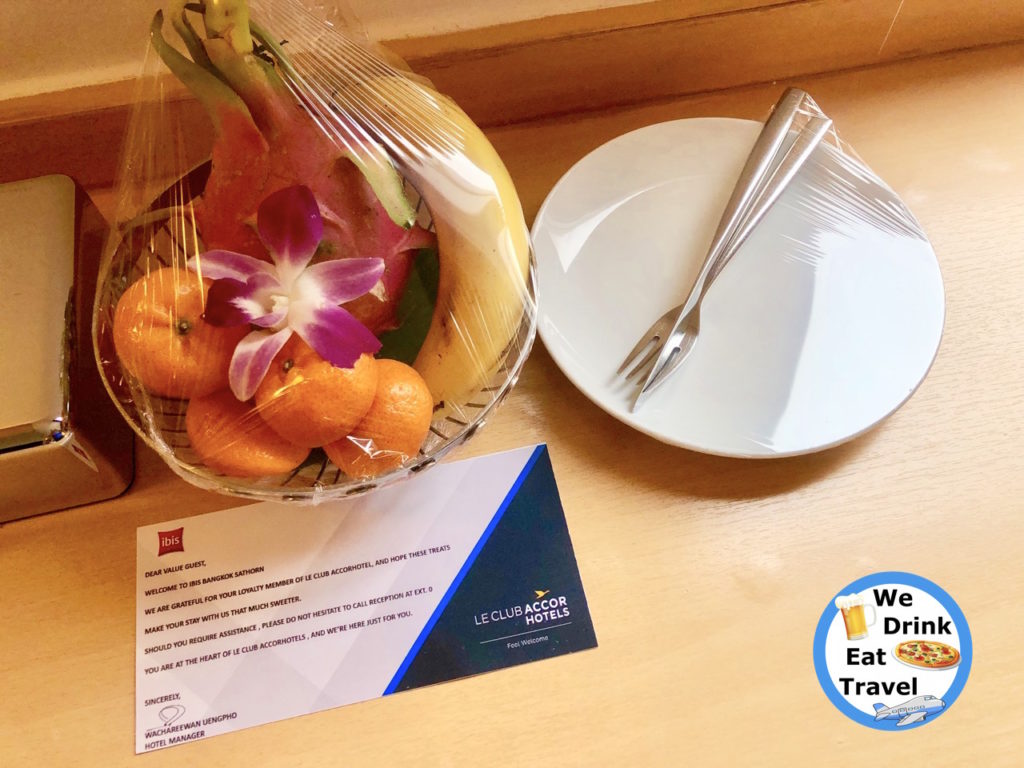 Plus we received bathrobes…
It's a nice touch, however beware of this… Because of the design of the material used for the bathrobe… I experienced an embarrassing episode!
I was using the bathroom and had been sitting at the desk with my laptop for a little while. Paul and I decided to head out for a walk…
As I was changing to put on my shorts, I noticed I had like a waffle pattern indented into the back of my legs! ARGH!
Oh well, I wasn't going to waste my time waiting for indented pattern to come out of my legs. So I put up with the strange stares as we went out for our afternoon wander. LOL!
ROOM TIP…
The security locate themselves at the entrance on Soi Si Bamphen.
The security guard has a whistle, which he LOVES to blow throughout the day. This is to help him direct the traffic so the vehicles have a clearway to get onto the street.
After a couple of mornings of being woken up by constant shrills of the whistle blowing… we were over it!
So unless you have good earplugs or are a heavy sleeper, then ask for a room that doesn't face Soi Si Bamphen.
The Bathroom
The bathroom is small, yet had the same amenities as the Ibis Bangkok Sukhumvit 4 Hotel we stayed in.
Check out our review of the Ibis Bangkok Sukhumvit 4 Hotel HERE.
It has basic amenities such as hairdryer, liquid hand soap, liquid shampoo and shower soap, toilet paper, shower caps, and cups and towels.
As a Le Club Accor / Accor Plus Platinum member we got extra amenities of toothbrush, toothpaste and body lotion.
Dining
There is a small bar the lobby area to the side of reception.
And as part of our Accor Hotels membership and elite status, we received 2 free drink vouchers.
My preference has been to redeem my voucher for a glass of wine and Paul would have a Chang beer…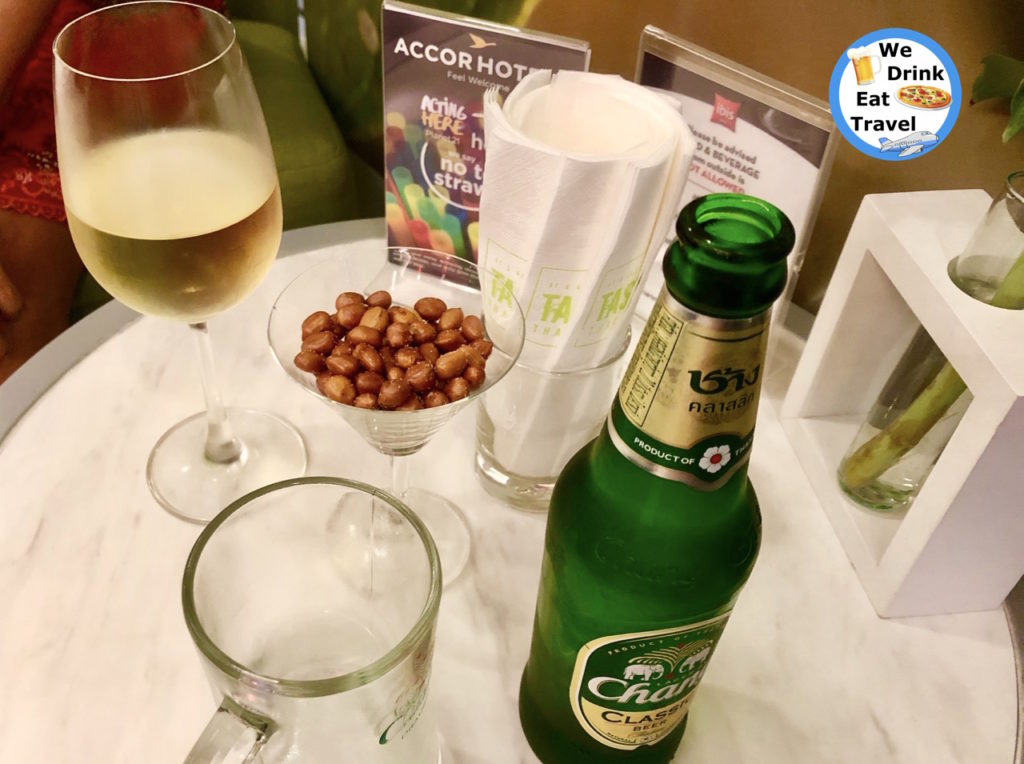 Yet, there's no longer wine on the complimentary Accor special members drinks list. BUMMER! So in the end my drink choice was a Chang beer too…
As part of the changes I'm surprised we were still given complimentary nuts. Yet, that was only after the staff member asked if we wanted any nuts!
---
As with other Ibis Hotels, they have their restaurant called, TASTE.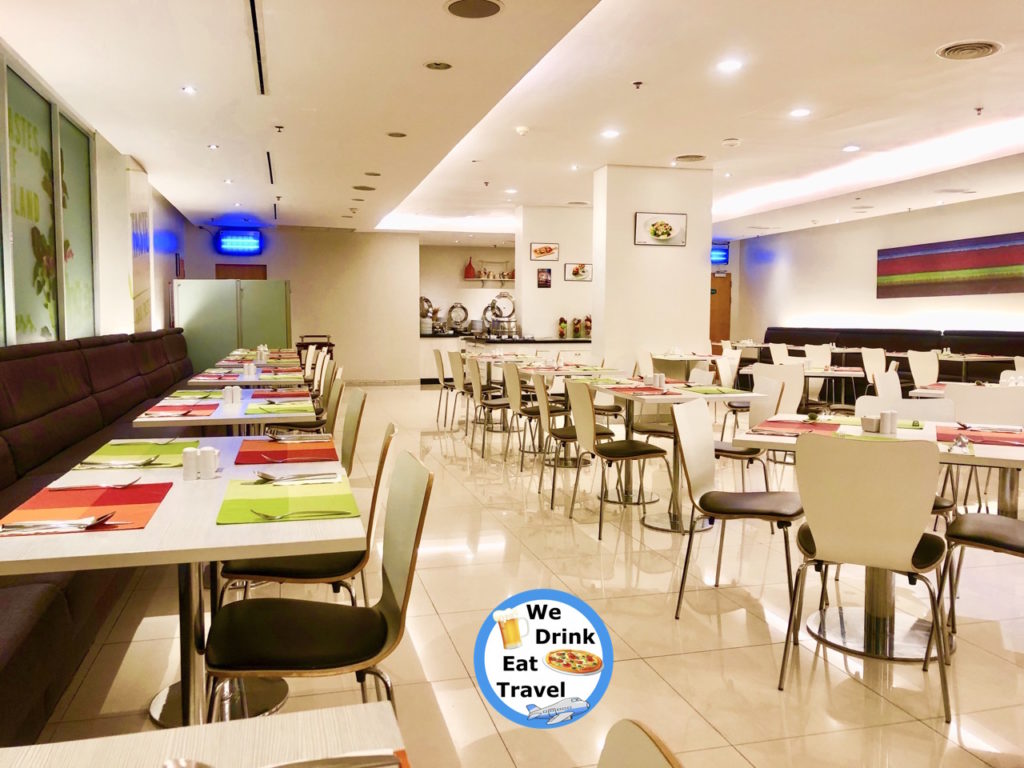 This is where we've had our buffet breakfasts…
Buffet breakfast
The breakfast used to be 248 baht nett per person, (about USD $7.80). So cheap! The range and quality was generally quite good too.
Yet while the buffet is cheaper now at 176.55 baht nett per person (about USD $5.60), it seems the quality has reduced too…
At times… it has taken almost 15 minutes for scrambled eggs, the salad leaves or other items to get replenished. I wouldn't have thought these would be difficult things to restock.
Even though the variety and range of food items has significantly reduced… it seems the chefs can't keep up with demand.
We thought that if you have less food to prepare and cook then replenishing the food before it gets empty would be an easy task… Unless they've gotten ridden of a lot of staff too.
If you're a vegetarian it's potluck on the day if you get a choice of 3 hot dishes… or maybe if you're lucky 5 choices!
Scrambled eggs seem to be a staple. Yet several times the eggs have been cold. So after waiting for food to be restocked for a long time, having cold eggs is NOT a nice experience or great TASTE!
We've seen several people complain about the lack of food and how slow the re-stock is.
Other vegetarian options included cooked tomatoes and potatoes, or potatoes and baked beans.
There's even been vegetarian fried rice and noodles…
BEWARE… Check for any meat including seafood.
On a couple of occasions there's been supposedly vegetarian dishes…
The dishes looked quite good. Yet as I sat down ready to devour a plate of noodles… there were shrimps in it. What's worse is that it had a sign on it indicating it was vegetarian.
So I mentioned it to the staff… She looked at the sign, picked it up, and then after I left she put the sign back next to the cooktop!
So then I put the sign face down and put it to the back of the bench top!
That's not great! It'd be horrific if you were allergic to seafood as you wouldn't want anaphylaxis to kick in!
If in doubt check it out, ask a manager.
The other thing we've noticed a few times is this…
In the hot food section are small bowls with chopped up cold meats, onions, tomatoes or capsicums…
Yet, just before you put it in your mouth, it smells like it's off. So please be wary. Majority of the time it's fine… but you don't want to risk getting food poisoning!
Here are some other photos of the buffet…
Hot food is a soup, a rice dish, 2 types of sausages, potatoes, scrambled eggs, a stir fry meat dish or noodle dish, and a vegetarian option such as baked beans or veggies.
---
There are juices, water, tea and coffee…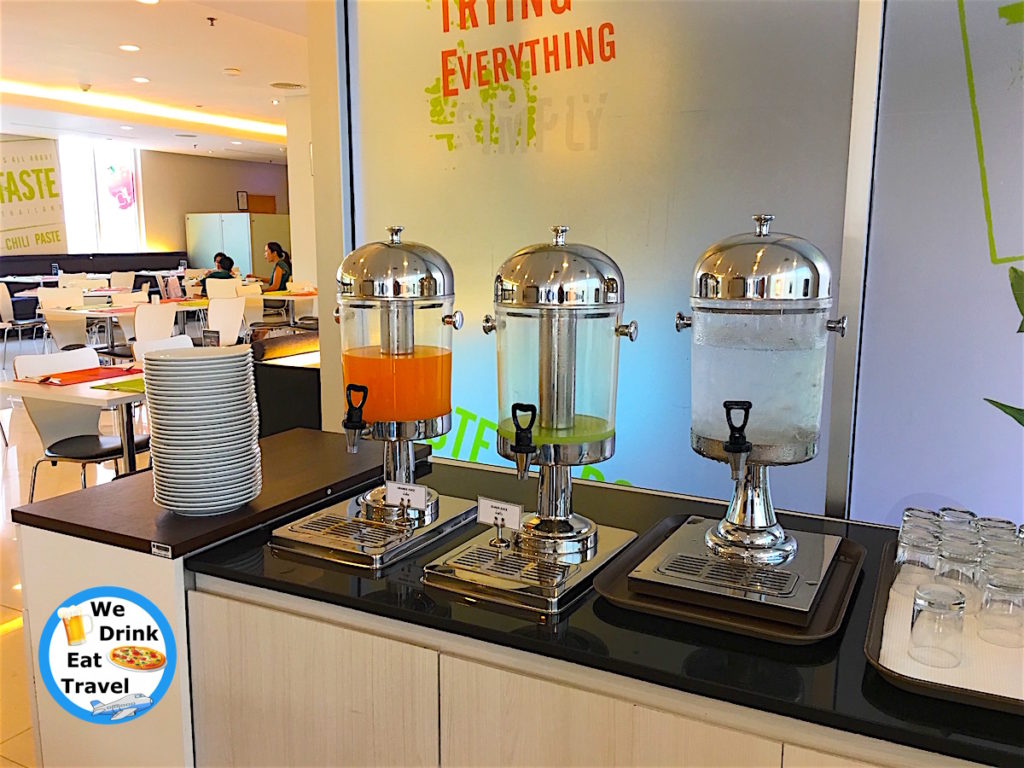 Bread, croissants, bread pudding, muffins, spreads and 2 types of cereal…
You can ask them to make you special meals, which is great. We've had fried eggs and even omelettes prepared for us.
Again, beware though…
Paul has asked for fried eggs 3 times… Out of the 3 times he's asked for them, twice they have been overcooked. We suspect that the eggs are pre-cooked… then maybe they are left in an oven…
Twice the yolk of the egg have like a dry, plastic film over them. NOT NICE!
We think it's a shame that the Ibis Hotels have downgraded their breakfast.
We think as a 3 star hotel this was a major point of difference. Yet now the buffet breakfast is just "another breakfast".
They serve a buffet lunch in the TASTE restaurant. It costs 250 baht nett (about USD $7.80). For in-house guests and AccorPlus members you get a 10% discount.
We haven't tried this. We're a bit reluctant to try it, considering the average buffet breakfast offerings.
So if you've tried it, please let us know!
Dinner
At dinner they serve an a la carte menu.
It seems at dinner time it's quiet. When we had dinner one time we were the only ones there until about 30 minutes later then another 2 people showed up.

The menu seems ok. We chose 2 Margherita pizzas and a serve of wedges…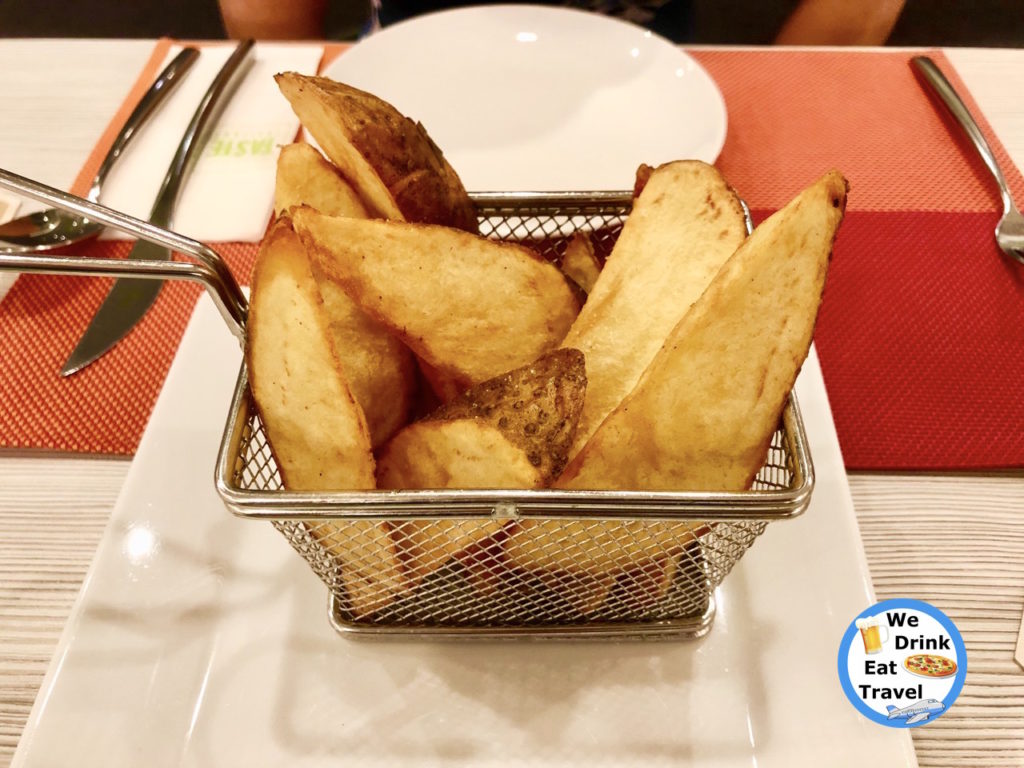 Looks pretty appetizing, right?
Surprisingly the food was OK. Sure I've had better pizza before but it was fine for us.
We saw other meals come out and they looked like decent sizes.
While they don't have room service which I wouldn't expect at a 3 star hotel anyway… the good thing is you can take you're food up and enjoy in the comfort of your own room.
As an Accor Plus member, if 2 people are dining together you get 50% off the bill. Awesome, yes?

This discount is regardless if your status in the loyalty program too, which is awesome. So even if you're at the entry level status you can get the same benefit.
For our meals the total bill BEFORE discount was 433++ baht (about USD $13.70++)… Yet, in the end we only paid a ridiculous 255 baht nett (about USD $8).
We would come back here again for dinner if we were too lazy to explore other options… And in fact we did…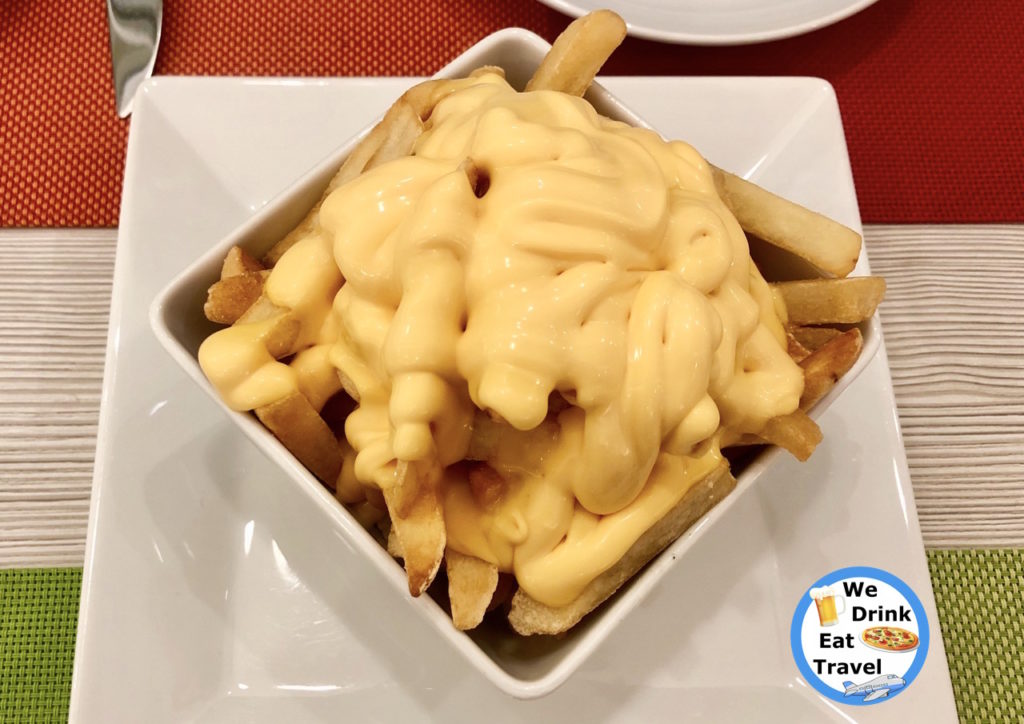 Amenities at the Ibis Bangkok Sathorn Hotel
There's no pool or gym at this hotel, and we didn't expect it either.
There are 2 outdoor seating areas. The one in front of the reception area is great if you're a sun lover! It gets the sunshine for most of the day.
Outside the other entrance on Soi Ngam Duphli… is another seating area which is shaded pretty much must of the time. Here I've seen several people bring their laptops out here. About the lobby internet speed I'll go into that later.
There's lots of seats and tables inside too. Even though they put the shades across the windows, be wary though… as it can get hot especially near the windows.

As mentioned before, they have a small bar area too next to reception.
And next to the bar is a foosball gaming table, and a few internet stations…
They also have a free shuttle that takes you to Lumphini MRT or Sala Daeng BTS. Make sure you check the times, though. You'll need to make your own way back to the Hotel.
---
There's also a tour desk if you need help with transport, or activities.
Want to weigh yourself? You can do that here!
Around The Hotel
There are several bars and restaurants next to the Ibis Sathorn Hotel. Some are quite reasonable too. We really like this one Thai restaurant…
See HERE for my review on this restaurant, less than a minute walk away.
It's great that's there's a 7-Eleven right next to the hotel too. And if that doesn't have what you're after… within about 3-5 minutes walk are more 7-Elevens, Family Mart and CP Mart.
If you want to catch the MRT or BTS… For us, we can walk to Lumphini MRT in under 10 minutes. Yet, you can take the free shuttle which can drop you off at this MRT, or at Sala Daeng BTS.
There's even a nice small park called Suan Phlu Park, which is about 500 meters from the Hotel. It even has Thai style outdoor gym equipment!
The bigger park is Lumphini Park. This is about 1km away from the Hotel.
We Drink Eat Travel Wifi / Internet Speed Test
This hotel generally has pretty good wifi speeds… Wifi speed in our room was 82.7 Mbps Download and 85.2 Mbps Upload. Pretty good, hey, digital nomads?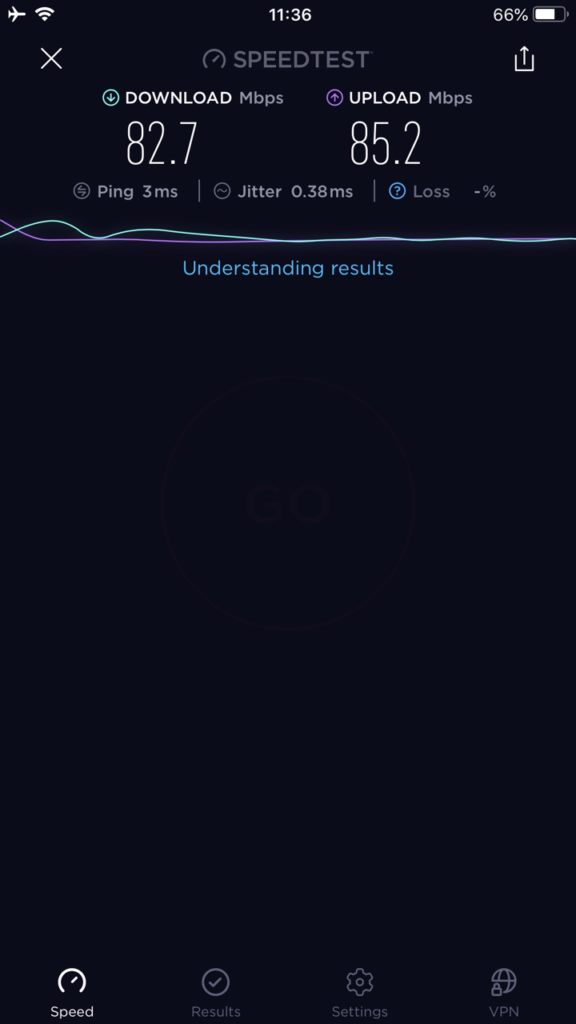 One slightly annoying thing is you get kicked off the internet randomly sometimes!
TIP:
In your welcome kit on check in, you may get a piece of paper with wifi internet login details like this…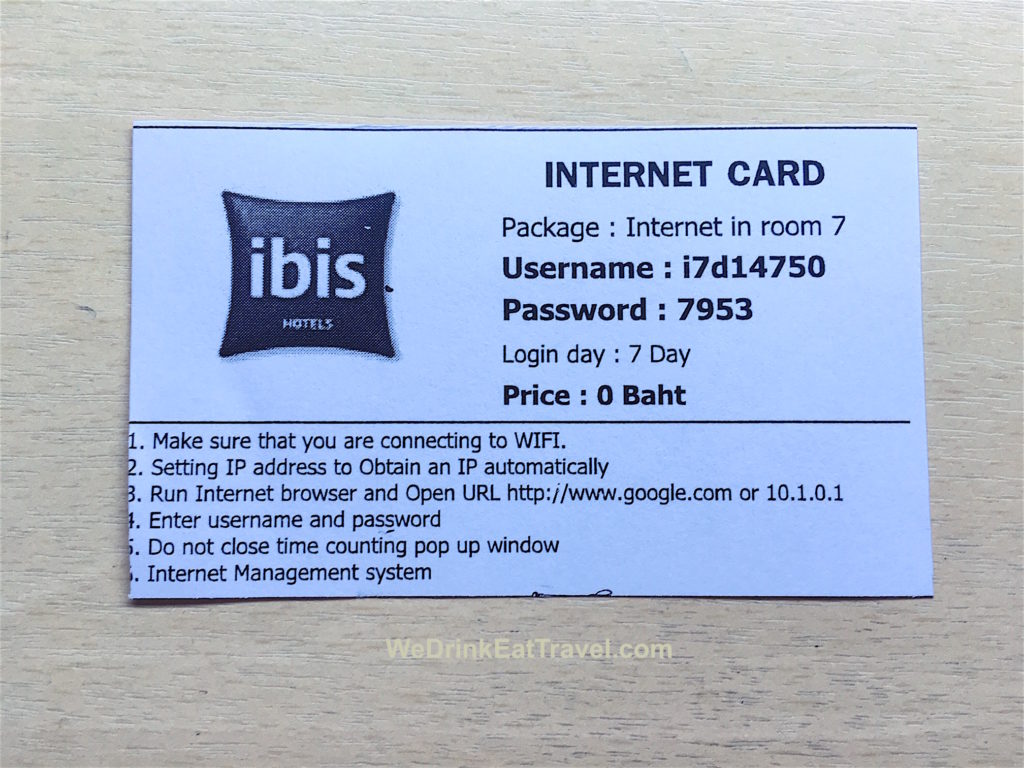 The speeds we've clocked up using this method varies. Here's a shot we took…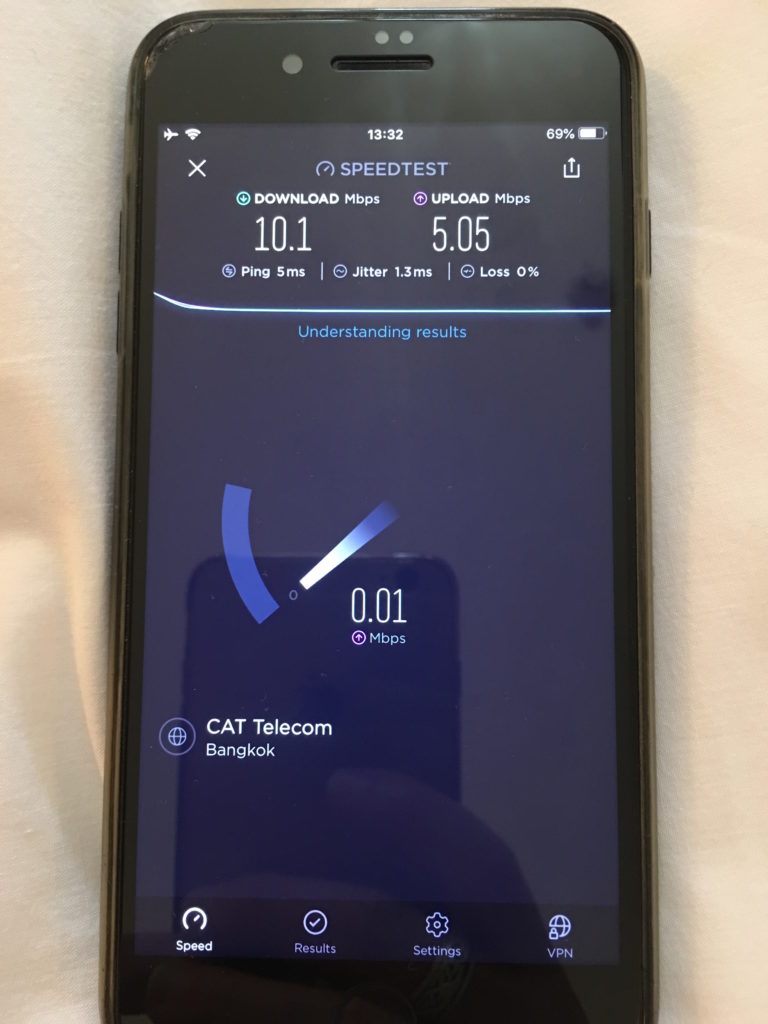 However, if you want fast wifi speeds like in the first photo… then mention that you want to use your room number to login and surname as the password. Best to organize this BEFORE you check in… as it's difficult to explain when you're at the hotel.
I also noticed several people with their laptops in the lobby, and seating area outside next to the bar.
So out of curiosity I checked out the wifi speed in the lobby… Check this out!
The Pros and Cons of Ibis Sathorn Bangkok
Pros
Generally the staff are helpful and pleasant, even the cleaning staff
2 different outdoor seating areas, including one for the sunlovers too :)
Walk to the MRT in about 10 minutes
Less than a minute walk are restaurants and 7-Eleven
A nice park close by to relax or for a very light workout on the machines
Cons
The biggest gripe would be the average breakfast
The security guard and his whistle blowing – ha ha!
Would we stay here again?
Yes we would stay here and again, and we have many times.
The wifi is super fast, which is important for us. We can get over the average breakfast. Thankfully for us it's for free as we're Platinum Le Club AccorHotels members.
Let's face it, if you look on the bright side… at least we're thankful that we drink and eat well!
Like This? Share it and comment on it!
Note: All of our reviews are our opinions and no-one else's. Even if we receive complimentary goods or services we share our opinions honestly.