REVIEW
Accommodation: Novotel Bangkok Fenix Silom
Location: Silom in Bangkok, Thailand
Room Type
Booked Superior Room With 1 King Size Bed
Loyalty Program or Deals Used
Le Club Accor Hotels / Accor Plus
Research and Booking
Paul and I were looking for a 1 night stay in Bangkok.
We weren't sure exactly where, but relatively close to a BTS or MRT just in case we needed it.
I checked the Le Club Accor Hotels App for some inspiration. After a quick search I found a deal for the Novotel Bangkok Fenix Silom. For a Novotel Hotel (four star hotel), the rate was 1694.88 THB (about USD $53). This was for their Superior Room With 1 King Size Bed – room only.
As our Le Club Accor Hotels Membership is Platinum, free breakfast for both of us would be included as part of the Accor Platinum Member benefits.
We hadn't been there before so I looked at some Tripadvisor reviews, Google reviews and photos from others who'd stayed there. It seemed fine. So we decided to give it a go! And with that I booked this hotel via the Le Club Accor Hotels App.
The Location
Silom is one of the major business districts in Bangkok.
The Novotel Fenix Silom Hotel Bangkok is about a 900m walk to Chong Nonsi BTS.
They also offer a free shuttle to Sala Daeng BTS. You would need to make your own way back to the hotel. We didn't use this service so I can't comment on this.
Check In
A couple of days before check in, I received a "thank you" and "welcoming" email from the Guest Relations Officer at the Novotel Hotel.
They confirmed some of the booking details, and requested I advise them of our arrival time.
On the day of check in we took a Grab car from our accommodation in Ploenchit.
In the car, we saw the Novotel Fenix Silom Hotel across the road. However, the Grab driver took us via the "scenic route" to get to the Hotel. She turned in an opposite direction to the hotel and we were wondering "what the heck?"
She took us into the Lebua State Tower…
And as we started to say that the Novotel was back the other way, she tried to tell us in broken English that she couldn't do a u-turn close to the hotel. So she had to go via this way.
In the end, we reached the Novotel a couple of minutes thereafter!
On face value, when you first arrive the hotel doesn't look anything special. There's small driveway and there are two shop fronts on either side of the Hotel's entrance.
Yet, once we stepped out of the car, two baggage men came running down the steps to get our luggage for us.
We then walked through the sliding doors and I saw the check in for Silver, Gold and Platinum Accor Members. No-one else was checking in – bonus!
The lady at the front desk was very polite and friendly with big smiles.
She meticulously ran us through the check in process, thanking us for being loyal Accor Members, and gave us our welcome kit. And here's the exciting thing… As Platinum Members she said they'd upgraded us to a Suite Room! Nice!
She asked if she could escort us personally up to the room. And, as soon as she opened the door here's what awaited us…
The Room
A separate couch with cushions, coffee table, padded chair, desk chair, big desk, and flat screen TV…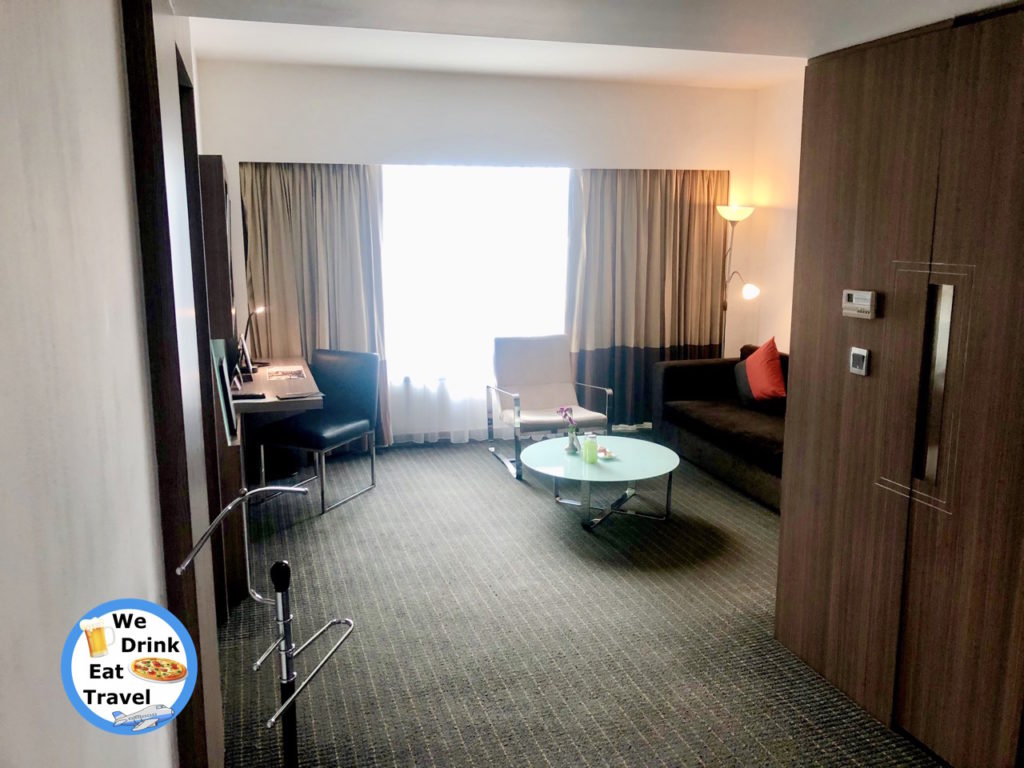 ---
There was a hand written note to welcome us… accompanied by a couple of bright apple green colored drinks and treats…
---
Next to the couch was a mini bar fridge, coffee pod machine, cupboard space, side table and speakers…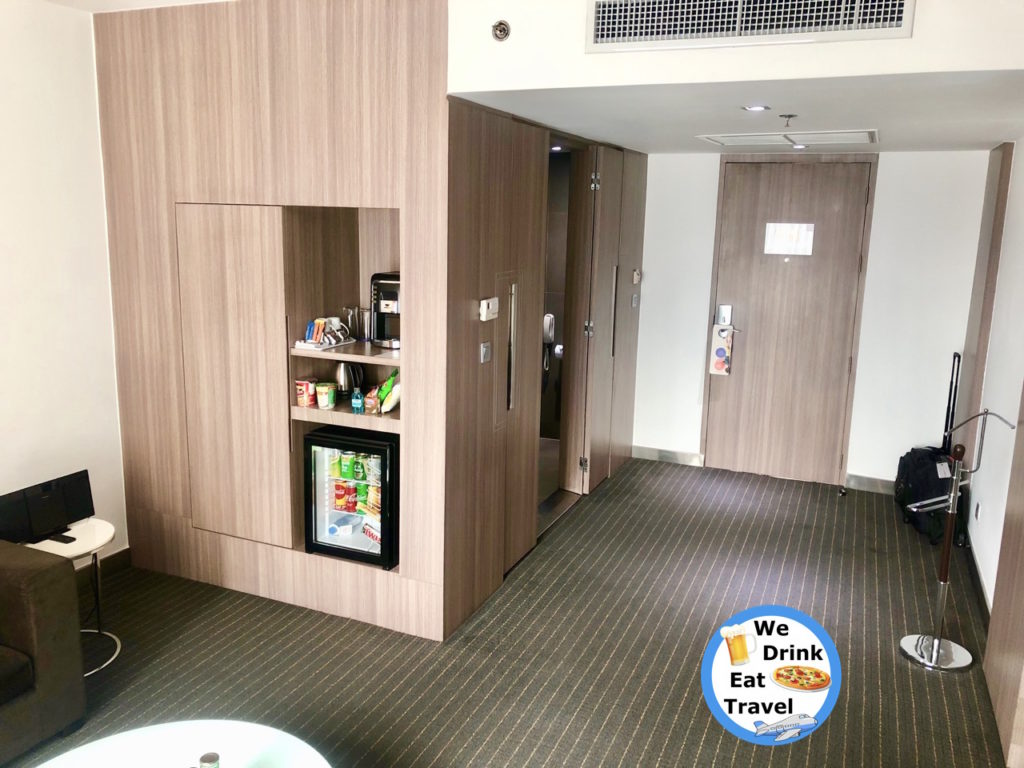 ---
We were also given an AIS pocket wifi for free use. We didn't actually use it though…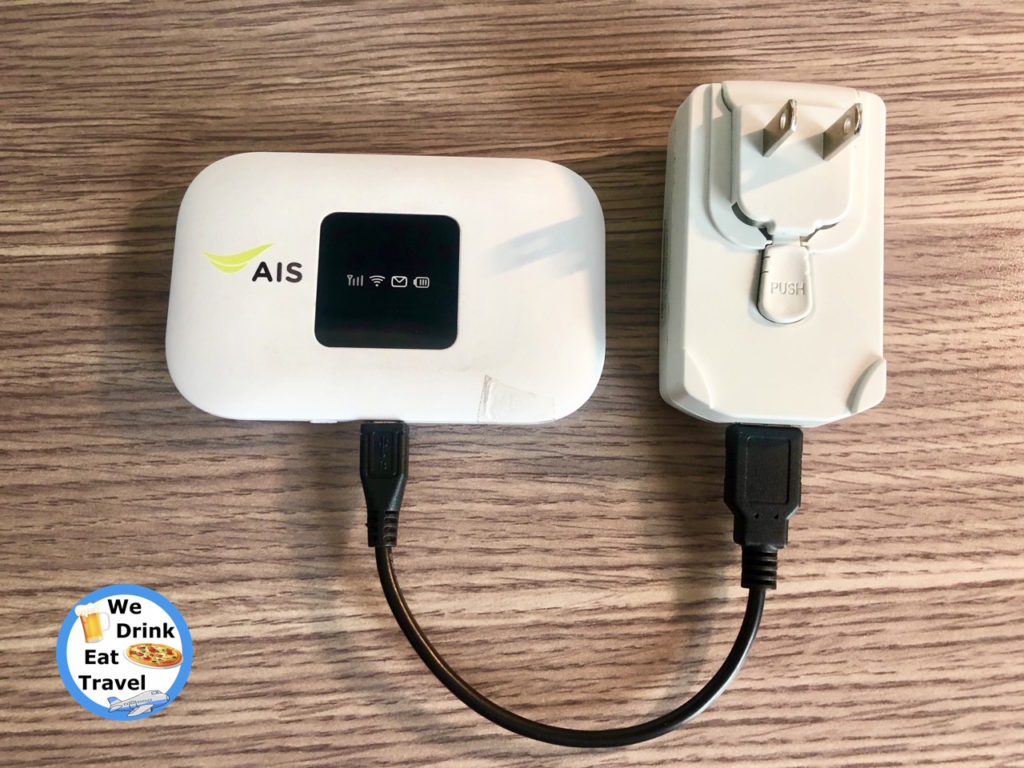 ---
And as we kept exploring this side of the room, next to the entrance we opened another door to this…
A separate powder room with toilet and wash basin. Yet, there's more! A sliding door separated the living area and the bedroom…
---
The Bedroom
A big king size bed, with small work desk, side tables, flat screen TV, more cupboard space, robes and safe.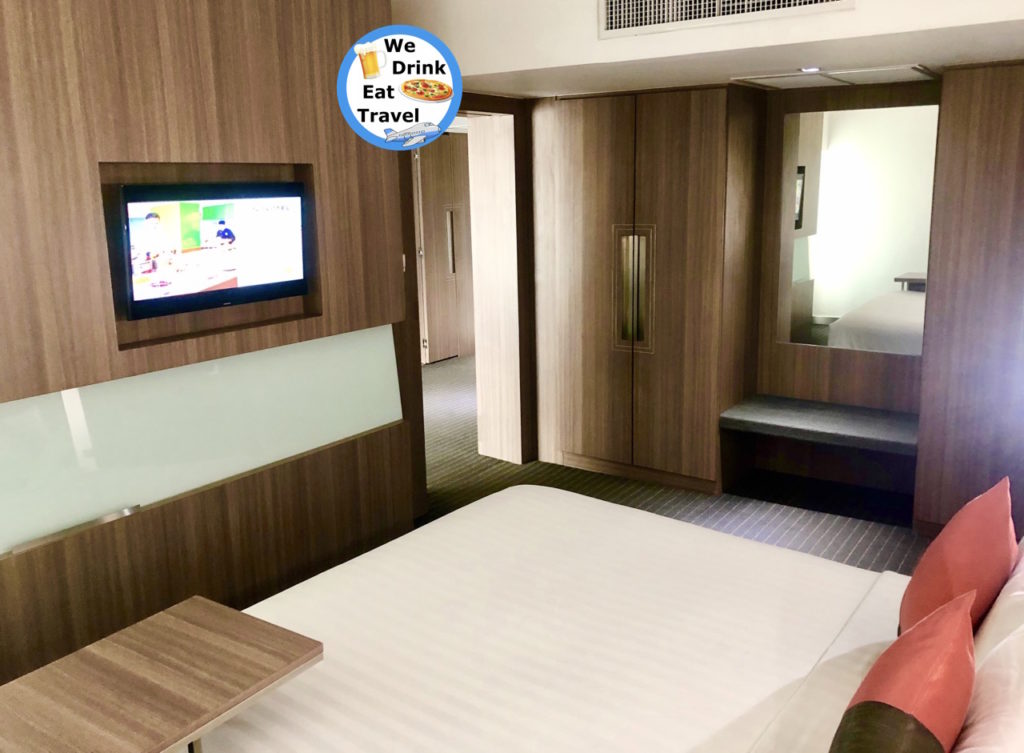 The bed was actually so comfy, as were the pillows. Mmmmmmm… needless to say we had a good sleep.
---
The Bathroom
Opening the sliding door from the bedroom led to a bathroom with deep bath tub, separate shower, separate toilet, and plenty of amenities including slippers…
---
The Suite room was very spacious and more than enough room for the both of us!
Dining
As part of our Accor Hotels Membership, we were given a voucher for 2 free drinks. This was valid at their Stone Bar on the ground floor. So before we headed out for a night out in Silom, we redeemed our free drinks…
Breakfast
The next morning we had buffet breakfast at the The Square Novotel, on level 6.
We were greeted by staff at their front desk… And after telling her our room number she escorted us to a sectioned off area for Le Club Accor Members…
Now, that was a great start! It's nice to be treated like VIPs and that's exactly how we felt.
All the eggs were cooked to order…
---
We had access to the items in the members area, as well as the entire standard buffet…
The range of food on offer was quite extensive. And they had little touches like the butter and spreads in individual containers.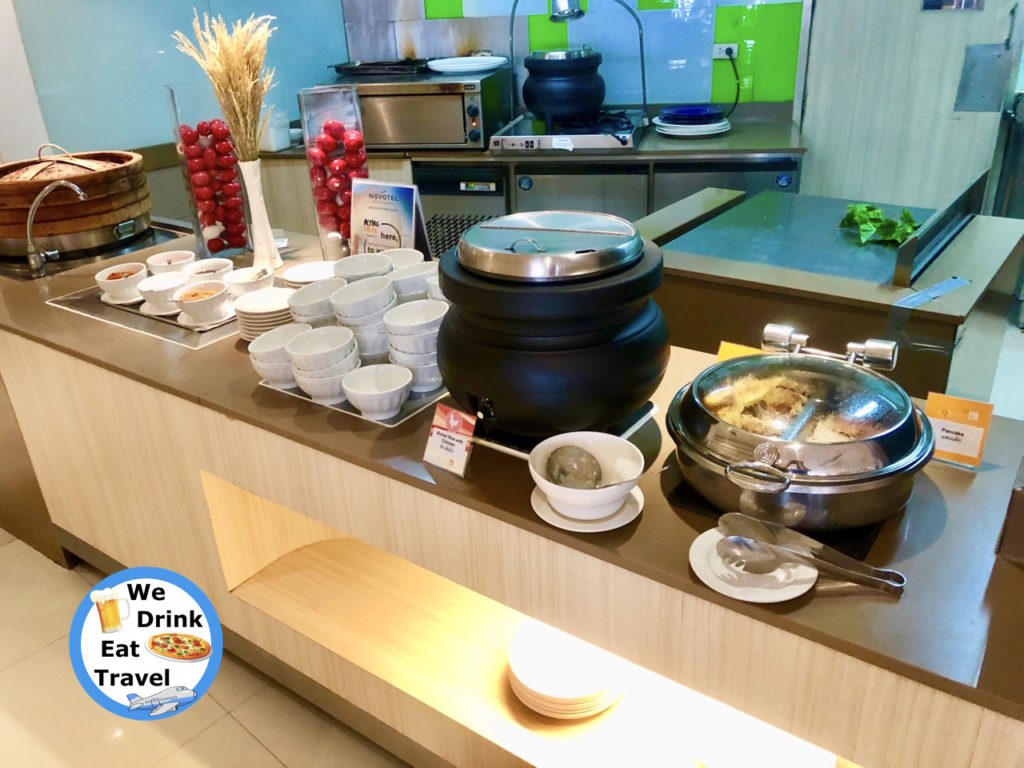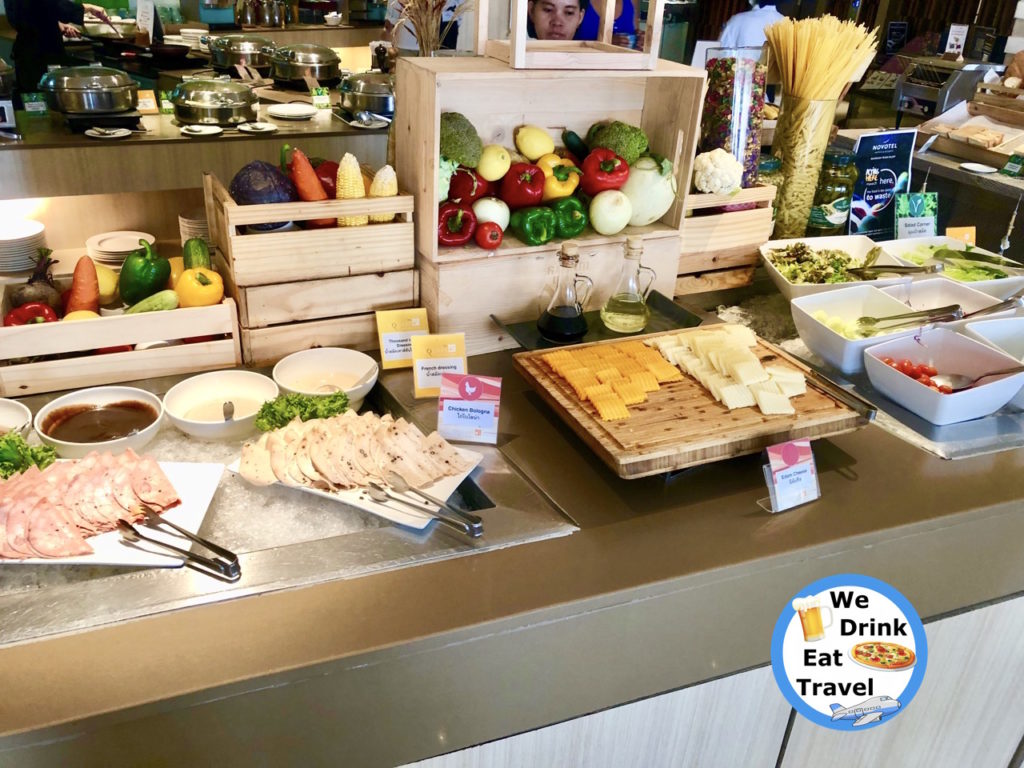 The staff were efficient and relatively friendly. And it was nice and cool in the restaurant.
Silom Novotel Hotel Amenities
The hotel has a pool and gym.
The pool is quite small yet functional. There are about 3 table and chair settings with about 4 lounge chairs. So unless you get there early you won't get a seat. We didn't use the pool area as the weather in Bangkok that day was cloudy.
The gym was small and overlooks the pool. There are about 7 machines with 2 of them out of order at the time.
There's a small selection of free weight, a Smith Machine, some benches and a couple of other items like steps.
There's a small fridge with complimentary bottles of water. On top of the fridge were some fresh hand towels.
There are separate men's and women's locker rooms too.
The gym is good for a basic workout. Yet, if you're after something more "heavy duty" then this may not be for you.
Around The Hotel
It contains some of the most popular and world renowned sky bars including the Sky Bar at Lebua State Tower… and Vertigo at the Banyan Tree Hotel.
There's a couple of Family Marts, Tops Supermarket, food court, cafes, local eateries, shops, and the Bangkok Fashion Outlet within minutes walk.
Near Sala Daeng BTS is the infamous Patpong Night Market area.
After about 5:30pm we walked from the Novotel Hotel, down Si Lom Road towards Patpong Market area. Along the way there were some street vendors selling touristy clothes and nic nacs… and some restaurants and bars.
It was really quiet and many stall vendors were starting to set up. Many of the bars hadn't opened up yet. So wait until after 6pm or even much later before things start to get active!
Once you get to this area and further on, there are plenty of restaurants, bars, shops and MORE for you to explore!
We Drink Eat Travel Wifi / Internet Speed Test
Digital nomads – they're not great speeds!
Wifi speeds in the room was 5.50 Mbps Download and 6.04 Mbps Upload
Wifi speeds for the AIS pocket wifi was 1.40 Mbps Download and 1.38 Mbps Upload
The Pros and Cons of Novotel Bangkok Fenix Silom
Pros
The size of the suite was good, and we liked the separated living room area and powder room.
Very clean and comfy room
Very attentive staff and service was excellent
Separate breakfast area for Le Club Accor Members
Cons
Slight mouldy smell and felt a little humid in the room
Very slow internet speed, especially considering they gave us the pocket wifi device for which they said was for high speed internet
Only about 4 lounge chairs by the pool
Would we stay here again?
Yes, if we didn't need good wifi / internet.
Don't judge a book by it's cover… While the outside of the Novotel Bangkok Fenix Silom hotel doesn't look grand… The service we received was amazing. So thumbs up to the staff at the Silom Novotel Hotel!
The room was great… And we loved the separate VIP area at breakfast for being Le Club Accor Members.
You can reach the infamous Patpong Night Market area by foot in about 15 minutes. Or you can catch the free shuttle from the hotel, or get a tuk tuk or taxi very easily. It's relatively close to the BTS if you need it.
The amenities in the hotel are fine and there are essential shops around within easy walking distance.
We hope you get the opportunity to go and to have an awesome time!
Like This? Share it and comment on it!
Note: All of our reviews are our opinions and no-one else's. Even if we receive complimentary goods or services we share our opinions honestly.