Accommodation: Heather's Place
Location: 3a / 909 Toorak Road, Camberwell, Victoria, Australia
LOYALTY PROGRAM or DEALS USED
Qantas Frequent Flyer and Airbnb
Research and Booking
When Paul and I went back to Australia, we had a hectic schedule. And, we had to plan well as we were touring round all over country Victoria… as well as in various in Melbourne. 
So, for one of our stays we were looking for Airbnb accommodation in Camberwell Victoria. Camberwell is a pretty city in the Eastern suburbs of Melbourne. And, it's only about 10km from the Melbourne Central Business District.
So, for our Airbnb accommodation, we'd set a budget of around AUD $100 (about USD $65) per night.
Plus, we were wanting a place with some basic cooking facilities, and for it to be in a quiet area.
And, by restricting the budget… we were able to narrow down the search results on the Airbnb website to a handful of places.
Then, in the end we chose "Heather's Place."
Heather's place has had many positive Airbnb reviews, and the place seemed homely for our stay. Yet, the accommodation wasn't a stand-alone property, so to speak. Let me explain!
It was like the garage of the unit was converted into accommodation. Yet, the place did have its own private entrance.
And, the great thing was that the price per night was $85 (about USD $56). Thus, it fit within our budget.
Plus, Heather's Place was ticking a lot of our boxes for our requirements. Yet, when we stayed there, did the Airbnb accommodation live up to our expectations?
Let's find out!
The Location
So, Heather's Place is on Toorak Road in Camberwell. And, while Toorak Road is a major thoroughfare, the Airbnb accommodation is part of a block of units. And, Heather's Place is set back towards the end of the driveway.
Thus, we couldn't hear any street noise.
So, as I was saying earlier, the accommodation is only about 10km from the Melbourne CBD. And, it was easy to get around.
And, when heading into the center of Camberwell, it's a bustling place to be.
Thus, for a short stay we wouldn't have to go far to eat, shop or go for walks. Or to see many of the pretty tree-lined streets.
Yet, I'll go into more detail later about what's around Heather's Place.
So for now… let me run through our experiences of checking into our Airbnb accommodation.
Check In
Now, before we even got to the accommodation, Heather was prompt in communicating with us.
Plus, she was even flexible regarding the check in times, which was convenient for us. Thus, big thumbs up there.
So, Heather was unable to meet us for check in. Yet, she gave us lots of details before our arrival.
Thus, the check in process was breeze. Now, let's check out the accommodation in detail…
Our Airbnb Accommodation In Camberwell Victoria
So, Heather's Place is one of a few units on the block. And, our Airbnb accommodation was one of the properties towards the back of the block. And, this was good so we didn't hear the traffic noise.
So, in walking down the driveway, on one side there's an off-street car space. Yet, if you had a massive car or like a 4WD, it may be a tight squeeze. And, bordering the car space are 2 trees.
Now, as I was highlighting to you earlier… Heather's Place is like a converted garage.
Then, as we got to the accommodation, this is what the outside of it looks like…
So, there were a couple of chairs and a round table out the front of the entrance. And, while it wasn't a private area… we could get a lot of the sun's rays if that took our fancy.
Then, to get inside the Airbnb accommodation, we had to punch in a code. And, this is what Heather gave to us before arriving. So, after putting in the code, here's what we saw next…
There was another door! Now, what would that lead us to? And, after opening this second door, here's what we saw…
The Bedroom
So, the second door led us into the bedroom.
While the room did look basic, it was set up beautifully. And, on the bed were plenty of pillows and cushions!
So, we did have 2 types of pillows to choose from, which was great. Yet, while the bed was relatively comfy, we'd prefer a firmer mattress. Plus, it would've exceptional if the bed size was a bit bigger.
Now, in Melbourne it can get very cold. So, there was a top sheet, doona and another bed cover. Plus, in a white wooden box next to the bed, there were extra blankets and more.
And, on this side of the room was handy full length mirror. So, there wasn't a closet, which didn't bother us. Yet, there were some hooks with several coat hangers instead.
Plus, there were several handy power sockets so we could charge up our devices.
Then, on each side of the bed were convenient side tables with drawers, and lamps.
And, in one of the drawers… there was a booklet with detailed information to make our stay more comfortable. Plus, there were many tourist brochures and information.
So, opposite the bed was as flat screen TV. And, there were various channels, including radio stations. Yet, the annoying thing with the TV was this… when it was turned off, a bright blue light would illuminate beneath it.
Thus, we had to try and find something to cover it, as Paul forgot to bring his eyeshades. 
Plus, there was a small skylight in the bedroom. And, we didn't think about it until the bright sunshine woke us up in the mornings! Thus, we suggest you bring some eyeshades if these would wake you up.
And, in the bedroom there was also an air conditioning unit.
Then, next to the bed was the bathroom.
The Bathroom
So, the bathroom next to the bed is a small ensuite… with frosted glass windows and sliding door.
Yet, while it was small, there were surprisingly plenty of amenities as we were opening the drawers.
And, these included… a range of shampoos, conditioners, soaps, hairdryer, lotions, emergency kit, and much more.
Then, hanging up on the towel rails were… a set of face washers, hand towels, and bath towels each.
In the shower cubicle… there was a rainhead shower as well as a hand held type shower head. And, there was a rack hanging in the shower with shampoo, conditioner and liquid body wash.
Then, there was a door, which was separating the bedroom with another section…
The Kitchen Area And More In Our Airbnb Accommodation
So, as we were opening the door from the bedroom, we saw another door on the left. And, when we opening the door… we saw that in here was a toilet, mirror, sink and handwash.
Plus, hanging on the back of the door was an ironing board.
And, the cupboard beneath the sink had lots of extra toilet paper.
So, the main area in the section next to the bedroom is the kitchen.
And here, there are 2 stools and a table that we could fold out. Thus, we could fold it back when we were wanting more space in the kitchen. So, this was a great idea for a small kitchen area.
Then, there was a small fridge, which was well stocked with foods including… various flavored yogurts, butters, cold water, coffee and milk.
Then, on top of the fridge was a microwave, toaster and coffee pods.
And, next to the fridge hanging on the wall was a vacuum cleaner.
Then, next to that was a kettle and coffee pod machine. And, we saw that on the kitchen… there was a container with fruit bread and multi-grain bread. Plus, there were many other snacks, as well as a big bowl of various fresh fruits.
It Was Suprising In The Kitchen!
But wait, as we were opening the cupboards in the kitchen… it was surprising to see how well stocked the kitchen cupboards were. And, there was more food and ingredients.
So, in one set of cupboards… there were lots of glasses, packet noodles, a range of coffees, hot chocolate and milo. Plus, there were a variety of cereals, oats, muesli, sauces, salt, pepper and more.
Then, as we were opening another cupboard, it had more glasses. And, there were a variety of teas.
Then, as we were looking in the cupboards beneath the sink… one set had a range of cutlery, knives, crockery and more.
So, as we were opening a smaller cupboard next this, there was cleaning equipment.
And, when we were opening the last set of cupboards there was more cooking equipment. Plus, there was an iron, coffee plunger, more cleaning equipment and more.
So, there is no stove top for cooking in this Airbnb accommodation. Yet, to complete Heathers place was another area.
The Courtyard
Now, the kitchen has a sliding door and flywire screen. And, when opening these doors, it led to a courtyard, which we would share with the host.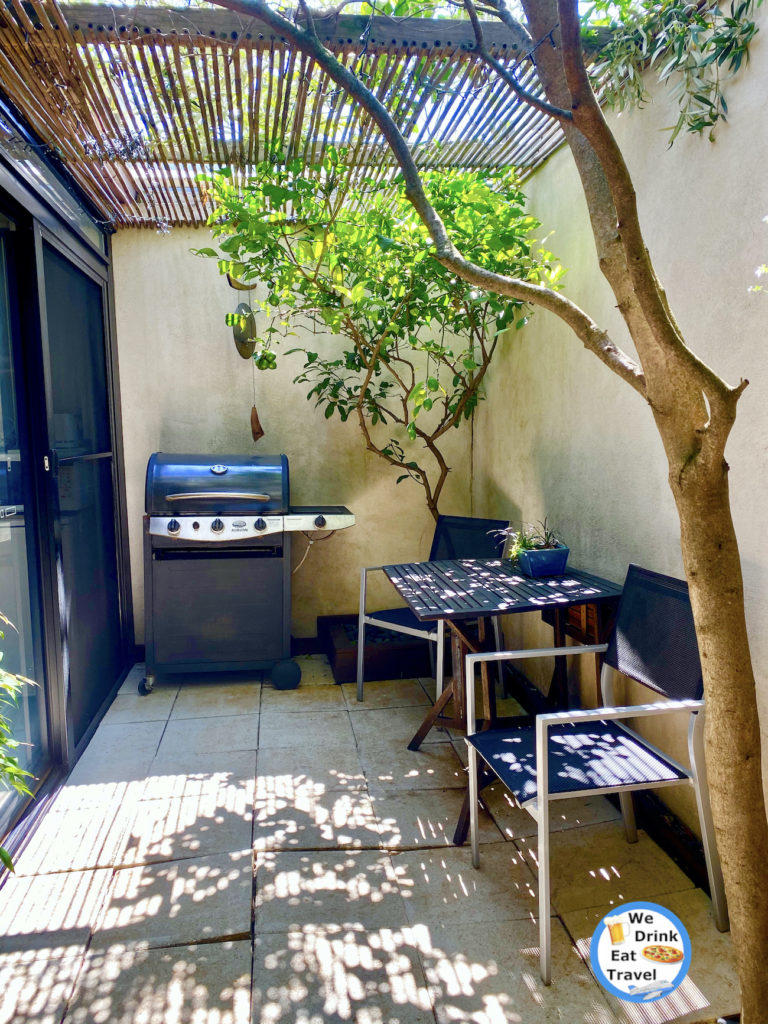 And, out here was a couple of chairs and table, as well as a barbeque, with gas cooker. Thus, with the supply of utensils in the kitchen, we could cook meals if we needed.
Yet, we would've preferred if there was some sort of barrier so we could have privacy from the host. Even so, the courtyard was pleasant, and lovely to sit out on a warm day.
Now, we did notice that there are no blinds or coverings in the kitchen… which we thought was strange.
Around Our Airbnb Accommodation Camberwell Victoria
So, the great thing about Heather's Place is that we could easily walk to cafes and other eateries. And, within a 10-15 minute walk is a small shopping center with a Coles Supermarket, several shops and more eateries.
Plus, within easy walking distance was the major thoroughfare, Burke Road. And here, we could catch trams to various parts of Melbourne. Plus, this would connect us to various train stations.
Yet, we could walk to the central area of Camberwell within about 30 minutes. And, if you can, we suggest you do so… as there are many pretty tree lined streets and lovely houses to see.
Then, in central Camberwell, there are lots of shops… with heaps of cafes and restaurants to indulge.
And, there are more supermarkets in central Camberwell, as well as gyms.
So, if you didn't want to leave the area, there are plenty of amenities nearby.
We Drink Eat Travel Wifi Speed Test
So, when we got to our Airbnb accommodation, we did our usual routine of checking the wifi speed.
And, the first speed we got was 38.1 mbps for the download… and for the upload speed we got 15.3 mbps.
So, while those speeds were good on our wifi speed test… we found that it was inconsistent. And, sometimes it would be slow. Even so, it was fine for our stay.
Would We Stay Here Again?
So, Heather's Place in Camberwell is like a converted garage. And, while it's one of the smaller Airbnb places we've stayed in… Heather made thoughtful touches to the accommodation, making it feel more homely.
And, while the block is on a main road, the accommodation was set towards the back. Thus, is was pleasantly quiet.
While it would've been great if there were blinds in the kitchen for more privacy…
The amenities and kitchen facilities were excellent. And, we didn't need to go out to get supplies for breakfast… as Heather provided us with so many options.
So, this was a great start to the day to fuel us up with energy!
Plus, to give us more privacy… we would've liked a barrier in the courtyard area between us and the host. Even so, we actually never saw Heather the host.
Yet, she was happy to provide us with any information we would need, to make our stay more enjoyable.
And, we did appreciate Heather's flexibility in allowing us to check in earlier.
Heather's Place is in a beautiful suburb of Melbourne, and was easy to get around. Plus, there were many convenient eateries, supermarkets and shops nearby.
So, for a short stay we would come back again.
Like This? Share it and comment on it!
Note: All of our reviews and comments are our opinions and no-one else's. Even if we receive complimentary goods or services we share our opinions honestly.
You Might Be Interested In This Too…
3 Travel Mistakes People Make And Tips On How To Avoid Them
Travel Destinations – Our Top 3 Capital Cities We Visited In 2019
My Carry On Luggage Must Have Item
3 Reasons Why Travel Is Important
Need Accommodation?
Find Your Perfect Vacation Accommodation
Want Cheap Flight Deals?
Cheap Flights All Year Round With Skyscanner