Route: Bangkok (BKK) – Melbourne (MEL)
Flight: JQ30
Aircraft: Boeing 787-8
Depart: 9:25 PM
Arrive: 10:35 AM
Journey Time: 9 hours, 5 minutes
Seats: 2C and 2A
Paul and I were planning a trip back to Melbourne, Australia… and this time, we would be departing from Bangkok, Thailand.
And, as we'd been spoilt of recent times flying business class with airlines like Emirates and Qatar… we couldn't go back in cattle class! Thus, we decided to go to Australia in business class too.
Yet, instead of flying one of the full-service airlines… we got a direct flight from Suvarnabhumi Airport to Melbourne Tullamarine Airport. And, this would be flying with Jetstar.
OK, it wouldn't be anywhere near like Qatar business class! Yet, we'd had flown this leg before with Jetstar in business class… and the service was surprisingly good, as was the flight.
Yet, the first time wasn't an entirely fun or exciting experience for me… as I was feeling ill for some of it. Thus, Paul was enjoying most of my food and having my share of alcoholic beverages… LOL!
So, we made the decision to give it another test.
And, the price per person for our Jetstar Business Class seat was 45,280 Thai Baht (about USD $715). This was including upgrading to the Business Max Bundle.
Now, do you think this is excessive for a low-cost carrier in business class? Or do you think it's a reasonable price?
So for us, we thought it was fine.
Yet, let me take you through our Jetstar Business Class Review. Then, this may help you to decide if it's worth your hard-earned money.
Let's get into it!
Jetstar Business Class Price And Inclusions
Now, the standard Jetstar business class fare for one person at the time was 15,201 baht per person (about USD $480).
And, this includes:
Wide leather seats
Seat selection
30kg of checked luggage
14kg carry on bags, for 2 items where 10kg is the maximum weight for 1 item
Meals, drinks and snacks on request
In-flight entertainment
Comfort pack and noise cancelling headphones
No change fees
So, the Jetstar Business Class Max Bundle is an extra 6,000 baht per person (about USD $190). And, the main differences between the Max Bundles versus a standard business class fare includes…
Lounge access at Bangkok Suvarnabhumi Airport
Qantas Status Credits and Points, or a Jetstar Rewards Voucher
And, as we were paying by credit card… we had to pay a booking and service fee of 500 baht (about USD $8) for the both of us.
So, with the meals, we couldn't pre-select them. Yet, after we made the booking, we were enquiring about getting vegetarian meals. And, the staff member told us that they don't take requests… they can only put notes on the system.
Thus, there'd be no guarantee that we would get vegetarian meals on the flight. Now, we thought that this was crazy.
Yet, after having a think about it, Jetstar isn't a full-service airline. And, even after paying a higher price for the business class privileges… we thought that they could at least accommodate our small request. But, no.
Checking Into Our Jetstar Business Class Flight
So, our flight was leaving from Suvarnabhumi Airport in Bangkok. And, it was surprising that the check in counter was open 4 hours before the flight. As other times, we've had to wait for it to open about 3 hours prior. So, that was a positive.
Then, when we were going to the counter, there was a dedicated Business Class check in counter. BONUS!
And, with only 1 couple in front of us, we only had a few minutes wait. Whereas, the economy class check in counter was already about 30 people deep.
So, the check in process was efficient and the staff were friendly. And, as part of our Jetstar Business Max Bundle, we had access to an airport lounge. So, on the Jetstar website, for Suvarnabhumi Airport, the lounge we could use was at Air France.
Then, when the staff member was giving us a silver voucher each for the lounge access… she told us it was for the Miracle Class Business Class Lounge. So, immediately it was a disappointing shock for us. Yet, there was nothing we could do to change it. Time for Jetstar to update their website!
Now, if you want to find out about our experiences at the Miracle Lounge, CLICK HERE.
Boarding Our Jetstar Business Class Flight
So, at the Miracle Business Class Lounge, there were boards advising the status of the flights. Yet, I'm always a little dubious about how correct these boards are. And, that's because a couple of times I've almost missed flights!
So, when our flight status was saying, "Gate Open" it was time for us to start packing up. Then, we'd make our way to the gate, as Suvarnabhumi is a decent size airport.
So, before we even got to the gate… there was a long line of people already waiting at the security check point.
Then, I was hoping that there'd be a separate line for business class passengers. So, as I was walking past the long line to check it out, and getting evil stares from a few people… I found that there was a separate line for business class.
So, after waving Paul over, there was only 1 other couple in front of us. Thus, it was a breeze getting through the security check and down to the gate.
Then, in normal Jetstar style, the boarding time was delayed. And, so we were waiting to board the flight with everyone else. Plus, passengers were already starting a queue for getting onto the plane.
Then, moments later they were announcing that boarding was open. And, the staff were calling for certain passengers, including Jetstar business class. So again, we were walking past the long line of people for our priority boarding. And yes, it felt great!
So, every passenger regardless of what class, was boarding the plane through the same door. Thus, all those people in economy got to have a look at the business class seats, for some inspiration!
The Jetstar Business Class Seats And Amenities
So, the Jetstar business class seat configuration for our flight was in 2-3-2 format. We'd never choose the middle section, because if the flight was full… we'd have a "friend." And, part of the reason for spending the extra in business class is to have more privacy… with our own space.
So, here's a pic of my seat, which was 2C on the aisle.
And, Paul was in 2A, which was the window seat. The seats when in recline are not lie flat beds, yet they were much bigger than economy seats. And, the leather seats were comfy to sit in.
Plus, Paul is about 5' 11" and he found that the leg room was ample… even when stretching out.
So, when the people in front of us were reclining their seats back, we still had lots of room.
Now, there's no manual window shade to pull up and down. So, how it works is that we had to press a button and the window would get darker… to this blue type colour. But, the big problem is that the shade wouldn't completely block out the sunlight.
So, when watching the entertainment screen for example, it was frustrating… as the sunlight would shine in Paul's eyes. Thus, making it useless. So, we'd rather have a manual shade any day over the modern, ineffective one!
The Amenities On Our Jetstar Business Class Flight
So, on our big leather seats, there was a black comfort blanket, small pillow, and Chill Kit.
Then, when I was opening the Chill Kit and pulling out the contents, here's what was in the re-usable cotton black tote bag…
Wet wipes
Hand cream
Lip balm
Toothpaste and toothbrush
Eye mask
Ear plugs
Socks
Pen, and
Inflatable neck pillow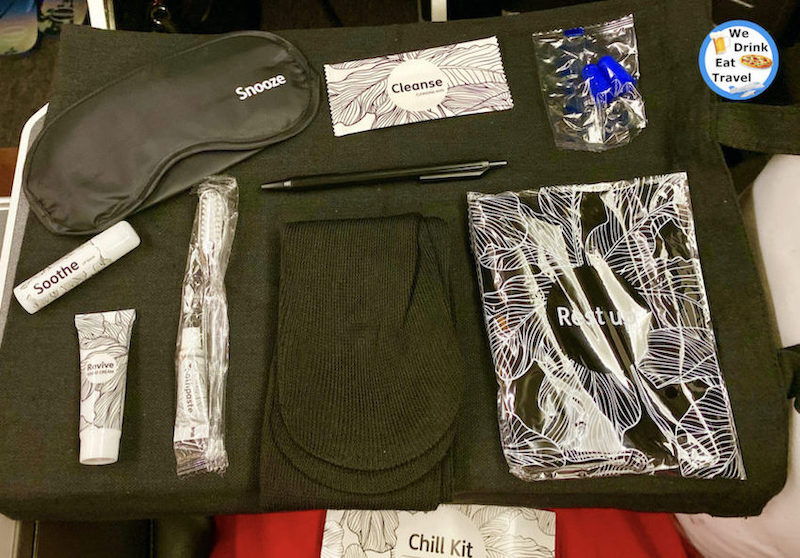 So, I thought that the neck pillow and pen were different, yet useful items for passengers. But, it was disturbing when I was looking at the hand cream… when I was opening the lid, it was like the tube was pre-used! There was hardly any cream in it and no seal.
So, after seeing that I wasn't going to use that or the lip balm! Plus, there weren't any tamper proof type stickers on those items, so I wasn't keen on using them.
Then, in the seat pocket was a 330ml bottle of water, and noise reduction headphones. And, above that was the in-flight entertainment screen.
Now, there wasn't a huge range of movies and TV shows we could watch. So, thankfully it wasn't a longer haul flight! Yet, it was better than nothing. Plus, the entertainment also had audio, games, apps and a kids zone.
So, the remote control for the entertainment system was on the lower front area of the seats. And, in between the 2 seats were chargers.
Now, we were also given an Express Arrivals card each.
Yet, when we were in Australia we didn't need them as the lines weren't long. But, it was a great benefit to have in case we did need it.
The fold out table was small.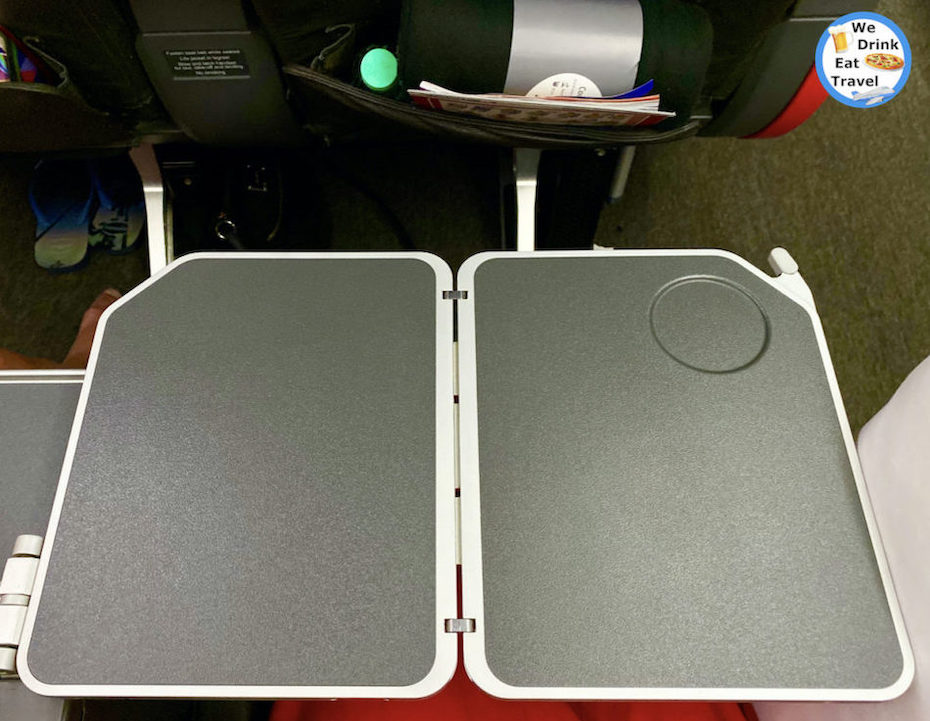 And, the tray with our meals on them were bigger than the table…LOL! So, that's a good segway into walking you through our food and drinks… as well as telling you a shocking story about the experience Paul had!
The Food And Drinks On Our Jetstar Business Class Flight
So, as the entry for everyone was through the same front door… the flight attendants were busy welcoming business and economy class passengers onto the plane. Thus, getting their attention was more tricky.
Yet, when we finally were able to grab someone… we mentioned our dietary requirements, which they took note of. Then, the staff member got an in-flight menu for us to have a look at.
Then, while she was with us, she was asking what drink we would like for take-off… an orange juice or sparkling wine. So of course, we had to get the sparkling wine.
So, the alcoholic beverage range offering was small. Yet, they did have a couple of different red and white wines. Plus, the beers included James Squire 150 Lashes, and a 500ml can of Japanese beer. So, that was a pleasant surprise!
Now, the vegetarian meal available for this flight was a vegetable dish with tomato based sauce, and polenta. So, while that wouldn't have been our first choice… it was the ONLY option we could choose. Even so, they happy to reserve those meals for us.
And, along with that meal was a bread roll with butter, a mini tart and chocolate sweet. So, the meal didn't look inspiring, and it was OK but nothing to rave on about.
And, you'll be shocked at this… Our choices for breakfast was banana bread or a croissant. WTF?! We thought it was an absolute JOKE!
Previous Jetstar Business Class Flight Meals…
But wait, there's more shocking stuff…
BANNED!
This flight was about 9 hours. And, with all drinks, meals and snacks included, we made the most of it… as anyone would on business class!
So, after a few refreshing beers, while watching a movie… Paul was ordering another beer. Yet, one of the staff members was reluctant to give him another beer. And, the crazy thing was that Paul wasn't rowdy, rude or drunk.
Plus, the flight attendant never said anything to indicate that to Paul either!
Then, after about 10 minutes that staff member never returned back. Thus, this put more of a dampener on the experiences on our Jetstar Business Class flight.
So, as another flight attendant was passing by our seat… she happily took Paul's order and promptly got a beer for him.
So, the overall service from staff was OK. Yet, there was 1 female staff member who was exceptional. Unfortunately we didn't get her name! Even so, the service was much better than in Jetstar economy class from our experiences.
But, that male flight attendant who wasn't happy about get Paul more beers… must've had rocks in his head!
Our Jetstar Business Class Review Summary
So, in writing this review of Jetstar Business Class from Bangkok to Melbourne… we must remember that it's a low-cost airline. Thus, don't set expectations high in comparison to a full-service airline… otherwise disappointment will set in!
So, the dedicated business class check in, and access to an airport lounge were positive benefits. As was the exclusive business class security check point before the gate… and the express arrivals ticket to get through immigration was handy.
But, while we've flown Jetstar business before, and on the same route… the flight this time was underwhelming.
The seats were comfy and roomy, yet the quality of the contents in the amenity kit were average. And, we weren't sure if they were re-using some of the amenities and putting them in other kits!
Plus, the window shade was annoying, as it didn't block out the sunlight.
And, compared to other Jetstar business class flights, the overall service was lacklustre in comparison… apart from 1 of the staff members where she was a stand out.
Yet, one of the worst parts of the flight was the below average food… especially when comparing to previous Jetstar business class flights. So, it was a shock to us at how disappointing the meals were. It was like economy class quality meals!
Thus, after this Jetstar business class experience… we felt it wasn't worth the several hundreds of dollars extra, and spending USD $715 per person. It would 've been better value flying economy class in a full-service airline.
Yet, in saying that, having flown business class many times now and on different airlines… it's hard to bring ourselves to fly in economy!
Have you flown Jetstar business? What were your experiences like?
You Might Be Interested In This Too…
VAT Refund Bangkok: How To Get Money Back On Your Shopping At Suvarnabhumi Airport
Thailand Food – Being Vegetarian In Thailand
Night Market Bangkok: All Aboard For The Ratchada Rot Fai Train Night Market
Shop Until You Drop In Ratchada, Near Thailand Cultural Center MRT
Bangkok Public Transport: How To Use MRT Bangkok
Things To Do In Bangkok – Visit The Camp Flea Market With Surprising Relics!
Getting A Grab From Suvarnabhumi Airport Bangkok With Pro Tips
Travel Destinations – Our Top 3 Capital Cities We Visited In 2019
3 Travel Mistakes People Make And Tips On How To Avoid Them
My Carry On Luggage Must Have Item