There's plenty of things to love about Bangkok, from its plethora of markets to high end shopping… to delicious local foods, incredible sights, and vibrant nightlife.
And, when you're exploring Bangkok, there are many ways to get around. Sure, the tuk tuks are fun especially after a long night out, and the Grab app is convenient. Yet, having all the pollution billowing around your face gets annoying after a while.
And, getting stuck in traffic is frustrating!
Plus, negotiating a fare for taxis or tuk tuks can end up in a horror story!
Now, one of our most favorite methods is to use the Bangkok public transport, particularly the MRT. So, in this blog post I'll give you a run down on how to use MRT Bangkok.
What Is The MRT In Bangkok?
MRT stands for mass rapid transit, which is a metropolitan train system in Bangkok. The MRT consists of the Blue Line, which covers a distance of 47km and 38 stations. While the Purple Line covers a distance of 23km, with 16 above ground stations.
Now, all the stations were originally underground… making it much more cool than using say, the BTS above ground skytrain system. Plus, the trains are air conditioned too. Thus, making your journeys more comfortable.
But, as the MRT has been expanding, the trains on the newer Purple Line are all elevated. Plus, 8 stations on the Blue Line MRT are also above ground.
Yet, many of the Blue Line trains are underground. And, most tourists won't be using the Purple Line MRT… as from our perspective there aren't as many sites to see on this line.
So, our experiences on the MRT Bangkok public transport, has been on the original Blue Line.
Now, we have taken big pieces of luggage on board the MRT. Yet, be wary that not all MRT stations have lifts. So, it can be cumbersome lugging your baggage around up stairs or escalators.
How Much Is An MRT Fare?
So, the Bangkok MRT fares will vary depending on how far you want to go. Yet, generally the fares start at 16 baht per adult (about 0.50 USD / Euros), for a single journey to one station. Then, the fare increases a couple of baht or so for every station thereafter.
Thus, it's a very cheap way to travel in Bangkok. Plus, you won't get stuck in traffic and you'll be in air conditioning.
---
TIP:
An excellent website I found is called, www.metro.bemplc.co.th
And, in this site it helps with route planning, fare calculations, and ticket options. It really is an awesome and helpful website!
---
How To Get MRT Tickets
Now, before you buy your MRT tickets, you'll need to walk through a security scan device. And, the scanner had a guard, who has a small torch and will check your bags if they ask you.
Most of the times when we've gone through, they haven't asked to check our bags. But, be prepared!
So, the tickets are actually tokens like this…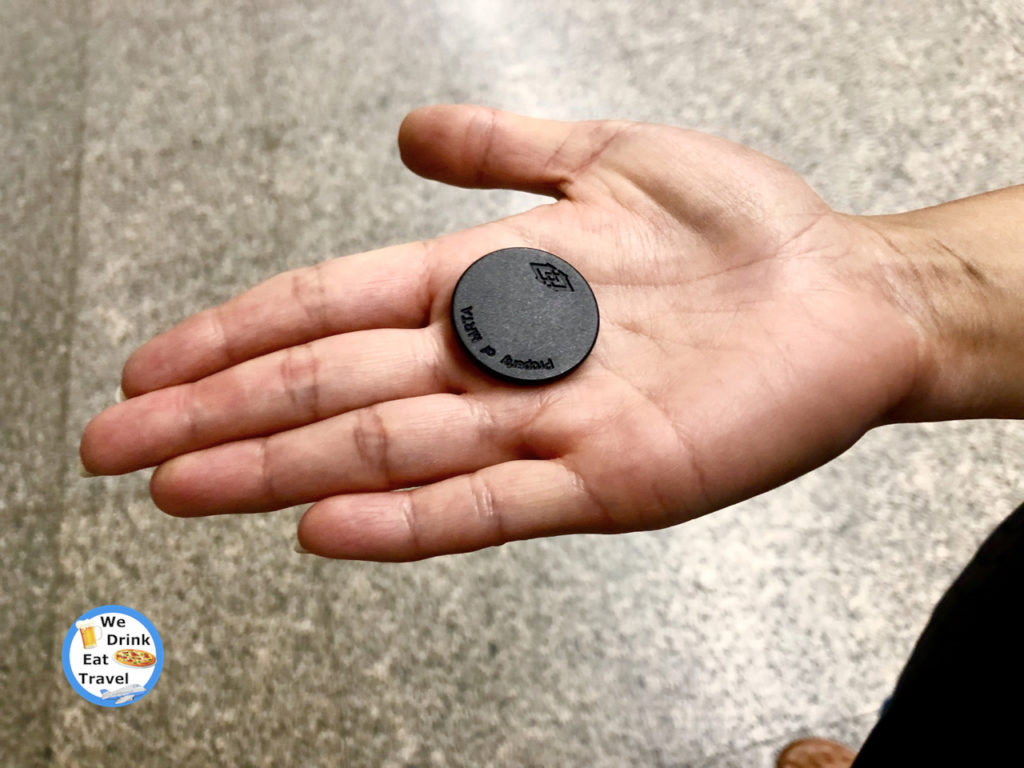 And, these can be bought at a ticket counter with a real person. Or, you can get the tokens at the self-serve type machine. Yet, be wary though as some of the machines only take coins.
Then, if you choose the slef-serve machine option, the screen will show an interactive display of the train stops. Then, on the screen you can select the stop you need and it will show the fare.
Sometimes you can buy a few tokens in the one transaction. Otherwise, you'll need to get each one separately if buying for more than one person.
---
TIP:
If you're buying several tickets, it may be more convenient to get it at the ticket office. Then, you don't have to worry about pulling out different coins or notes per transaction. Plus, sometimes the screens and machines don't always work properly!
---
Now, Bangkok's peak times may result in you having to cram in with other users… or you may have to wait for the next train. And, if you have lots of luggage, this will be pain in the butt at peak times!
---
TIP:
For a more pleasant journey, try and avoid Bangkok peak hours. So, peak times are around 6:00am and 9:00am… then from 4:30pm to around 7:30pm.
---
How To Use MRT Bangkok Tokens
So, once you have your token in hand, go to one of the various turnstiles.
---
TIP:
Not all turnstiles will be operating for you to go through. So, the ones you CANNOT use will have a red cross display… near the top right hand corner of the turnstile.
---
Then, lightly tap your token over the sensor pad at the top of the turnstile. And, after that the gates will open for you to go through to the station platform.
Now, hang onto your token! Those little suckers can slip through your fingers, or get lost amongst your belongings in your bag!
Then, when you get down the train platforms, there are 2 platforms you can choose from. So, make sure you check the signs… so that you get on the correct train and the direction you need.
And, there are monitors showing how many minutes until the next train will be arriving.
Then, on the platform you'll also see painted on the ground, yellow and green arrows like this…
So, the green arrows are to show people exiting the train. And, for the yellow arrows there are generally 2 sets of these. So, people line up on the left and the right side of the door opening.
So, make sure you're standing behind these lines, and WAIT for other passengers to get off first! We've seen other people try to barge on without allowing others to alight first. And, this can make the system inefficient!
Then, once inside the train… there are signs above the doorways, showing the train stations. And, when the train is coming into a stop, there's an announcement in Thai and English stating what station the train is coming up to.
Then, as you reach your desired station, have your token handy. And, head to one of the turnstiles and put your token into the slot. Then, the gates will open.
TIP:
Before you put your token in the slot to exit through the turnstile gate… wait until the person before you has gone through and the gate has fully closed.
Now, if for whatever reason the gates don't open… Yes, that's happened to us before… Then, there's always a staff member on hand that will let you through the manual gates nearby them.
The Service Hours Of The MRT Bangkok
So, on the Blue Line the hours are Monday to Sunday, from 5:30am to 12:00am.
And, on the Purple Line, Monday to Friday from 5:30am to 12:00am. Then, Sunday and Saturday from 6:00am to 12:00am.
Yet, best to check the times yourself either on the website I gave to you earlier, or find out from a staff member.
Because, one time we almost missed the last MRT train. And, to get people through onto the trains… the staff gave us tickets so that we could buy our tokens at our destination station instead.
Different Things To See Using The MRT Bangkok Public Transport
So, with the MRT stops, there are several you can get off at for things to see in Bangkok. And, a few examples include…
Chatuchak Park, BL13 on the Blue Line…
And, this will get you to the humongous Chatuchak Market, where you can shop until you drop!
Thailand Cultural Centre, BL 19 on the Blue Line…
And, here you can head on over to the Talad Rod Fai Train Night Market.
Phra Ram 9, BL 20 on the Blue Line...
And, if you're wanting electronic goods, cameras, mobile phones, laptops, accessories and more… This station is great to check out Fortune Town.
Phetchaburi, BL 21 on the Blue Line…
So here, you can connect to the Airport Rail Link for a quick journey to Suvarnabhumi Airport.
Lumphini, BL 25 on the Blue Line…
So, if you're after some serenity in a lush green atmosphere… here you can wander over to the big and pretty Lumphini Park.
Hua Lamphong, BL 28 on the Blue Line…
And, after about a 15 minute walk or so you can reach Bangkok Chinatown. Yet, if you want to be in the heart of it and Bangkok's Old Town… then the stops until Sam Yot will also service these sights.
So, as you can see the MRT services many of the things to do in Bangkok. And, that's just a small sample of things, with plenty more to do!
So, we've found that the Bangkok public transport particularly the MRT… is a cost effective, comfortable, efficient and convenient way of getting around Bangkok. Thus, I trust in this blog post you now have an idea of how to use MRT Bangkok.
Like This? Share it and comment on it!
Note: All of our reviews and comments are our opinions and no-one else's. Even if we receive complimentary goods or services we share our opinions honestly.
You Might Be Interested In This Too..
Check Out Our Thailand Photos And Information
Getting A Grab From Suvarnabhumi Airport Bangkok With Pro Tips
Travel Destinations – Our Top 3 Capital Cities We Visited In 2019
3 Travel Mistakes People Make And Tips On How To Avoid Them
My Carry On Luggage Must Have Item
3 Reasons Why Travel Is Important
Need Accommodation?
Bangkok Hotel Review: Prom Ratchada Residence And Spa
Find Your Perfect Vacation Accommodation
Want Cheap Flight Deals?
Cheap Flights All Year Round With Skyscanner