Paul and I were eager to visit Hue, based on hearing awesome stories about it. We did end up going and had an incredible time, even if it was only for 2 nights.
We saw plenty of sights such as the ancient tombs of emperors including Khai Dinh…
And we also spent hours at the Imperial City…
As well as strolling along the Perfume River, enjoying the lush green parks, and eating lots of delicious Vietnamese food… as well as non-Vietnamese food!
Plus, we had fun bar hopping in Hue!
To get to Hue from Danang we decided to get a private car. It cost us USD $55, which included stopping at Hai Van Pass, Lang Co Beach and Lap An Lagoon.
There were many benefits in taking this option. There were a couple of negatives as well…
You can find out more about our trip getting from Danang to Hue by private car HERE.
So for the return trip from Hue to Danang… we could've hired the private car again with the same company, or by motorbike, bus, train, or van.
Yet, on our trip back from Hue to Da Nang, we didn't need to stop off anywhere. We'd done the sightseeing that we wanted and had to leave in the late morning.
So, to try something a little different, we ended up taking a private car again, but using Grab Vietnam.
In case you didn't know, Grab is a transport company, where via an app you can book rides similar to a taxi service. Plus, in Vietnam for example… with Grab you can get food delivered, parcels delivered, pay bills and more.
And you can earn rewards points to redeem a host of things like transport discounts, shopping offers, food offers and more.
From Hue To Danang With Grab Vietnam
Our Hue hotel that we stayed in for 2 nights was Gold Hotel Hue. You can see our review of this hotel HERE.
So after we had buffet breakfast at the hotel, it was time to head back.
So to book the Grab car, I used the Grab app that I'd downloaded onto my iPhone.
When I put in the details, the price came up as 1,208,000 VND (about USD $51.80) to our accommodation in My An, Danang. And this was for any Grab car or even Grab taxi, just whichever was closer.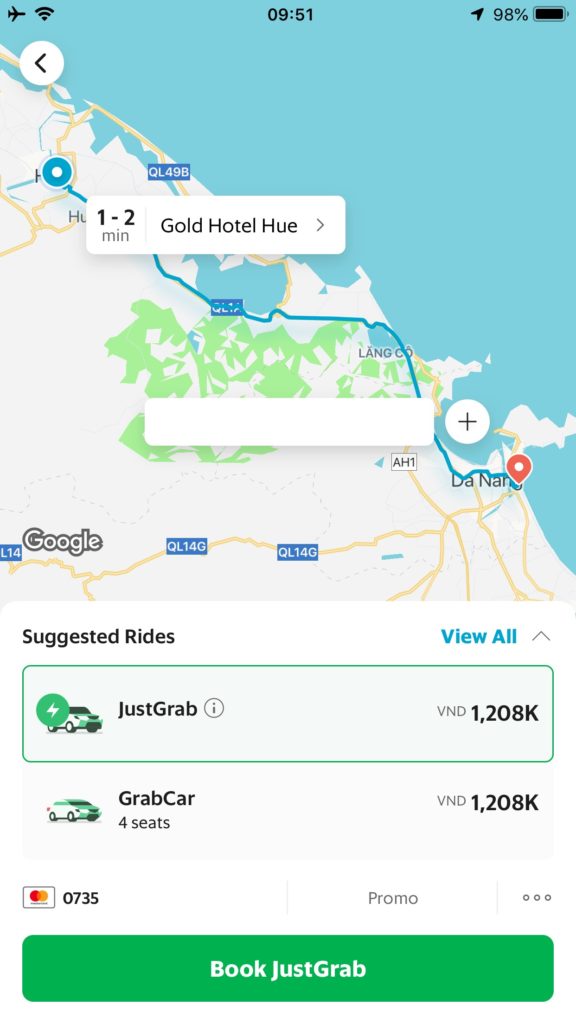 A minute later, a driver accepted my booking but then cancelled seconds later! Argh.
So on my second attempt at booking a Grab driver, it was accepted seconds later. The car was a Mitsubishi Xpander 7 seater. So it was more than enough room for us and our backpacks!
The driver was also very polite, speaking some English… and even helping to adjust the seats to make the ride more comfortable for us. He put the air conditioning on high without us even asking, so we were impressed.
Plus, he put on some background music!
Along the way back we took some awesome photos from inside the car, from Hue to Danang…
I Made A Mistake!
Now, I had assumed that we would be taking a similar route to what we took for getting from Danang to Hue. Yet, we didn't!
We ended up going through the Hai Van Pass tunnel…
It was cool to tick this one off the list, yet I didn't account for the 2 lots of toll fees that I'd have to pay to get back to Danang…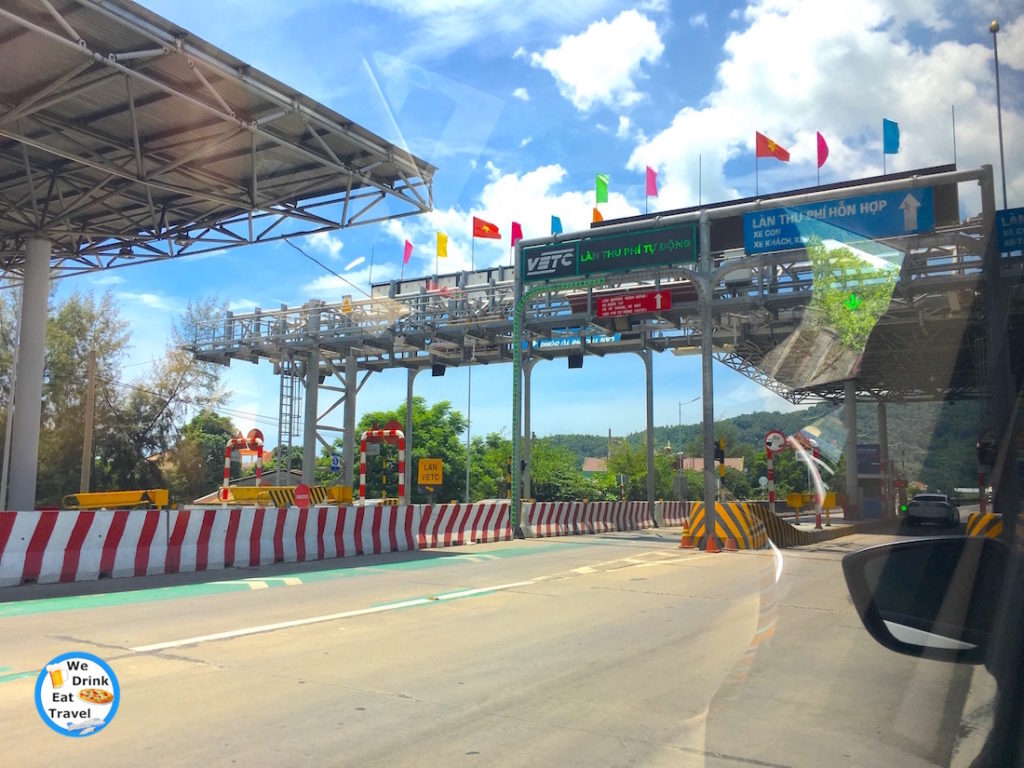 The 2 sets of toll fees were 35,000 VND each. So a total of 70,000 VND which was about USD $3. So not much in the scheme of things.
Yet, my mistake was making an assumption and not factoring in the possibility of tolls.
The driver apologized for the tolls, and also used Google Translate to get his point across. Oh well, at least he was a good driver.
And he got back from Hue to Danang quickly too. Using the toll roads only took us 2 hours and 10 minutes!
So all up, getting from Hue to Danang by Grab car cost 1,278,000 VND (about USD $54.80).
Plus, we got door to door service, in a cool air conditioned environment, and in a big comfy car! I also got reward points that I could redeem for something later on.
Reasons Why You May Not Want To Use Grab Vietnam
While the trip was fine for us and fast… here are some reasons you may not want to use Grab to go from Hue to Danang:
You don't know what type of car you'll get… so if you want certainty of the type of car, using Grab is not for you.
If you need to stop for a toilet break or make other stops, the costs may increase. Generally Grab has a fixed cost, yet if change part of the route or making frequent stops… most likely you will need to pay extra money on top of the fare quoted.
You won't know the quality of the driver until after you're in the car and on the road. We won't accept a driver unless he or she has a 5 out of 5 star rating. Even then, sometimes we think some of the drivers we've had deserve 5 stars! So again, there's that uncertainty which may or may not bother you.
It is more expensive than taking other transport such as a bus or train. So if you're looking for cheap transport from Hue to Danang then this isn't for you.
So there was a snapshot of getting from Hue to Danang by Grab car. We hope you enjoy your travels in Hue and Vietnam!
Let us know about your experiences and share them on our site.
ENJOY!
Like This? Share it and comment on it!
Note: All of our reviews are our opinions and no-one else's. Even if we receive complimentary goods or services we share our opinions honestly.