I'm sure many of you would understand…
After a big night out on the booze sometimes you want something to satisfy the post alcohol cravings…
And after a crazy night out in the Red Light District of Nana, in Sukhumvit Soi 4 Bangkok… Paul and I needed some carbs and something greasy!
We didn't feel like Thai food…
And we didn't feel like stumbling from door to door trying to find something to gorge on.
So where do we go in the middle of the night when most eateries close?
A 7-eleven store!
You can pretty much find a 7-11 in Thailand almost everywhere in the major cities…
Or at least it feels like there's a 7-eleven or Family Mart every 100 meters. Ha ha! Thank goodness they're around though, especially as they were our savior after our night out on the town…
After wandering down a few of the aisles we found this in the one of the cold food aisles…
Oh, yum! A cheese toastie! Or depending on where you're from it might be a jaffle or toasted sandwich… And what a bargain at 35 baht each. (about USD $1.05). Plus there were other varieties like ham and cheese, or tuna.
We were starving! We were so hungry that we actually cleaned them out of their supply of cheese toasties, which was 7 toasties!
Yep, Paul has a massive appetite… He had 5 cheese toasties and I had 2!
So Here's How It Works…
Grab your toastie or toasties. When you go to pay for the jaffles at the counter, they'll ask you if you want them to cook it up. Oh yeah!
They'll then put it in the toastie maker.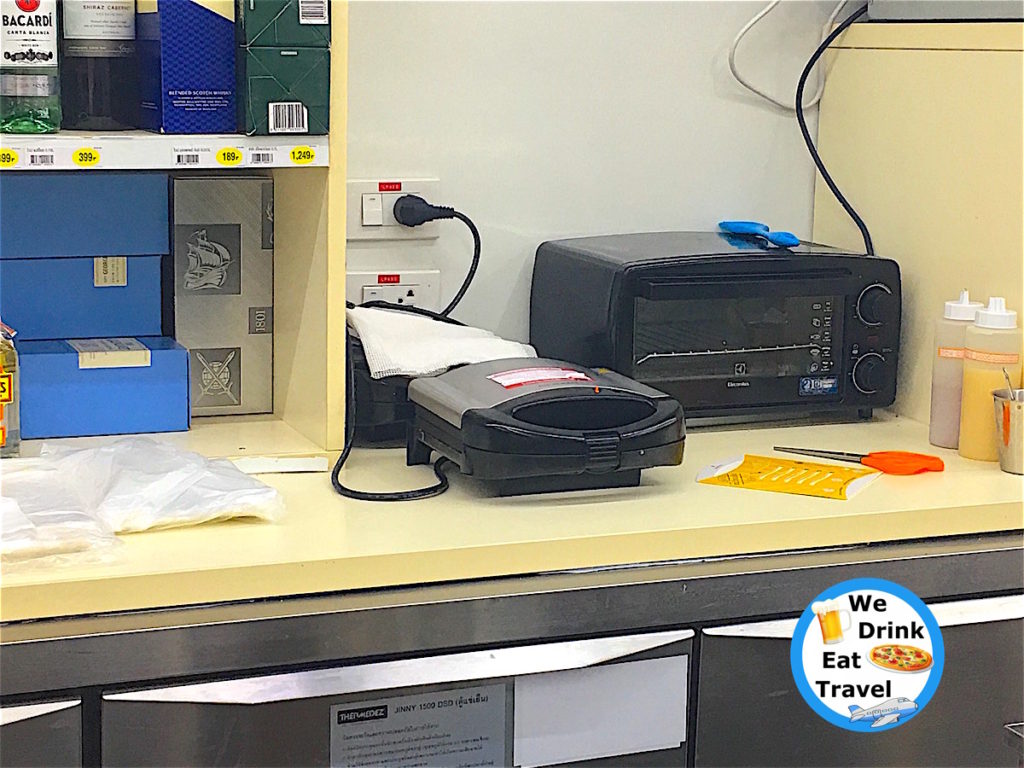 And in a few minutes the smell of rich, melted cheese and toasted bread wafts in the store…
The staff get your piping hot toastie and put it in a container…
Take it back to your accommodation to eat, or have it roasting hot at the 7-eleven, and take a bite of that stringing cheese…
The 7-eleven cheese toastie… Pure heaven fast food after a night out in Bangkok!
Like This? Share it and comment on it!
Note: All of our reviews are our opinions and no-one else's. Even if we receive complimentary goods or services we share our opinions honestly.