Paul and I heard about an area in Ho Chi Minh where you could party the night away with thumping loud music, mixing with the local Vietnamese and tourists, amongst the abundance of restaurants, street food and colorful bars…
And the best part being, you could do it cheap, if that matters to you.
During the day, a lot of tourists head into District 1 to see the many amazing sights…
Yet, when the sun goes down and you want to soak up a party atmosphere… tourists and locals alike make their way to Bui Vien Walking Street.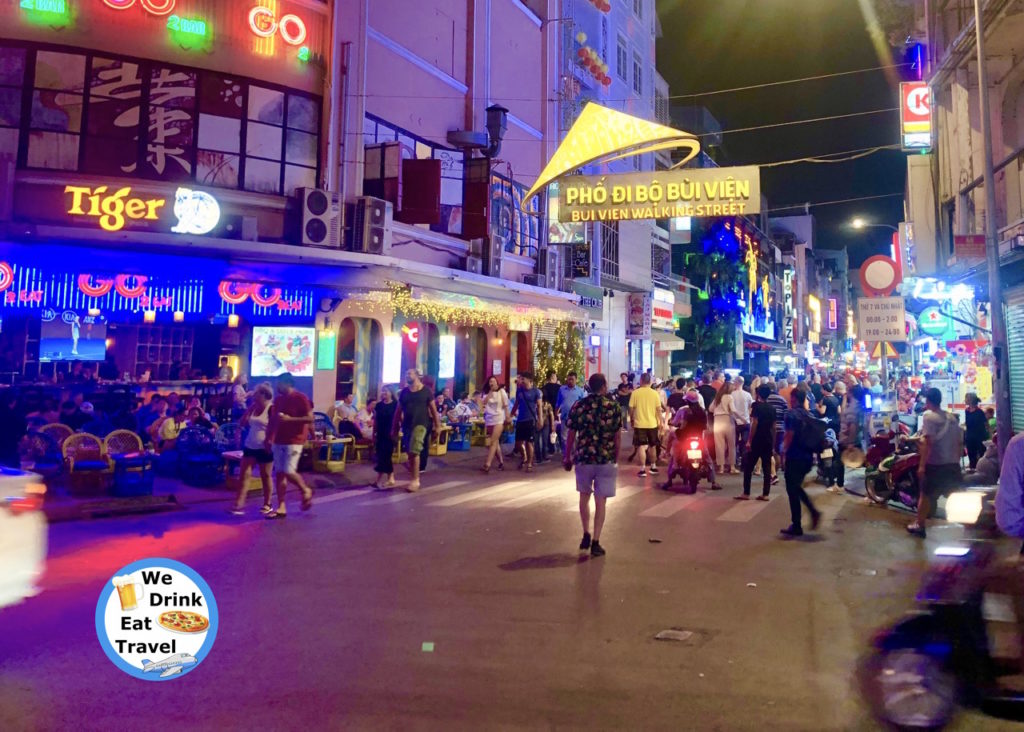 It's completely different if you come during the day versus the night. For a few quiet drinks or to have a meal daytime is best. Some places close during certain times in the day…
Yet if you want to do a bit of shopping, eating, drinking, or have a massage you'll still have lots of options.
Yet, if you want action, bright lights, blaring music, balloons, and more… night time is best.
You'll find Bui Vien Walking Street at 206 Bùi Viện, Phạm Ngũ Lão, District 1 in Hồ Chí Minh City. It is in the "backpackers area" yet you'll see all sorts of people coming here.
And even though it's called a "Walking Street" you'll see cars and motorbikes going down here. After certain times then the barriers come out to block the ends of the street and then it becomes walking only.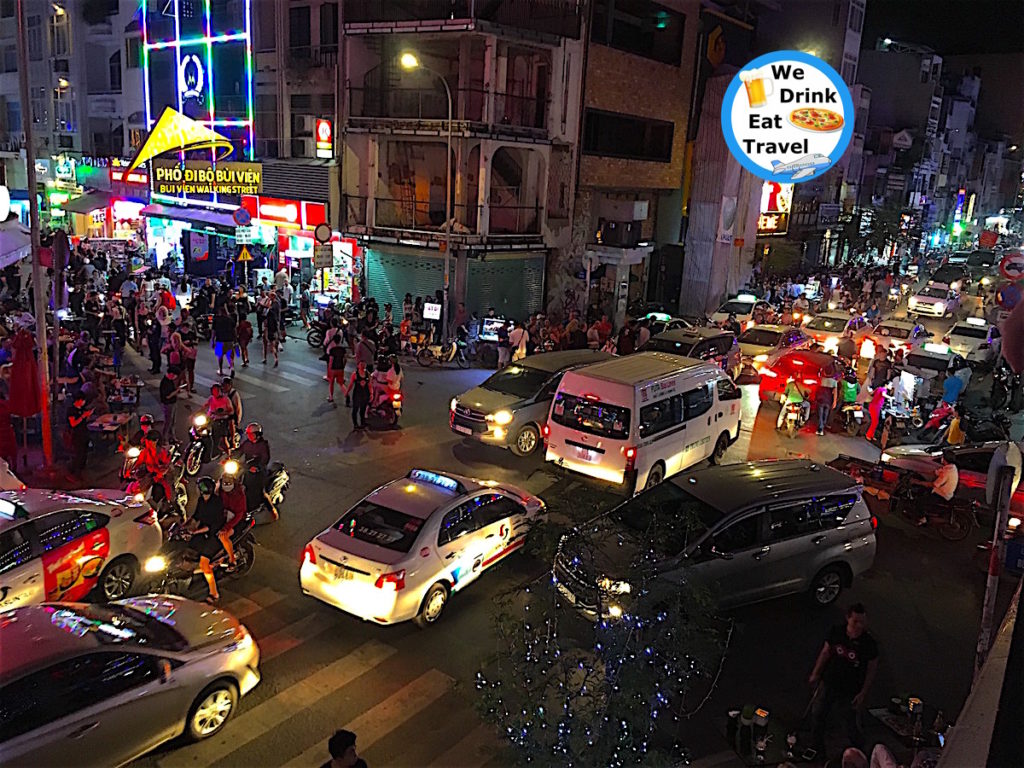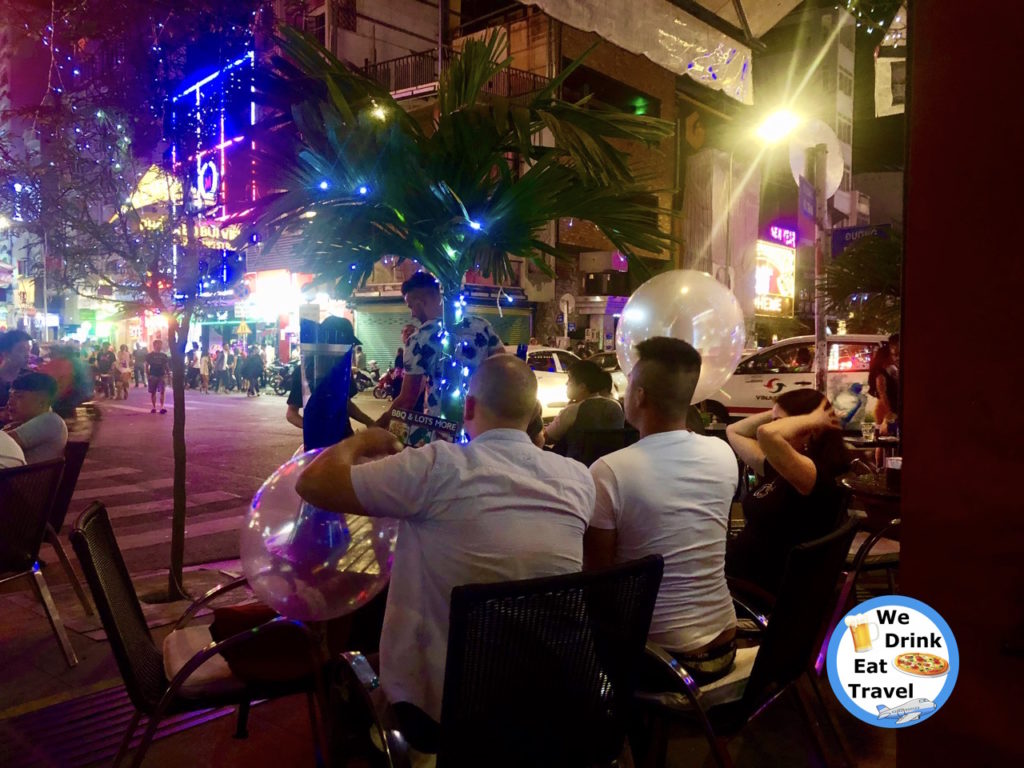 There are plenty of bars to choose from. If you go to the ones that we call the "Mom and Pop" places… the ones with the little plastic chairs and tables, the drinks and food will generally be cheaper.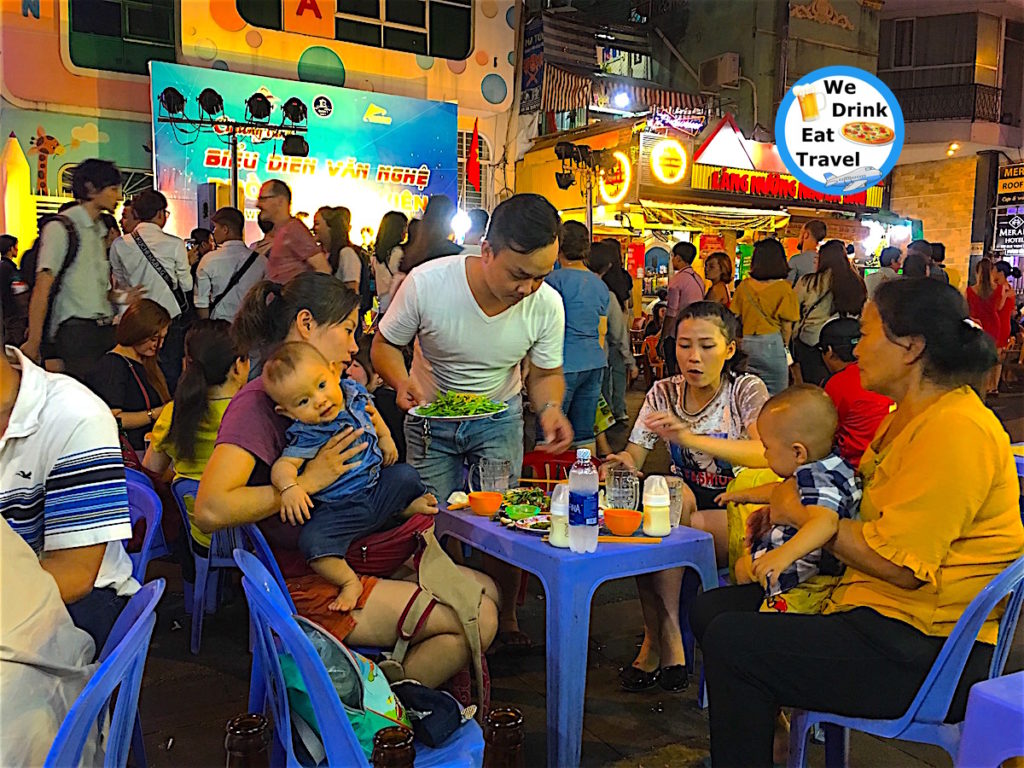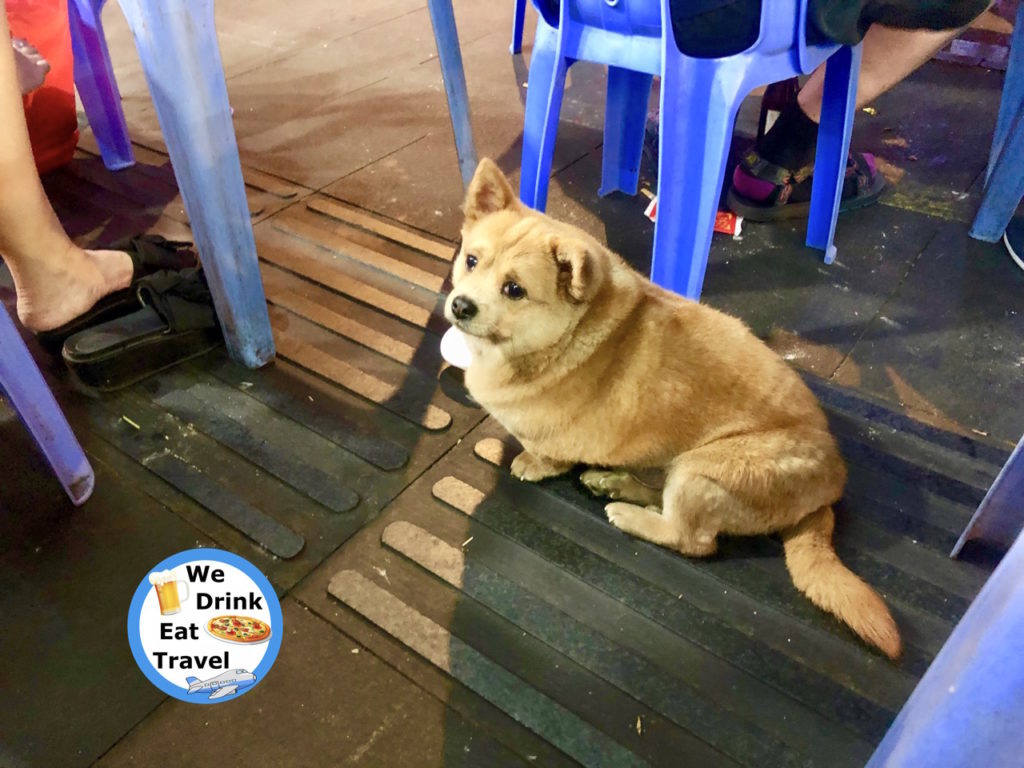 For example a bottle of local beer may start from about 20,000 dong (about USD $0.85)…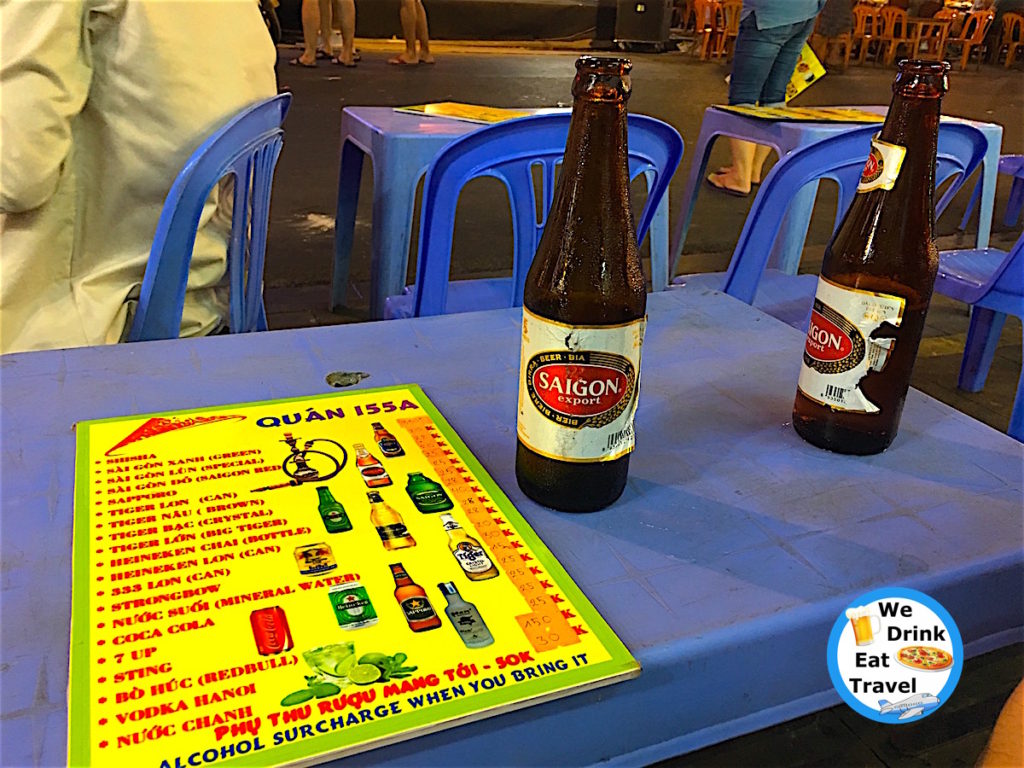 Yet if you go to one of the more swanky places the prices will increase by about double or even triple.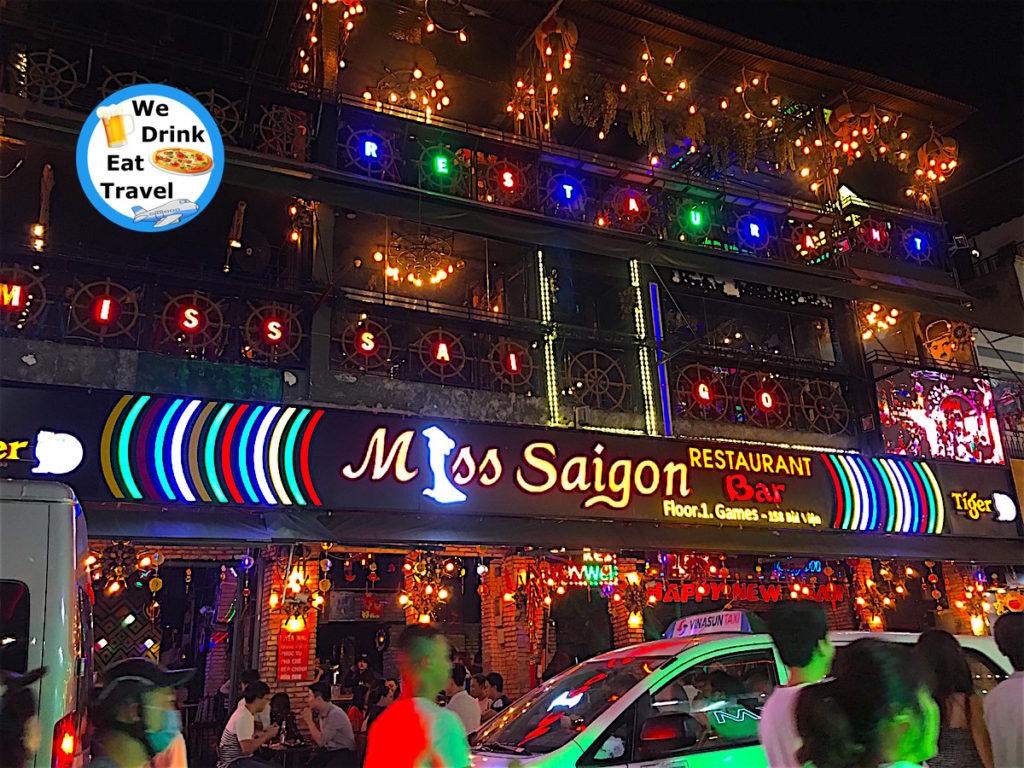 You can expect to pay about 50,000 dong (about USD $2.15) for a beer or more.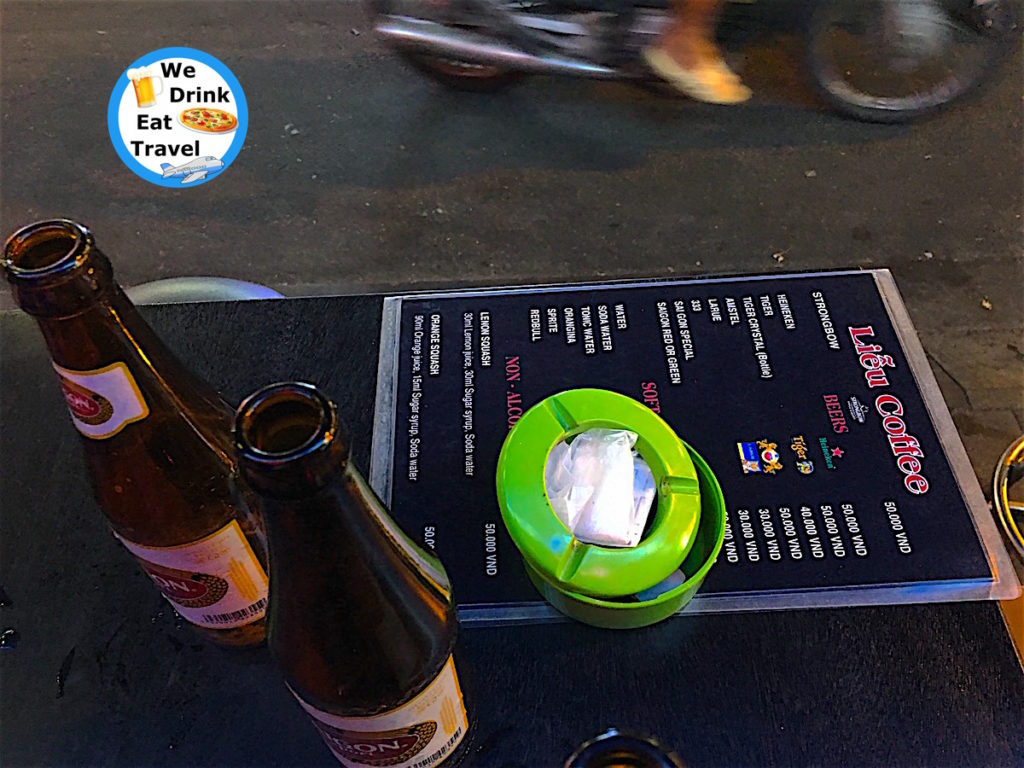 NOTES and TIPS:
A lot of the swanky places charge taxes and service fees on top of the listed price. So if that bothers you check the menu before you go in.
Also, when you get your drink or food, the staff may give you a little packet that has a towelette in it. See in our pic below the black package next to the beer…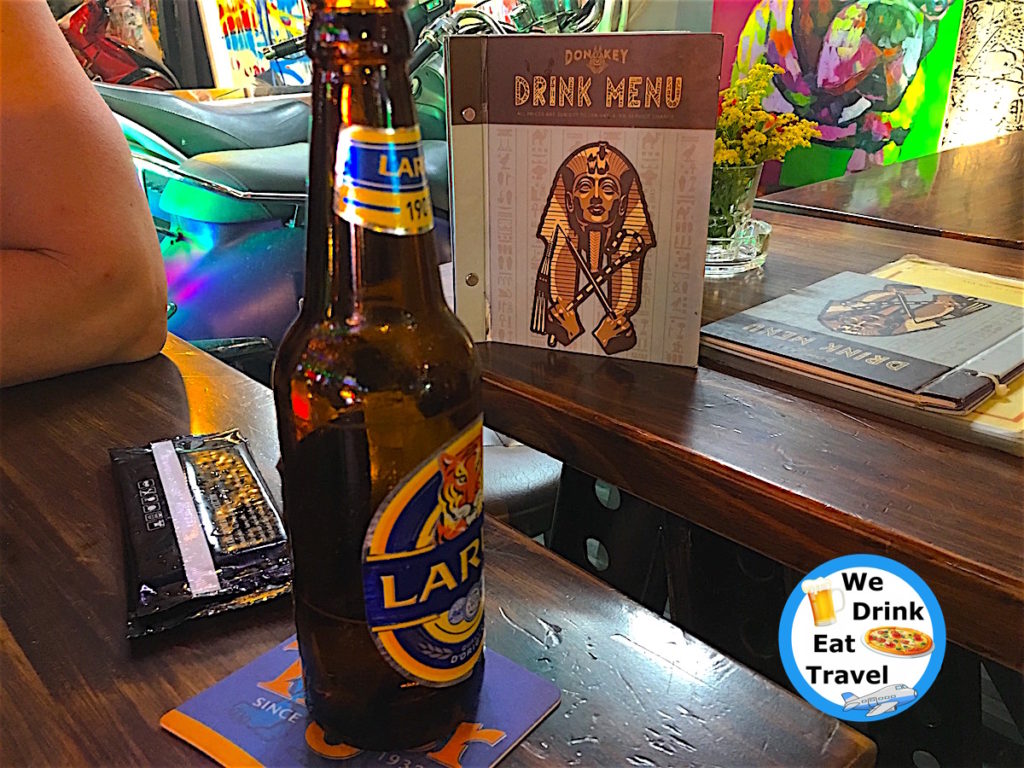 Generally you might think it's for free… Yet, on many occasions if you use it, you get charged. So if you don't want to pay for it – don't open it or give it back to them!
PRO TIP:
After certain times, some places charge an added tax on top of the other taxes and fees! Thought we'd let you know so you don't get bill shock at the end of the night! See the pic below…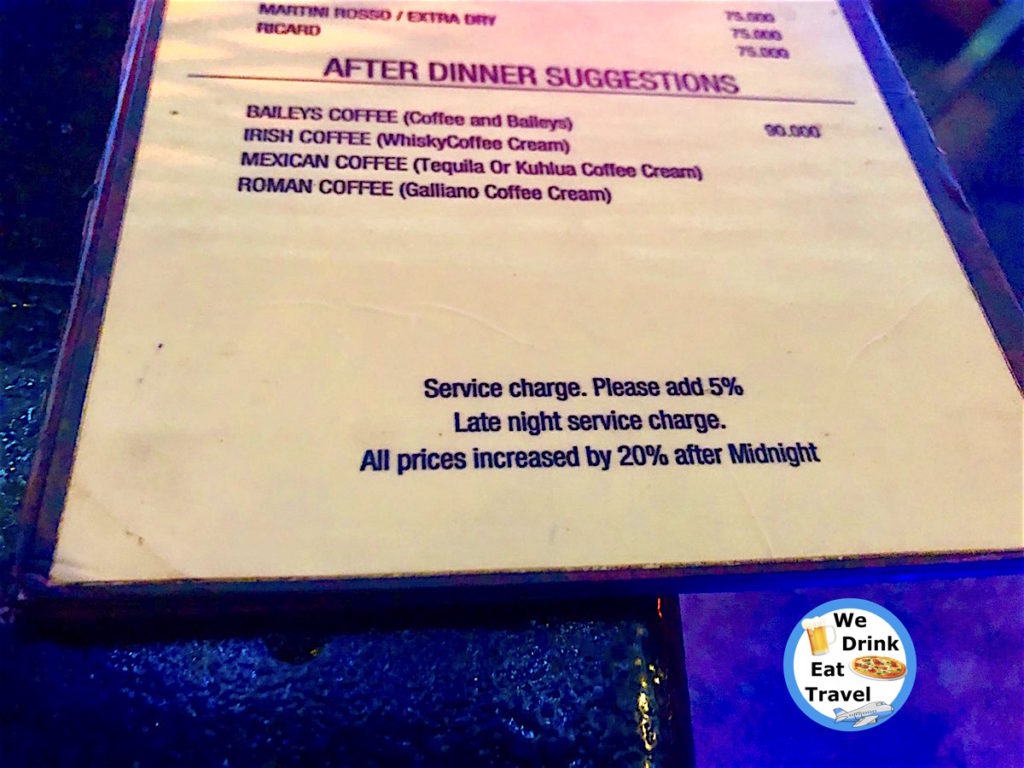 A Shocking Story…
Now, we have to share this shocking story with you while at Bui Vien… So stick with us until the end…
As we enjoyed people watching with prime front row seats and beers in hand, a Vietnamese guy came out of nowhere…
It sounded like he was yelling out "Bullets! Bullets!" Yet we had no idea what he was actually saying…
You should've seen the expression on his face! His eyes were almost bulging out of his head… His face scrunched up into looks of worry, panic and angst, as though he was going to get caught.
Yet, no-one seemed to be that disturbed…
That's when we thought he had a few too many Vietnamese snake whiskeys. So we continued downing our beers.
Yet, he still kept coming over to us and yelling at us. We asked one of the staff what he was saying…
Unfortunately that staff member couldn't speak English very well so that didn't help.
Again, back to our beers. Yet this time, the crazy Vietnamese guy came back over to us yelling what we thought, "Bullets! Bullets!" And this time he brought someone over…
We'd almost had enough and were ready to leave… Yet another staff member explained to us in broken English that the police come down Bui Vien street…
And if the store/bar owners have any tables or chairs on the actual street then they could get fined. So what this "crazy Vietnamese guy" was trying to say to us in English was "Police! Police!" OMG – we had to laugh!
Finally we understood. As we gripped onto our beers, the staff helped us to move our table and chairs back onto the footpath… And the "crazy Vietnamese guy" who we found out was the owner of this bar, was wiping sweat off his face in relief.
It was early evening at that stage. Yet, when it got busier… the store and bar owners rushing to move their furniture and customers onto the footpath. Then after the police had gone, they moved the tables and chairs back onto the street.
We'll definitely never forget that moment!
And with that, we had more beers and said "Cheers!"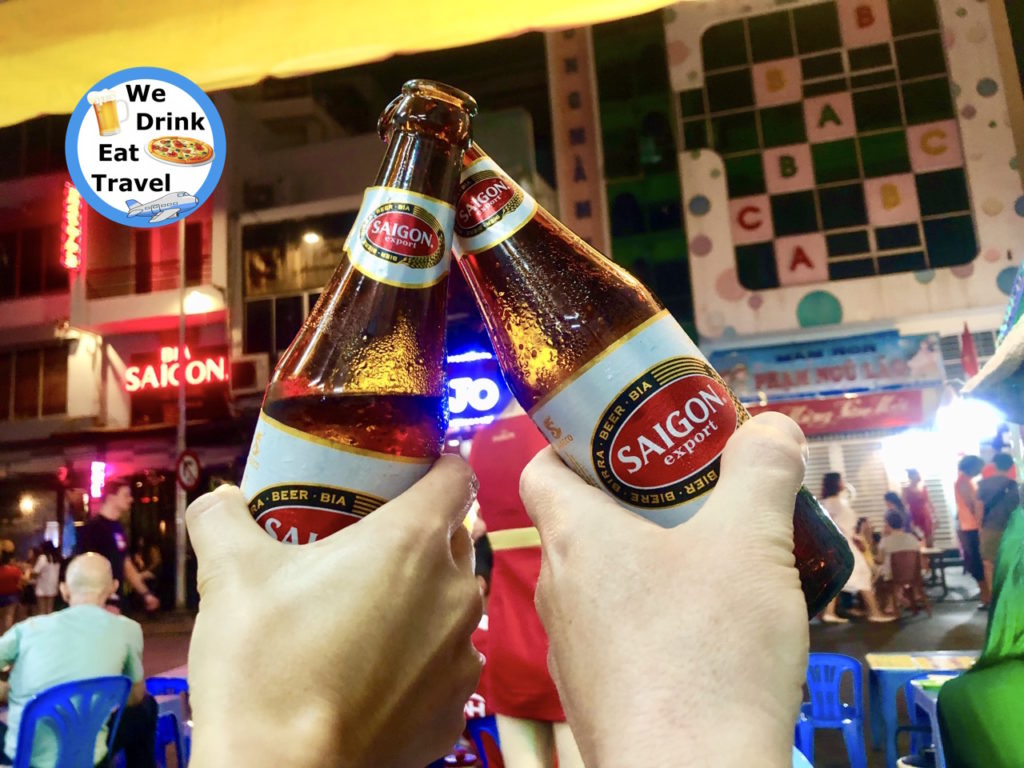 Bui Vien Street Food
Once you've had a decent amount of alcohol and partying, the pangs of hunger start drumming away in your stomach.
Usually it's the greasy junk food that many people want… to satisfy their post-alcohol cravings like pizza, KFC, Burger King or McDonald's. You can get these in Ho Chi Minh City…
Yet, the great thing is in Vietnam… one of the best street food as even the late, great Anthony Bourdain had stated was bahn mi. Now, Anthony Bourdain did say one of the best was in Hoi An at Bahn Mi Phuong. NOTE: I did go there and when I can I'll do my write up about it!
We had a craving for bahn mi… In Bui Vien there were many places that did them. We ended up choosing this guy…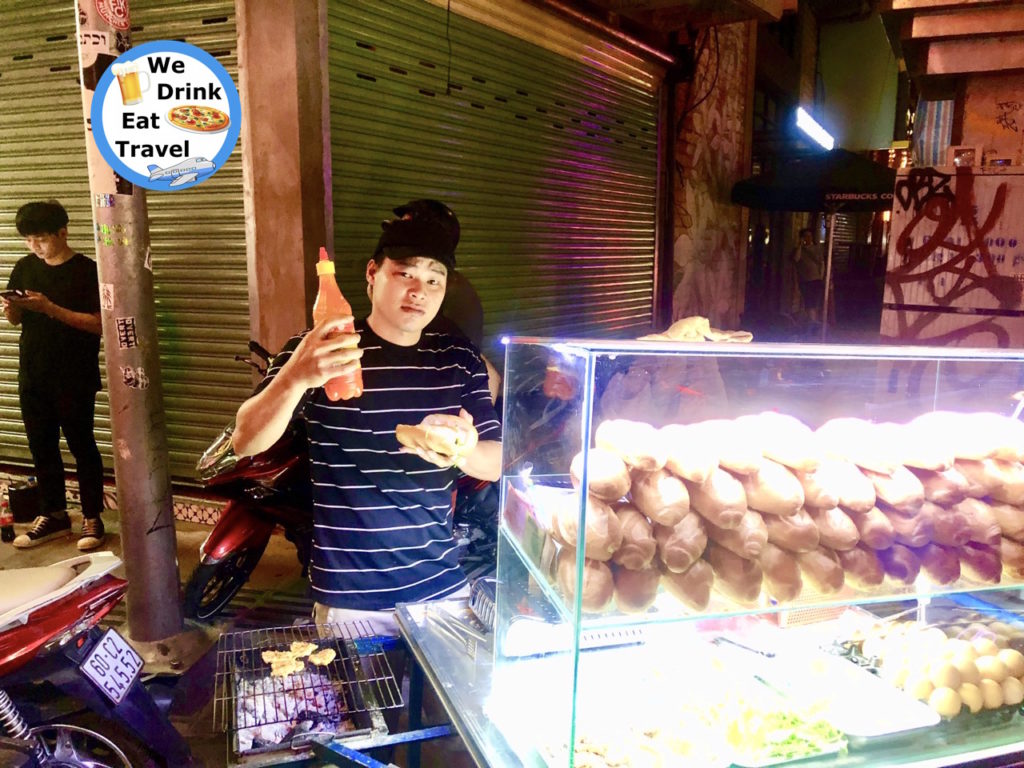 He was chirpy, smiley and tried to put on a show for us as we took photos and videos.
We ordered 4 bahn mi's – yep, you read right – FOUR! Three for Paul and one for me. Paul is a hoover. Ha ha ha!
We usually have our bahn mi with just veggies and egg. And at this guy's cart one of these bahn mi's was ONLY 20,000 dong (about USD $0.85)! Crazy cheap right?
Now, you will get different prices from different owners depending on what you want in the bahn mi. If you want meat it will cost more obviously. Yet, this will give you an idea of what to expect.
Once Banh Mi Man finished his show, we ate them like we hadn't eaten in days!
So, with our bellies full of beer and bahn mi's it was time to call it a night as we zig-zagged our way back to our hotel.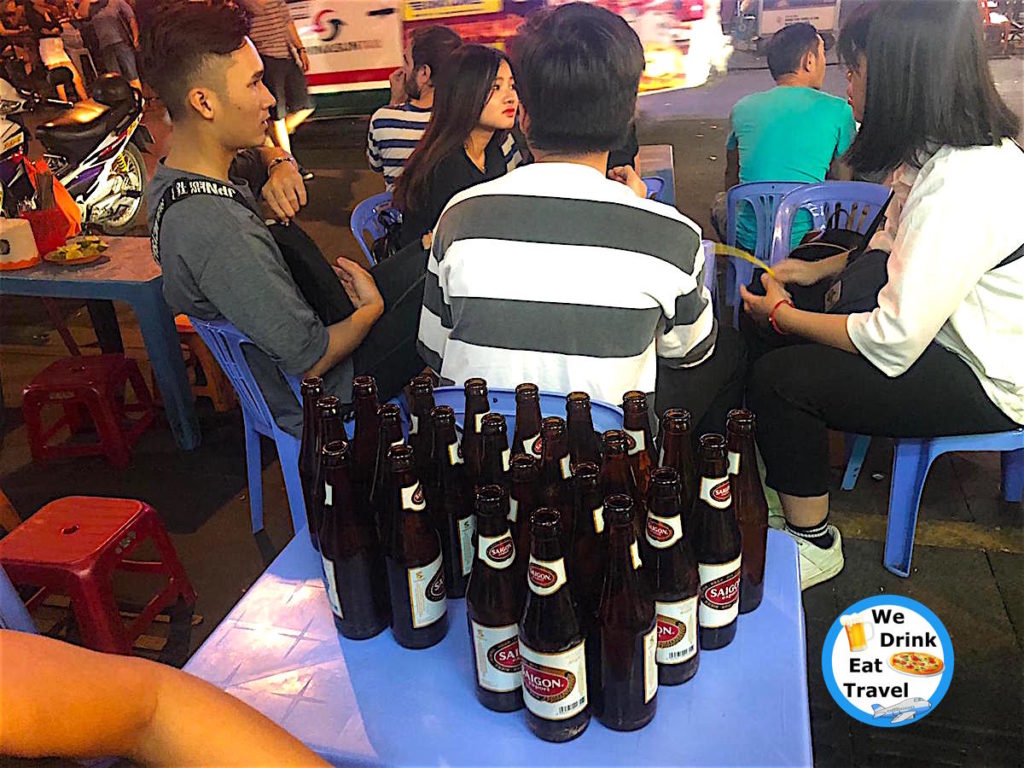 TIP:
If you want somewhere quieter…
Off Bui Vien street is a street called Do Quang Dao. There are some bars and restaurants on this street yet much quieter and less "glitzy." Most of these places don't have the added taxes too. Best to check though if that concerns you, though.
Now if you're in Ho Chi Minh City, don't miss out and put Bui Vien Walking Street on your list!