Paul and I had plenty of Qantas Frequent Flyer Points to redeem. So, when we were looking to go on a trip to Malta from South East Asia… we though it'd be a great opportunity to use them.
Plus, rather than going economy class, we'd treat ourselves to business class. So, this would be the first time we'd fly Emirates business class. And, after learning of other people's experiences, we were expecting a superior flight.
So, we were originally in Bangkok… and I was doing searches on the Qantas website to view different options. And, even though we were using points, we still had to pay taxes and fees.
But, when researching rewards flights from Bangkok… the fees were higher than what we thought they'd be.
Thus, I was doing research on other cities in South East Asia. And, while Hong Kong is more expensive compared to other parts of Asia… it was surprising that Hong Kong was the cheapest place to fly out from.
Then, all we had to do was get ourselves from Bangkok to Hong Kong, which was easy enough.
So, we didn't want our first Emirates A380 business class experience to be dampened… if there were flight delays or cancellations.
Thus, we booked a night at the Novotel Citygate Hotel in Hong Kong, before our flight was due to leave. Plus, the location of this hotel was handy, as it was only several minutes from Hong Kong airport.
Check out our review of the Novotel Citygate Hotel HERE.
So, as we had business class tickets, we'd get access to the Emirates Hong Kong Business Class Lounge.
Find out about our surprising experience HERE.
Then, the excitement was starting to grow like an inflating balloon, as our business class journey would soon begin. So, let's get into it…
Our Emirates Business Class A380 Review
Route: Hong Kong (HKG) – Dubai(DBX)
Flight: EK383
Aircraft: Airbus A380
Depart: 7:10 PM
Arrive: 11:15 PM
Journey Time: 8 hours, 5 minutes
Seat: 14E and 14F
So, after our relaxing time in the Hong Kong Emirates Business Class Airport Lounge… we made our way to board our Emirates A380 business class flight.
And, by the time we got there… we saw that there was a dedicated line for first class and business class passengers to board. Gotta love being high class!
It was lovely and refreshing not having a mad rush of people trying to shove their way through. And, after a warm greeting from staff on the plane… we saw that there were plenty of seats in the business class section.
In fact, we found that there are two cabins full of business class seats! So, the smaller cabin of business class seats are at the rear, near the bar and toilets. Thus, it could be noisy, especially if the flight is full.
So, the configuration of the seats was 1 – 2 – 1, all facing towards the nose of the plane.
Now, Paul prefers a window seat. Yet, because of the configuration of the seats, we wouldn't be able to sit next to each other.
So, this was one of the rare occasions that Paul had to forego a window seat! And, I got to have my preference of an aisle seat. Yet, when on Emirates business class seats, they're better than any economy class seats… LOL!
Thus, in the end Paul and I were in the middle two seats, so that we could sit beside each other. And, we had plenty to choose from when we were booking. So, we picked seats 14E and 14F.
Emirates Business Class Seats Plan
And, to start off my experience in my seat… there was a disgusting big ball of chewing gum on my side table. Completely gross. So clearly, there was a lack of attention to detail.
And, I was kicking myself afterwards because as I was so grossed out… I didn't even think to take a photo. So, I was waving a flight attendant over who looked shocked as well, when I was pointing it out to him.
Then, a moment later he came back with some tissues to clean it. So, there was an apology but nothing over the top.
Thus, not a great start for our Emirates a380 business class flight.
Emirates A380 Business Class Seats Amenities
So, not long after the chewing gum fiasco… a staff member was asking if we'd like a glass of champagne or orange juice.
And, it wasn't a hard choice for us, with champagne being our welcome drink of choice.
And, we were given hot towels…
So, as Paul and I were in the middle seats… one of the first things we noticed was that the space for our legs was roomy. Yet, for me, most of the time it's roomy as I'm a shorty.
But then, for Paul who is just over 5'11" he found that he could lie down flat.
Yet, towards the end of the compartment it was more narrow. Thus, he couldn't really move his feet around much when fully flat.
Yet, in this section we could lift the lid, and put our shoes inside. So, that was a handy feature.
Ummm, Hello… Are We On Business Class Seats Or Economy?
But, it was surprising to us that there were NO amenity kits. So, we thought WTF is this business class or economy class?
So, all that was available at our seat was a pair of socks and an eye shade… very underwhelming.
Then, in front of us was a large entertainment screen, with the remote control beneath it.
And here, there were usb and power outlets, as well as a headphone jack. Yet, the slightly annoying thing was… the cord would get in the way sometimes due to it spanning the length from the screen to our seat.
Plus, there were 2 smaller compartments between the tv screens. Yet, the space for these was smaller than we were expecting. And, as we had laptops and ipads, there was actually nowhere convenient we could store them.
So, we were beginning to realize, that being in the middle seats we didn't have as much space to store things… in comparison to the window seats. With the window seats there's the extra storage compartment against the window.
Now, other features included an ipad for entertainment and re-charging dock. Plus, there was a mini bar, which had some waters, soft drinks and snacks. And, the controls for the seat was here too.
There was also a pillow and a blanket. Plus, there was a set of premium noise cancelling headphones…
And, there was Internet OnAir, which we didn't use.
So, our impression of the Emirates business class amenities was fine, but not fantastic.
The Food And Drinks On Board Our Emirates A380 Business Class Flight
So, we had to check out what drinks we could indulge in on our flight. 10 11 Thus, while sipping some champagne, the drinks menu included…
12 different cocktails
3 types of scotch whisky
1 type of cognac
11 types of aperitifs, spirits and liqueurs
4 types of beer
1 champagne, 2 whites, 2 red wines and a port
We thought the choices of drinks was quite good, and they got a good working out as you'll discover soon… LOL!
So, a staff member came to our seats to explain the menus and any questions we had.
Unlike Qatar Airways business class where meals are served on demand… the meals on Emirates are given at specific times. And, we had pre-ordered our special meals, so the food menu was irrelevant for us.
Feast Your Eyes On Our Emirates Business Class Meals
Yet, after take off, we were given a round of beverages and small plate of nuts.
Then, it didn't seem that long after… we were told that our tray tables were going to be set up for dinner. So, we could access the tray tables by pulling them out of the middle seat rest.
Yet, when taking them out and unfolding them fully… the size was small compared to our expectations.
Then, the staff put a large tablecloth on. And, soon after we were given proper cutlery as well as salt and pepper shakers.
So, our first course had a mushroom dish, garlic bread, bread roll, butter, salad, water… and of course an alcohol beverage, which we chose wine. And, the wines we had on board were magnificent.
Then, our main course was a pasta dish, with vegetables.
Then, for dessert Paul chose the 3 cheese platter, with crackers, grapes and a dried apricot .
Yet for me, I opted for the chocolate cake, with a few berries.
And, both desserts came with Neuhaus Belgian chocolates, which were absolutely divine.
So of course, this was far better than cattle class. But overall, the meals were good, yet they were nothing to rave on about to family and friends.
The Toilets On The Emirates A380 Business Class Flight
So, as I said earlier there was no amenity kit, which was unexpected and woeful.
Then, as we went checking out the toilet… first impressions were that it was heaps better than economy from an aesthetics perspective!
Plus, there were some amenities here we could get like toothbrushes and toothpaste. And, to dry our hands, we could us these lovely towels for a more upmarket experience!
So, maybe Emirates was trying to save money on amenity kits by having some essential items in the toilet. Yet, from our perspective that's not ideal for business class.
The Emirates A380 Business Class Bar
Now, we knew that one day we would experience the Emirates A380 business class. And, the one thing we had to check out was their dedicated bar area.
So, as I was explaining before… After our initial sets of drinks, our meals were served soon after. Thus, there wasn't enough time for us to fully enjoy the bar until AFTER our meals. Although, our preference would have been to relax at the bar BEFORE having a feed.
So, with that said, it was time to venture to the bar. And, to get there it was at the rear of the deck next to the toilets.
So, the flight was a very quiet one, which was great. Thus, when we got to the bar there was only one person.
With the mood lighting on, it was a casual atmosphere.
And, opposite the bar was a big flat screen tv, with baskets of snacks. Yet, I'm sure there could've been something better to put on than the flight path!
Then, on either side of the bar against the windows… were some padded bench areas to chill out.
So, the bar was well stocked with an array of alcoholic beverages as well as snacks…
Entertainment All Night Long!
Now, I had to leave Paul at the bar, because unfortunately I was beginning to feel unwell. So, that gave me the opportunity to test out the lie flat bed, which I put together myself.
And, my verdict was that it was comfy. Plus, the temperature on board the flight… with the controls at the seats helped with the good comfort levels.
So, for the rest of the flight… I slept most of the way to Dubai to try and ignore my upset stomach.
And guess where Paul was? He was at the Emirates A380 business class bar for the rest of the flight. So, no point in asking him how his lie flat bed sleeping experience was… LOL!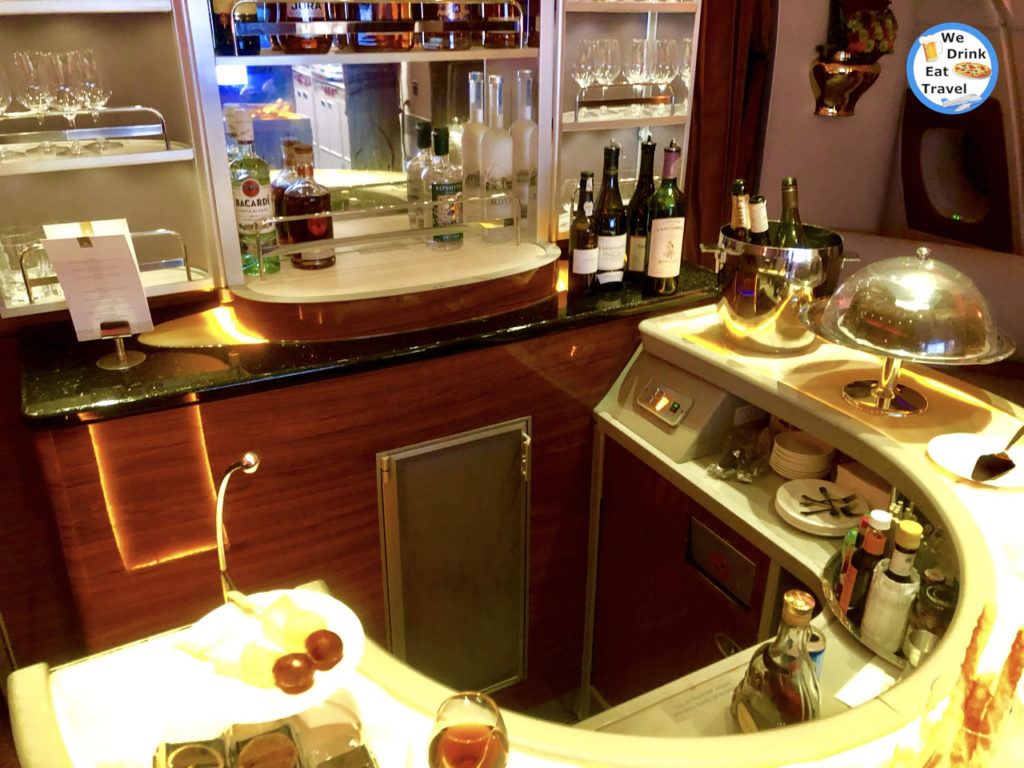 Yet, a couple of the staff and Paul were loving that it was a quiet flight… because they were having great chats over many whiskies. Well, Paul was having the whiskies, and not the staff!
So, according to Paul, the staff who were manning the bar on our flight were fantastic. And, they were happy to top up drinks as needed. Plus, they were checking to offer food or snacks.
Thus, needless to say Paul was loving the Emirates A380 business class bar! So, when it was time for staff to start clearing up for landing… Paul couldn't believe how quickly time flew by.
So, with that our last moments were back in our seats, with Paul smelling like a whisky factory… LOL!
Final Thoughts On Our Emirates A380 Business Class Review
So, from Paul's point of view… his experience on the Emirates A380 Business Class flight was excellent. And, that's because he spent most of the time drinking at the bar, chatting with the staff and other passengers.
Yet for me, based on what I had experienced, my Emirates A380 business class experience was fine, but it didn't WOW me.
So, the major negatives were:
The disgusting chewing gum on the side table at my seat – HELLO, attention to detail!
The lack of storage space for a business class seat
No amenity kit
The food was OK, but not fantastic
And, the major positives were:
The awesome dedicated bar to chill out
The comfy lie flat bed
Clean toilets throughout the flight
The quality of the alcoholic drinks was very good
Thus, all in all the flight was fine… but from our perspective the amenities were lacking and underwhelming for business class.
So, a few months later we had the opportunity to experience the Qatar Airways business class. And, this is an interesting one you'll want to read about!
So, have you been on an Emirates A380 business class flight? What were your thoughts and experiences like?
Like This? Share it and comment on it!
Note: All of our reviews and comments are our opinions and no-one else's. Even if we receive complimentary goods or services we share our opinions honestly.
You Might Be Interested In This Too..
Emirates Lounge Dubai Business Class – Not What We Expected!
Find Out About The Qantas Dubai Connect Service
Our Surprising Experience At The Emirates Lounge Hong Kong Airport
Review – Novotel Citygate Hong Kong Premier Lounge
The Breakfast Buffet At Essence Restaurant In Novotel Citygate Hotel Hong Kong
How To Get To Novotel Citygate Hotel From Hong Kong Airport Using Their Shuttle
3 Travel Mistakes People Make And Tips On How To Avoid Them
My Carry On Luggage Must Have Item
The Quickest Breakfast Buffet At The Le Meridien Dubai Hotel Airport
3 Reasons Why Travel Is Important
Need Accommodation?
Hotels Review – Novotel Citygate Hotel Hong Kong
Hotels Review – Le Meridien Dubai Airport Hotel
Find Your Perfect Vacation Accommodation
Want Cheap Flight Deals?
Cheap Flights All Year Round With Skyscanner