In 2019, it was reported that the second most liveable city in the world was Melbourne, Australia. And to us, it comes as no surprise. Now, we're not being biased either because we're from Melbourne!
Plus, Melbourne was number one for many years, before Vienna took over top spot.
Yet, Melbourne offers tourists and locals a host of cultural activities. As well as being spoilt for choice for eateries and bars… through to many sporting events and beautiful sights.
Thus, you'd need to spend weeks, if not months to experience the best of what Melbourne has.
Yet, when many tourists come to visit Melbourne… they flock to see the cute and cultural laneways. And, it's amazing how contrasting in design they are.
So, when you're looking for things to do in Melbourne, consider visiting some of these laneways. Yet, with many to choose from… it can get confusing working out which ones to see.
Thus, in this blog post, I'll run through 10 of the best lanes and arcades of Melbourne.
For The Street Art Lovers
Hosier Lane
Now, Hosier Lane Melbourne is one of the most popular laneways for tourists. So, when you're strolling down the bluestone cobbled laneway, there is a myriad of street art to view. Plus, the colourful murals works were done by local, as well as international artists.
And, if you want to know more about the history of the art, you can take a laneways tour. Then, if you want to rest your weary feet, while indulging in some delectable tapas… Hosier Lane has the popular restaurant Movida.
Union Lane
So, when you visit Melbourne, a laneway drenching with graffiti is Union Lane.
And, in 2007 there was a decision to revamp this alleyway. Thus, the result was that over 50 artists with ages between 13 and 28, were to take part in the overhaul. Then, with an area of 550 square metres down Union Lane… they could release their artistic side to create a mural.
Yet nowadays, there's graffiti over the existing graffiti! For some people, it may seem like a mess. But for others, it's a laneway of unique street art.
Croft Alley
Now, if you're in Chinatown Melbourne, there's a cool laneway by the name of Croft Alley. And here, the murals are vibrant and colourful.
Yet, it was here that one of Melbourne's original bars was built. And today, the Croft Institute bar still runs strong, with its quirky science lab theme.
For The Music Lovers
ACDC Lane Melbourne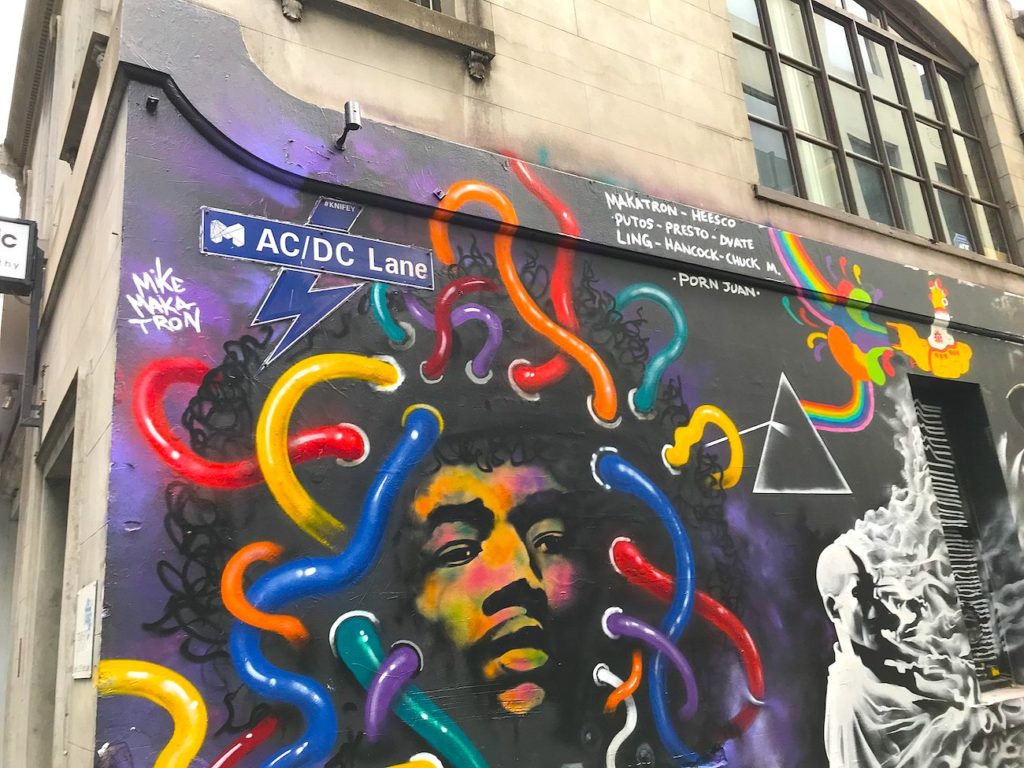 So, this small laneway was in dedication to the legendary rock band AC/DC. And, near ACDC Lane, is a main thoroughfare by the name of Swanston Street. So, here was where AC/DC shot the film clip for their hit song, 'It's a Long Way to the Top' (If You Wanna Rock 'n Roll.)
Then, there was a parody made, by the name of… "It's a Long Way to the Shop, If You Want a Sausage Roll" LOL!
So with that, "rolling" right along in our best lanes and arcades of Melbourne… are for foodie lovers.
For The Foodies And Bar Hoppers
Degraves St Melbourne
So, opposite Finders Street Station is the bustling laneway, Degraves Street. And here, many people flock to the cafes, restaurants and hole-in-the-wall eateries… to please their appetites.
From European food, to delicious coffee, to Japanese cuisine, through to sweet cupcakes… everyone is bound to find a treat. And, you can sit inside or out on the street, Parisienne style to watch the world go by.
Postal Lane
Now, while Melbourne's General Post Office is now a ginormous H&M Store… Postal Lane is still intact. And, this pedestrian only laneway is tiny so you may miss it as a tourist. So, you can access Postal Lane via the Bourke Street Mall or Little Bourke Street.
Thus, when you're on the Bourke Street Mall side and facing the GPO… Postal Lane is on the right hand side of this building.
And, here there are several eateries including the Italian trattoria, Ca De Vin. Plus, if you're looking for a casual yet comfy place for Vietnamese food, try Mama's Buoi.
Hardware Lane
Now, when you wander down Hardware Lane… you'll notice that many tables and chairs line the street. And, when you're looking for a feed, you'll be spoilt for choice down Hardware Lane.
From Korean street food at Ohsso, to Italian classics, through to Mexican delights at Amigos… take a stroll and check out the menus to see what's on offer. Yet, if it all gets too much, stop off at one of the bars to get some liquid inspiration.
TIP:
You may notice that there's a Hardware Street. Yet, this is NOT the same as Hardware Lane! But in saying that, you might like to stop here too, for eateries and bars.
So, Hardware Street is between Little Lonsdale Street and Lonsdale Street. Whereas Hardware Lane is between Lonsdale Street and Bourke Street.
Tattersalls Lane
Now, for a laneway where East meets West… head on over to Tattersalls Lane in the Chinatown precinct. So, this old laneway's history dates back to the mid 1800's… when the Chinese came to inhabit the area during the gold rush period.
So here, you can feast on some Asian delights to suit all budgets. Plus, have a drink or two or more, at the cool bars down Tattersalls Lane.
So, as we're counting through the 10 of the best lanes and arcades of Melbourne, I have to mention these arcades…
For The Shoppers And Architecture Lovers
Block Arcade
Combining shopping and architectural magnificence is… Melbourne's Block Arcade, which was open in 1892. And, the design of its gorgeous architecture was by David C Askew… whose inspiration came from the Galleria Vittorio Emanuele in Milan.
And, as you're walking through the Block Arcade on the mosaic tile floor… look around and admire the glass canopies as well as the intricate detail all around.
Plus, there are many boutique shops from jewellery, to beauty products… through to home wares.
And, when you start to work up an appetite, visit the popular Hopetoun Tearooms. So here, you can indulge in some of the most delectable of sweet treats and more.
Royal Arcade
The designer of the Royal Arcade building was by Charles Webb… who won the rights through a design competition. And, its opening was in 1870, thus making this heritage listed site Melbourne's oldest arcade.
So, wander through the building… and marvel at the Italianate style, with French and English influences.
Plus, make sure you're there on the hour. And, that's because since 1892… two giant statues of Gog and Magog, strike the Gaunt clock every hour so you can hear bells chiming.

Then, you can stroll around the Royal Arcade… shopping for shoes, gourmet chocolates, jewellery, or even get your hair done.
Now, I couldn't finish this blog post without a BONUS laneway for you.
So, last but not least in our best lanes and arcades of Melbourne… is a laneway that has a bit of everything!
A Laneway With Everything
Centre Place Laneway Melbourne
Centre Place Laneway spans just 50 metres, yet it is a bustling area well worth a visit. And, when you wander down this pedestrian-only laneway… you may notice the cute cobble stones beneath your feet.
And, while I've run through some laneways with certain themes… Centre Place Laneway has a mix of themes.
So, whether you want to eat or drink, do some shopping or check out the variety of street art… there's something for everyone to enjoy at Centre Place.
Plus, there are the cute hole-in-the-wall places to get your food or drinks. And, there are buskers playing some tunes in the background. So, there's something open and going on from day until night, in this vibrant laneway.
Thus, if you only have time to visit a few of Melbourne's laneways, head on over to Centre Place.
So, that was a highlight on 10 of the best lanes and arcades of Melbourne. And, these are just a handful of the many lanes you can discover in this wonderful city. Yet, this is a good start for exploring the laneways and arcades of Melbourne.
And, while you're winding through the streets, taking in the many cultural sights… make the most of the fabulous food and drinks Melbourne has to offer.
ENJOY!
You Might Be Interested In This Too…
7 Free Things To Do In Melbourne City
Top 3 Tips On Using The Melbourne Free Tram Zone
Visit Victoria: What To Do In Castlemaine
Here's Where To Get The Best Dumplings In Chinatown Melbourne…
3 Travel Mistakes People Make And Tips On How To Avoid Them
Looking For A 5 Star Hotel Buffet Breakfast To Try in Albert Park, Melbourne?
My Carry On Luggage Must Have Item
3 Reasons Why Travel Is Important
Need Accommodation?
Hotels Review – Mercure Welcome Melbourne Hotel
Airbnb Reviews: Accommodation In Camberwell Victoria, Australia