Route: Melbourne (MEL) to Bangkok (BKK)
Flight: TG466
Aircraft: Airbus Industrie A350-900
Depart: 3:25 PM
Arrive: 8:35 PM
Journey Time: 9 hours, 10 minutes
Seats: 46J and 46K, with bonus 46H
When flying internationally on longer trips… being comfortable and having good service is important for us. And, whilst we've been loyal to the Oneworld Airline Alliance… our last few experiences with Qantas have been lacklustre.
And, one experience that sticks in my mind is this…
So, for one Qantas flight we had put in our special meal request. Yet, when on board the staff didn't have a record of it. And, they were asking if the travel agent forgot to put the request through.
Yet, there was no travel agent as I prefer to do the bookings!
Then, I was showing her the confirmation of the meal request… after I was mentioning that I made the booking.
So, they then took note of our seats and said that they would look after us.
Yet, when it came to meal times, they forgot about our vegetarian meal requests. Thus, they were scuffling around trying to find meals for us.
And, one of the flight attendants came round offering us gluten free items. OMG! So, when did the meaning of gluten free change to being vegetarian!!!!!
It Had To Be Done…
Anyway, we were over Qantas after several shocking flights.
Thus, as we were planning our flight from Melbourne, Australia to Bangkok… we would normally check out what Qantas had to offer. Yet, due to the poor service from Qantas, we made the decision to switch airlines.
Furthermore, we made the big decision to switch airline loyalty programs to…the Star Alliance.
Then, as we were looking for flights from Melbourne to Bangkok… from what we could see, Thai Airways was the only airline from Star Alliance to offer a direct service.
So, it'd been many years since we'd flown Thai Airways. Yet, we did have good experiences, even in economy.
Thus, we went with Thai Airways for our economy class flight.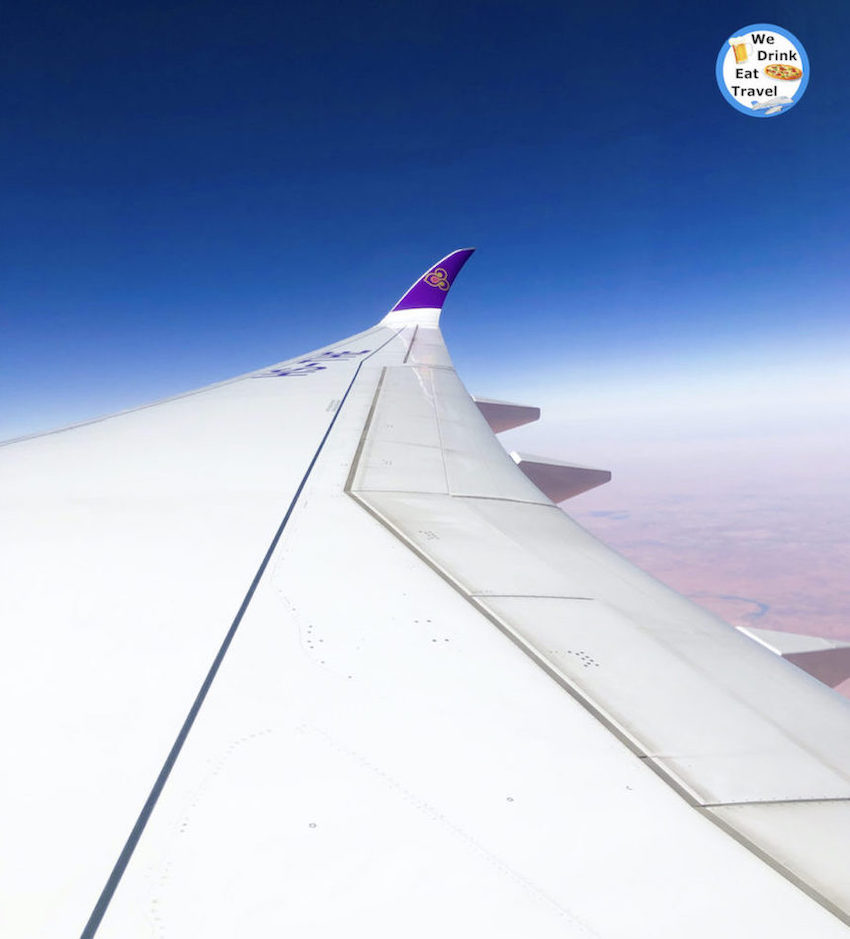 And, in the end, a one-way flight from Melbourne to Bangkok direct… was AUD $467.50 per person. So, we thought this was a good deal. And, it was likely cheaper due to the corona virus scare.
So, we did book this and fly out of Melbourne before lockdowns and grounded airlines.
Now, the plane for this flight was an A350. And, we don't recall having flown this type of plane of late. Thus, it would be an interesting experience.
So, for this flight we had 30kg of checked in baggage, and 7kg of carry on luggage. Plus, we could choose our seats for free, and book in requests like special meals.
And, there was no surcharge for paying by credit card.
Checking In To Our Thai Airways Economy Class Flight
So, when we were waiting in line at Melbourne Airport to check in… we were noticing that the staff did not look Thai.
Thus, it seems that for check in… many airports are employing general staff to cover many airlines. So, that's how it was looking to us anyhow.
Now, that's fine for us, so long as the staff provide a good service and are knowledgeable.
Yet, when we were flying with Air Malta business class one time… we had less than average service from check in staff. You can find out more about it HERE.
So, when it was our turn next to check in… a staff member from the Business Class Check In counter waved us over. And, that was because there was no-one queuing in that line. Plus, the lines weren't as long due to the less people flying due to the COVID 19 Virus.
Then, we were asking about changing our seats… because when we originally made the booking the flight was almost full. Thus, we had someone sitting next to us.
Yet, with many people cancelling, the staff member found us different seats. Plus, she even put a block on the middle seat, so we could have a whole row to ourselves.
Yet, she did inform us that she can't guarantee that seat would be taken by someone else. But, with now a non-full flight, she said we should be fine. Thus, we took the risk.
So, we forgot to get the staff member's name. Yet, she was an older lady, who was cheery, chatty, and helpful. Thus, our check in was great.
On Board Our Thai Airways Economy Class Flight
So, when we were going to board our flight, we saw the familiar Thai Airways purple uniform. And, as per usual the staff were polite, smiling and helpful. Then, as we were looking for our seats, they were showing us to them.
The Thai Airways Seats And Amenities
So, the Thai Airways seats in economy are in a 3-3-3 layout.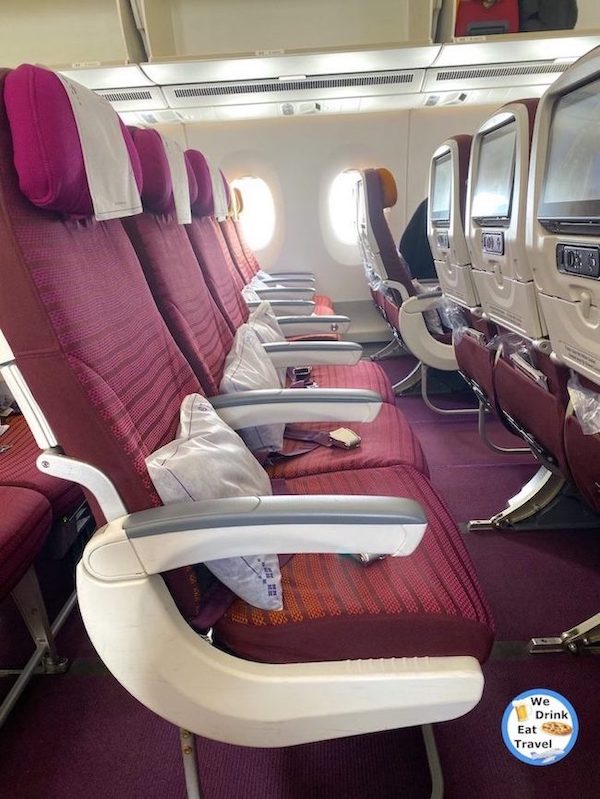 And, when we got to our seats, we saw that they were in good condition. Much better than a few of the Jetstar business class seats we've flown on before.
Plus, the seating area was newer and cleaner than other flights we'd been on.
But, the footrest wasn't great. In fact it was a bit of a pain in the butt!
That's because we found it difficult to put the footrest down. And, we weren't going to use our hands to put it down! So, in the end, we didn't end up using the foot rests.
Now, for the leg space, even for economy class seats Paul said it was quite roomy. And, for a bigger guy at around 5'11'' that's saying something!
Then, in the seat pocket was a headset and in-flight magazines. Plus, on the seat was a small pillow. There was no amenity kit or blanket.
The Entertainment System
And, the entertainment unit was built into the seat back… with the remote control beneath the screen. Plus, the touch screen was working well… unlike several other planes and airlines we'd experienced before. Thus, it was a major positive.
So, when we were checking out the screen, it was showing:
Entertainment – With movies from new releases to golden oldies, to TV shows, music and games
Information – Including the flight path, camera of our flight, travel guide, airport information and more
Kids – With movies, TV, music and games for the munchkins
Onboard Services – Including meal and beverage menus, duty free catalog, sky chat, wifi and more
Window On Thailand – Thailand highlights, food, around Thailand, as well as event schedules
So, there was enough to keep us entertained.
Now, beneath the entertainment screen was one USB port, as well as the headset plug.
And, above us on the window seat side was the climate control and lights. Yet, we couldn't change the air-conditioning ourselves. So, this was a negative for Paul, as he sometimes felt warm on the flight.
Yet, overall the seats were quite comfortable… and the entertainment unit was working great. Plus, we didn't end up having anyone sit between us, being a quieter flight.
So, we could stretch out, and have more space to relax even more.
Food and Drinks On Our Thai Airways Economy Class Flight
So, when I was checking out the entertainment screen, there was a menu section.
And, it was showing that the first meal would include… spicy chicken salad, stir fried chicken with rice and green beans. Or beef with caramelized onion sauce, potato gratin and green beans. Plus, it would include bread, butter, and a bottle of water.
Then, for the second meal… this would include fresh fruits, hokkien noodles with chicken and vegetables. Plus, there'd be a dessert of wattle seed cookies.
The Food And Drink Service Begins…
Yet, before all that we opened up our tray tables. And, while the tray table was small, but did the job.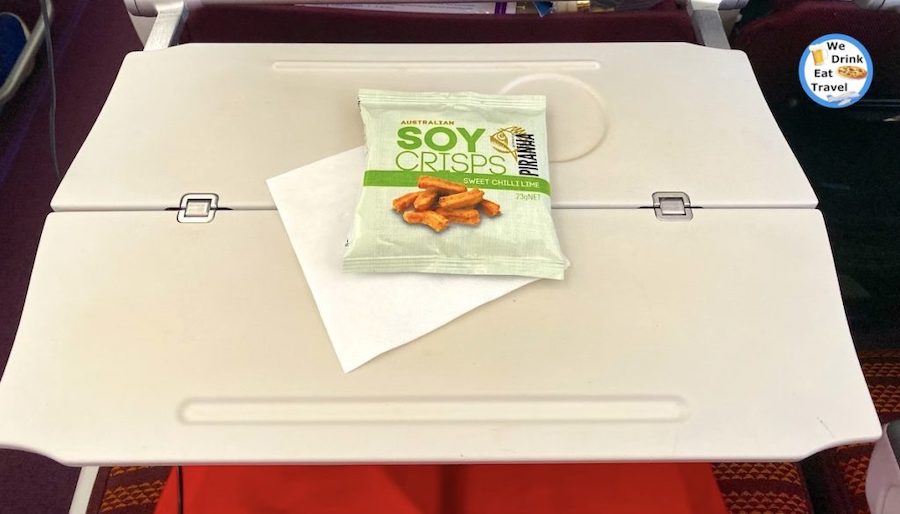 So, it was nowhere near like the massive tables from our Emirates or Qatar business class flights.
But, that's the difference between business and economy right?!
So, not long after take-off staff gave us some soy crisps, with a sweet chilli lime flavor.
Then, the drinks cart came round. So, Paul got a Heineken and I got a Singha.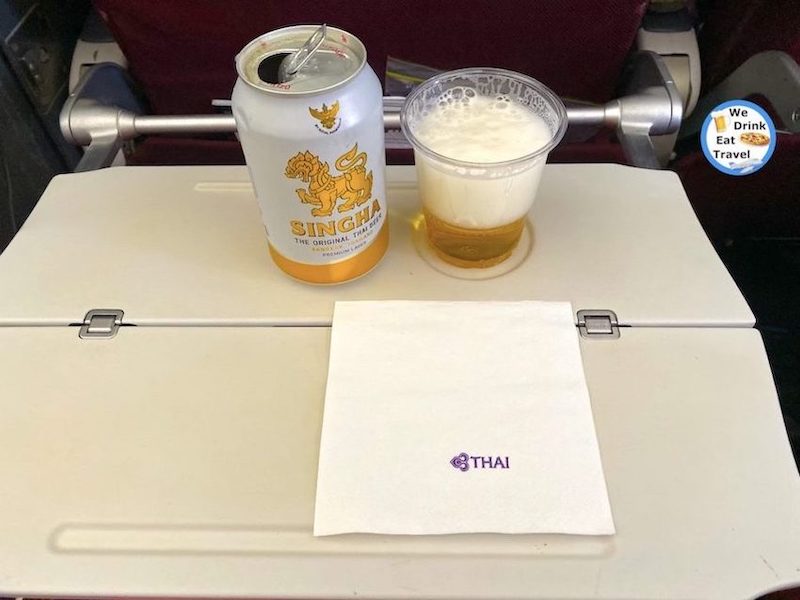 Then, once that was all done, the staff came by to give us a hot towel each.
And, moments later the staff were bringing out the main meals.
So, they were initially serving passengers who had put their order in for special meals. Thus, as we had our special meal pre-done, we were expecting our meals to come soon.
Yet, we saw the attendants begin serving passengers with the normal food cart. Then, when the staff were asking if we wanted the chicken or beef dish… I was showing her our confirmation with the special meal request.
So, to cut a long story short, as our seats were changed by the check in staff… it appears that the special meal request didn't transfer to our new seats.
Then, another staff member was advising us… our special meal may now be in the bellies of passengers in our original seats.
Thus, she went to check. And, that's exactly what happened. BUMMER! Our pre-ordered special meals were had by other passengers, not that we knew what they were.
But, it was surprising what happened next…
Our Special Thai Airways Economy Food
So, after the blunder with our special meals… one of the staff members brought out some meals for us. And, the one of the first things we saw, was that our meals were on plates. Then, she said that they got us food from business class!
So, this was surprising. And of course, Paul and I were happy with that outcome. So, the meal did look plain…
It was asparagus, curry, rice, bread roll, butter, crackers and cheese. Yet, the asparagus and curry was tasty. Plus, after our main meal the staff gave us a cheese and fruit platter from business class!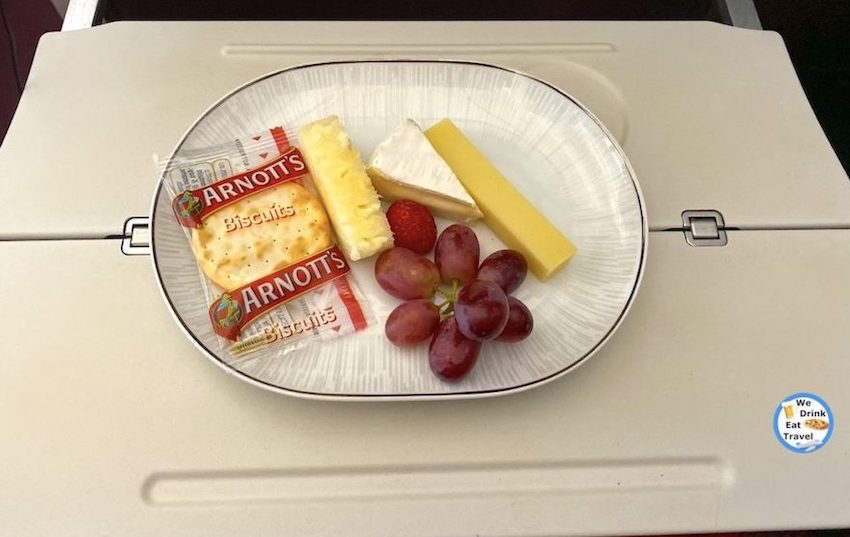 Thus, Thai Airways was impressive in rectifying the situation. And, throughout the whole process they were pleasant and apologetic. So in the end, a negative turned out to be a real positive.
And, this was miles different to service we got on several of our Qantas flights.
Now, About The Alcohol…
On the flight menu for beverages the screen was showing drinks including… gin, whisky, vodka, cognac, Heineken, Chang, Singha and softdrinks. Plus, during main meal service, the drinks also included wines.
So, having had a beer with our snack, we also had more beers with our main meals.
Then, after the main meal Paul was continuing to watch a movie. So, he was enjoying the relaxing flight, and got another beer. Thus, that would make it his 3rd beer within about 2.5 hours.
Then, when the flight attendant was giving Paul his beer… she was advising him that if he would like another alcoholic drink, he would need to go to the galley. Hmmmmm… what is it with flight attendants and Paul drinking beers on flights!
Even so, the staff were still polite.
So, during the flight after main meal time… staff were bringing out cups of water and juices. And, this happened more than once during the flight. Yet, when we were flying Jetstar business class from Bangkok to Melbourne… we never got this service.
The Second Meal Service
So, as I was saying earlier, the second meal would include fresh fruits, a hokkien noodle dish… and wattle seed cookies for dessert.
Yet, we were wondering if the staff would remember our special meal request from earlier on. Then, it was not surprising to us that the Thai Airways staff gave us our pre-booked special meals. Thus, thumbs up for attentiveness!
So, in the end we got fresh fruit, dried fruit, a vegetable curry with rice, and water.
And, while the flavor of the curry was OK… it would've been great if we got the business class meals again!
Even so, at least the staff did remember, unlike Qantas.
Our Thai Airways Economy Class Review In Summary
So, Paul and I had been loyal to the Oneworld Alliance for a LONG time. Yet, after several flights with poor service mainly from Qantas, it was time for a change. Plus, it was not only time for an airline change, but to the Star Alliance group.
So, for our first flight defecting from Oneworld… we were happy with our Thai Airways class economy flight from Melbourne to Bangkok.
And, the plane was the A350, of which surprisingly was high quality.
Yet, even though we were in economy, the seats felt roomy and comfy.
Plus, the amenities like the entertainment system were working well. And, it wasn't frustrating to use like on other flights… where we'd be constantly pushing buttons or the screen, and feeling like an eternity before it would work.
And, while there was a small mistake with our meals… having food from business class to make up for it was great.
Plus, throughout the flight… the attendants were coming around with cups of drinks to keep us hydrated. And, they'd be checking often to clear rubbish from our seats. Thus, it was good to keep our seats and area clear.
Yet, a couple of negatives was not being able to control the air conditioning. Thus, Paul got warm at times, making it uncomfortable.
Plus, the foot rest was so bloody difficult to put down. And, it shouldn't be a challenge for a basic need.
Yet, the hospitality and service given by staff on Thai Airways was fantastic. And, we would fly with them again. Yet, we did wonder if the service quality would be the same if it was a fuller flight! Hmmm…
Star Alliance vs Oneworld
Thus, following our Thai Airways review, it's put the challenge out there… for us to experience more of the Star Alliance network versus Oneworld. Yet, depending on our flight routes, we may fly with Oneworld again.
So, stay tuned… as we continue to drink, eat, travel, and review our flights around the world.
Have you flown Thai Airways economy class before? What were your experiences flying with them?
You Might Be Interested In This Too…
About Melbourne
7 Free Things To Do In Melbourne City
Top 3 Tips On Using The Melbourne Free Tram Zone
Visit Victoria: What To Do In Castlemaine
Here's Where To Get The Best Dumplings In Chinatown Melbourne…
3 Travel Mistakes People Make And Tips On How To Avoid Them
Looking For A 5 Star Hotel Buffet Breakfast To Try in Albert Park, Melbourne?
About Thailand
Check Out Our Thailand Photos And Information
VAT Refund Bangkok: How To Get Money Back On Your Shopping At Suvarnabhumi Airport
Thailand Food – Being Vegetarian In Thailand
Night Market Bangkok: All Aboard For The Ratchada Rot Fai Train Night Market
Shop Until You Drop In Ratchada, Near Thailand Cultural Center MRT
Bangkok Public Transport: How To Use MRT Bangkok
Things To Do In Bangkok – Visit The Camp Flea Market With Surprising Relics!
Getting A Grab From Suvarnabhumi Airport Bangkok With Pro Tips
Other Stuff
Travel Destinations – Our Top 3 Capital Cities We Visited In 2019
My Carry On Luggage Must Have Item
3 Reasons Why Travel Is Important
Need Accommodation?
Hotels Review – Mercure Welcome Melbourne Hotel
Airbnb Reviews: Accommodation In Camberwell Victoria, Australia
Hotels Review: Ibis Melbourne Hotel and Apartments