When Paul and I were staying in Vienna, we thought about different day trips we could do. And after doing some research, it sounded great to go to another country!
So, that's one of the many things we love about Europe… in as little as an hour or even less we can be in a different country. But in Australia, it takes us a few hours to get from one side of the country to the other!
So, in the end we chose to check out Bratislava in Slovakia.
Now, we have to let you in on a little secret… And that is, we never had Slovakia high on our list of places to go.
Yet, after doing some research on what to see in Bratislava, the capital of Slovakia… it seemed like a charming place.
From natural beauties including the Danube River and Little Carpathian mountain range… To the historic buildings, quaint alleys of the Old Town, and delicious traditional food…
It seemed like a place to explore even for a day.
So, in this blog we'll go through what to do in Bratislava in one day. So, come join us now on the journey!
How To Get From Vienna To Bratislava
So there are several ways that you can get from Vienna to Bratislava… including ferry, car, bus or train. Thus, if you're on a tight budget then the bus is usually the cheapest option.
Yet, if you have your heart set on cruising down the Danube River… then the ferry would be best.
So, about how to get to Bratislava… this all depends on your budget, time and personal preferences.
If you'd like more in-depth information about how to get from Vienna to Bratislava… check out our blog post HERE.
Yet for us, we decided the best option was the ÖBB train…
There is a special ticket called the Bratislava-Ticket (also known as Euregio Slovakia).
So with this ticket, it gets you from Vienna Hauptbahnhof Station, which is Vienna's main station… and through to Bratislava by train. Plus, the ticket gives you access to the public transport in Bratislava all day.
And, the cost for this ticket is 16 Euro for 1 adult.
Now, to make sure that the information is up-to-date and relevant for you… make sure you check with ÖBB.
And so you know, we caught the 9:16am train from Vienna.
How To Get From Bratislava Hlavná Stanica Main Station To Town
So, the journey time from Vienna Hauptbahnhof Station to Bratislava Hlavná Stanica (the main station)… was a little over 1 hour for 55km on train. Thus, we got to Bratislava about 10:22am.
And here's a pic of the platform at Bratislava Hlavná Stanica…
Then, we walked through the crowd on the platform to get into the main area…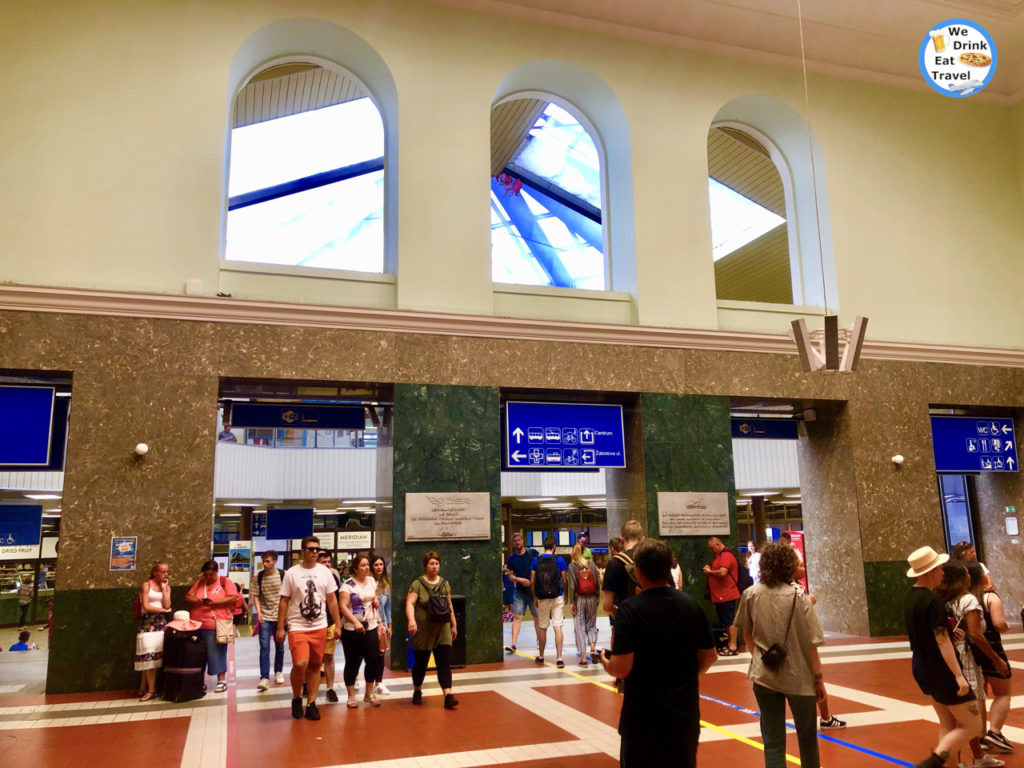 It's not the prettiest of stations… but at least it was an easy and efficient way to get from Vienna to Bratislava for us. And it sure was busy when we were there in the Summer time!
And here's a photo of the outside of the station at Bratislava…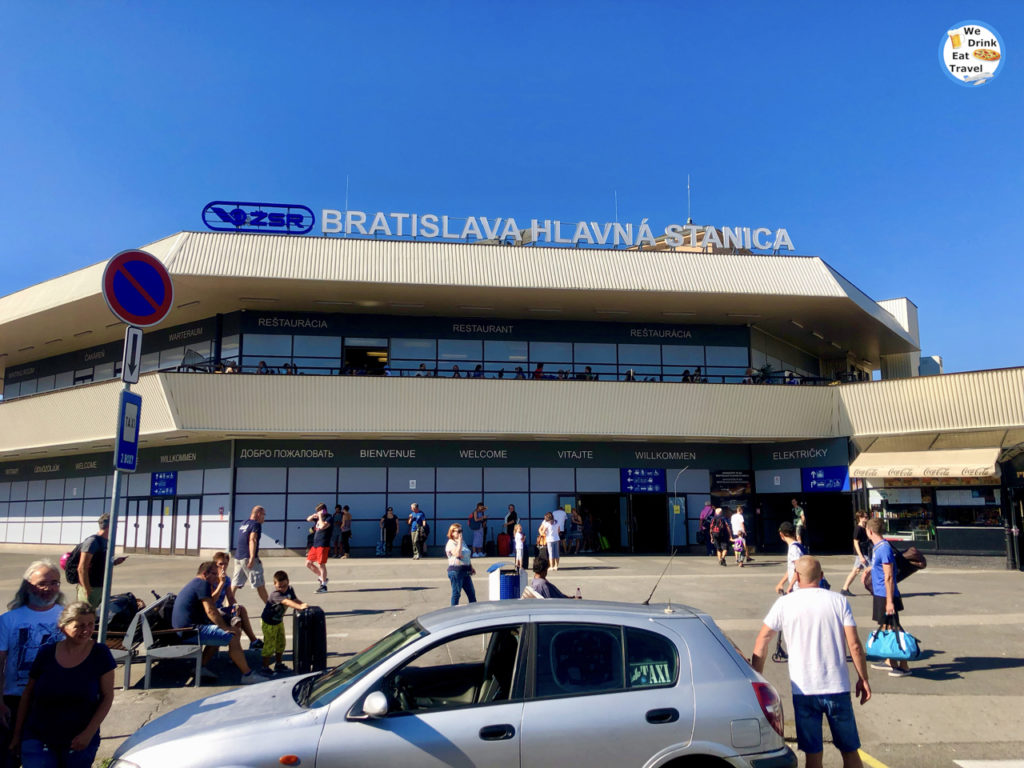 So, to get into seeing the sights of Bratislava it's not that far to walk… although you can catch public transport if you want. But for us, we decided to walk.
So, after leaving the station, walk straight ahead to the main road. Then, head towards your right, and you'll see a bridge over the main road. Wander across this bridge to get to the other side of the road.
We stopped at the top of the bridge to get a photo…
So from the station, most people would head directly into the Old Town main square.
Yet, we decided to stop first to see the Summer Archbishop's Palace. And from Bratislava station, it was only about a 10 minute stroll.
Summer Archbishop's Palace (Episcopal Summer Palace)
Address: Námestie slobody 2899/1
The palace was built by Archbishop Forgách in the early 1600's… as the summer house of the Ostrihom archbishops.
Then, in the mid 1700's… the palace was re-constructed in Baroque style by Georg Raphael Donner. Plus, the outside of the palace was adorned with lush gardens.
Yet, the Summer Archbishop's Palace is now the seat of the Prime Minister. And when we were there on a Sunday, we were surprised to see workmen painting the gates of the Palace… No rest for the wicked! ;-)
Freedom Square
Address: Námestie slobody 2902/6
As Paul was taking photos of the Palace, I turned around and noticed a park with a sculpture in the middle.
So after viewing the Summer Archbishop's Palace… we wandered across the road to Freedom Square. In ancient times, the square had vineyards throughout it.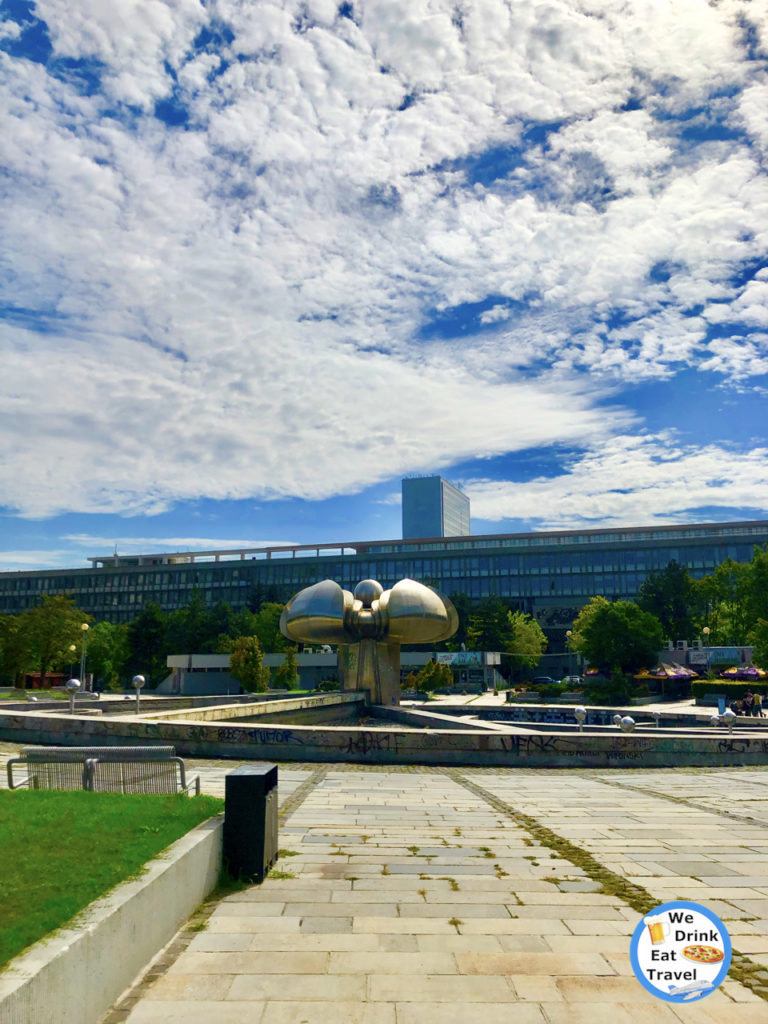 Yet, as you can see from the photo, this is no longer the case. We were surprised by the amount of graffiti throughout the park.
In the middle of Freedom Square, the sculpture used to be a working fountain. But, when we were there, the park felt stark and unloved. So, we decided to move on to our next stop…
Presidential Garden (Grassalkovich Záhrada)
Only a few minutes walk from the Summer Archbishop's Palace and Freedom Square… is the Presidential Garden. This is like the massive backyard of the Presidential Palace (Grassalkovich Palace).
This garden has lots of trees, a small fountain, and some garden beds with flowers…
Plus, we saw some people doing yoga, and there was even a playground…
So after this, we wandered around to see the front of Grassalkovich Palace…
Grassalkovich Palace (Presidential Palace)
Address: Hodžovo námestie 2978/1
Around the corner from the Presidential Garden is Grassalkovich Palace… which is the home for the Slovakian President. This building, built in the 1700's, is a mix of Baroque and Rococo architectural styles.
And in front of this Palace is this fountain…
Planet of Peace Fountain
In Summer and when the wind blows, the water spraying from the fountain is lovely for some cool relief!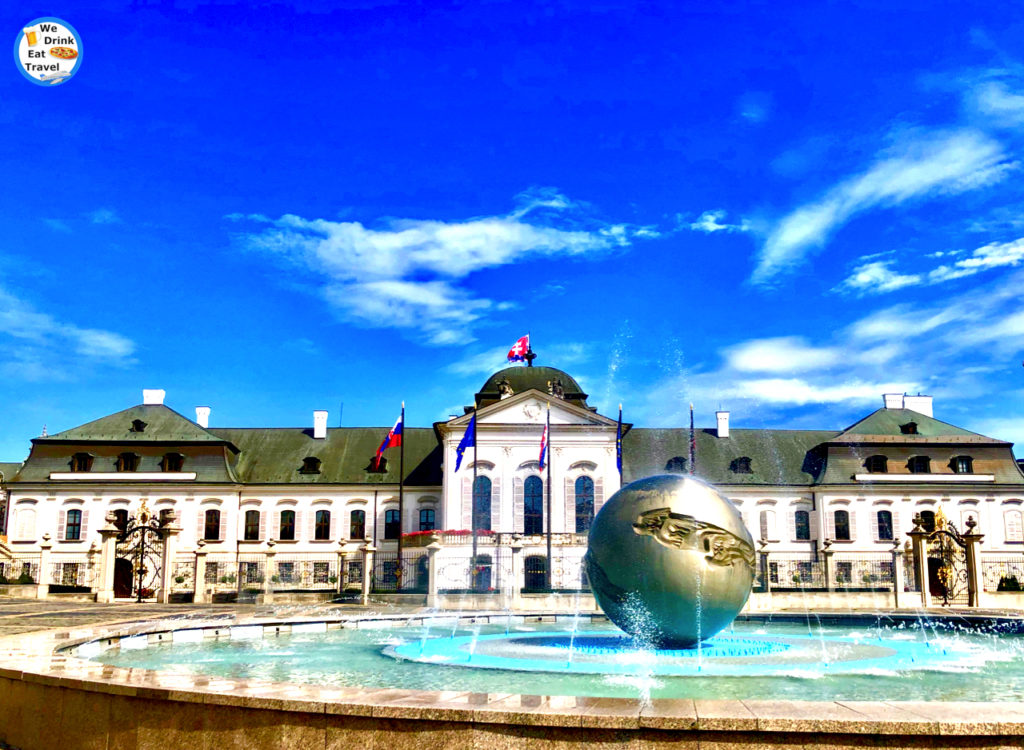 After this, our aim was to go see the Blue Church in the morning. As we thought it'd get very busy as more tourists flooded in. Yet, on our way, we took photos of other places along the way…
Old Cathedral of Saint John of Matha and Saint Felix of Valois
Address: Župné námestie 11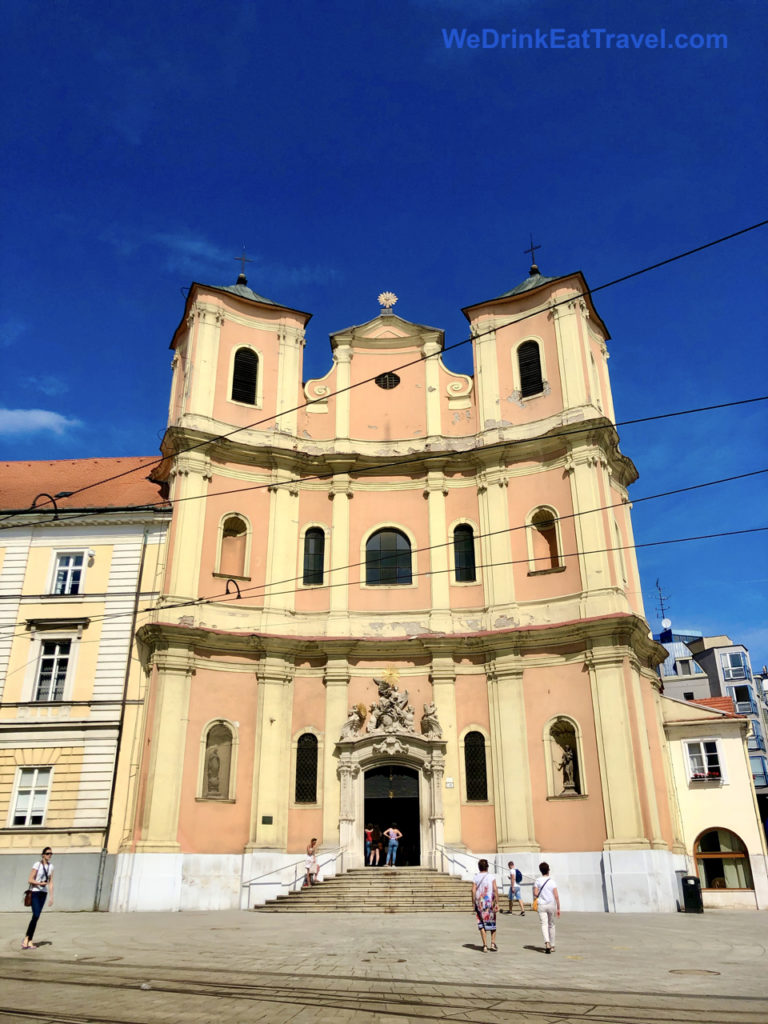 Church of St Stephen the King
Address: Župné námestie 10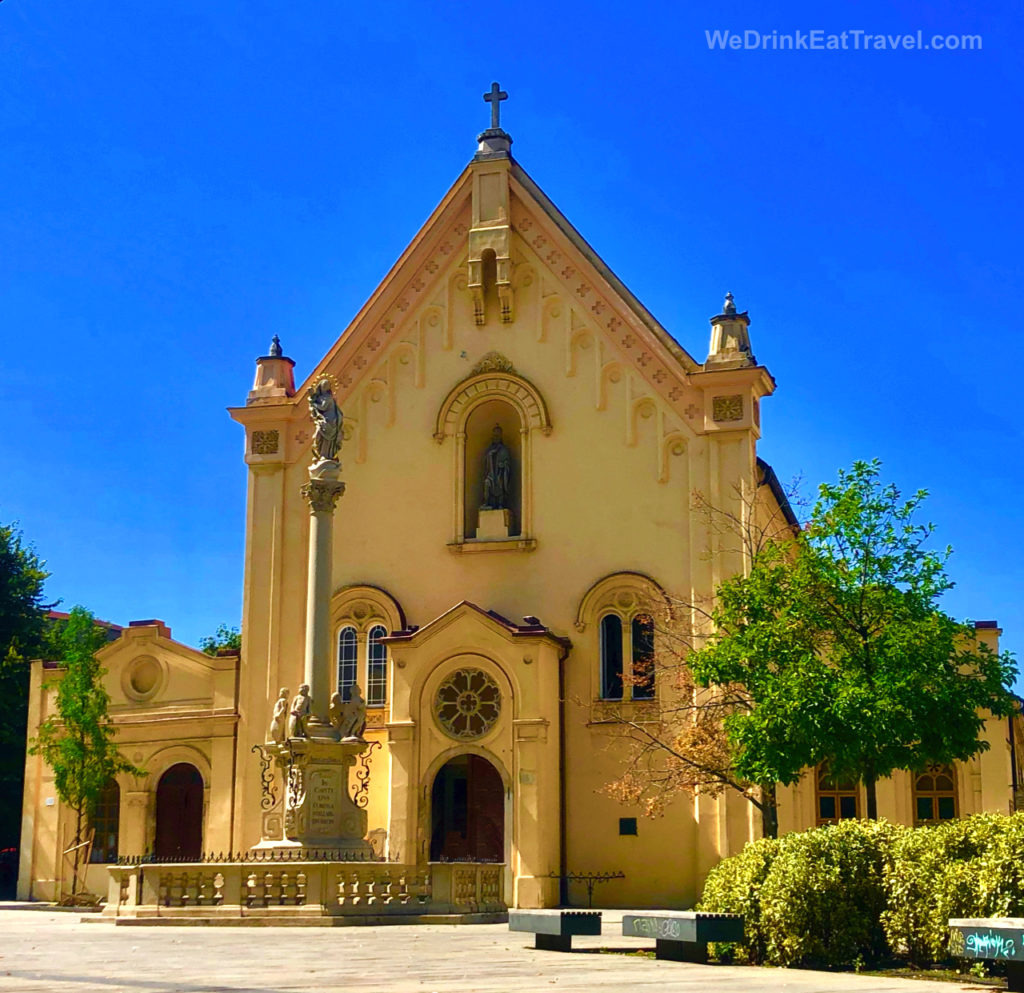 The Church of Merciful Brothers
Address: Námestie SNP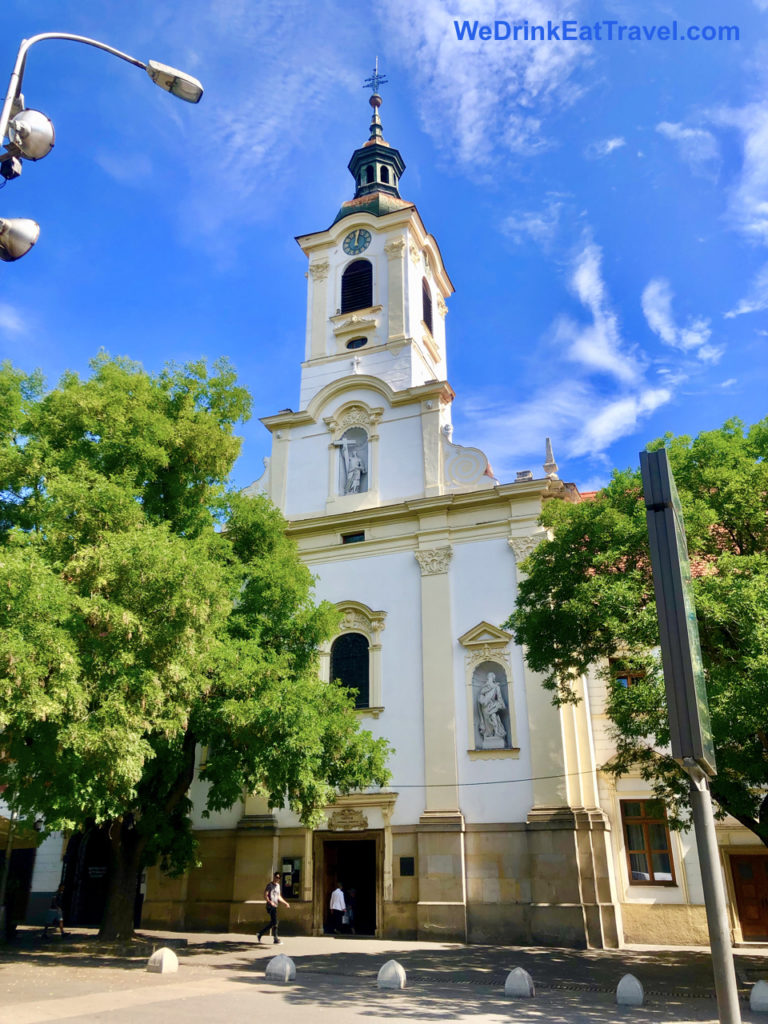 Then, as we were almost at the Blue Church, we saw this building…
Gamča, Gymnázium
Address: Grösslingová 18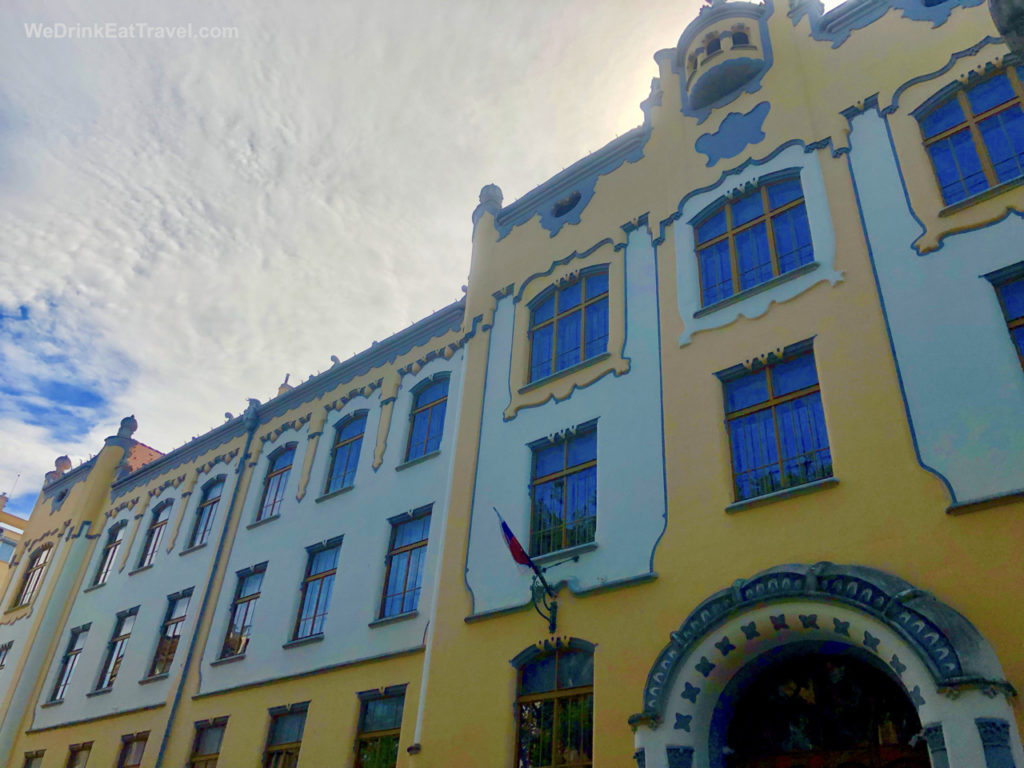 When we saw this building we thought the architecture looked quaint. We were wondering what it was… and saw a sign saying that it was a gymnasium for children! What a great building for a gym.
Then, around the corner was the Blue Church…
The Blue Church – Church of St Elizabeth
Address: Alžbety, Bezručova 2
The designer of this church was a Hungarian architect named, Edmund Lechner.
And, the Blue Church was in honour of St Elizabeth, who was born in Bratislava. So as can be clearly seen from the outside that it's a sky blue color. Yet, inside the church the blue theme is carried on.
The Blue Church is on the outskirts of the Old Town. Yet, getting around Bratislava is easy… so we recommend you take a stroll or public transport to see this pretty sight.
After seeing the Blue Church, we made our way to the promenade and Danube River waterfront…
The Danube River In Bratislava
It was a beautiful day when we went to view the Danube River…
The garden areas were lush green, and the promenade lined with trees and bursts of color. There were many seats to relax and enjoy the views.
Then, across the road from the Danube River we saw a strange looking monument…
Ludovit Stur Statue
This monument is in memory of Ludovit Stur… who was most remembered for reviving the Slovak language.
Then, behind this monument we saw a prominent building…
Reduta Building For The Slovak Philharmonic
Address: Námestie Eugena Suchoňa 100/1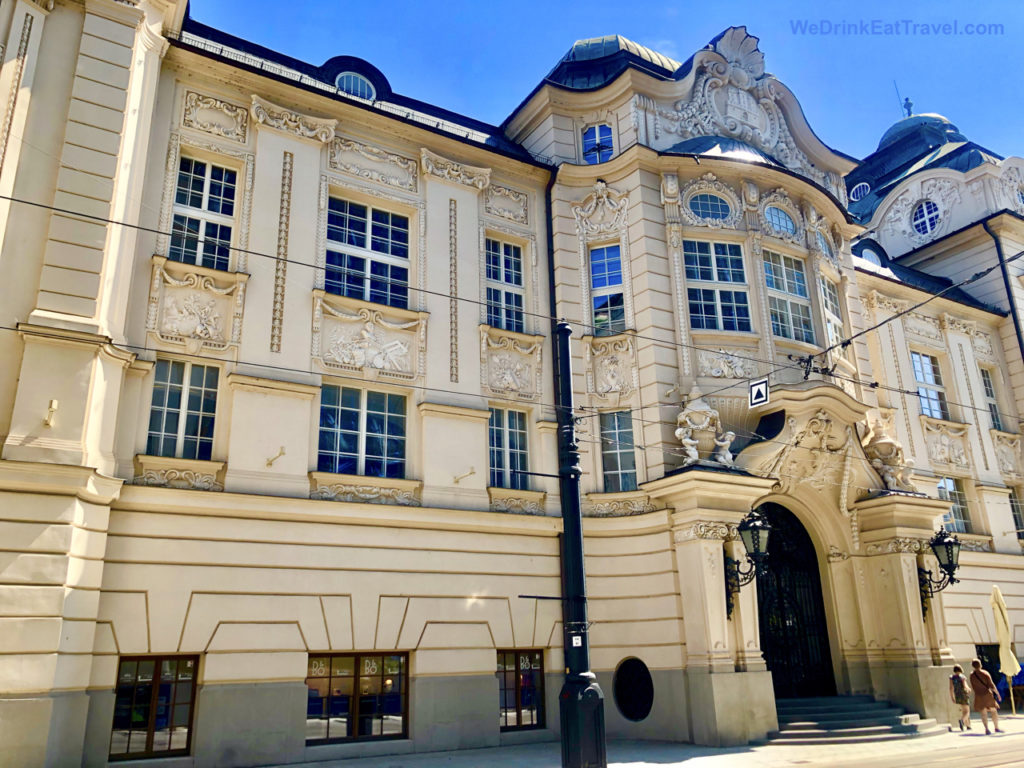 This was original build in 1773… with massive re-development in the early 1900's. The Reduta Building can seat about 700 people… where they can view concerts and enjoy performances from artists around the world.
Then, when making our way further into the heart of the Old Town… we witnessed this magnificent building…
The Old Slovak National Theatre
Address: Gorkého 132/2
At one end of Hviezdoslav Square is the architecturally beautiful Old Slovak National Theatre…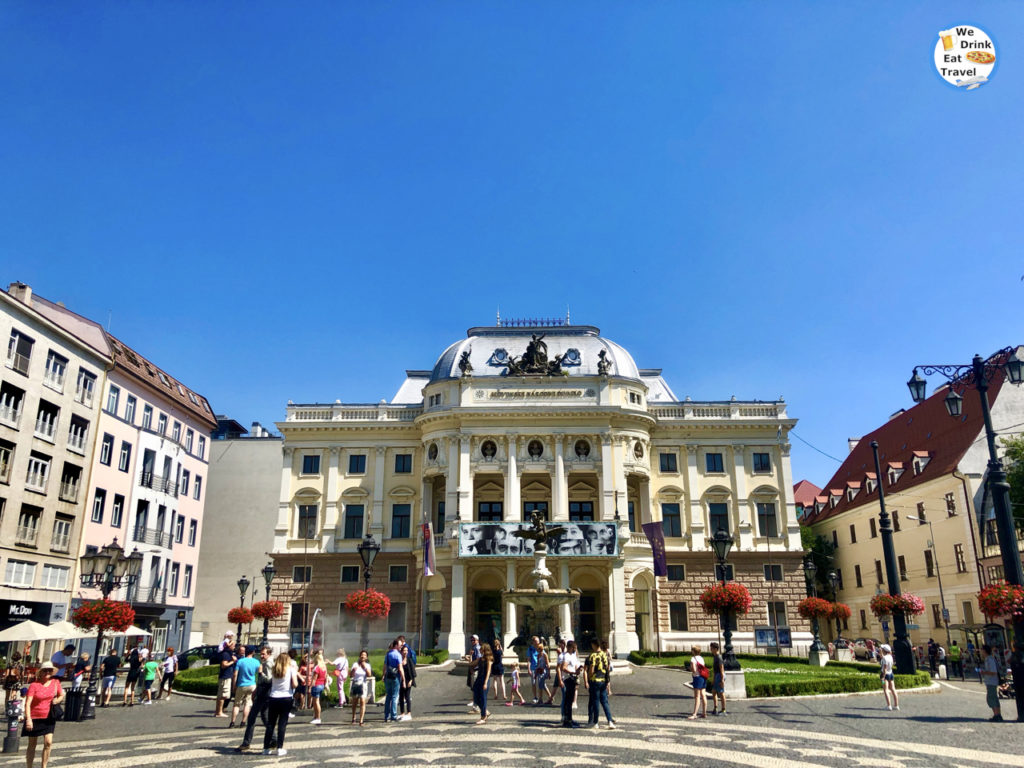 And if you're wanting to enjoy the architecture and indoors… there are many performances held here.
And in front of the Theatre is Ganymede's Fountain.
Ganymede's fountain was designed in 1888 by Bratislavan V. Tilgner. The figures on the fountain are from ancient mythology.
Then, after turning around you can see more of Hviezdoslav Square…
Hviezdoslav Square
When we were there, it was bustling in the Square… with lots of eateries, shops, trees, and even tours taking place…
The Hviezdoslav Square is the largest in the Old Town area of Bratislava… and was named after Pavol Országh Hviezdoslav. In fact, if you wander further down the square past all the activity, there is a large statue of him.
After wandering around Hviezdoslav Square, it was time to head into the Old Town Main Square. Yet, along the way, we stopped at this icon…
Čumil, Man At Work
Address: Panská 251/1
When we went to see Čumil, there were heaps of tourists crouching down taking photos of him. Čumil is a bronze statue, depicting a sewer worker at the top of a manhole… watching the world go by.
Then, a stone's throw away is another character…
Schöne Náci
Address: Rybárska brána 217/1
The Schöne Náci statue also attracted many tourists when we found him. The statue is made of silver material, and honors the designer, Lamar Ignac.
Looking at Schöne Náci puts a smile on your face, and that's what he was known for.
When you wander around the Old Town streets, there are other similar statues you may bump into!
Yet, for us, a few more steps in and we reached here…
Old Town Main Square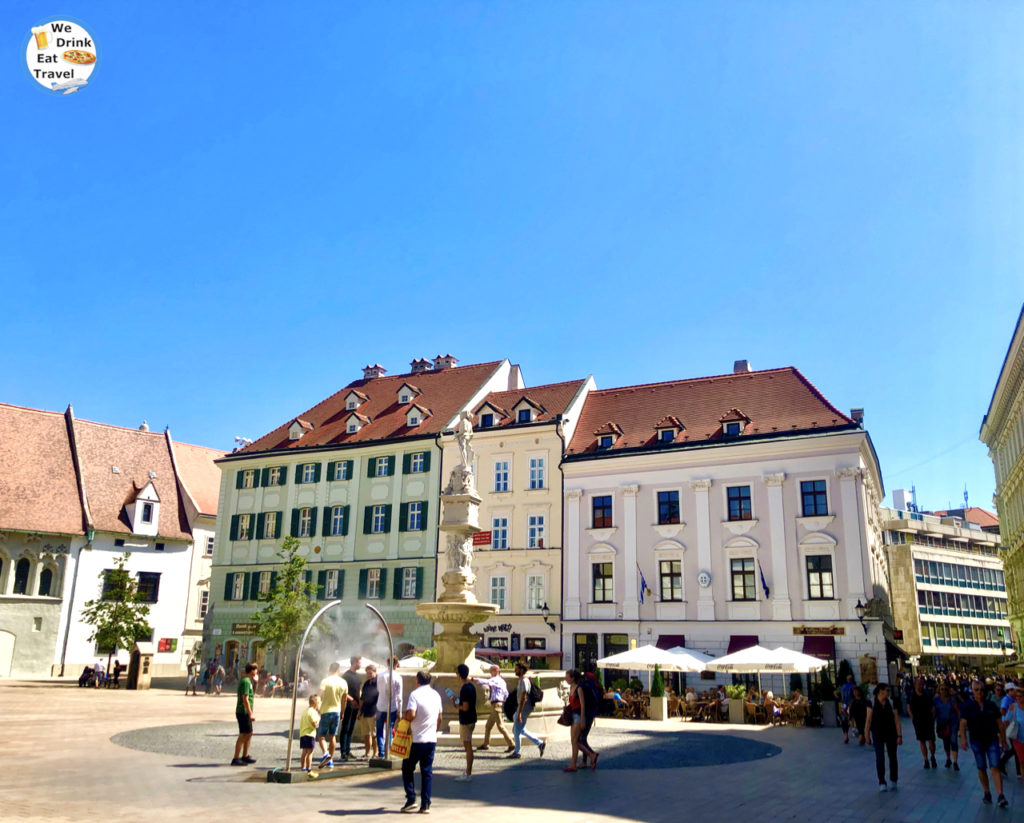 The Main Square, or in Slovak is Hlavne Namestie. This bustling centre in the Old Town has many cafes and restaurants to relax… and enjoy the scenery or people watch. When we were in the Square, there were lots of market stalls.
So while you're enjoying your time in the Main Square, you'll see this…
Roland's Fountain / Maximilian Fountain
Now, this fountain is the most famous in Bratislava, also known as Maximilian fountain. This fountain was built in 1572… with the 10.5 metre high centerpiece topped with a knight in armour.
There are many legends about this fountain… including that on Goody Friday, he is rumoured to come to life! Arghhhhh ;-)
Also within the Main Square is this…
The Old Town Hall
The Old Town Hall was originally built in the 1300's… and is one of the oldest stone buildings that still stands in Bratislava. It also has the oldest museum, Bratislava City Museum… with a variety of historic artefacts that you can see for a fee.
Plus, you can go up to the top of the tower for a view overlooking the city area.
Yet, you can go through to the back to see the Old Town Hall courtyard…
Then, as we continued down the street, we saw this…
Church of the Elevation of the Holy Cross
Address: Klariská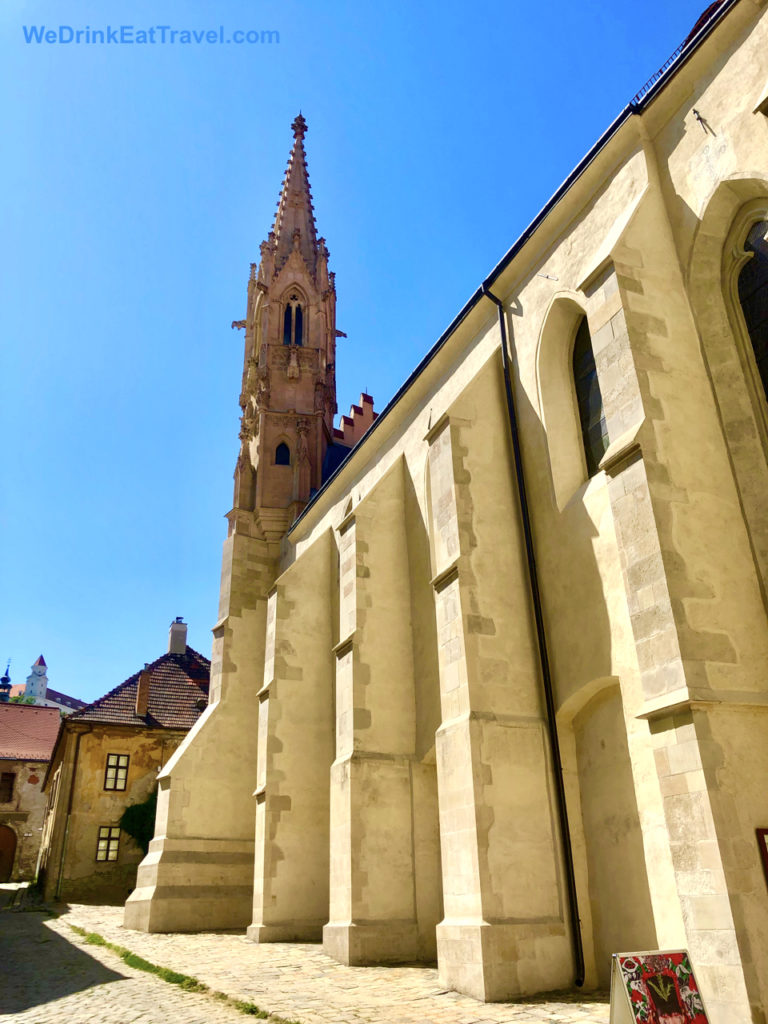 So this church stood out to us with its gothic architecture. This was a former Catholic church, but is now used for a variety of different events.
As we were making our way to St Michael's Gate, we did a slight detour… and found this little shop…
Obchod v múzeu
Address: Biela 419/6
Obchod v múzeu is The Oldest Shop In Town… with lots of traditional Slovakian foods, wines, and artefacts…
So after having a browse in this shop… we headed back so that we could see this major landmark…
St Michael's Gate And Tower
Michalská ulica 22 806/24
St. Michael's Gate is the only preserved city gate of the medieval city fortification. Plus, it's one of the oldest buildings in Bratislava town.
So, you can go up the tower to get some great views. But for our next stop, we were certain to get the best views of Bratislava…
Bratislava Castle
So to get to Bratislava Castle, we walked via Zámocká and Palisády streets.
And once we got to the entrance, we could see how enormous the castle was. With its white washed walls… it stood out amongst the clear, bright blue sky. It looked amazing…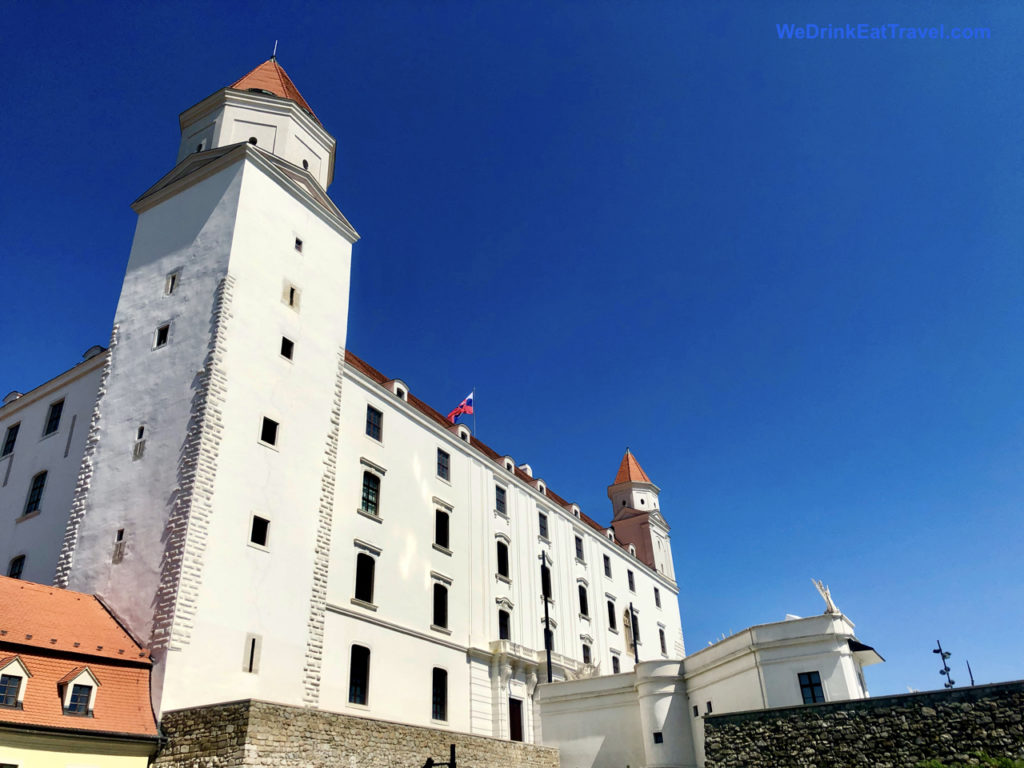 And once we got to the entrance, we could see how enormous the castle was. With its white washed walls… it stood out amongst the clear, bright blue sky. It looked amazing…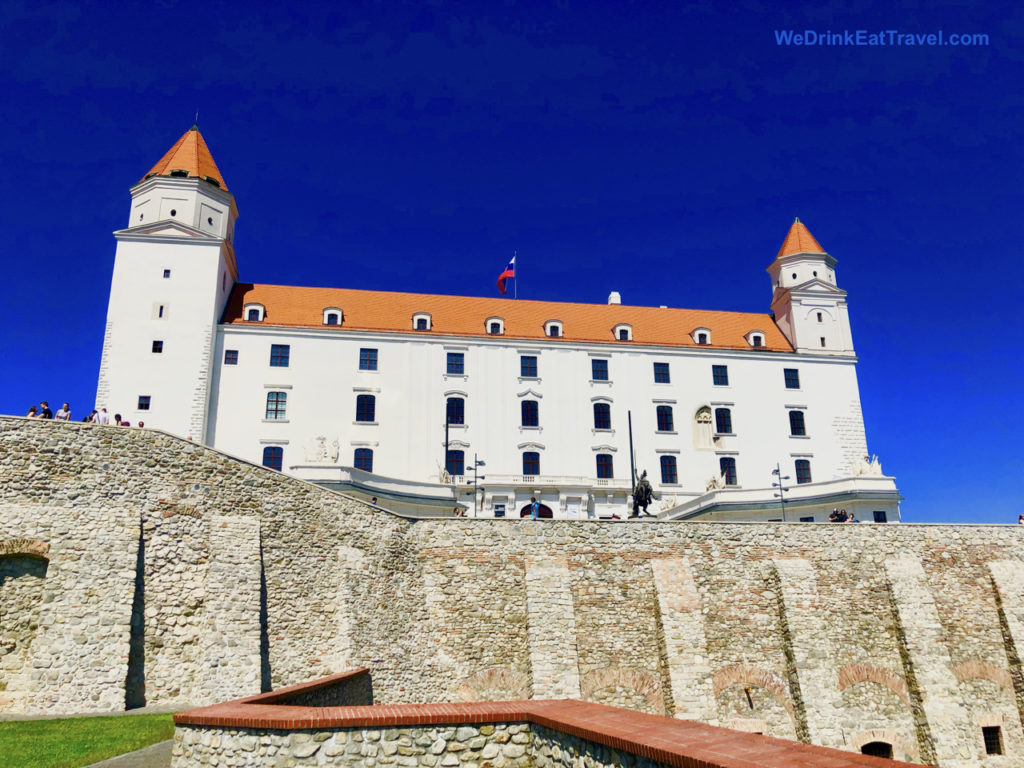 But what was even as incredible were the views we got from Bratislava Castle. From here, we could see the UFO Tower high above Bratislava…
As well as the striking St Martin's Cathedral…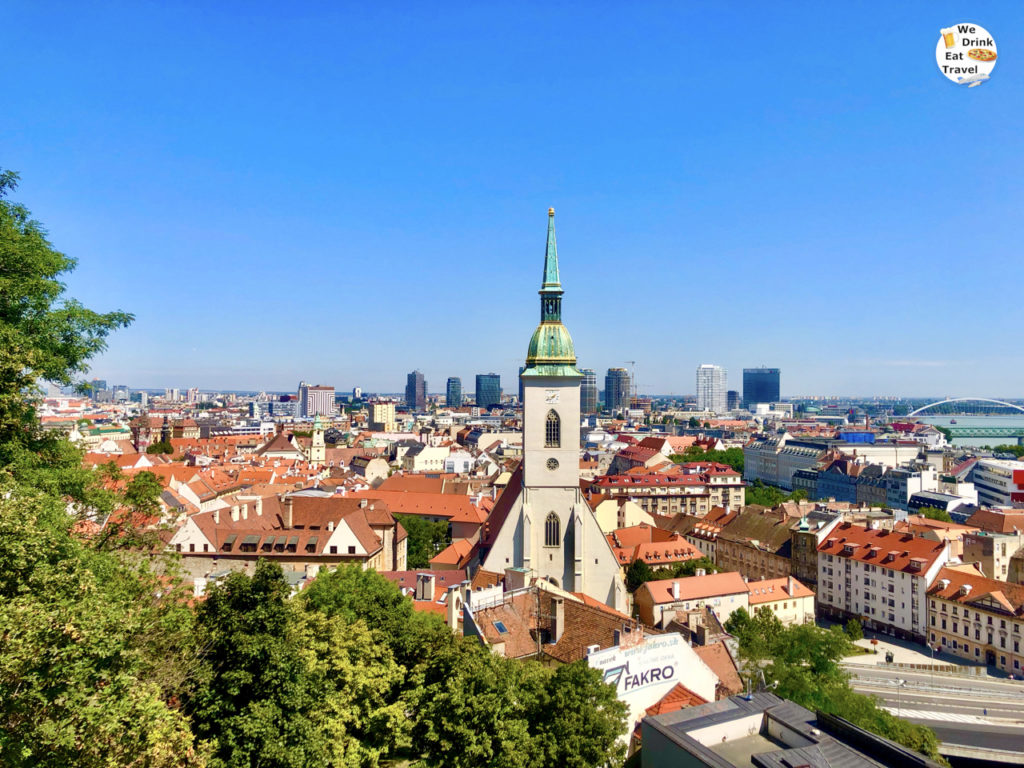 To find out more about Bratislava Castle, check out our blog post HERE.
To find out more about Bratislava Castle, check out our blog post HERE.
So, these were the main sights Paul and I saw in Bratislava. We then got to Bratislava Station in time, to catch the 5:38pm train back to Vienna.
To find out our experience and tips with the OBB train from Vienna to Bratislava, CLICK HERE.
So, we hope this post inspires you to visit Bratislava in Slovakia. And we trust it gives you some ideas for What To Do In Bratislava In One Day.
Now, while you're in Bratislava, you'll need some food and drinks…
Where To Eat And Drink In Bratislava Slovakia
The World's Smallest Café Wheely Café
When you're wandering around Bratislava, you may need a caffeine kick. And you might stumble upon this…
The The World's Smallest Café Wheely Café! It looked so cute that I had to take a photo of it. Coming to a venue in Bratislava near you – HA HA HA!
Prazdroj
Address: Mostová 275/8
Prazdroj is a unique venue in Bratislava…
It's one of the first restaurants outside the Czech Republic… with original tank beer Pilsner Urguell. And the beer is served by using Hladinka technology… where Hladinka is the surface that makes beer marks.
So, the head of beer is smooth and foamy, and it tastes great…
It also serves a variety of food if you're feeling puckish. Yet, for us, we saved our bellies for this place…
Slovak Pub
Address: 62 613, Obchodná
Here is one of the best restaurants in Bratislava! When you look at the outside of the Slovak Pub… it looks quiet and not that inviting.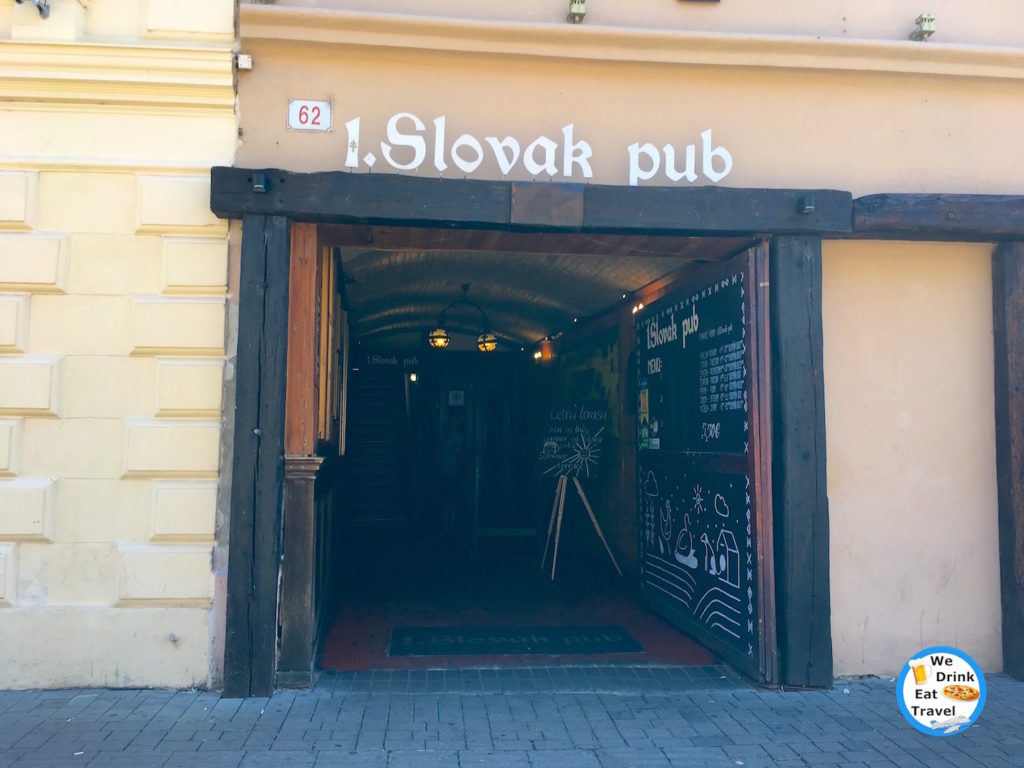 Yet, once inside, it was a hype of activity. It was challenging to find a free table and the service when we went was a little slow. But, it's worth the wait!
With lots of home made meals that tasted incredible, we would go back again if in Bratislava.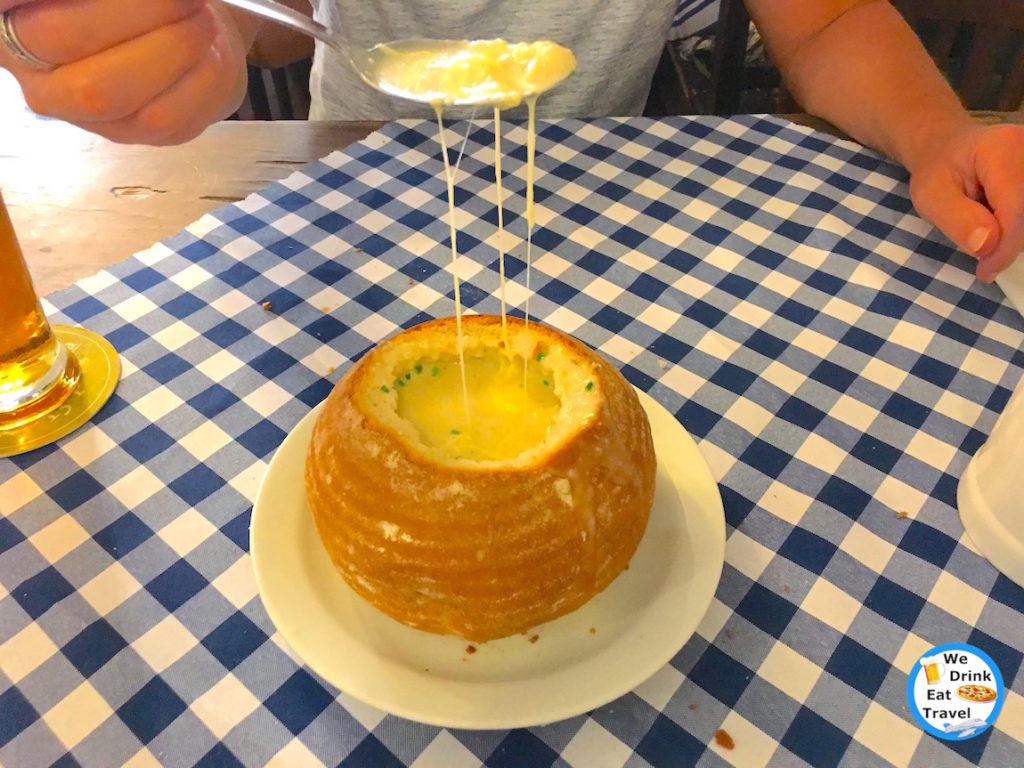 You can find out more about the Slovak Pub HERE.
While the Slovak Pub had traditional and home made desserts that sounded amazing… I had to try a sweet treat at this small, modest cake shop…
Pasteleria
Address: Panská 246/11
I'd researched a little about the sweets in Bratislava, which sounded incredible. Having tried several in Vienna and surrounds… it sounded like Bratislava would give them a run for their money!
So, as we only had one day in Bratislava… I had to narrow down my choices of patisseries. Then, in the end I chose a place called Pasteleria.
One of the Slovakian traditional sweets is the krema, and they had fresh batch ready for feasting on!
It looked, thick creamy and delicious, and it sure was! Even Paul said it tasted great, even though he's not a big sweet tooth.
So make sure you check out Pasteleria when you're in Bratislava for cake, coffee or other sweet treats.
The Main Square And Surrounds
If you want to have coffee, sweets, beer, wine and traditional food, all in the one area… then head on over to the Old Town Main Square. There are plenty of options in the Main Square and adjoining streets.
Thinking Of Staying On In Bratislava?
If you're looking to stay longer in Bratislava, why not check out some of the many accommodation options.
To get some great deals, CLICK HERE.
Enjoy your time in Bratislava Slovakia!
Watch the We Drink Eat Travel Youtube video about Bratislava, Slovakia…
---
You Might Be Interested In This Too..
What To See in Bratislava – High On The Hill Is The Iconic Bratislava Castle
Tantalize Your Taste Buds At One Of The Best Restaurants In Bratislava
How To Get From Vienna To Bratislava
Want To Indulge In The Historic Sacher Cake In Vienna? Read This First!
One Of The Best Restaurants In Vienna For Traditional Food
3 Travel Mistakes People Make And Tips On How To Avoid Them
My Carry On Luggage Must Have Item