When Paul and I were staying in Vienna, we were thinking about what day trips we could do. And, we overhead a local say to a tourist that… even if they were here for a few months, they wouldn't be able to see everything!
So, as we were in Vienna for a few weeks, we had to narrow down our options!
After coming to Europe from South East Asia… we saw several UNESCO World Heritage Listed sites. So, Europe let alone Austria have many UNESCO sites too.
So, an area where we both hadn't been to before was the Wachau Valley. Wachau Valley was enlisted into the UNESCO World Heritage Listing in the year 2000. And, it spans an area covering more than 18,000 hectares!
Plus, wachau has several quaint towns within the region along the Danube River… so you may be spoilt for choice of where to take in the picturesque scenery. And, it's also well known for other things including:
A variety of world famous award winning wines
Its sumptuous apricots and apricot products
The Burgruine Durnstein Castle ruins
Many impressive architectural buildings, and MORE!
So, to get from Vienna to Wachau Valley, there are several options. Yet, we chose to start our trip at the Melk end of Wachau.
And, if you want to know more about our experiences traveling to the Wachau Valley, and through it… check out our blog post HERE.
So, as I mentioned earlier, there are several towns we could have visited. Yet, I'll share with you the towns we visited, and what we did in each.
So, let's get right into our day trip to the UNESCO Heritage Listed, Wachau Valley…
What To Do In Melk
If there's one thing that you must do when in Melk, is to visit Melk Abbey. From a distance, on top of a rocky hilltop… it stands out amongst the skyline and mountain range. And it's more striking when there's blue, sunny skies behind it…
Melk Abbey is a huge Baroque structure, which is part of the UNESCO world heritage Wachau Valley area. And, since 1089, Benedictine monks have been living and working in the Abbey.
Melk Abbey also houses the tomb of Saint Coloman of Stockerau. Plus, the remains of several members of the House of Babenberg are here too… which was Austria's first ruling dynasty.
And, to see the outside of Melk Abbey is spectacular in itself. Yet, we recommend that you pay to go into the abbey and stroll around the outer grounds too.
So, the price for an adult ticket is 12.50 Euros without a tour guide. Yet, if you want a guided tour, it's an extra 2 Euros per person. Plus, there are other special priced tickets for families.
For more information about prices and Melk Abbey tours, CLICK HERE.
So, as you can see, Melk Abbey looks spectacular from the outside. Yet, once inside it's so grandiose. And, the level of detail and work that went into it is mind-boggling!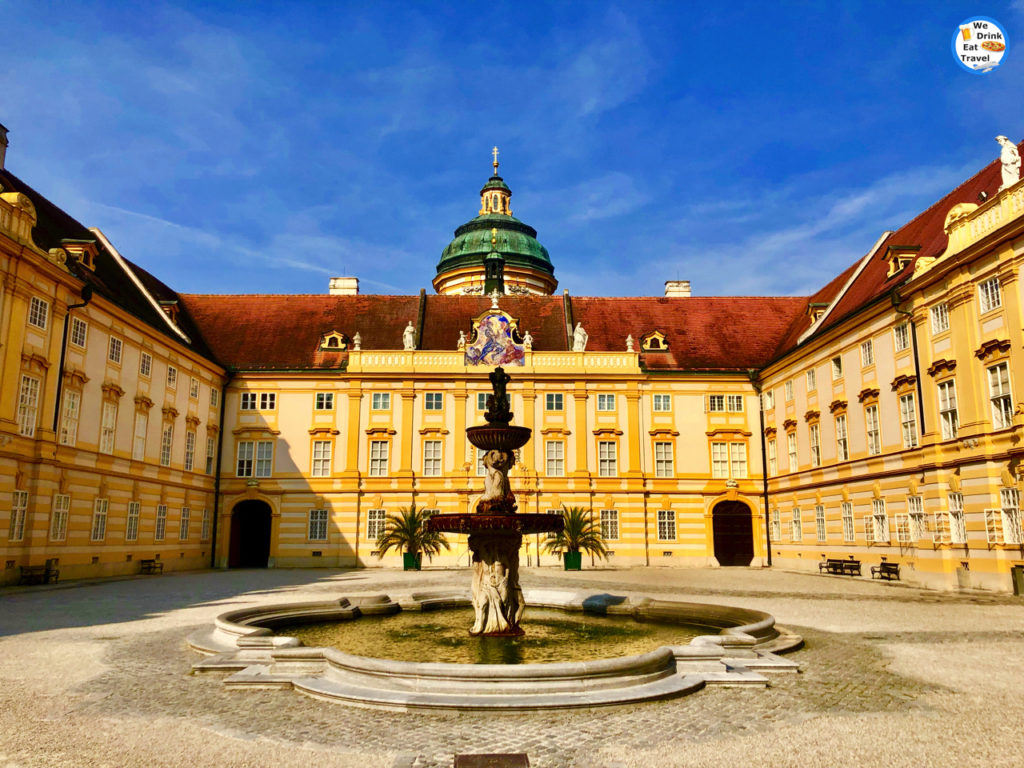 There are several sections within the Melk Abbey area to visit. And this includes the Abbey itself, the Northern Bastion, special exhibitions, the Abbey Park and Baroque Pavilion.
So, it's recommended that you allow about 2.5 hours to see everything! That to us seemed like a lot of time, but I guess we were to find out soon enough.
And just so you know, inside Melk Abbey we were told that we couldn't take photos. Damn, because there were some great photo opportunities… such as the library, which has about 100,000 books!
Plus, the church inside the Abbey was a showstopper, and incredibly elaborate.
So, we went on a Saturday, and arrived at Melk Abbey around 9:30am. And we noticed that there were several tour groups there already. Then, when we were going through there were even MORE!
And of course, when we left the Abbey to go to the Park and Gardens… it was busy with lots of people.
TIP:
If you want to avoid the crowds, get to Melk Abbey BEFORE opening time, which is at 9am. But, best to check the times as they may change.
After going through the inside of Melk Abbey, there were doors to lead us the back outside area. So, as we walked towards the Danube riverfront, the views from here were spectacular…
Then, after we went through all of Melk Abbey, we wandered into Stiftspark… the Abbey Park. One of the first things we noticed was the Baroque Garden Pavilion… and its marshmallow pink and white colours…
And, in front of the Pavilion was a small fountain, surrounded by lush green lawns… as well as finely manicured shrubs and trees.
There was also a cafeteria here, if you wanted to stop and take in the garden views. Yet, we wanted to explore more around the park and garden areas… which greeted us with fine views of the Wachau Valley area, such as this…
Plus, when we were walking through the park… we were given some relief from the strong sun, and shaded by these humungous trees!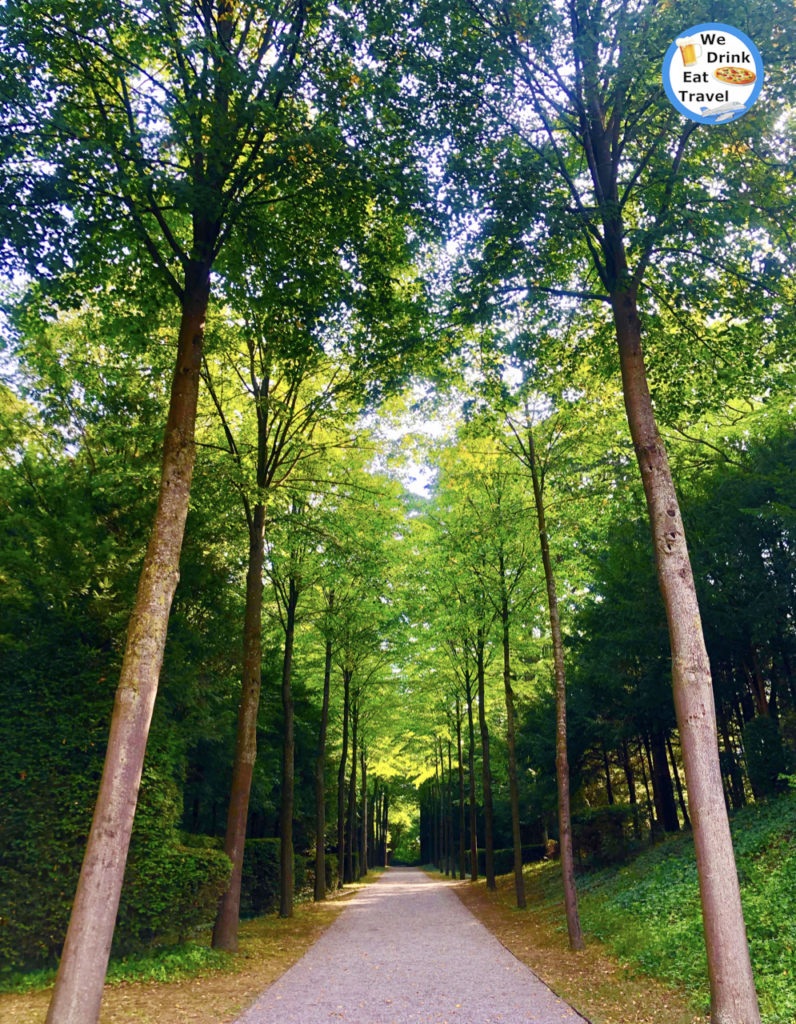 We spent just over an hour looking through Melk Abbey and the park. We weren't greatly interested in the exhibitions, but it may be something that tickles your fancy!
If you want a grand tour of Melk, CHECK THIS OUT.
Then, from Melk Abbey, we went to have a wander around the town area. Melk is a very cute town, with lots of little shops along the way…
There are many shops selling various products, which are made with one of the Wachau Valley's most famous fruits, the apricot…
There are several cafes and restaurants to stop for a drink or feed, including Rathauskeller…
It was relaxing, people watching while enjoying a deliciously cold beer! And, when we were there, a couple of ladies had set up a small area in the middle of the plaza… they were playing the guitar and singing some sweet tunes.
So, once we had seen what we wanted at Melk, we walked back to the station for our next destination.
Watch Our Amazing Melk Abbey YouTube Video…
---
What To Do In Dürnstein
So, to get from Melk to Durnstein, we caught the bus at Melk station.
You can find out more about our transport experiences HERE.
From Melk to Durnstein by bus, it was about 45 minutes.
So, the bus stop that we got off at was, Durnstein West. And we thought this was the best stop for us to start our journey in Durnstein… that's because one of the first things we were going to do… was make our way up to get to the Burgruine Castle ruins.
Then, we were planning on doing some Wachau Valley wine tasting… if our time schedule allowed us.
Yet, along the way we stopped to admire the views and take some happy snaps. Then, as we got closer into town, we strolled along these cute streets…
A Pitstop In Durnstein To Re-charge
So, as we were getting a little thirsty, we decided to make a pit stop for some cold beers. And, the place we decided to check out was called, Dürnsteinerhof…
Then, as it was a beautiful, warm sunny day in the Wachau Valley we wanted to sit outside. Yet, once we headed towards the courtyard area, it was packed with everyone else sitting outside. And the crazy thing was, it wasn't even lunch time yet!
So, we had to settle for seats inside. But that was fine, as the interior was quaint and relaxing…
Plus, the beers went down nicely before our trek up to Burgruine Castle. Yet, before we got there, we ended up taking a detour… to look at the Blue Church that stands out along the Danube River.
And in the area behind the actual church in their courtyard, we witnessed a wedding with the couple arriving by horse and cart!
Then after that… we wandered to the Danube riverfront to take some photos of the Durnstein blue church.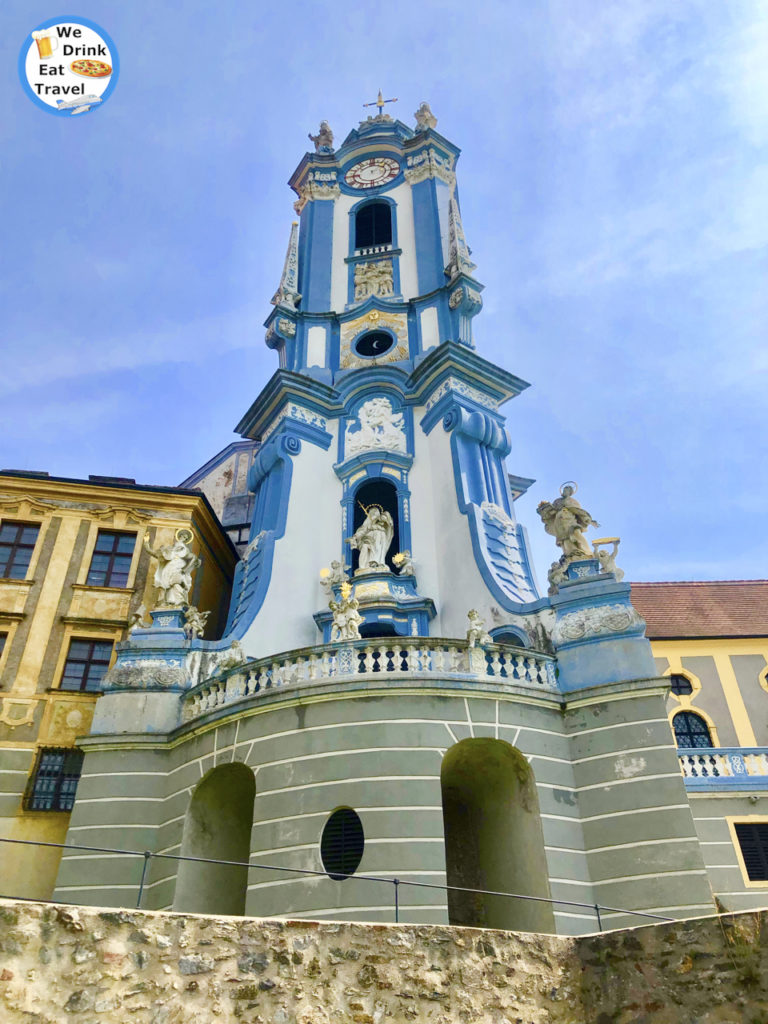 And the funny thing is, not long before our trip to the Wachau Valley, we saw another blue church. Yet, this one was in Bratislava…
To take a sneak peek into our day trip to Bratislava from Vienna, CLICK HERE.
This church was originally founded back in 1410, yet was modified in the 1700's. And, if it interests you, there are guided tours available at certain times of the year.
So, we were just about ready for our journey to the Burgruine Dürnstein Castle ruins. Yet, along the way we saw this…
As soon as we saw this bakery and café, we had to go in as the Austrian breads and sweets are to die for! Plus, we thought we needed to fuel up before our walk up the mountain.
So, once we got into Bäckerei Schmidl… there were heaps of breads, sweets and even ice cream to choose from! OMG, it was so hard to choose. Yet, here's a couple of items we chowed down on…
So, with our content bellies, we headed on for Burgruine Dürnstein.
The Trek To Burgruine Dürnstein Castle Ruins
Now, there are 2 ways to get to Burgruine Castle ruins, and the one we took had this sign…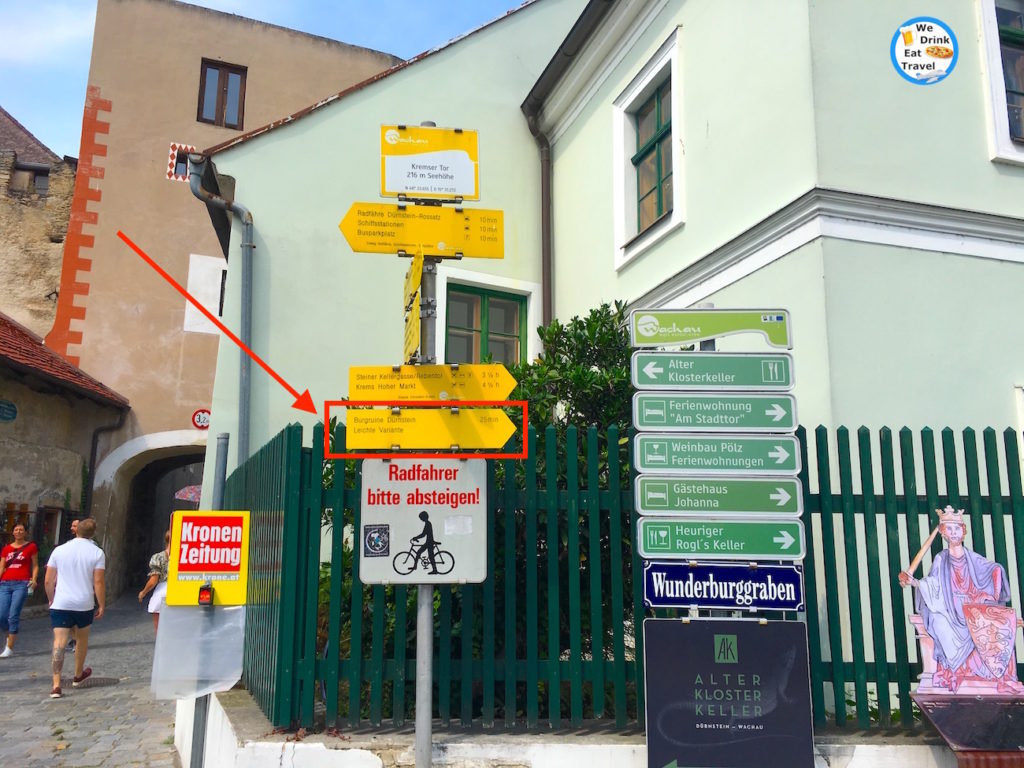 And on the sign, it said that it would take about 25 minutes to walk to the castle.
So, this was the second of the signs we that we saw. And, once we started walking up this path, there were little artefacts and information along the way…
So, medieval castle was built from rocks in the 1100's, with the fortress overlooking the Danube River. Yet, this was one of the places where King Richard I of England… also known as Richard the Lionheart, was held captive.
And this castle is also part of the is part of the UNESCO Heritage listed, Wachau Cultural Landscape
So, the further up the mountain we got, the steeper it got too! Yet, at least there were some seats if we needed a break, which we didn't use.
Plus, there were some shady areas thanks to these trees…
And, as we got higher up the mountain we started to see some lovely views…
Yet, we'd heard that the views from the highest point of the castle ruins were magnificent… so we kept trudging along.
Warning…
And then we saw this gate, which had a sign warning us to enter at our own risk!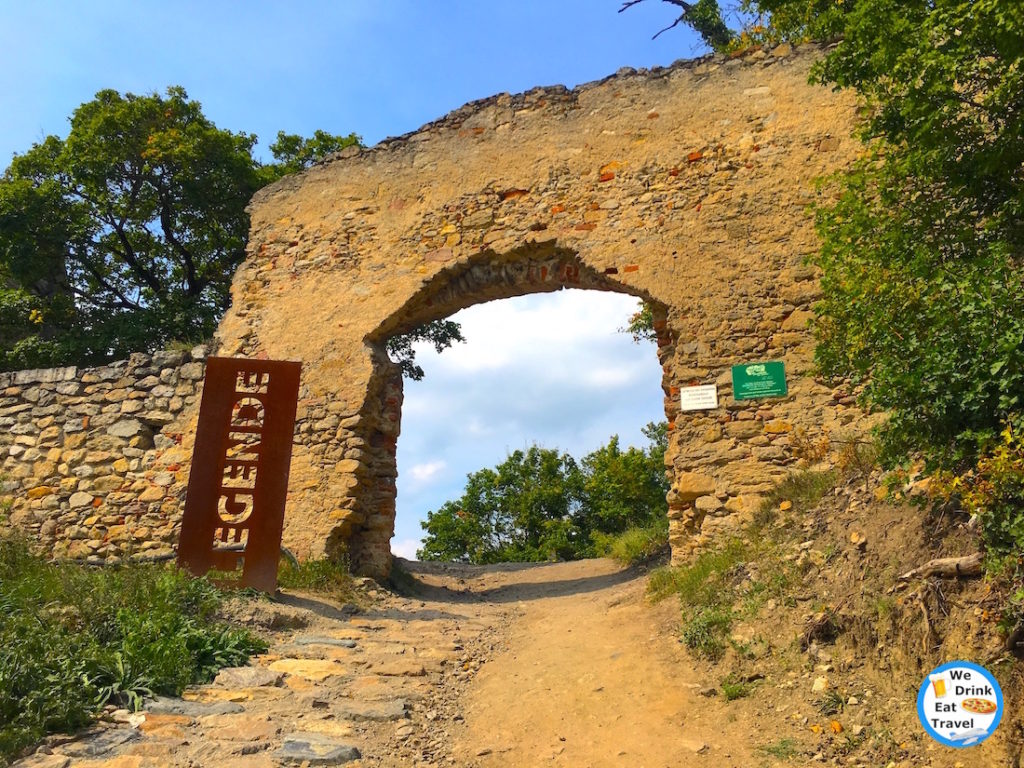 So, after walking through the gate and facing the Danube River side, we were met with this beautiful scenery…
But we wanted MORE! So, we made our way up paths and steps like these, to eventually get to the top…
So, in case you were wondering what footwear to put on before the walk… hope those photos help!
And once we got to the peak of the Burgruine Dürnstein castle ruins… we were rewarded with stunning views of the Wachau Valley…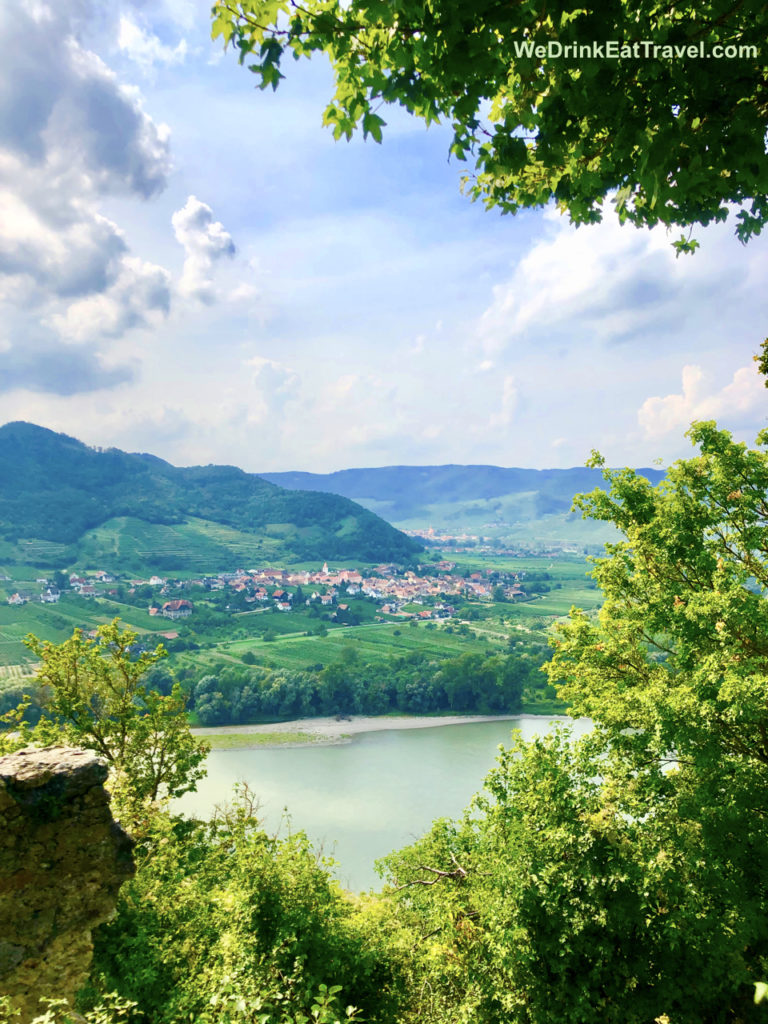 When we looked around, we noticed in the distance people rock climbing up the mountains!
Wachau Valley Wine Tasting
After climbing up the Burgruine Dürnstein, we'd been sweating like pigs as it was a warm day. So, we needed to replace our bodies with some electroytes. And, the way we agreed to do it… was by having natural sugars in some local wines! He, he, he.
So, we wandered on over to Domäne Wachau…
And, we discovered that we could do wine tastings for free. Yet, unfortunately we couldn't order glasses of wine to have there.
So here, at Domäne Wachau, it is a well-known and popular wine producer in Austria. Plus, with almost 440 hectares of vineyards… they pump out a lot of white wines, as well as red wines.
In fact, when we got back to Vienna City, we indulged in a bottle of their Riesling.
So, there are many places in the Wachau Valley region where you can taste wines. And the main wines are whites, with Grüner Veltliner the dominant grape variety… followed by Reisling.
Thus, to make the most of it… you may like to book a winery tour, in combination with your visit to the Wachau Valley.
And while we're on the alcohol front, as the Wachau Valley has the most famous apricots in Austria… you may like to give the apricot liquers a try. This is probably what they call their "liquid gold!"
Watch Our YouTube Video On Durnstein…
---
What To Do In Krems an der Donau
So, our last stop on our day trip to the Wachau Valley was, Krems an der Donau. And, we decided to take the regional train there, which took about 15 minutes or so.
The city of Krems dates back to over 30,000 years! And, it is also part of the UNESCO World Heritage Listed Wachau Valley region.
So, once we left the station, our aim was to wander into the old town. Then, as we were walking towards the Krems town centre… there seemed to be a lot of shops, cafes and restaurants.
Plus, there were lots of people relaxing, eating and drinking… as one would do on a lazy Saturday afternoon! We were immediately thinking of doing the same.
Yet, we did check out a few sights first in Krems, including these…
Steiner Tor
Steiner Tor is the last remaining of four city gates, so it is significant to the town. Built in the late 15th century, the area outside Steiner Tor was ravaged by floods. And so, it has been restored to what you can see today…
And a stones throw away is the Krems Park. This is the biggest park closest to the city centre. And, in the late 1800's, the park was planted with local and imported tree varieties. In fact, there are about 250 trees which are over 100 years old.
When we were visiting Krems, there was a massive festival on. So, the park was crammed with stalls and people.
Piarist Church
When we were walking through the Krems Old Town, we couldn't help but see the commanding view of the Piarist Church…
This is the oldest church in the city of Krems, dating back to the early 1000's. Then, in the late 1500's, extensive works were carried out to extend the church, which included a high altar.
Pfarre Krems St Veit
The Pfarre Krems St Veit is a baroque style parish church, which was originally founded in the late 1100's. Then, over time it has been developing, where in the mid 1600's it was styled with the Baroque architecutre we see now…
Then, as kept wandering through town… we were surprised to find a vending machine with a difference! Beer anyone?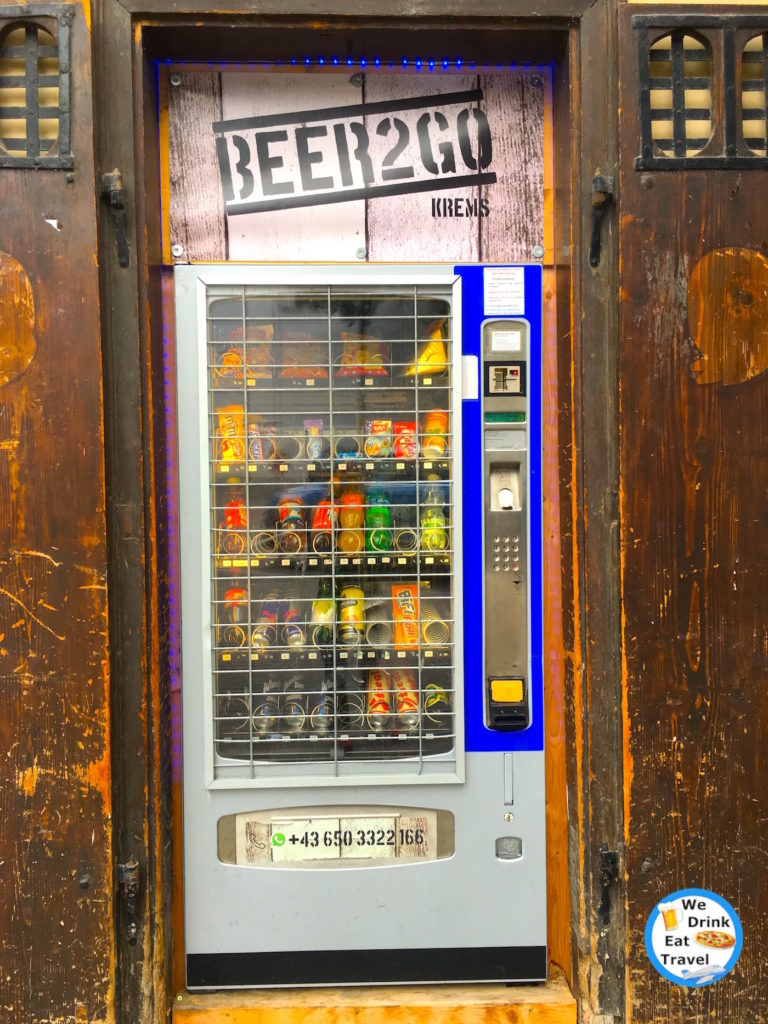 So for us, we didn't find Krems as charming as Melk or Durnstein. Yet, each to their own, right?!
So, to end our day trip in the Wachau Valley region… what better way to do it then to have some local wines and some beer…
Then, as the sun was slowing going down, we decided to catch the train from Krems back to Vienna. When we got to Krems station, there was about 10 minutes before the train would leave.
And, as it got to even minutes before the train was going to depart, more people hopped on the train. Thus, it ended up being full on our carriage.
Our carriage was mainly taken up by a big tour group. And, they had an awesome idea to finish off their day trip to the Wachau Valley, by drinking wine!
So, hope this helps and inspires you to visit the UNESCO World Heritage Listed, Wachau Valley. Of course, there are many other things you can do and places to explore.
But, most of all, make sure you ENJOY!
Like This? Share it and comment on it!
Note: All of our reviews and comments are our opinions and no-one else's. Even if we receive complimentary goods or services we share our opinions honestly.
You Might Be Interested In This Too..
How To Get From Vienna To Wachau Valley
How To Get From Vienna Airport To The City Centre
Want To Indulge In The Historic Sacher Cake In Vienna? Read This First!
One Of The Best Restaurants In Vienna For Traditional Food
A Cute Vienna Cafe For Coffee And Cakes
How To Get From Vienna To Bratislava
3 Travel Mistakes People Make And Tips On How To Avoid Them
My Carry On Luggage Must Have Item
3 Reasons Why Travel Is Important
Need Accommodation?
Vienna Hotels Review: Ibis Wien Messe
Find Your Perfect Vacation Accommodation