Paul and I have been loving our travels around Malta and Gozo. And, there's so much to see and do, it's so laid back here. Plus, the food is pretty good.
And, if you've been here you know exactly what we mean! Yet, if you haven't been, then you MUST include Malta on your bucket list.
So, one of the most popular traditional foods is the Maltese pastizzi…
With its moreish, flaky outer case, filled with soft ricotta cheese or mushed up peas… the pastizzi is a must try when in Malta. Yet sometimes, depending on the shop, there are different flavors including chicken or tuna.
But for us, we love the traditional ricotta and pea pastizzis! Plus, pastizzis are great at any time of day, whether that be for breakfast, lunch or dinner. And you may be thinking, who could have pastizzis all day? WE CAN, and we have. LOL!
So, on ourtravels… we've been on a mission to find the ultimate Maltese pastizzi in Malta and Gozo. And, if you haven't read our first blog post about the first batch of pastizzis we tried and tested… CLICK HERE to check it out.
So in this blog, here's another batch of pastizzis we tried and tested. Can Crystal Palace in Rabat hold onto it's Number 1 position? Or will someone else claim the top spot?
So, there's one way to find out! Thus, we continue on the journey…
And just so you know, the prices of the pastizzis we tried, were based on buying pea and ricotta ones. So, for other varieties they can cost a little more.
But generally, the pastizzis wherever you go are similar in price.
McSims Pastizzeria
Address: Triq Taht Putirjal, Victoria, Gozo
Price: 0.40 Euro each
After Paul and I arrived from Malta to Gozo by ferry, we had to take a bus into Victoria. Then, at the bus terminal in Victoria… we had to catch another bus for our next destination, which was Xlendi.
So after arriving in Victoria, we had about 15 minutes to kill before our bus arrived. Plus, we were feeling a bit peckish. And, as wandered down a main road near the Victoria bus terminal… we spotted 2 pastizzerias next to each other!
Yet, because we'd already tried pastizzis from Sphinx and loved them… we had to try some from a different place.
So, there was only a few people there when we arrived at McSims pastizzeria…
Therefore, we thought we wouldn't have to wait long. Yet, the guy who was behind the counter seemed more interested in talking to what seemed to be his friend than serving us!
Then, once we finally got served, we grabbed our pastizzis to have them in the park next to the bus terminal…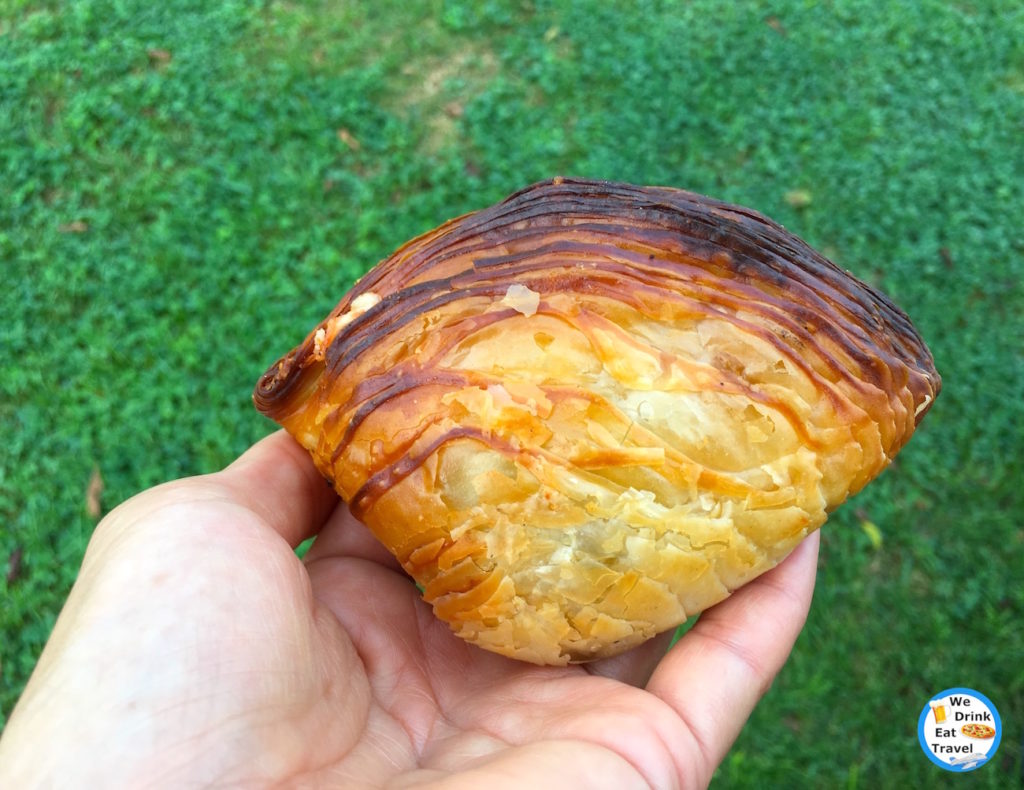 Yet, the bag was extremely oily, but we weren't eating the bag I guess!
So, we tried the ricotta pastizzi first. And unfortunately it was near the bottom of our pastizzi scale. While the outer shell was crusty, the ricotta lacked flavor.
Then, with the pea pastizzi it was OK, but it was nothing to rave on about. Plus, there wasn't much filling. And here's a pic where I'd eaten it halfway through…
So that was disappointing.
Yet, all in all, the pastizzis were OK but nowhere near being our favorites.
So, not a great start to finding the best pastizzi in Gozo.
The Snack Shack
Address: St Simon Street, Xlendi, Gozo
Price: 0.40 Euro each
When Paul and I were in Xlendi… we noticed how small the town was in comparison to other places we stayed in Malta. But while Xlendi was small, it welcomed us with beautiful views.
And, as we strolled through the town area, which had restaurants all clumped in the one area… we found a place called the Snack Shack…
The Snack Shack was right next to a mini market called, Simpatia Crai…
And, you really can't miss it, as it's the only place that we found in Xlendi for grocery type items. And, when we were in Xlendi in the Summer time, the shade cloth would cover the Snack Shack sign.
But, it's not hard to find places in Xlendi… so you'll end up stumbling upon this pastizzeria eventually!
And, as it was the only place of its type we knew of in Xlendi, we were hoping that the pastizzis would be good. Because otherwise we weren't sure where else to get them, that would be within easy walking distance!
So, looking through the glass display, the pastizzis looked very inviting… and after a quick photo we sat at the table and chairs at front.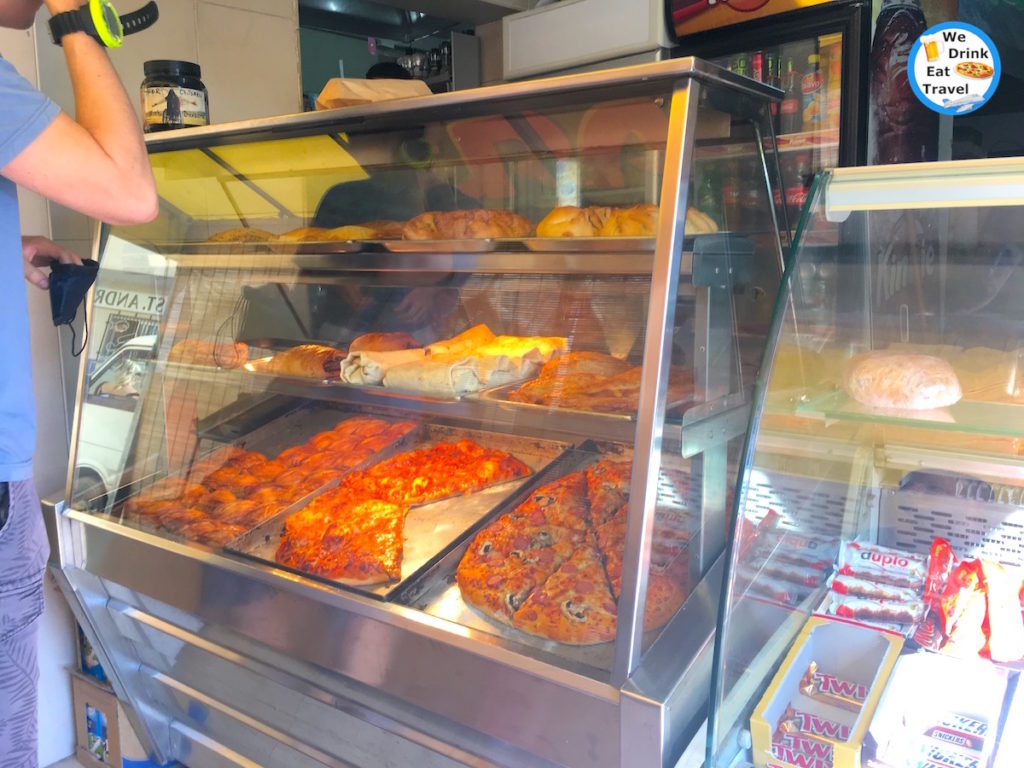 Then, we took our first mouthful of pea pastizzi. Yep, it was tasty and there seemed to be a decent amount of filling.
And, after taking a bite through the flaky pastry of the ricotta pastizzi… we both agreed that the pastizzis at the Snack Shack were tasty. Yet, they didn't reach our top 3 of the best Maltese pastizzi.
Red FR
Address: St Joseph Street, Victoria, Gozo
Price: 0.50 Euro each
After a day out sightseeing, checking the Citadella and other places on Gozo… Paul and I were hankering for some pastizzis, of course!
So while we were on our way to see St George's Basilica, we wandered down many alleyways. And it kinda felt like being in Venice and getting lost down all these little streets!
Yet, we managed to find our path back towards St George's Basilica. Then, along the way our pastizzi radars saw this place…
And, in case you have trouble finding this little hole in the wall place Red FR… it's opposite a clothes shop called Cocoon.
Then, the young gentleman behind the counter was unlike any other pastizzi staff member we'd seen! And he reminded us of a market stall seller, yelling out to people walking past… "Get pastizzi here!"
So maybe there was stiffer competition nearby that we didn't know about!
Even so, we decided to give Red FR a go…
And as we had a mouthful, the pastizzi pastry was crispy, flaky… and it was so delicious on both the pea and ricotta pastizzis. Yet, what made the pea pastizzi different to others we'd tasted, was that there were some pea chunks throughout.
But, in this case, the pea chunks gave it a texture that we liked… and the flavor was quite good too.
Yet, it seemed a little smaller in size than other pasttizzis we'd had.
So, it wasn't a bad little find near St George's Square in Victoria. Oh, and once you've had your pastizzis here at Red FR… head into St George's Square for some drinks and watch the world go by!
Sphinx Pastizzeria – Victoria
Address: Triq Taħt Putirjal, Victoria, Gozo
Price: 0.40 Euro each
So, do you remember earlier how we tried the pastizzis at McSims, which was right next to Sphinx?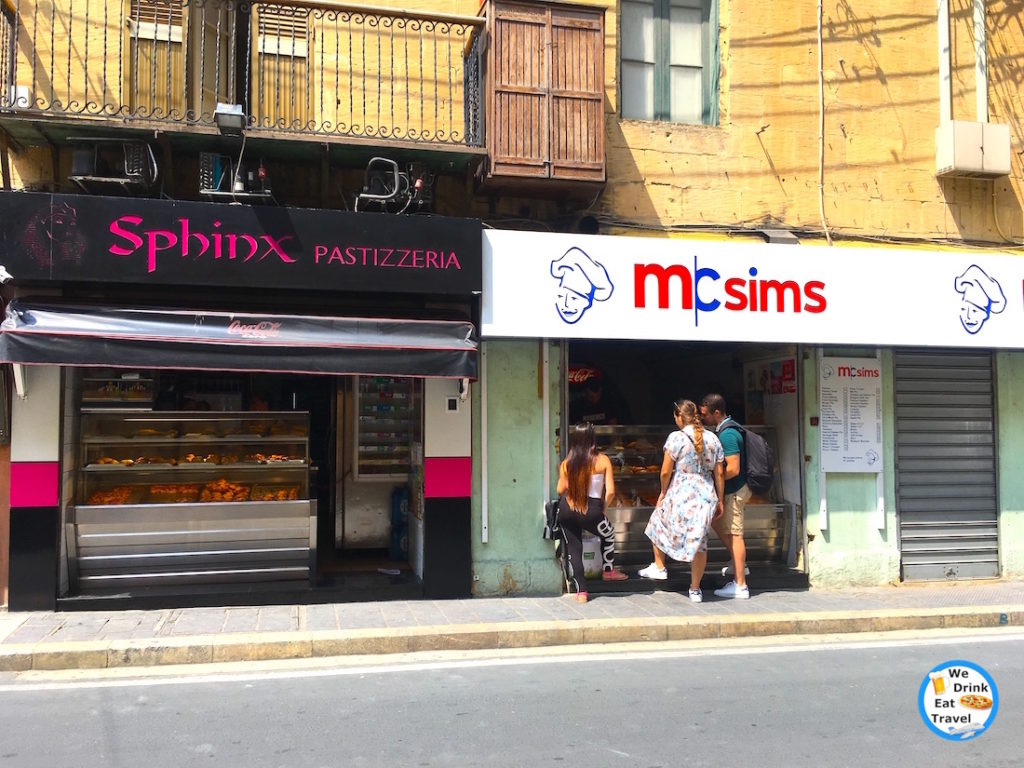 Well, towards the end of our sightseeing day in Victoria, we had to stop at Sphinx!
You'd think that we were all pastizzi'd out by that stage. But no, we could eat MORE… LOL! So, we'd already had pastizzis at Sphinx in Sliema, and damn they are excellent – in our top 3 of the best pastizzi in Malta!
Plus, with the Sphinx in Sliema we can get picturesque ocean views.
So, we wanted to see if Sphinx Victoria were as good quality, and tasted liked the ones in Sliema.
And to our delight, we went to flavortown with the pastizzis from Sphinx in Victoria. It seems that Sphinx know how to make bloody awesome pastizzis! We even bought some to take back to our accommodation in Xlendi.
And, even after the trip back from Victoria to Xlendi, they still stated amazing. Big thumbs up to Sphinx!
Maxim's Pastizzeria – Swieqi
Address: Triq Sant' Andrija, Swieqi, Malta
Price: 0.40 Euro each
In our first taste test and review to try the best Maltese pastizzi… one of the places was Maxim's in Mosta.
Yet, in the first round of our search… Maxim's pastizzis in Mosta didn't ranky highly for our taste buds.
So, it would be interesting to see what the pastizzis would be like at the one in Swieqi.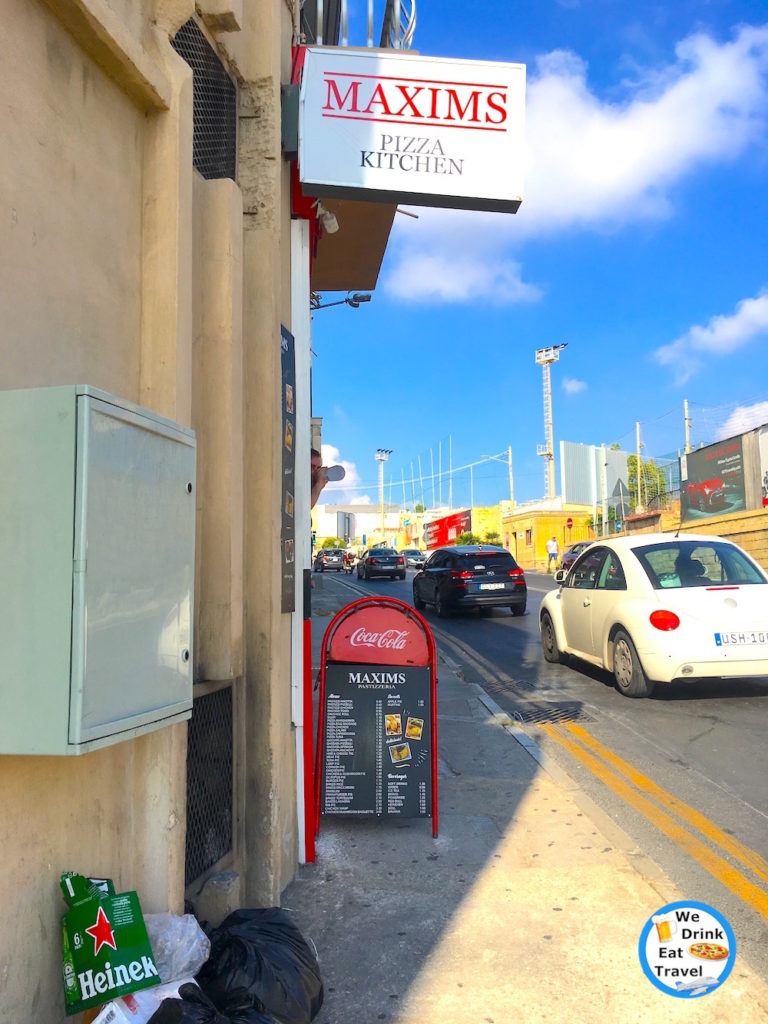 And, if you're not sure where Swieqi is, it's a town bordering Pembroke and St Julian's. Plus, it's a stone's throw away from Pembroke Park & Ride 2… and Pembroke Park & Ride 1 bus stops.
So, if you're feeling a little peckish… this could be a good option for a fast food snack, before or after your bus ride!
So, when we went it was very busy, and we thought that they'd run out of pastizzi. Bummer. Yet, when we asked, the staff member pointed to the oven tray and said that he had both pea and ricotta pastizzis. Oh yeah, bring it on!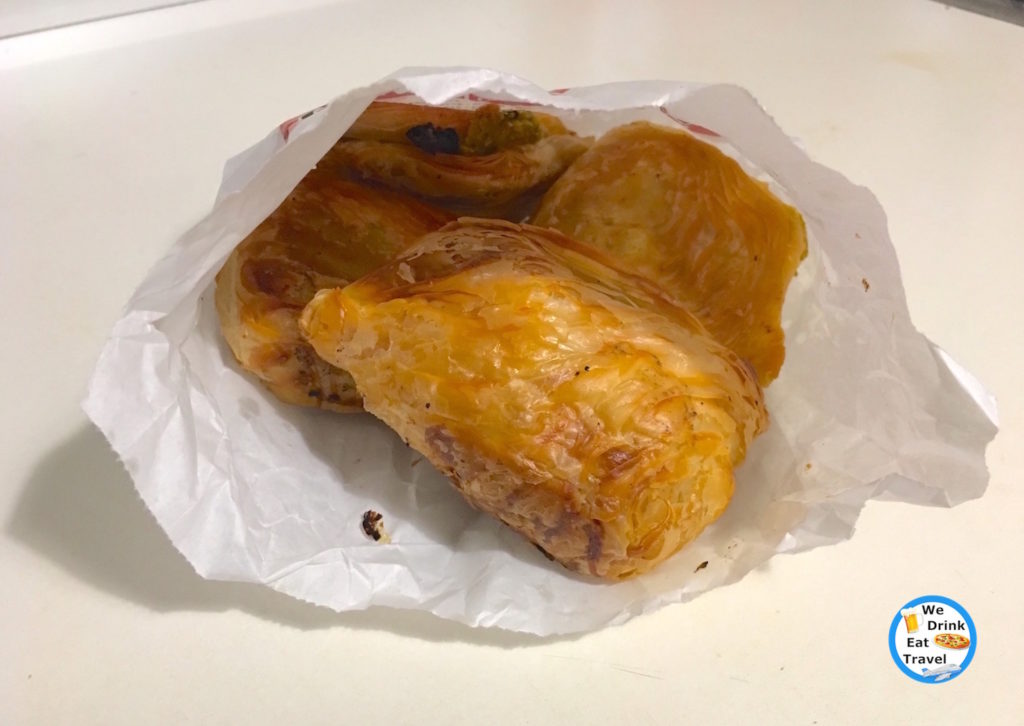 Then, when we tried them back at our accommodation close by, the pastry was like most of the other pastizzis we'd had… where it was crispy and flaky. The pea one tasted fine, yet the ricotta was definitely not as flavorsome.
So for us, the pastizzis at Maxim's Swieqi were better than the ones in Mosta. But not sure why the big difference considering they're the same brand, yet that's what we think.
Pie Master Pastizzeria
Address: 5 Triq Vincenzo Dimech, Floriana, Malta
Price: 0.40 Euro each
When Paul and I were catching a bus into the main Valletta bus terminal area… we noticed a big park and garden area. So, once we got off our stop in Valletta, we walked in the direction of Floriana.
And, we ended up in the St Publius' Square area, which had a lovely garden section.
Plus, there was a massive church, which happened to be the Church of St Publius. So, we stopped to check it out.
Then, as we were leaving the area, we walked down a street called Vincenzo Dimech. And, our pastizzi radars must have been in high alert mode, because we saw this…
Then, we both looked at each other, and without hesitation we walked across to Pie Master Pastizzeria.
OMG, the pastizzis and other food on display looked scrumptious. Yet, we decided to continue on with our usual pea and ricotta pastizzis taste test.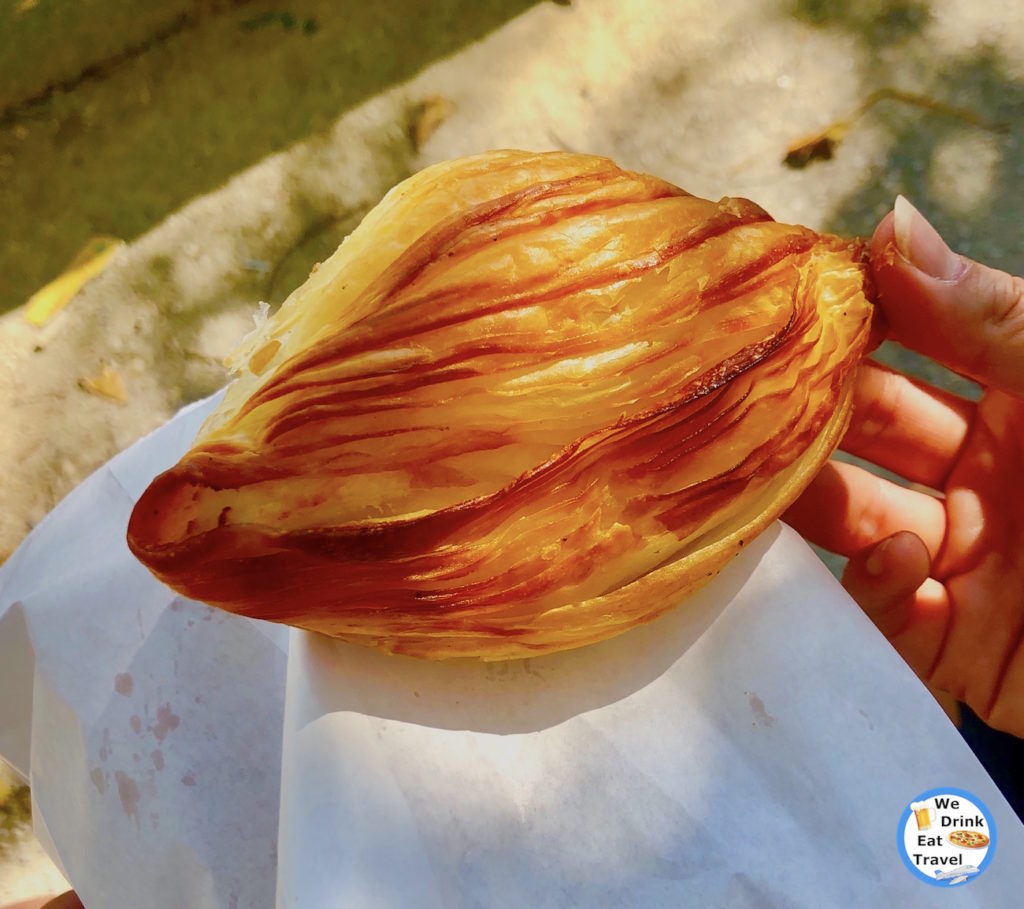 And to our shock, the pastizzis here were oh so mouth-watering delicious! The pastry was buttery, flaky and crispy. Plus, the ricotta flavor was bold and salty, which we loved.
There was a long moment of silence as we savored every mouthful of our pastizzis. So, with the pea one it was still delicious and seasoned well. Yet, the curry flavor was milder than others we'd tasted.
But, they both still tasted bloody fantastic and there was a good amount of filling in them.
Plus, the pastizzis were so good here, that the Pie Master Pastizzeria in Floriana… has knocked out Jeff's Pastizzeria in Cospicua from 3rd place. Sorry Jeff!
Now, we'd almost give it second place… but we both agreed that the pea pastizzi at Sphinx in Sliema was more flavorful.
And, although we think the ricotta one here, was marginally better than Sphinx. So, can we have equal 2nd?
The Best Maltese Pastizzi In Gozo And Malta
OK, so let's check out the rankings as they stand… after eating our way across 13 pastizzerias and there's more to come!
OK, so to date, we've been eating our way across 13 pastizzerias and there's more to come!
So, having been to these pastizzerias, it's getting more difficult to decide which has the best pastizzis! Plus, at this stage we don't think we should sit on the fence and have equal placings. Thus, it makes our decision more challenging!
So, on our second round journey of finding the ultimate Maltese pastizzi… we had some hits and misses.
And although we've had some average pastizzis on our tasting trail, we've NEVER had a bad one. Ooooops, hopefully I didn't jinx us for our next round of tried and tested pastizzis!
So, we're still on the trail to see who will take top spot. We think it's going to be a tough one to choose, as there are many delicious pastizzis out there.
So, have you been on a journey to taste test your way around Malta, for the best pastizzi?
Can you recommend to us where you think is the best Maltese pastizzi? Get in touch with us and let us know! And, if we have to make a special trip for a taste test, we may just do it.
So, keep an eye out for our next update, as we pastizzi our way around Malta!
Good appetite to you!
TO BE CONTINUED…
You Might Be Interested In This Too..
Malta Food – Part 1 – In Search Of The Best Pastizzi In Malta
5 Top Tips For Using The Malta Buses
If You Need A Money Changer In Malta Read This First
5 Things You Need To Know When You Visit Malta
Getting A Taxi From Our Sliema Hotel To Malta Airport
3 Travel Mistakes People Make And Tips On How To Avoid Them
My Carry On Luggage Must Have Item
3 Reasons Why Travel Is Important
Want Cheap Flights and Accommodation Deals?