One of the things we LOVE to do when traveling is to try the local cuisine.
And, with Macedonia being the second country to explore on our Balkan journey… it was exciting to find out what food and drinks they had to offer.
No doubt Bulgaria spoilt us with delicious food and drinks. Plus, it was memorable as we enjoyed our meals in quaint, traditional mehanas (taverns)… and, even in enchanting log houses with breathtaking mountain views.
Yet, would Skopje's cuisine be just as good, if not better… or worse? Let's find out now!
So, sit back, relax… and feast your eyes on some of the drinks and food in Skopje we tried.
And, the first on our list when we arrived in Skopje was this…
Burek
We had so many bureks in Bulgaria it wasn't funny. And who wouldn't when they taste so yummy!
So, in Skopje there are plenty of places that make fresh bureks daily. Yet, the main difference we found in Skopje versus Bulgaria was… they had a few other different options for fillings.
And, to our delight, we discovered a tiny place in the Skopje Old Bazaar area… that became our favorite during our 3-month stay in Skopje.
To find it, after walking across the Stone Bridge… walk down the main street, Bitpazarsk Street, in Skopje Old Bazaar. Then, keep walking until you almost reach the end of this street. And, on your left will be this amazing burek place…
Usually, there's a line of people waiting!
These gentlemen know how to bake! And, as a term of endearment we called them, "The Pappas."
They had several flavors including cheese, meat, and even spinach. Yet, our favorite had a flavorsome potato filling, with a hint of curry. And, unlike some places, there was a decent amount of filling – no scrimping!
OMG, it's so incredible! When we reminisce about all the bureks we've had in our time… "The Pappa's" bureks are in our top bureks list.
And, guess how much this big, delicious, warm, and comforting burek costs? A measly 45 Denars (about 75 Euro cents / USD $0.85 ).
Plus, the great thing is… because we became "regulars," they'd serve us up the fresh bureks!
Nothing beats a freshly made, hot burek especially on a cold morning. And, there were a few times when they'd kept a couple aside for us. How's that for service?! :)
So, we recommend this as one of the places to visit in Skopje… for a burek you'd almost die for!
Now, after having a greasy burek, we had to balance it out with something healthier! And, this is what we'd have…
Shopska Salad
Being in the Balkans, we discovered that it's a heavy meat-eating region. Yet, compared to other countries around the world… the locals usually consume a lot of salad or veggies with their meals.
Now, we did discover the Shopska Salad in Bulgaria. Yet, we had to compare it in Skopje.
So, the basic ingredients include tomatoes, cucumbers and red onion. Yet, the ingredient that made us LOVE the Shopska Salad is the yummy pile of local cheese!
Who would've thought that such a simple salad would be so tasty? You'll find it as a staple food item, in most restaurants and cafes around Skopje.
Now, this next item of food in Skopje can be found on just about every corner!
Gevrek
So, the Turkish version is called Simit, and the Greek version, Koulouri.
And, the Macedonian version called Gevrek, is a delicious, white bread ring called. Plus, what helps it pack a punch full of flavor, are the sesame seeds that cover it…
Many of the bakeries in Skopje produce this yummy bread ring. And, part of the adventure is trying one from each place!
Yet, the best Gevrek we discovered in the City Trade Shopping Center (GTC)… just a few minutes walk from Macedonia Square.
You can find the bakery in the Lower Ground Floor of the shopping centre… opposite a big supermarket called, Kam Market. And, we dearly call the ladies who work there practically every day, "The Mommas."
We became regulars… and whenever they saw us, they greeted us with big smiles. Their Gevrek was so incredibly flavorsome, and they baked different versions of them. The smell inside their bakery made me want to live there. LOL!
Plus, a big Gevrek like the one in the photo above, only cost 20 Denar (about 32 Euro cents / USD $0.38). So, a cheap and cheerful yummy snack.
Now, we discovered that they eat a lot of bread here. And, one of the items of food in Skopje they sometimes pair with bread is this…
Ajvar
Ajvar is a food that Paul wouldn't normally put on the top of his list to try. And, the main reason is… one of the main ingredients of Ajvar is capsicums/peppers. So, Paul is generally not a huge fan of them, unless they're cooked a specific way.
Yet, after discovering how flavorsome Ajvar was in Skopje… it's now become one of our favorite spreads. Oh, and if you love spicy foods, you MUST try the spicy Ajvar!
So, around September/October walk around the neighborhoods… as you'll be able to smell the aroma of traditional Ajvar being prepared in batches. The waft of roasted peppers, eggplant, and herbs fills the air.
Now, here's one of the places to visit in Skopje to try something really delicious…
Tukish Pide in the Skopje Old Bazaar
OK, while it's not a traditional food in Skopje, let alone Macedonia… we had to try the Turkish pide. How couldn't we when we were strolling around the alleyways of the Skopje Old Bazaar?!
And, a gem of a place that we discovered is called, Galerija 7. Tucked away down a side street, you'll find Galerija 7 near the AEN Hotel Old City.
It may feel like you're going down a dead end street. Yet, keep going past this hotel, and be rewarded with one of the best Turkish pide in Skopje. We had mouth-watering mushroom and cheese…
Yep, as you can see in the photo… we 3 pides between the two of us! Ha ha!
And, guess what accompanied the Turkish pide? Spicy Ajvar! It had a HUGE kick to it too. So, take it easy on your first go, otherwise your head may explode with overbearing heat!
Beautiful Strong Turkish Coffee
One thing we noticed when wandering around Skopje is… there are plenty of cafes and coffee shops. And, as we love the smell of coffee beans we were in heaven.
We did try lots of different places and coffees, yet we recommend you give this one a go… the Ottoman Café.
This tiny café is in the Skopje Old Bazaar area. And, what made us stop to check it out, was when we saw the traditional sand coffee being made in the window.
Then, after going inside to have our coffees, we discovered how quaint it was. Although it's tiny inside, the owner has a big heart and is so proud of his café and coffee.
And, to this day, we both agree that we've never been served Turkish coffee as beautifully as this…
Plus, it's not plain water in those glasses… it's mineral water, which is rare for us when having Turkish coffee. And, the Turkish delight is so aromatic. So, a coffee here with all the trimmings only cost 50 Denars (about 80 Euros cents / USD $0.95).
So, do yourself… and have an amazing coffee experience at one of the best cafes in Skopje, the Ottoman Café.
Skopsko Beer
One of the most popular beers in North Macedonia is the Skopsko Beer. And, it all started in 1922, when the Skopje Brewery was founded.
So, without hesitation we had to give it a go. Yet, do you want to know something funny?
Paul had challenges saying the name of this beer when ordering it. And, the reason is, he kept mixing it up with the Shopska salad! Hmmm… a salad beer? A new concept, but I don't think it'll take off… LOL!
Now, there are other local beers you can taste… as well as craft beer too. So, if beer is your drink of choice, you'll have plenty of options to check out.
So for us, we would enjoy relaxing with a Skopsko beer, while watching the world go by…
Yet, if you're wanting something more hardcore, have a glass or two or more of this…
Rakija
Now, a Macedonian rakija is a spirit that will not only warm your insides… it's said to have medicinal benefits too. And, there are many flavors of rakija to be tasted… including plum, grape and even herbs.
Rakija is served in like a shot glass. So, our first instinct coming from Australia, is to down the rakija in one go. Yet, it was explained to us that we should SIP rakija. Well, unless we're having a big night out in a bar! Then, even the locals are shotting the rakija!
For us, we rarely drink spirits. But of course, we had to try the local drinks. And, sure enough… no-one can yet convince us that rakija is a drink we'll love.
And, what we discovered is that while there are plenty of rakija brands… having a homemade one is sure to knock your socks off!
Try rakija if you dare!
Macedonian Wine
We love our wine, whether it be red, white, rose or even sparkling. Tell us about a wine tasting event and we're there… LOL!
We had no idea that Macedonia has a decent amount of vineyards and wine production. And, it was surprising for us to discover that after tobacco products… wine is second in line for the most exported product.
Apparently, Macedonia produces over 220 million liters of wine annually!
And, one of the popular grape varieties is Vranac. So, some of the popular brands include Chateau Kamnik, Tikves and Bovin. Yet, one of the producers we loved the wines from is, Stobi.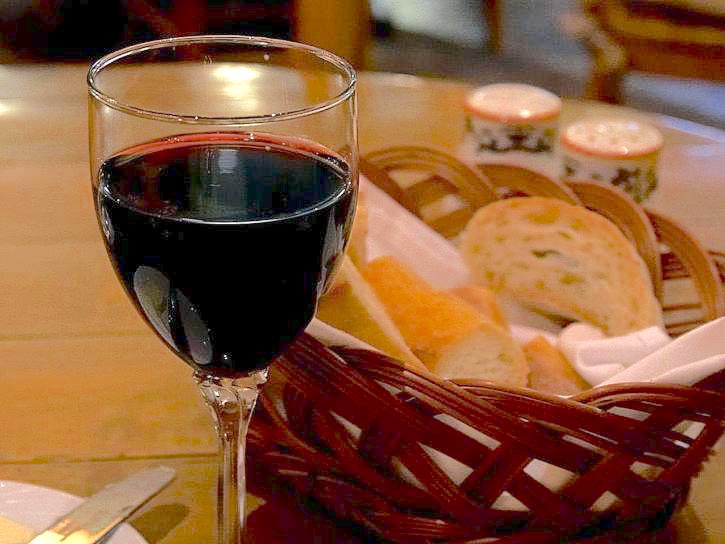 In supermarkets, a liter of wine can be as cheap as 90 Denars (about 1.50 Euros / USD $1.75)! So, there's wine for every budget and tastes.
Can't decide on what to eat or drink in Skopje with so many choices? Well, here's a place we recommend you check out…
Can't Decide What to Eat or Drink? Go Here… Gostilnica Cardak
If you're wanting to tantalize your tastebuds with delicious traditional drinks and food in Skopje… you must visit Gostilnica Cardak.
Now, this restaurant / taverna is located in the Bohemian Quarter called, Debar Maalo.
The first time we went, we discovered that when the sun is out… the outside area is absolutely packed. So, we had to settle for dining inside. Yet, even inside the restaurant is characteristic and quaint.
The waiters were generally attentive and a few could speak English. Yet, with so many dishes to choose from we were spoilt for choice. And, thankfully they have platters so we could try a sample of many items…
Our platter included… tavce gravce (a flavorsome bean dish), ajvar, a variety of cheeses, grilled veggies, and more. Plus, we had to sample their homemade traditional pie with spinach… which was gastronomic!
This feast, including a couple of pints of beer and a bottle of wine… cost us only 1,280 Denars (about 21 Euros / USD $25)! That's crazy cheap for such a big and delicious meal, in a cosy setting.
So, there you have it… a "taste" of the drinks and food in Skopje you can try. Of course, there's plenty more, and if you're a meat eater… you'll be in heaven, from what the locals tell us anyway.
And, after talking about food, we're starving! So, until next time… continue to travel, eat, drink, and be merry!
Like This? Share it and comment on it!
Note: All of our reviews and comments are our opinions and no-one else's. Even if we receive complimentary goods or services we share our opinions honestly.
You Might Be Interested In This Too…
How To Get FREE Accommodation While Travelling
10 Awesome & Surprising Things To Do In Skopje Now
7 Top Reasons Why You Should Visit Bansko Bulgaria
Inspiring Vacations – Top 5 Things To Do In Malta
Thai Airways Review: From Melbourne Australia To Bangkok