As you could imagine, there are mammoth amount of places to see in Istanbul, Turkey. Istanbul, with a population of 14.1 million people, is one the largest cities in the world. So, it is divided into 2 parts by the Bosphorus… where one side is the Asian section and the other is the European section.
And, with its history dating back to around 6500 BC, Istanbul has a rich culture. So, with its rulers including the Greek, Roman and Ottoman Empires… the growth of Istanbul saw many different changes.
Plus, Istanbul's historic areas are part of the UNESCO World Heritage Listings. And, as I take you through this blog post… you'll see why. So now, I'll show you 5 places to see in Istanbul Turkey for architecture lovers.
5 Top Places To See In Istanbul Turkey For Amazing Architecture
Dolmabahçe Palace
Dolmabahçe Palace is an extravagant building in the Beşiktaş district of Istanbul, Turkey.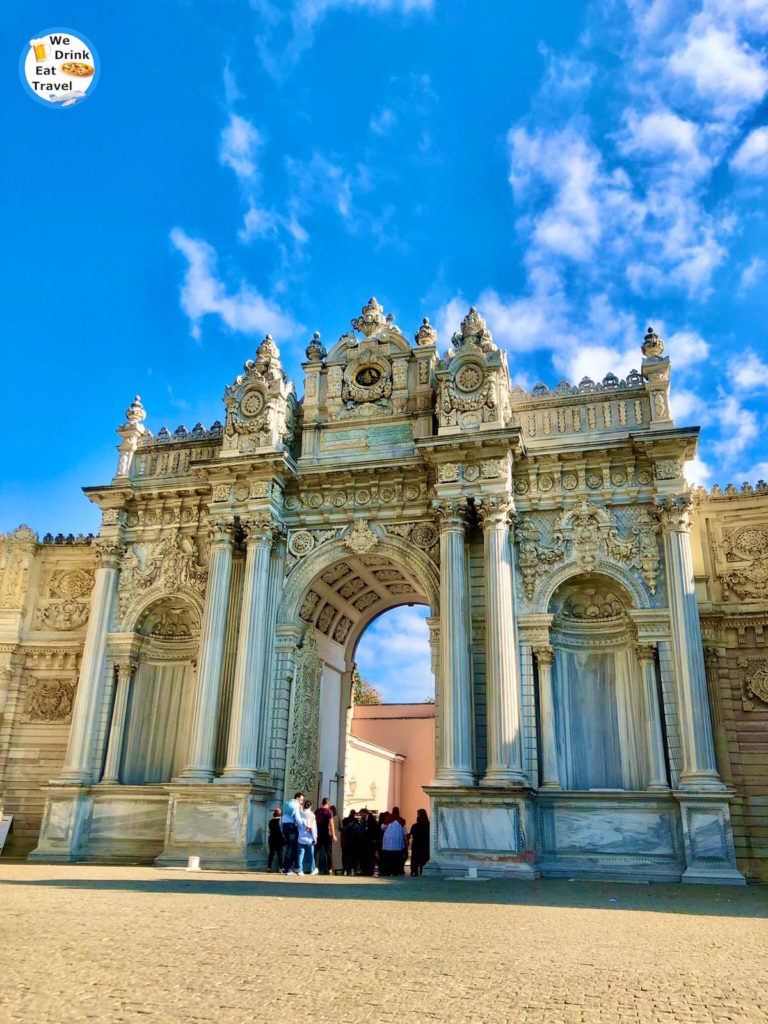 The Palace was to be built according to Abdülmecid I, as a residence and to house formal occasions. So, the construction of Dolmabahçe Palace was from 1842 and took 11 years to complete.
The architects were Garabet Amira Balyan and son Nigogos Balyan. And, Dolmabahçe Palace includes a mix of European architectural styles. Yet, over time changes to the palace were made, according to the different rulers who lived in it.
So, not only is it elaborate on the outside, on the inside are 285 rooms and 43 halls. Now, who really needs all that space… LOL!
And, inside the Ballroom is a crystal chandelier, which weighs 4.5 tonnes.
Yet, if you want to go inside and see the ornate detail of Dolmabahçe Palace, at the time it was 60 Turkish Lira. And, this was to see just the main section of the palace.
Now, wandering along the waterfront for about 3km or so… will be this mosque also in the Beşiktaş district.
Ortaköy Mosque
So, the Ortaköy Mosque, also known as Büyük Mecidiye Mosque is a picturesque locale. The backdrop is the Bosphorus and the bridge… which connects the European and Asian sides of Istanbul.
And, its location of Ortaköy, means "the village in the middle." So, when you're visiting the mosque, you'll be amongst Ortaköy Square. And, this is a bustling area with a lovely viewpoint, markets, boutique shops, and loads of eateries.
So, the neo-Baroque style mosque was built in the mid 1800's… by the same architects who designed Dolmabahçe Palace.
And, on a beautiful day with bright blue skies… the striking Ortaköy Mosque stands out magnificently.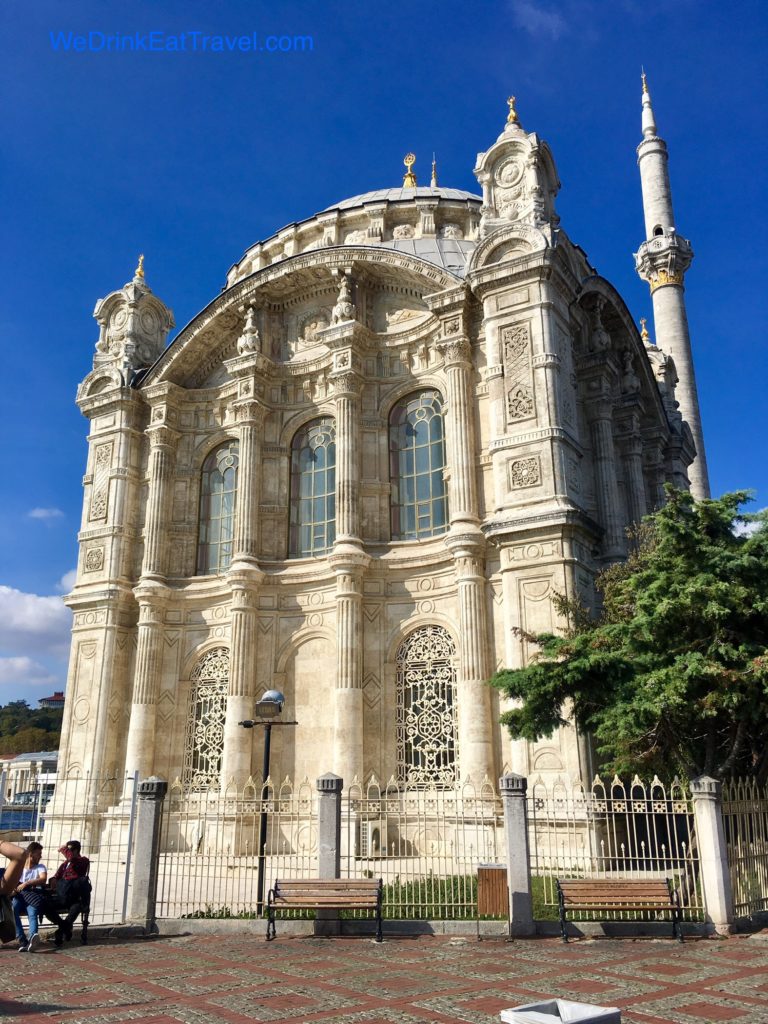 At the time, there was no entrance fee to go inside and see the mosque.
Hagia Sophia
Hagia Sophia is an incredible structure, which was originally built in way back in 532 AD. And, it was to be built as a Greek Orthodox Cathedral according to the Byzantine Empire.
So, Hagia Sophia is massive building… where its length is about 270 feet (82 meters), and its width is about 240 feet (73 meters). Plus, one of its most striking features is the dome, of which the diameter is about is 108 feet [33 meters].
Then, in 1453, when the Byzantine Empire was no longer… Hagia Sophia became a mosque under the direction of the Ottoman Empire.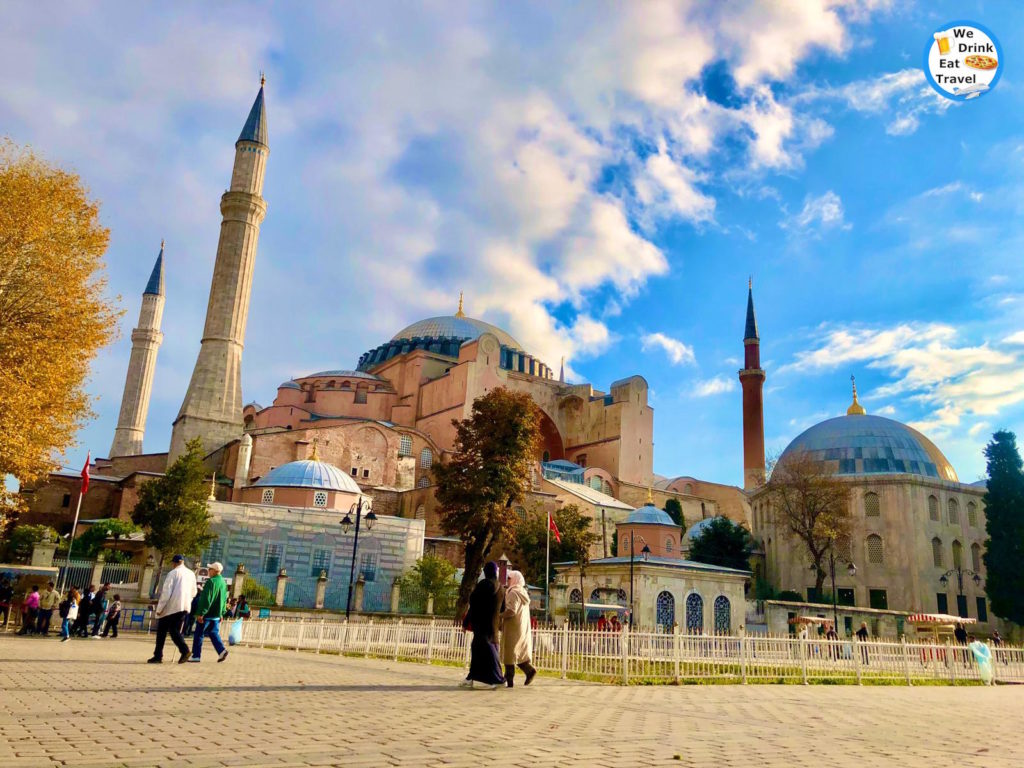 Then, in 1934, the Turkish government would turn Hagia Sophia into a museum. Now, when we went it cost us 72 Turkish Lira per adult (about 10.95 Euros / USD $12.15).
So, some say that this is an expensive price to pay. Yet, once inside… the spectacular features of Hagia Sophia will make you wander in amazement.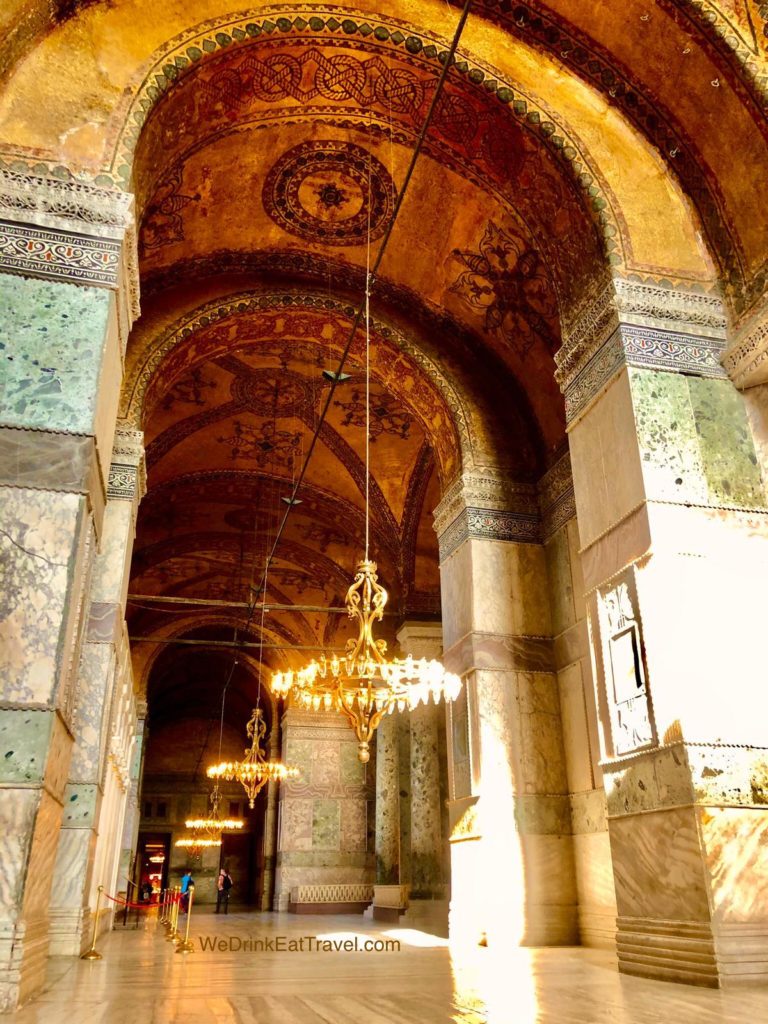 Plus, did you know that Hagia Sophia was Hagia Sophia was built over fault line? Thus, if a strong earthquake were to hit, then who knows what would happen and if it would still be standing.
So, one of the other places to see in Istanbul for architecture lovers is this…
The Blue Mosque
So, only several minutes walk away from Hagia Sophia is the Blue Mosque… which is also known as the Sultan Ahmed Mosque.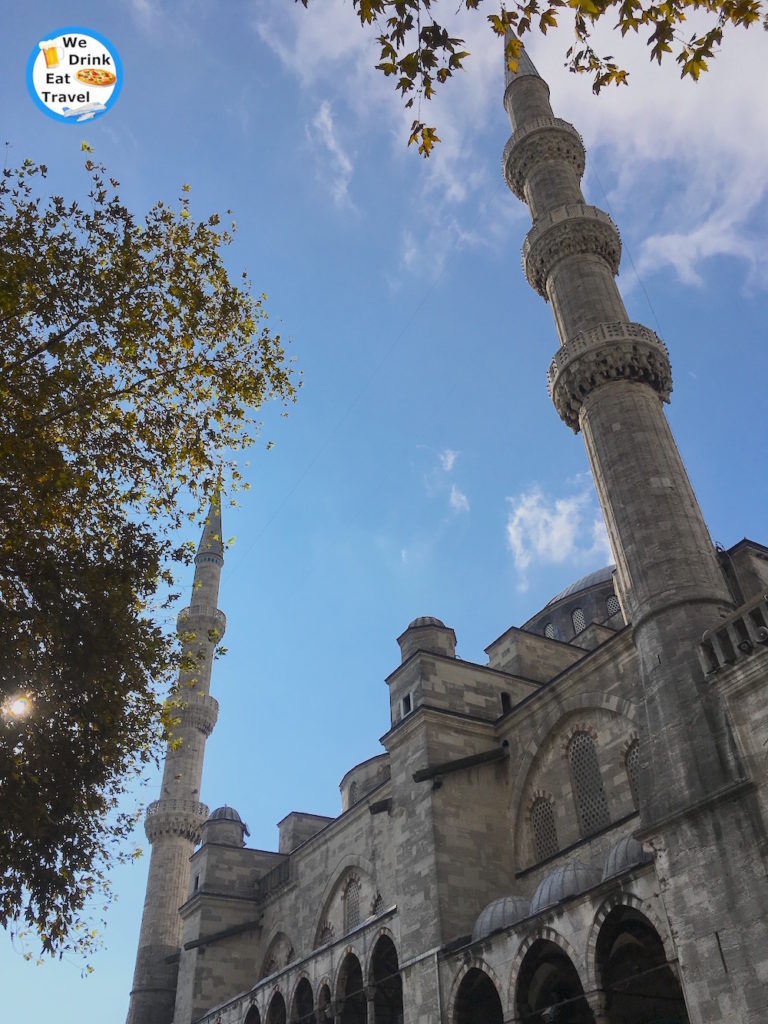 The construction of this Byzantine style mosque began in the early 1600's… as by the rule of the Ottoman Sultan Ahmed I. And, the design was inspired by Hagia Sophia, with several similarities.
Yet, one of the major difference is this… the Blue Mosque has 6 minarets, which was generally unacceptable back in those times.
So, this mosque is grandiose in size and can fit about 10,000 people for prayer. Plus, tourists and worshippers both frequent the Blue Mosque. Yet, there are strict guidelines for what people, especially females, can wear to go in to the mosque.
But before you picture the inside being a brilliant blue color, it definitely isn't that. So, just letting you know to set your expectations!
The "blue" of the Sultan Ahmed Mosque, comes from the intricate blue tiles that decorate the inside of it. And, when inside you'll be able to see the level of detail that makes this one of the most popular places to see in Istanbul.
So, when we went to the Blue Mosque late morning, there was a long line up. Yet, it was free for us to go in.
So, compared to the architecture of the previous 3 Istanbul attractions, here's one with a different architectural style…
Topkapi Palace
So, before even going into Topkapi Palace is a massive garden area outside of it. And, it's said that the entire area of this palace, which includes the gardens and surrounds… is about 400,000 square meters!
So, the architectural design is mainly Middle Eastern style. And, the construction of Topkapi Palace was built on a hill, by the order of Sultan Mehmet II.
Thus, the palace was built between 1466 and 1478… with its surrounding areas being the Golden Horn, the Bosphorus and Sea of Marmara.
Now, for several hundred years the rulers at Topkapi made additions to the Palace. So, that's why there are various courtyards, gates and different artifacts.
Yet, in 1924 Topkapi Palace then became a museum, as by the direction of Ataturk.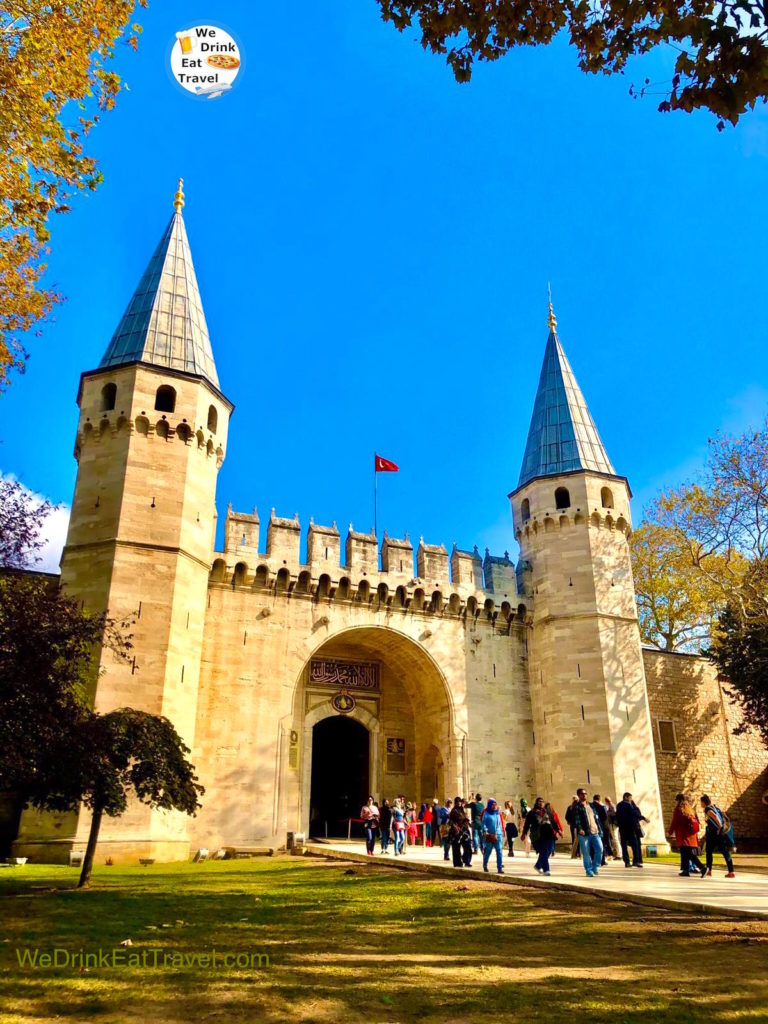 And, similar to Hagia Sophia, there is a fee to go and see the inside of the Palace. So, the adult price at the time was 72 Turkish Lira.
5 Amazing Places To See In Istanbul Turkey For Architecture Lovers…
Dolmabahçe Palace
Ortaköy Mosque
Hagia Sophia
The Blue Mosque
Topkapi Palace
So, they were 5 places to see in Istanbul Turkey… especially if you love witnessing amazing architecture. And, with Istanbul being such a big city, entrenched in rich cultural heritage… there are plenty more sites to visit.
Thus, the hard part is choosing which ones to see, especially if your time is limited!
So, what other places in Istanbul would you recommend to visit, and why?
You Might Be Interested In This Too..
REVIEW: Airbnb Istanbul Apartment In Beyoğlu, Istanbul
Istanbul Nightlife – Eat, Drink And Be Merry In Nevizade Sokak, Beyoğlu
5 Free Things To Do In Istanbul Turkey
Turkish Delights – 5 Of The Best Restaurants In Beyoglu Istanbul For Vegetarian Food
Istanbul Sabiha Gökçen Airport – ISG Lounge Review
3 Travel Mistakes People Make And Tips On How To Avoid Them
My Carry On Luggage Must Have Item
Need Accommodation?
Find Your Perfect Vacation Accommodation
Want Cheap Flight Deals?
Cheap Flights All Year Round With Skyscanner