The thought of flying on aeroplanes or researching things to do when traveling… may seem awful for some people. Yet for Paul and I, we do this often as we're traveling around the world 365 days a year.
So, after throwing in our day jobs… we soon left our home in Australia to embark on a 1-year journey overseas.
Yet, after having been away for a year, we got the thirst to continue traveling. So, being able to try new foods, immerse ourselves in different cultures… and being our own bosses made our decision to leave the rat race worthwhile.
And, we've met lots of amazing people and friends on our travels around the world.
Plus, we got to experience the delights of flying business class on long haul flights… for almost free!
Thus, in the year of 2019, we went to several places in South East Asia as well as Europe. And, oftentimes our travels were impromptu, which sometimes can make traveling exciting.
So, in this blog post I'll go through our top 3 travel destinations, which are capital cities. And, these are cities that we went to in 2019.
Vienna, Austria
Both Paul and I had been to Vienna before, yet it was a long, long time ago. Plus, it was for short visits of a day or two. So, we really didn't get to experience Vienna and what it has to offer.
Yet, on our trip to Vienna in the middle of the year, we were able to spend about 3 weeks there. So, needless to say that this time round we got to experience heaps more things!
"Living" In Vienna
Now, for most of the time… we were staying in an apartment in the Neubaugasse area of Vienna. And, this is in District 6.
So, it was great "living" in Neubaugasse as it was away from the hustle and bustle of the city. Yet, from here we could walk to city sights such as the Museums Quartier, about 1km away.
Plus, we had great amenities within walking distance… such as several supermarket, cafes, restaurants and bars. And, only a few minutes walk away is Mariahilferstrasse… of which is predominantly a pedestrian walking street.
And here, there are lots of places to shop until you drop. So, to recharge for more energy, there are loads of eateries.
Plus, there was this gorgeous Mariahilf Catholic Church, which has an interesting history.
And, in Vienna District 6 is a well-known market called, Naschmarkt. So here, there are many market stalls selling a huge range of produce. Plus, there are many restaurants and cafes.
So, the public transport options were great too… including the U-Bahn (subway), S-Bahn (local train), Autobus (bus), and Straßenbahn (trams). Thus, getting around Neubaugasse, Vienna and beyond was convenient.
And, we both agreed that we would definitely stay in Vienna's Neubaugasse again.
Amazing Places To See In Vienna
When we first got to Vienna… we were staying at the Ibis Hotel Wien Messe in District 2, Leopoldstadt. So, after speaking with the staff there, they gave us several suggestions of top things to see in Vienna.
Paul and I like to walk around to see the sights wherever we are. And, that's because we feel like we can see more on foot, rather than taking public transport everywhere.
Plus, it helps us to work off all the food and drinks we get to try… LOL!
Yet, after a couple of days of sightseeing… we were beginning to realize that Vienna's attractions are spread out. So, on a few occasions we made use of their efficient public transport system.
But, once we were wandering around, we began to see how beautiful Vienna is. With its amazing architectural delights, as well as natural beauty… it's hard to not fall in love with Vienna.
So, here are some of the places to see in Vienna that we recommend…
And, there are plenty more places to see and things to do! Now, can you see how beautiful it is. Yet, we believe that photos don't do them justice. So, make sure you put Vienna high on your list of travel destinations to go to.
The Food In Vienna
OMG… when we think of the food in Vienna our mouths water! From a basic pretzel, to the myriad of sweet treats, through to the traditional Viennese dishes… we were spoilt for choice.
And, as I was saying before, luckily we did heaps of walking to help burn the calories off… LOL!
But then again, unlike us, if you're on a short vacation it's OK to indulge, right?!
So, here are some of the amazing eats we had in Vienna. And of course for us, we had to indulge in many drinks too. Ha ha ha!
Now, feast your eyes…
The Famous Sacher Torte at Hotel Sacher
Accommodation In Vienna
So, when we were in Vienna for about 3 weeks, most of that time was in an apartment in Neubaugasse. And, if you need inspiration on where to stay, oftentimes with great deals… check out VRBO, Airbnb or Hotels.com
So, if you're going to stay in the heart of Vienna in District 1, then the prices go up. Yet, with the super efficient and easy to use public transport in Vienna… you could stay a bit further out and save some money.
Ibis Hotel Wien Messe In District 2 Vienna
Now, another one of the capital cities that was on the top of our travel destinations for 2019 was here…
Valletta, Malta
So, Paul had been to Malta before, yet this was my first trip. And for years, he kept talking it up so much that we had to go.
And, when Paul and I first got to Valletta… one of the first things we saw was the Triton Fountain.
Then, after walking through the main city gates of Valletta, and making the most of our short stay there… we absolutely loved it.
And, although it was only a short stay of only a few nights or so… we packed in a lot of things to do in Valletta.
So, Valletta isn't a huge city compared to say Vienna. Thus, if you have your heart set on a certain type of accommodation… we recommend you book months in advance.
Plus, there are even more tourists making their way to Valletta… as there are so many incredible sights to see.
Amazing Places To See In Valletta
Republic Street and Merchant Street
The Saluting Battery
La Sacra Infermeria (Knight Hospitallers)
Amazing architecture and stunning scenery, right? No wonder we'll be back to Valletta again. And, the nightlife is bustling too. Plus, the food is oh so, delicious!
The Food In Valletta
So, when in Malta the must try traditional food is pastizzi.
The traditional pastizzis are savory parcels filled with usually ricotta or pea. And now, some places have made different varieties like chicken, or nutella. But for us, we'll have the pea pastizzis and ricotta ones any day of the week!
And in Valletta, there are many places to have pastizzis. So, to find out more about our quest to find the best pastizzi in Malta, CLICK HERE.
Now, there's a place in Valletta if you want an indulgent feast, in a cave type environment with wine bar! Sounds like a fantastic combination, right?
And, this place is called Legligin Wine Bar. Here, they serve an amazing tasting menu, with lots of courses. And, by the end of it you'll be chockers full of yummy food and wine.
To find out more about Legligin Wine Bar and our experiences, CLICK HERE.
So, if you want to eat outdoors, where your table and chairs are almost balancing on steps… head on over to San Paolo Naufrago.
In the height of Summer you'll be hard pressed to get a table, especially at night. Yet, this is a must visit restaurant not only for the great service, but the food is delicious. Plus, the servings are generous.
So, in Valletta there were other places we tried, yet so many more to explore!
Accommodation In Valletta
So, while there are many accommodation types in Valletta… from 5 star hotels, to boutique b&b's, through to holiday apartments, it's wise to book ahead.
And, that's because Valletta is a smaller capital city, with a limited amount of accommodation. Thus, finding good places in the peak Summer time more challenging.
Yet, even Paul and I went in Summer, we did manage to find a cute traditional home, which had a modern touch. Here's a few pics…
To find out more about the accommodation we stayed in Valletta, CLICK HERE.
SPECIAL OFFER
If you're a newbie to Airbnb, take advantage of a special discount we can give you! So why wait, get your discount that you can use later – CLICK HERE.
So, the last of the capital cities as travel destinations to consider for your next trip is…
Bangkok, Thailand
If you want action, fun, shopping, cheap eats, fine dining and a cultural explosion… then you should consider putting Bangkok high on your list of places to go. It has the traditional culture, mixed with western influence of decades.
Now, Thailand is in the classification of a developing country.
So, while there are poor areas in Bangkok, there are areas where you can see wealth oozing. And, having been to Thailand, especially Bangkok many times… this capital city is constantly growing economically and from an industrial perspective.
Yet, on many of our trips to Bangkok, they have been short stays of only a couple of days or more. And, most of the time we have been in accommodation around the main touristy areas.
Yet, on our recent trips to Bangkok, we were staying in different areas. And, it's because of these more positive experiences… that Bangkok rates in our top 3 capital cities this year.
Things To See In Bangkok
Bangkok is huge, and thanks to some of their efficient public transport options… it's easy and cheap to get around. So, as an example there's the BTS (Skytrain above ground) and MRT (underground train).
These are great options to get around Bangkok and they are air conditioned. So, in the stifling Bangkok humidity these are welcome options for getting around. Now, there are buses as well, but in Bangkok the traffic can get congested especially in peak times.
So, if your time is precious or getting somewhere at a snail's pace isn't appealing… then this may not be for you.
Or, another option is the infamous noisy tuk tuks that hoon around the city. These can be handy when other public transport options are more limiting. And, if you're first timers to Bangkok or Thailand, it's fun!
TIP: Make sure you negotiate a price beforehand, otherwise a lot of your holiday money could get sucked up.
Now, with that said, as Bangkok is a huge capital city, public transport is great way to go to places like this…
Shopping, Shopping and More Shopping!
Bangkok Nightlife, So Many Places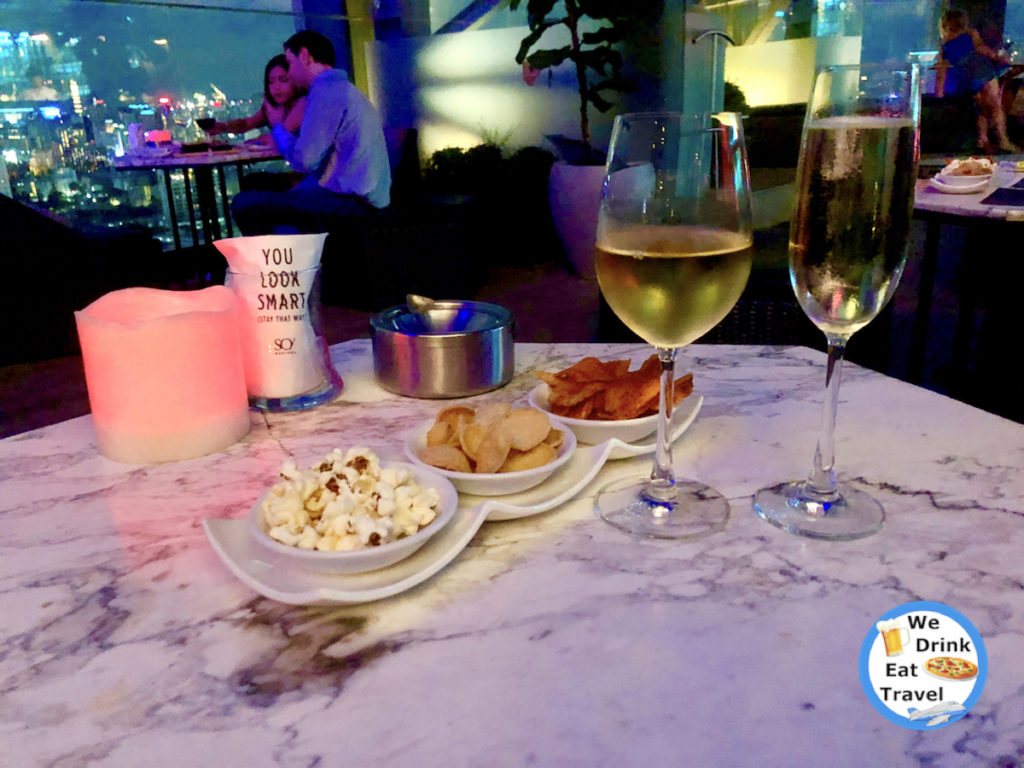 The Food In Bangkok
Well, where do I start with this? So, Bangkok has a huge variety of food… from traditional Thai, fusion Thai, through to Mexican, Italian and heaps more.
Yet, when in Bangkok we love a good Pad Thai or similar noodle dish. Plus, we love how the locals eat lots of greens and other veggies as part of their meals. Check out some of the food we had!
Accommodation In Bangkok
So, like the food in Bangkok, there are heaps of accommodation options even in peak seasons. But of course, booking in early will give you plenty more options.
So, we've had the opportunity to experience luxurious 5 star hotels… to apartment accommodation, through to basic accommodation in more remote areas.
Thus, here's a taste of places we've stayed when in the vibrant Bangkok…
---
So, there you have it! With many travel destinations we went to throughout 2019, these are our top 3 capital cities. And in this blog, we decided to disregard our home-town of Melbourne in Australia!
Yet, as we continue to travel with no sign of stopping… who knows what our favorites will be in the coming years?!
And, one thing is for sure, everyone should make the time to travel. Because it's fulfilling, fun and AWESOME!
So, what are some the top capital cities you've been to, and why?
Like This? Share it and comment on it!
Note: All of our reviews and comments are our opinions and no-one else's. Even if we receive complimentary goods or services we share our opinions honestly.
You Might Be Interested In This Too..
5 Reasons To Go On Vacation And Travel More
3 Travel Mistakes People Make And Tips On How To Avoid Them
My Carry On Luggage Must Have Item
Need Accommodation?
Find Your Perfect Vacation Accommodation
Want Cheap Flight Deals?
Cheap Flights All Year Round With Skyscanner