When you're in Bangkok… there are many public transport options to get around this vibrant capital city. From the MRT to BTS, and the ever fun tuk tuk… there's plenty of options to suit all budgets.
Yet, there's one Bangkok public transport we hadn't been on before. And, that's the cool looking khlong boats!
Now, when we were on our way to the Pratanum area to go to Platinum Fashion Mall… there's a bridge that crosses over the Saen Saep Canal.
And, as we were strolling across, we saw the khlong boats, packed with people… zooming along the canal, leaving a trail of mini waves behind them. So, Paul was keen to get on one of these Bangkok canal boats… for what could be a fun trip.
Thus, recently on a sunny day we decided it was time to test out this Bangkok public transport option. So, jump on board as we run through our experiences on the khlong boats!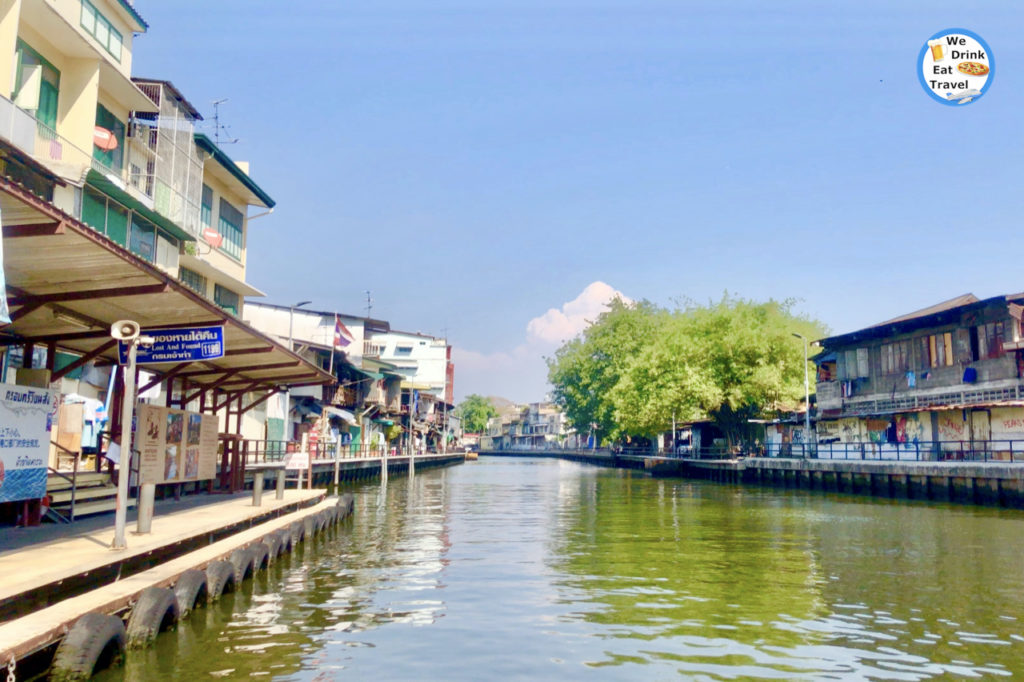 The Khlong Saen Saep Routes
The khlong boat route covers about an 18km stretch of the Saen Saep canal. And, the route goes from east to west Bangkok and vice versa.
So, the khlong boats are usually full of locals commuting to and from work. Yet, some tourists will get on board for the experience, like we did!
So, there are 2 main routes for the khong boats, the Golden Mount Line and the NIDA Line.
The Golden Mount Line
This line has 6 stops, including the interchange pier of Pratanum.
Phanfa Leelard
Bobe Market
Charoen Phon
Ban Krua Nua
Hua Chang
Pratunam*
The NIDA Line
This line has 21 stops, including the interchange pier of Pratanum*
Pratunam*
Chit Lom Bridge
Witthayu
Nana Nuea
Saphan Asok
Prasan Mit
Ital-Thai Tower
Wat Mai Chong Lom Pier
Baan Don Mosque
Thong Lo
Cham Issara
Klong Tan
The Mall 3
Ramkhamhaeng
Wat Thepleela
Ramkamhaeng University Pier
Saphan Mit Mahat Thai
Wat Klang Pier
The Mall Bang Kapi
Bang Kapi
Wat Sriboonreung
And, the map below shows 2 of the Bangkok Canal Boat Map Routes…
So, as you can see, some of the stops are in a zig zag format. And yes, the khlong boats zig zag to those piers. So, we did see other khlong boats coming towards us as the driver was zig zagging!
Yet, as our boat was zooming along, sometimes the other would wait until ours had passed. Or, they'd slow down so the boats could safely pass each other. Phew!
The Khlong Saen Saep Fare
The fares to use the khlong boats range from 10 to 20 baht per person. So, we thought the MRT was inexepensive, but this is even cheaper!
And, to give you an idea of the fares… our one-way trip from Prasan Mit to Phanfa Leelard, was only 12 baht per person (about USD $0.40).
---
TIP:
There are some khlong boats, which are aimed at tourists. And, the price for taking one of these for a one-way trip is 100 baht per person. Or, 200 baht for a whole day. So, if you think it's worth it, it may be another option for you.
---
So, when on board the khlong boat… staff wearing fluorescent bright orange life vests will come around to each person. And here, you let them know which pier you want to get off at. Then, they'll hand you over a ticket, like this.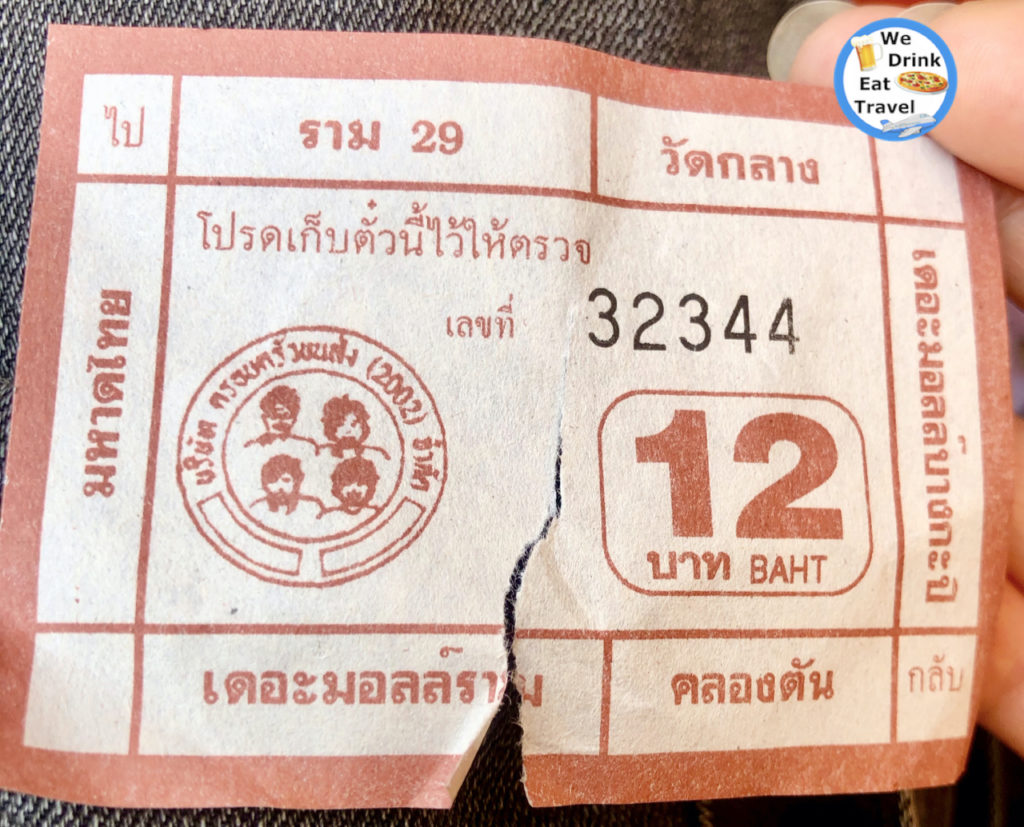 So, the number on the ticket is the fare you have to pay.
---
TIP:
If you're going from the NIDA Line to cross over to the Golden Mount Line… hang onto your ticket. And, that's because the ticket is valid for that entire trip. So, no need to buy another ticket when changing boats.
---
The Khlong Boat Operating Times
Now, our understanding is that the operating times for the Bangkok canal boats are everyday… from about 5:30am to 8:30pm. Plus, the time between boats is about 20 minutes. Yet, in our experiences, the longest time we would wait for a boat was under 10 minutes. 
And, at some of the piers… there are electronic screens showing when the next boat will be arriving.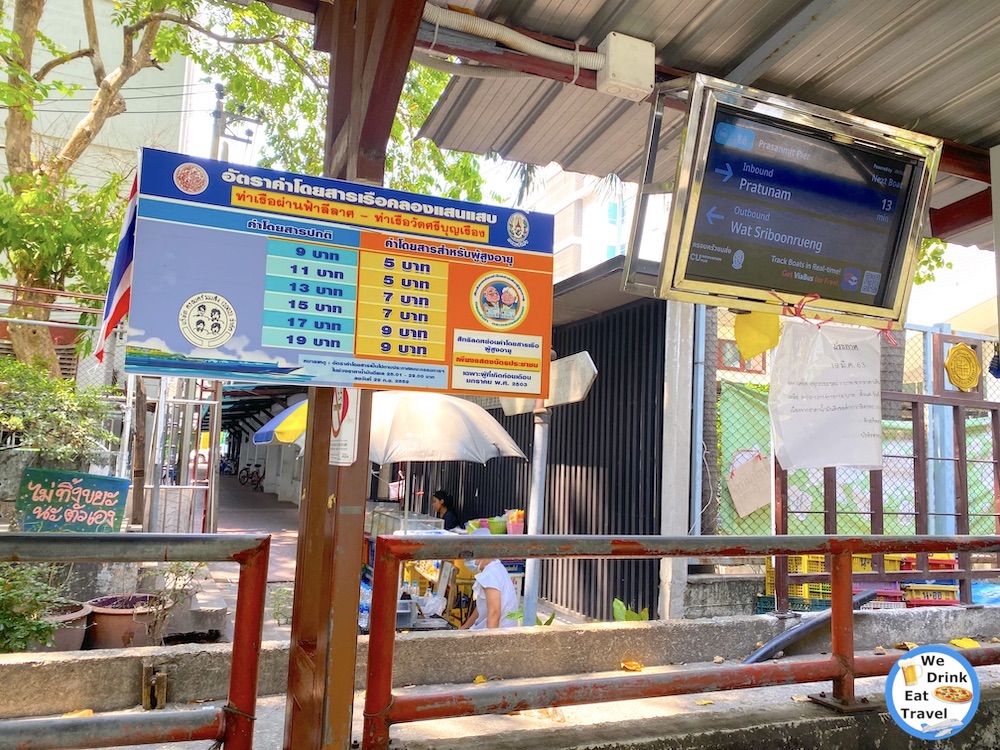 ---
TIP:
To find out more about the khlong boat times, stops, route and more… head on over to Transit Bangkok.
---
Enjoying the Ride on the Khlong Boat
So, part of the fun with the khlong boats is getting on and off them!
Now, when the boat gets to the pier… a staff member grabs a thick rope winding it around a wooden post to "hold" the boat to the pier. Then, it's up to you to get on and off without help.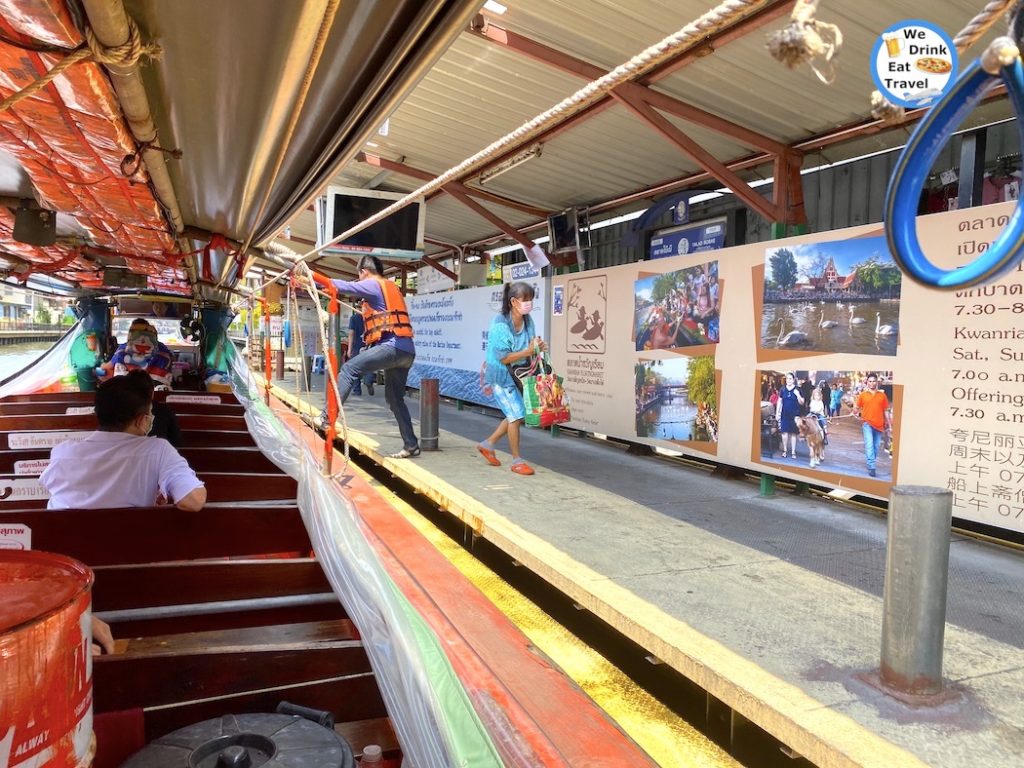 And, the locals are experts jumping on and off the boats with ease.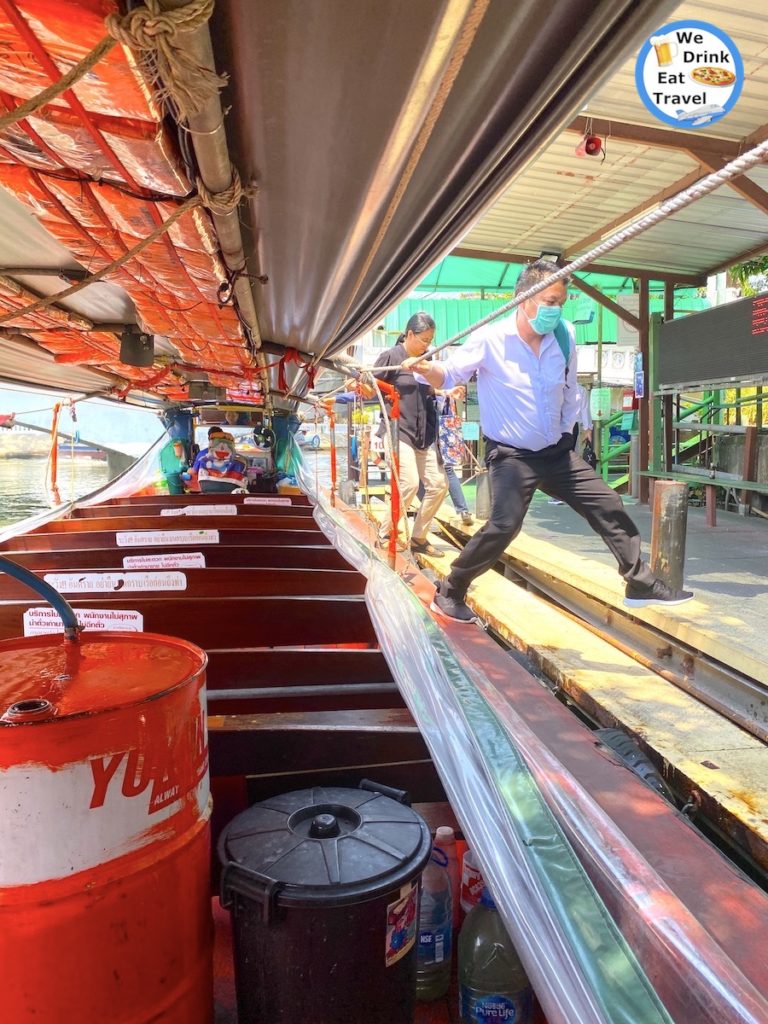 Yet, if you're unsteady on your feet… then think twice about if traveling on a khlong boat is right for you.
Choose Your Seats Wisely
Now, you may have seen how dirty the water in the Saen Saep canal is. So, when you get on board think about your seating choices.
So, if you'd like a "window" seat… then the clear covers protecting passengers from the water splashback may or may not be up. Plus, on some of the khlong boats, you may have to hold up the cover, like this passenger…
So, if the covers are not up… there's a possibility you could get the murky water splashing up to your face!
Thus, sitting towards the centre of the khlong boat helps with avoiding this. So, the khlong boats can seat around 50 people.
Yet, during peak times you may not have the luxury of choosing where you'd like to sit. So, if traveling during busy times, be prepared that you may have to stand.
But, when we went on the khlong boats, it was around the early stages of the corona virus in Thailand. Thus, we had lots of seats to choose from.
And, it's cool how the roof of the boat can move up or down by the driver. So, the driver does this at certain times, like if they're going under a lower bridge, for example.
Plus, there are red buttons dotted along the underside of the boat's roof. And, you can press these buttons to let the driver know that you want the next stop.
Now, words of warning… don't expect amazing scenery like going on a boat down the Chao Phraya River.
So, a lot of what you'll see are the back of people's homes from low income families. Or, sometimes glimpses of condos, graffiti, or other buildings. Yet, at least it'll be another Thai cultural experience you'll have had.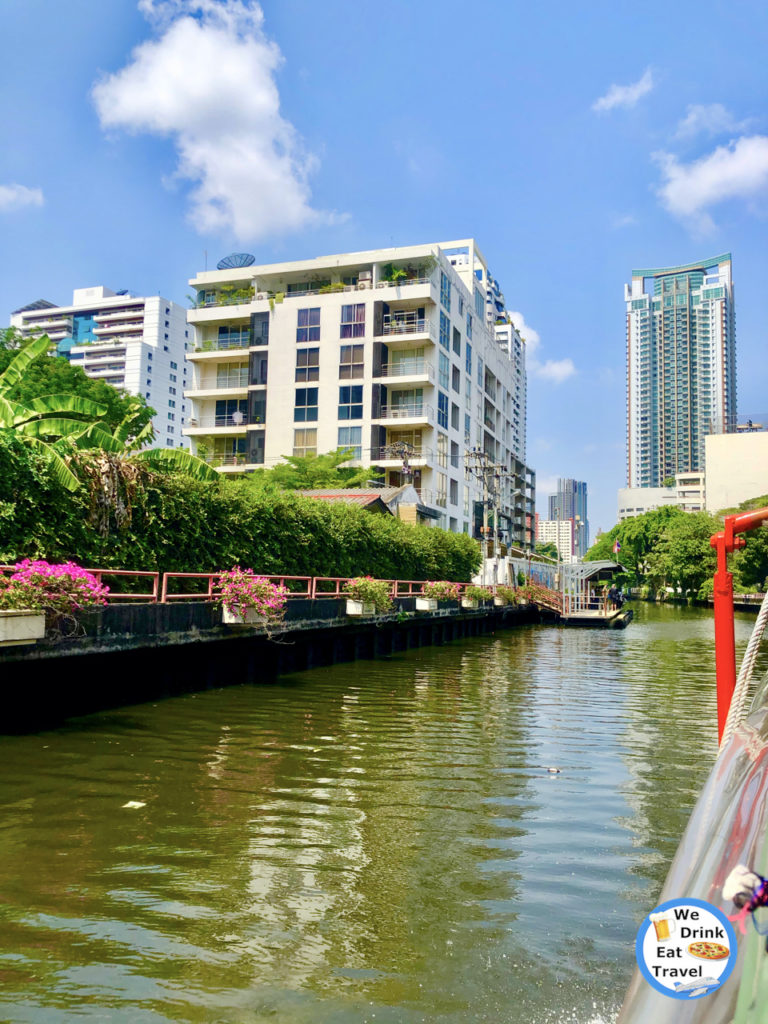 Using the Bangkok Canal Boats are Quick and Cheap
So, we felt the boat trip was quick.
And, to get from Prasan Mit (Sukhumvit area) to Pratanum Pier for the interchange, it was just under 15 minutes.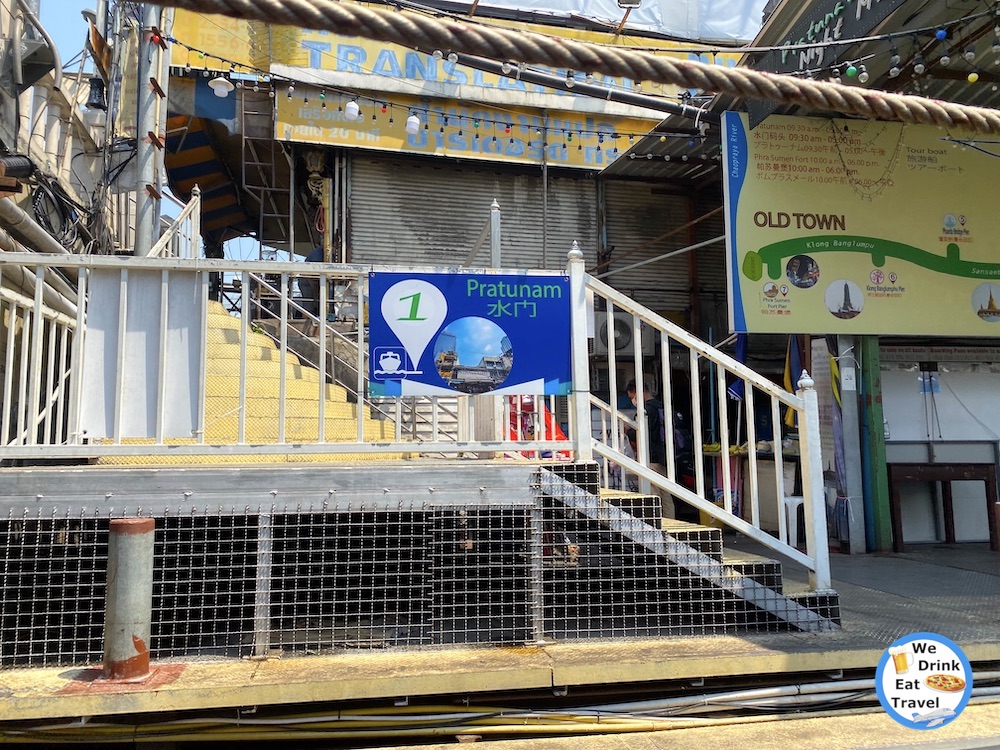 Then from Pratanum to Phanfa Leelard Pier, it was about 10 minutes.
So, our aim was to get to Khao San Road, while checking out other sites along the way. And, the closest attraction to Phanfa Leelard Pier is Golden Mount, which is a few hundred meters away.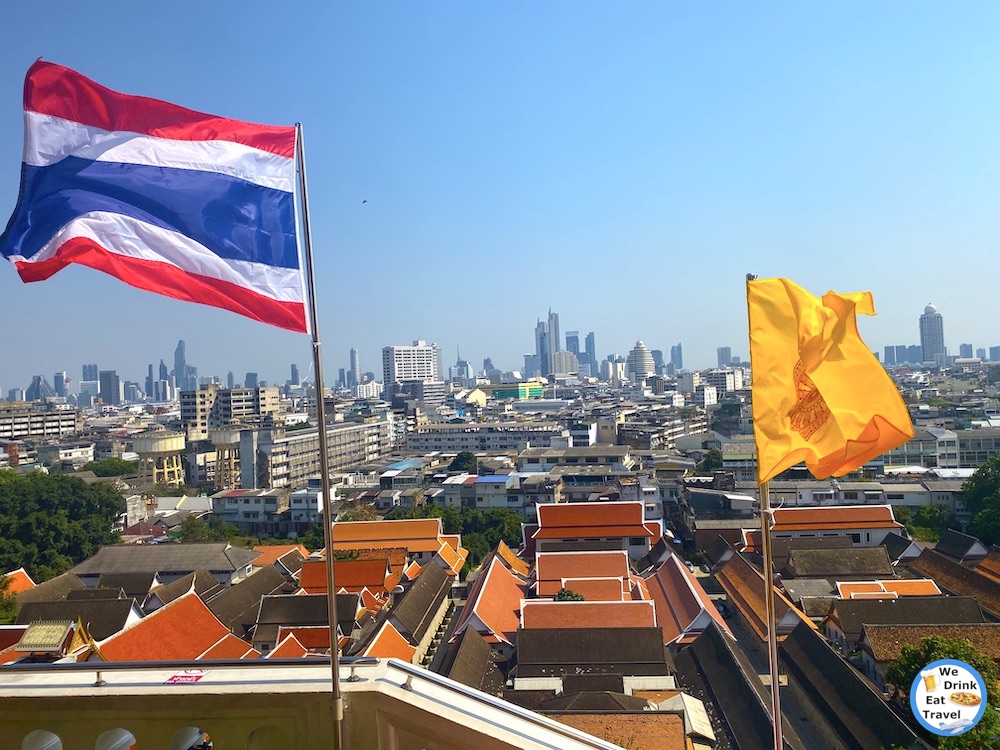 Thus, to get from the Sukhumvit area to Phanfa Leelard was about 25 minutes. Plus it was only 12 baht one way.
So, there you have it. That was our first experience on board the khlong boats, and we're glad we did it. And yes, we would travel on them again.
So, if you're considering what type of Bangkok public transport to use… then the khlong boat may be an option for you. Plus, it's effective, cheap and a different experience getting amongst the local life.
Now, get out there… and enjoy the amazing sites, food and culture Bangkok has to offer! 
You Might Be Interested In This Too…
Check Out Our Thailand Photos And Information
VAT Refund Bangkok: How To Get Money Back On Your Shopping At Suvarnabhumi Airport
Thailand Food – Being Vegetarian In Thailand
Night Market Bangkok: All Aboard For The Ratchada Rot Fai Train Night Market
Shop Until You Drop In Ratchada, Near Thailand Cultural Center MRT
Bangkok Public Transport: How To Use MRT Bangkok
Things To Do In Bangkok – Visit The Camp Flea Market With Surprising Relics!
Getting A Grab From Suvarnabhumi Airport Bangkok With Pro Tips
7 Free Things To Do In Bangkok
3 Parks To Visit In Bangkok Thailand
We Didn't Know There Was A Walmart In Bangkok!
How To Go To Platinum Fashion Mall Bangkok By BTS
5 Things You Should Know About The Scarlett Wine Bar & Restaurant Bangkok, Thailand…
The Best Chocolate Eclairs In Bangkok, Thailand
One Of The Best Places To Visit In Bangkok For Your IT Needs & More…
Shop Until You Drop In Bangkok… With Over 2,000 Stores Under The One Roof
How To Get To Chatuchak Weekend Market In Bangkok
Other Stuff
Thai Airways Review: From Melbourne Australia To Bangkok
My Carry On Luggage Must Have Item
3 Reasons Why Travel Is Important
Need Accommodation?
Bangkok Hotel Review: Prom Ratchada Residence And Spa
Hotels Review – Pullman Bangkok Hotel G
Accomodation Review – Ibis Bangkok Sukhumvit 4 Hotel
Accomodation Review – Ibis Bangkok Sathorn Hotel