Review
Accommodation: Asoke Residence Sukhumvit by UHG
Location: 235/20-25 Soi Sukhumvit 21, Khlong Toei Nuea, Watthana, Bangkok
Room Type
Booked 1 Queen Bed Room
Loyalty Program or Deals Used
Hotels.com
Research and Booking
When Paul and I were arriving from Melbourne, Australia to Bangkok… we were arriving later at night via a Thai airways flight. And, mind you… this was a surprising flight for us as we hadn't flown Thai Airways for a long time.
See our review of our Thai Airways economy class flight HERE.
So, we were looking for a one night stay, preferably in the Asoke area of Bangkok. Thus, this was helpful in narrowing down the hotels in Bangkok.
Plus, we had a night to redeem via the Hotels.com™ Rewards program. So, meaning our room rate would be cheaper.
Then, as we were doing our hotel search, we did some research for traveler reviews. So, we were checking reviews and photos on Hotels.com, Tripadvisor, and other sites.
Then, in the end we chose Asoke Residence Sukhumvit by UHG, a 4-star hotel.
So, the room rate at the time was AUD $53.88 (about 1,050 THB / about USD $32). Yet, thanks to the Hotels.com™ Rewards program… we only had to pay AUD $8.10 (about 160 THB / about USD $5).
Plus, we would get buffet breakfast in the hotel rate. So, how's that for a bargain?
Now, we'll write a blog post about the Hotels.com™ Rewards program soon. So, you can learn about the program, and aim to save on your travel accommodation too.
Yet for now, let's get into our Bangkok hotel review of Asoke Residence Sukhumvit by UHG.
The Location of This Asoke Bangkok Hotel
So, when we were getting a Grab from Suvarnabhumi airport… as we were approaching Asoke Residence Sukhumvit, we saw the sign for this hotel on Asok Montri Road. So, this is a busy, major road in Sukhumvit.
Yet, don't let this deter you though, as the accommodation is off Asok Montri Road… on Soi Sukhumvit 21, and about 150 meters or so from the main road. Thus, it's quieter than what we first thought it'd be.
So, being in Asoke, there are many amenities and things to do nearby. Yet, we'll go through that later in the blog.
For now, we'll share the check in process with you…
Check In At Asoke Residence Sukhumvit
So, when our Grab driver was arriving at this Asoke Bangkok hotel, he was parking at the front entrance. Then, a staff member came out to help with our luggage.
And, as we were walking into the reception area… we saw several seating areas to our left and right sides. Plus, there were plenty of tourist information spread around the reception area.
So, upon check in we had to do the usual process of handing over our passports. Then, when we made the booking through hotels.com… we put in a request for a non-smoking room on a higher floor.
So, the reception staff was acknowledging these requests to us, and letting us know that they were met. Thus, the hotel has 10 floors, and we were given a non-smoking room on the 7th floor. Great!
Plus, the staff were confirming that we had buffet breakfast in our rate. And, letting us know where it would be and the opening times.
So, the check in process was quick, professional and efficient. And, after that was done, another staff member was helping to wheel our luggage to our room.
So, to do that we had to go up the lift. And, the 3 of us… along with 2 large suitcases and 2 carry on luggage were able to just fit in!
Our Room At Asoke Residence Sukhumvit
Now, having seen the room photos from real travelers, we didn't have very high expectations… even though its rating is a 4-star hotel. Yet, let's take a look at what our room was like…
So, after opening the door to our standard queen bed room, we saw that it was "cozy." Yet, we knew that it would be a small room of about 15-18 square meters. Thus, the smaller size was no surprise to us.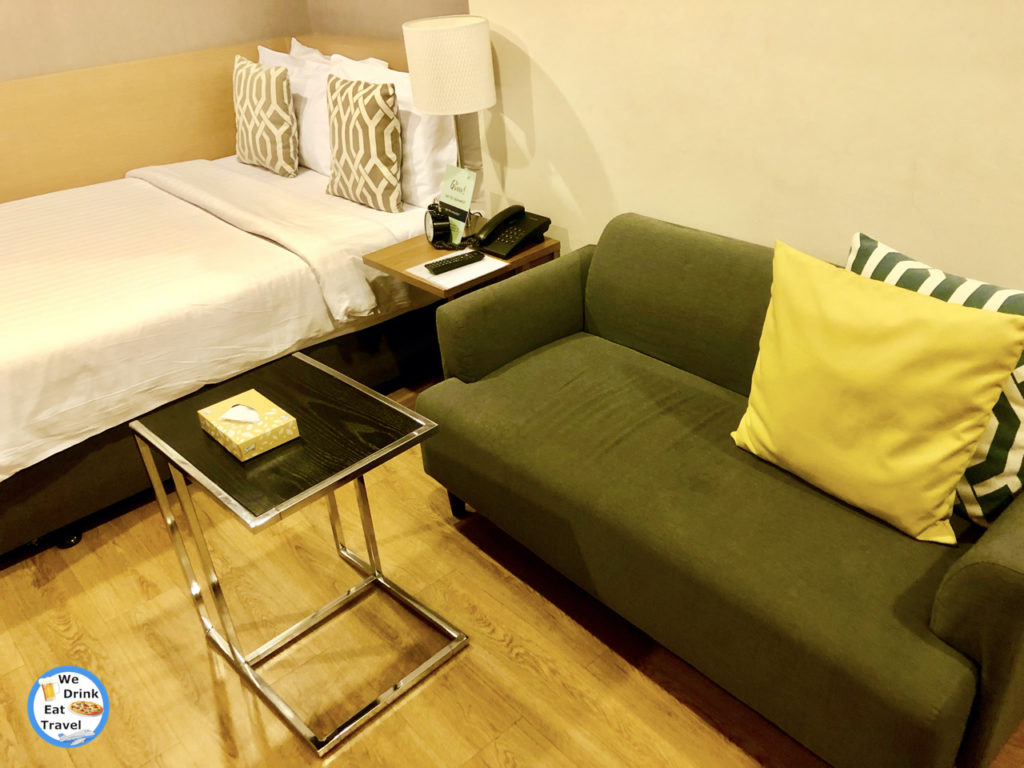 Yet, while we were expecting it be old, the furnishings were in good condition.
So, to the right of the entrance was a couch and cushions. And, above the couch was a large mirror. Plus, there was a small coffee table with a box of tissues on top.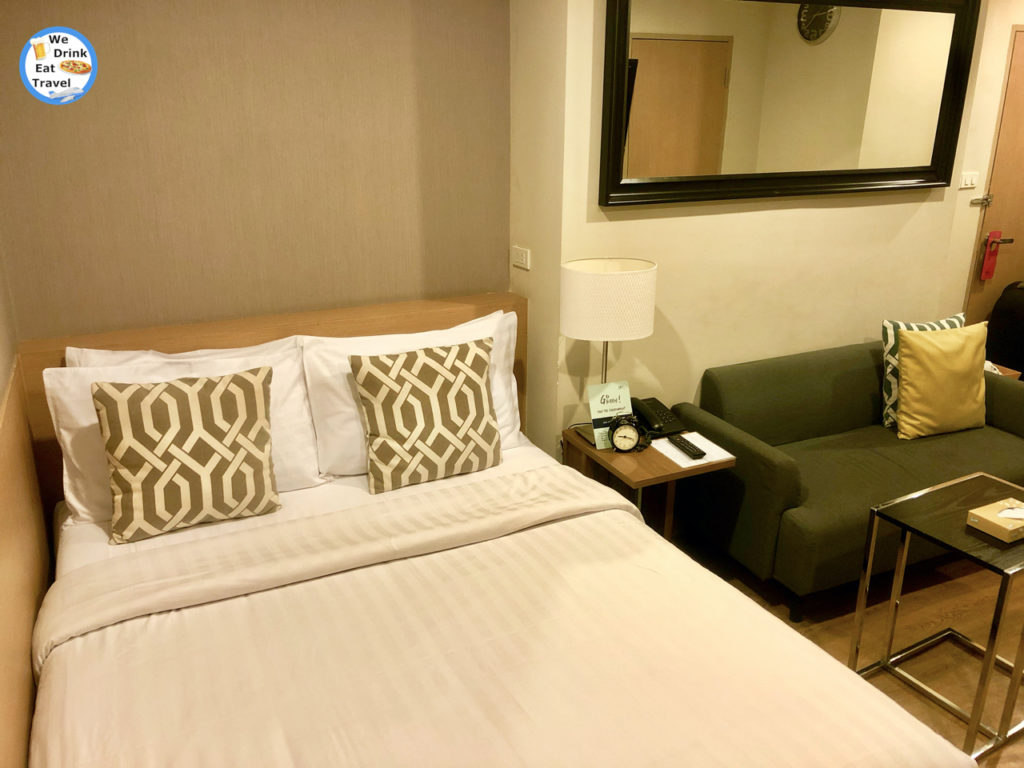 Then, beside the couch was a side table with a small analogue alarm clock. Now, we can't recall having seen one of those in a while in a hotel! So, on the side table was also a phone, TV remote control, TV stations list, and a lamp.
Then, next to all this was the queen bed.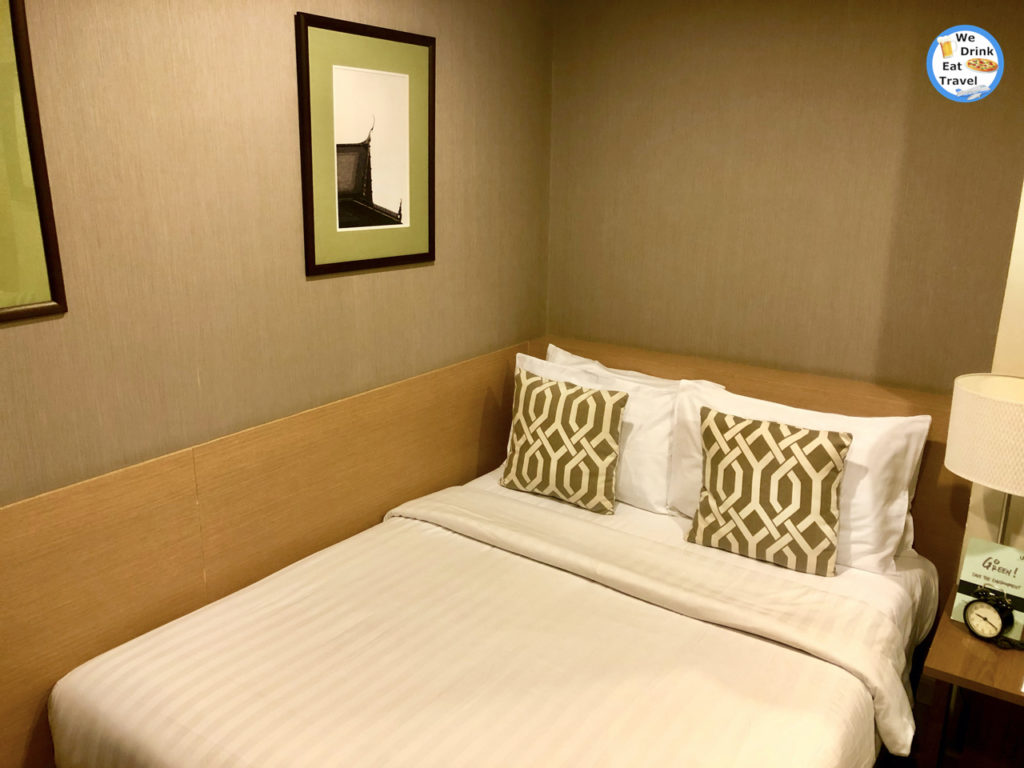 So, the bed was jammed up against the wall. We suspect that was to be able to fit everything else in! And, it was fine for 1 night, or even a couple of nights. Yet, if our stay was any longer, the lack of roominess for us, would be frustrating.
So, on the bed were 2 cushions and 2 types of pillows each. And, surprisingly the pillows were wonderfully comfy. So, they did help for a good night's sleep, as well as it being pleasantly quiet in the room.
Now, opposite the bed was a small window, with thick blackout curtains. And, beside that was an area for storing clothes, and other items. Plus, there was a hairdryer, small safe, mini fridge, and a couple of pairs of slippers.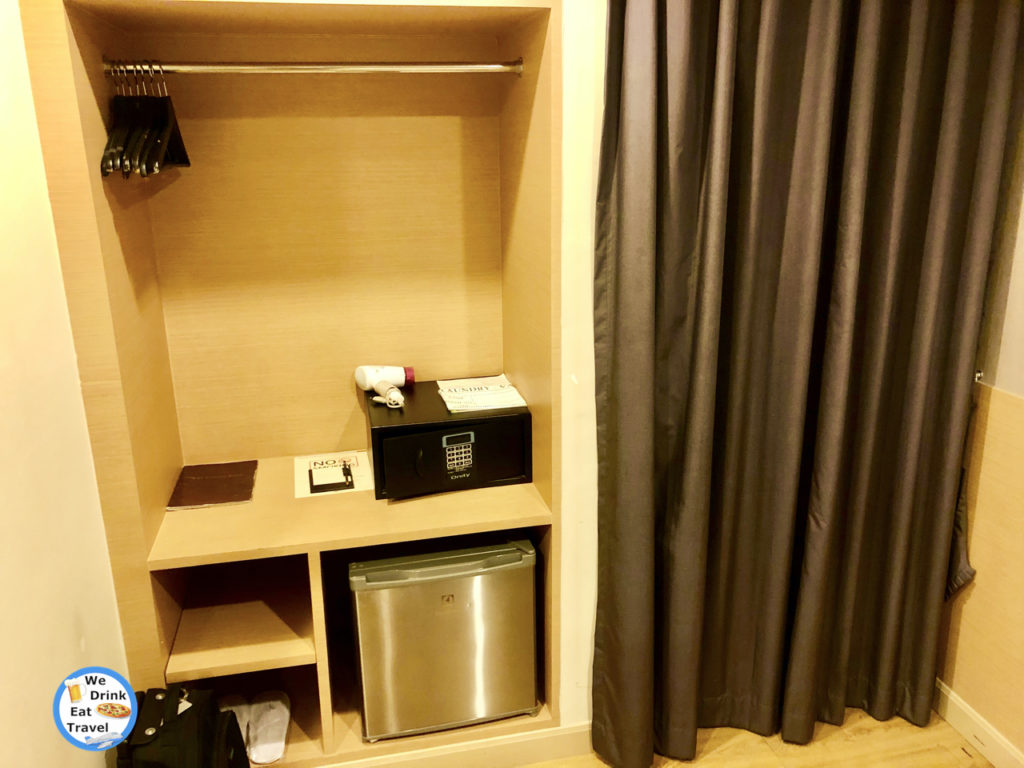 Plus, they could do laundry for a fee and there was an in-room dining menu.
Then, opposite the couch was a large flat screen TV. And, beside that was the entrance to the bathroom.
The Bathroom
So, after opening the door to the bathroom… we saw the toilet with a folded up bathmat on top of it.
And, beside that was a small bin and the sink area.
So, in the sink area was a range of amenities. And, this included… toothbrushes, toothpaste, shower cap, 2 glasses and liquid hand soap.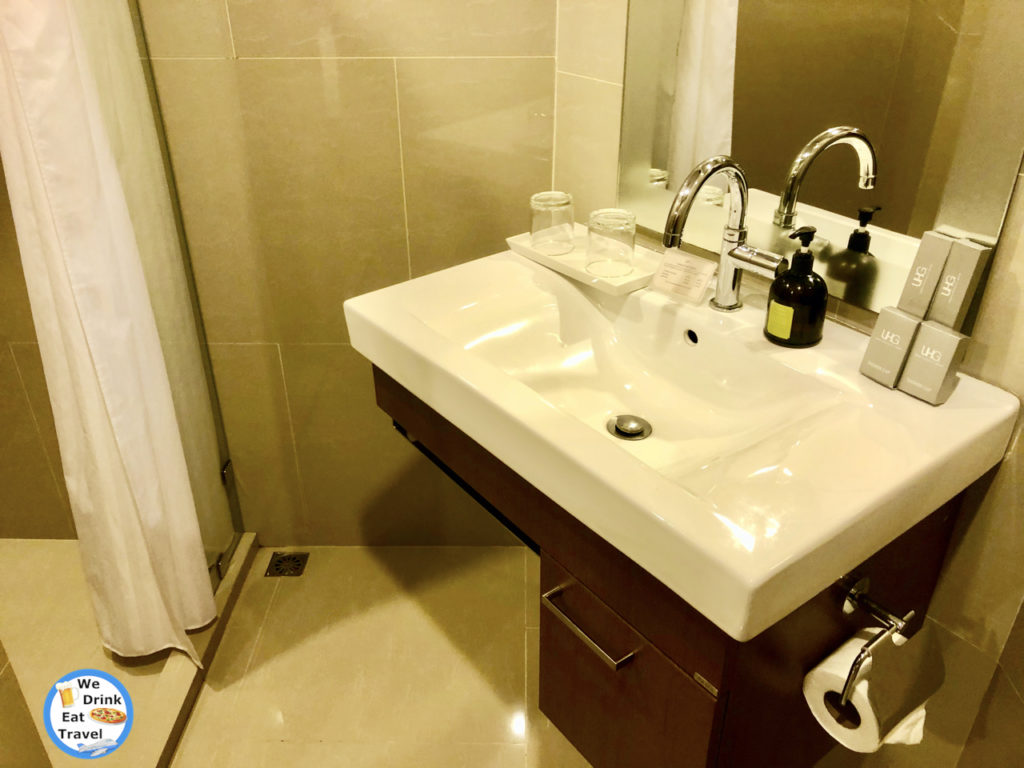 Plus, there was a sign on the sink. Then, as we were reading it… it was referring to prices for the bottles of soaps and shampoo in the bathroom.
So, for anyone thinking of taking them, don't! Otherwise you'll get a charge on your bill. And, that's fair enough… considering they didn't seem like your average cleansers.
So, opposite the sink was the shower area. And here, there was a rain head shower, as well as a hand held shower head device. Yet, the shower pressure for us was weak.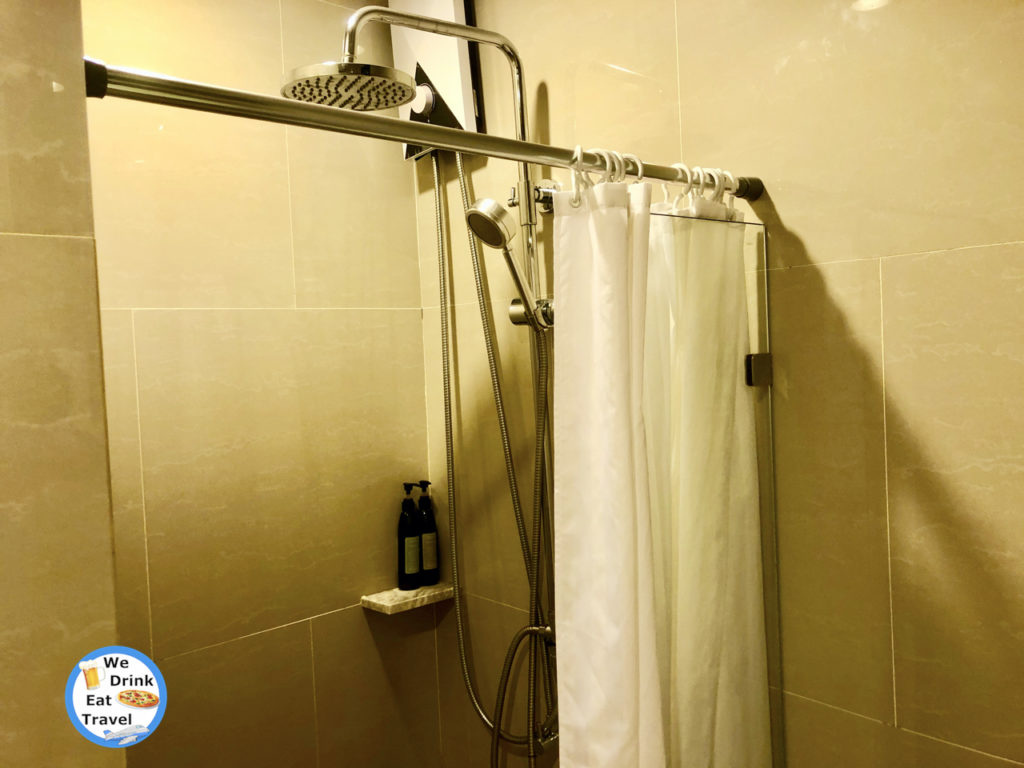 Plus, in the shower area was liquid shampoo and liquid body soap… remembering not to take them unless you want to pay for them! LOL!
So, while the bathroom was tiny, it was functional. Although we'd prefer if the shower water pressure was stronger.
Yet, our standard room was better than we were expecting, which was great for us! And, after a good night's sleep in air conditioned comfort… it was time for brekky the next morning.
Breakfast At Asoke Residence Sukhumvit
So, buffet breakfast was part of our room rate. And, breakfast was available daily from 6:30am to 11:00am. Thus, the times were great for early risers or late starters!
Yet, having read some of the traveler reviews and seen their photos… again, our expectations were not set high.
So, we took the lifts from our room to the first floor (which is actually the ground level)! And here, we could eat breakfast in a place by the name of, The Coffee Shop. But, we couldn't find any signs for this restaurant.
So, we saw some glass doors and went through them. Then, there was a small area with tables and chairs, but not many food items. So, we were beginning to feel disappointment.
Yet, as we went up a few steps, there was another area. And, this was the main area where most of the buffet items were.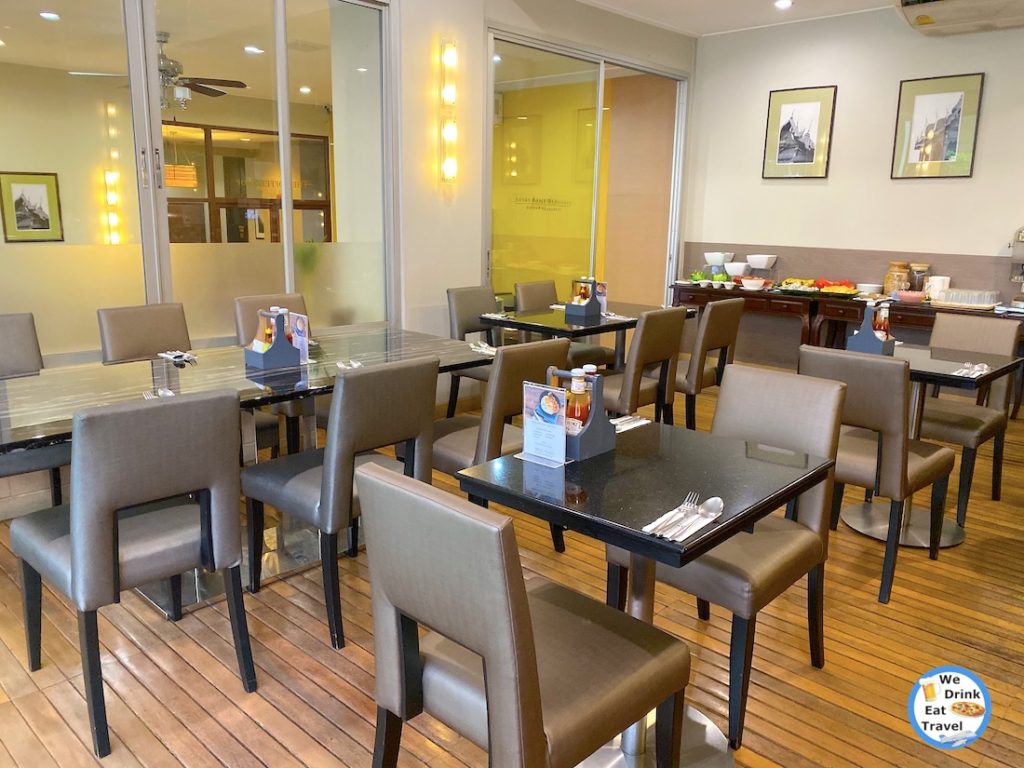 The Food and Drinks at Buffet Breakfast
Now, in the main restaurant area there was this section…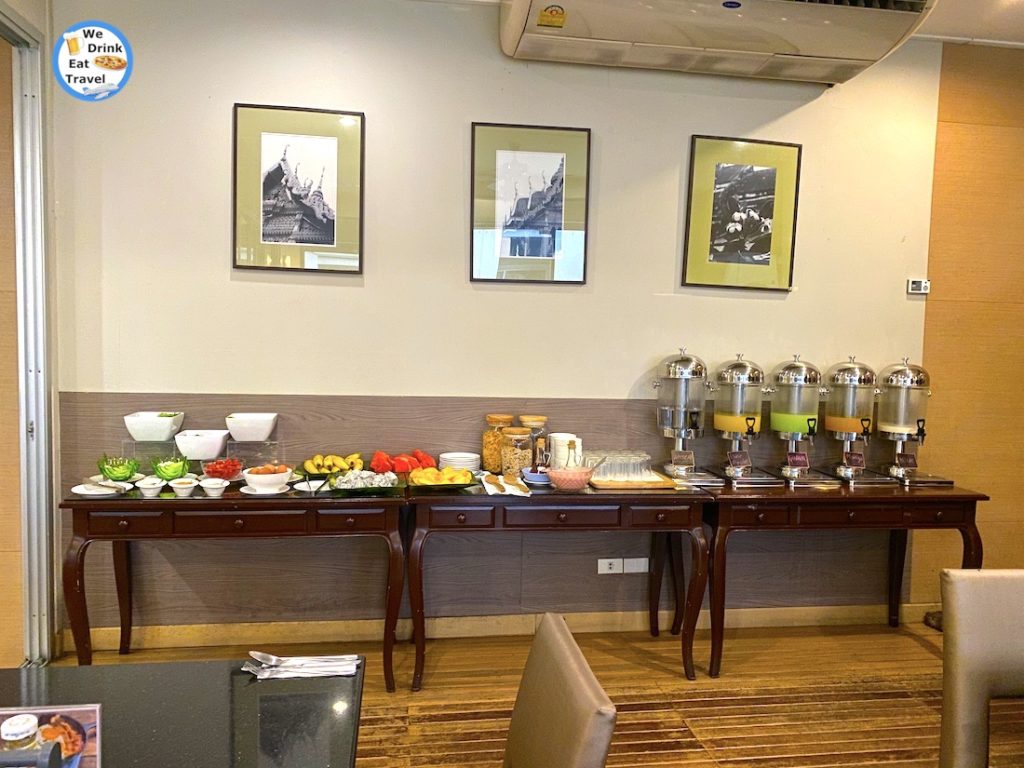 And here, there was a make your own salad area, as well as a bowl of boiled eggs. Then, next to that was a range of fresh cut fruit. And, beside the fruit were some cereals, condiments, water, juices and milk.
Then, next to that section was a coffee and tea station, with a variety of condiments. So, beside that was a toaster, variety of sliced breads, danishes and cheese.
Then, next to that was a range of hot food items.
And, these included… soup, bacon, sausages, curry chicken, fish, and pork with cream sauce. Plus, there was a pasta dish with dry chili, stir fry vegetables, and fried rice.
And, in the other dining area where we chose to sit… there were a couple of desserts, as well as a coffee station.
Plus, on the table was a menu, where we could have eggs made to order. So, we could choose from an omelette, scrambled eggs, eggs benedict, and fried eggs.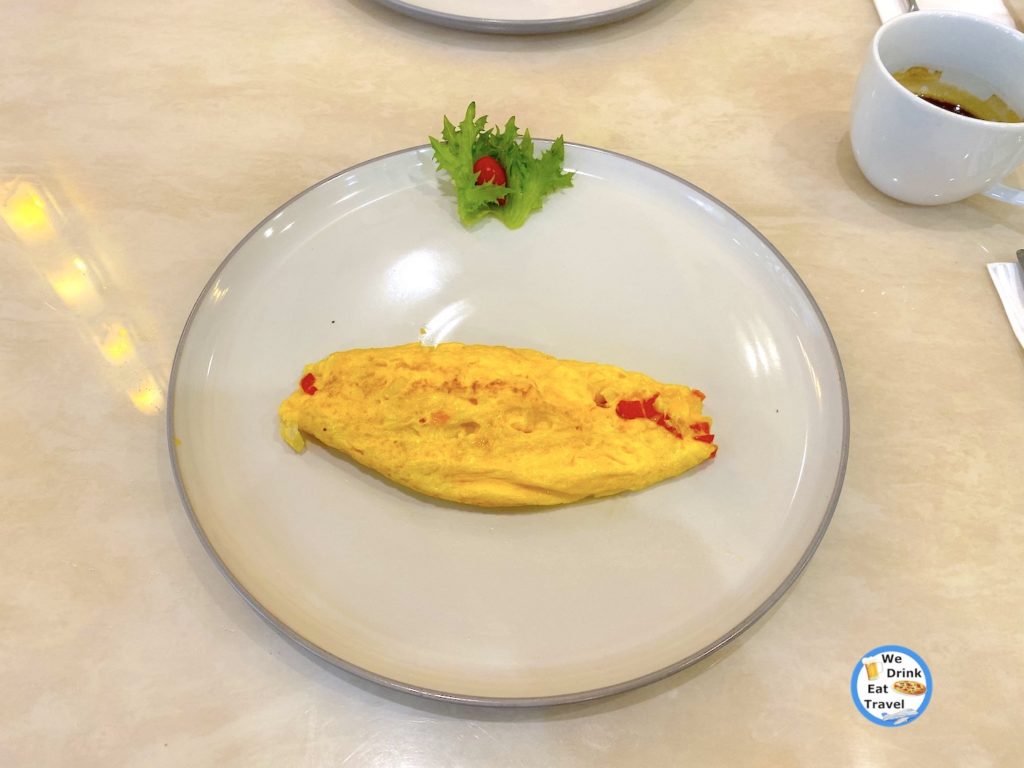 And, we were so annoyed with ourselves! We missed on that egg menu that we could've ordered baked beans.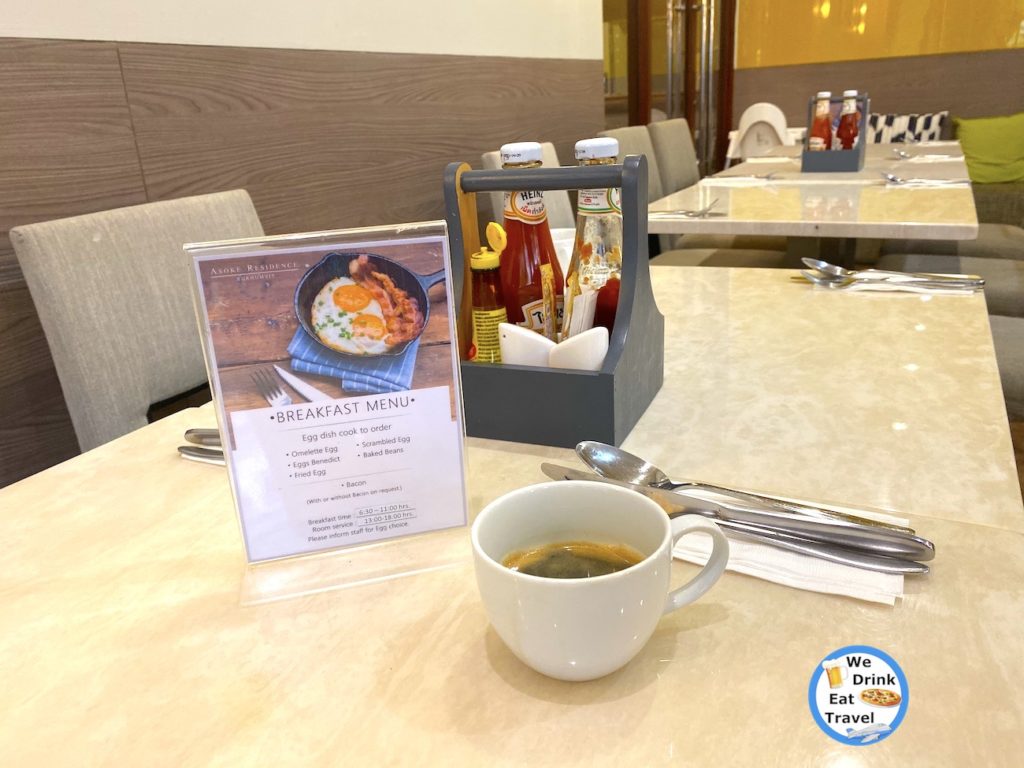 Oh well, never mind. After having several dishes we were full enough!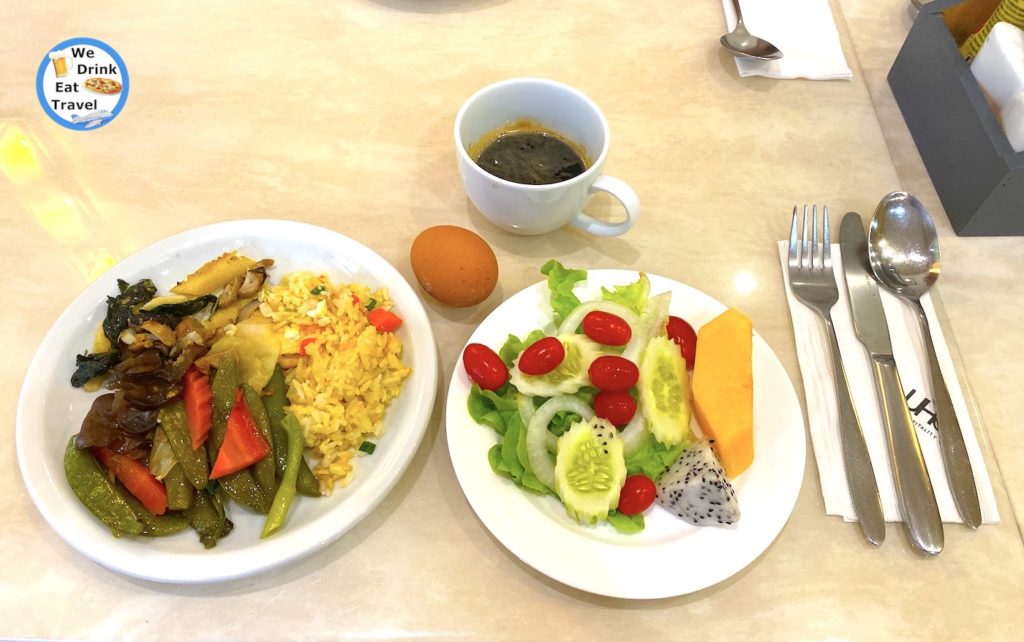 Again, we didn't have high expectations yet the breakfast was fine at this Asoke Bangkok hotel. And, so you know, we saw a sign in the lift… showing that the breakfast buffet per person is 250 baht per person (about USD $7.50).
Amenities At Asoke Residence Sukhumvit
So, after checking in and being taken up to our room… we saw that opposite the lifts was a fitness center.
And, to us it looked like it well equipped, with many machines, free weights and more. Yet, we didn't use it, so we can't comment on how good it was.
And, outside The Coffee Shop where we had breakfast, there's a small pool area with sun lounges.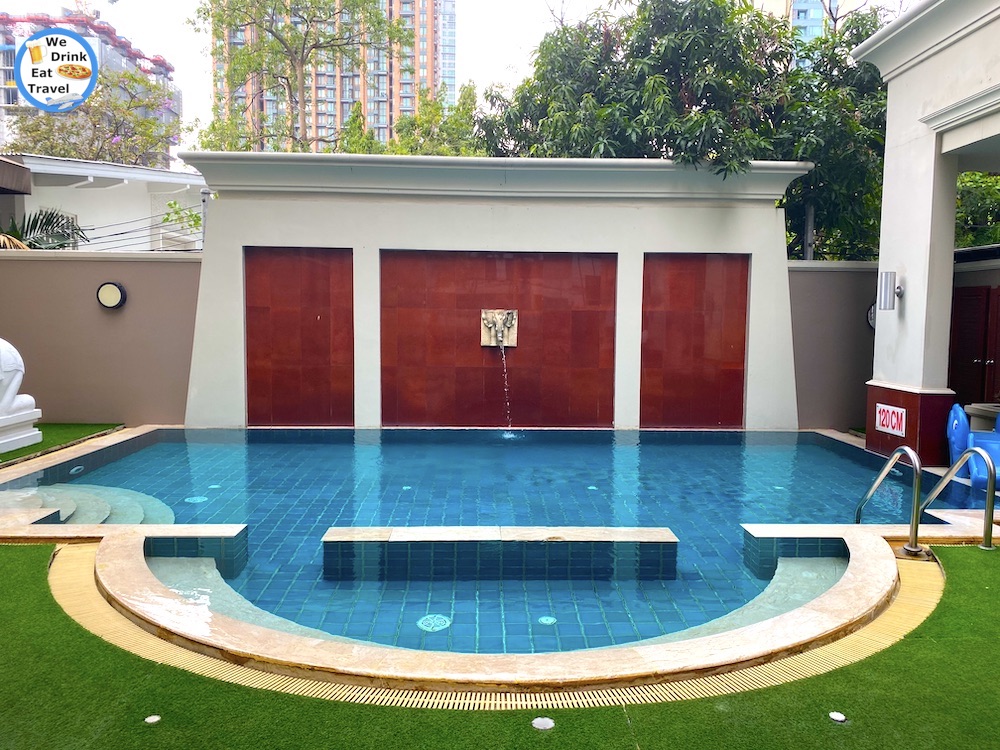 Plus, the hotel offers room service between selected hours. So, if you're too lazy to go out, that's an easy option for dining. Yet, if you're keen to check out the Asoke area, there's plenty to do.
Around Asoke Residence Sukhumvit
Now, Asoke is in the vibrant area of Sukhumvit. And, this Asoke Bangkok hotel is in easy walking distance to access public transport like… Phetchaburi MRT, and the Makkasan Airport Rail Link station.
So, we have caught the train from Suvarnabhumi Airport to Makkasan station, and vice versa. And for us, it can be a good option. Thus, to get some tips and discover our experiences, CLICK HERE.
Plus, Asoke Residence Sukhumvit is within walking distance to the Asok Petchaburi khlong boat pier.
So, if you haven't been on a khlong boat, we recommend you give it a go. Yet, if you're unsure, check out our blog post to find out more… CLICK HERE.
Now, within about a 10 minute walk are several restaurants, bars, cafes and shops. Yet, if you want to take a longer walk from Asoke Residence Sukhumvit… for about 20 minutes or so, there are heaps more things to do.
So, you could shop until you drop in Terminal 21. Or even be spoilt for choice with plenty of eateries with varying cuisines on offer… that would suit any budget.
Then, you could check out the nightlife around the Soi Sukhumvit 23 area. And just off that is one of the infamous red light districts in Bangkok… Soi Cowboy.
Yet, if walking in Bangkok's heat and humidity doesn't appeal… you can always catch the MRT, tuk tuk or taxi. Even so, you won't get bored of things to do in the Asoke area.
We Drink Eat Travel Wifi / Internet Speed Test
So, we were able to access the Asoke Residence's free wifi without a password, which was convenient. And, after connecting to the wifi, it was surprising for us to see the speeds…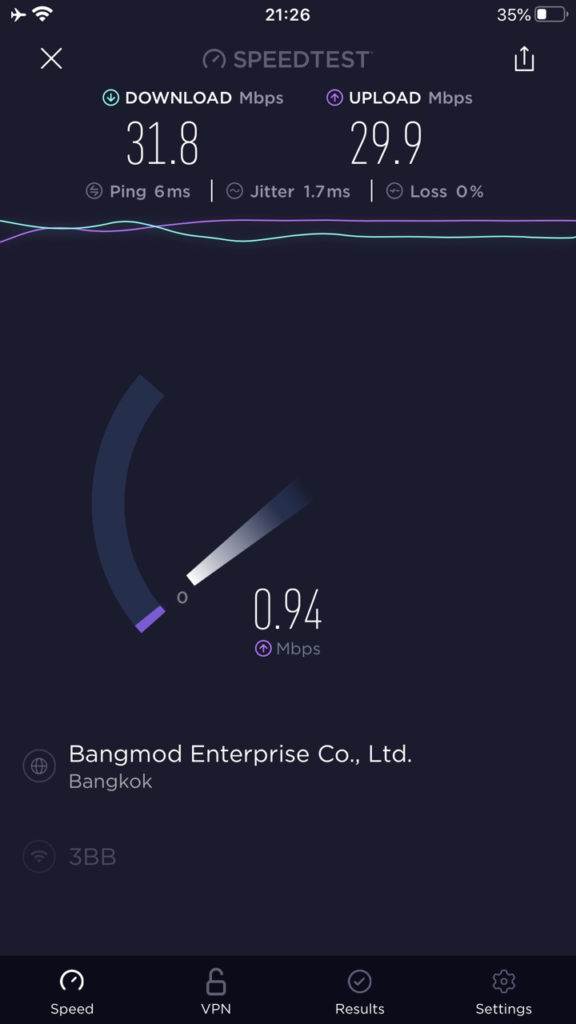 So, the download wifi speed we got 31.8 mbps, and the upload speed was 29.9 mbps.
Now, that's faster than some of the 5-star hotels we've been to! So, take note you 5-star hotels. In this day and age, it can't be hard getting decent wifi speeds… can it??
Thus, thumbs up to this Asoke Bangkok hotel!
Would We Stay At Asoke Residence Sukhumvit Again?
So, when we were booking this 4-star hotel for 1 night, we got a great rate. And, that's partly because we were redeeming a Hotels.com™ Rewards night.
Plus, it was at the early stages of the Covid-19 virus in Thailand. Thus, some of the room rates were slashed from their normal rate.
So, before check in we put in some requests for the room. And, having seen reviews by travelers about this hotel, we thought we shouldn't set high expectations.
Thus, when we were checking in each of our requests were met, which was a great start.
And, although the room was small, it was functional. Plus, it was quiet, had thick black out curtains, a comfy bed, and good air conditioning. So, these were helpful for a good night's sleep.
Plus, the wifi speed was better than at some of the 5-star hotels we've stayed in!
So, the breakfast buffet at the hotel was OK, but we wouldn't rave on about it. We've been to other 4-star hotels in Thailand, which had more variety and options. Yet, it was enough to fill us up for breakfast, and even lunch time.
Now, the location of Asoke Residence Sukhumvit by UHG is great. And, while it's not in the center of all the action in Asoke… there's still plenty of amenities around the hotel within 10 minutes walking distance.
Yet, to get to the bustling, vibrant areas… it's one MRT stop away. Or, a short and cheap taxi or Grab ride there.
So, we've seen the standard room rate in normal times go for about AUD $145 per night. Yet, we definitely wouldn't pay that! Thus, if the price was right, we would consider staying at this Asok Bangkok hotel again.
Have you stayed here before? What were your experiences like?
Like This? Share it and comment on it!
Note: All of our reviews and comments are our opinions and no-one else's. Even if we receive complimentary goods or services we share our opinions honestly.
You Might Be Interested In This Too…
Check Out Our Thailand Photos And Information
Bangkok Public Transport: All Aboard For The Khlong Boat On Saen Saep Canal
VAT Refund Bangkok: How To Get Money Back On Your Shopping At Suvarnabhumi Airport
Thailand Food – Being Vegetarian In Thailand
Night Market Bangkok: All Aboard For The Ratchada Rot Fai Train Night Market
Shop Until You Drop In Ratchada, Near Thailand Cultural Center MRT
Bangkok Public Transport: How To Use MRT Bangkok
Things To Do In Bangkok – Visit The Camp Flea Market With Surprising Relics!
Getting A Grab From Suvarnabhumi Airport Bangkok With Pro Tips
7 Free Things To Do In Bangkok
3 Parks To Visit In Bangkok Thailand
We Didn't Know There Was A Walmart In Bangkok!
How To Go To Platinum Fashion Mall Bangkok By BTS
5 Things You Should Know About The Scarlett Wine Bar & Restaurant Bangkok, Thailand…
The Best Chocolate Eclairs In Bangkok, Thailand
One Of The Best Places To Visit In Bangkok For Your IT Needs & More…
Shop Until You Drop In Bangkok… With Over 2,000 Stores Under The One Roof
How To Get To Chatuchak Weekend Market In Bangkok
Other Stuff
Thai Airways Review: From Melbourne Australia To Bangkok
My Carry On Luggage Must Have Item
3 Reasons Why Travel Is Important
Need Accommodation?
How To Get FREE Accommodation While Travelling
Bangkok Hotel Review: Prom Ratchada Residence And Spa
Hotels Review – Pullman Bangkok Hotel G
Accomodation Review – Ibis Bangkok Sukhumvit 4 Hotel
Accomodation Review – Ibis Bangkok Sathorn Hotel